My 12-year-old granddaughter painted this chest of drawers for her bedroom. I supervised and helped her a bit, but she did the majority of the work. She did a great job and I have the full tutorial with photos for you. Today is also Furniture Fixer Upper Day. Yay! Tour links at the bottom of the post.
Tenley selected the paint color and the new knobs for the chest of drawers makeover. She has a sense of style all her own. I would have gone bold in color and selected contrasting knobs. Not my girl. To say we are total opposites when it comes to color choices for everything from clothing to furniture is a great big understatement.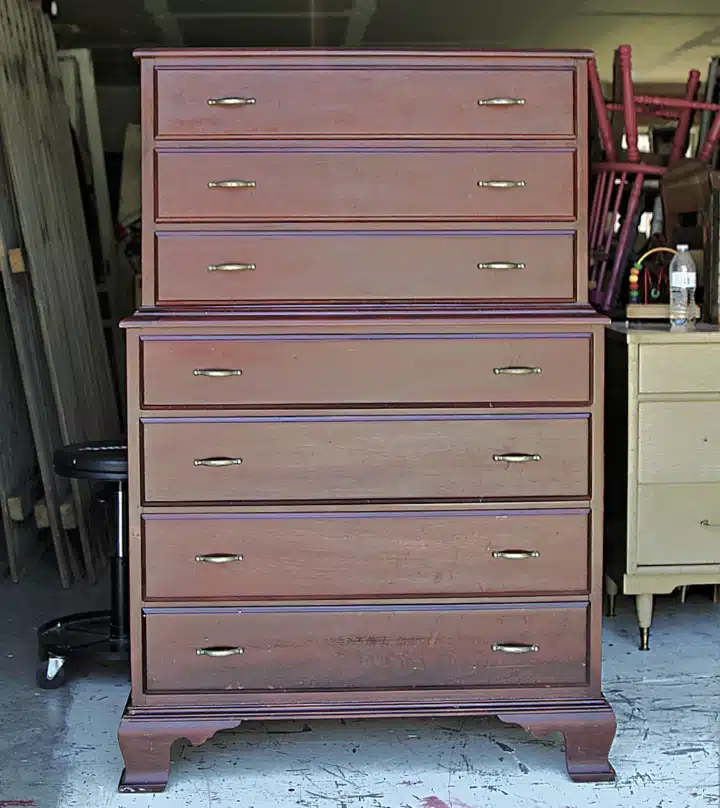 This is the chest Tenley picked out to replace a smaller piece in her bedroom. I think we paid $100 for it at a local thrift/furniture store. The chest-on-chest look is one of my favorite furniture styles. The drawer pulls were not attractive at all and the original stain color was off. The stained finish wasn't brown and it wasn't cherry.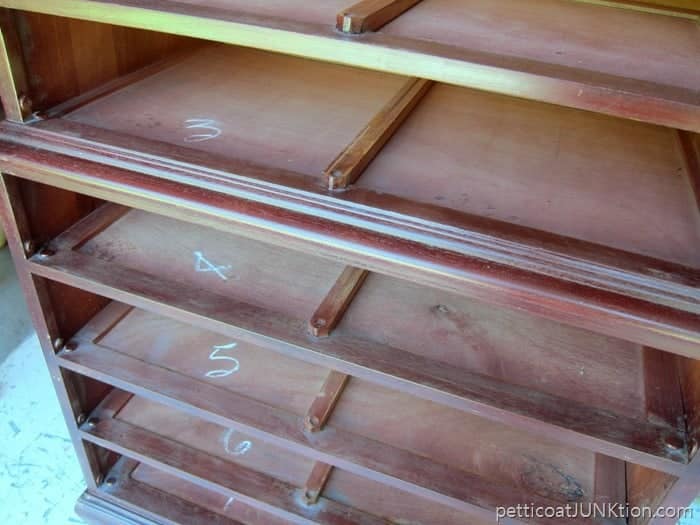 Solid wood furniture like this chest is hard to come by. That's why I prefer older pieces. Tenley cleaned the chest with Simple Green then she numbered the back of the drawers so we could return them to the same spot.
You would not believe what a time-saver this is. On some furniture pieces, the drawers only fit correctly in one slot. It may not be important to number the drawers depending on the piece. You make the call.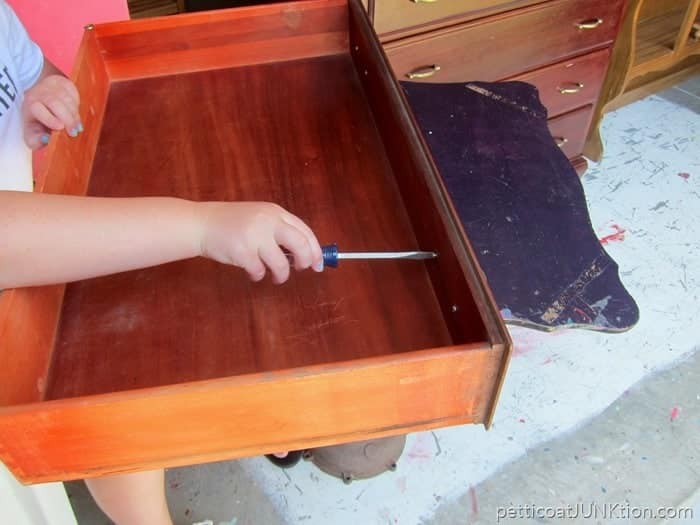 Tenley removed all of the original hardware. Never paint furniture with the hardware in place, even if you aren't changing it out.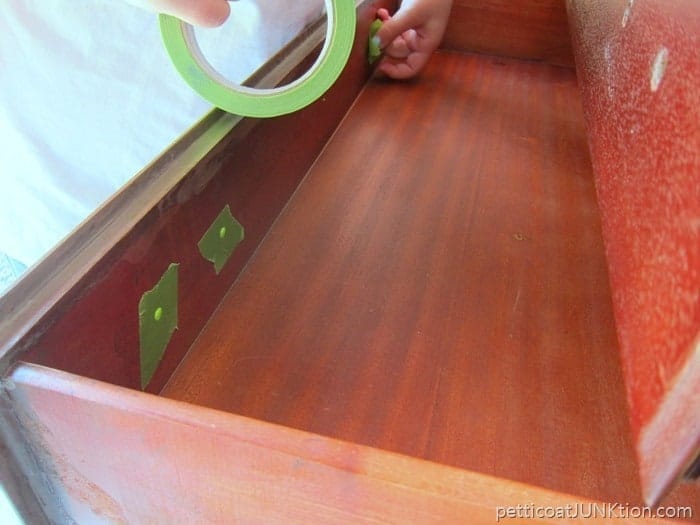 We wanted to replace the unattractive drawer pulls with new modern knobs, so we filled one of the two screw holes on each side of the drawer with wood filler. We opted to fill the inner holes and use the outer ones for the new knobs. Placing painter's tape over the screw holes on the back of the drawer fronts is a good idea as it will keep paint or wood filler from leaking into the drawer.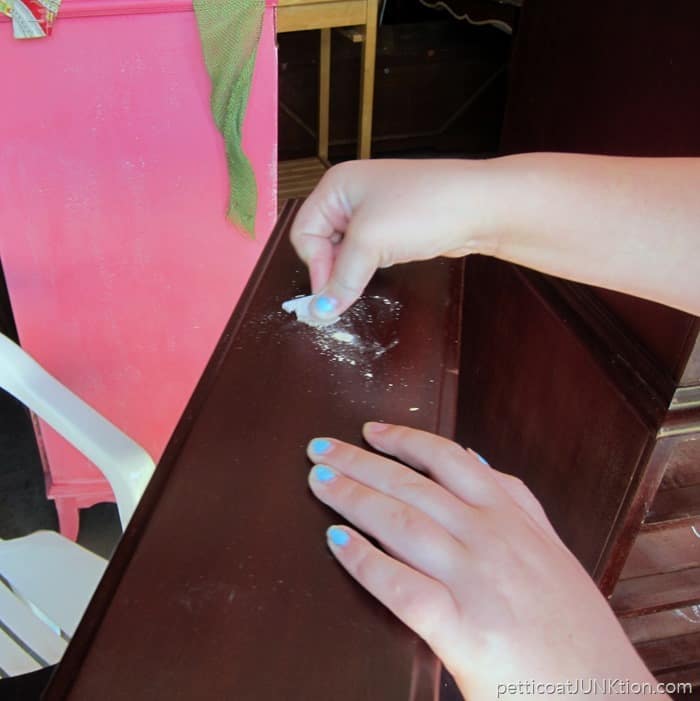 Tenley and I filled the holes with wood putty and sanded the filler smooth once it dried. I have a complete tutorial on replacing furniture hardware here....How To Replace Furniture Hardware.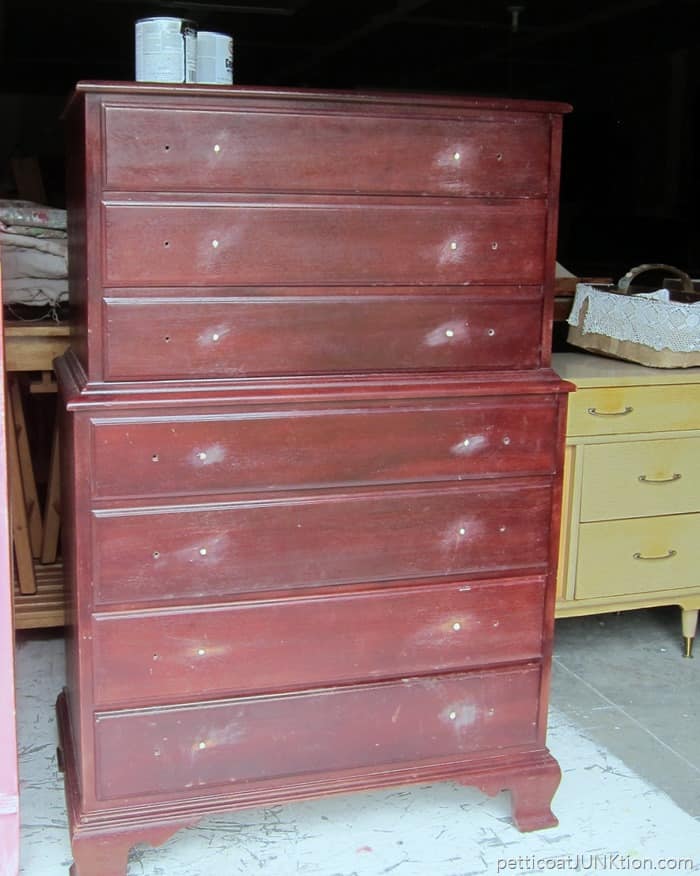 In case I didn't explain the drawer pull screw hole story very well, you can see what I mean by looking at the photo above. Now there is only one screw hole on each side of the drawer, and we can use drawer knobs instead of drawer pulls. The wood filler in the other holes is sanded flush with the drawer fronts and should not be noticeable when painted.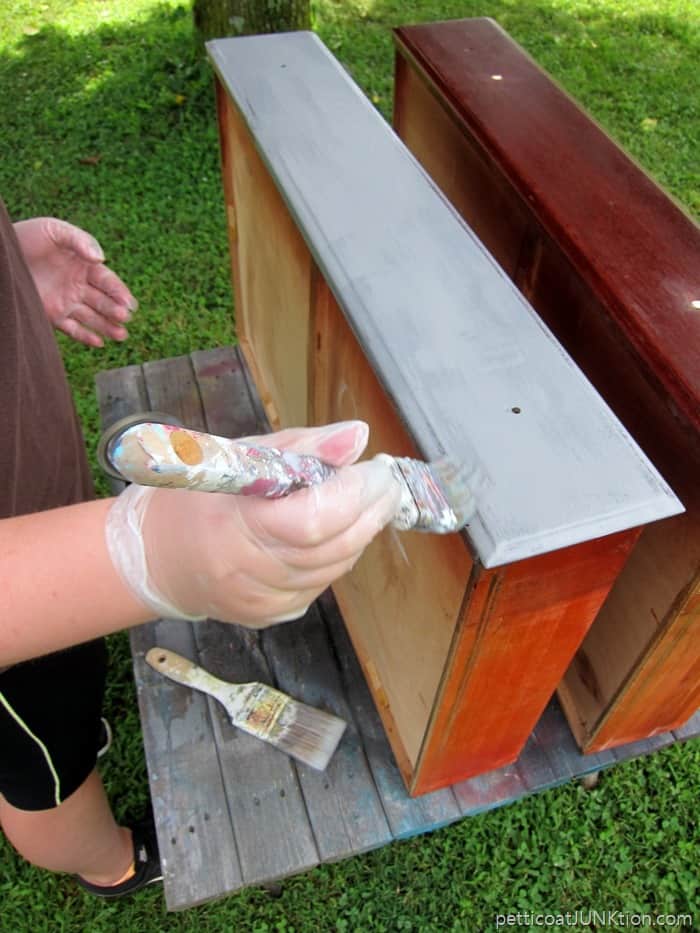 Tenley brushed on a coat of Glidden Gripper Primer tinted gray. The primer goes on smoothly and is a nice solid color base for the top coat of paint. I was afraid the reddish tone of the original stained finish would bleed through the paint. Sometimes, it even bleeds through the primer, but not this time. Yea!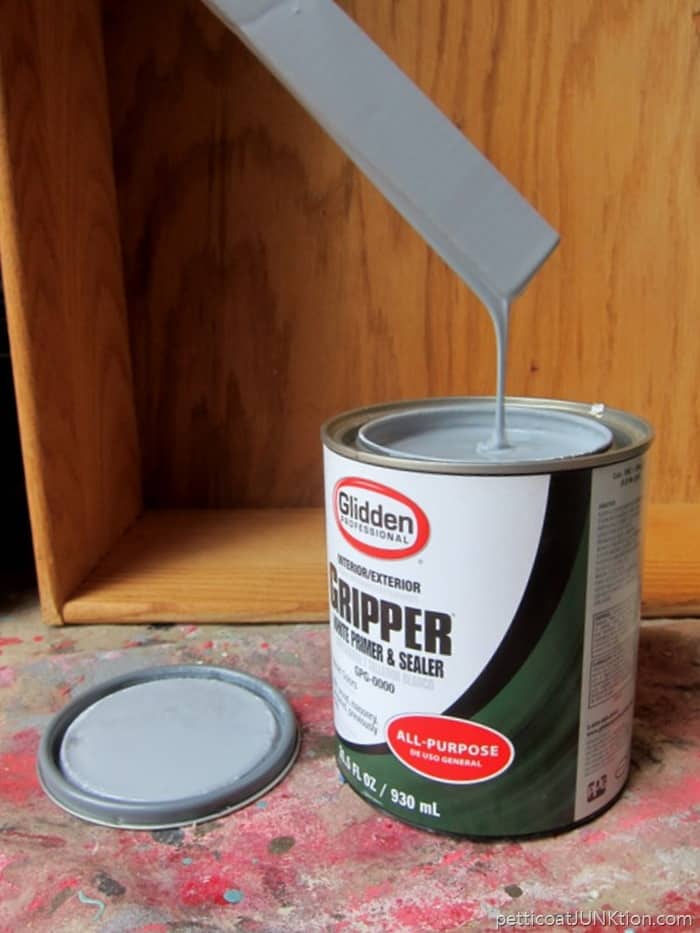 Updated: There is a new name for Glidden Gripper. It is now PPG Gripper and you can buy it at Home Depot.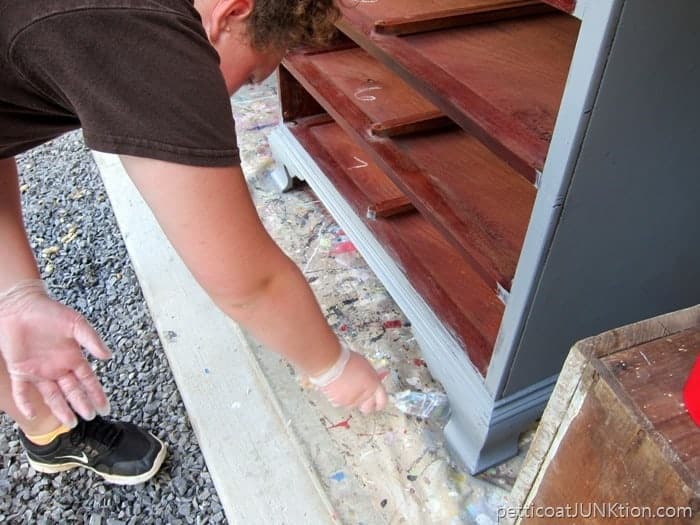 We got a late start on the project because of the Summer heat. Tenley was anxious for the chest of drawers to be finished before school started so we just bit the bullet and did it. I guided her through the makeover but she did the majority of the work.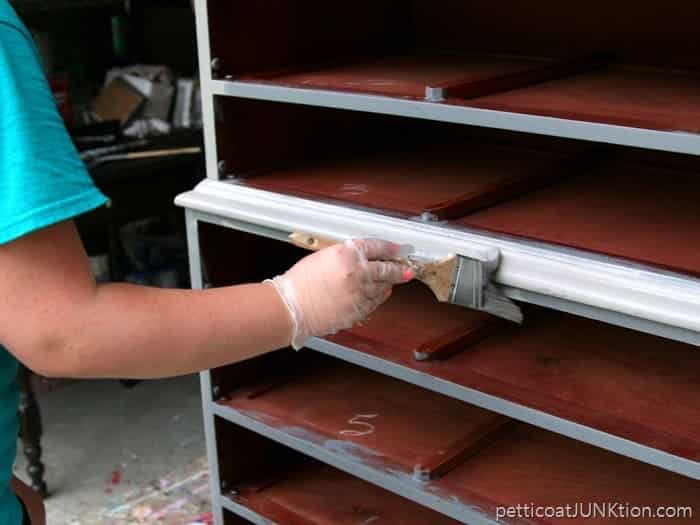 We applied the primer one day, and the latex paint the next day. She selected a soft gray paint color and a little lighter than the primer. One coat of paint was all that was needed. By the time the project was finished, Tenley was almost a pro.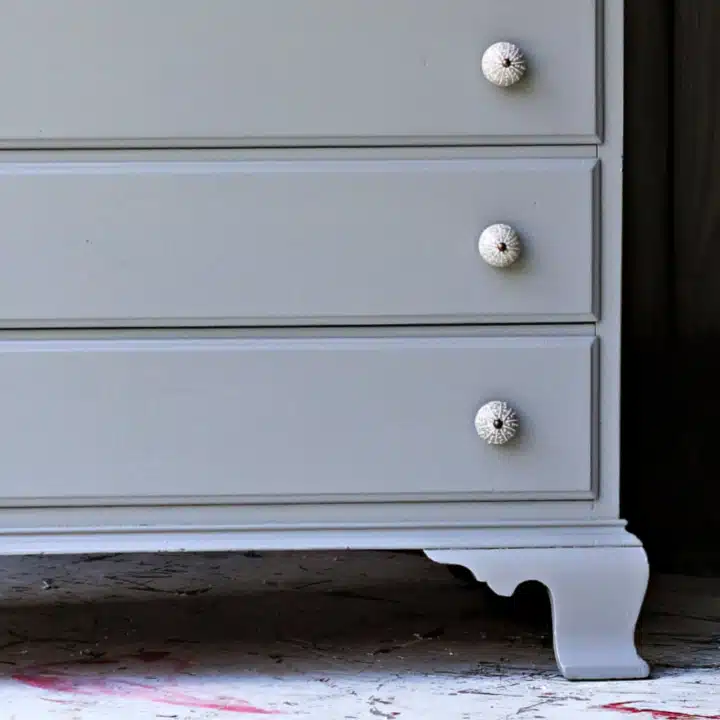 She picked out the pretty knobs at Hobby Lobby (50% off). I admit to being a little skeptical about her choice. I of course, was pushing for something bold.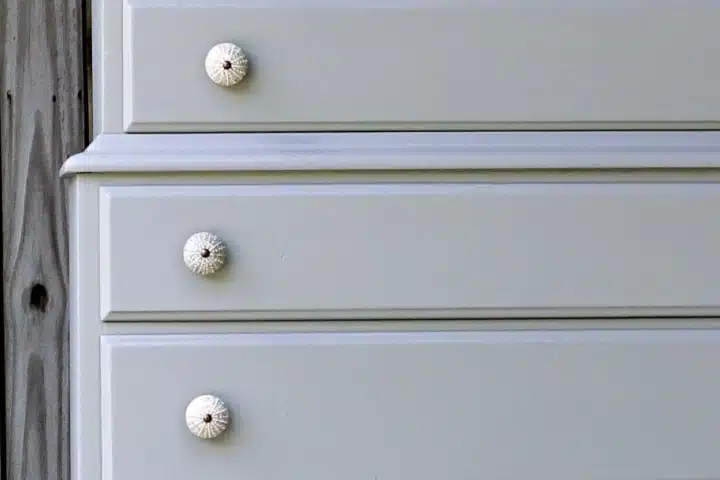 But it's her project and her furniture, and I let her pick out everything. As you can see, she made a great choice. The chest of drawers is very classy looking.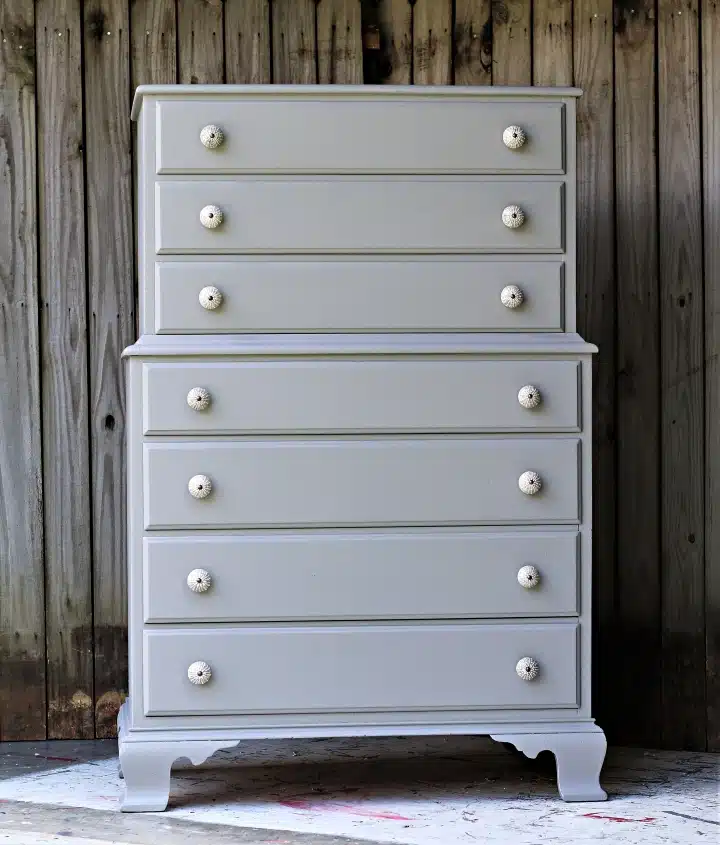 It's easy to decorate around furniture painted in a neutral color like this gray. Tenley's main bedroom accent color is purple. Gray and purple look awesome together. Other accent colors for gray are coral, navy, red, pink, yellow, fuchsia, orange......just about any color.
Now it's time to take the Furniture Fixer Upper Tour. Just click the text links below the "before" makeovers collage....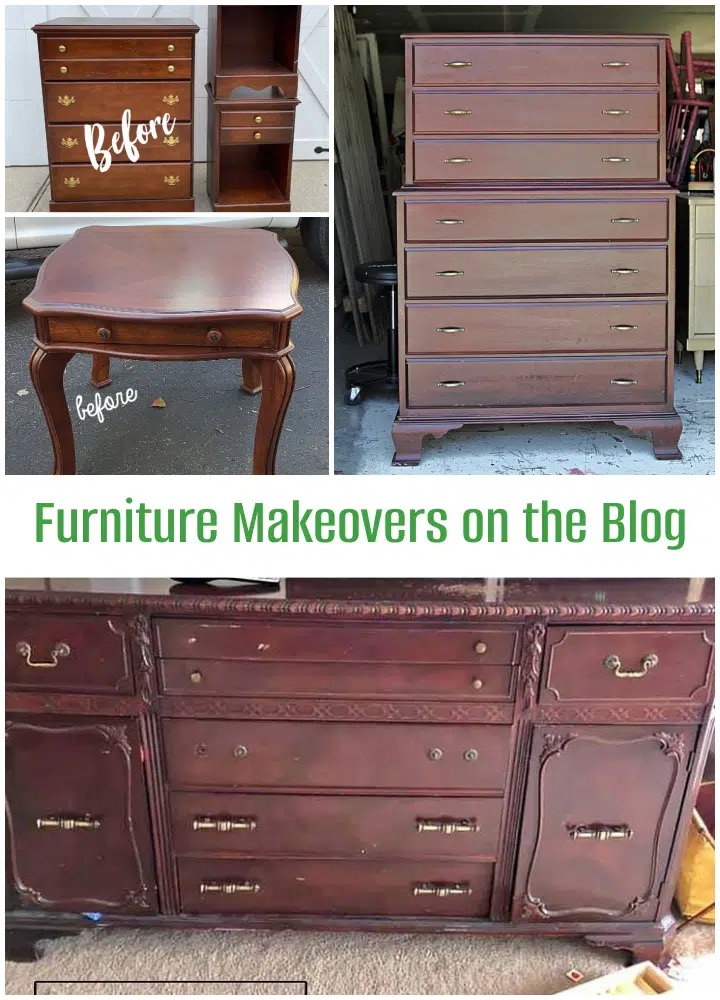 Furniture Fixer Upper Tour:
Cosmic Roses Dresser And Nightstand - Confessions of a Serial DIY'er
Furniture Glaze - Salvaged Inspirations
Coffee Table Set Makeover - My Repurposed Life
Paint Bedroom Furniture - Petticoat Junktion (you are here)
What do you think of the gray chest of drawers? My girl did a good job didn't she.....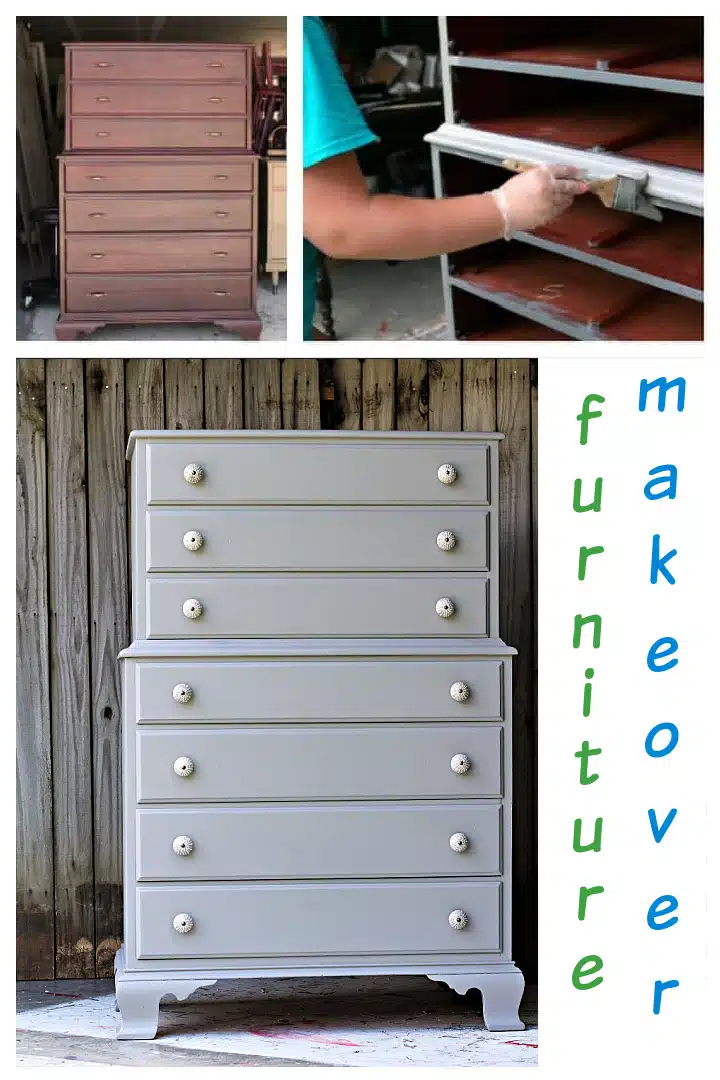 Do you want to try your hand at painting furniture, but you're nervous about it? No Worries! I wrote a post just for you. click here.......Painting Furniture Guide 101 For Beginners.
As always, thanks for being here, Kathy
Author: Kathy Owen (Petticoat Junktion)
Kathy is the founder of PetticoatJunktion.com, a home décor blog focused on repurposing and upcycling furniture, old hardware, rusty stuff, and thrifty finds into unique home décor. Kathy's projects have been featured on the Home Depot Blog, Plaid Crafts, Behr Designer Series, and in numerous magazines. Read more about Kathy here.