I love bargain furniture knobs. Heck, who doesn't like getting a good deal.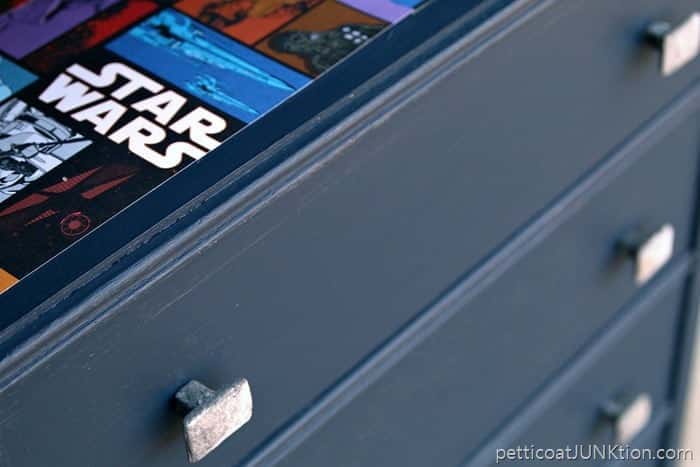 Bargain Furniture Knobs
I lucked up on the knobs while looking for furniture pulls for the large chest of drawers I bought last week. I didn't find knobs for that piece but I found these. They were on sale for $1.20 each. I wouldn't have paid full price for them which was $5.99 but I would have paid half-price (the usual sale price). I really like them. I scarfed up most of the supply. The knobs are shades of gray and textured.
You guys remember the small chest of drawers I got last week at my favorite junk shop. The JTS took care of the missing drawer.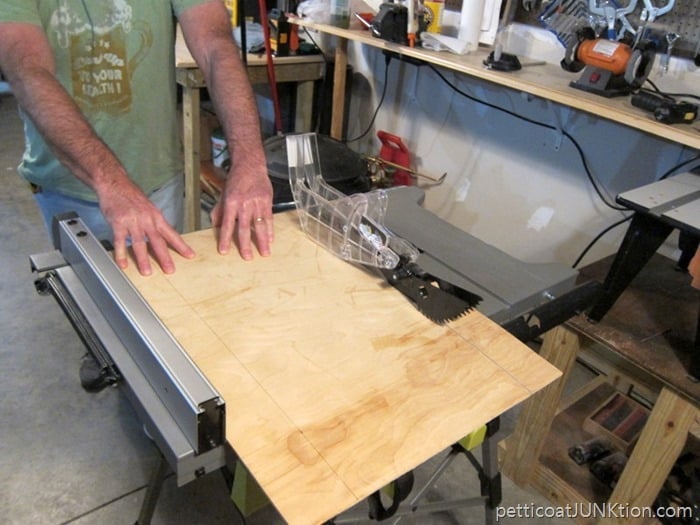 He measured and cut a shelf for the space.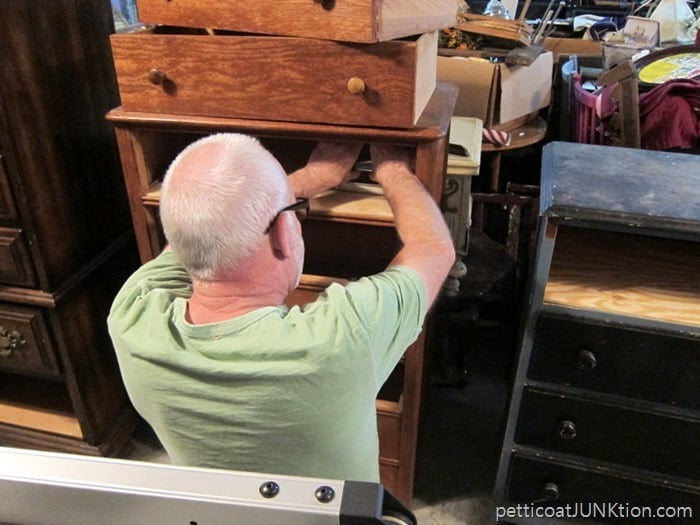 Then he stapled it in place. Couldn't use the nail gun because it wouldn't fit in that small space. I really had fun painting that area too.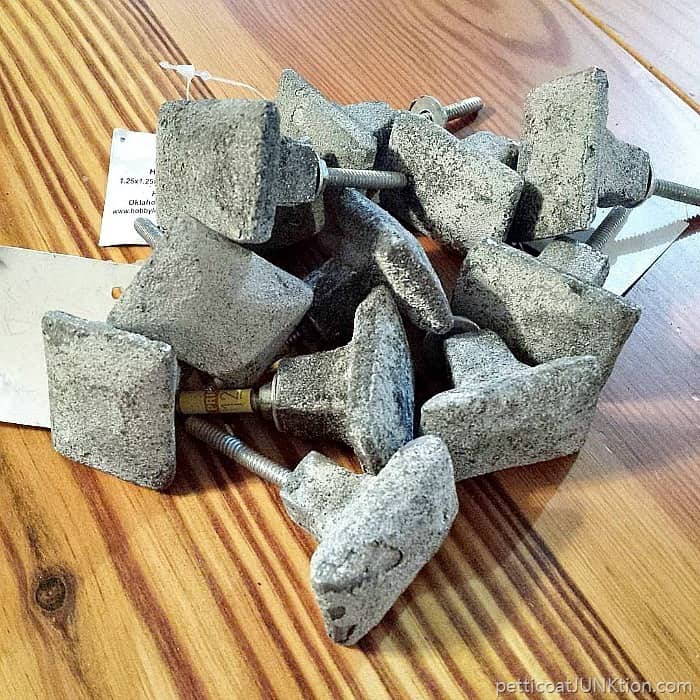 The bargain knobs! See why I couldn't pass them up. They inspired the paint finish for this chest. I was going to paint the chest a boring white and distress the heck out of it. Now I had a different plan.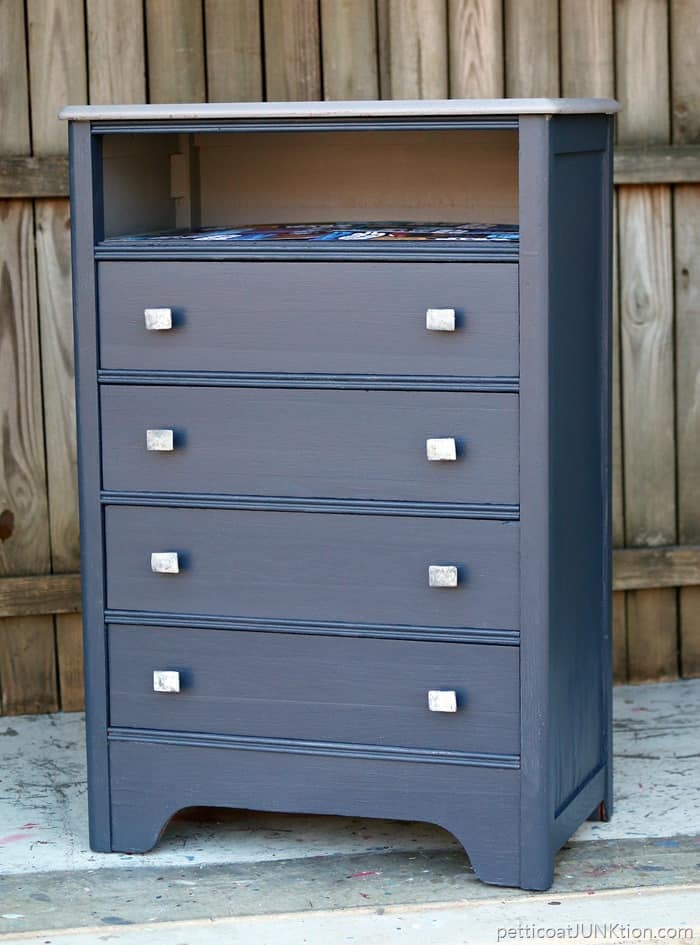 I pulled a can of paint off the shelf that had never been opened. I bought it to paint a piece for my sister but haven't worked on that project yet. The furniture knobs say "boy" to me and what better color for boys than blue.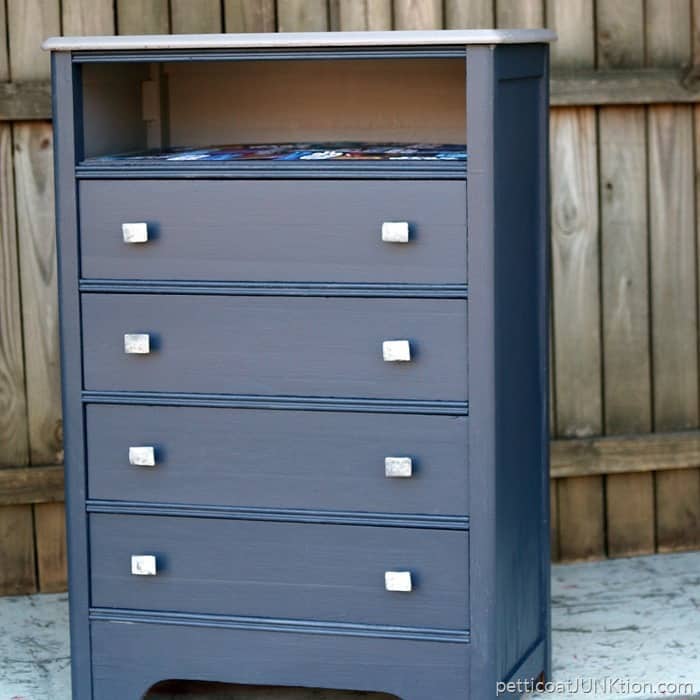 I painted the shelf and the inside casing gray.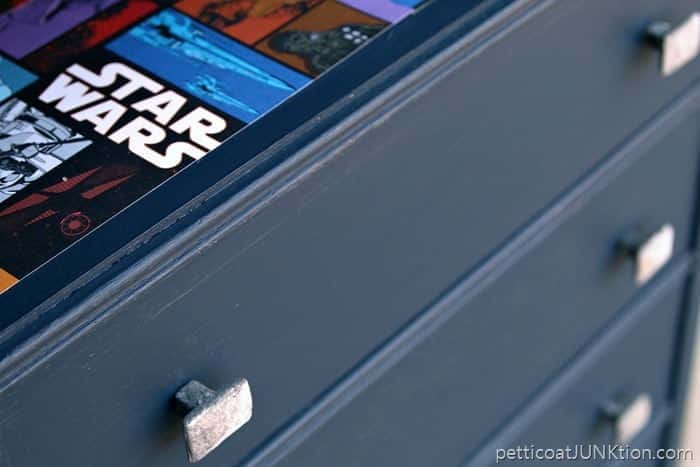 The Star Wars scrap book paper came from Hobby Lobby too. The paper is not adhered to the shelf. This piece is for sell so the paper can be changed out if the buyer doesn't like it. Or it can be removed altogether.
How about those knobs. I like them! I'll share the paint process with the colors and type of paint I used later this week. I changed the paint plan half way through the project. I know you guys can't believe that. Have a great day and I'll see you later.
Author: Kathy Owen (Petticoat Junktion)
Kathy is the founder of PetticoatJunktion.com, a home décor blog focused on repurposing and upcycling furniture, old hardware, rusty stuff, and thrifty finds into unique home décor. Kathy's projects have been featured on the Home Depot Blog, Plaid Crafts, Behr Designer Series, and in numerous magazines. Read more about Kathy here.