When I paint furniture and write a post about the makeover I usually include a complete tutorial. It might be a little haphazard sometime or hard to follow but that's just me.
The group of bloggers today are sharing their top ten lists from 2016. My top ten are all Furniture Makeover Tutorials. I guess you guys like those. Thanks.
I'm starting with number 10 and working up to the number one spot. Kind of sounds like one of those talent shows where the suspense builds doesn't it. Maybe you can already guess what the number one project is or maybe you're new here and will be inspired to come back!
10 Best Furniture Makeover Tutorials
Number 10. Miss Mustard Seed's Tricycle Red Vintage Radio Cabinet
This is the piece most bloggers know me by. I paint furniture to sell but the radio cabinet is mine.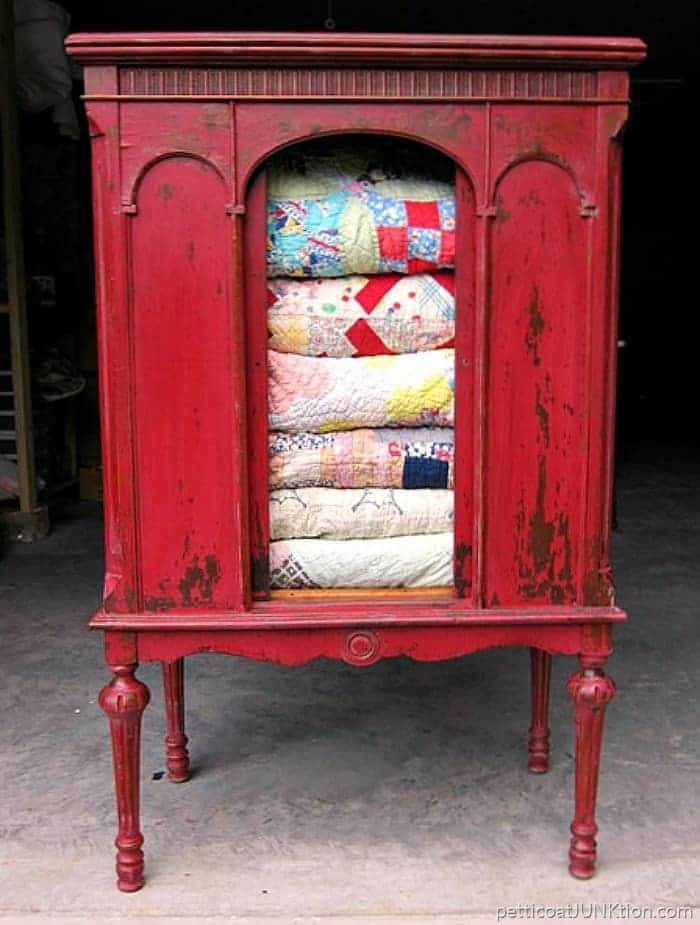 The cabinet sits in our den and sometimes the doors are open and sometimes they are closed. Depends on how well the quilts are stacked. You can see the complete tutorial by clicking here …tricycle red radio cabinet.
Number 9. Chest of drawers made of MDF.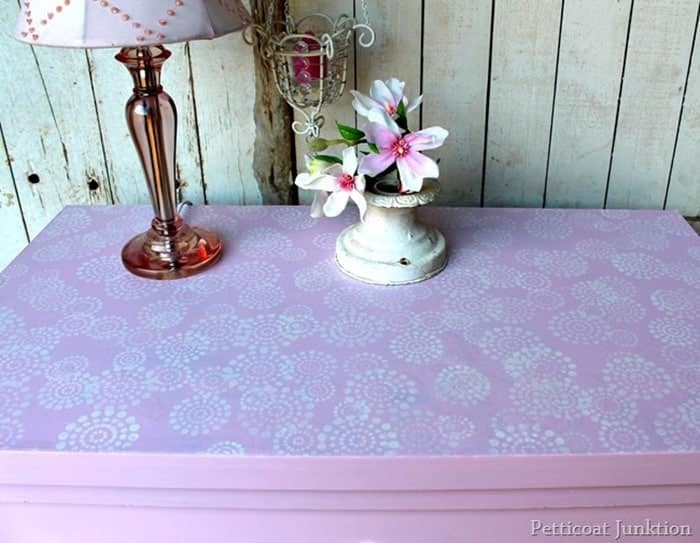 This little chest of drawers was so sad. The top of the chest was all bubbled up. After taking care of that problem I stenciled a pretty design on the top. You can see the project here….damaged mdf.
Number 8. Prepping furniture to paint.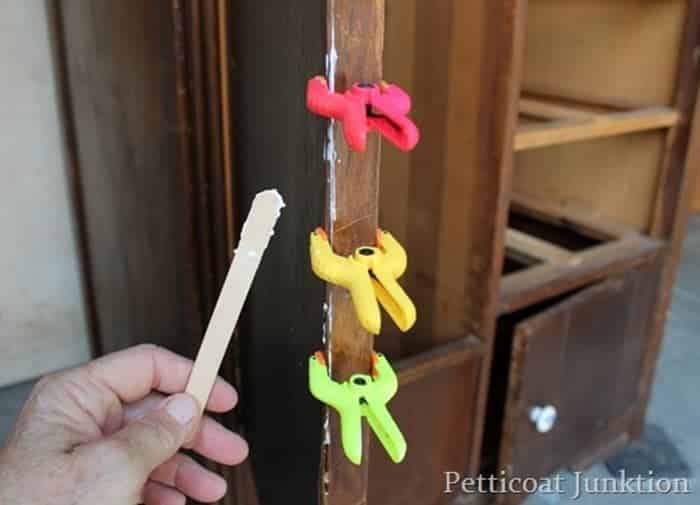 I take you through the process of getting one piece of furniture ready to paint. See it here….prepping furniture for paint.
Number 7. Pottery Barn Knock-Off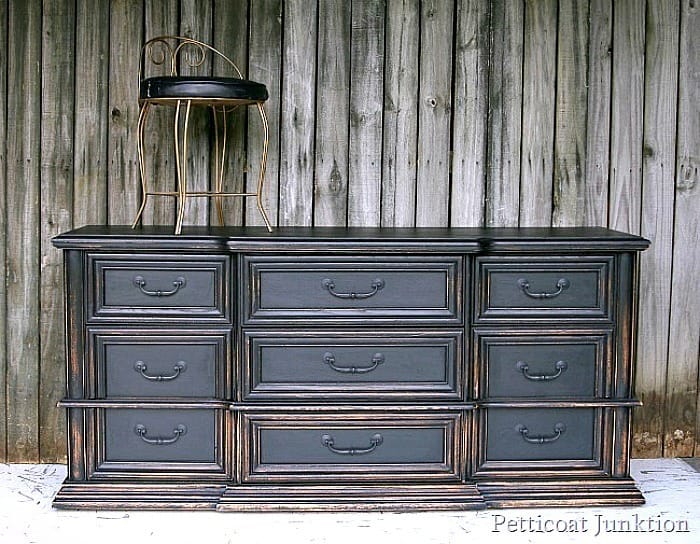 I don't do many knock off projects but I found a piece from Pottery Barn that was calling my name. Of course it was heavily distressed, my fav. You can see the project here…Pottery Barn Knock-Off.
Number 6. Metallic Night Stands
This project is from 2012 but continues to be one of my top posts.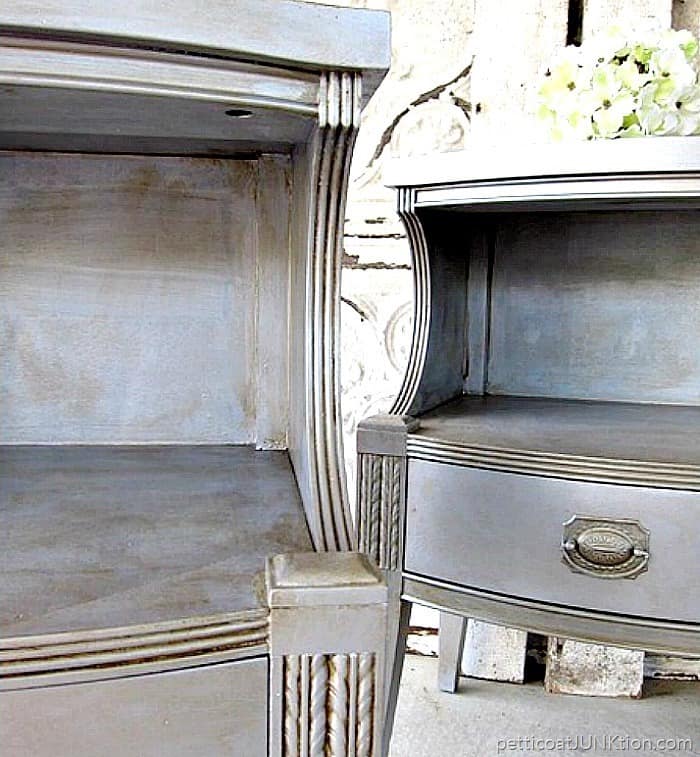 I guess the project is a favorite because metallic décor is very popular right now. I painted the night stands with Martha Stewart Metallic Paints then aged the paint with toner. You can see the technique here….Aged Metallic Paint.
Number 5. Layer Paint With Vaseline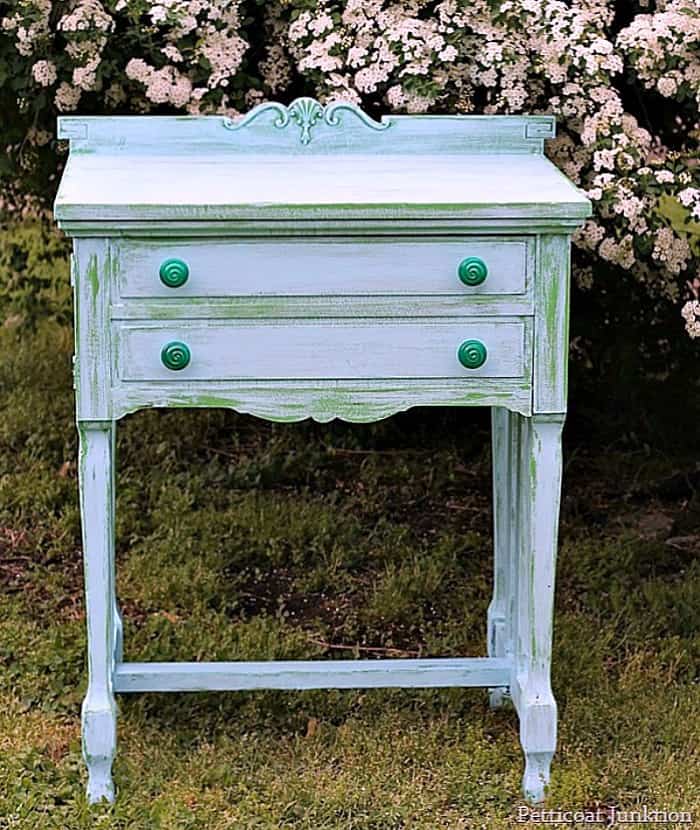 If you love layered paint you came to the right place. I used Vaseline to layer the paint on the sewing machine cabinet. Turquoise and green are such a great color combo. See the technique here….layering paint with Vaseline.
Number 4. Metallic Silver Sideboard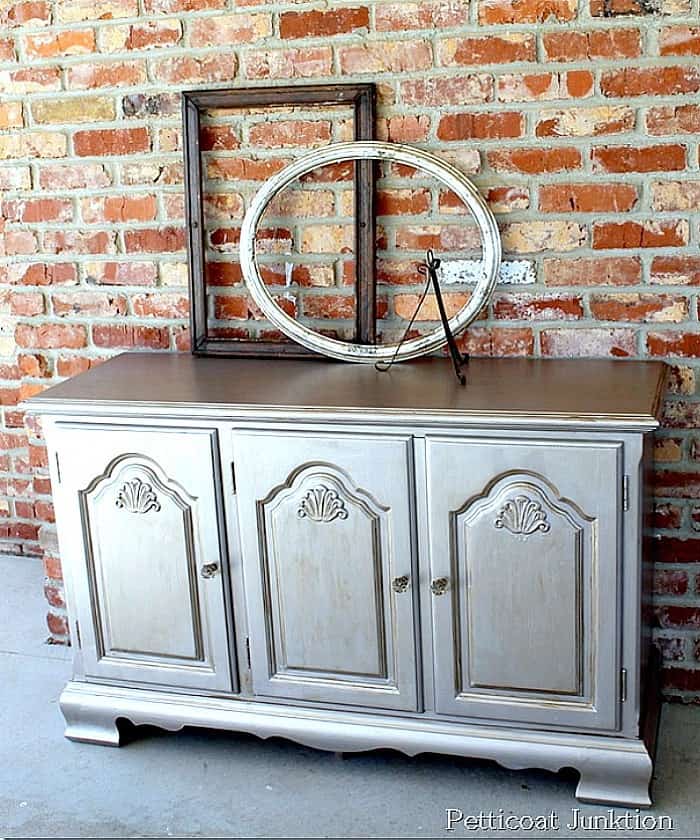 Yep, metallic paint is trending. I painted several pieces silver but am loving the gold metallics. May have to try another metallic project. You can see the complete tutorial for the project here….metallic silver sideboard.
Number 3. 10 Steps To Prep and Paint Furniture
This post contains a few tips and tricks I've learned in my furniture painting journey.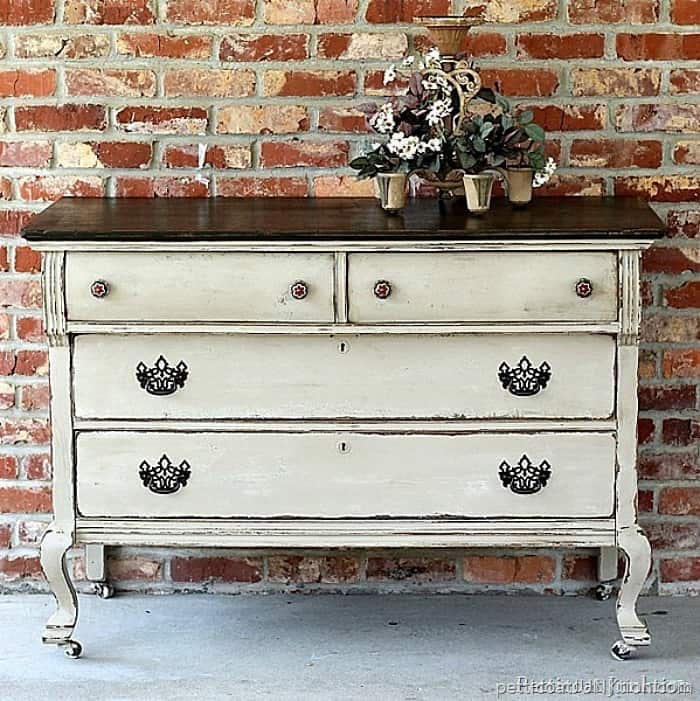 It also includes the paint tutorial for the dresser. See it here….vintage dresser.
Number 2. How To Antique Furniture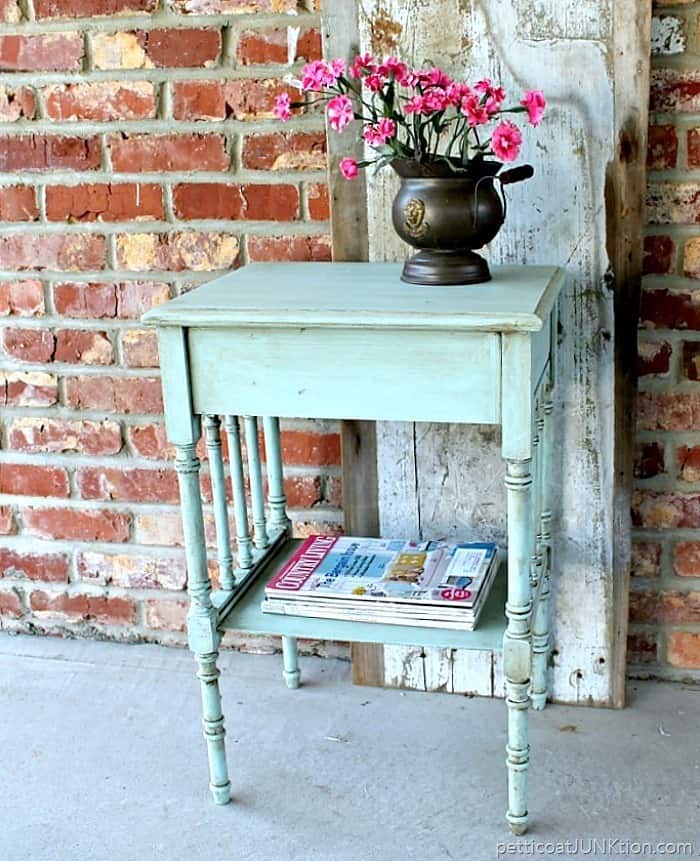 The paint is Miss Mustard Seed's Milk Paint and the color is Eulalie's Sky. Such a pretty color. I aged or antiqued the paint using Caromal Colours Toner. The technique is really easy. See it here….how to antique furniture.
Drumroll please…
Number 1. Cherry  Red Chest Distressed With Vaseline
The tutorial on using Vaseline to distress the cedar chest has been my number one post for the past 3 years.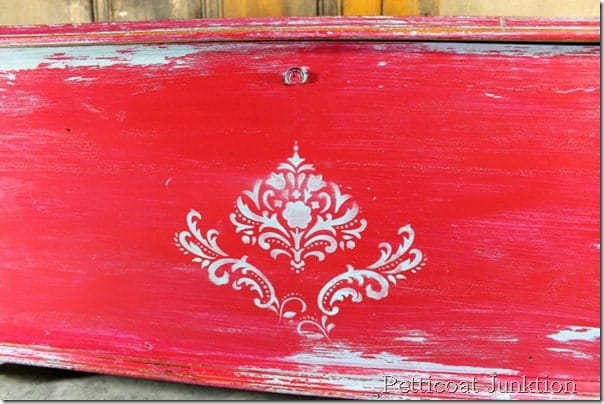 I tutorial is really in depth. The only thing I would change about the post if I could is the photography. The photos are horrible. I took them inside with poor lighting and a small point and shoot camera. I guess the photos are good enough. The layer of paint under the red is turquoise and it's hard to see that from the photos. The complete tutorial is here….Cherry Red Chest.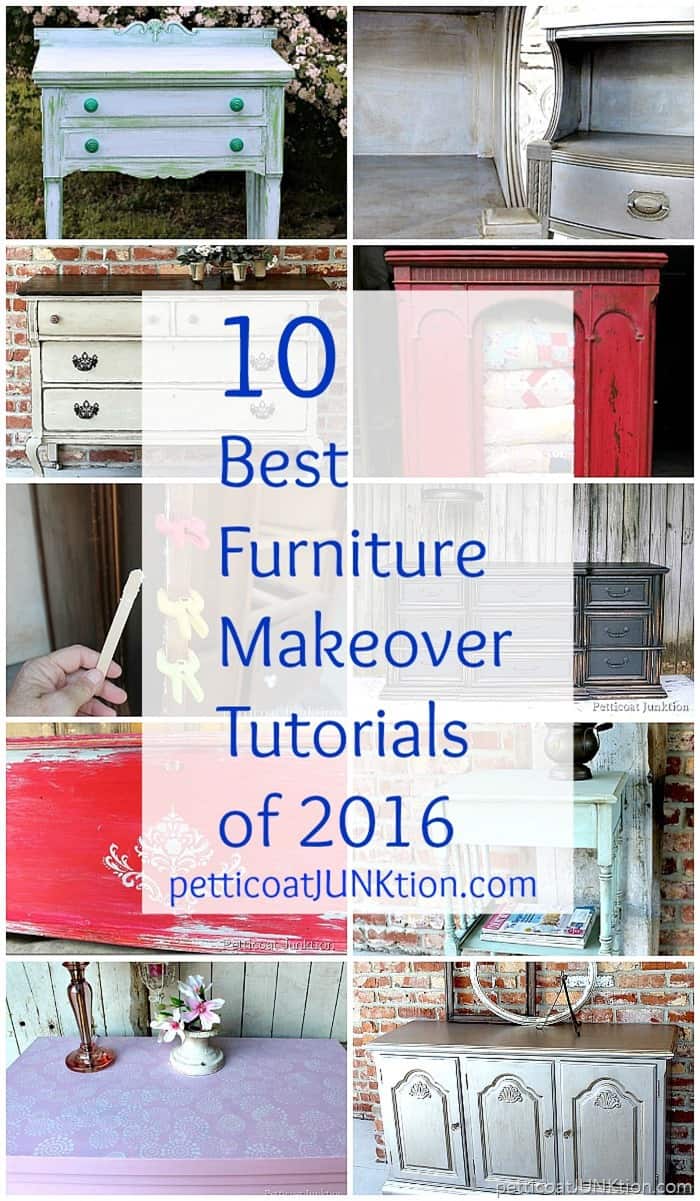 10 Best Furniture Makeover Tutorials Of 2016
Do you have a favorite from the top ten? I'm off to take the Top Ten Post Tour. Please join me by clicking the pink links below.
Top Ten Posts of 2016 – Blog Tour
Domestically Speaking ** My Repurposed Life ** Yesterday on Tuesday
Sweet Pea ** Hunt & Host ** Mad in Crafts **Roots North & South
Redhead Can Decorate ** Petticoat Junktion ** An Extraordinary Day
Cupcakes and Crinoline ** Brandywine Cottage ** StoneGable ** What Meegan Makes
Create & Babble ** Inspitation for Moms ** H2OBungalow
Refresh Restyle ** My Uncommon Slice of Suburbia ** 2 Bees in a Pod ** Celebrating Everyday Life