You can distress painted furniture or distress wood furniture using the Vaseline paint trick. Petroleum jelly or Vaseline is a paint resist meaning the paint will not adhere to any area covered with Vaseline.
This is a step by step tutorial with photos and an awesome video with all the details at the bottom of this post.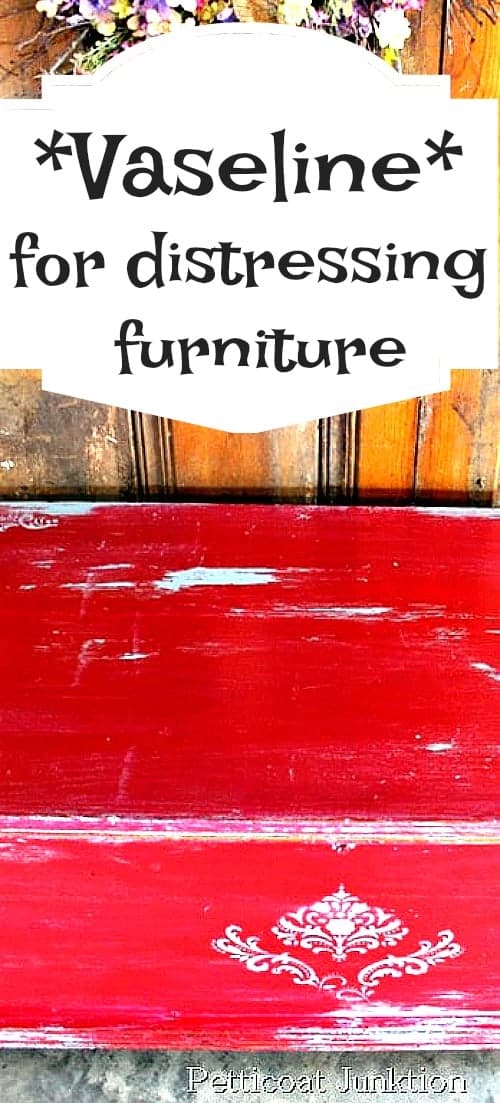 Distress Painted Furniture Using Vaseline
I promised you guys step by step details on the cedar chest I painted red and turquoise. Here it is…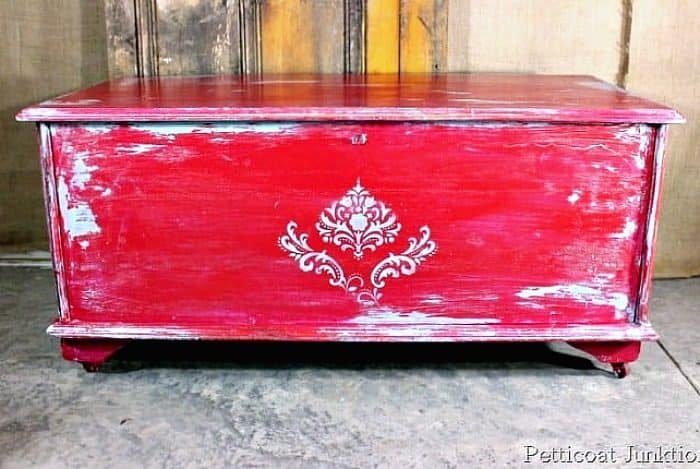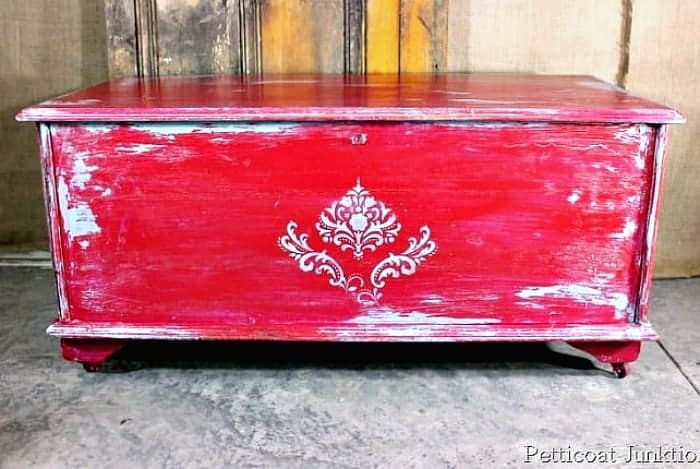 This is the cedar chest after it was painted, distressed, and stenciled.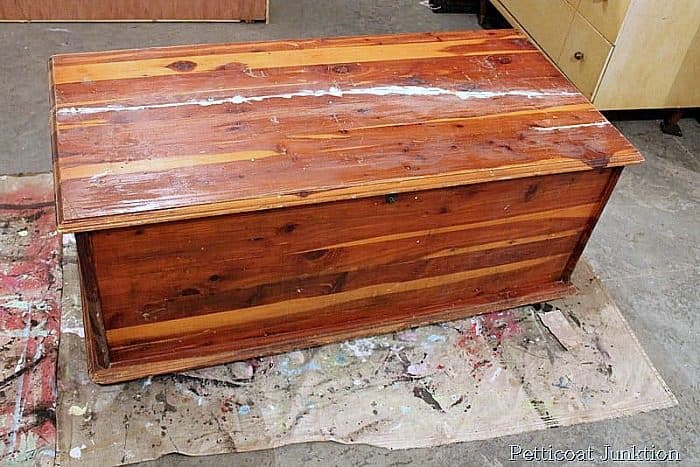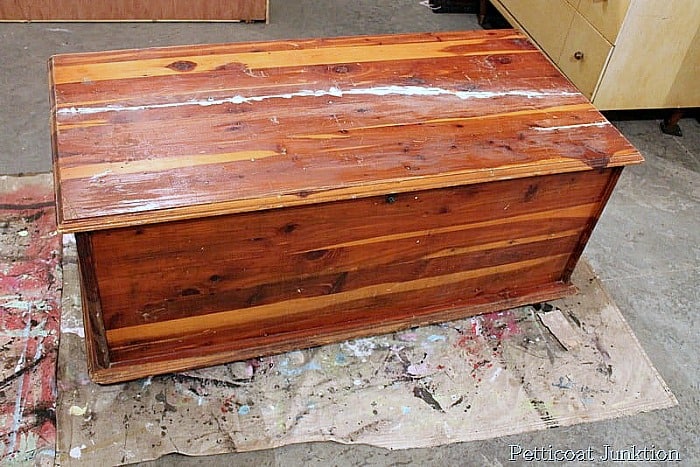 I paid $15.00 for the cedar chest with broken top. The JTS made the repairs for me. I could see potential in the cedar chest despite the flaws.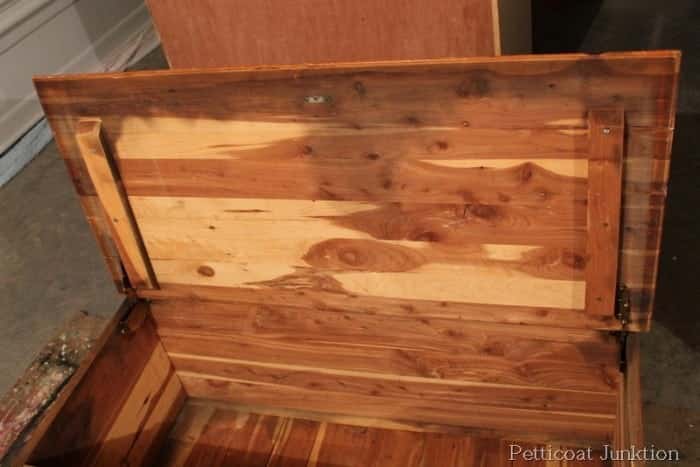 It was a bit discolored inside but a little cleaning with Simple Green took care of that.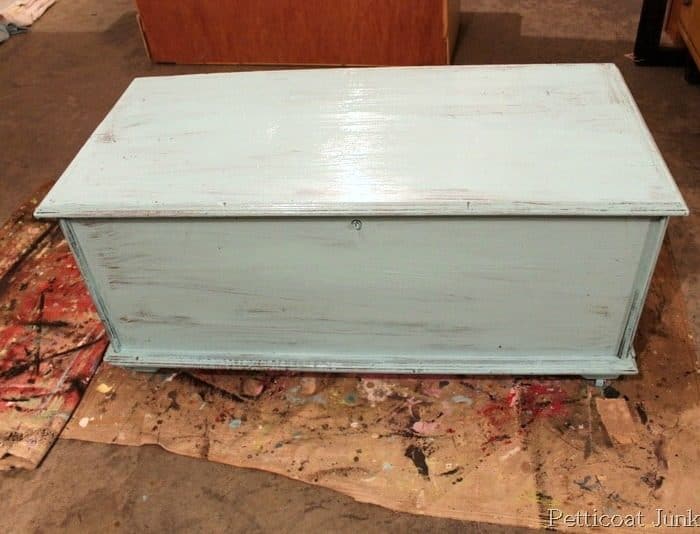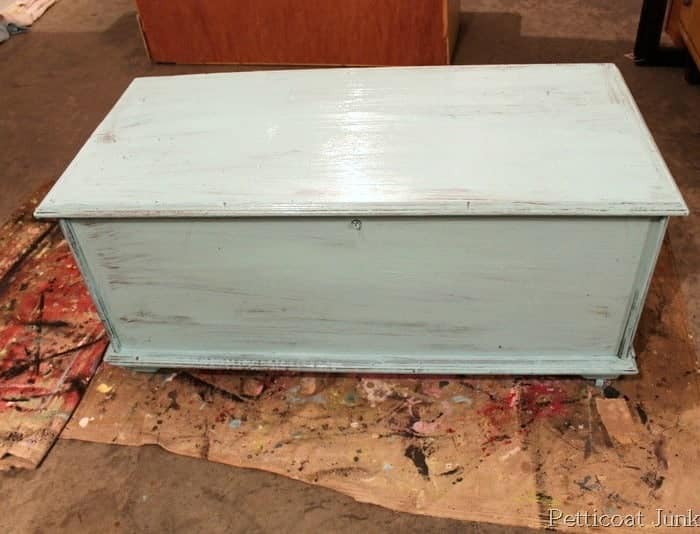 Petticoat Junktion is a participant in the Amazon Services LLC Associates Program. As an Amazon Associate I earn from qualifying purchases.
Step 1. Paint furniture desired color using paint of choice.
I didn't have the perfect paint color on hand and I combined several colors from my paint stash to get this beautiful blue.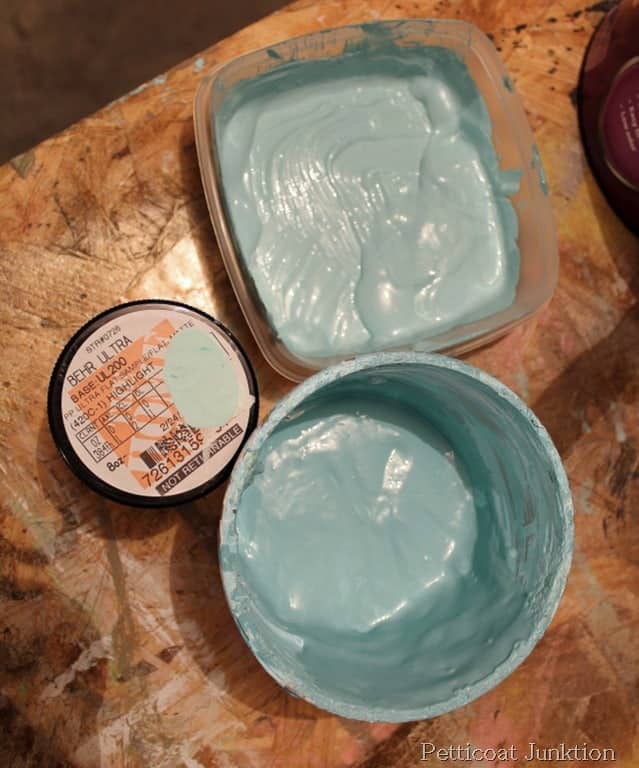 I hate to go and buy more paint if I can work with what I have on hand.
Step 2. When paint is dry wipe Vaseline lightly over selected areas of the painted surface.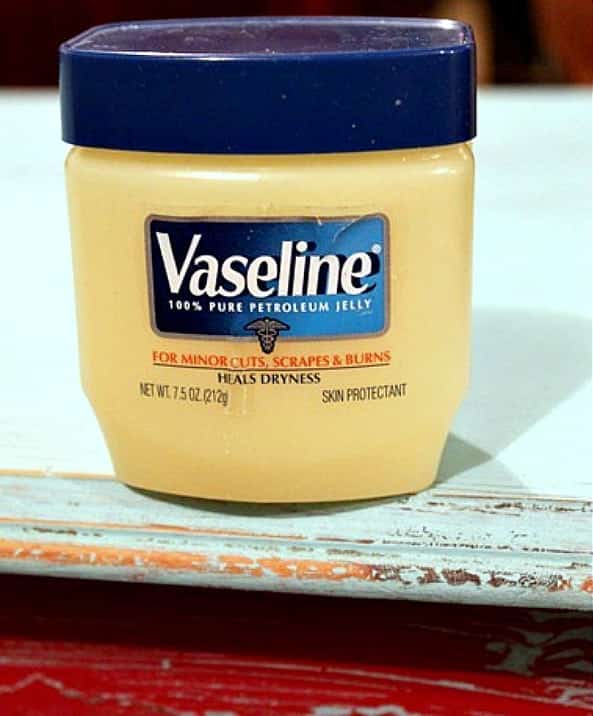 Vaseline paint resist
From Wikipedia…The first known reference to the name Vaseline was by the inventor of petroleum jelly, Robert Chesebrough in his U.S. patent for the process of making petroleum jelly (U.S. Patent 127,568) in 1872. "I, Robert Chesebrough, have invented a new and useful product from petroleum which I have named Vaseline…"
The technique of using Vaseline (petroleum jelly) as a paint resist has been around for a while. I've used this process numerous times with beautiful results.
I rubbed a little Vaseline on the cedar chest in strategic areas after the coat of turquoise paint was dry. I wore gloves so my hands wouldn't be icky, and I didn't put the Vaseline on thick or all over the cedar chest, just little swipes here and there.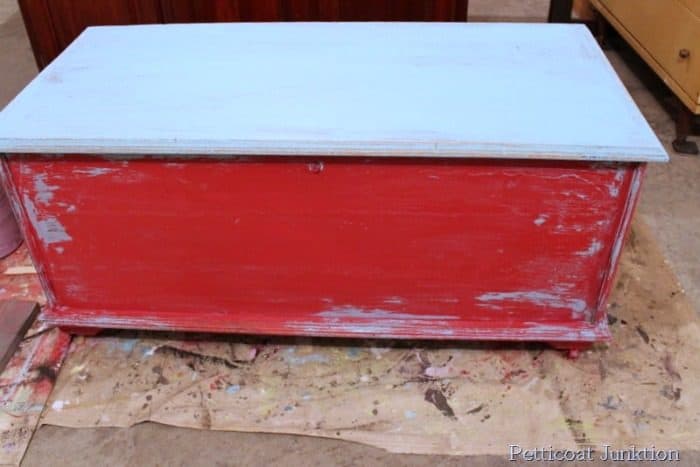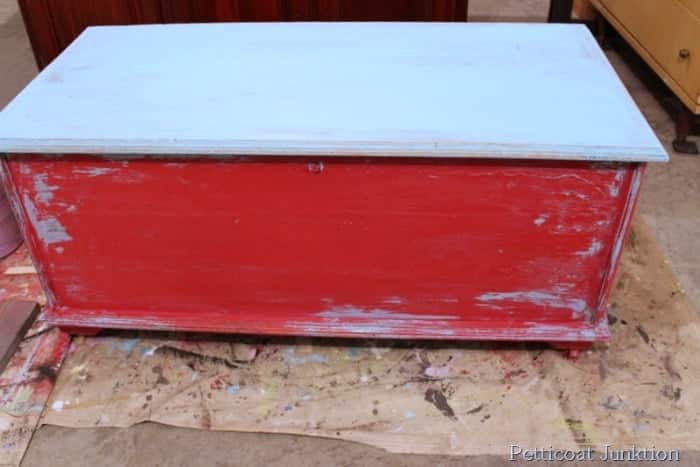 Step 3. Brush on second coat of paint in a contrasting color to first layer.
I used a can of oops paint from Wal-Mart for the top coat. This paint has been sitting on my shelf for over a year.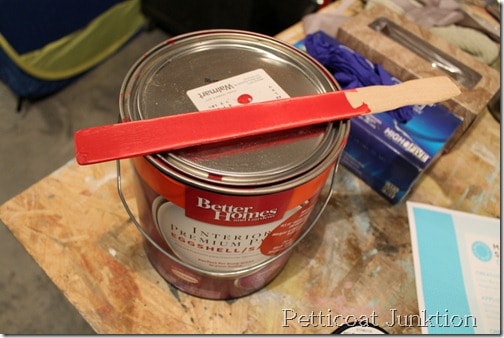 It's a beautiful Cherry Red and I fell in love with it at first sight. Just haven't had the perfect project until now.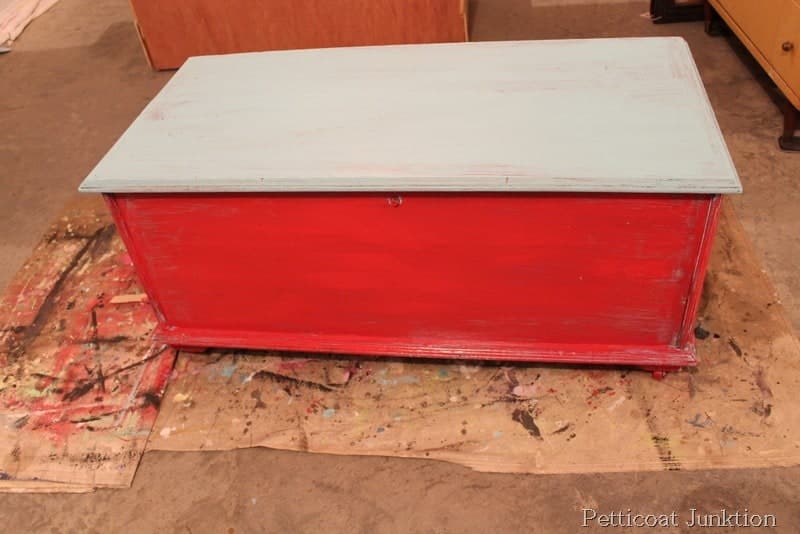 After I rubbed the chest down with Vaseline (sounds a little strange when I put it that way), I put a coat of the Cherry Red on the bottom of the chest. The top I intended to leave turquoise, no red topcoat.
Step 4. Let dry then immediately wipe off top layer of paint with a rag.
When the red paint was dry I took a damp rag and wiped it down. The areas where the Vaseline was applied rubbed off pretty easily. At this point I decided to go ahead and put Vaseline on the top and then paint it red too.
I wasn't loving the contrast between the top and the body of the cedar chest. It's okay to change furniture makeover plans mid-stream. I do it all the time. If the plan isn't working, move on.
I went through the same process with the top…..damp rag…..rub all over…..paint comes off. I use a damp rag instead of sandpaper because I don't want the scratched paint look.
Step 5. Add A Stenciled Detail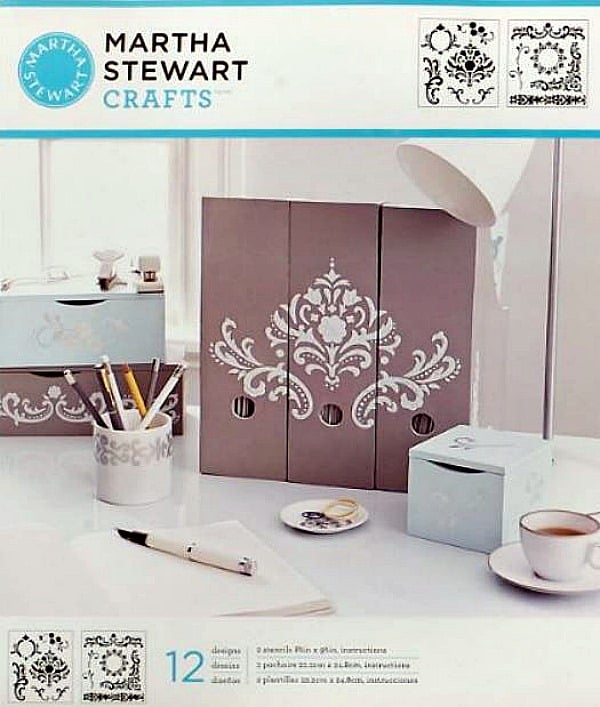 Next for the "over the top" touch, a Martha Stewart stencil
from Michaels.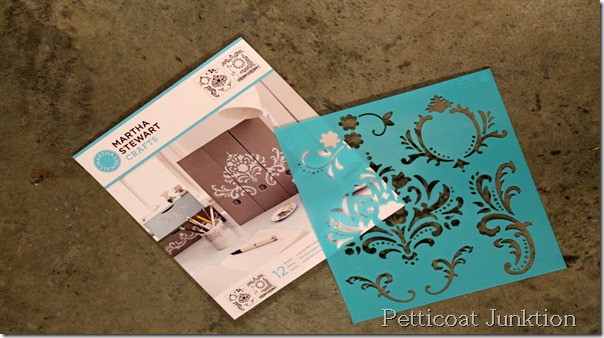 I selected parts of the stencil and placed them in a decorative pattern. I used the same turquoise paint for the stencil.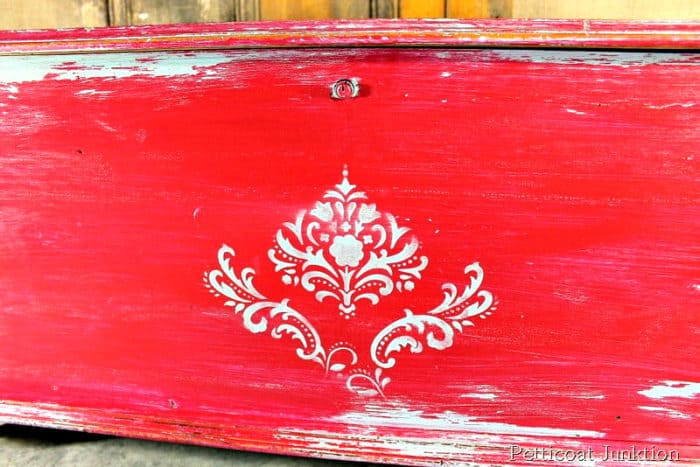 I didn't want a perfect look so I did a few off center curlicues at the bottom of the design and then I took a sanding block and lightly sanded the whole chest, stencil included, just very lightly so the paint wouldn't look scratched.
To protect the finish and for a little extra pow, I applied two coats of Minwax Poly Acrylic Latex Gloss Sealer.
The turquoise and red really pop against each other. The turquoise doesn't show as well in the photos. It's a little more vibrant than its showing here.
View My Video Tutorial Using Vaseline To Distress Furniture……
Video Tutorial: How To Distress Painted Furniture Using Vaseline
If you liked this project you will love this project using Vaseline To Distress Paint. ..Turquoise and Green Layering Using Vaseline
Note: This post may contain affiliate links. If you click a link and choose to make a purchase from the partnership site, the price will be the same but will share some commission.
Favorite DIY Tools and Paints:
Beyond Paint for Furniture
Ryobi Drill (cordless)
Mouse Sander (cordless)
FrogTape Painters Tape
Howard's Restore-a-Finish
Rustoleum Heirloom White Spray Paint
Rustoleum Metallic Copper Spray Paint
If you have any questions about this process just email me. My email is kathy(at)petticoatjunktion.com. As always, thanks for being here and have a great day, Kathy