Recycle Found Items Into A DIY Jewelry Organizer
A bunch of us are sharing ideas for Valentine's day projects. My contribution is a DIY jewelry organizer made from drawer pulls and a reclaimed drawer front.
I wasn't sure I was going to get mine together in time for the tour. Hope you guys have been following the tour. This is day 3…if you missed anything…and the girls went all out this month….the tour links are at the end of my post. Now for my feature….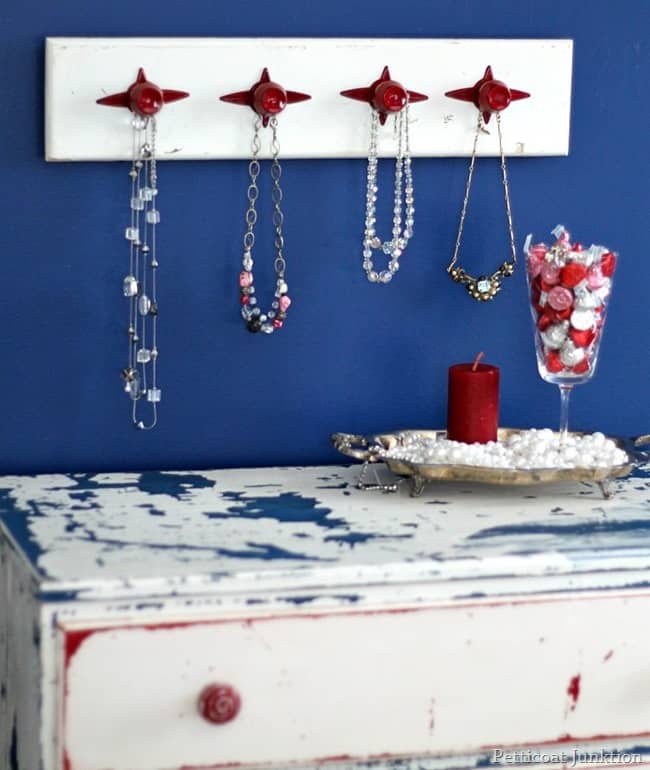 DIY jewelry organizer…or necklace hanger….
I have tons of vintage and costume jewelry (picked up at flea markets), and it's about to overload the necklace hanger in my bedroom. So I made a new jewelry organizer / hanger for the overflow. I can't show you the one in my bedroom. It's a mess as is the whole bedroom.
I don't know if I told you….. or if you guys realize….. that all of this is just smoke and mirrors. You only see nicely staged photos (hopefully) on the blog, you don't see the mess behind the scenes.
I hope you don't think our homes are nice and neat and orderly. We would scare you off if you saw the areas of our homes not in the photos. It's part of the blogger code….only show the pretty pictures! You can see what our house looks like on a normal day by clicking here.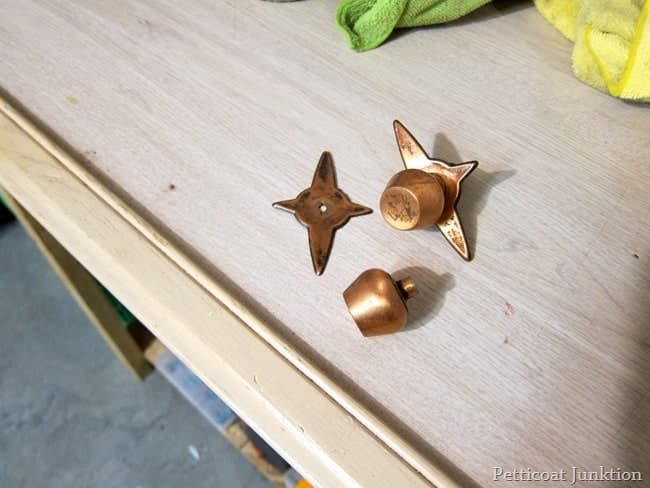 I bought a gazillion of these knobs several years ago. I think they are from the 50's or 60's, maybe. I remember seeing them but not sure if they were on appliances….metal cabinets…or something else. I bet someone out there knows.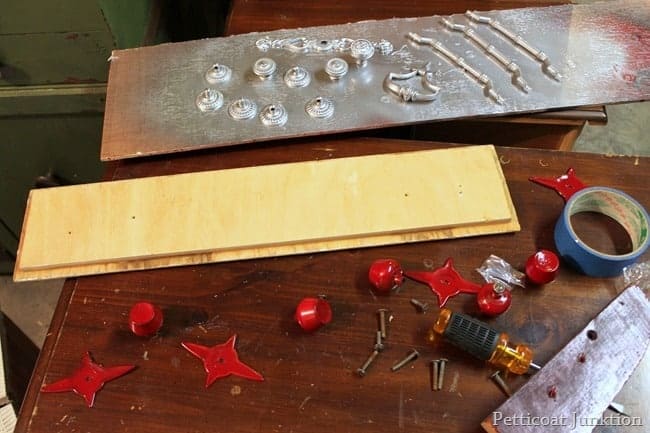 I spray painted the knobs with Krylon Cherry Red. It's a beautiful, beautiful, color. I always have a can or two of the spray paint on hand in case I'm feeling the need for red. The wood board is the backside of an old drawer front. Ignore the silver hardware please. Those were for the Coastal Chic White Chest.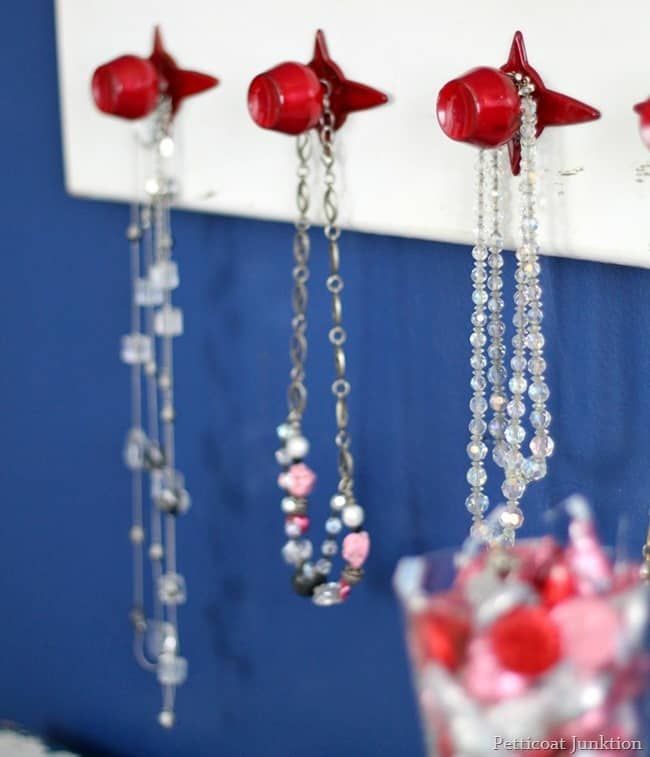 I drilled holes in the newly painted drawer front and just screwed the knobs on. Easy!! The photography was the hard part. I've been practicing with my new camera lens. It's great for close-ups and for achieving the bokeh affect… which is a blurred affect around an in-focus object…or something like that.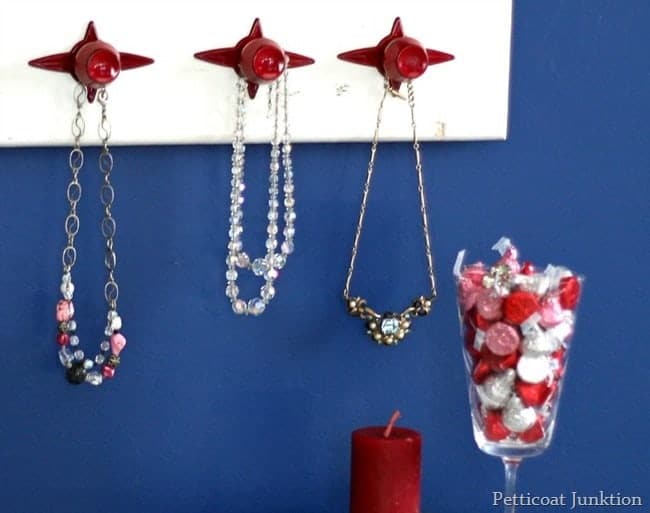 I kept eating the props I used to style the display for the photo shoot. Who can resist chocolate kisses…and you have to have kisses for Valentine's Day....and Reese's Peanut Butter Cups.....and........I could go on and on about the chocolate.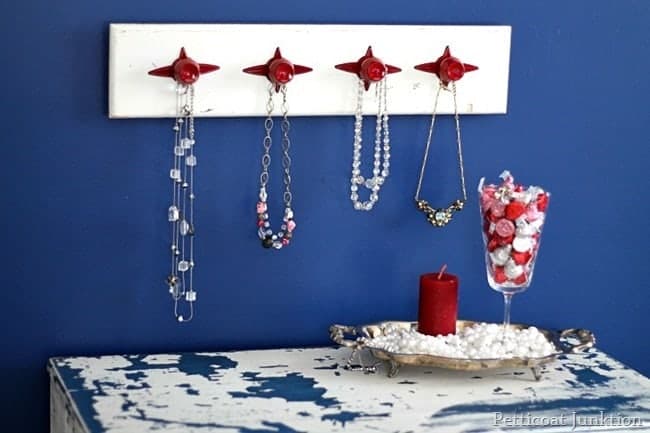 This project was super easy. I will be moving a lot more jewelry to the new hanger. The nice photos are done so I can junk it up now.
I made a few "Love" signs from reclaimed hardware and you can see them by clicking here..... DIY LOVE SIGN..... and....... I HEART YOU.
So that's it folks. What says Valentine's Day better than chocolate and bling. What do you think? Do you need a place to hang your necklaces and other bling? Leave me a little note below. I love hearing from you.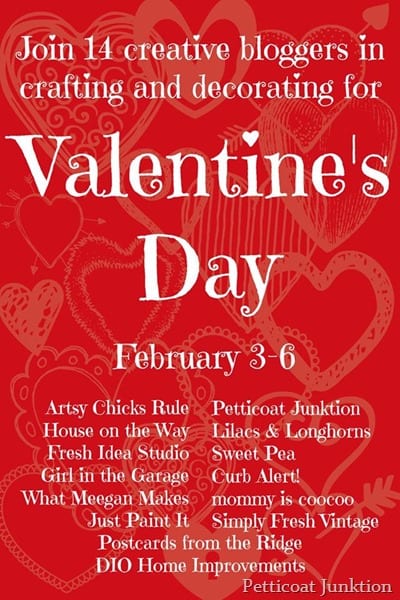 View any of the projects below by clicking the photo!
Thanks for stopping by and have a great week,
Kathy