Red Love Wall Decor DIY Craft
Make this red love wall decor diy craft from things found in your junk drawer or garage.
A love sign made from junky items found around the house or a bit of reclaimed hardware is a good way to say love, right? My love sign is made from stuff most people throw away. Things like broken wood frames and half a hinge. I promise they never looked so good.
I try to organize my workshop but I always get sidetracked. I'll pick up something to put it away and think…hum, I could make …blah, blah, blah, with this. Then that's the end of my organizing efforts. That's exactly what happened here.
It's so much easier to make crafts and put things together when my work tables aren't two feet deep in junk. So with all that being said, I made this Red Valentine Love Sign on the floor, the very edge of the work table, and on top of my furniture projects.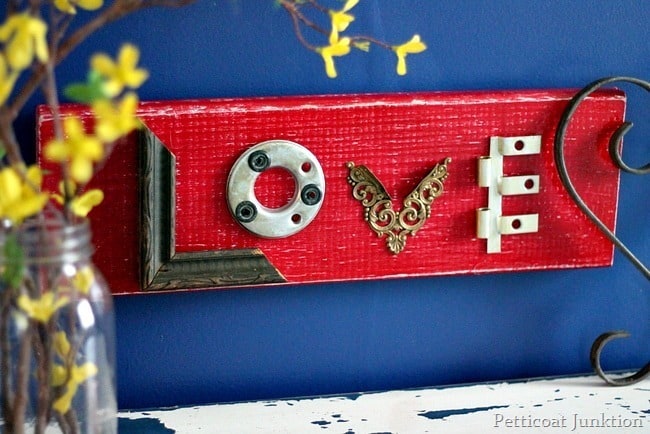 Red Love Wall Decor DIY Craft from reclaimed items
That red is too beautiful for words. Did you guys know red is one of my favorite colors. My Mom's too.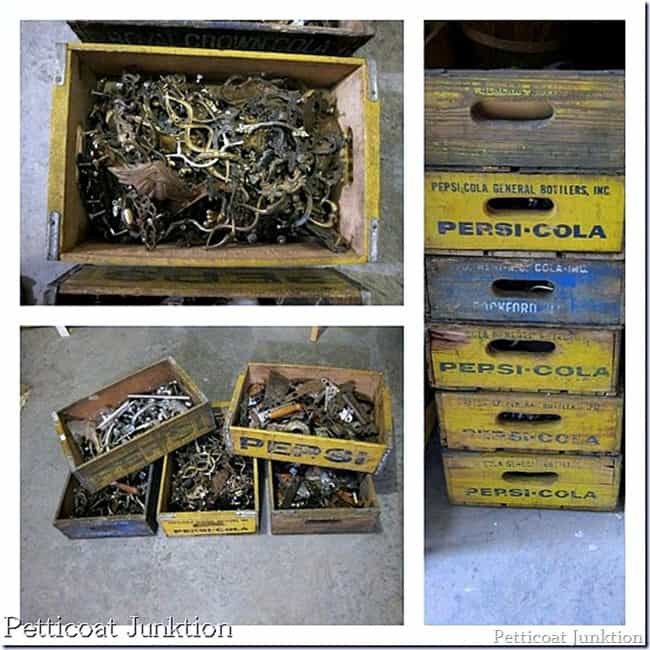 You guys know I'm always junk shopping and I have a pretty good stash of junk…good junk. The photo above shows a small part of my hardware, drawer pull, rusty tool, etc. stash. This photo was taken back in 2012 or 2013. Since then the stash has exploded. I enjoy going through the stash and finding pieces that come together perfectly.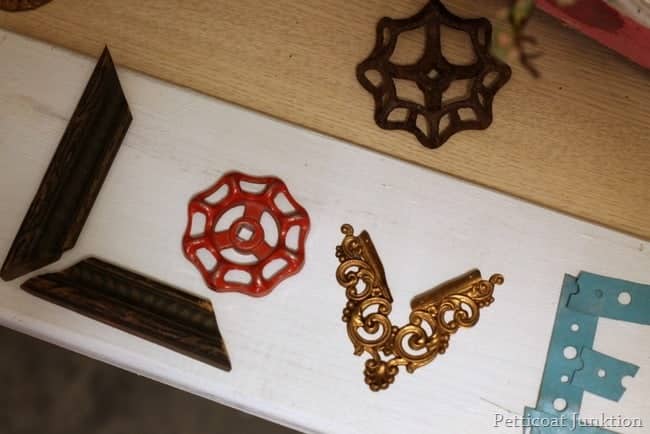 It usually takes me hours and hours to put one little thing together. I can't just grab a few things and put them together and it works the first time. I'm not that good. You would think it was easy. It looks easy...but it's not.
For this project I took a board from my wood pile and painted it white. Then I tried to put some things together. I finally decided to paint the board red. I'm so glad I did. That red is awesome. After I painted the board red I distressed it just a little so the white paint would show.
Then I went on the hunt for some more junk goodies. It's the E's that are really hard to get just right. At least for me. You can find a lot of hardware and household repair stuff shaped like circles and even V's but no E's.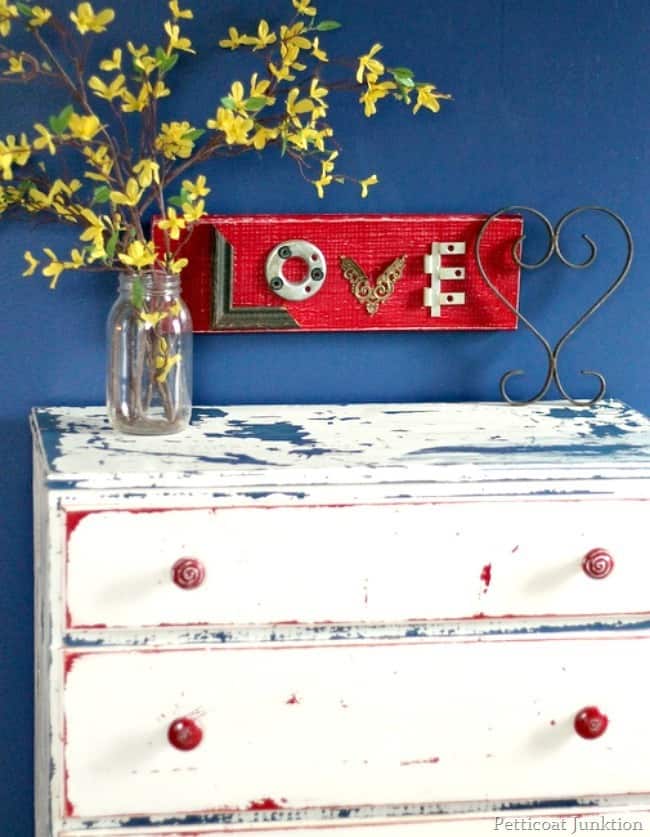 I used E6000 to adhere the hardware to the board. Love that stuff! It dries fast too.
Hey....You can find the makeover for the chest of drawers here....Red, White, Blue Furniture Makeover.  There is a good story there. I didn't have to paint the chest at all. I only had to distress the white (dingy white) paint heavily to show the layers of red and blue paint under the white.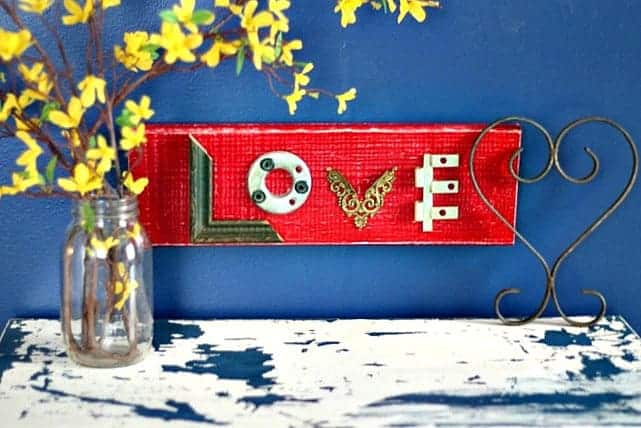 I finally went through some bins where the hubby has stuff stored and found a door hinge thingie. I got him to take it apart for me and I had my E. The other half of the door thingie is an E too….so I have an extra! I hung the love sign in the "blue bedroom". The sign really pops against that wall.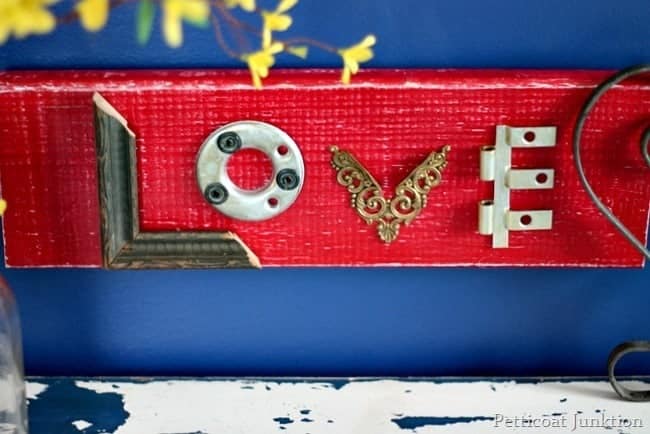 So, what do you think of the "letters"? Do they work for you? I think I did a pretty good job of putting the  "love" sign together. Do you do anything special for Valentine's Day? It will be here before you know it.
Tomorrow I have a really cool furniture makeover. It's all about whitewash.....and gray paint....see you then, Kathy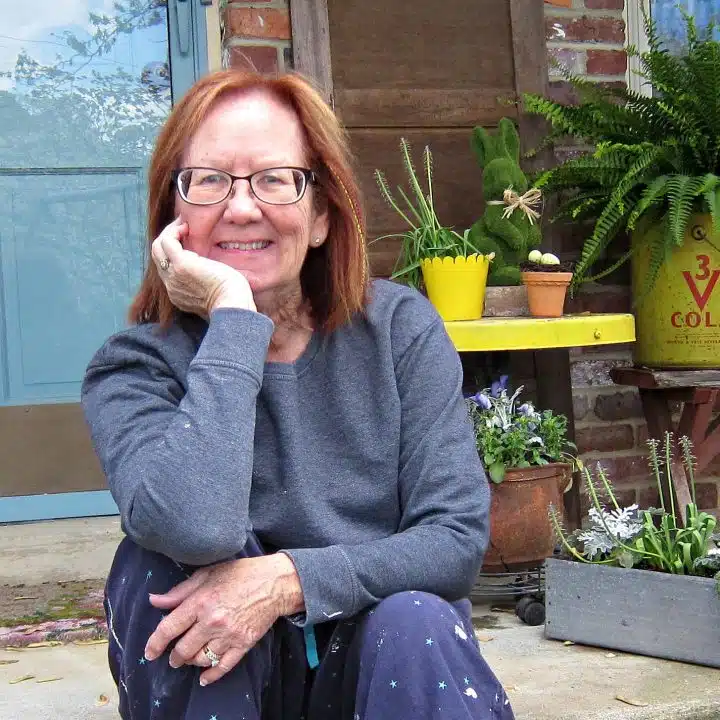 Author: Kathy Owen
Kathy Owen is the founder of the home decor blog Petticoat Junktion where she shares tutorials on painting furniture and upcycling thrifty finds into unique home décor. Her DIY projects have been featured on the Home Depot Blog, Plaid Crafts, Behr Designer Series, and in numerous magazines. Kathy's newest website is HappyHomeDIY.com