There are as many silver plate repurpose ideas as there are stars in the sky, and you can find silver plate items really cheap at thrift stores and flea markets. So get ready to make a project!
For those of you who missed the auction post, this is the silver plate haul I made for $10. Looking for ideas for the rest of this stuff.
I've searched high and low for ideas on how to repurpose the rest of my auction haul. I would love to know which of the project ideas you think I should try. Some of the projects are cute as pie, and some of them, while really nice, might be a bit difficult to implement.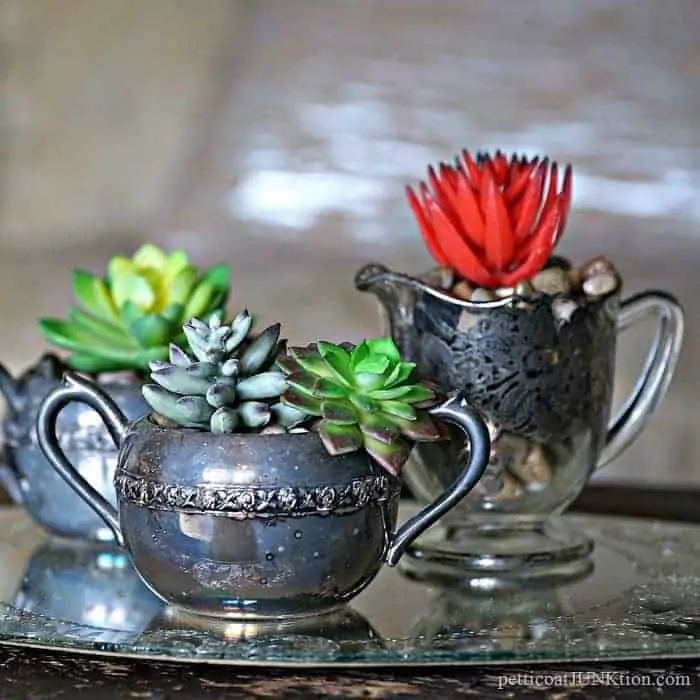 The small sugar and creamer from my auction haul and a silver decorated glass creamer from my china cabinet look awfully pretty as a faux succulent display.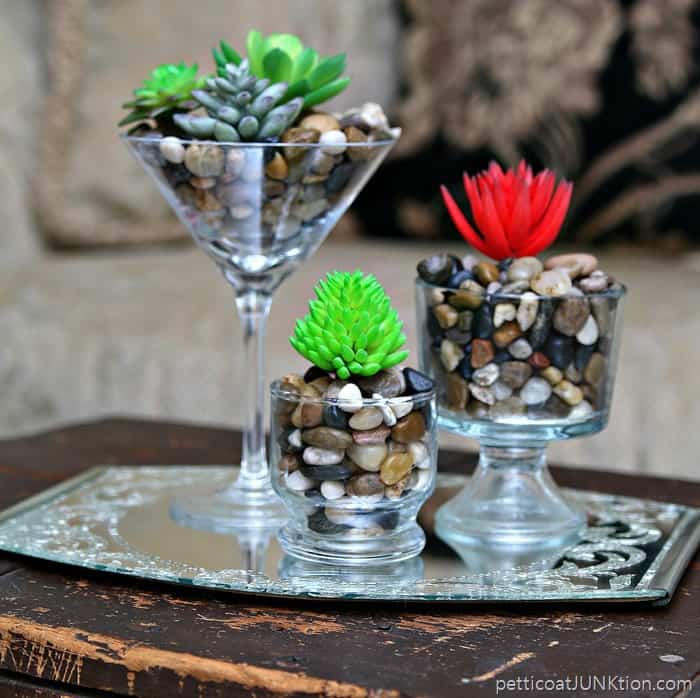 You probably remember the faux succulents from when I showcased them in thrift store glasses and river rock for filler.
This pretty piece is one I bought at the thrift store when we lived in Florida. It moved back to Tennessee with us. I think it is a glass creamer with a sterling silver overlay design.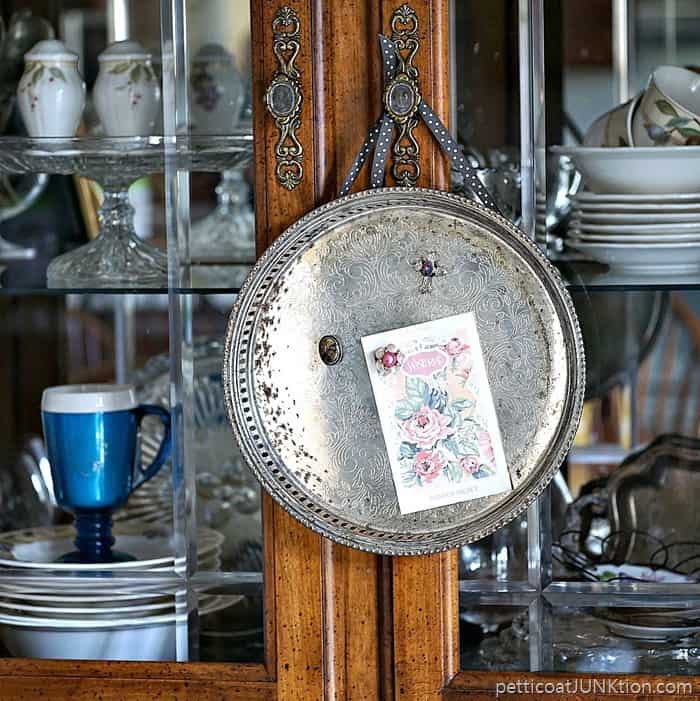 A while ago, I repurposed this silver plate serving tray into a magnet board/tray. Fun idea and really simple too. I find these trays all the time at the thrift store.
How about adding a glass dome to a silver plate tray or dish to make a cloche? This one is so pretty; all the pieces are thrift store finds. I need to try this one, but I really don't have the perfect silver plate dish. Isn't that the way it goes? Now I'm on the hunt.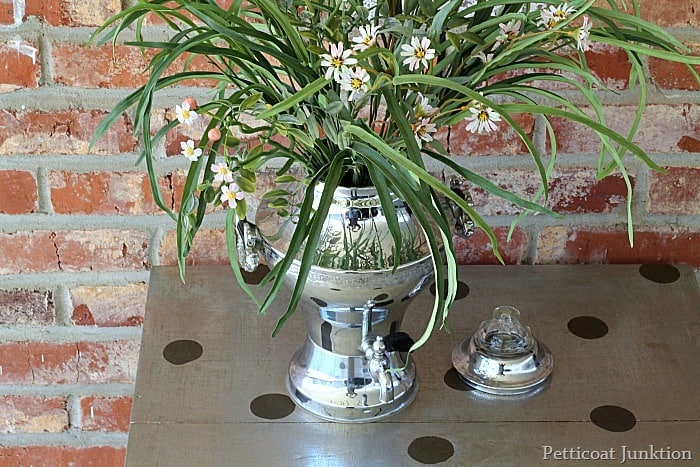 Fill a large shiny silverplate coffee urn with a bouquet of flowers, faux or real.
This silver plate server painted with Annie Sloan Chalk paint is so cute. It's from my friend Nancy at Artsy Chicks Rule. Nancy is cute too. And this idea I would never have thought of…….. Silver plate teapots hanging from a wreath swag on an interior front door. Too cool.
Next up is a silver plate tray or platter wreath! I love the wreath idea, but I bet that sucker is heavy. It's made of vintage silver plate trays. I found this teapot painted with chalkboard paint on Pinterest. It's really cute with "Tea" written on it. Then there was the time I used a silver plate bowl to display faux succulents.
This project had me swooning, but another one where I need to do more junk shopping. It's a silver plate wind chime and it's the prettiest one I've ever seen.
You can see how I made a candle using a silverplate goblet here....... How To Make A Silver Plate Goblet Candle This is the cutest hanging chalkboard project from my friend Jess at Mom4Real. The faux silver tray came from the Dollar Store too. Again a real silver plate tray would work here.
Another of my favorite home décor items are tiered trays. Silver plate trays can be used individually or stacked. The size of the DIY trays are perfect for stacking…..larger to smaller…..bottom to top.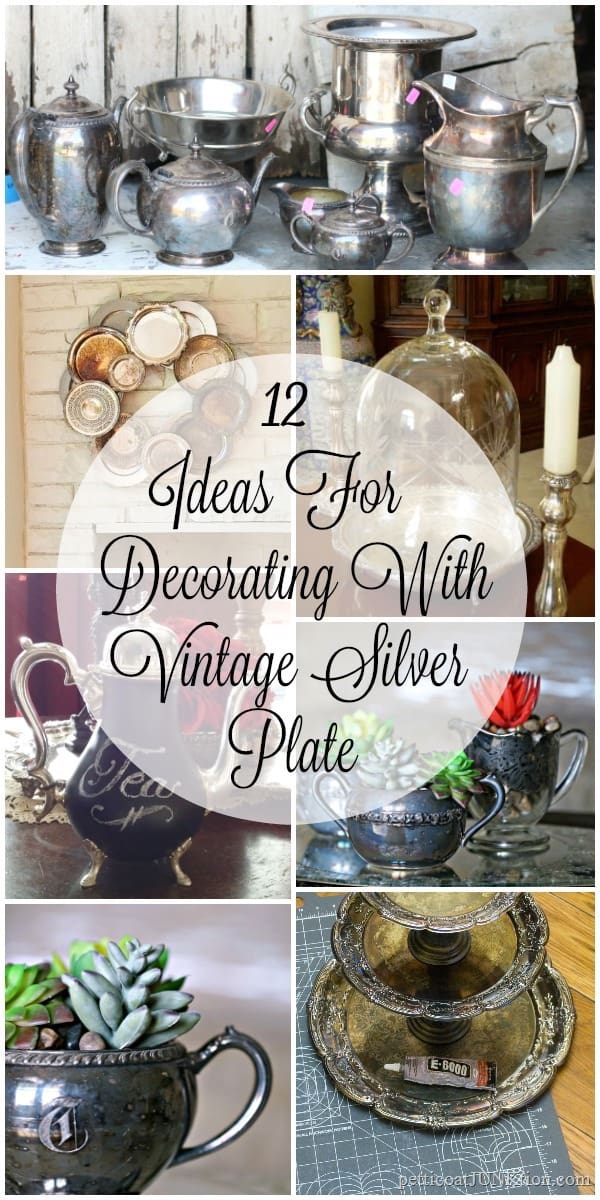 12 Silverplate Repurpose Ideas
You guys.....I painted two pieces of furniture over the weekend. Amazing huh? I spend so much time away from home, and it seems I sit and do nothing when I'm home—getting lazy in my old age.
Anyway, I'll have the photos and post ready for one of those projects in the next day or two. Stay tuned. Let me know which of the silverplate repurpose ideas you liked. Thanks for being here, and have a great day, Kathy
Author: Kathy Owen (Petticoat Junktion)
Kathy is the founder of PetticoatJunktion.com, a home décor blog focused on repurposing and upcycling furniture, old hardware, rusty stuff, and thrifty finds into unique home décor. Kathy's projects have been featured on the Home Depot Blog, Plaid Crafts, Behr Designer Series, and in numerous magazines. Read more about Kathy here.