I think there are as many silver plate repurpose ideas as there are stars in the sky. And you can find silver plate or silverplate items really cheap at thrift stores and flea markets. You guys might remember I bought a bunch of silver plate stuff really cheap at the auction? Well, I used a couple of the pieces in my latest project. Not really a project, more of a quick thrown together display that looks great if I do say so myself.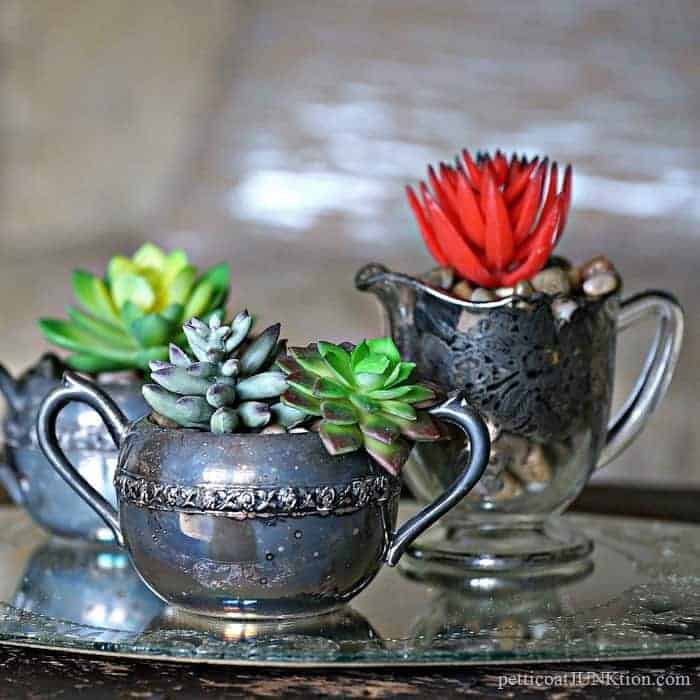 The project/display is one of 12 silverplate repurpose ideas I have to share with you. I've searched high and low for ideas on how to repurpose the rest of my auction haul. I would love to know which of the project ideas you think I should try. Some of the projects are cute as pie and some of them while really nice might be a bit difficult to implement.
The small sugar and creamer from my auction haul and a pretty silver decorated glass creamer from my china cabinet look awful pretty with faux succulents. It was super easy just to transfer everything over into the new (used) pieces.
And for a seasonal display add faux snow and miniature bottle brush trees or anything Christmasy. The silver plate containers make a nice change of pace. I don't mind that some of the pieces are monogrammed. In fact I think it's kind of cool. Not my initial but it doesn't matter.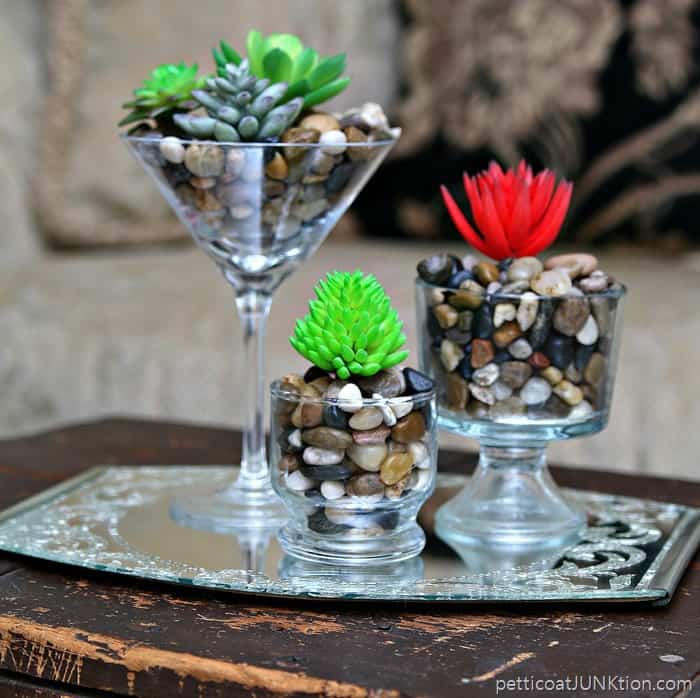 You probably remember the faux succulents from the time I showcased them in thrift store glasses along with river rock for filler.
This pretty piece is one I bought at the thrift store when we lived in Florida. It moved back to Tennessee with us. I think it is a glass creamer with a sterling silver overlay design.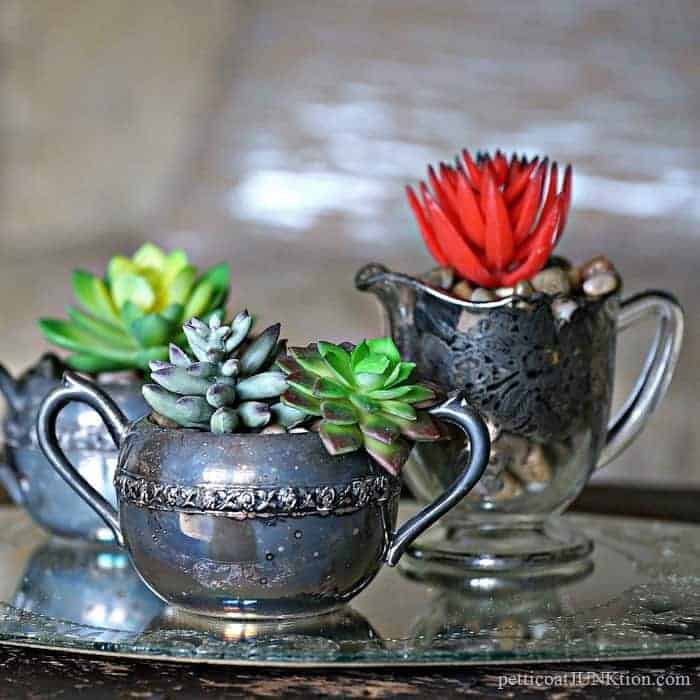 For those of you who missed the auction post this is the silver plate haul I made for $10. Looking for ideas for the rest of this stuff.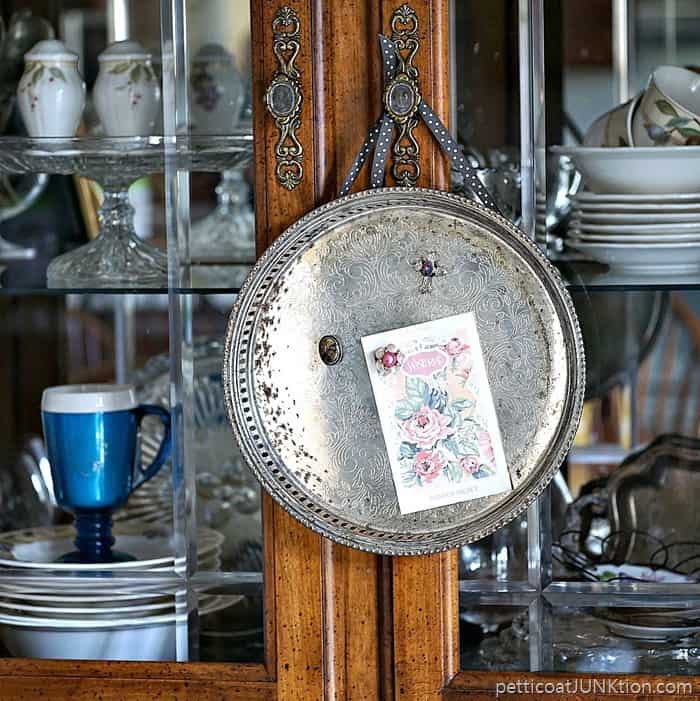 DIY Magnet Tray
A while ago I repurposed this silver plate serving tray into a magnet board/tray. Fun idea and really simple too. I find these trays all the time at the thrift store. Now I need your help. I have that stash of silver plate stuff and I've googled, searched Pinterest, and scoured blogland looking for repurpose ideas . Here's what I've found. Let me know what you think. Just click the pink links to see the projects.
How about just adding a glass dome to a silver plate tray or dish to make a cloche? This one is so pretty and all of the pieces are thrift store finds. I need to try this one but I really don't have the perfect silver plate dish. Isn't that the way it goes. Now I'm on the hunt.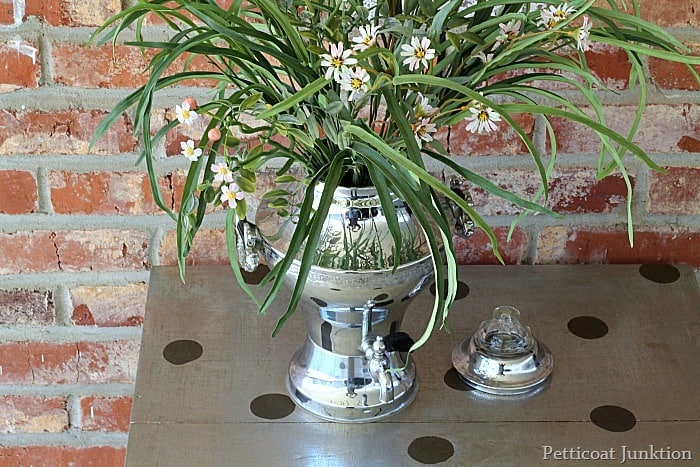 This footed silver bowl painted only on the outside is very classy looking. It's from my friend Nancy at Artsy Chicks Rule. Nancy is classy too. The light blue is the perfect contrast to the aged silver. And this idea I never would have thought of…….. Silver plate teapots hanging from a wreath swag on an interior front door. Too cool.
Next up is a silver plate tray or platter wreath! I love the wreath idea but I bet that sucker is heavy. It's made of vintage silver plate trays. I found this teapot painted with chalkboard paint on Pinterest. It's really cute with "Tea" written on it. Then there is the time I used a silver plate bowl to display faux succulents.
This project had me swooning but another one where I need to do some more junk shopping. It's a silver plate wind chime and it's the prettiest one I've ever seen.
Another of my favorite home décor items are tiered trays? These tiered trays can be used individually or stacked. The size of the diy trays are perfect for stacking…..larger to smaller…..bottom to top. The bathroom tray with legs…..feet maybe (?)……looks expensive but it's not. The faux silver tray is from the dollar store but I can definitely see using a real silver plate tray for this project.
You can see how I made a candle using a silverplate goblet here....... How To Make A Silver Plate Goblet Candle   This is the cutest hanging chalkboard project from my friend Jess at Mom4Real. The faux silver tray came from the Dollar Store too. Again a real silver plate tray would work here.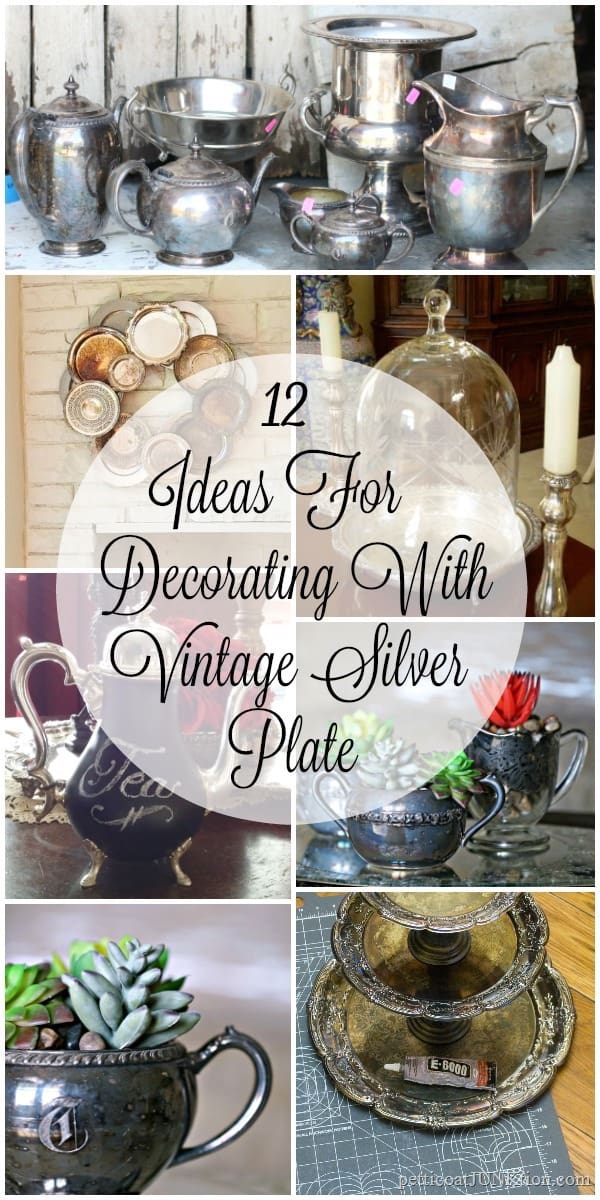 12 Silverplate Repurpose Ideas
You guys.....I painted two pieces of furniture over the weekend. Amazing huh. I spend so much time away from home and it seems when I'm home I sit and do nothing. Getting lazy in my old age. Anyway I'll have the photos and post ready for one of those projects in the next day or two. Stay tuned. Let me know which of the silverplate repurpose ideas you liked. Thanks for being here and have a great day, Kathy