You guys might remember I found this horrible looking grapevine wreath at my favorite junk shop a few shopping trips ago. Well, I took it apart and made a grapevine Christmas wreath. I enjoy putting together wreaths. Keeping them simple and not overdone makes the job easy.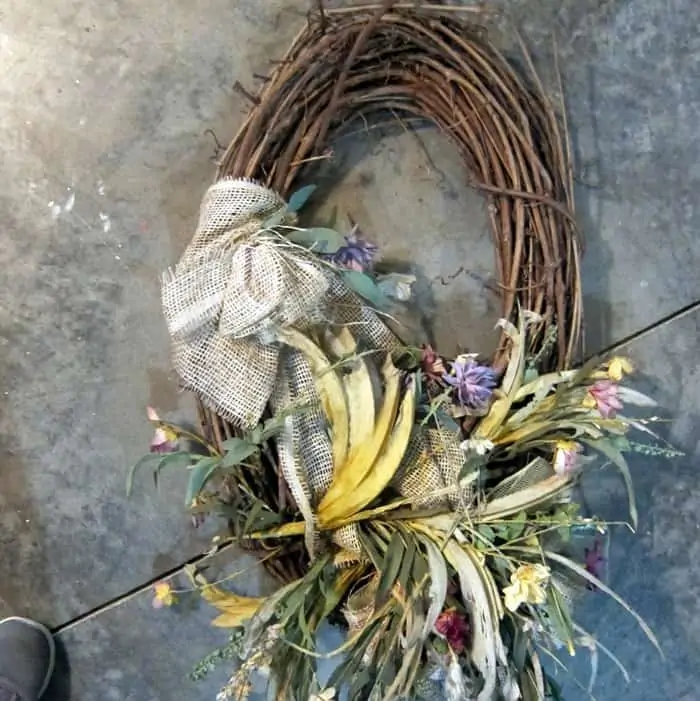 In case you missed the wreath when I shared it earlier that's it in the photo above. Yep, it was a hot mess. I bet it was pretty before age and weather took over. I bought the wreath because I liked the shape of the grapevine. You know, it you think about it door wreaths should be oval or oblong because those round wreaths look out of proportion on the tall rectangular doors. Just an observation.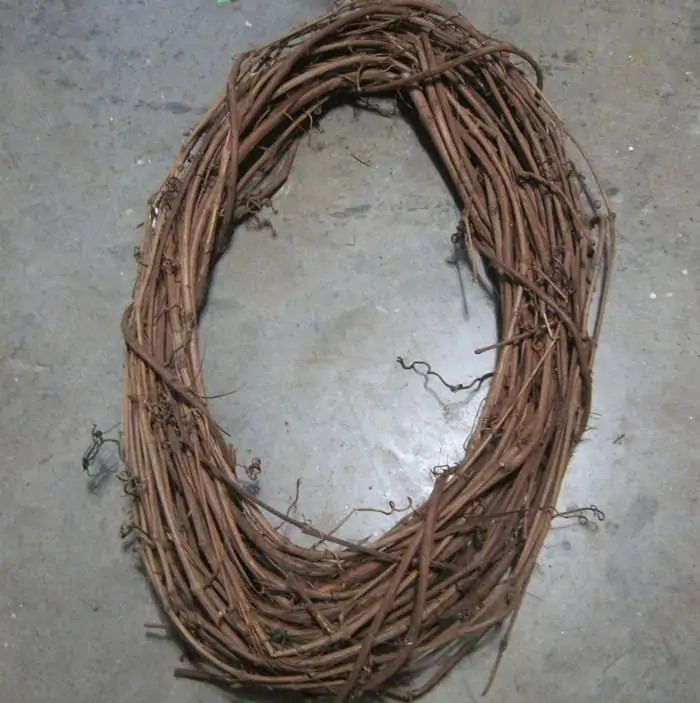 First thing to do was take all of the stuff off of the grapevine wreath. Looks better already.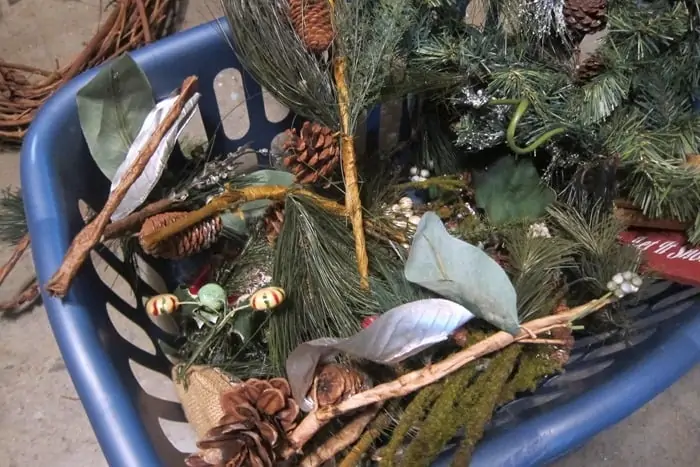 When I went through my totes of Christmas stuff this year I pulled out greenery pieces I saved from past projects or junking adventures to use for this year's DIY Christmas projects……whatever they may be.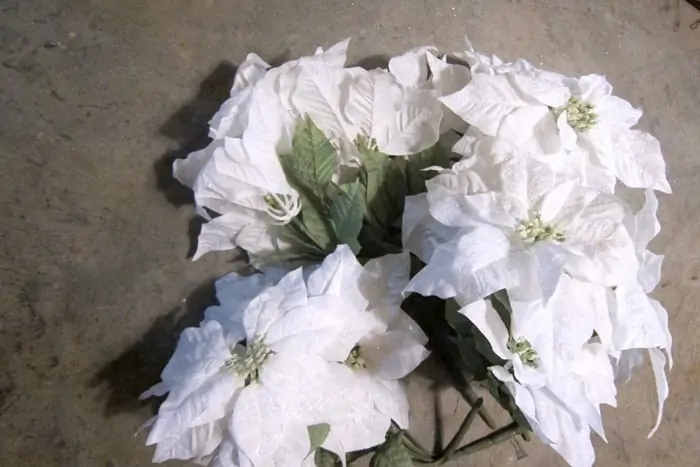 The 4 faux white poinsettia bushes are last year purchases. Last year we didn't have Christmas. I was in Arkansas the whole month of December and the first two weeks of January. My Mom passed away from Covid on December 5, 2020, (Mom and Dad's 67th wedding anniversary). Mom had Alzheimer's and had been in the nursing home for 3 ½ years. That's where she contracted Covid.
Then Dad got Covid and was in the hospital for 17 days, coming home on January 2, 2021. My sister, my Dad, and I were quarantined together at his house because we were exposed thru Mom. When Dad came down with Covid it was just me and my sister at Dad's house until he came home from the hospital. It's not easy for me to share personal things on my blog but sometimes I feel you would like to know some of my life stuff. It makes me anxious just sharing this stuff today.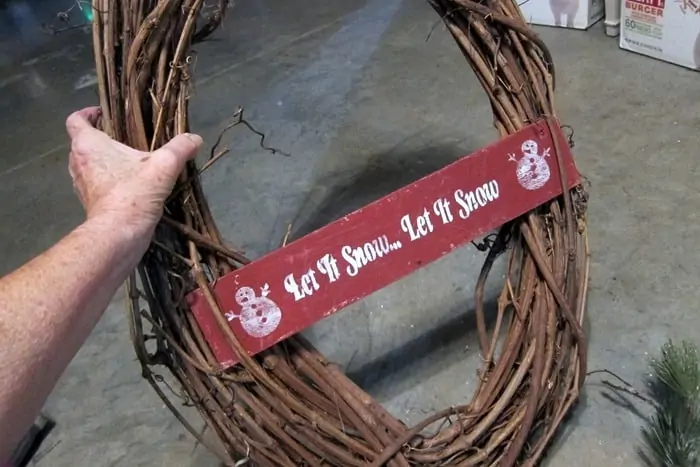 Anyway, I bought the poinsettias and several other things last November and never used them. I'm going all out this year. The first thing I put on the wreath was a sign I made many years ago. I  made a whole bunch of similar signs using boards I bought when we lived in Florida back 12 years ago or so. I just stuck the sign in between grapevines on each side of the wreath and it held firm.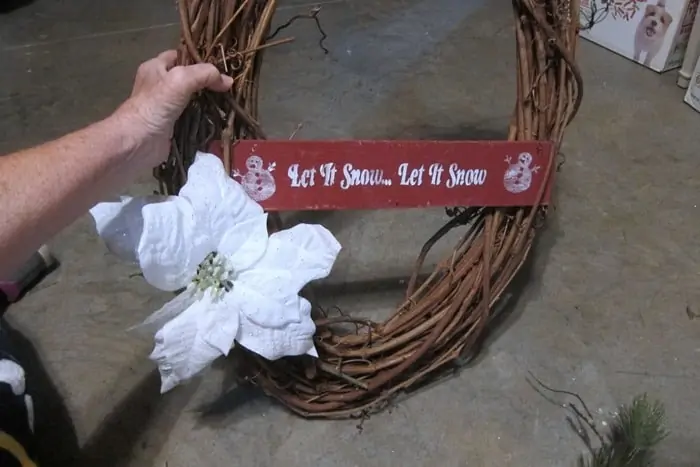 Next I cut one of the fake poinsettia blooms from the bush and stuck it on the wreath. The rest of the poinsettia bushes are showing up later in the post.
I stuck one of the greenery stems on the lower part of the wreath under the poinsettia.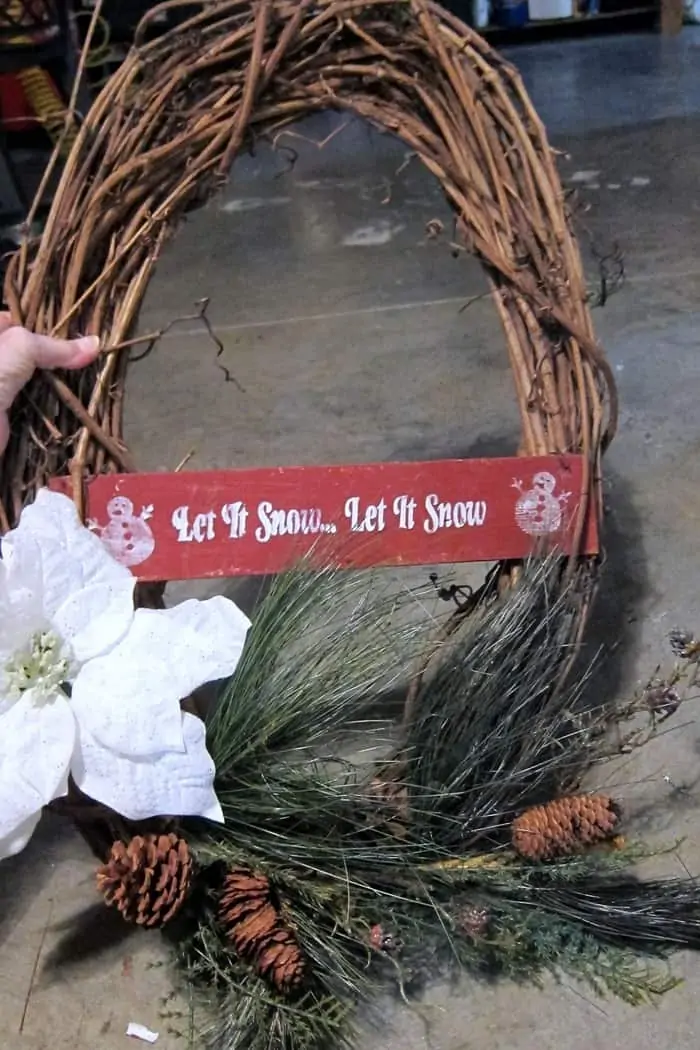 Then I added another greenery stem next to it. In case you are new here or haven't noticed, most of the time I prefer things to be asymmetrical or off center instead of nice and balanced.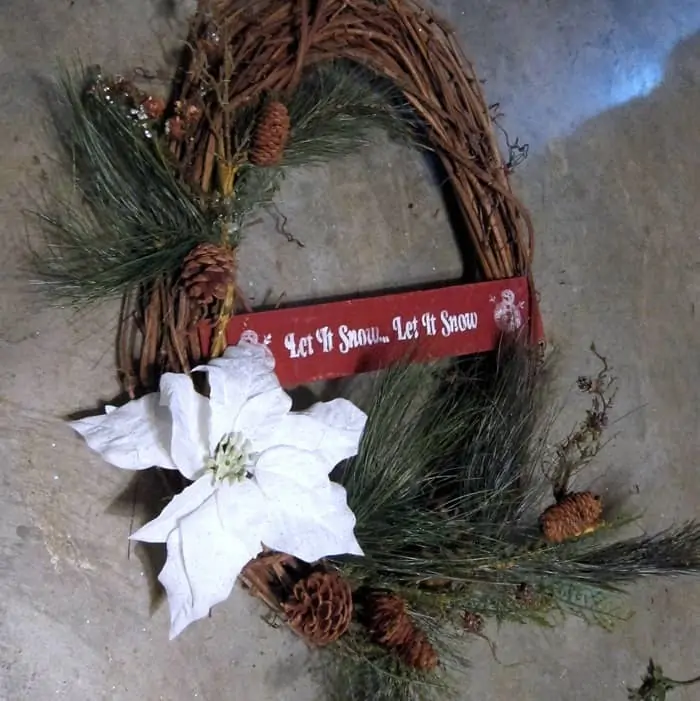 Next I worked on the area above the poinsettia bloom adding one greenery stem there. So far I am just wedging the piece in place. I'll pull out my hot glue gun when I get everything in place.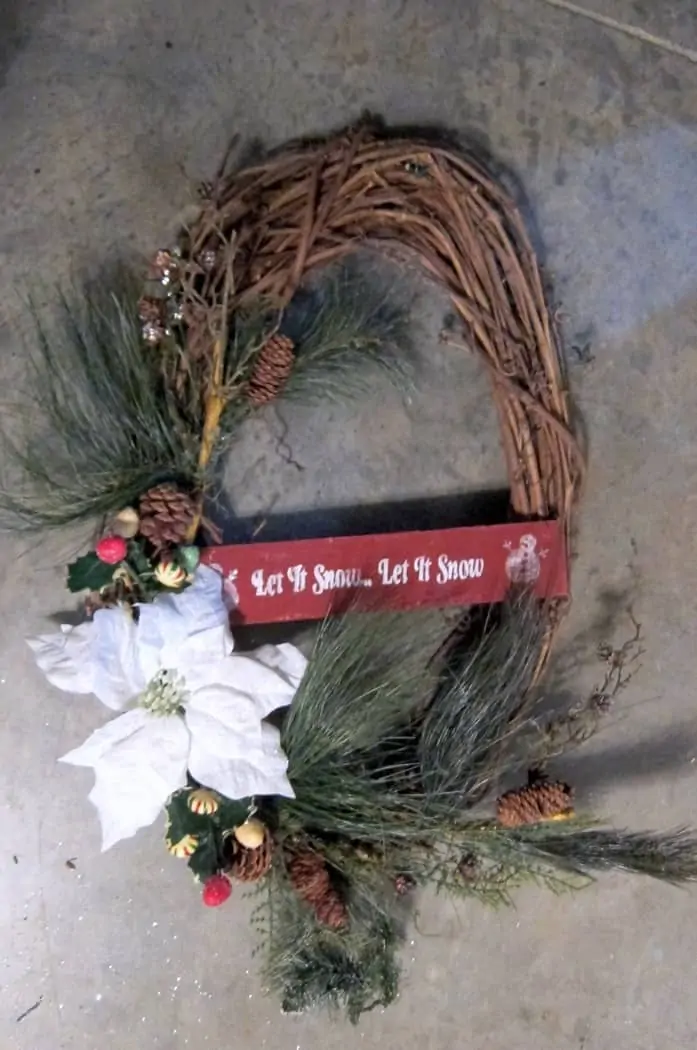 The wreath needed a little more color and I have these cute little peppermint and gumdrop greenery things I purchased so long ago I can't even remember. I bet I've had them 20 years. I made a wreath one year using a whole bunch of the stems. I stuck one stem each on the top side and lower side of the poinsettia.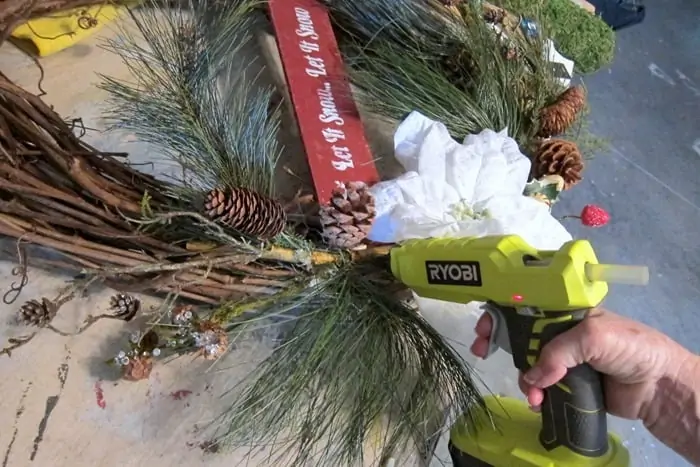 I stopped there. The wreath was ready to be hot glued together. I used my handy dandy battery powered Ryobi glue gun, I love the glue gun because the battery is rechargeable and the glue gun stands up easily. It doesn't fall over like those light weight corded glue guns. I hate having glue stuck all over my glue gun. It's a hot mess. For the most part the greenery stems and other things added to the grapevine were set in place but a little hot glue never hurts. After Christmas I can take all the greenery out and use the grapevine for the next holiday wreath creation.
I hung the wreath on the front door and it really pops against the blue.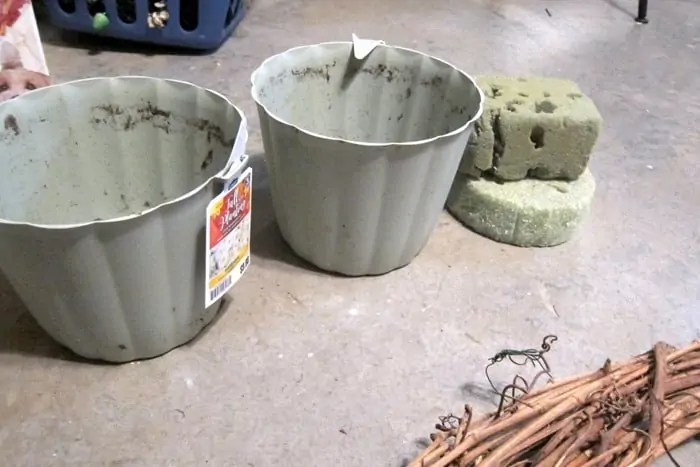 Next I'm going thru some of the projects I made for this year's porch decorations and then in a couple of days I hope to share my Christmas porch decor 2021. The pots above held my Fall mums. The mums died and I saved the pots.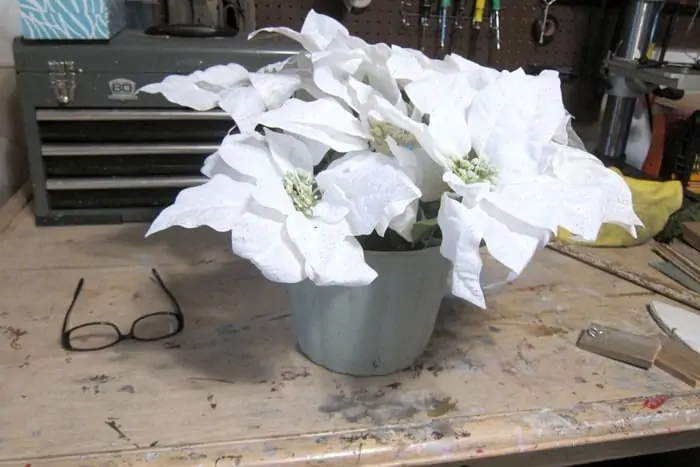 I put two Poinsettia bushes in each of the pots. I didn't use green Styrofoam or anything to adhere the flowers to the pots. I did add a quart can of paint to each pot to weight them down so they wouldn't blow over on the porch.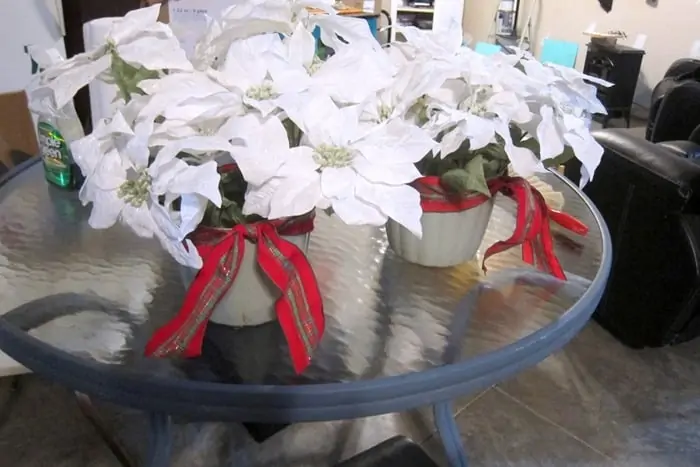 The pots needed a pop of red for Christmas and I just tied a bit of my junk store ribbon to each pot. I hate that the photos don't show how sparkly and glittery the poinsettias blooms are. They really shine.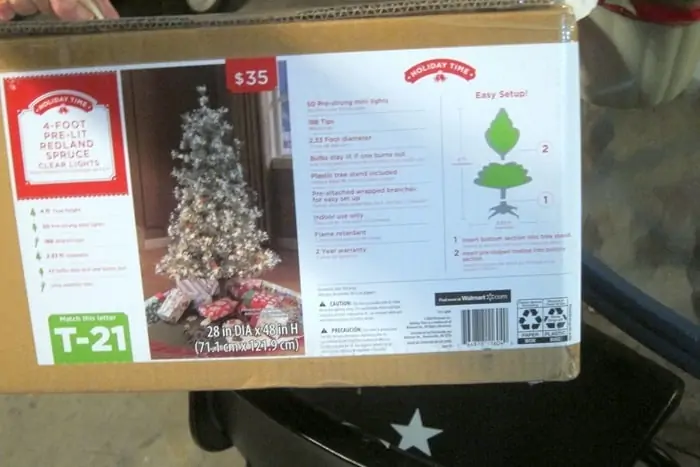 Moving on to a fake Christmas tree I bought last year for my front porch decor. (remember I didn't have Christmas last year)  I usually buy one or two small real trees at Home Depot to display on the porch each year but they were so expensive last year I refused to buy them. I decided to just buy a fake tree I could use every year.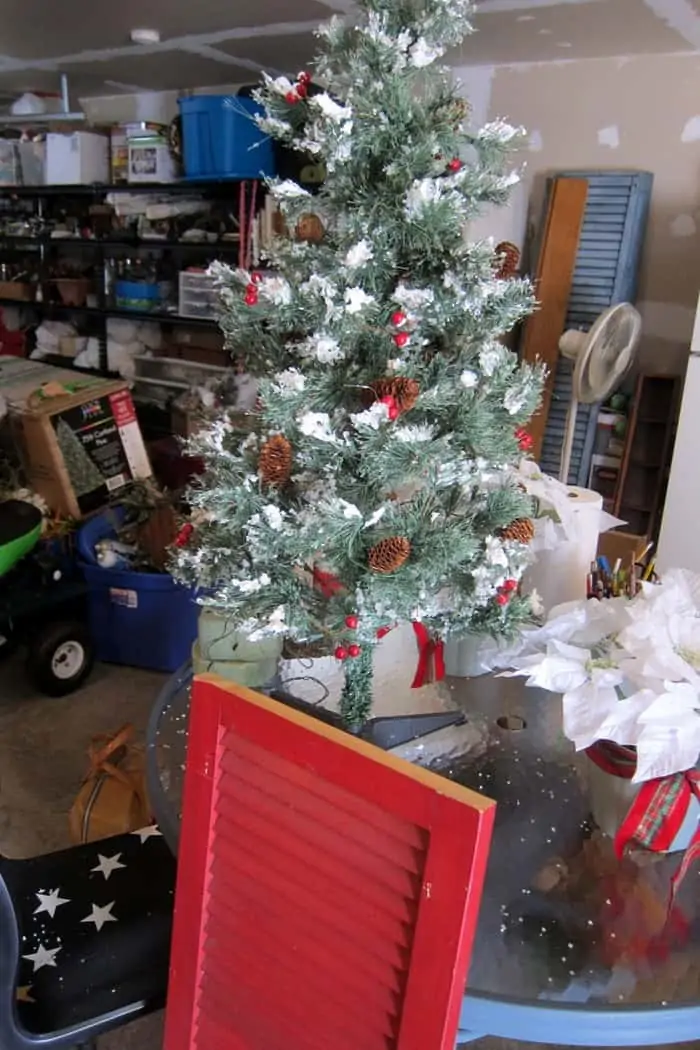 I put the tree together and went through the workshop looking for anything that would fit the red and green theme for my porch decor 2021. it was so cold and I worked smarter this year by putting all the stuff together in the workshop and having a plan for the porch decorations.
Do you make your own wreaths or buy them already made? What do you think of the way I put my grapevine Christmas wreath together? Leave a note if you have time. I read them all. I hope to share my oh-so-pretty Christmas porch decorations on Thursday. Tomorrow is Thrift Store Decor Day! Thanks for being here, Kathy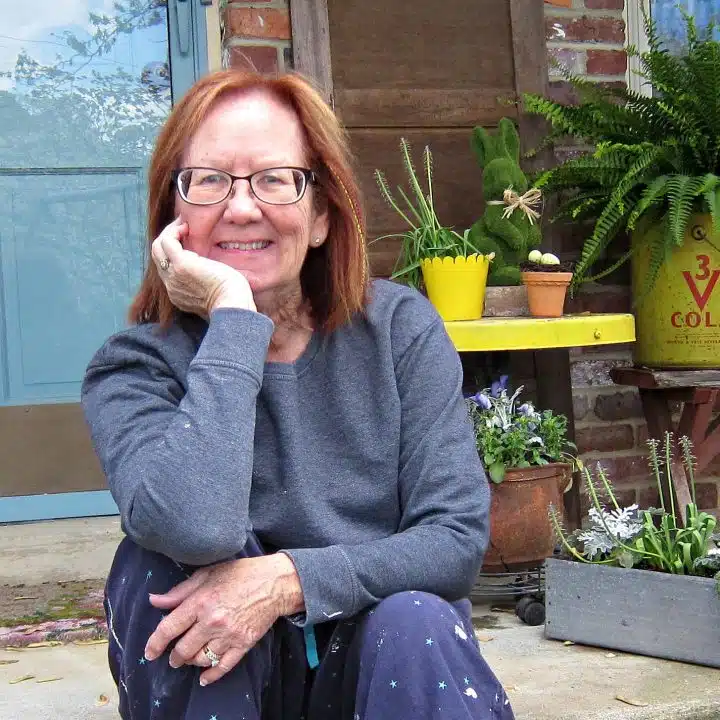 Author: Kathy Owen
Kathy Owen is the founder of the home decor blog Petticoat Junktion where she shares tutorials on painting furniture and upcycling thrifty finds into unique home décor. Her DIY projects have been featured on the Home Depot Blog, Plaid Crafts, Behr Designer Series, and in numerous magazines. Kathy's newest website is HappyHomeDIY.com