Sappy Stories And Alzheimer's Question For You
Hey Guys. I just realized when starting this post that it's been over a year since I gave you an update on my Mom and Dad. I did mention the first of February that my 87 year old Dad had emergency surgery for a ruptured appendix, but nothing about family since then. After my first post about Alzheimer's I realized it is a disease that touches many of you too. The feedback I got from you guys was touching and in some cases heartbreaking.
I have a question for any of you who have a relative with  Alzheimer's . But we'll get to that later. I will probably stumble my way through the post. It's hard for me to write personal stuff especially when it involves other people. I filmed a short video of the snowfall we had while I was visiting. It's at the bottom of the post if you would like to view it.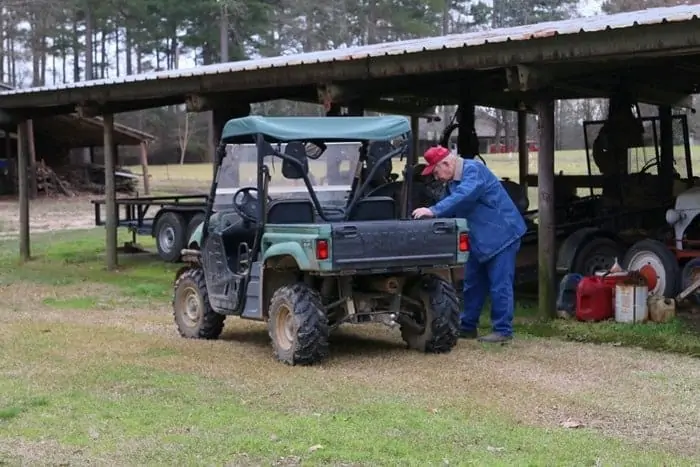 Dad was in the hospital for 11 days in February after they removed his appendix. The Dr. said it had been ruptured for several days. We were in Florida when I got the call about the emergency surgery and how it was going to be touch and go.
I don't mind telling you that I was terrified during the whole thing. That was the longest ride of my life from Florida to Arkansas while he was undergoing surgery. His recovery is just one of the many things I'm thankful for this year. His surgeon was great and she said Dad was responsible for some of her gray hairs.
We convinced Dad after much talking to go to the nursing home for rehab after leaving the hospital. He was in the same nursing home as Mom.
We had some ups and downs in the nursing home with medications and dosages but he did fine and only stayed in about 3 weeks. He was doing great when he came home only to come down with Shingles.My poor dad, what else can happen.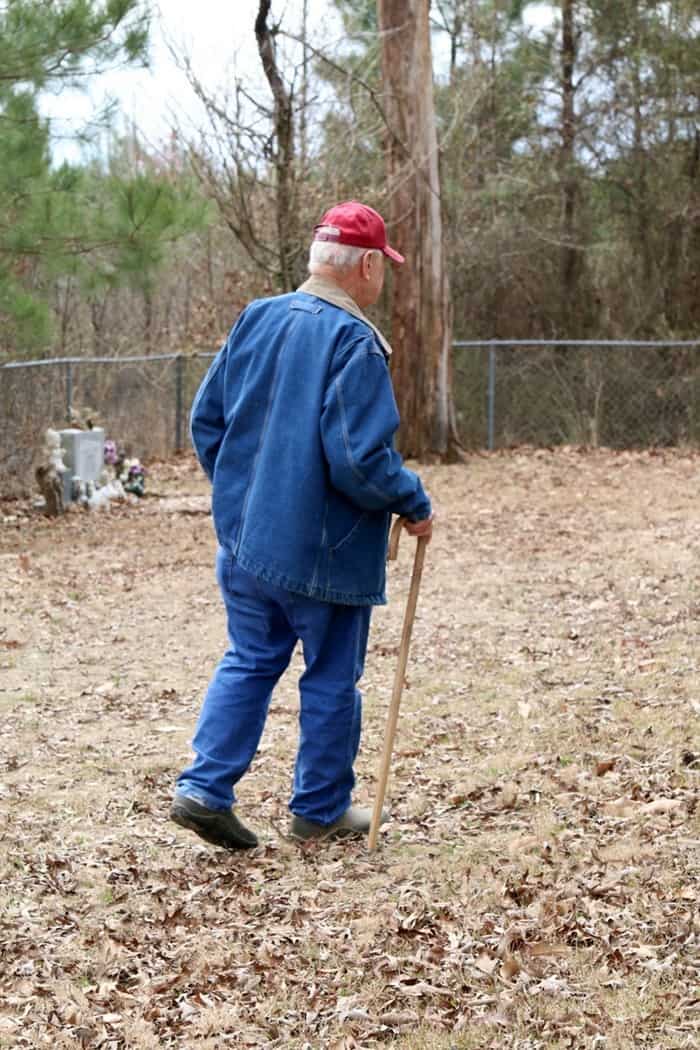 It has been a long few months but Dad is finally getting his strength back. There were many conversations with Doctors, nurses, pharmacists, and family members, about medications.
No one in our family is a Doctor but we learned a lot and we learned to question the Doctors when we thought something should be checked or a medication might need to be changed.
I told my sister I'm giving up my Doctor's license. How do we know if we are making the right decisions. So far things are improving so I'm done with the medications debate.I have a great appreciation for caregivers and a sad heart for people who have no one to ask questions for them.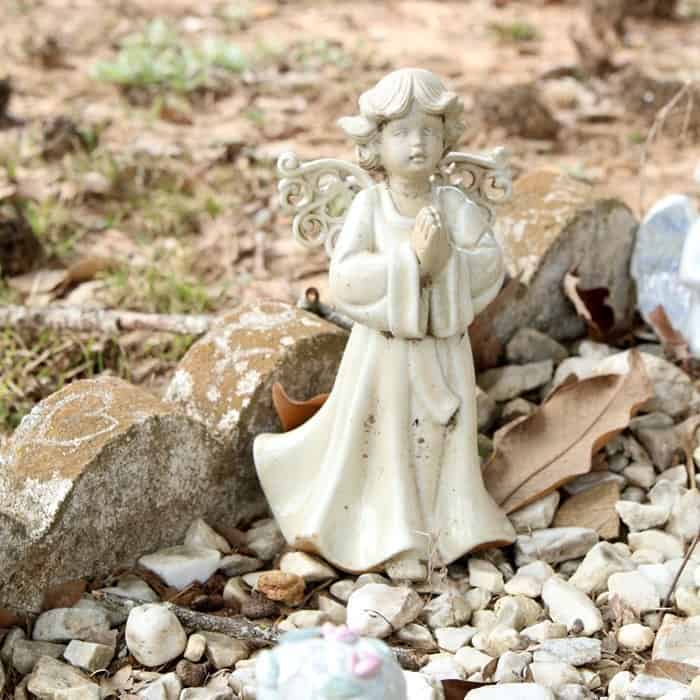 I've been spending a lot of time in Arkansas. When Dad feels like it we take rides to the Old Owen Cemetery. He tells me stories of relatives who passed away before I was born or who died when I was too young to remember them. I love hearing the stories and I'm so glad I have the time to spend with him.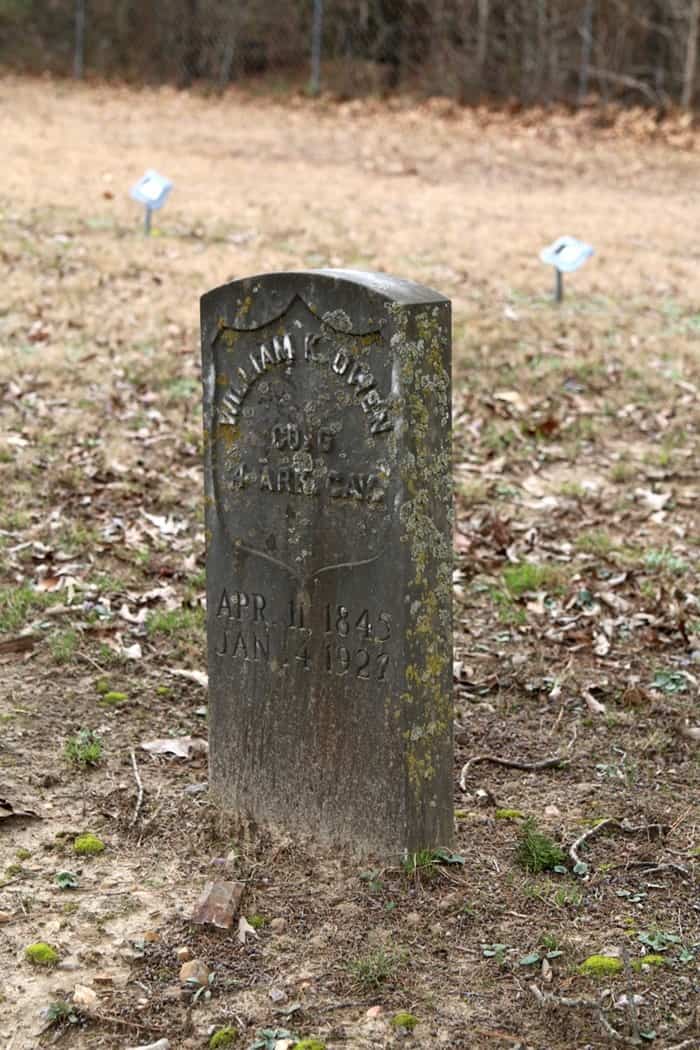 Dad and I hang out with relatives, visit friends at the new assisted living place in Star City, and do a lot of eating….either I cook or we go out to eat. Dad loves to socialize so we go out to eat a lot, mostly at lunch time.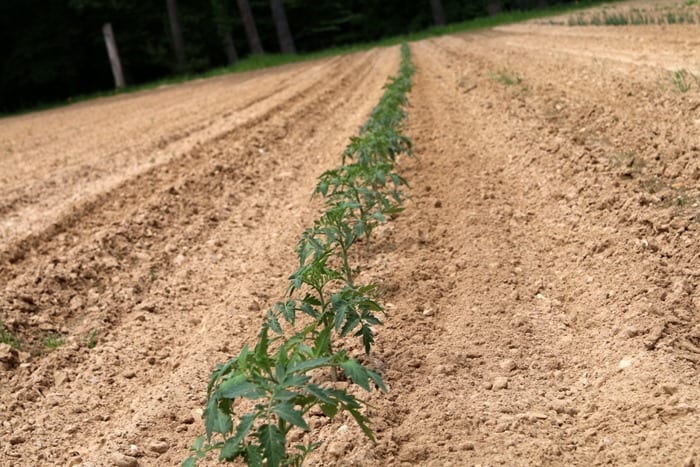 I still make a banana cake every single time I go to Arkansas. And usually peanut butter cookies. When I get a chance I make goodies for the staff at the nursing home.
Mom is still doing the same. She is eating better now than she did when she was at home and has actually gained 3 or 4 pounds this past year. She sits in her chair all day and only gets up with assistance when she needs to go the bathroom. She sleeps a lot and watches TV. When a singing group comes to the nursing home she loves to listen to the music.
She doesn't communicate well but sometimes we can piece together what she is trying to say. We laugh a lot and a silly sometimes, but you have to be.
Dad goes to visit Mom twice a day and always feeds her supper at night. Now that it gets dark early I think we have convinced him not to go out at night. It is about a 15 minute drive each way to the nursing home.
We really appreciate the nursing home staff and their dedication. There are usually hugs all around when we go in to visit. We have become friends with many of the patients and sadly we have seen many of them go. Miss Lottie, the 107 year old resident, passed away this year. She was such a hoot and at her age could still wheel herself around in the wheelchair.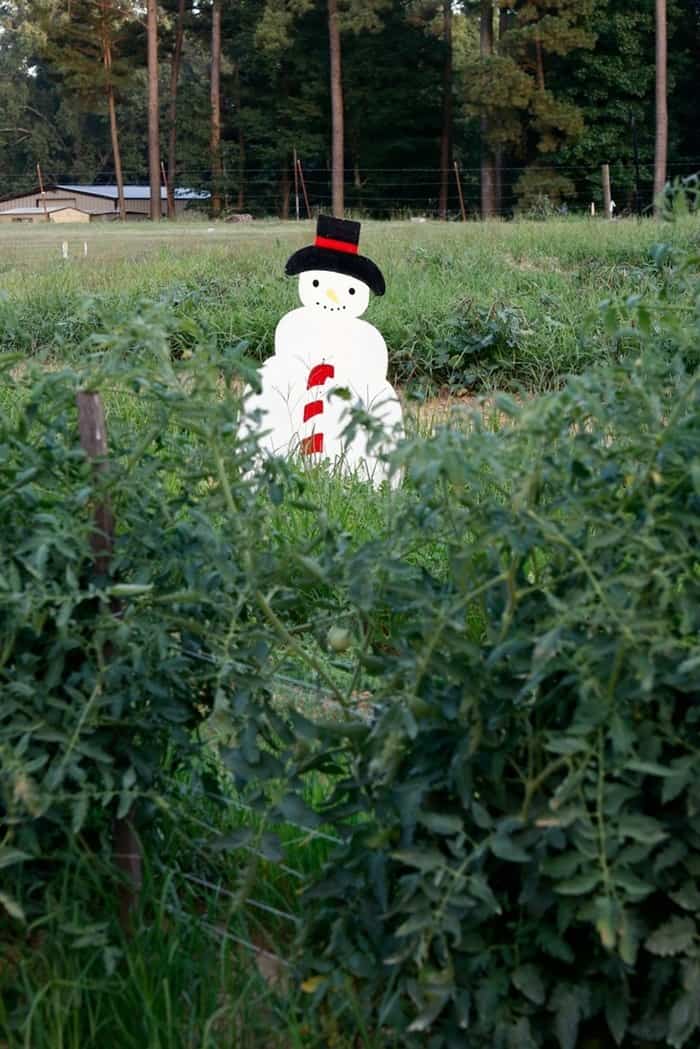 My brother and sister were in charge of the garden again this year. I know Dad just shook his head every time he looked at that garden. Grass everywhere. Did you notice we have Snowmen Scarecrows, hahahaha. That was Dad's idea. He pulled them out of the storage shed. Hey, we need some laughs.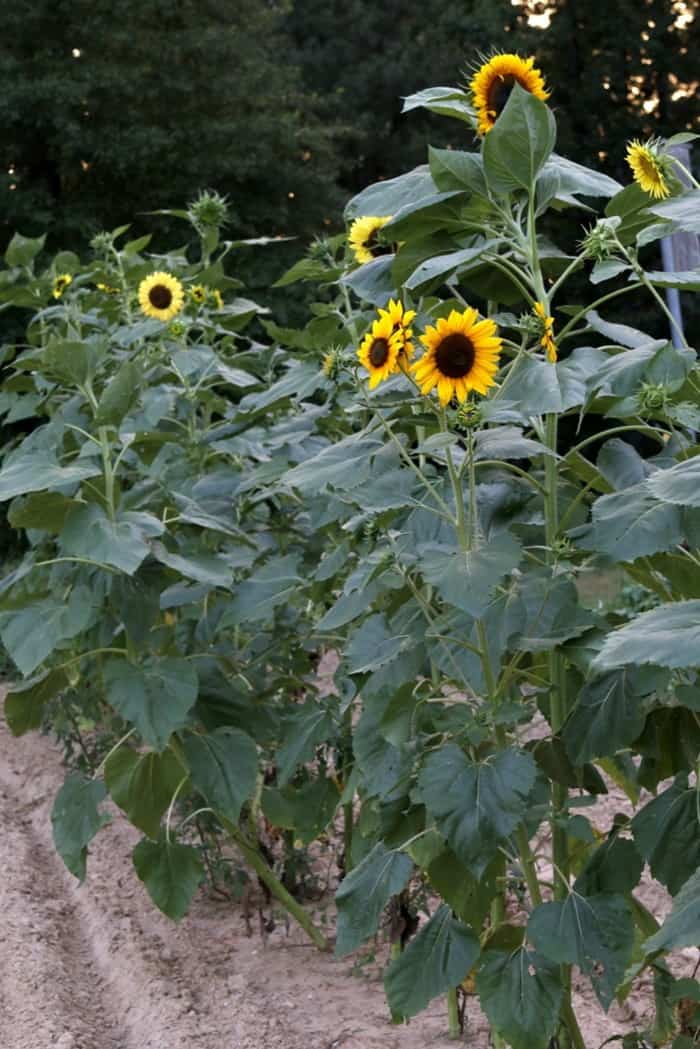 I was in Arkansas when it was time to plant the tomatoes, peppers, okra, and a few more things. I wasn't there to plant the sunflowers this year so my sister Stacey did.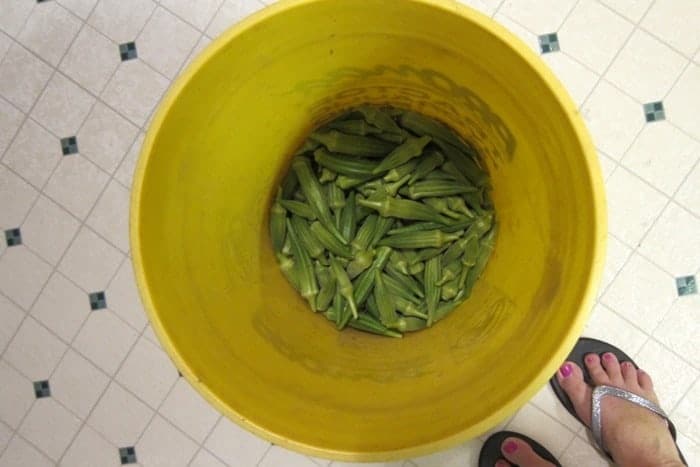 I had to pick the okra several times while Stacey was on one of her many vacations.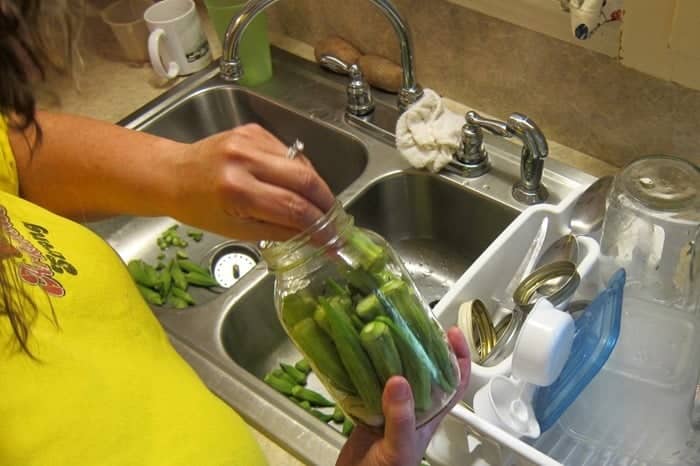 She made me get in on one of the okra pickling marathons. This is Stacey stuffing the okra in the canning jars.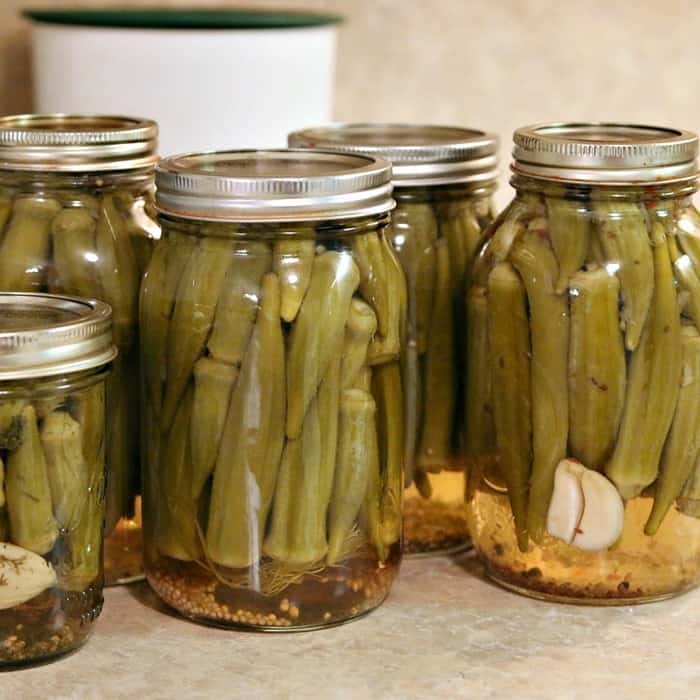 Stacey really enjoys canning and freezing the vegetables and working in the garden. That's not me. When Dad is trying to be funny (meaning sarcastic) he says, referring to me "You have farming in your blood". Very funny Dad.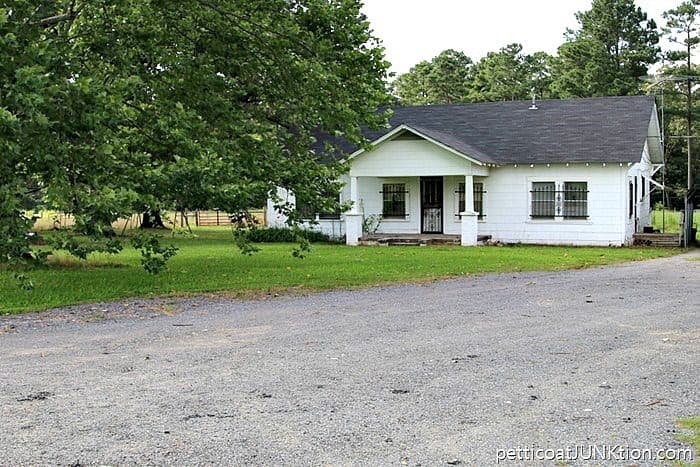 I wrote a story about my Grandparents home 2 years ago (gosh time goes fast). The house belongs to my cousin's son now and my cousin just recently had it remodeled. The photo above is one I took two years ago.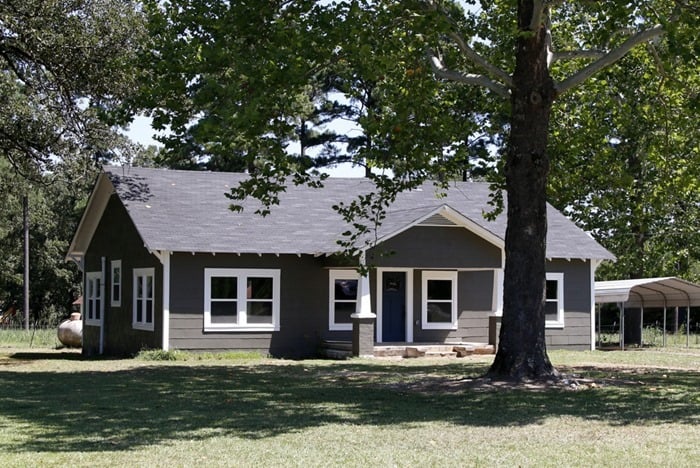 This is how the house looks after the remodel. My cousin kept as much of the original structure as she could. They painted over the asbestos shingles and I love the color. It is certainly different from the original look.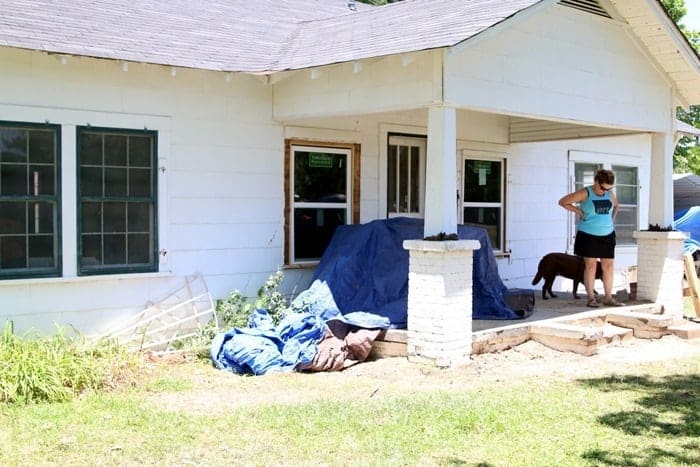 The house was built in 1947 and I enjoyed hearing Dad tell about building the house. He was 17 when they built the house.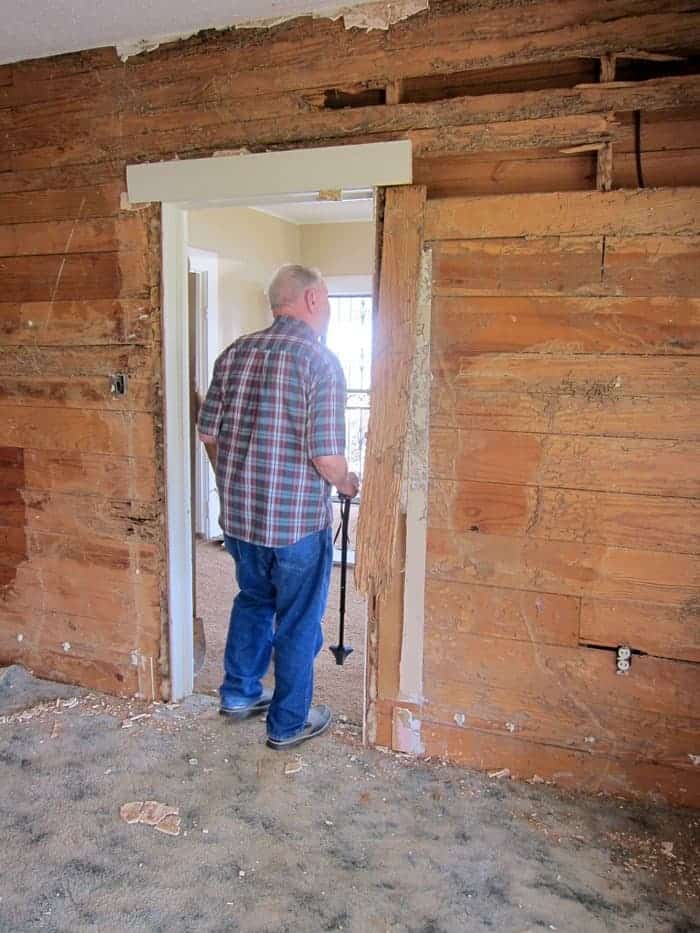 The original walls had been covered with sheet rock and paneling over the years. All of that was ripped out along with carpet and layers of old linoleum. At one time there was a termite infestation in one small corner of the house. The damage was done years ago and there are no termites now.
I took pictures of the remodel every trip I made to Arkansas. I have a ton, but I want share them all. You're welcome.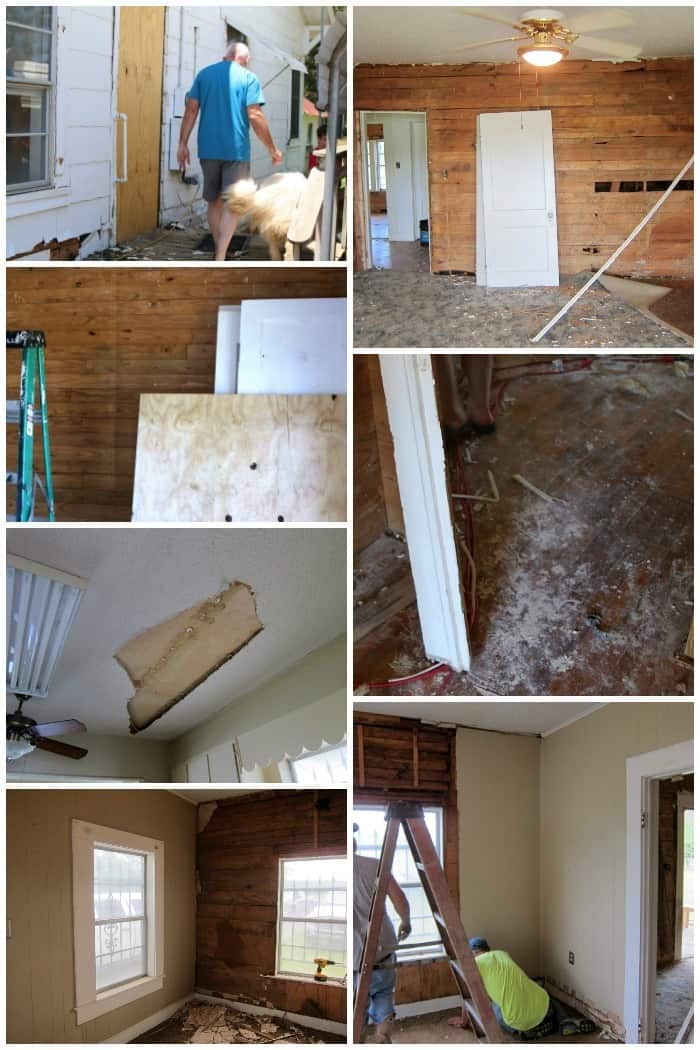 house before and during remodeling
The house has shiplap, real shiplap. Dad says he remembers cutting the boards. The house had high ceilings but in most of the rooms drop ceilings had been put in at one time or another. All of the drop ceilings were removed.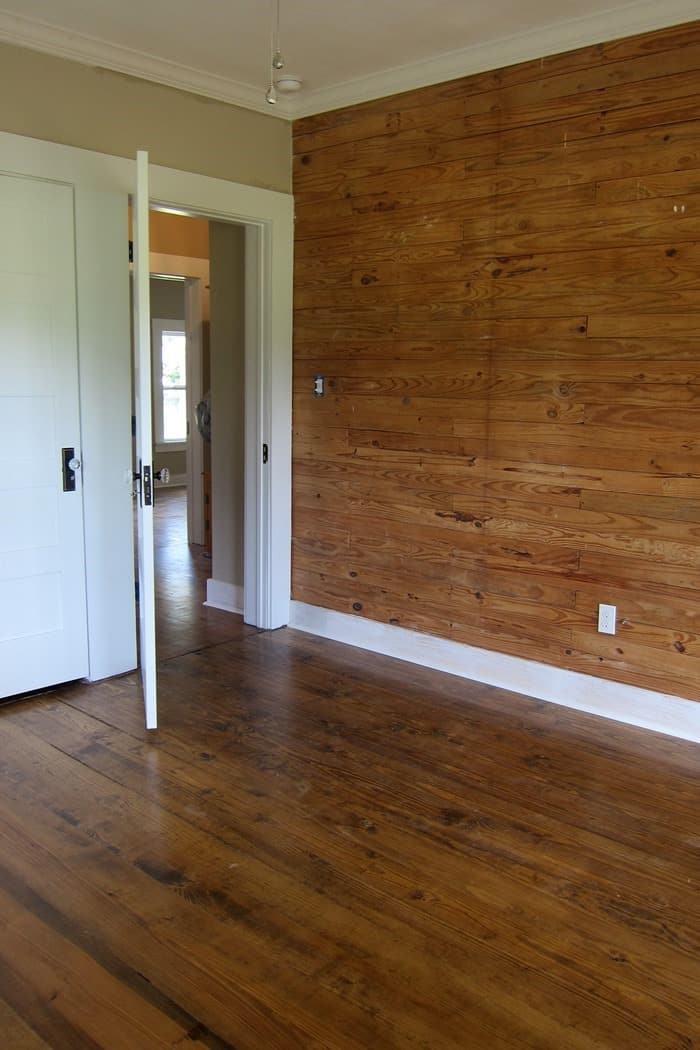 Real shiplap on the walls and real wood floors. My cousin kept the shiplap walls that weren't damaged. She painted some of the shiplap walls and left some of them natural.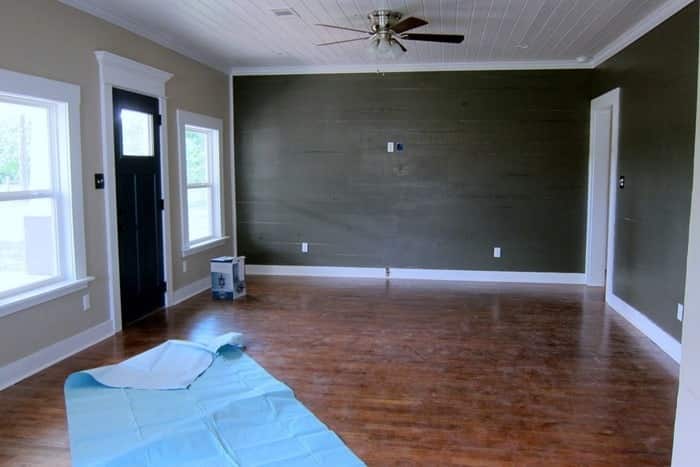 I love all of her color selections.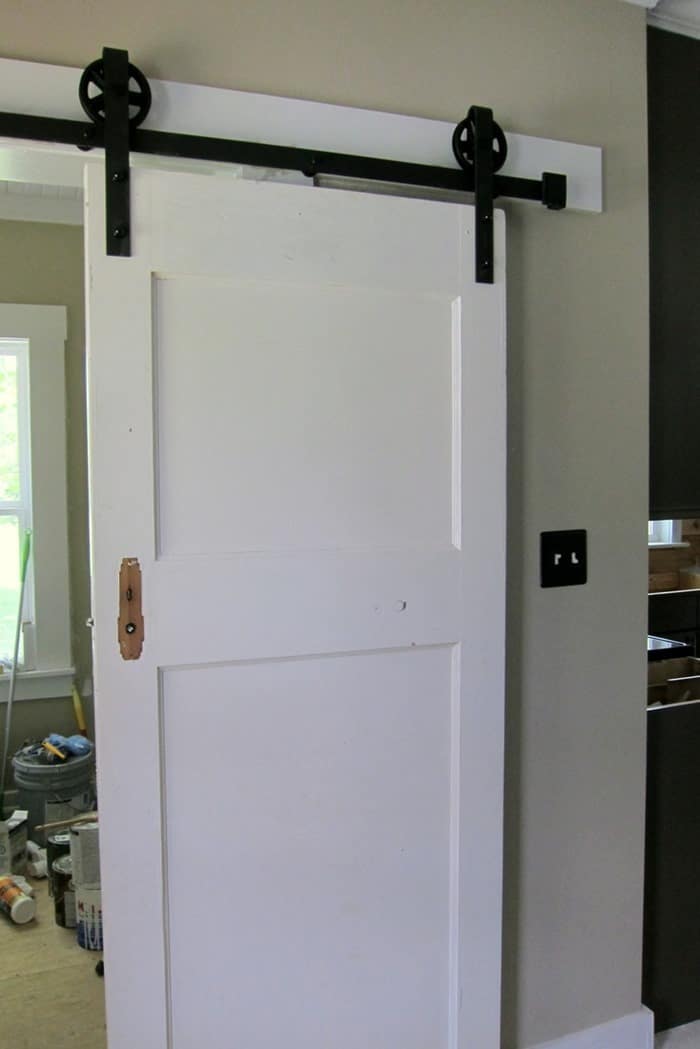 Sliding door for the laundry room made with one of the original doors from the house. I have a few doors from the house but don't know what I'm going to do with them.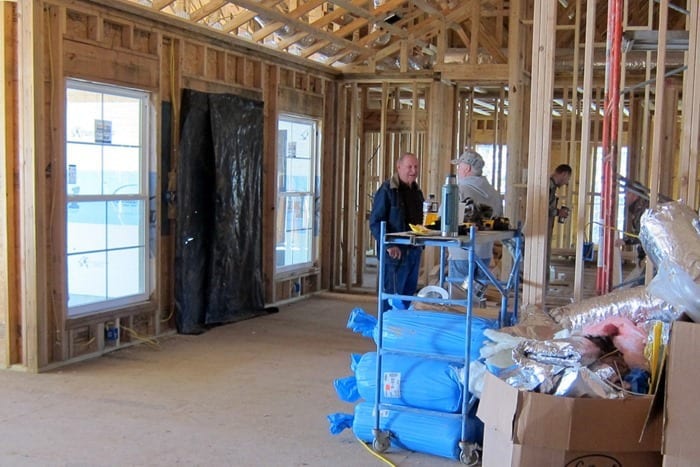 This is a picture of a new house going up, my nephews house. Dad is looking it over. He's glad his grandson and family will be living within a mile of him. Another of his grandsons just built a house 2 miles from Dad in the opposite direction.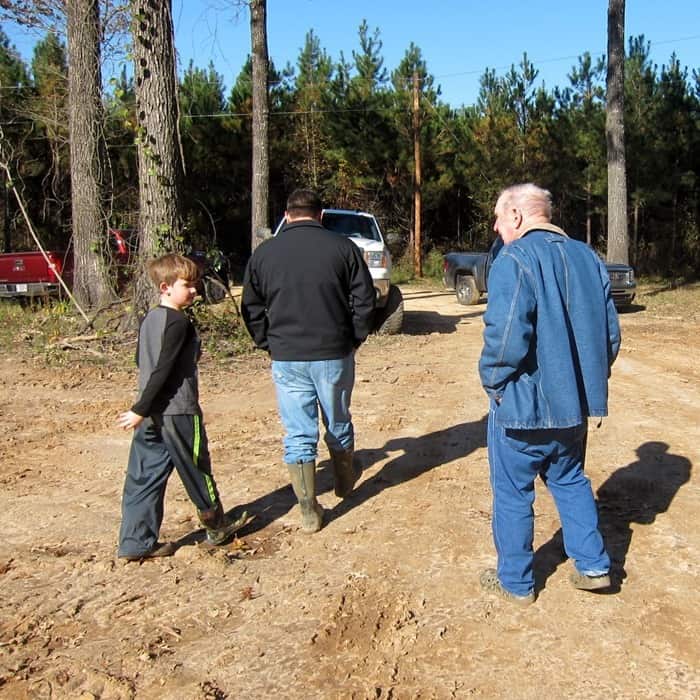 One last photo of Dad with grandson and great grandson.
There are so many things I'm thankful for this year; thankful that my Dad is still here and we get to spend time together. thankful that Mom is being well taken care of, thankful for the caregivers at the nursing home and Hospice, thankful for my brother and sister who see about Mom and Dad on a daily basis, thankful for my husband who supports me in anything I do, thankful for my kids and grandkids…
I'm thankful for you guys. Thanks for reading my stories and commenting on my projects. Now I have a question for those of you who have a relative with Alzheimer's.
How do you feel about genetic testing to see if you carry one or more of the genes or variants that indicate you might have a chance of getting Alzheimer's? Would you have the test? Have you had the test? I keep going back and forth. At first it was a definite no, then I decided I might have it done, now I'm at a definite no again.
I read articles on Alzheimer's all the time and I copied this from an article I found online…..Genetic testing can be difficult emotionally, not provide conclusive results and cause practical difficulties. That says it all.
To read our Alzheimer's and Arkansas stories from the beginning start here....Getting Personal.
We had our first snowfall in Arkansas while I was visiting. It was a pretty snow for November. always thanks for being here. Please share your stories with me. Happy Thanksgiving, Kathy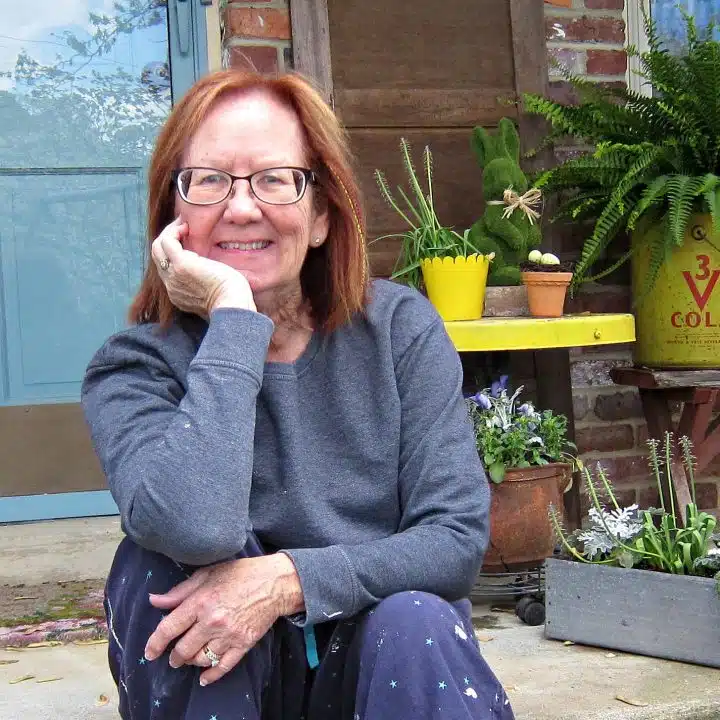 Author: Kathy Owen
Kathy Owen is the founder of the home decor blog Petticoat Junktion where she shares tutorials on painting furniture and upcycling thrifty finds into unique home décor. Her DIY projects have been featured on the Home Depot Blog, Plaid Crafts, Behr Designer Series, and in numerous magazines. Kathy's newest website is HappyHomeDIY.com