My Arkansas Home
Alzheimer's Story Part III
Happy Thanksgiving! The JTS and I are having a quite Thanksgiving at home. Our son and his family who live close to us have been out of town and will be back some time today. Our daughter and her family are stationed in Alaska and can't be here. So it's just us. The JTS is cooking a roast in the crockpot. Yummy. We will have a big Thanksgiving dinner one day this weekend with our son and his family.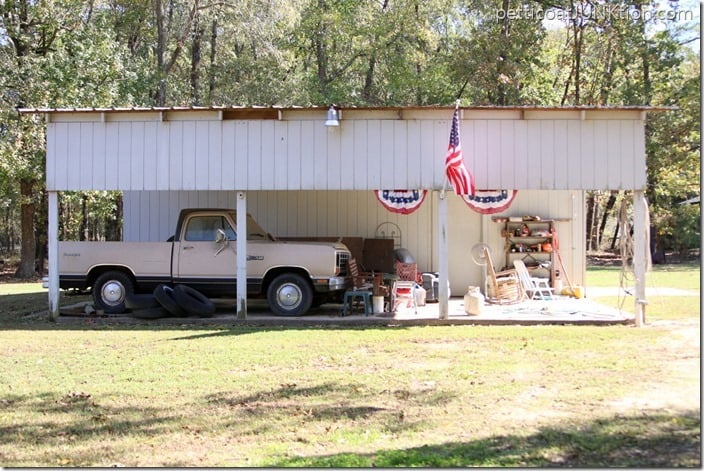 We aren't going out of town this week because we went to Arkansas the week of Veterans Day to visit my parents. My mom's Alzheimer's is slowly progressing. She doesn't know who anyone is. Hospice comes in two half days a week to sit with her but my Dad is her main caretaker. He is so patient with Mom and takes good care of her. She refers to him as "that man" or "my husband". She's still able to get around pretty well but spends most of her days sleeping in the recliner or watching television. She loves Andy Griffith and Judge Judy.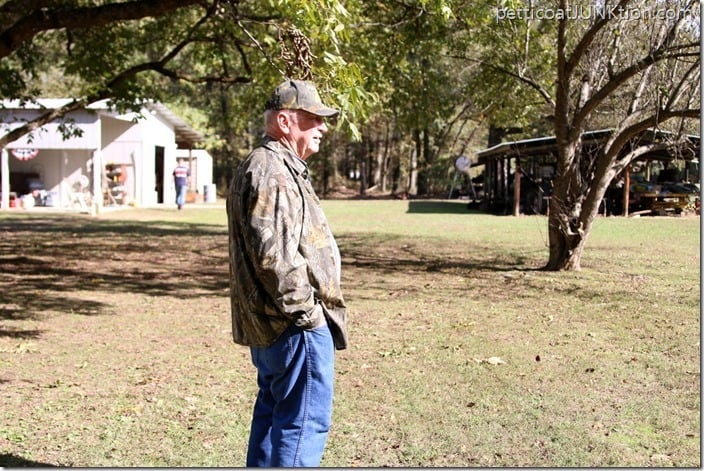 My sweet Dad. I don't take any photos of my Mom right now. Maybe later. The only time she leaves the house is for her weekly hair appointment and an occasional Dr.'s appointment.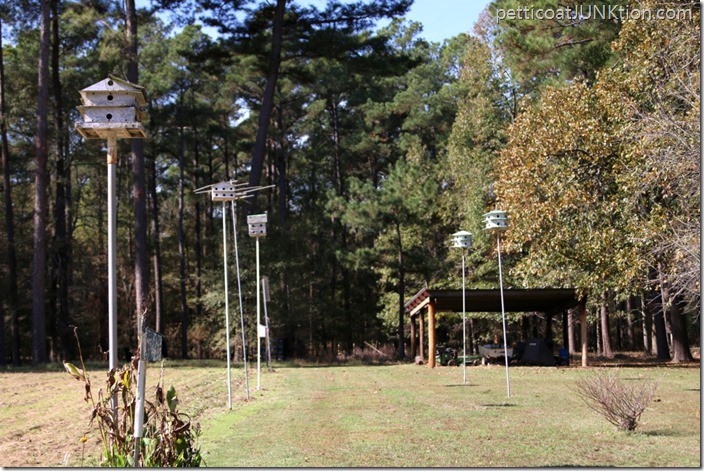 Dad's birdhouses and an old television antenna for a roost.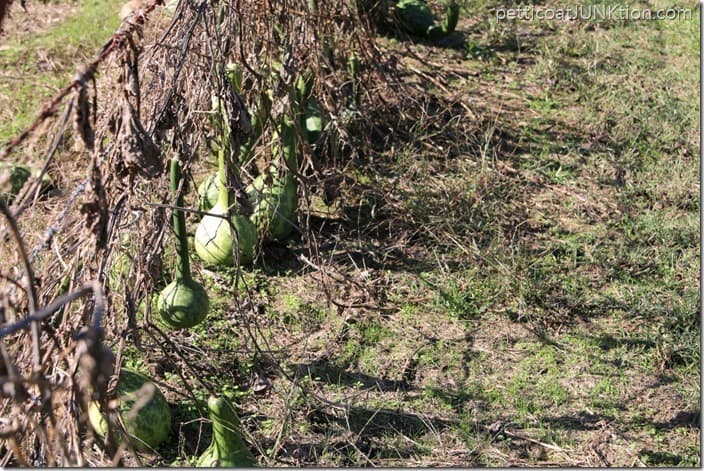 Dad was proud of his gourds this year.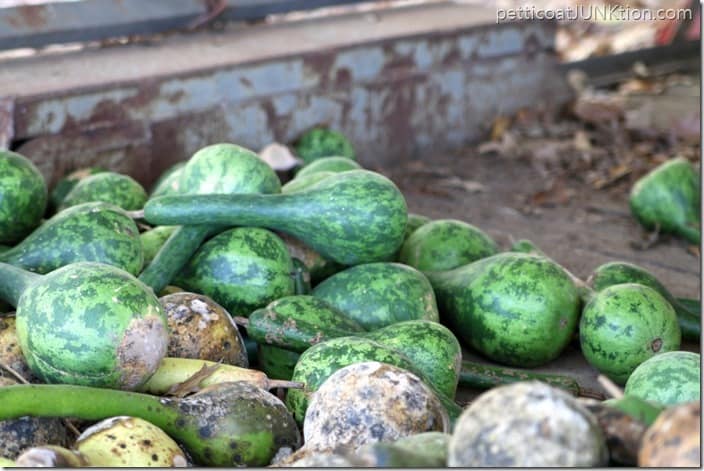 We used to raise tomatoes by the acre and take them to the market where buyers bid on the packed boxes of tomatoes. That was hard work.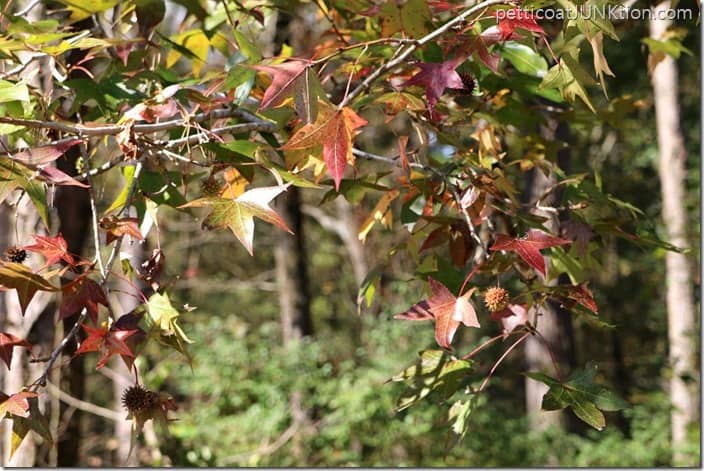 My dad worked at and retired from International Paper Company. The farm is his love.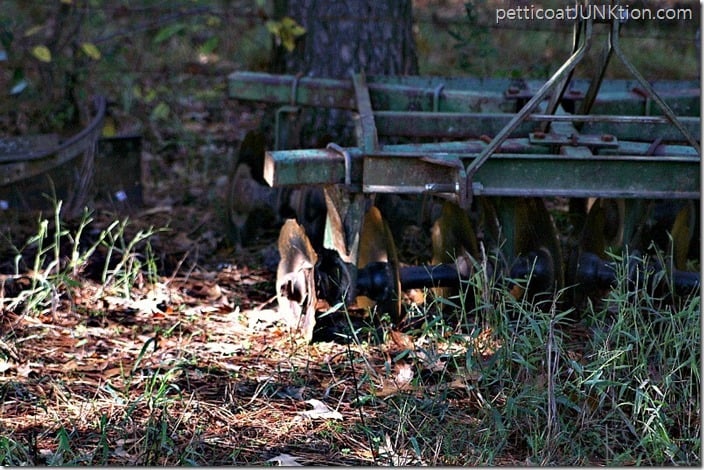 My Mom worked outside of the home on and off when my sister, brother, and I were small. Her last job was with the Department of Human Services for the state of Arkansas. She has been retired for a number of years.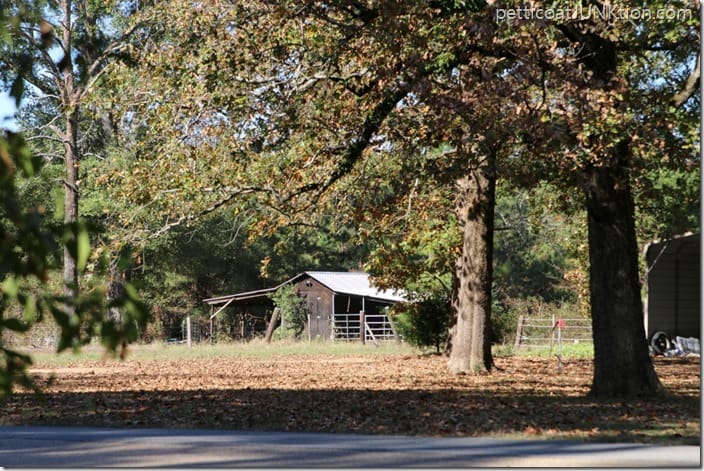 Looking back over the years I believe she really didn't enjoy being retired. I might be wrong.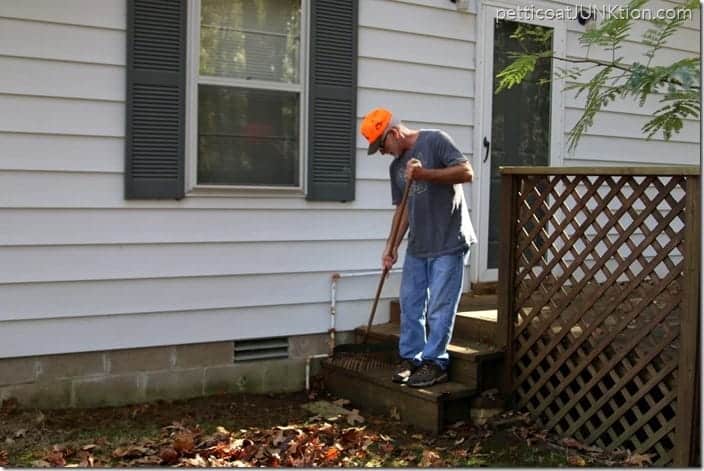 And here is the JTS sweeping the deck for my Dad. He is a good man.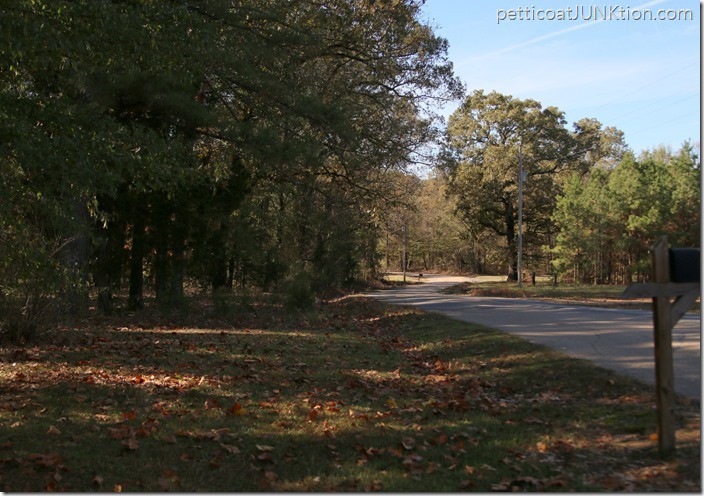 My aunt and uncle live across the street from my parents and my brother and his family live within sight of my parents home. A lot of the family didn't move far from home when they grew up and married. I have several cousins and another aunt that lives on the same street as my parents. When I was growing up we called it the "road" and it was gravel. Before the postal system decided to standardize all street names the street was named for my grandfather William A. Owen Sr.. My grandfather and great grandfather were both farmers.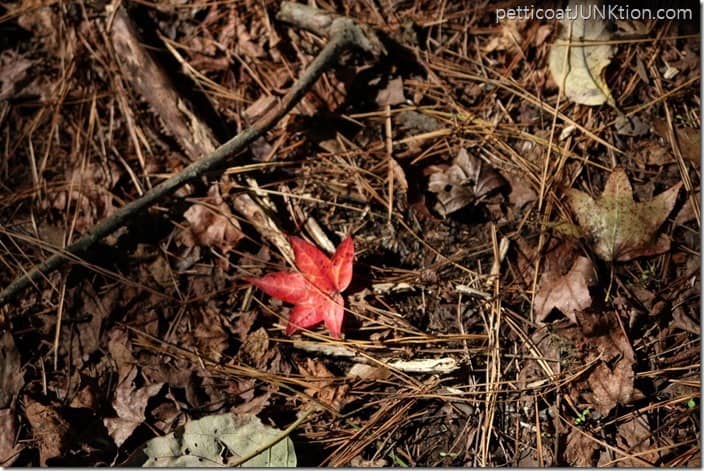 There were 11 of us first cousins who lived on the road within a mile or so of each other and also a bunch of friends. In those days we took off walking or on bikes and were gone all day. We traveled all over the place. We didn't know what computers or cell phones were......we still had phone party lines. If you don't know what those are .....Goggle it.
Our parents didn't have to worry about anyone taking off with us. We were too mean. Seriously, in those days no one worried about kids being abducted. I'm sure it happened but we didn't know anything about it.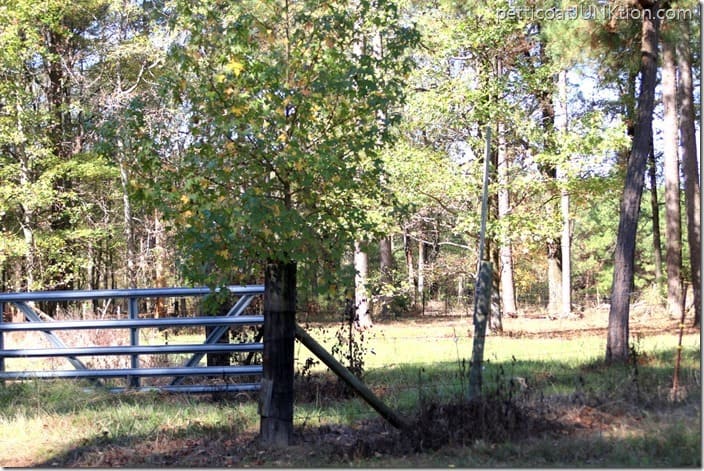 My dad wanted me to get a photo of the tree growing out of he gate post. He thinks it's cool. I plan to make a calendar for my dad with some of the photos I took around the farm.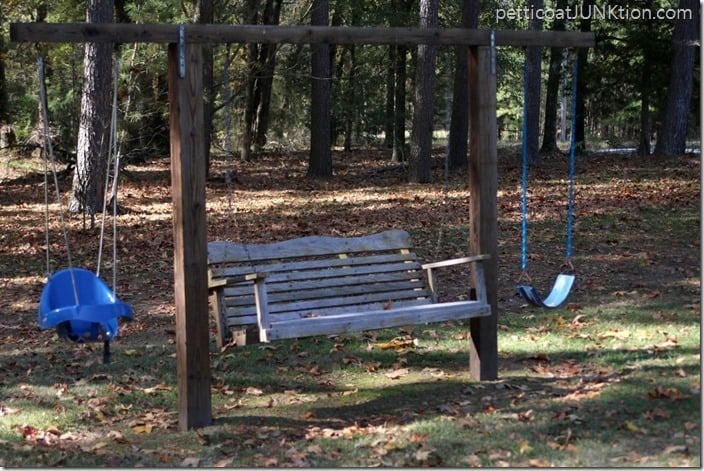 Swings for the young, old, and in-between.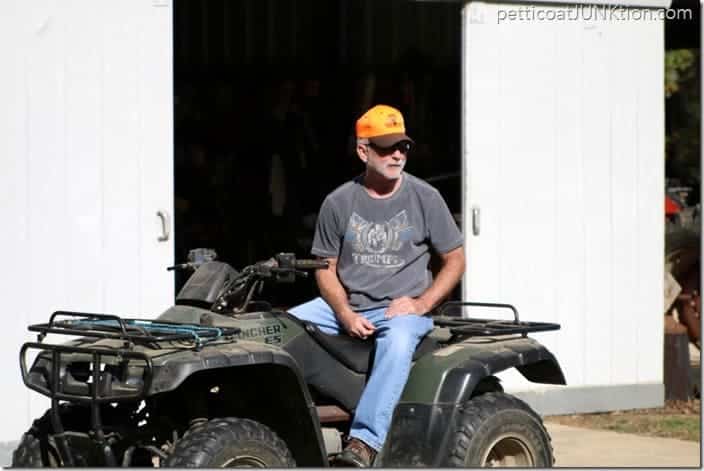 The hubby getting ready for a ride.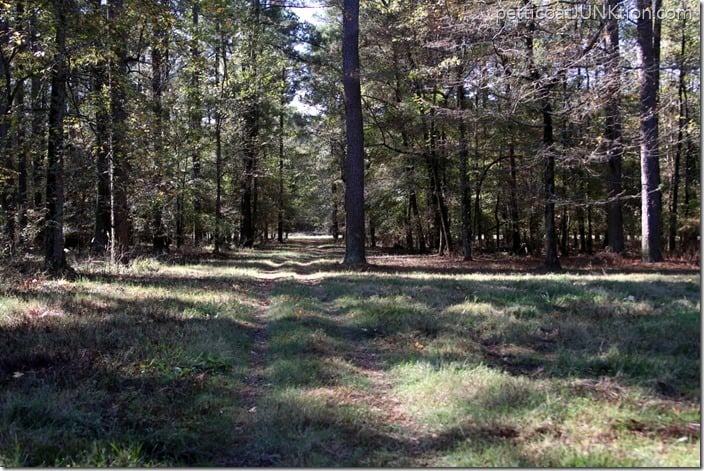 I wanted to visit "The Old Owen Cemetery" to take photos and the cemetery is not easy to get to.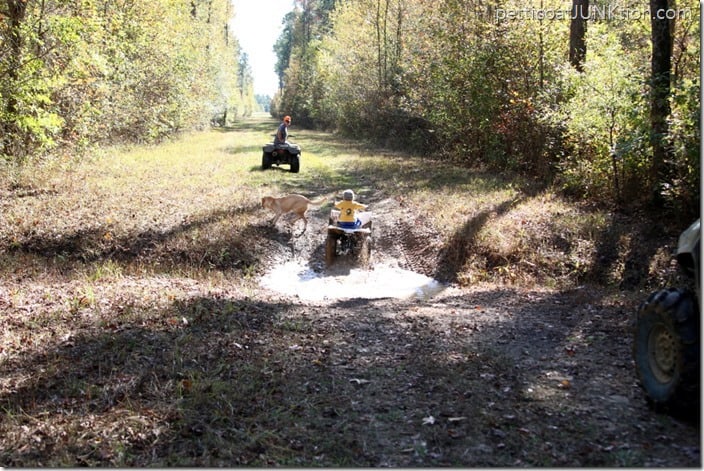 We have to travel down a natural gas pipeline for a ways then take a dirt road to the cemetery. The little guy is Jack, my nephew's son. Me, hubby, my dad, my nephew Brickley, Jack, and Daisy the dog headed to the cemetery.
To read the Arkansas and Alzheimer's series from the beginning just start here...Stepping Out Of My Comfort Zone | Getting Personal
To read the next article in the series just click here....Ceramic Cherub And Another Edition of My Arkansas Home (Jan. 2016)
Photos of the cemetery later.
Happy Thanksgiving everyone.
Author: Kathy Owen (Petticoat Junktion)
Kathy is the founder of PetticoatJunktion.com, a home décor blog focused on repurposing and upcycling furniture, old hardware, rusty stuff, and thrifty finds into unique home décor. Kathy's projects have been featured on the Home Depot Blog, Plaid Crafts, Behr Designer Series, and in numerous magazines. Read more about Kathy here.