Back in June while visiting my parents in Arkansas I took photos of my Grandparents home. I thought I would share a few of those today and give you an update on my Mom and Dad and dealing with Alzheimer's.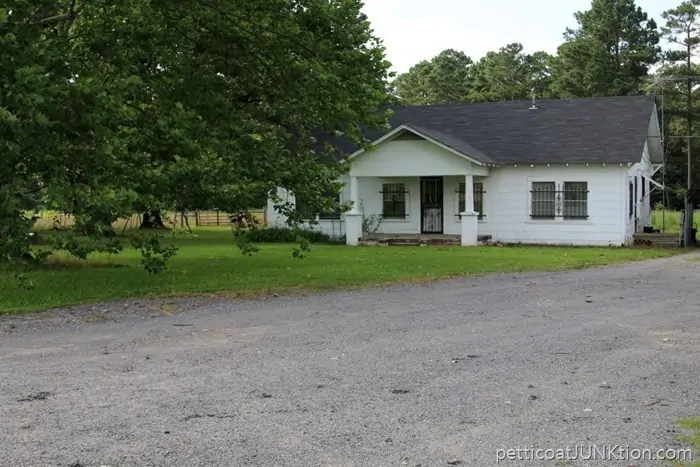 My Grandparents Home
My grandparents have been gone for a while now and I sure miss them. My parents home where I grew up is only about a mile from my grandparents house. When I was young it wasn't anything for me to walk to my grandparents house.
At that time the road we lived on was dirt. Things are much different now. The road is paved and heavily traveled and it's not safe for kids to walk or ride bicycles unsupervised. Oh, for the old days.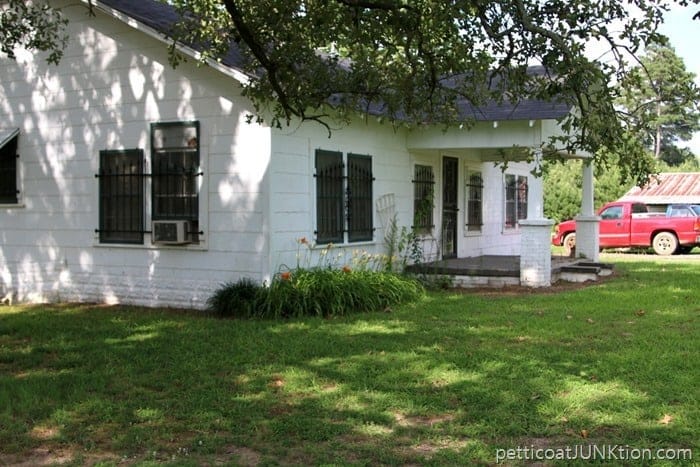 It's tradition in the Owen family for the youngest child to inherit the home place….not the oldest son. I'm not sure why or how that tradition started. My aunt inherited the home and one of her grandson's lives in the house now. When I was growing up there were no bars on the windows and there was a swing on the front porch.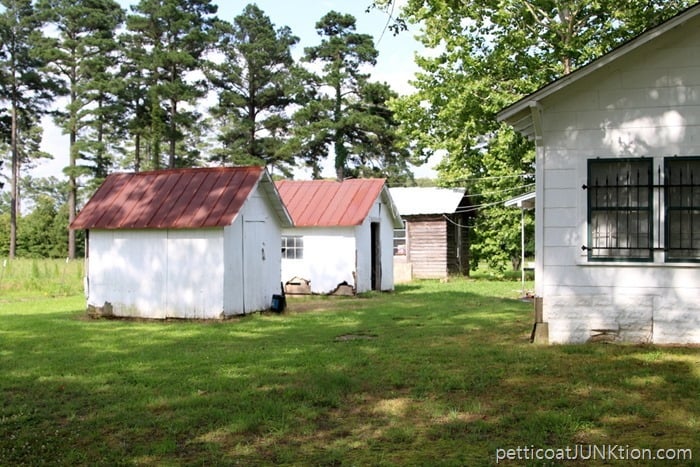 One of the out buildings was a smokehouse and the other was a washhouse.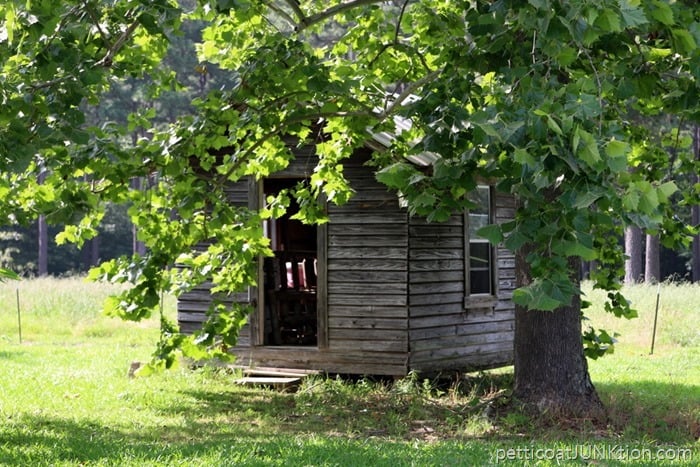 Once upon a time a farmhand lived in this house.
My grandfather did a little bit of everything but I think he loved farming best. He was the preacher at our little country church. He wasn't an ordained minister and most of our congregation were family members.
Grandpa, that's what I usually called him, had a great sense of humor and a dry wit. He was a gentle man, very laid back,  and never spoke ill of anyone. I got a kick out of the fact that he watched soap operas. Everyday when he took a break for lunch, he and grandma watched As The World Turns before they went back to work.
My grandmother milked the cows and fed the chickens along with cooking 3 meals a day. She cooked extra food because there were always people dropping by to visit. She loved feeding people. If you were there at meal time you were going to eat. She was an excellent cook. I guess she had a lot of practice in her 90+ years.
My grandparents had 5 children, 19 grandchildren, and I've lost count of how many great and great-great grandchildren. We all gathered on holidays and birthdays usually having a pot luck lunch. At Thanksgiving and Christmas my grandmother made chicken and dressing and homemade yeast rolls. No one makes chicken and dressing like my grandmother.
Grandma also made beautiful quilts. I have several she gave me over the years. The first one she gave me when I graduated from high school and the last, a state flower quilt, I inherited when she passed away.
I guess it's normal to regret not spending more time with our loved ones. I wish I had talked to my grandparents about their younger years. I heard various stories over the years but I never had any lengthy conversations with either of them about how things were when they were young.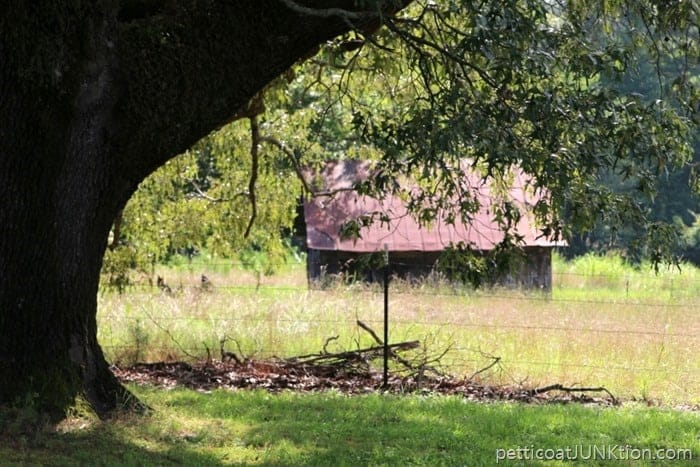 The JTS and I have been to visit my parents several times since my last update in July. We pass by my grandparents home several times while we're visiting. The memories are all good.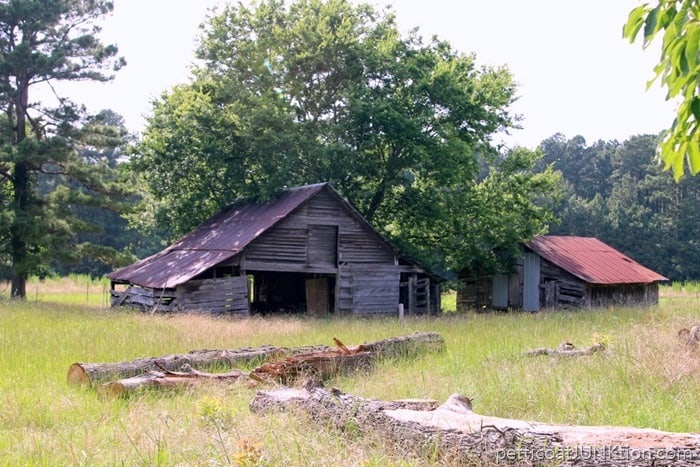 My cousins and I used to play in the corn cribs of the old barn and jump from the hayloft. We got into a lot of trouble in that old barn. I don't think my grandfather ever said anything to us about our goings on but our parents sure did.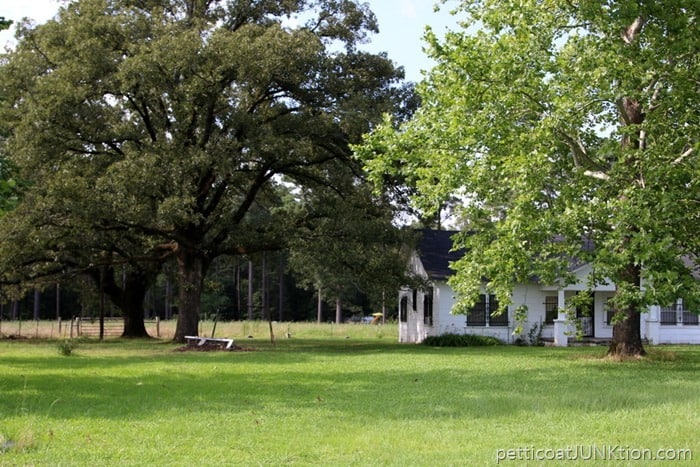 The area to the left of the house is where the picnic tables were always set up for our get-togethers. The yard was filled with lawn chairs and children ran around everywhere.
My Mom's Alzheimer's is slowly getting worse. She is forgetting more things, routine things. She doesn't have the aggressiveness that some Alzheimer's patients have. She spends her days in the recliner, watching TV, and napping. Each time I walk in the door she looks at me like she's trying to place me. I can see her mind working. It's not just me, she doesn't know who anyone is.
I think I mentioned that Dad was lucky enough to find a woman to come in and help 4 half days a week. She is great with Mom and also does some cooking and house cleaning. Hospice comes in 2 half days a week.
When I was visiting in September I cleaned out my Mom's closet and bathroom vanity. My sister and I had gone through her closet a couple of times before just sorting and giving away some things. My Mom loved to shop and always bought home bargains from the 75% off sales at Dillard's.
I hear people talking about how hard it is to go through loved ones personal things when they are gone. I've never had to do that. I'm sure it is hard. I can tell you thought that's it's difficult going through their things when they're still here. But some things have to be done. The empty spots in the closet and vanity made way for things needed for Alzheimer's care.
I hope to make it to Arkansas to spend a few days every month. If you don't want to read the Alzheimer's and Arkansas stories I understand. Reading the comments in past posts tells me that several of you are in a similar situation. I keep you and your families in my thoughts.
update: See The Grandparents House Makeover
If you would like to read the Alzheimer's and Arkansas series there are 6 articles over the last couple of years. You can start here….Stepping Out Of My Comfort Zone | Getting Personal (Nov. 2014)
If you have been keeping up with the series the latest update on my Mom is here.....The Busy Blanket I Made For My Mom.
That's it for me today. See you next week.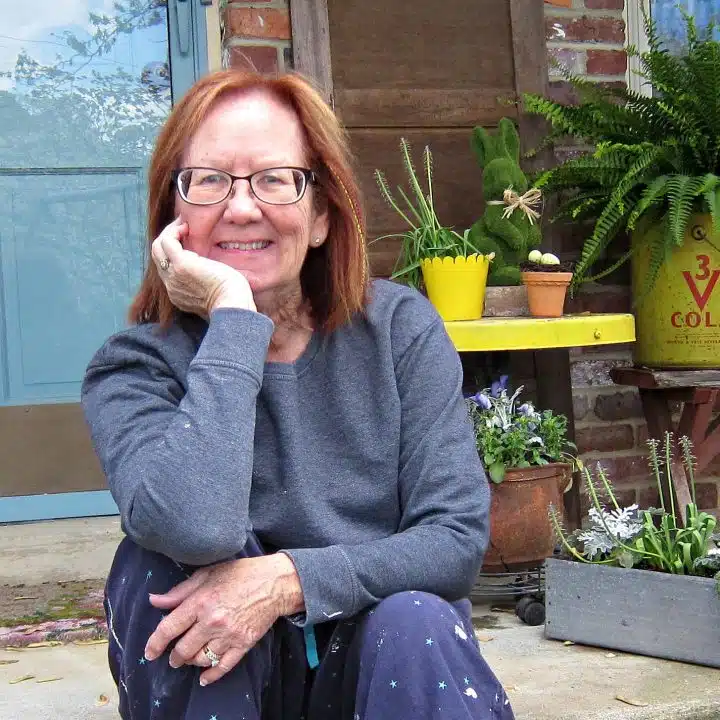 Author: Kathy Owen
Kathy Owen is the founder of the home decor blog Petticoat Junktion where she shares tutorials on painting furniture and upcycling thrifty finds into unique home décor. Her DIY projects have been featured on the Home Depot Blog, Plaid Crafts, Behr Designer Series, and in numerous magazines. Kathy's newest website is HappyHomeDIY.com