Hey Guys. I wanted to remind you of the craft supply giveaway and also give you an Arkansas update.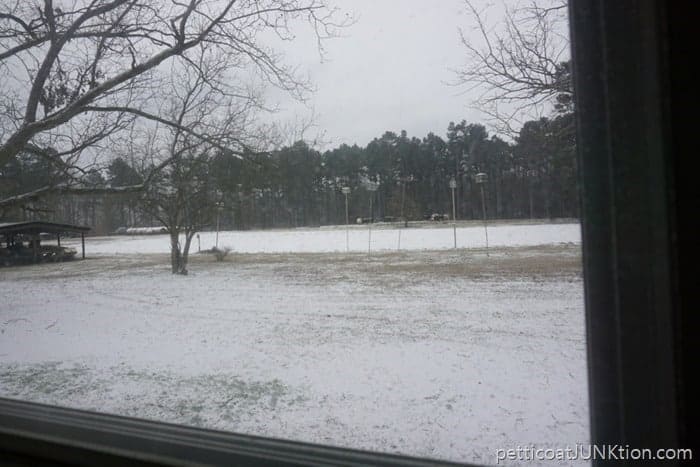 Snowstorm
The JTS went with me to Arkansas this time. His Dad and family live in Arkansas too. The past few trips to Arkansas I've stayed for a week or more and someone has to hold down the fort in Tennessee so the JTS stays home. This trip was a short one.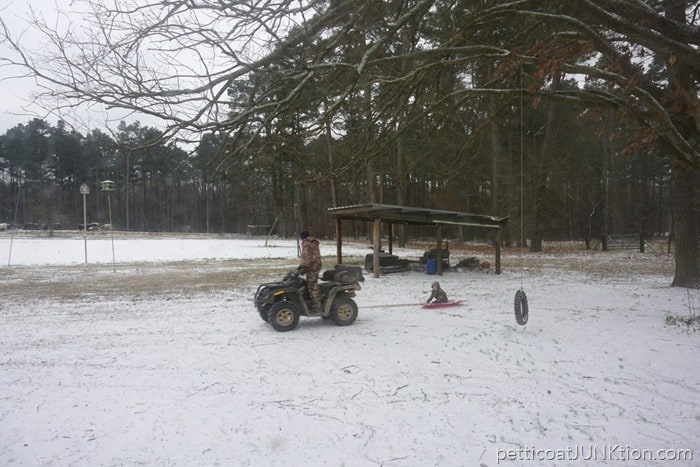 It was crazy cold the days we were away from home. I was a little worried about the pipes freezing up but they didn't, whew.
As you can see from the photos we got a little snow in Arkansas. Not as much in Tennessee which is the opposite of how it usually works.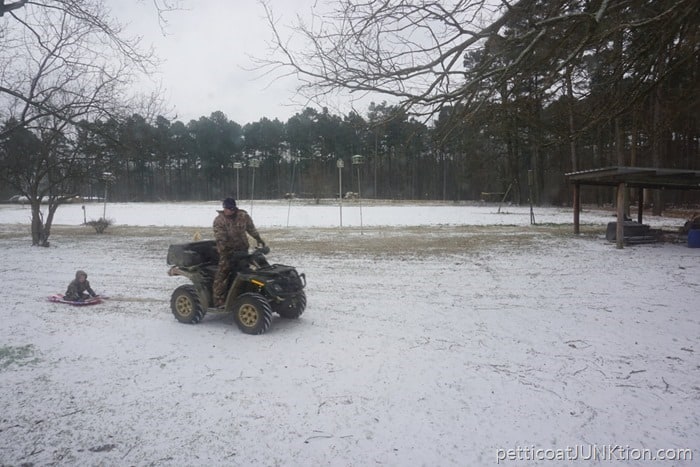 If you read my last Arkansas and Alzheimer's post you heard about all the cooking I do and the banana cake. I made Dad and Mom a banana cake this time too. I also made Peanut Butter Cookies, Chili, Pork Roast, Cheese Dip, Deviled Eggs, Fried Potatoes, and a lot of Bacon, Eggs, Ham, and Biscuits. Mom really likes the cookies and the cake. She has a real sweet tooth lately.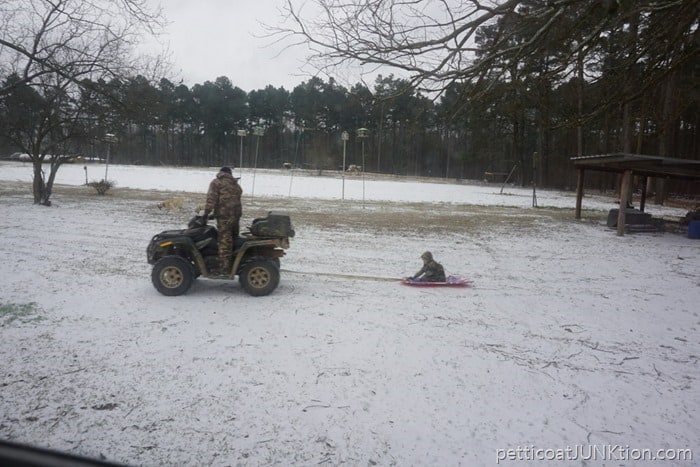 Her appetite isn't very good some days. She drinks an Ensure everyday and for the most part eats only soft foods. This time of year she really likes hot chocolate. Me too.
Because of her sleeping problems Hospice had her on medication to help her sleep but it was causing issues so they stopped it. Next Dad tried Melatonin for a couple of weeks then stopped that too. Since then Mom seems to be a little more alert and will often laugh at something we say or at a TV show. She also will say a couple of words if asked a question. Sometimes she will try to put together a sentence but can't get the right words.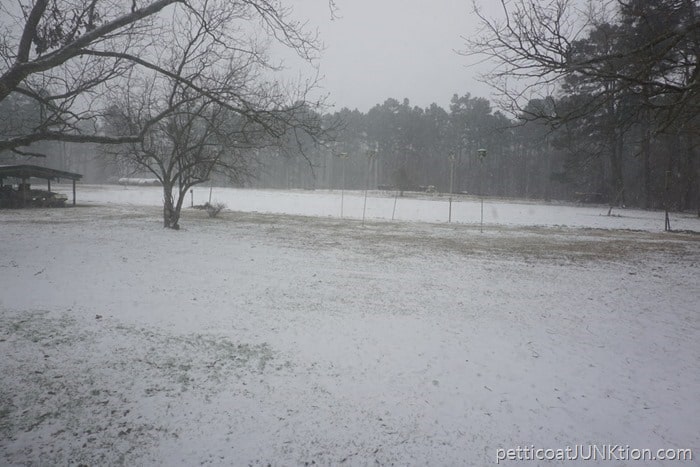 My Dad is taking things in stride. I know this is not how he or any of us saw their golden years. When I'm at home and when the caregivers are there we try to push Dad out the door. He has always been an outdoors guy and I know it's hard for him to sit in the house all day and tend to Mom.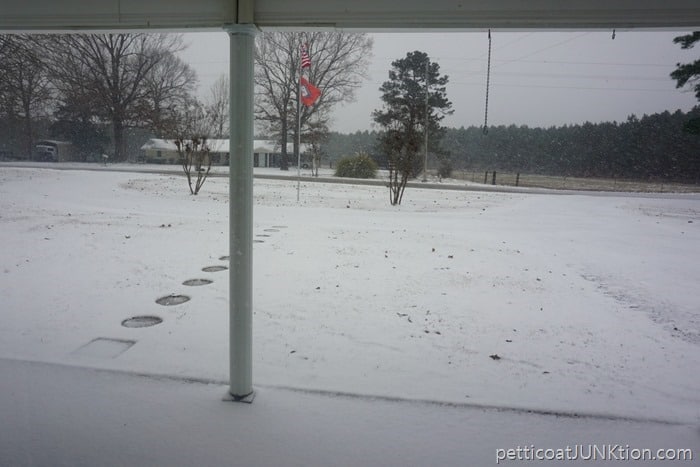 My brother takes him to lunch occasionally and my sister usually sits with Mom (and makes lunch) while he goes to Sunday morning Church service. Dad has a good support system although I don't think he looks at it that way.
My brother who is semi-retired recently bought 15 cows. My Dad raised cows up until 3 years ago when he decided he just couldn't handle the work any more. Now he has cows in the pasture again but doesn't have the hard work to go along with them. He can see the cows from his chair at the kitchen table.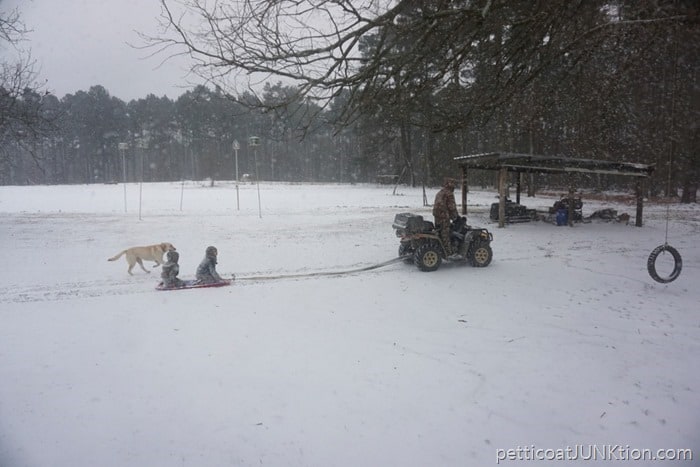 Most of the pictures are of my nephew pulling his son Jack and friend on a sled behind the four wheeler. Something about kids and snow. They love it. I like to look at it from inside. That's how I took these photos……through the kitchen window.
I do like snow ice cream but we need a deep snow for that. Have you had snow ice cream?
If you want to read the Arkansas/Alzheimer's Stories from the beginning start by clicking here…Arkansas Stories . Have a great day!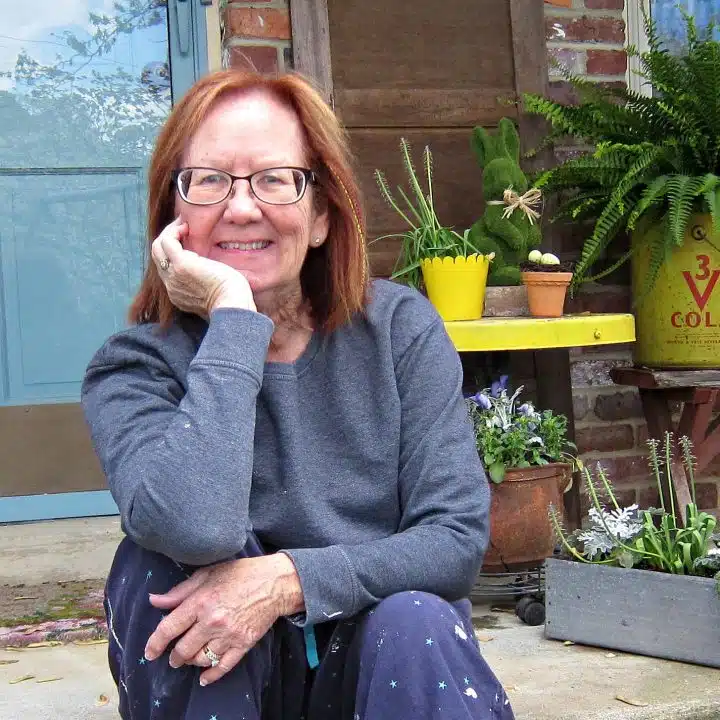 Author: Kathy Owen
Kathy Owen is the founder of the home decor blog Petticoat Junktion where she shares tutorials on painting furniture and upcycling thrifty finds into unique home décor. Her DIY projects have been featured on the Home Depot Blog, Plaid Crafts, Behr Designer Series, and in numerous magazines. Kathy's newest website is HappyHomeDIY.com