Was your long weekend filled with fun and laughter. Ours was. We celebrated 3 birthdays and visited with out of town guests.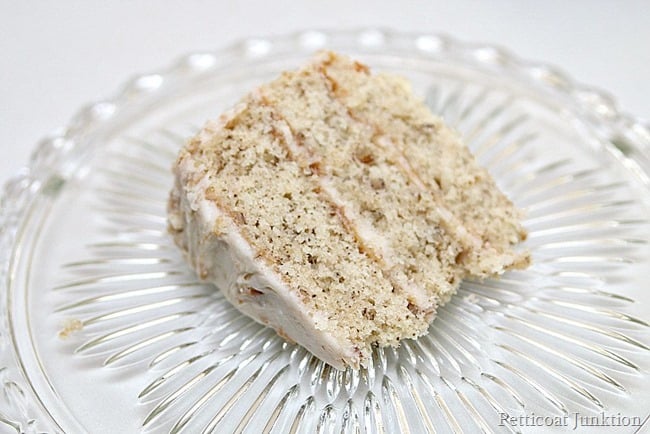 Around our house Italian Cream Cake is the number one choice of cake when birthdays come around.  Any of you had Italian Cream Cake before? It's good!
I'm going to share the recipe with you if you want to give it a try. I know that's not my usual thing here on the blog….cooking and recipes…….I don't want to get too predictable though.
The cake is a pain in the rear to make. I once tried a shortcut I found in Southern Living Magazine and it was a bust. Of course my daughter never lets me live that one down. I tried the shortcut recipe on her birthday instead of her dad's or brother's. Well, it was near her birthday when I found the shortcut recipe! Anyway I make this cake 2-3 times a year.
You guys probably wonder why there isn't a photo of the cake before it was cut. Two reasons….1. I forgot to take a photo…..2. It's a 3 layer cake and mine always looks like the Leaning Tower of Pisa when I'm finished with it. I did mention I only bake a cake a few times a year didn't I?  I'm not a pastry chef or baker or whatever. Don't matter what it looks like though….it taste yummy!
Italian Cream Cake
Beat until stiff 5 egg whites.
Cream together:
2 cups sugar
1 stick butter softened
½ cup Crisco Shortening (stick or from the can- not the liquid kind)
Add:
5 egg yolks
1 cup buttermilk
1 teaspoon baking soda
2 cups self-rising flour- sifted
By hand add:
1 teaspoon vanilla
1 cup Angel Flake Coconut
1 cup finely chopped pecans
Fold in beaten egg whites. Pour batter into three 9" cake pans. Grease and flour the pans to prevent cake from sticking. Bake at 350 degrees for 20-25 minutes. Cool cake before icing.
Cream Cheese Icing
1 box confectioners powdered sugar
1 stick butter softened
1 8 ounce cream cheese softened
2 teaspoons vanilla
1 cup coarse chopped pecans
Recipe source Chapel Academy Cookbook (date 1970's) Reba Stuckey
Petticoatjunktion.com
I'm not going to add a fancy recipe plug-in to my site. This is the first time in my 4 year blog life that I've shared a recipe (not counting the candy corn/peanut "recipe"), and I can't see sharing a lot in the future. Maybe a special recipe around the holidays. You guys don't have to write anything down. You can download the recipe in PDF  and then print it if you want.
Download- Italian Cream Cake Recipe Petticoat Junktion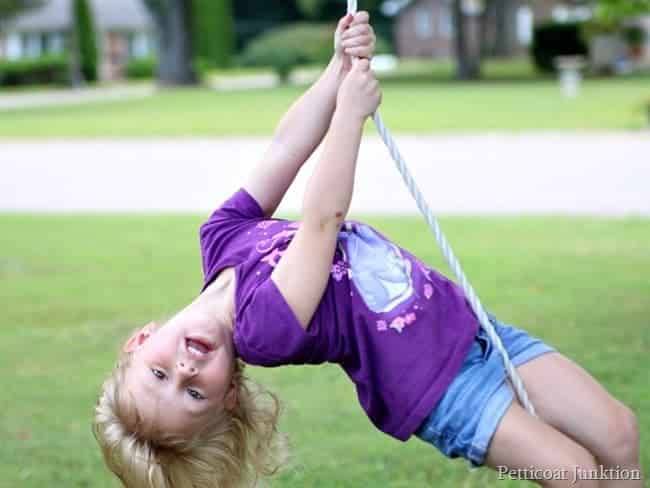 My lovely daughter-in-law, Miss Sofi, and the JTS all had birthdays within a week of each other. We celebrated big time.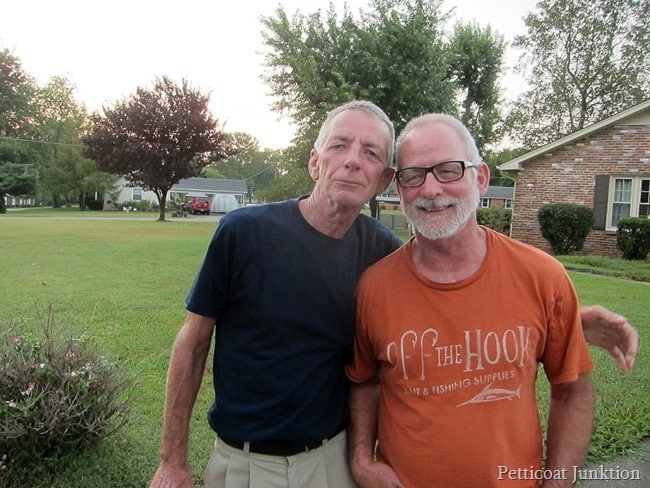 The JTS's brother, Tony (on the left) and his wife, came to visit for the weekend. I tried to get these two guys to cooperate for the photo but they're worse than a couple of kids. This is the best I got!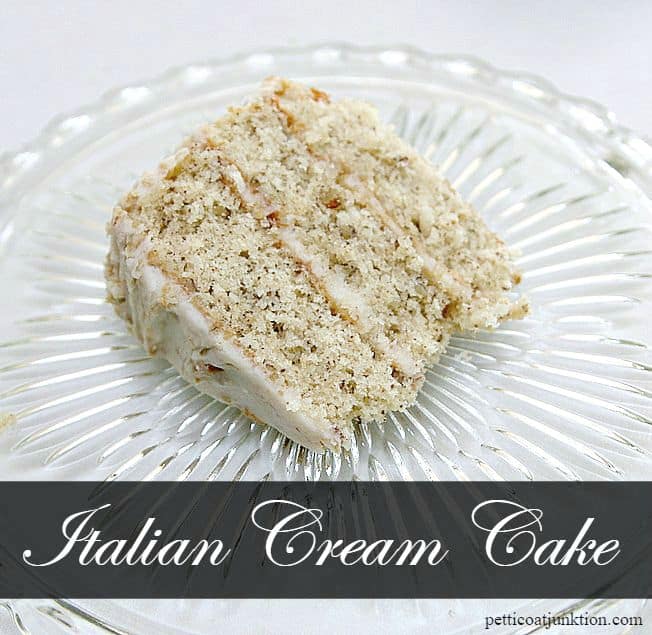 We sure enjoyed visiting. There was a lot of talking, a lot of playing, and a lot of eating.
I started painting a piece of furniture yesterday after our company headed back to Arkansas. I hope to get it finished so I can share it tomorrow or Thursday.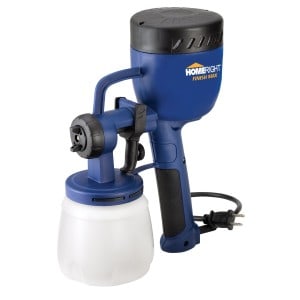 Sorry but this giveaway has ended. Find the ……HomeRight Paint Sprayer for Large and small projects here
Have a great day ya'll, Kathy