Sausage Wonton Appetizers
The Cheesy Sausage Wonton Appetizers are one of our favorite appetizers. I make the wontons a few times a year on special occasions. Our granddaughter Tenley sometimes puts in a special request for them. You might want to whip a batch up for Holidays or maybe during Football season.

 Cheesy Sausage Wonton Appetizers
Favorite Party Recipes
I know. I'm not a food blogger. But, I do an awful lot of cooking during the holidays and I teamed up with some of my blogging friends to share our favorite party recipes.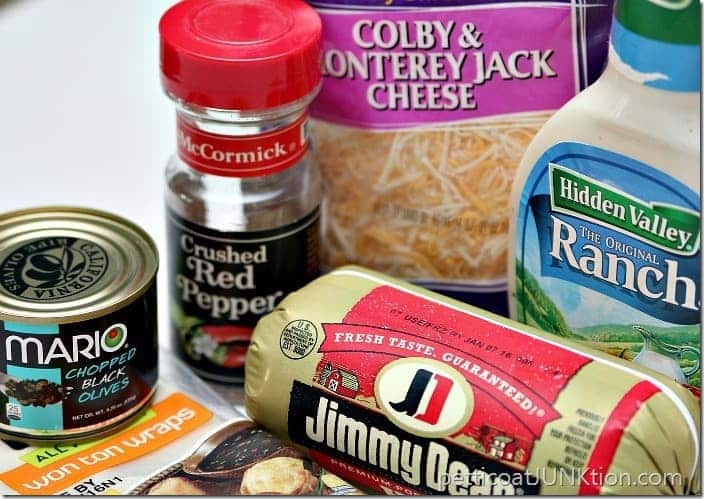 Cheesy Sausage Wonton Appetizers Recipe
Ingredients
1 lb. Jimmy Dean Hot Sausage
1 4 ounce Can Chopped Black Olives
1/2 cup Hidden Valley Ranch Dressing
2 cups Shredded Colby & Monterey Jack Cheese
1 package Wonton Wraps
A bit of Crushed Red Pepper if desired
Instructions
Preheat oven to 350 degrees F. Spray a muffin pan with cooking spray and insert wonton wrappers in the pan to form small cups. Bake for 5 minutes and allow to cool. Brown and drain the sausage well. Combine the cheese, dressing, olives, sausage, and red pepper (if desired).  Fill the wonton wrapper cups with the mixture and bake for 5 to 10 minutes. Watch closely to keep the wrappers from getting too brown. Makes 36-48 wonton appetizers, depending on how much mixture you add to each cup.
Print the recipe:  Cheesy Sausage Wonton Appetizers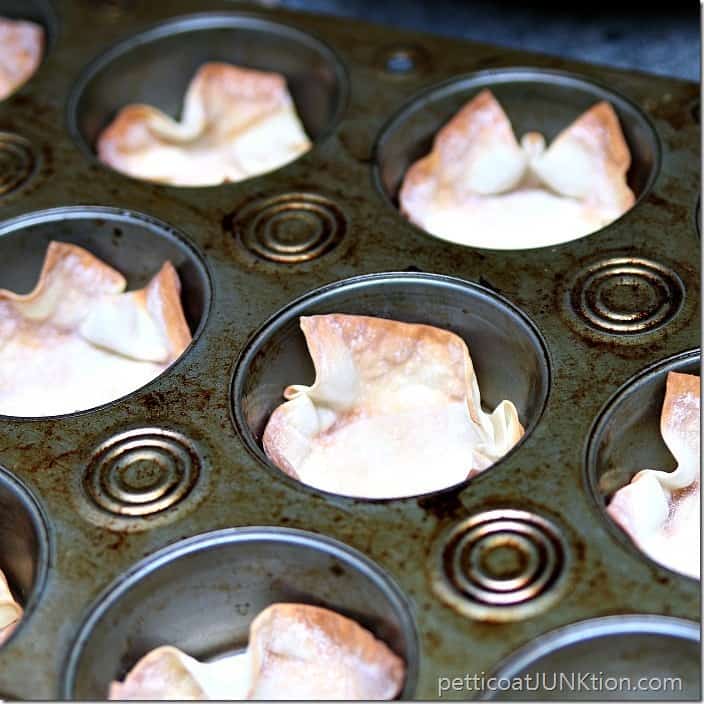 Cook the wonton wrappers until just brown. They will brown more when you cook them after the sausage mixture is added. You can tell my muffin pan is well used. It's clean….just stained from cooking spray. Does anyone know how to remove that stuff?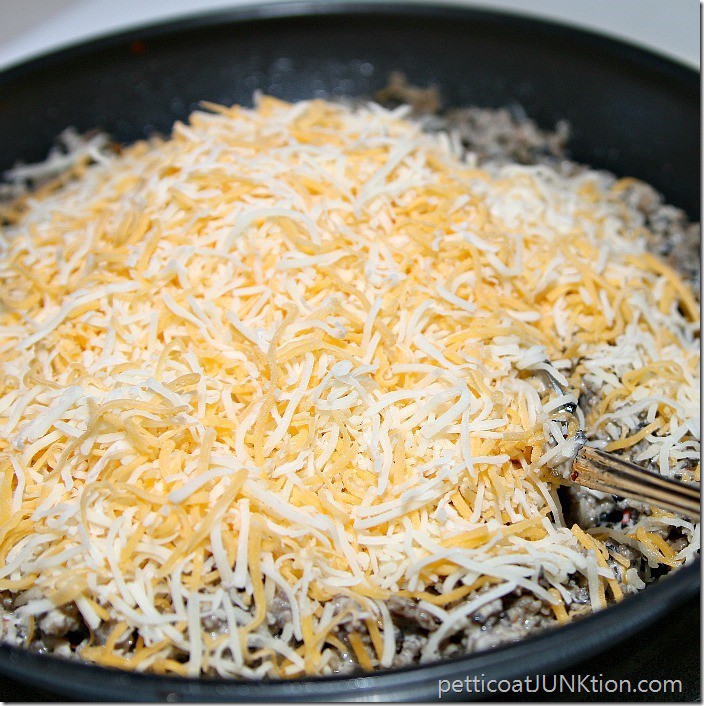 All that cheesy goodness. I brown the sausage and drain the grease by pouring the sausage in a wire strainer and patting with a paper towel.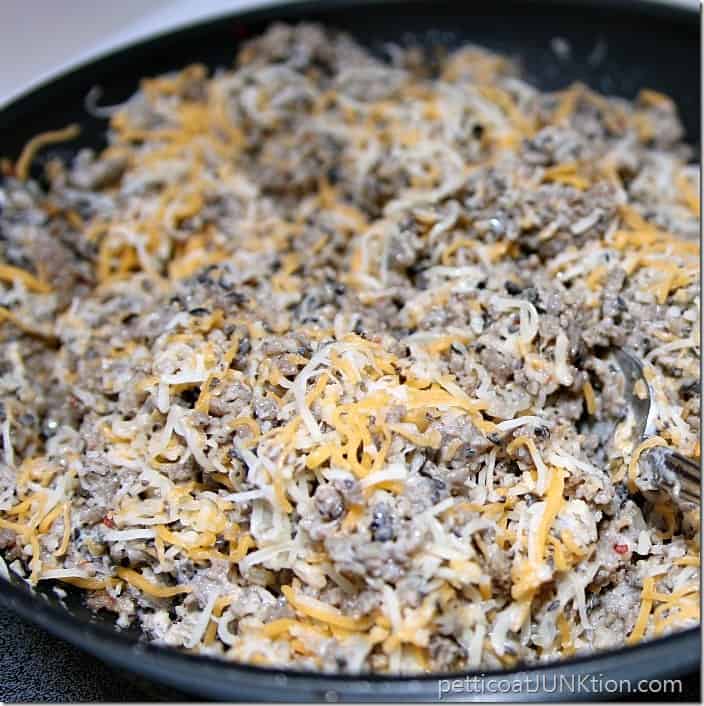 Once the sausage is drained I put it back in the pan and add the other ingredients.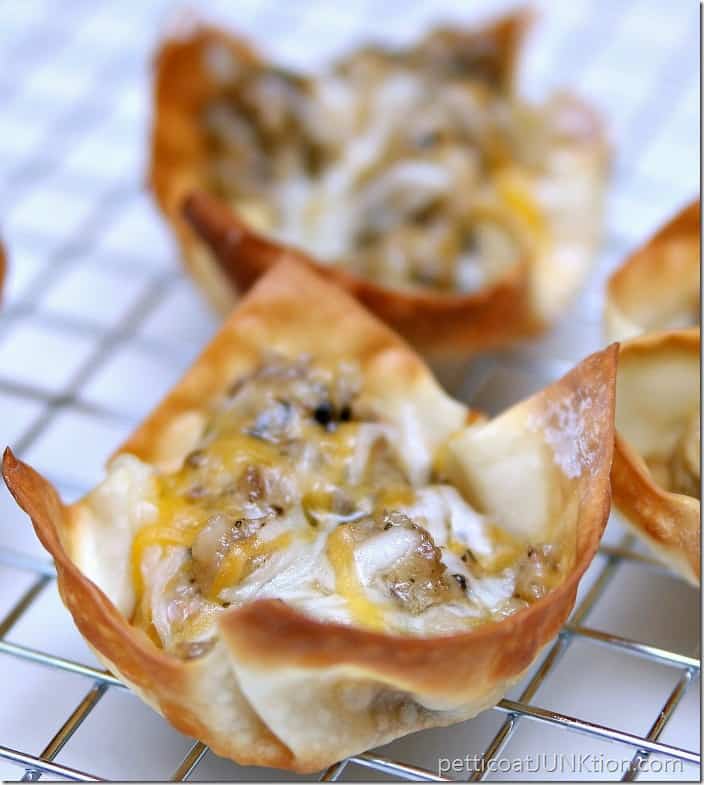 All that's left to do is fill the wonton cups with the mixture and bake in the oven until the mixture is bubbly. One thing I found that helps keep the wrappers from burning is making sure your mixture is hot when it goes in the wrappers. Then cook about 5 minutes or till good and hot.
My friend Beverly introduced me to these wontons. I started with her recipe and modified it over the years. I can't even remember what her original recipe included. I do know that I cut the amount of Ranch Dressing in half. One cup was just too overpowering. I listed a can of black olives in the ingredients above but most times I only use half a can…..depends on how much you like black olives. You can also substitute regular sausage for the hot sausage.
I have a lot of muffin pans so I cook all of the wonton wrappers at one time. They keep well in a plastic storage bag. The sausage mixture will keep in the refrigerator for several days. Just warm the sausage mixture in the microwave until it is hot, add it to the wonton cups, and cook in the oven until hot. If the wontons are for a party no worries….just make them all. If the wontons are just for me and hubby then we eat on them for several days.
Do you have any favorite appetizers….or desserts? Tomorrow the tour continues with our favorite desserts.
As I said I don't write food posts or share recipes very often. My other recipe post is about my family's favorite cake…… Italian Cream Cake
You can find the complete recipe and a printable version by clicking here.
This week I plan to paint that vintage radio cabinet the JTS fixed up for me. Still trying to decide on a color!

Now it's time to take the tour. Join me by clicking on the "pink text links" below.
Monday ~ Appetizers
Petticoat Junktion | Cottage At The Crossroads
Create & Babble | Plum Doodles
Opulent Cottage | Brandywine Cottage
Domestically Speaking | What Meegan Makes
Tuesday ~ Desserts
An Italian In My Kitchen | Cook With 5 Kids
Roots North and South |Garden Matter
The Coconut Head's Survival Guide
Day to Day Adventures | 2 Bees in a Pod