Alzheimer's Story
This is about my Mom....starting her Alzheimer's story.
I hope everyone had a wonderful Thanksgiving. I hope you spent time with your loved ones….and ate a little turkey and dressing. Today I'm stepping out of my comfort zone and sharing things I normally don't.
You guys are my friends. I get to spend several days a week with you and I enjoy reading and answering your comments. Today I want to share things close to my heart. I just need to.
Last Thursday my mom was admitted to the hospital because she had a large blood clot in her left leg. She also has Alzheimer's. Anyone that is the least bit familiar with Alzheimer's knows that the disease is unpredictable.
We first noticed the symptoms, or what we considered to be the beginnings of Alzheimer's, seven or eight years ago. It has progressed slowly and it is not something we could ever talk about with our mom. She always said "everyone has trouble remembering things when they get older". Now we talk about it and she doesn't comprehend what we are talking about…..I wish she did.
She was released from the hospital on Tuesday before Thanksgiving. We were glad to get her home because being in the hospital and out of her comfort zone put her Alzheimer's in overdrive. She's doing better now that she's at home.
When mom was released from the hospital her doctor called Hospice Angels and requested an evaluation. They came to my parents home and met with the my family on Wednesday morning. Hospice will be coming to the house 3 days a week to help with mom's medical issues, which will also give my dad a little time to himself.
I went to Arkansas on Friday and returned last night. That's one reason you haven't seen my regular posts this week…..priorities.
I'm thankful for so many things today…..my mom and dad, who will celebrate their 61st anniversary next week….my brother and sister who live in Arkansas and can check on my parents daily….Hospice Angels…..my husband who repaired a few things and did yard work for my dad just because he wanted to…..my awesome children and my even more awesome grandchildren…and my friends.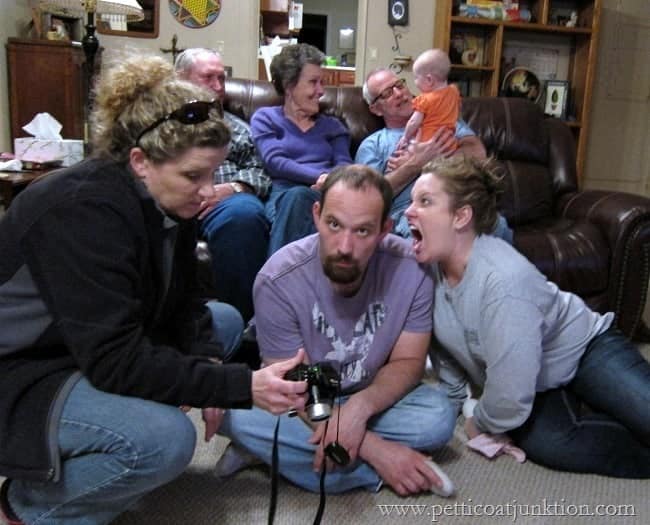 I don't have any good photos of mom on my computer. I found this one of the Owen family at it's best…from a couple of years ago…my mom is on the couch in the middle.
To continue reading my Mom's story start here.....Alzheimer's Story Part II | Stepping Out Of My Comfort Zone (March, 2015)
Have a great weekend, Kathy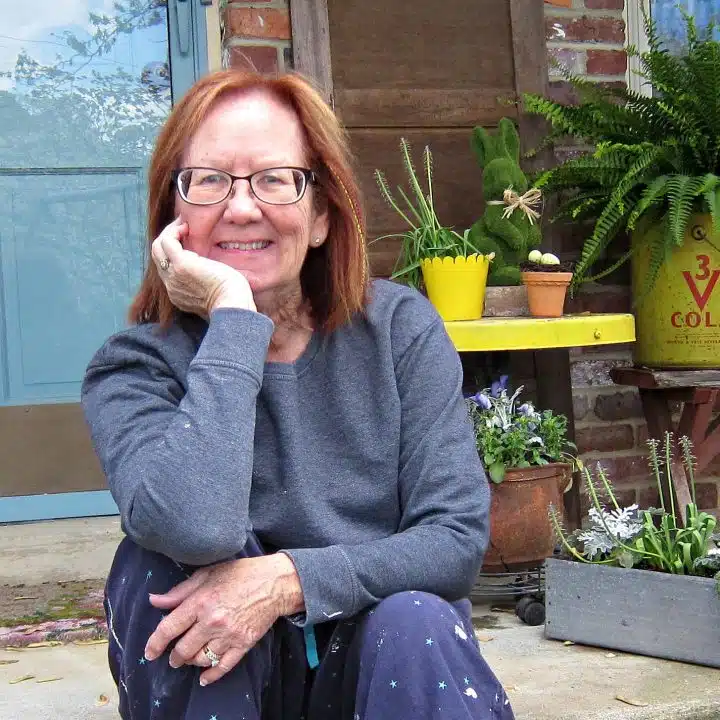 Author: Kathy Owen
Kathy Owen is the founder of the home decor blog Petticoat Junktion where she shares tutorials on painting furniture and upcycling thrifty finds into unique home décor. Her DIY projects have been featured on the Home Depot Blog, Plaid Crafts, Behr Designer Series, and in numerous magazines. Kathy's newest website is HappyHomeDIY.com