Hi guys. I just got back from a trip to Arkansas. We visited with my family and my husband's family. It's nice that they all live in the same area in Arkansas. Later this week I will have an update on my mom who has Alzheimer's.
We got back home about 4 yesterday afternoon and I went down to the workshop to do a little more organizing. I did so much sitting while out of town I just had to move around and do a few things after getting home. Can you guys relate to that?
Anyway, I don't have any projects to share today but I did take photos around my dad's farm while I was home. I'm sharing birdhouses today.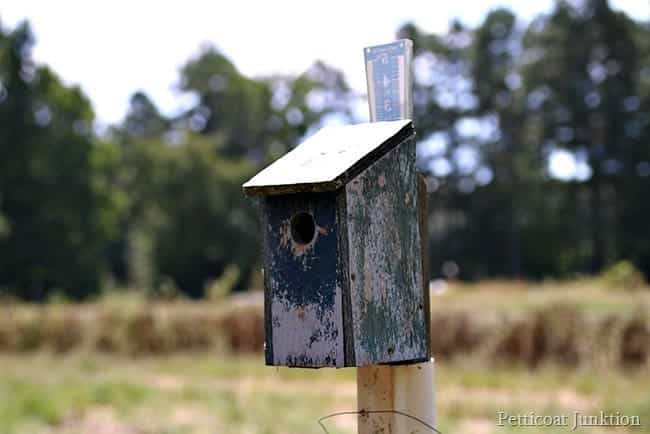 Most of the birdhouses were built or put together by my dad. This one is hanging on a pole in the garden. I love the chippy paint….surprise.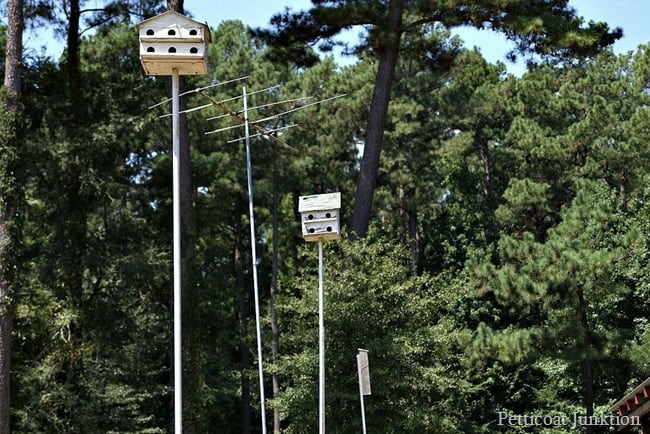 A long, long, time ago he put up the tv antenna for the birds to perch on. The birdhouse to the left is one I think I gave him? I bought it from an antique shop when we lived in Florida. The other two are ones dad built.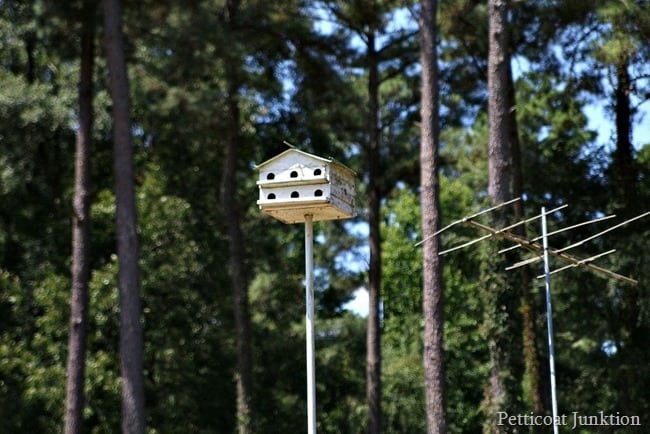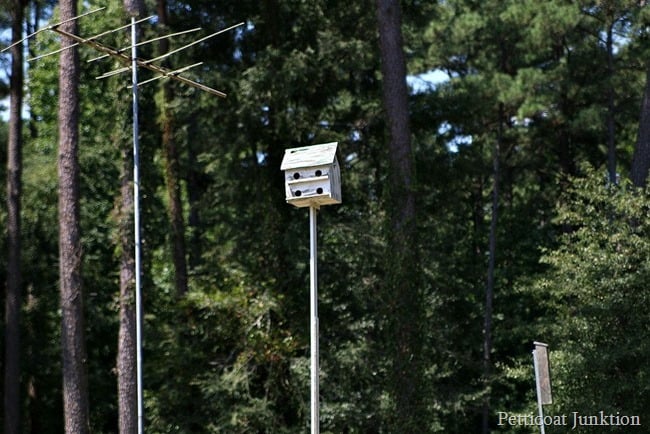 The houses are showing their age.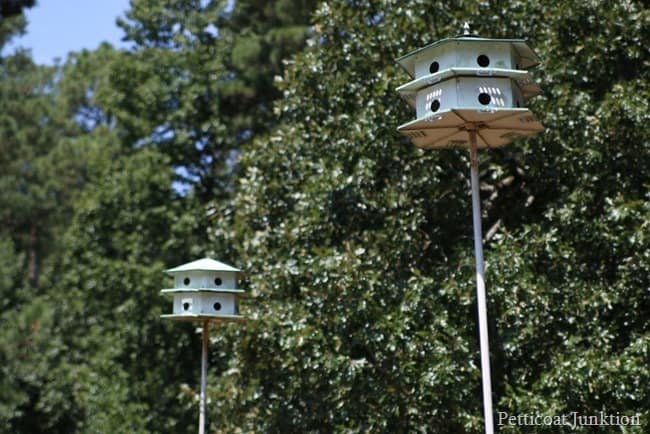 These two are metal and he put them together. I don't think it was an easy job. I remember him thanking me profusely (insert smiley face) for the  "you have to put these together" birdhouses.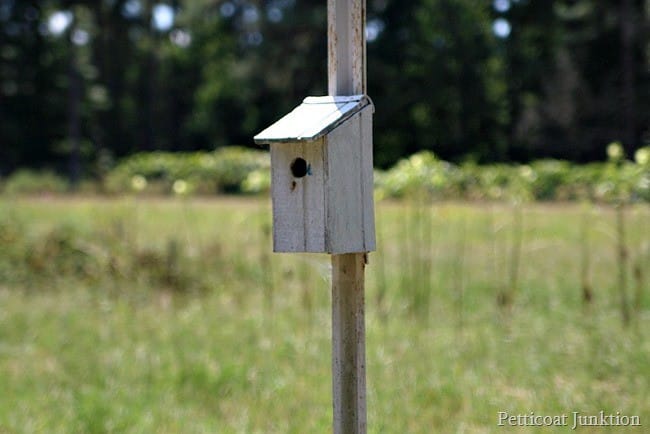 I like the ones he made himself.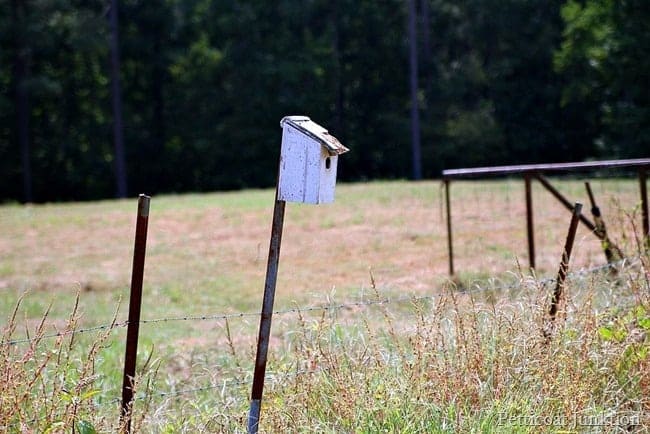 This one is not in quite as good a shape as the one above.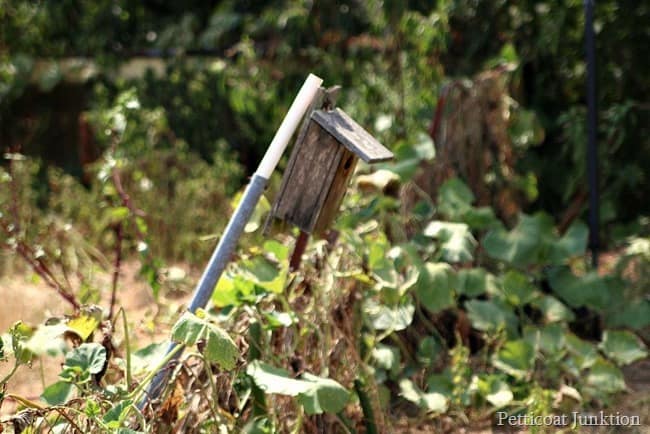 Dad's gourds on the fence line are pretty heavy…..pulling the pole over.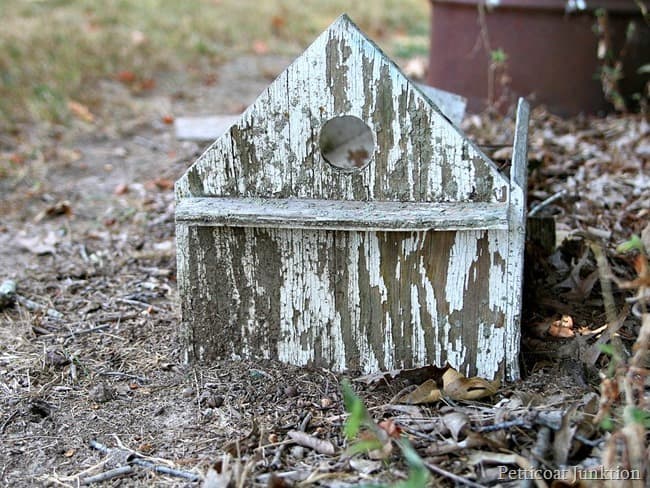 This one has seen better days. I spotted it on a piece of ground on the farm.
Hope you guys enjoyed the glimpse of the farm. I may share more photos of the farm later.
To start at the beginning of the Arkansas and Alzheimer's series start here.....Stepping Out Of My Comfort Zone | Getting Personal (Nov. 2014)
If you've read the series to here then this is the next post....My Arkansas Home | Alzheimer's Story Part III (Nov. 2015)
This week we have the themed furniture makeover on Thursday. I think I will also have another project or two to share. Have a great day! Kathy
Author: Kathy Owen (Petticoat Junktion)
Kathy is the founder of PetticoatJunktion.com, a home décor blog focused on repurposing and upcycling furniture, old hardware, rusty stuff, and thrifty finds into unique home décor. Kathy's projects have been featured on the Home Depot Blog, Plaid Crafts, Behr Designer Series, and in numerous magazines. Read more about Kathy here.