Chroma Color Repurpose Paint - Navajo Blue
Remember the desk from my junkin' adventures earlier this week? She's a beauty now.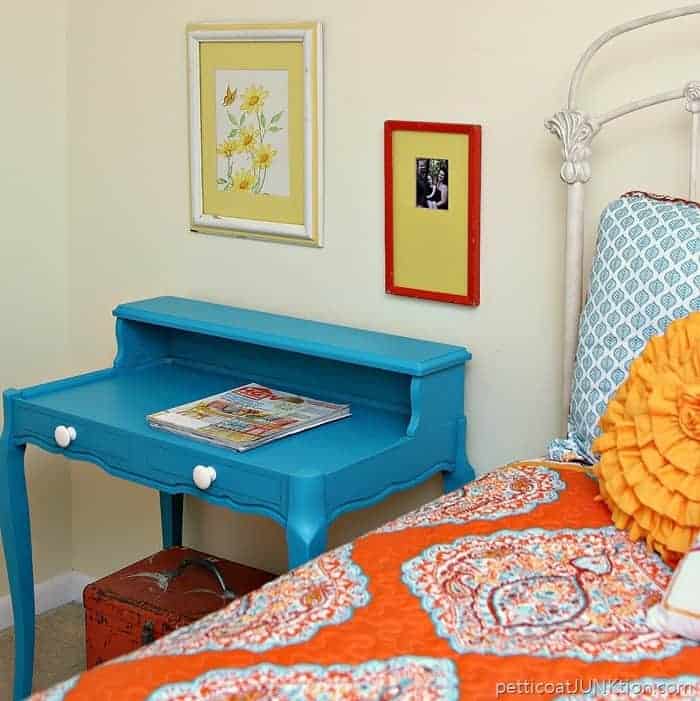 Vibrant Navajo Blue Paint Color
I painted the desk a vivid, vibrant blue. The paint was given to me by a friend. The friend sells the paint in her shop and she wanted me to give it a try.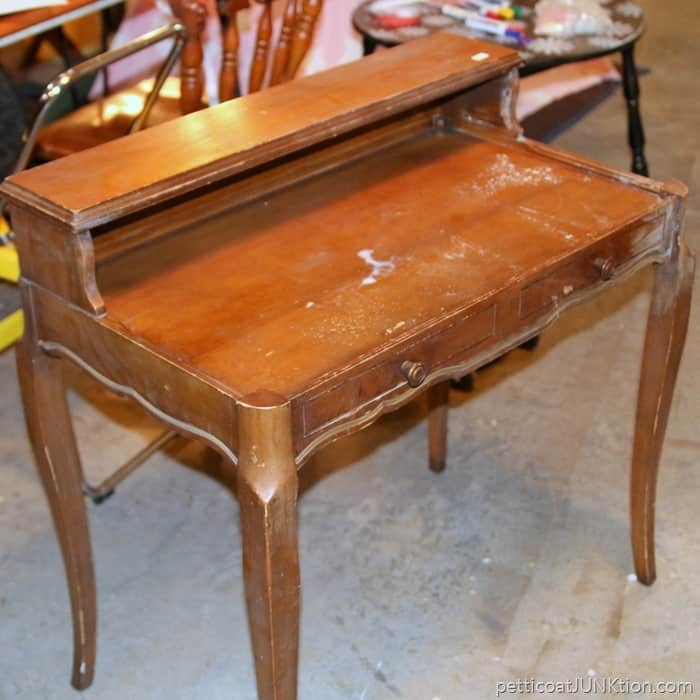 The desk is called a Lady's Writing Desk…thanks for the information Kay. You guys are the best. You help me out all the time.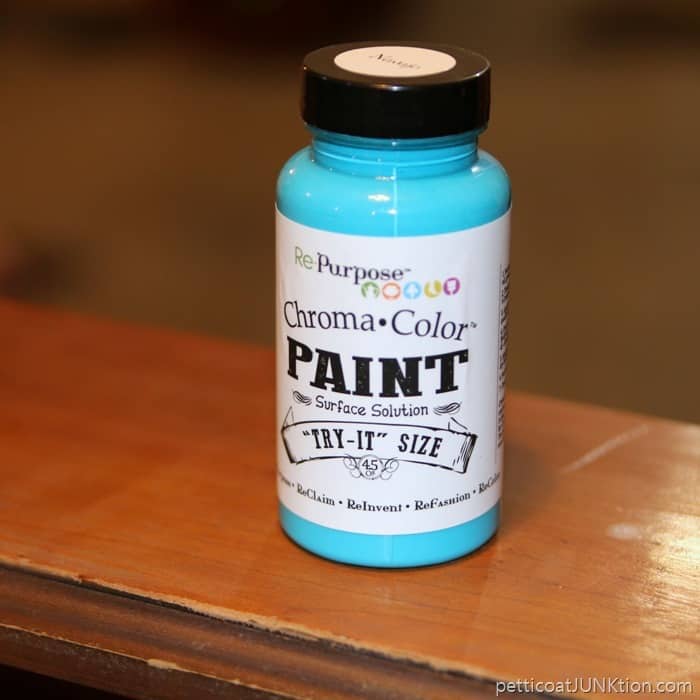 The paint is Chroma Color Repurpose paint. The Try-It size was enough for the small desk. I even had a bit left over.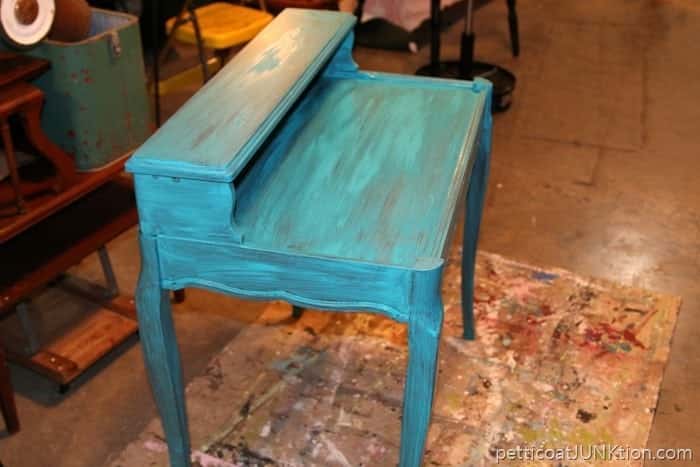 The desk after one coat of paint. I found the Navajo Blue paint to be a little thick so I watered it down…probably by 40-50%. I just put the bottle under the faucet and went for it. The paint brushed on really well after thinning it out. Not the first time I've thinned paint and I'm sure it want be the last.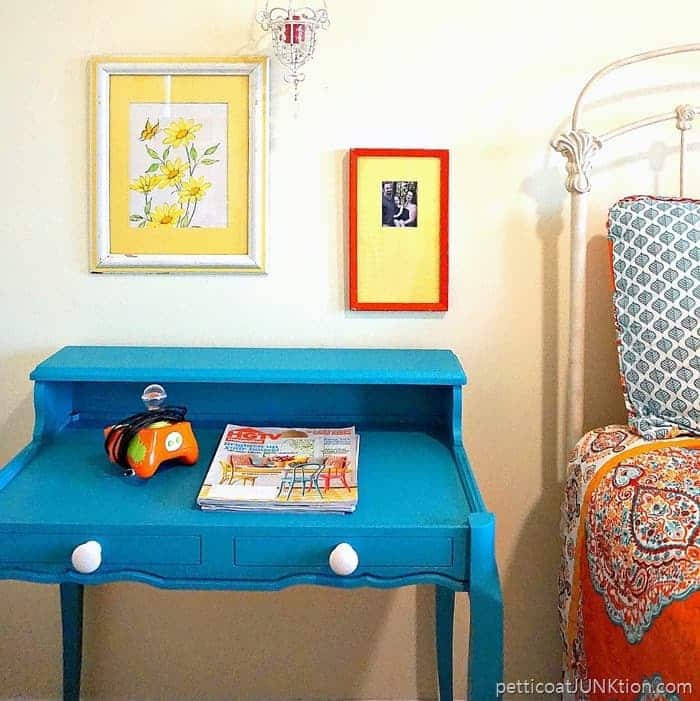 The paint seems to adhere really well. I banged the desk on  a couple of door frames bringing it into the house and nothing chipped off. The turquoisey blue looks great in the granddaughters bedroom. I still love that orange and turquoise bedding set I bought at Bargain Hunt.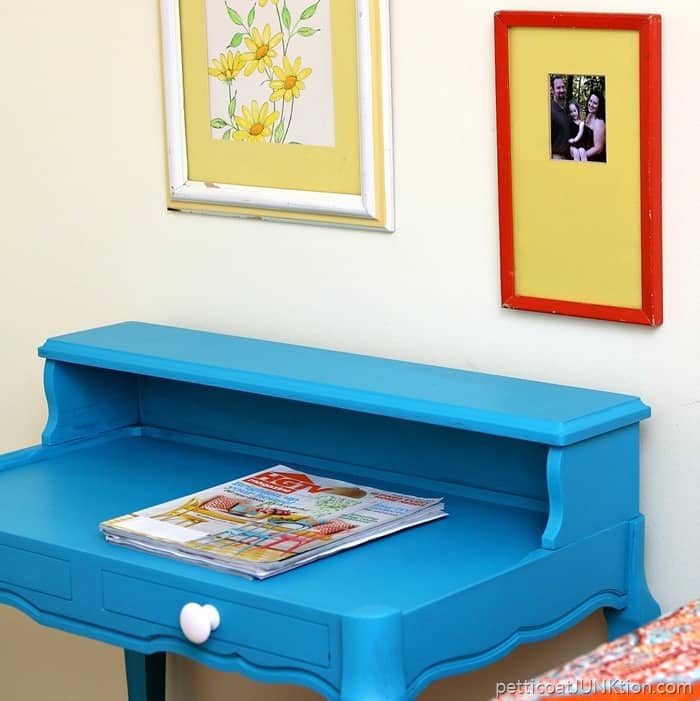 I could have put the original brown knobs on the desk but I felt the cheerful blue color needed a bold contrast. I did try different colors and styles of furniture knobs from my stash but ended up liking the crisp white the best. There are no drawers in the desk, just fake drawer panels.
What do you think of the paint color? Do you like the white knobs?
I read all of your comments about the pineapple bed. Thank you for sharing your ideas. I'm going to paint the bed gray! Not sure what type paint or what color gray but it will be a paint I have on hand. I'm hoping the bed turns out as pretty as I envision.
I do listen to you guys. The gray will be more modern and grown up. It's just that pink bedroom furniture tends to sell faster or at least that's the experience I've had. As one of you pointed out if I'm selling a piece I need to paint it for the buyers, not myself. So, we'll see how the gray does.
Enter the craft supplies giveaway here....12 boxes of craft supplies up for grabs!
I'm planning to finish a project today and catch up on some paper work. What are you up to? Have a great day and I'll see you tomorrow.
buy Repurpose paint at Warhouse 41 in Clarksville TN.