Painted Metal Storm Door
After you see my painted metal storm door you will want to paint yours too and I'm going to show you how. I'll also show you how to paint your front door.
I bet you didn't know you could paint that ugly metal frame around the storm door, did you? To tell you the truth I wasn't sure this paint project would turn out okay but I wanted to give it a try anyway. I'm glad I did.
The paint isn't chipping or peeling and the door looks great. The metal frame around the glass storm door now matches the color of our front door. Yea!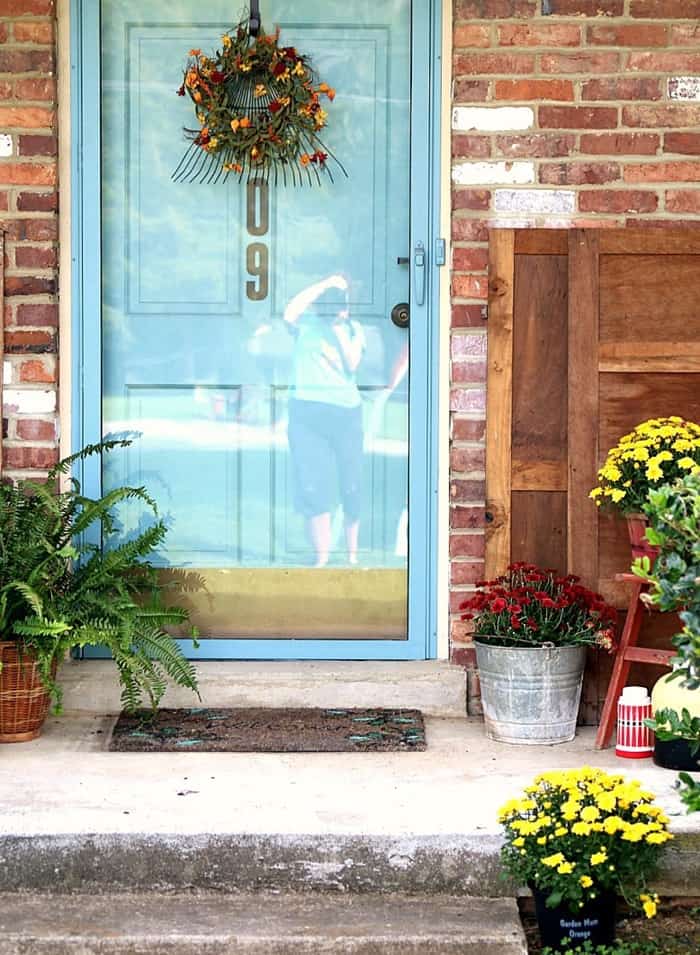 Before getting on with the tutorial this is what's coming up this week….The first bedroom makeover reveal with new paint and fresh decor. I'm really excited about the bedroom 1 reveal and bedroom 2 reveal will follow next week.
It's furniture fixer upper week too and I have an awesome project. Now for the tutorial….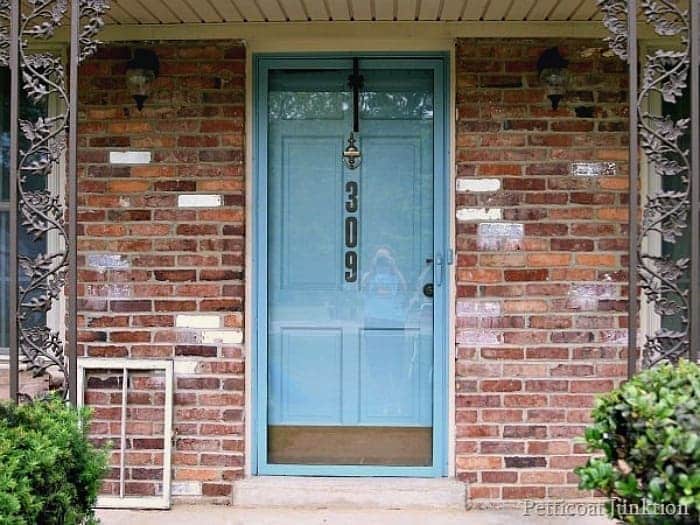 Painted Metal Storm Door
Petticoat Junktion is a participant in the Amazon Services LLC Associates Program. As an Amazon Associate I earn from qualifying purchases.
Have you ever painted your front door? I've painted mine several times. If you've been following along you know that we've been doing a lot of exterior updating.
My husband painted the shutters here, and I painted the door hardware here, and of course this is a post about painting the front door and painting the metal framed glass storm door is another exterior update.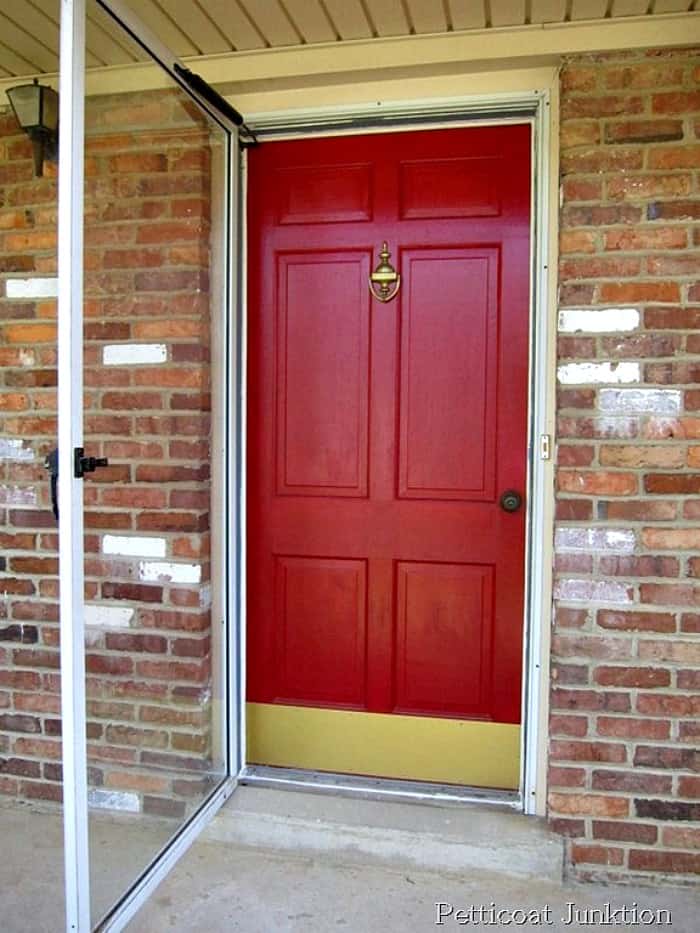 I painted our front door red about 15 years ago. I think it's the first time I painted a door. Let me tell you….when you use red paint it takes several coats of paint to get good coverage.
Or maybe I just didn't know what I was doing. I've learned a few things about paint since then and I still have a lot to learn.
Anyway It's time for a paint change. We are slowly upping the curb appeal of our home. We updated the house shutters and the light fixtures on each side of the door this year.
All the Best Beds in a Box. Lowest Prices Guaranteed. Get Your Favorite Brands Like Nectar, Lull, Purple and Tuft & Needle Shipped to Your Door for Free. Shop Now at MattressFirm.com!
The red paint on the door is oil-based so it needed priming. I used Glidden Gripper Primer in Grey.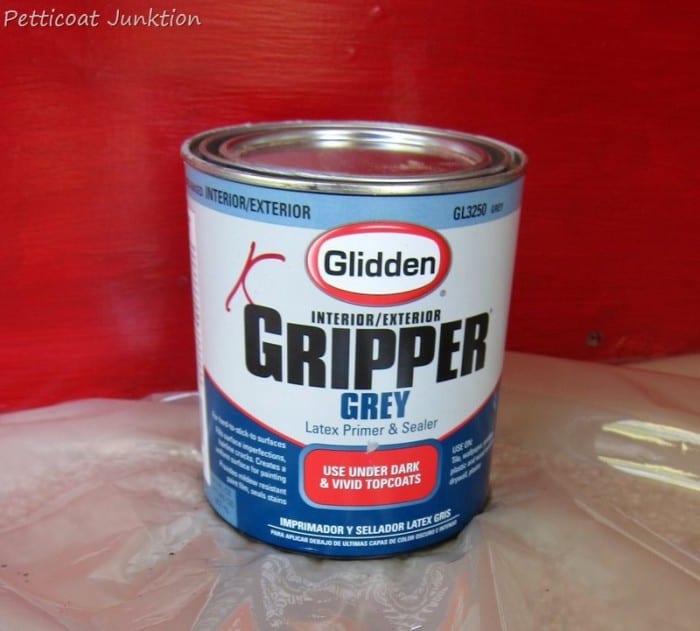 They don't make the grey primer anymore so I have them tint the white primer for me. Grey is a good color for a primer.
I chose Behr premium Plus Ultra paint and primer for the new paint finish. When doing a job like this I like to be extra sure and prime, prime, prime.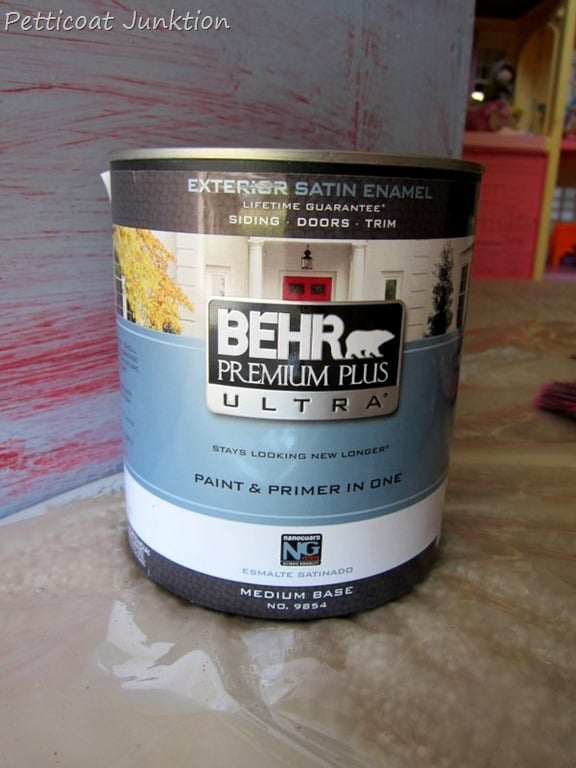 Before painting I taped off the door knob with painters tape.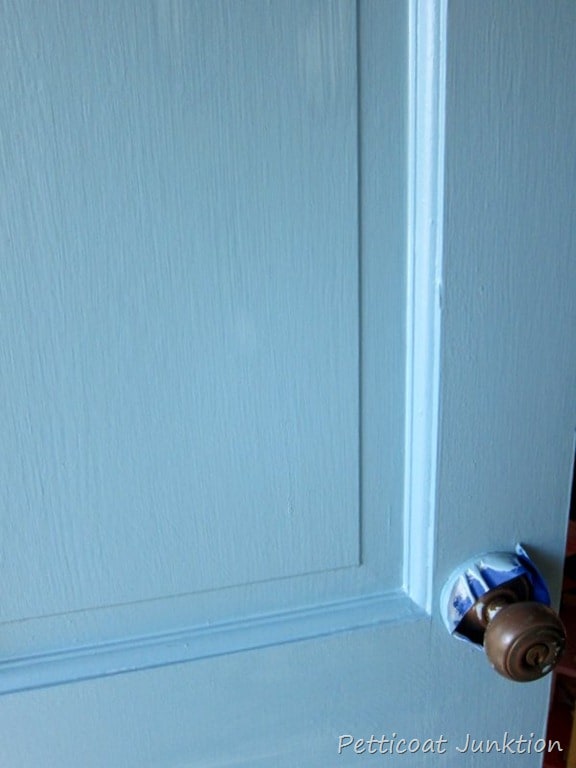 I removed the kick plate and the door knocker too . They needed to be updated and that's a post for a later day.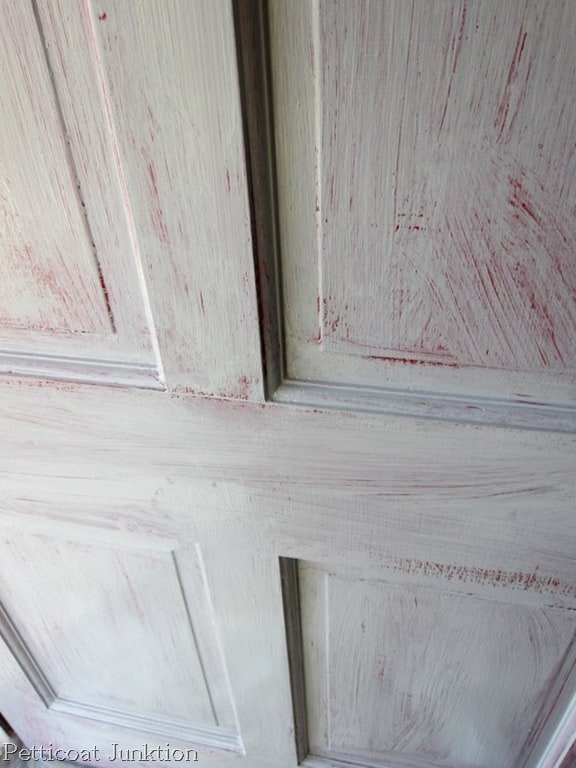 Door primed and ready for paint. Now about that shiny brass hardware I paint. I'll give you a preview!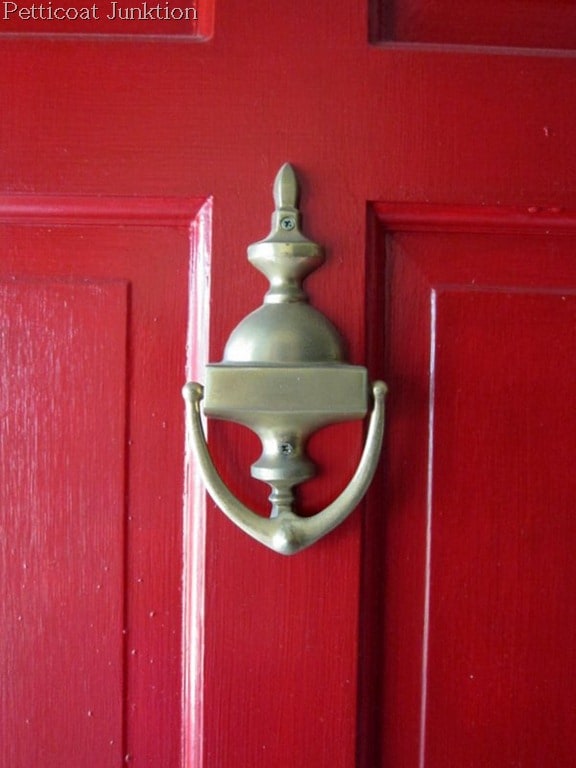 This is how the door knocker looked before painting. And yes I know it's upside down thanks to one of you. I'm a little nutty.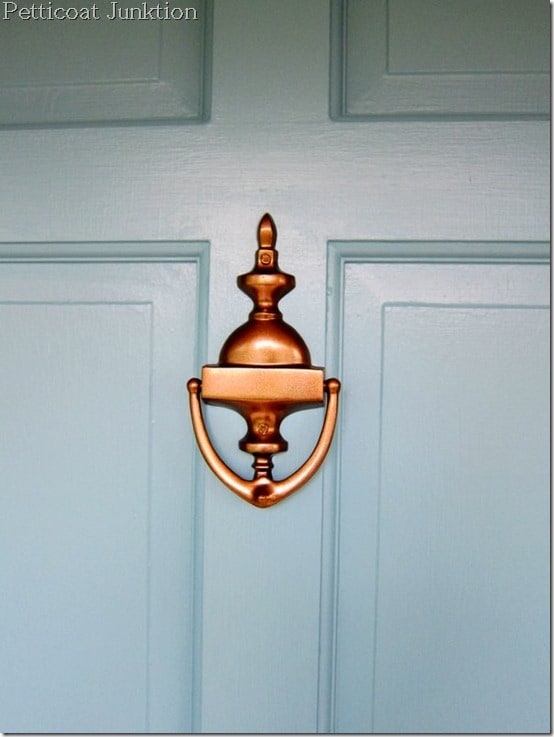 And it's still upside down but isn't the color much better! See the project here.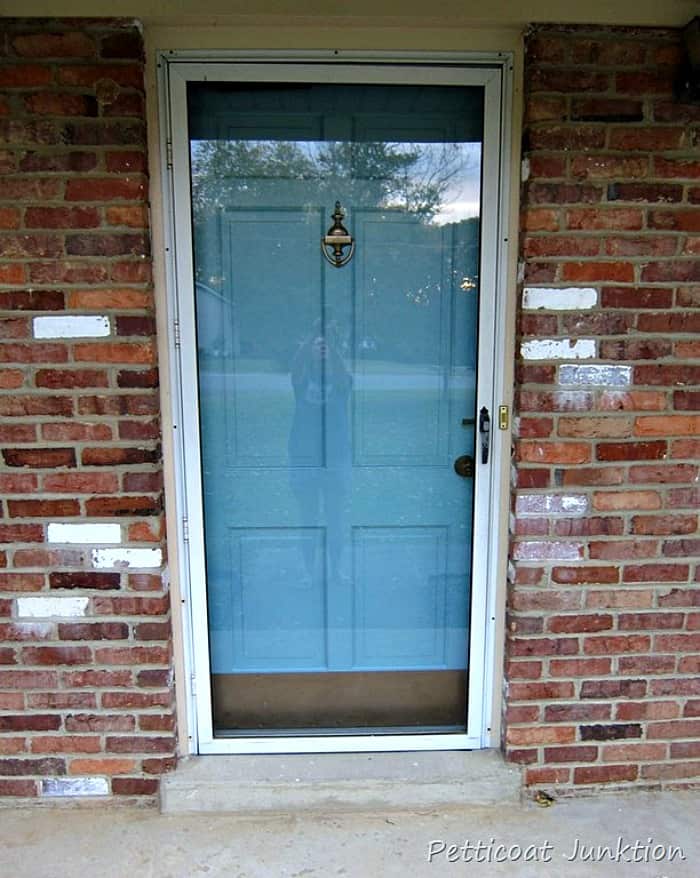 This is how the front door looked after the paint job and the hardware spray paint makeover. I hated the look of the white metal around the glass storm door. It really stood out against the blue door so it got me to thinking. I asked my husband if he thought the metal would paint up ok. He said go for it.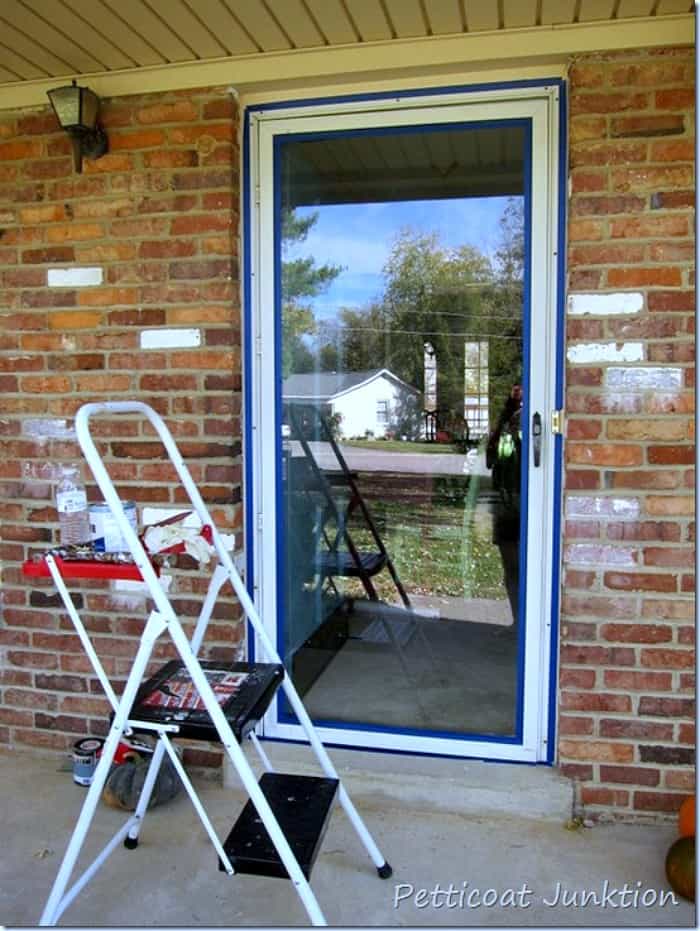 I taped off all areas I didn't want to paint accidentally. I'm a very messy painter. Painter's tape has saved many many times. The shelf on the step ladder was a great place to set my paint and work tools.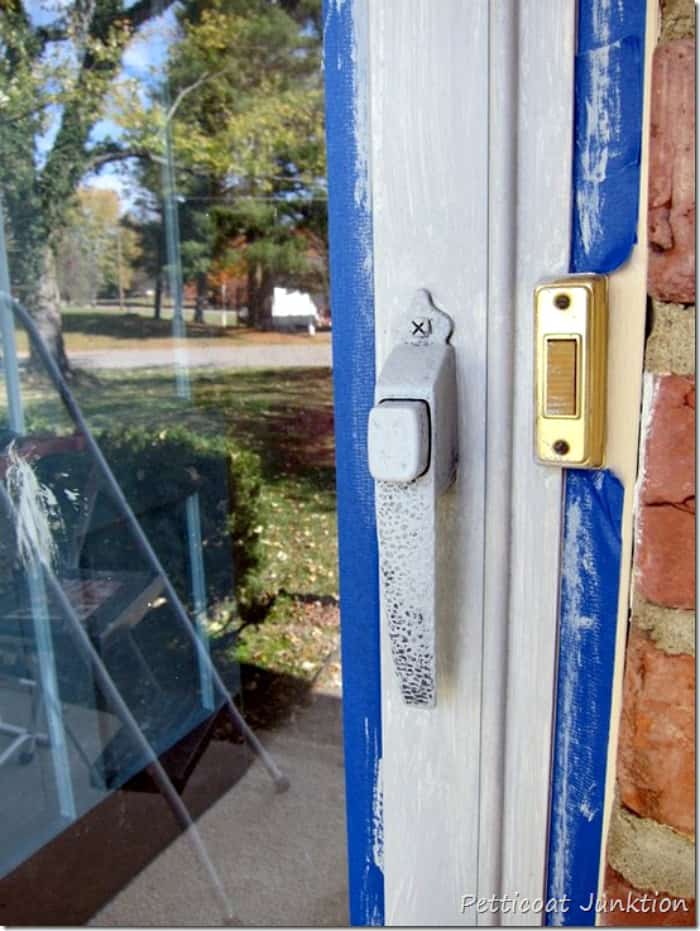 I decided to paint the handle and door bell the same blue color. Didn't know if the paint would stick to them either but might as well try it.
I also primed this door. You can never go wrong when starting a paint project with a coat of primer. I painted all of the weather stripping, metal door casing, and the inside casing between the storm door and the front door blue.
The only thing I didn't paint was the inside frame of the storm door. I guess I should have painted it too but hey, I don't see that when looking at the door from outside. The painted metal storm door looks great. Why didn't I think of painting it sooner.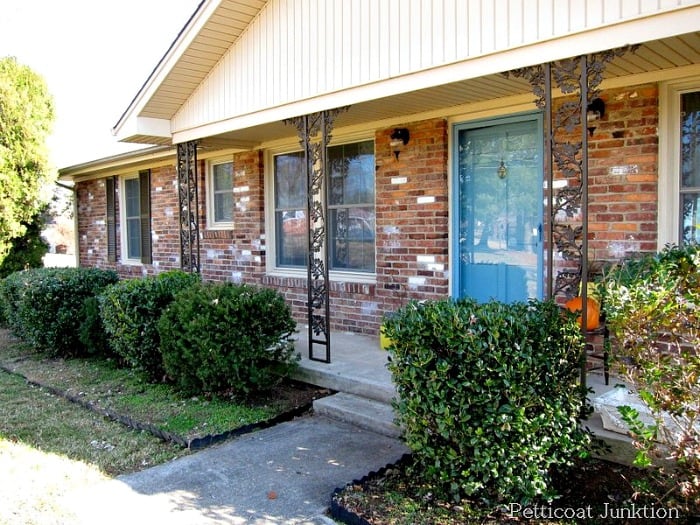 The white vintage iron posts really stood out once both doors were painted blue. The JTS painted the house shutters brown and I painted the iron porch posts. Much better now.
We also changed out our old, sad, rusty, exterior light fixtures on either side of the door. It's really easy to change light fixtures. I can even do it myself.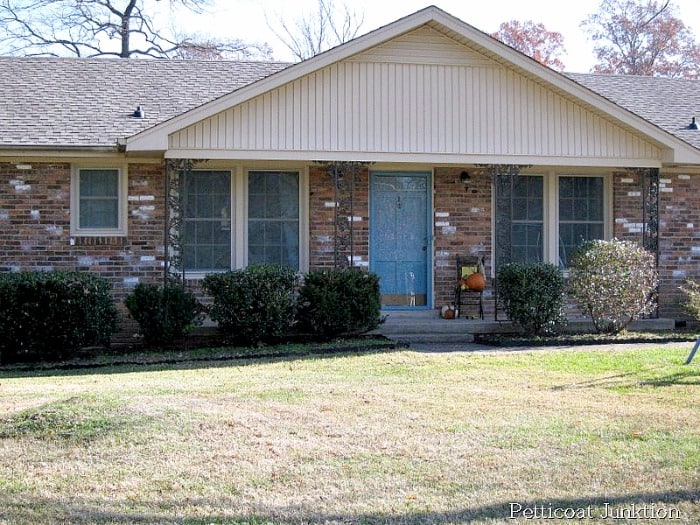 The exterior is shaping up. We need to do something about the landscaping. The shrubs are original to the house and the house was built in 1965. We've lost a tree or two to storms and luckily they didn't fall on the house.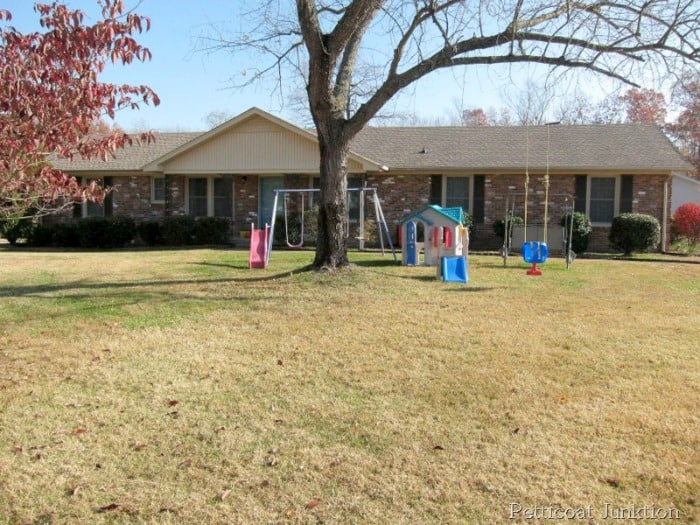 Love the brown shutters and blue door much better than the white shutters, red door, and shiny hardware. What do you think of the makeover? I can't believe I didn't get a before picture of the front of the house. Umm, notice the playground basically at our front door. Grandkids, they're the best.
The door was painted in 2012 and this is how it looks in 2019…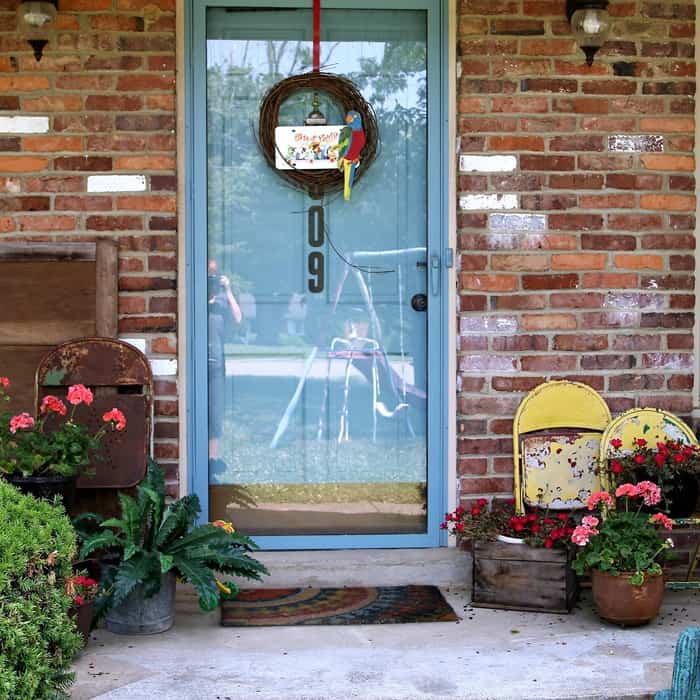 No chipping, no scratches, no fading that I can tell. I'm getting ready to paint it again…..after we finish the interior of the house and this Fall when the weather is cooler. I just need to decide on a color.
We've been painting the interior of our house and using a paint sprayer to paint the closet doors is so easy!!….. video below….
Do you have a paintable storm door? I bet you do.
Click here to learn How To Paint Shutters….the painless way.
View my tutorials on painting furniture and special techniques here.
As always thanks for being here and have a great day, Kathy