Pink Flamingo Porch Decor
Happy Sunday and welcome to The Procrastinators Summer Porch Tour. Yes, I procrastinate on some things. Changing my home decor to fit the seasons is one of my downfalls. My porch has been bare for months except for the few odds and ends left there after the Christmas decorations were packed away. Last week I got busy and had it beautified in under an hour. Why did I wait!
I'm not the only procrastinator out there. I have 9 of my blogging friends with me today. Ready to tour…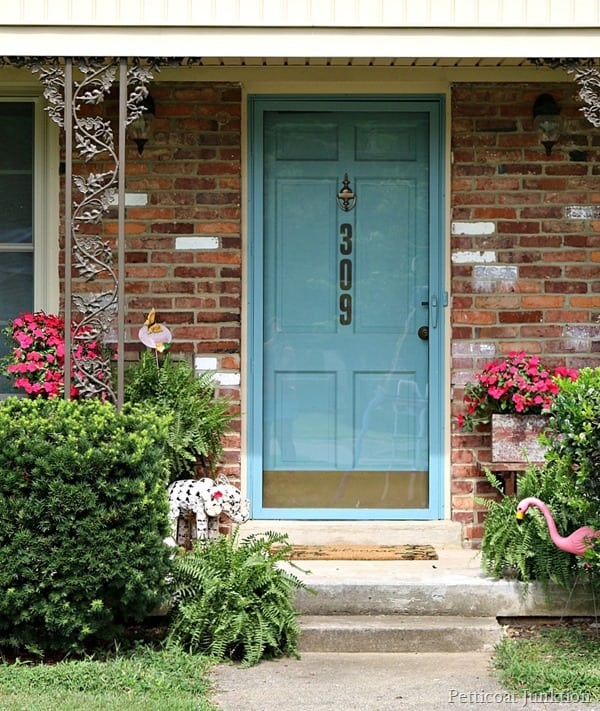 The porch decor is heavy on ferns and flowers. You can get a lot of ump from big pots of flowers. If you wait until the Summer season is well under way like I did then you can get them on sale. I have 4 or 5 wrought iron plant stands purchased over the past year at different junk shops or flea markets. I'm using 3 of the stands in this display. They're also great for showcasing pumpkins and other seasonal items throughout the year.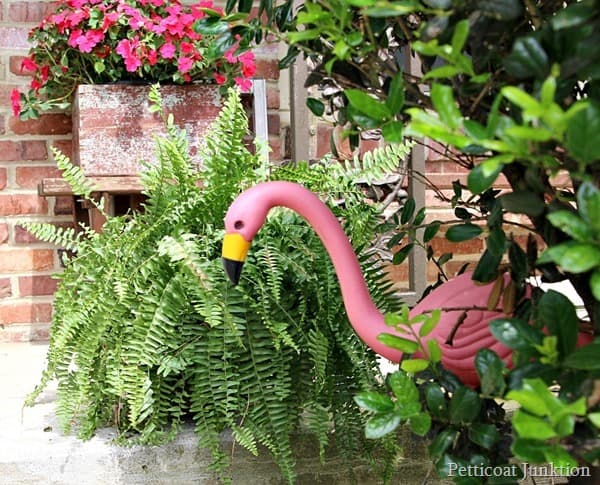 Mine and Sofi's pink flamingo.
I've had a thing for pink flamingos since living in Florida a few years ago. I got this one last year from Home Depot. Sofi found it in the shed several weeks ago and put it in the shrubs at the end of the house. I'll be in trouble when she sees I've moved it.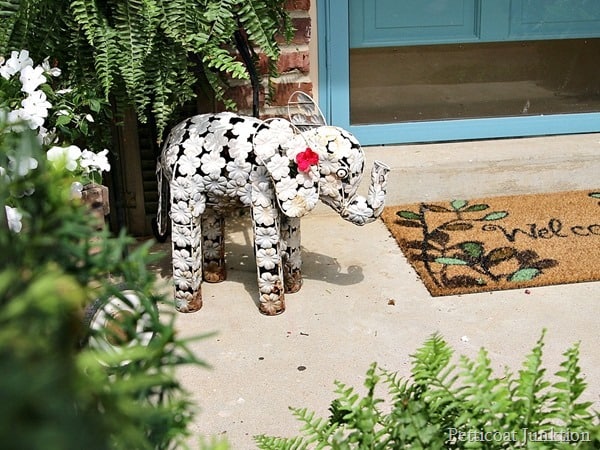 What do you think about the white elephant? The JTS says it has stilt legs. I have to agree. I spotted the elephant at the shop a few weeks back. It was the first thing that caught my eye when I walked up the steps to the shop door. I had to have it. You guys know me and anything metal and rusty.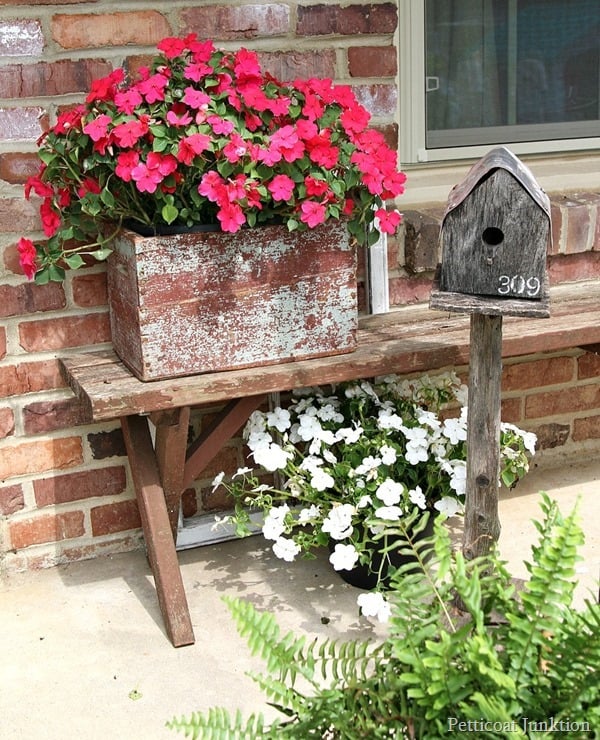 The wobbly crooked birdhouse is a purchase from My Favorite Junk Shop and it's been hanging out on the porch for a while.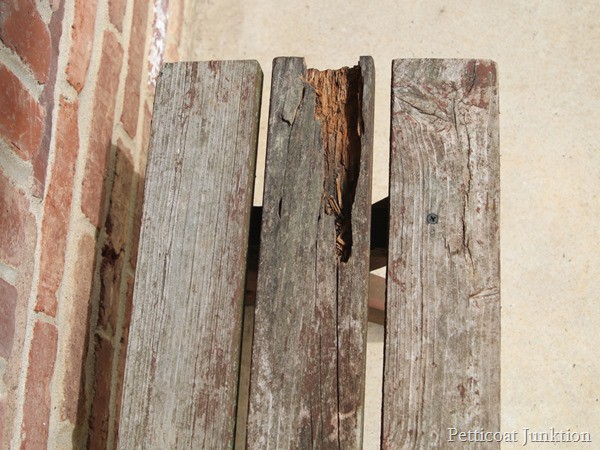 The long bench is also from the junk shop. It's rotten in places but still makes a great display. I paid $5 for it.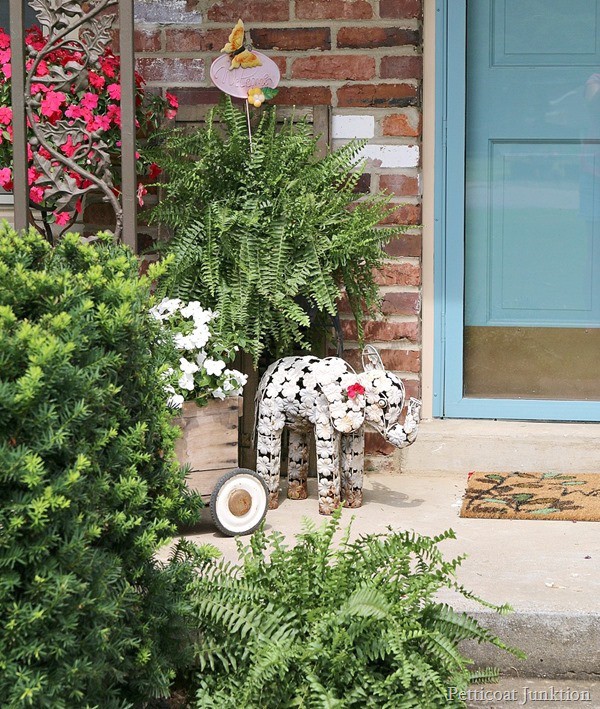 I love the pops of white and red. The porch looks so pretty now. I'm going to try my best to keep the flowers alive all Summer. You guys might have to remind me to water them. I do not have a green thumb.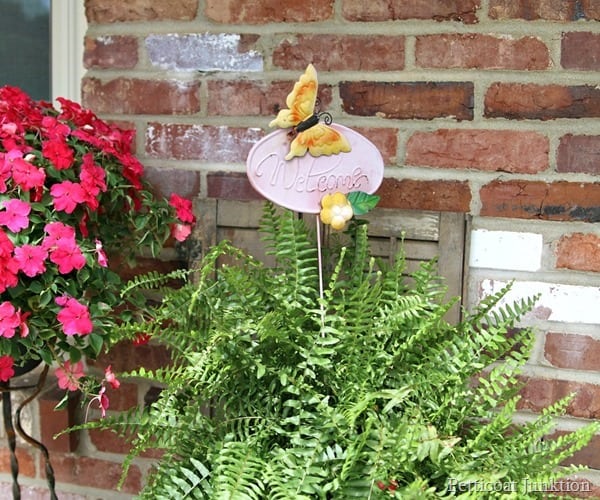 I purchased the pink metal welcome sign because I knew Sofi would like it. She set it up beside the pink flamingo. I'm really going to be in trouble when she comes over. For the newbies here, Sofi is our 3 year old granddaughter. She kind of runs the place when she's here.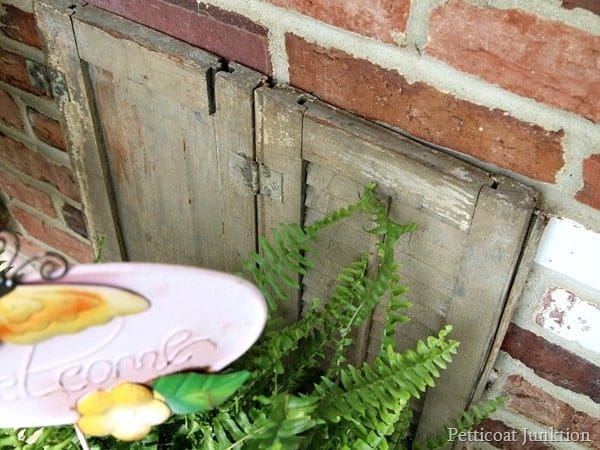 The chippy, shabby, shutter is a treasured find from the Nashville Flea Market.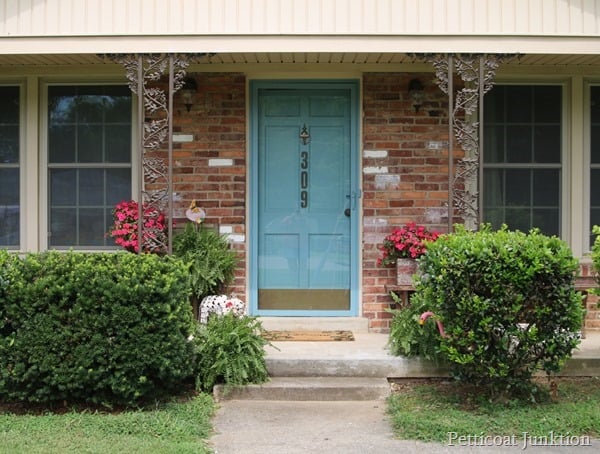 I have a shop full of junk treasures and I love them all. I use them to decorate the house and to style my furniture photos. Add a few pots of flowers and ferns to the junk and …..tada…..decorated porch! Hope you enjoyed my the tour.
I'm off to visit my friends. Take the tour with me by clicking the pink links.
Summer Porch Tour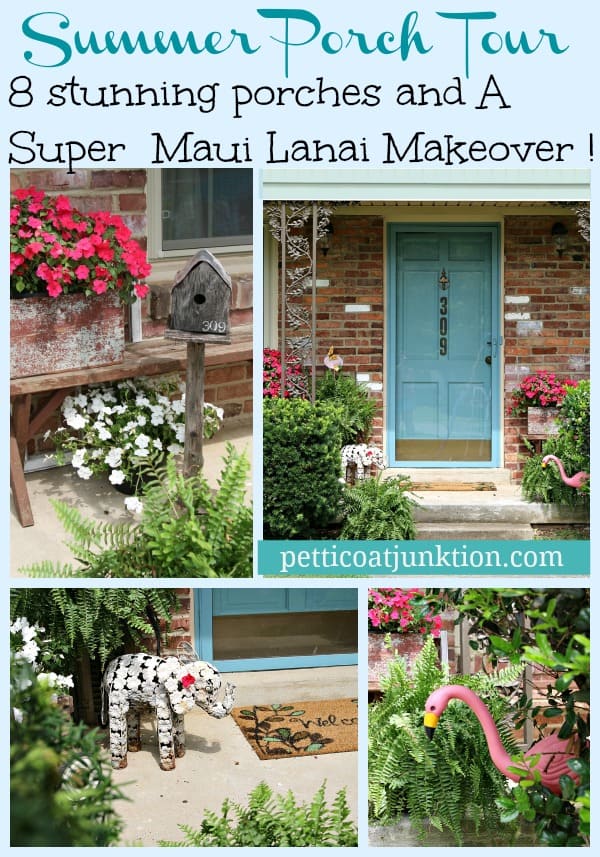 Thanks for being here and have a great week, Kathy
Author: Kathy Owen (Petticoat Junktion)
Kathy is the founder of PetticoatJunktion.com, a home décor blog focused on repurposing and upcycling furniture, old hardware, rusty stuff, and thrifty finds into unique home décor. Kathy's projects have been featured on the Home Depot Blog, Plaid Crafts, Behr Designer Series, and in numerous magazines. Read more about Kathy here.