Putting together display stands is one of my favorite projects. For this DIY, I was thinking of coastal-style decor and was inspired by a length of white twisted cotton rope I found on a workshop shelf.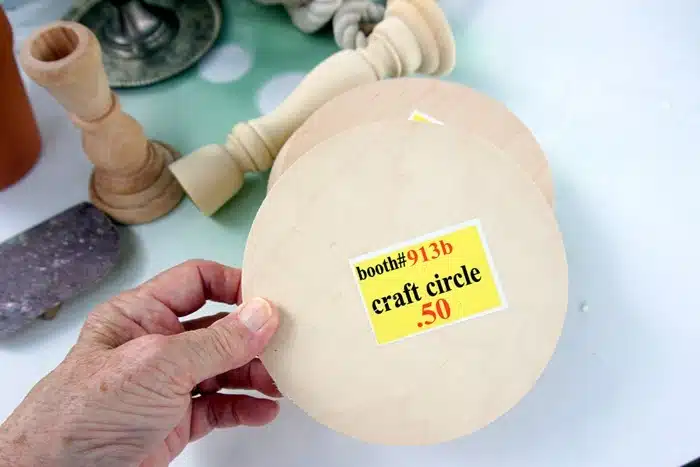 Then I found these wood craft circles at a local vintage/thrift store for 50 cents each. I couldn't pass them up.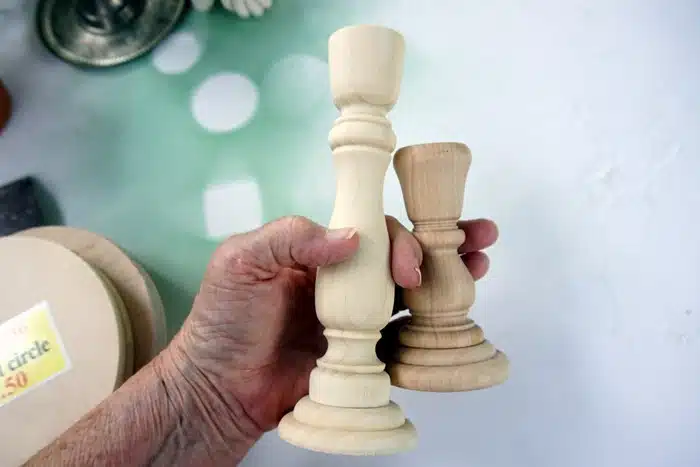 I already had these two wood candle holders.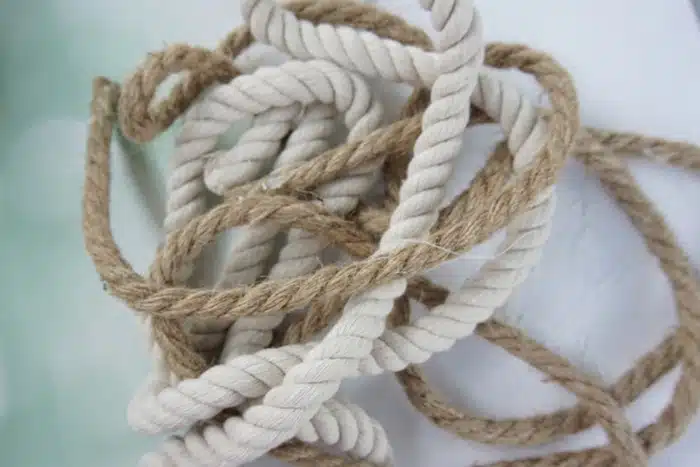 Besides the white cotton rope, I had some brown twisted rope from Dollar Tree.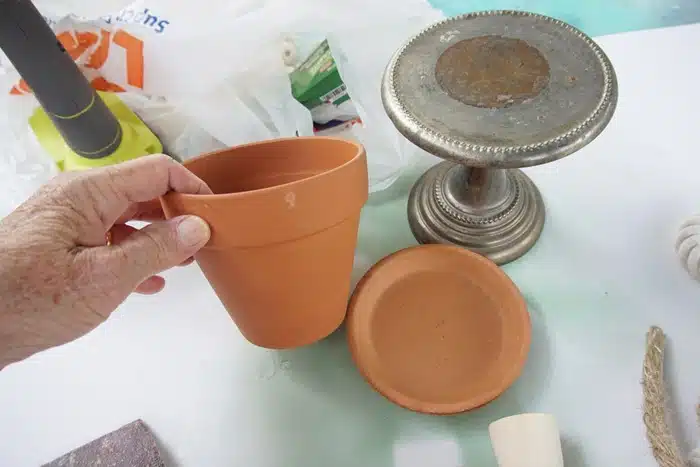 I pulled several things from my junk-filled shelves to make the display stands.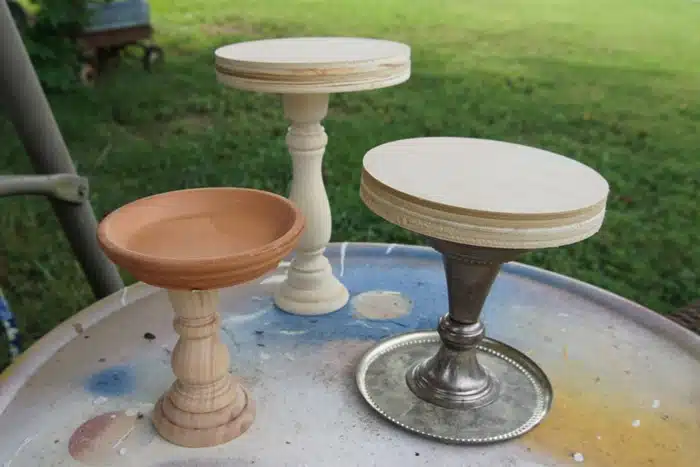 I set the pieces together, getting a rough idea of which pieces worked best together.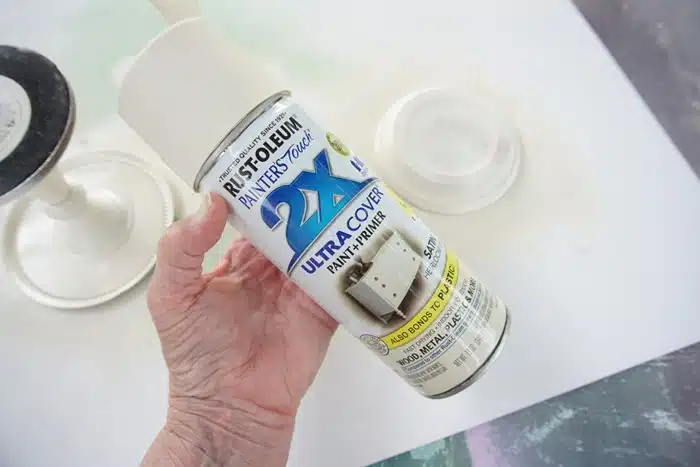 Then I chose some of the items to spray paint and left the others as they were. The paint is my all-time favorite white/off-white paint….Rustoleum Satin Heirloom.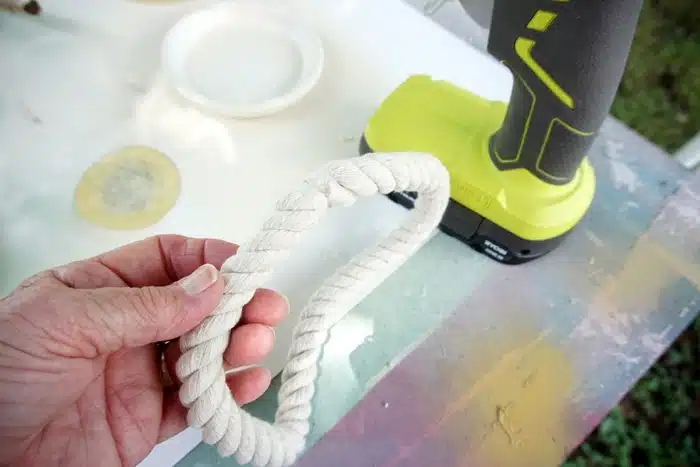 If anyone has a great idea for keeping the cut ends of twisted rope from unraveling, I'm all ears. The ends were taped, so I decided that was the best thing to do when I cut the white rope to the length I needed. That wasn't my favorite remedy but trying to hot glue the loose cut ends together doesn't really work. It just ends up in a mess.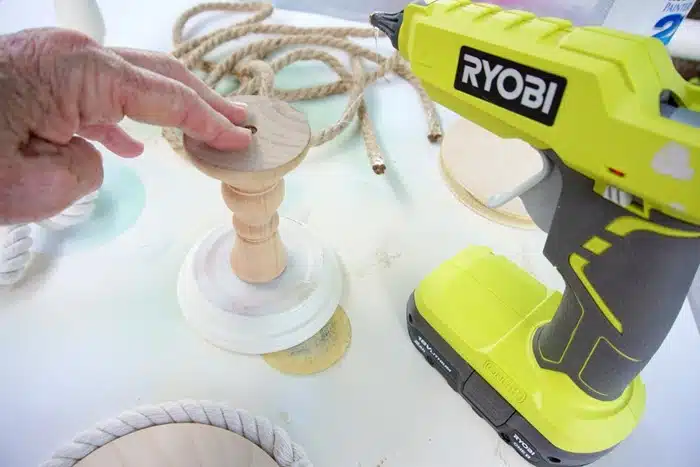 The first item I put together was the small candle stick which I left natural, and the terra cotta tray I spray painted white.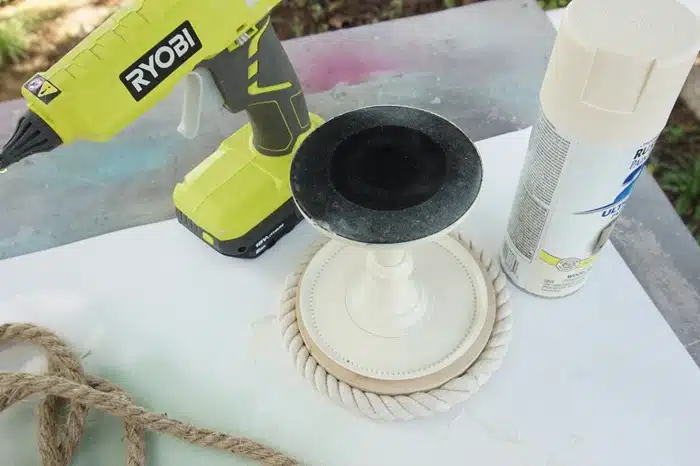 Then, I put together the medium size display stand. I glued the spray painted silver plate piece to one of the wood rounds then hot glued the white cotton rope around the sides of the wood round.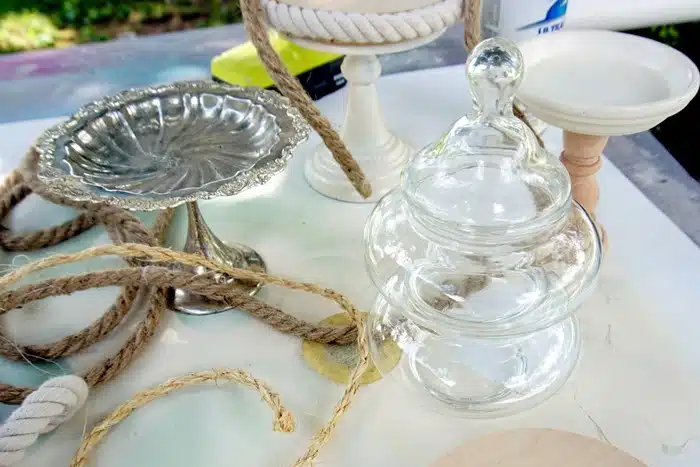 The tall candle holder wasn't working for me, and I went to my stash to pull out a few more pieces to work with.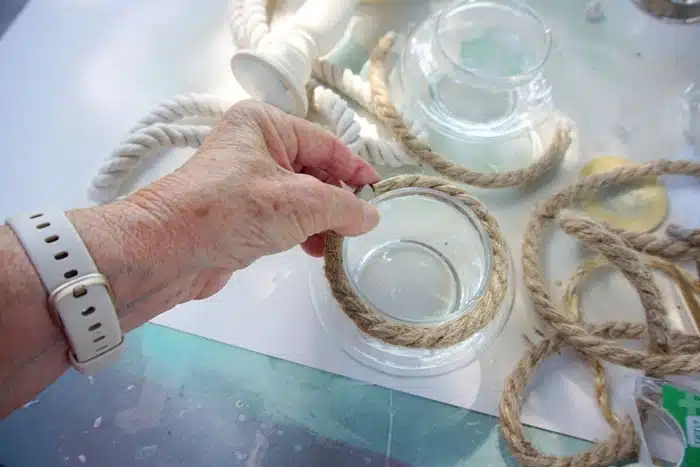 I took the clear double-bowl dish apart and hot glued the brown rope around the top of each bowl.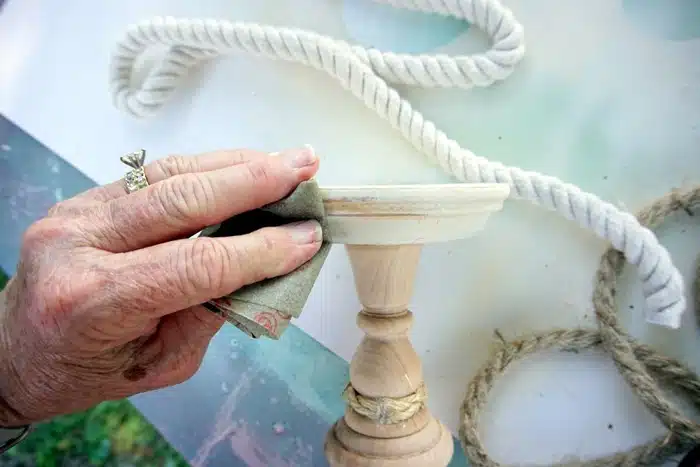 Next, I distressed the painted pieces just a bit using flexible sandpaper.
These are the pieces I painted and decorated in less than an hour.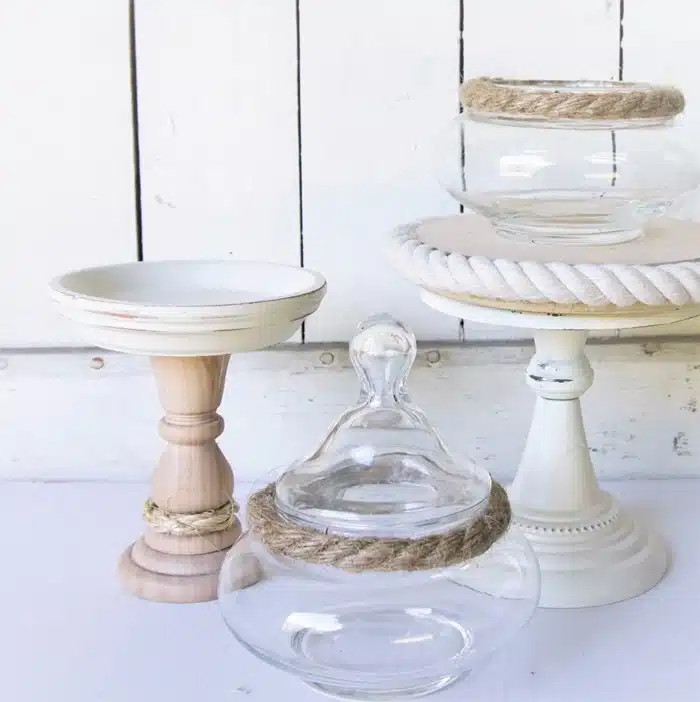 I hot glued just a tiny strip of new raw-looking sisal rope around the bottom part of the short candle holder. And you can see the light distressing on the painted silver plate piece and the terra cotta tray.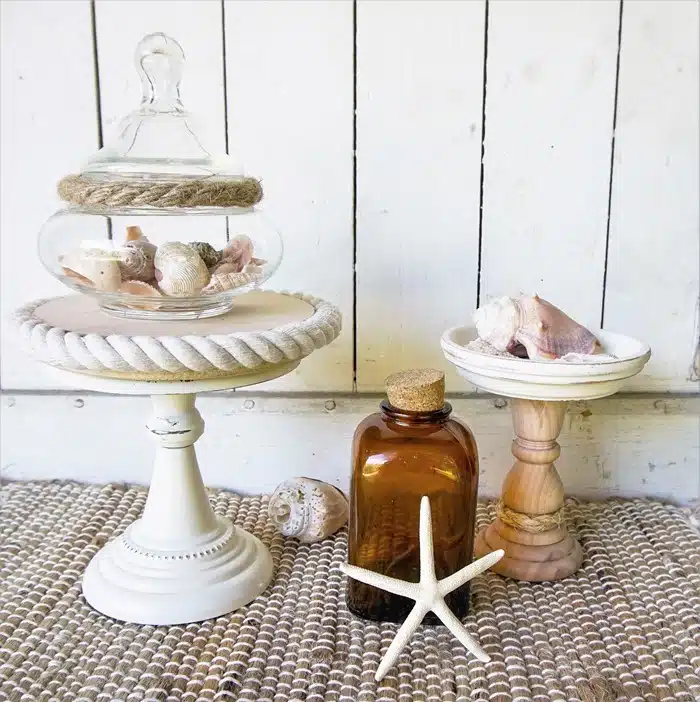 The wood rounds were almost an inch thick and the white nautical rope wasn't wide enough to cover them completely. I liked the light unfinished wood on the rounds, so didn't paint them at all.
I enjoy displaying seashells in the Summertime and I have a large collection from years of beach trips.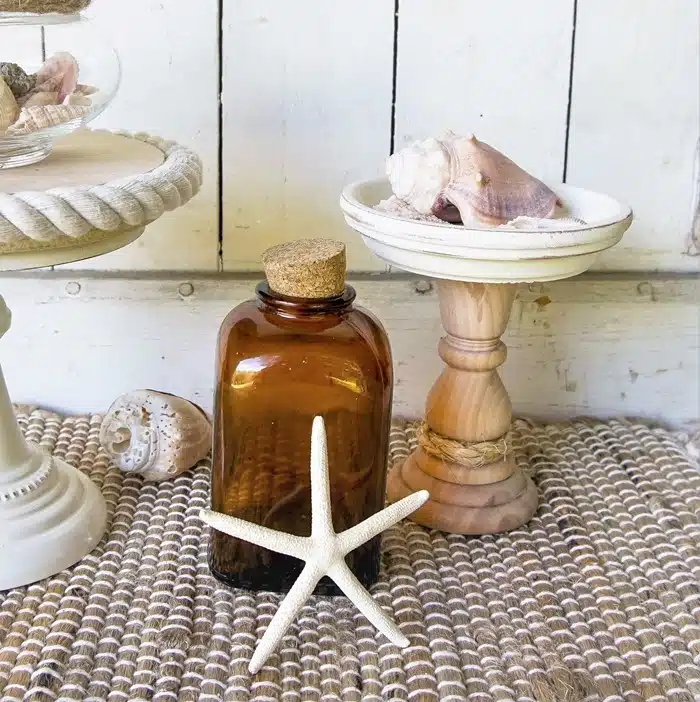 The brown snuff bottle came from hubby's Mom and Dad's house.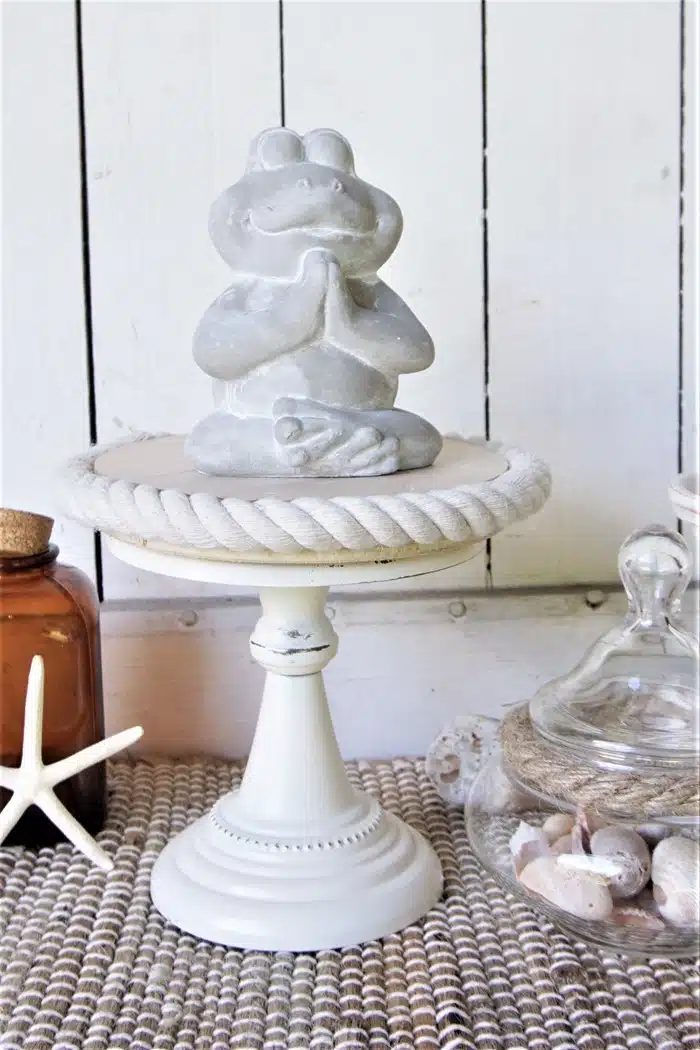 The frog was an impulse buy at Dollar Tree one day. I just thought he was cute. Impulse buys at Dollar Tree aren't like impulse buys at other stores.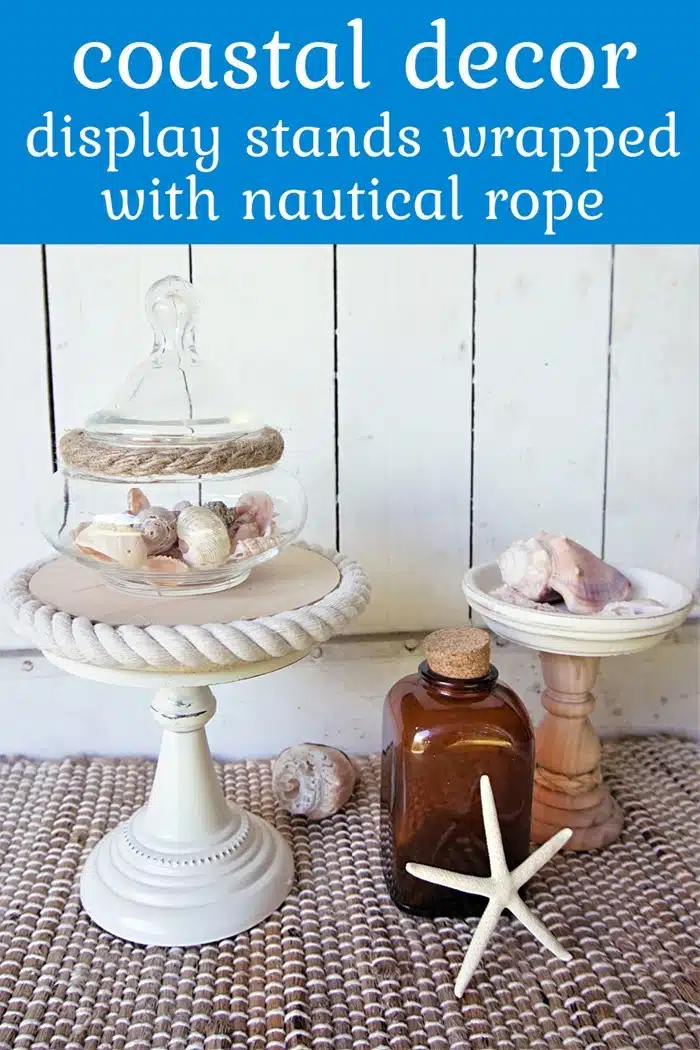 The woven piece the displays are sitting on is a placemat I bought at Hobby Lobby at 75% off.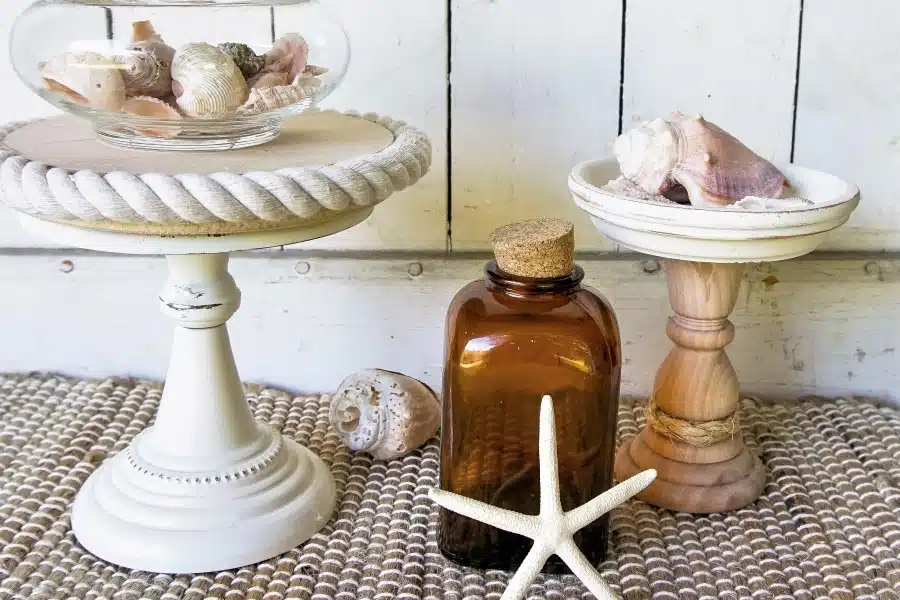 I don't know what I'm going to make with it, but it came in handy for the displays!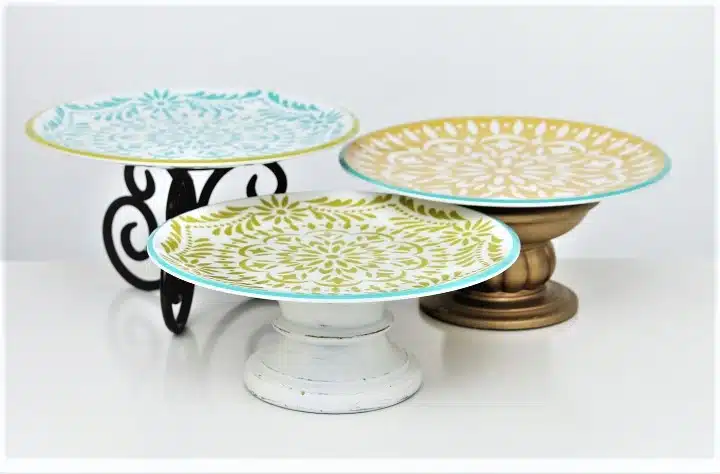 So what do you think of the coastal decor DIY display stands? You can make a display stand out of all kinds of things. I made these stands plus no-bake chocolate oatmeal cookies for the display...No Bake Chocolate Oatmeal Cookies And A DIY Cookie Stand
I made this stand many years ago...Make A Decorative DIY Cookie Stand | Thrift Store Decor
Author: Kathy Owen (Petticoat Junktion)
Kathy is the founder of PetticoatJunktion.com, a home décor blog focused on repurposing and upcycling furniture, old hardware, rusty stuff, and thrifty finds into unique home décor. Kathy's projects have been featured on the Home Depot Blog, Plaid Crafts, Behr Designer Series, and in numerous magazines. Read more about Kathy here.