This is my idea of the perfect Dollar Tree Christmas Gift Basket. It has everything; candy, bubbly, ornaments, holiday ware, even a recipe book for making drinks, and more. What else do you need!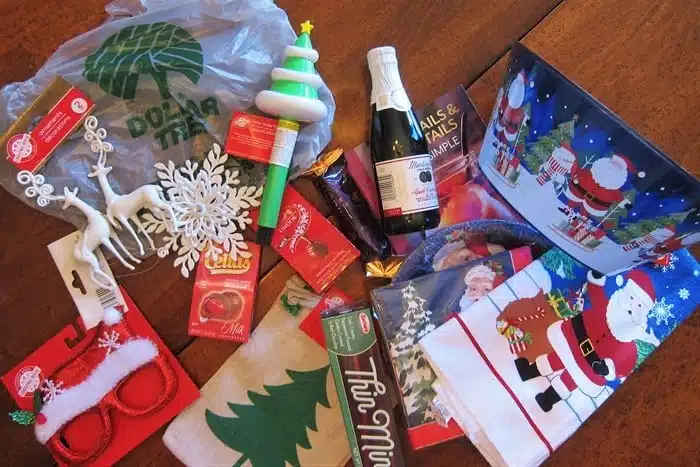 The great thing about Dollar Tree is everything is inexpensive, now $1.25 instead of $1.00, and they have all kinds of stuff! Me and Sofi love to shop every aisle. Sofi takes after her Mamaw, she loves to buy gifts for her family and friends.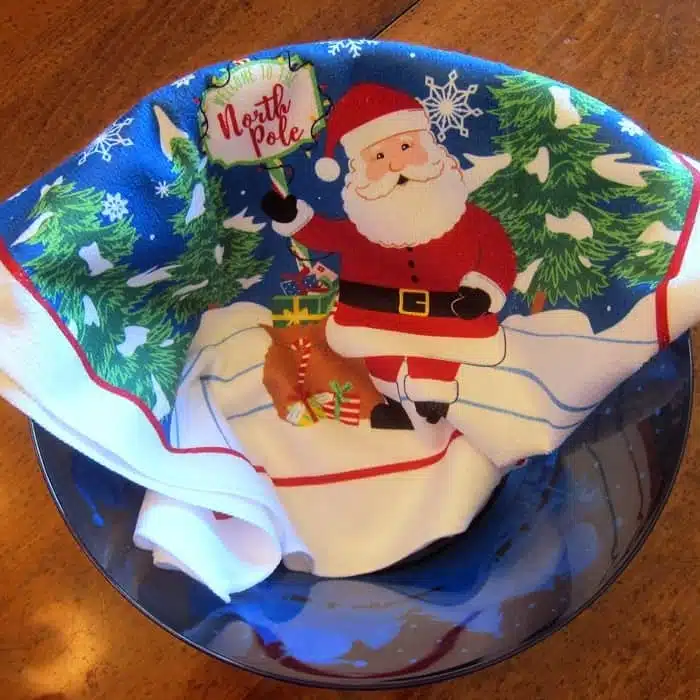 The first step in making a gift basket is finding just the right basket, bowl, tub, planter, bucket…..you get the drift. When I made the Guys Gift Basket I started with a bucket that could be used to wash a vehicle. For the nursing home caretaker gifts I started with a mug or cup and filled it with small gifts.
For this Christmas gift basket I selected a bowl with a Santa design and for the wrap or cushion I found a matching dishtowel. Oh, and before I forget this little bit of information.....do your Christmas shopping at Dollar Tree now because the Christmas goodies will be gone soon. (this is not a sponsored post, I just like Dollar Tree)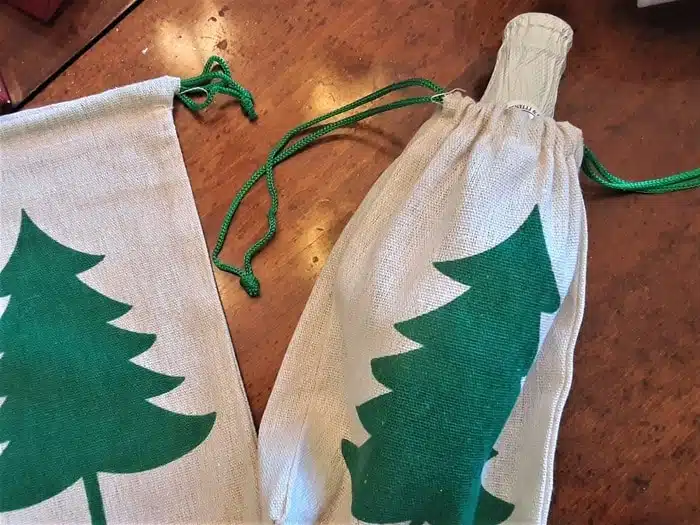 The cute muslin drawstring bags stamped with a tree design were perfect for the bottle of Sparkling Apple-Cranberry Juice in the Champagne style bottle.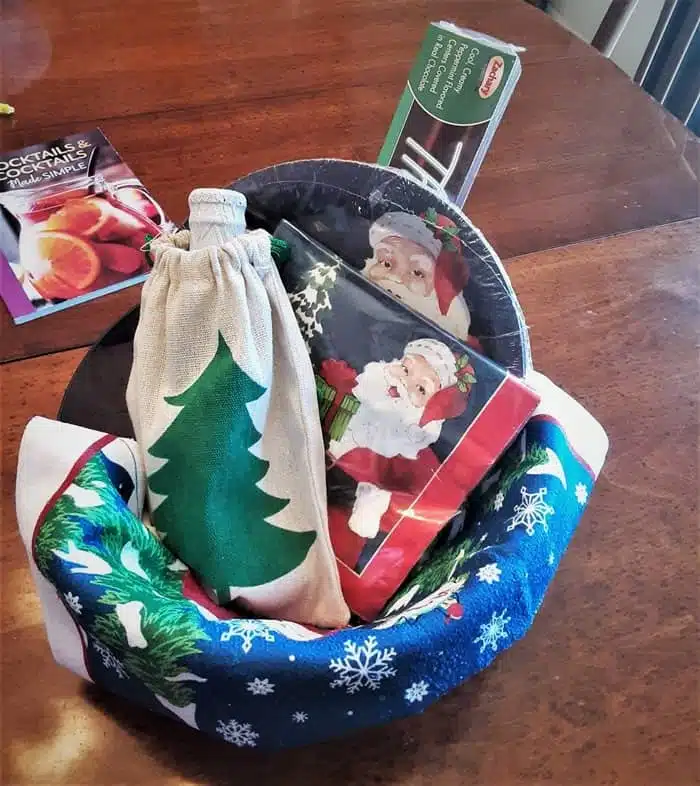 I started loading the basket from the back to the front with the tallest items in the back. I added a tall package of chocolate thin mints, paper Christmas plates and napkins, and then the bottle of bubbly.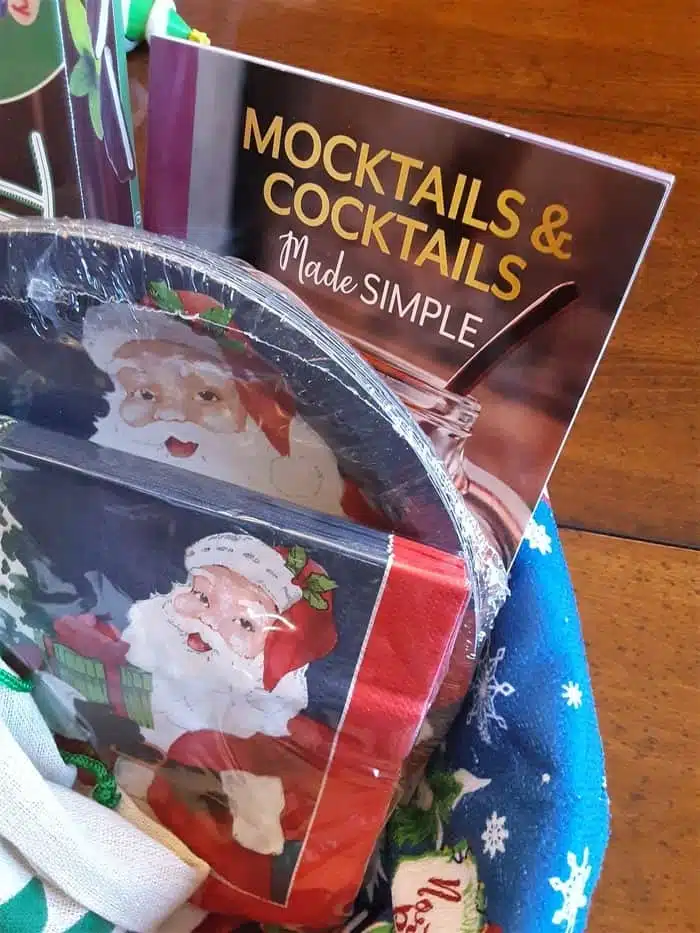 I forgot about the recipe book for making mocktails or cocktails so I wedged it behind the paper plates and beside the thin mints.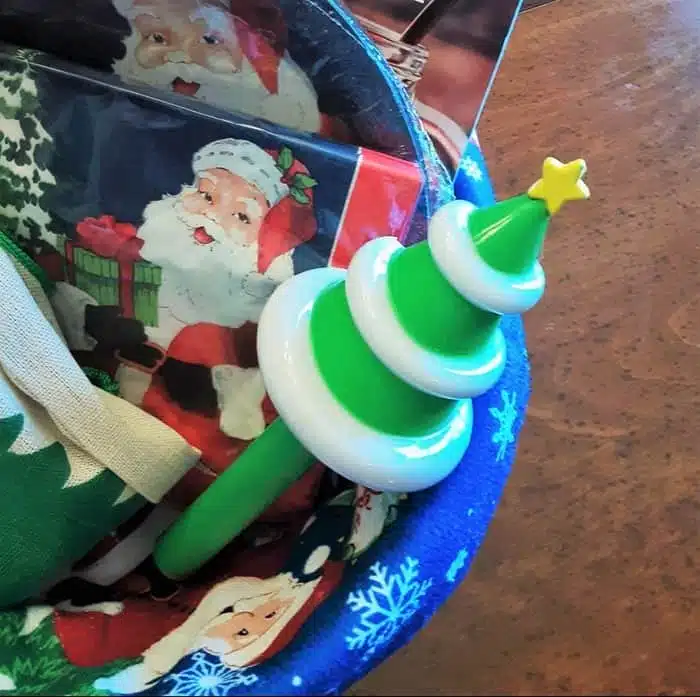 Then comes the solar light in the shape of a Christmas tree. Too cute!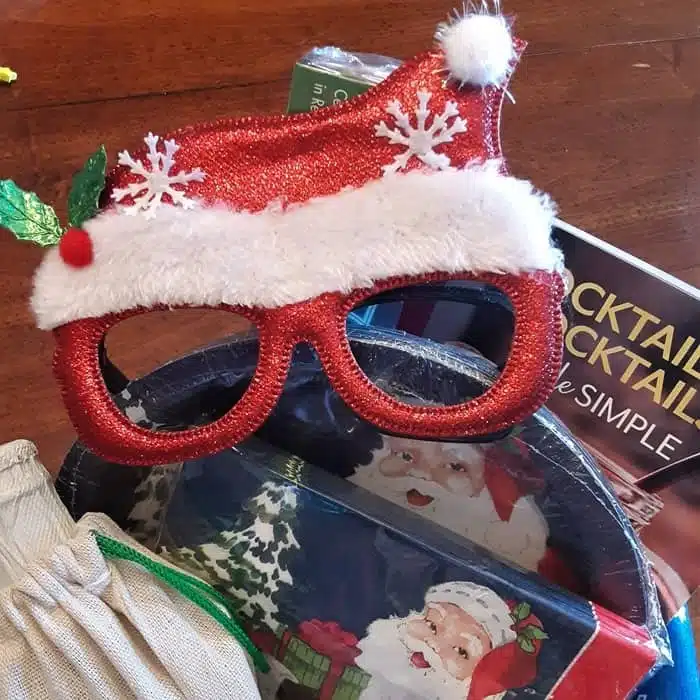 Now for a little fun we add the Santa hat eye glasses.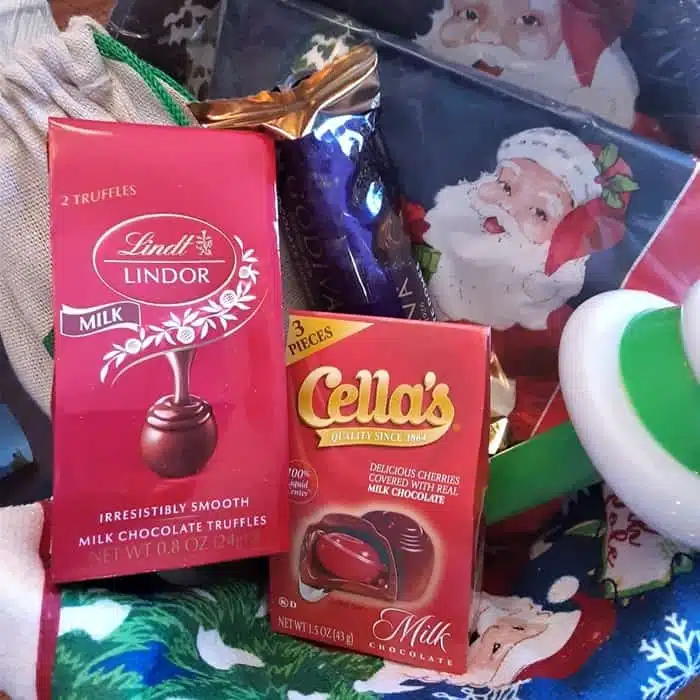 No gift basket is complete without chocolate. My favorites are Lindt milk chocolate truffles, chocolate covered cherries, and a Dark Chocolate Godiva bar.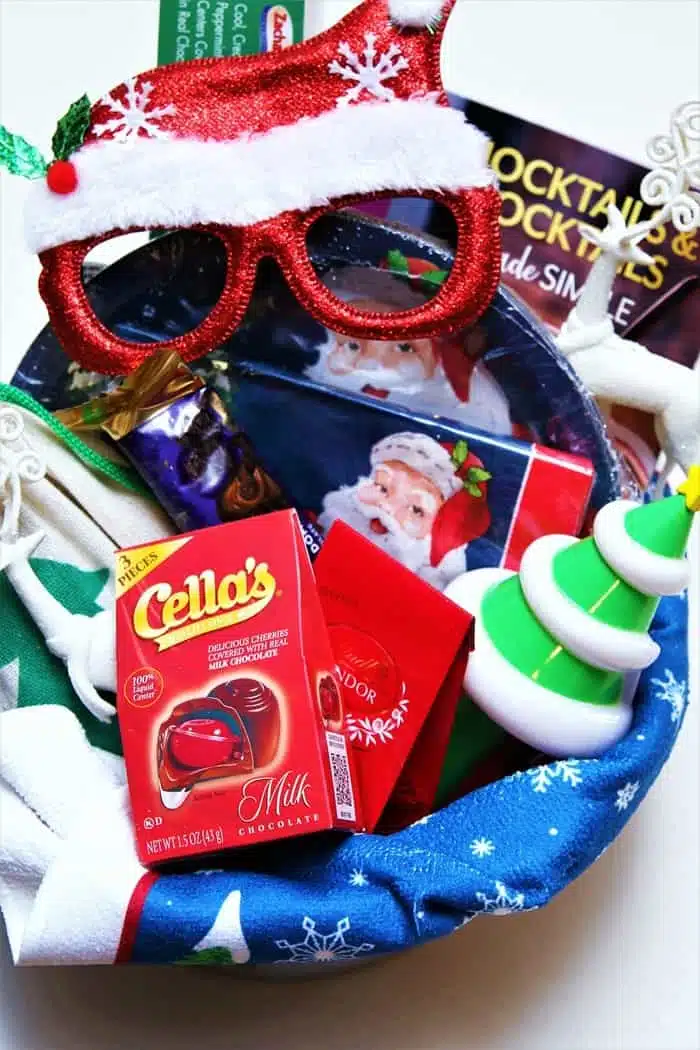 And the basket is complete. How easy was that. Just under $20. May sound a bit pricy considering the Dollar Tree gift baskets I've put together in the past but prices on everything have gone up in case you haven't noticed.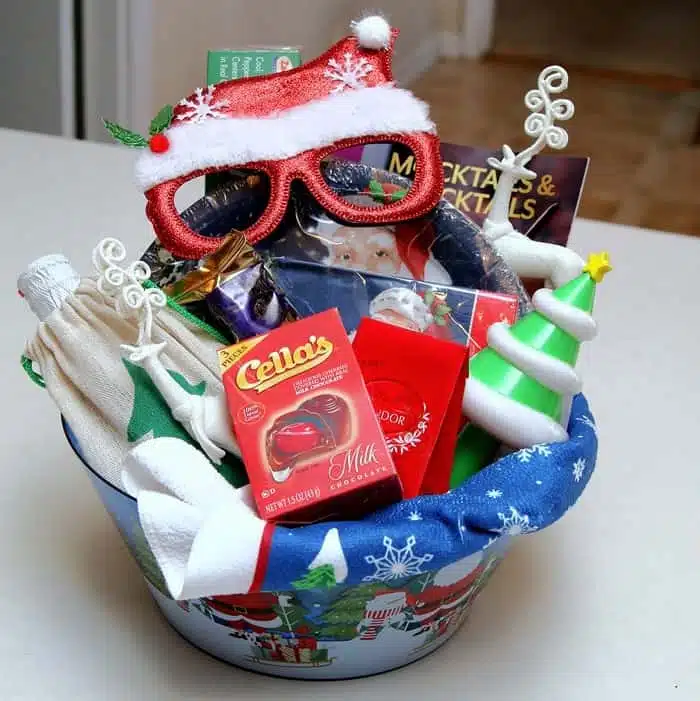 I love this basket and so would your neighbor, best friend, hairdresser, teacher, family, friends, and anyone else.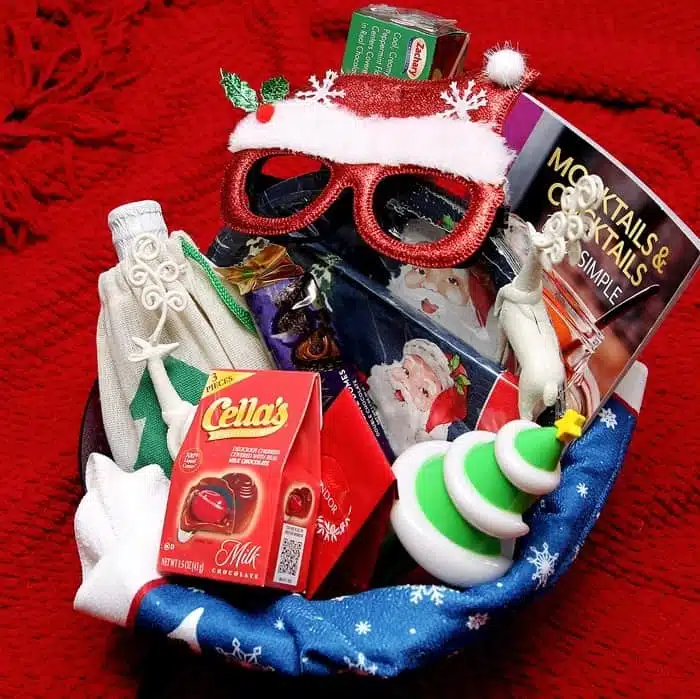 You could gift the basket a few days or week before Christmas. It might help relieve some of the Christmas stress.
Check out my other Dollar Tree Gift Basket Ideas from the past….Inexpensive Dollar Tree Gift Baskets | Ideas For Everyone On Your List!
Impressive Dollar Tree Gift Baskets For Men | Dad's, Grads, Teenagers
Inexpensive Dollar Tree Nursing Home Staff Gifts
Make a beautiful hanging Christmas display.....my DIY project video....
What do you think of this idea? You can email me with your thoughts, kathy@petticoatjunktion.com. As always thanks for being here, Kathy
Author: Kathy Owen (Petticoat Junktion)
Kathy is the founder of PetticoatJunktion.com, a home décor blog focused on repurposing and upcycling furniture, old hardware, rusty stuff, and thrifty finds into unique home décor. Kathy's projects have been featured on the Home Depot Blog, Plaid Crafts, Behr Designer Series, and in numerous magazines. Read more about Kathy here.