Hey guys! Today I have a video showing exactly how I stencil. It's awesome. Well, I'm not sure about that but at least I didn't erase the video before you could see it like I did last week. This post includes two pink flamingo projects and that promised stencil giveaway. And the giveaway includes paint and stencil brushes!
The giveaway is my gift to you on my birthday which is today! I'm spending the day with my two lovely granddaughters. That's an awesome gift. Now on to the two projects and the giveaway……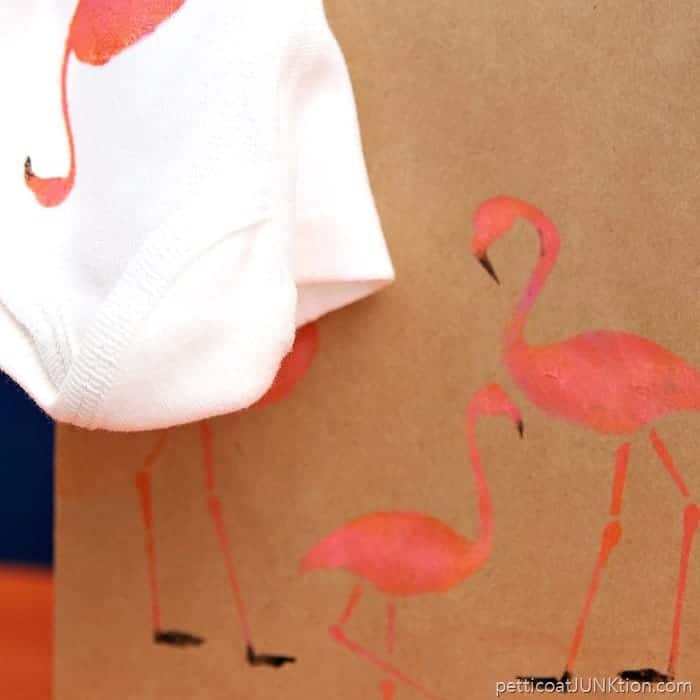 The 2 pink flamingo projects are a brown Kraft bag and a onesie. Both are gifts for a friend who has a new beautiful baby girl. If she reads this post she will see her gift before I get it in the mail. Maybe she won't know the gift is for her. I can always hope. Seeing the gifts in a photo isn't the same as seeing them in person anyway.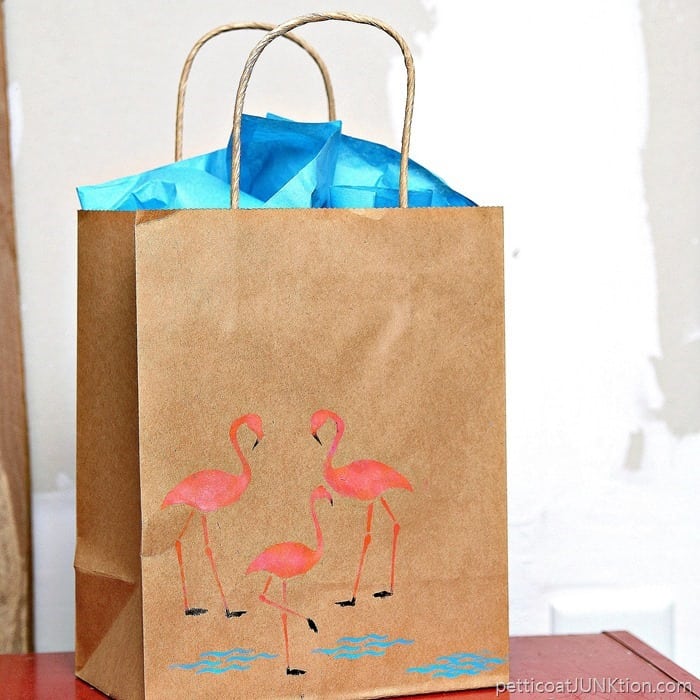 I enjoy stenciling more every day. The pretty designs make me smile.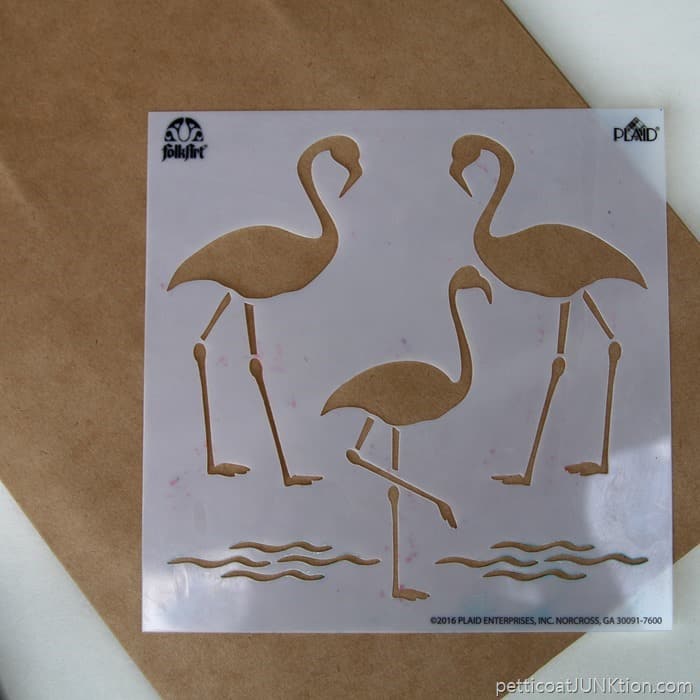 This is the flamingo stencil I used on the pink flamingo junk sign.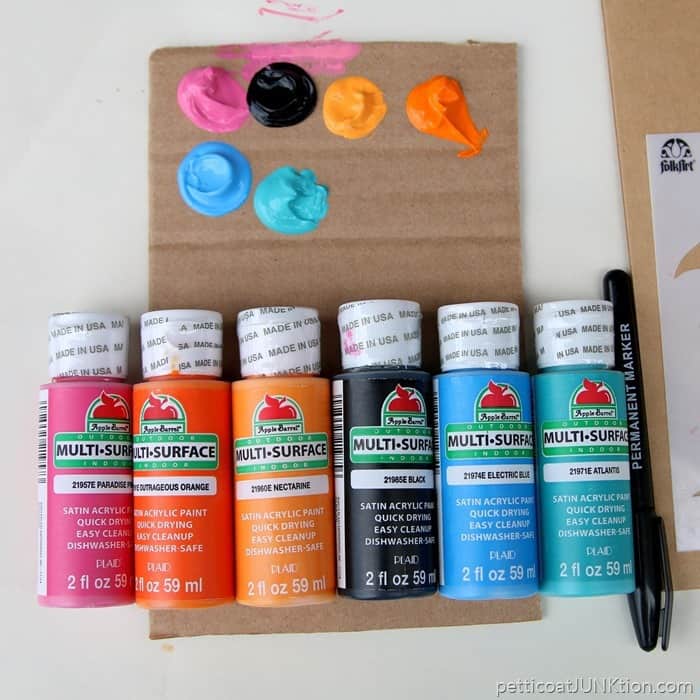 I selected a variety of paint colors from Apple Barrel for the project. The acrylic paints are multi-surface so they work on just about everything.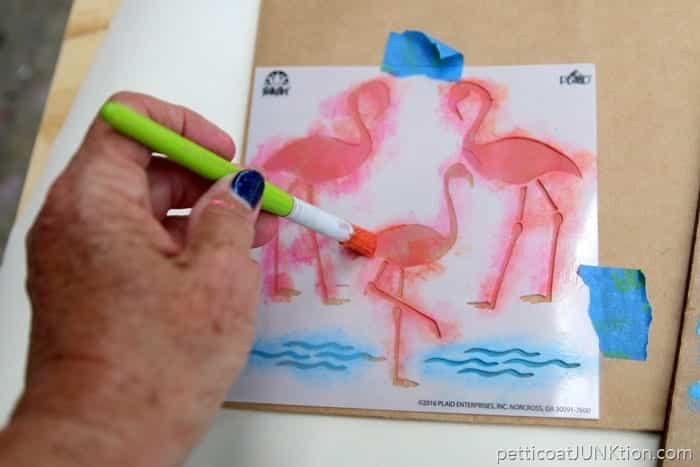 I combine and mix colors as I stencil. This technique adds depth and makes the painted designs dimensional instead of flat.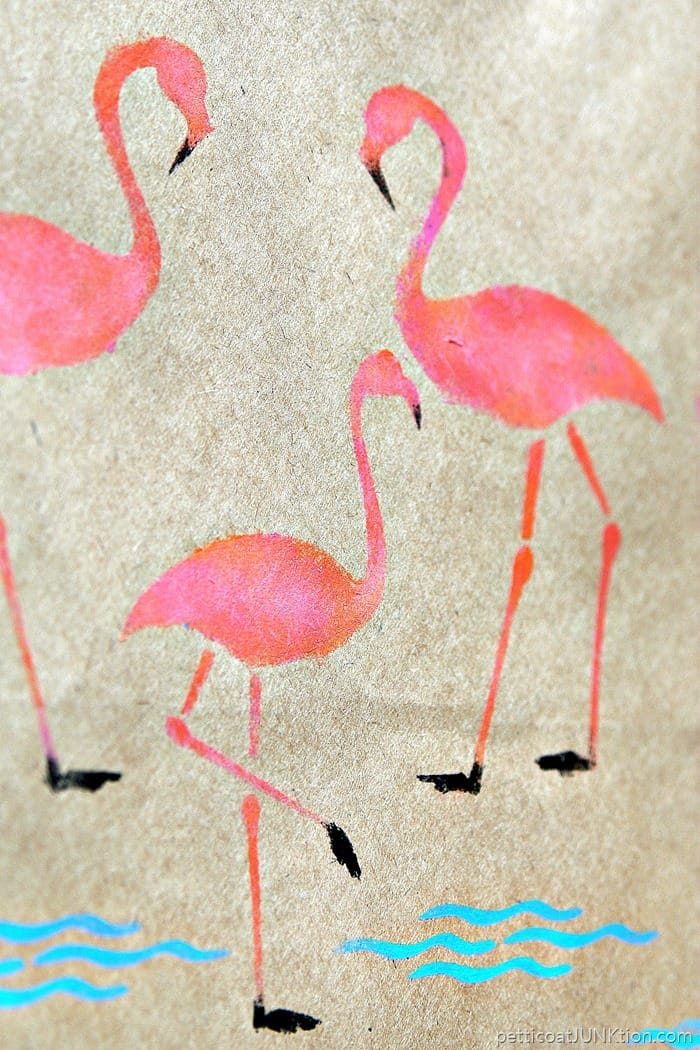 See how pretty the multiple colors made this design! I try to tell you guys and show you in photos how to stencil with a dry brush and multiple colors but I think the video will show the process a lot better. Just click the video below then take a look at the onesie I decorated and enter the Rafflecopter giveaway.
How To Stencil Video....
Pink Flamingo Stencil Project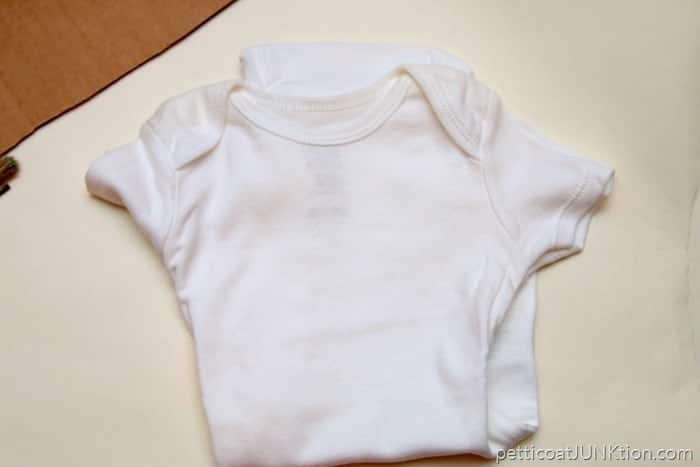 For the sweet baby gift I started with a nice white onesie.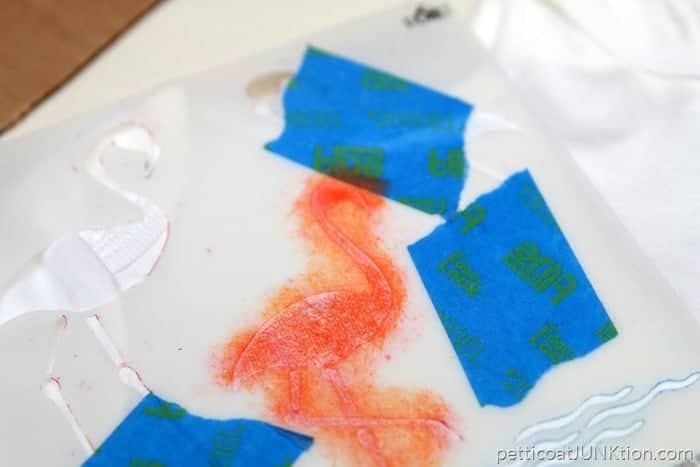 I stenciled one flamingo a little off centered on the left front of the onesie.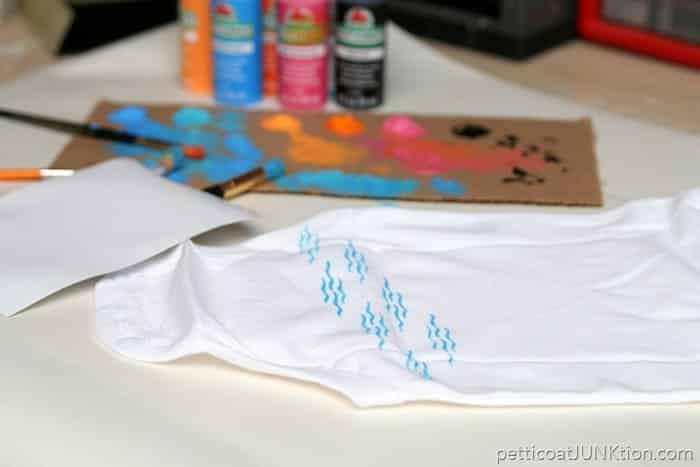 And for a laugh I stenciled the ocean ripples on the butt! I can't resist adding a little surprise here and there.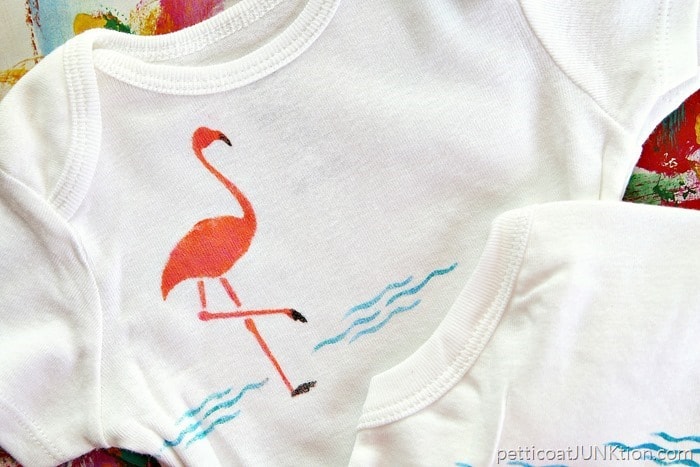 I hope my friend likes her gifts.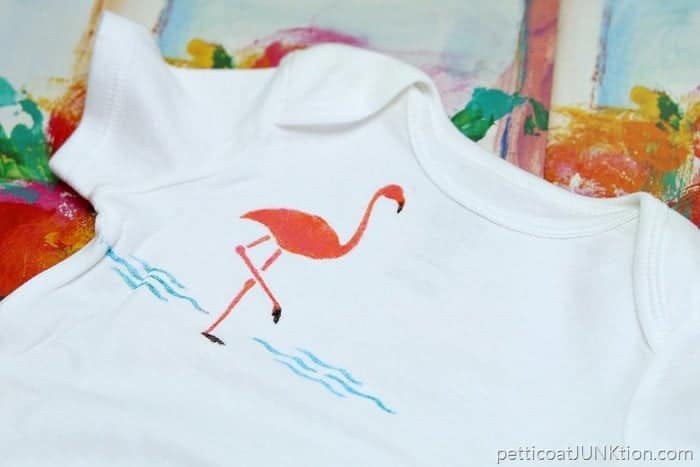 You can use this stencil and paints on just about anything. I might do a pink flamingo chest of drawers using the flamingo stencil in a repeating pattern all over the piece. What do you think of that idea?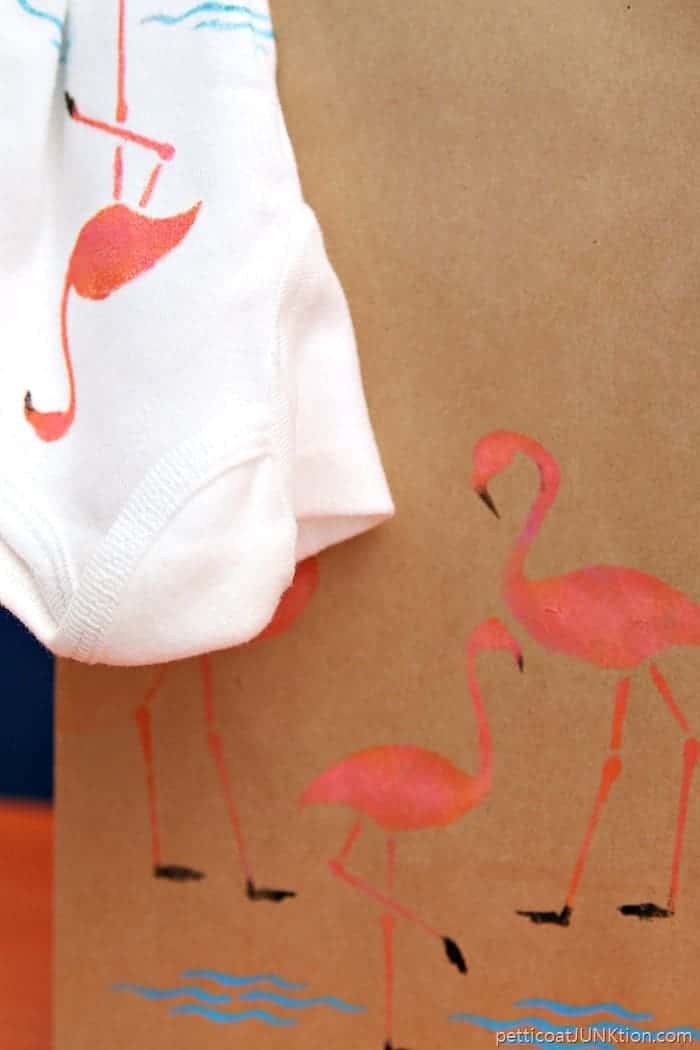 One last look at the onesie and pink flamingo stenciled gift bag.
Now it's time to enter the giveaway. Included in the giveaway is one  FolkArt Flamingo Stencil, one 18 piece set of Apple Barrel Acrylic Paint, and one set of stencil brushes.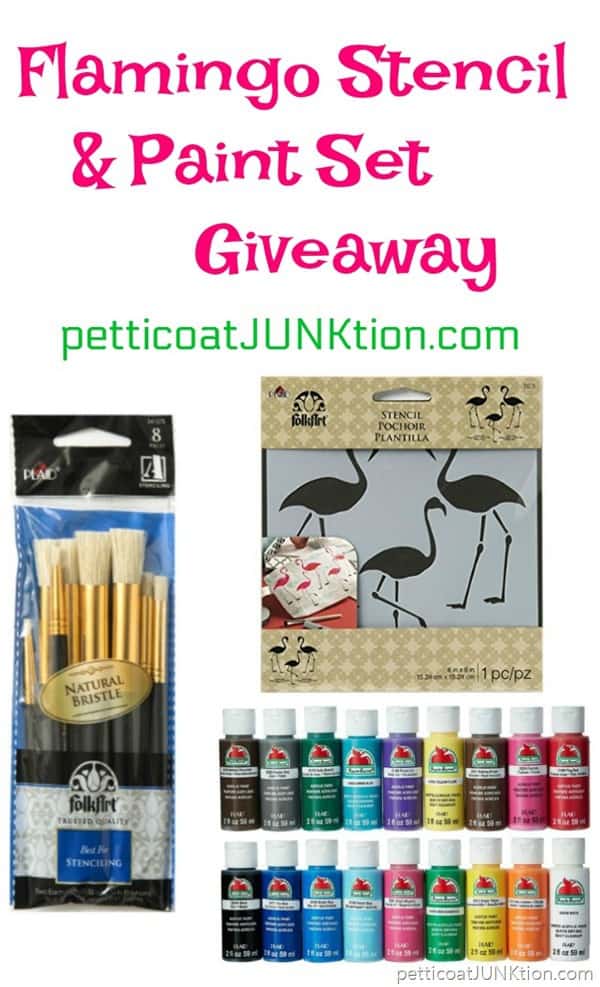 Just click the rafflecopter to enter. No other requirements. You may need to click the rafflecopter to open it then click the enter button. Easy peasy. You can enter everyday until the giveaway ends. Good Luck!
If you have problems with the rafflecopter below try clicking this link to open a new page with the Rafflecopter....Stencil Giveaway.
disclosure: The giveaway items are courtesy of Plaid Enterprises and Plaid will ship the items to the winner. Giveaway closes July 13, 2017 at 12:00 a.m. CST. Open to US residents 18 years and older only, void where prohibited. Winner will be chosen at random by the Rafflecopter and contacted via email. Winner has 48 hours to reply to the email or they will be disqualified and another winner selected.

Author: Kathy Owen (Petticoat Junktion)
Kathy is the founder of PetticoatJunktion.com, a home décor blog focused on repurposing and upcycling furniture, old hardware, rusty stuff, and thrifty finds into unique home décor. Kathy's projects have been featured on the Home Depot Blog, Plaid Crafts, Behr Designer Series, and in numerous magazines. Read more about Kathy here.