Stencil Tutorial Including Tips And Tricks
I promised you a tutorial on the Stenciled Turquoise Wardrobe and today is the day. Stenciling isn't difficult at all. There is really only one secret to stenciling and I'm sharing it here.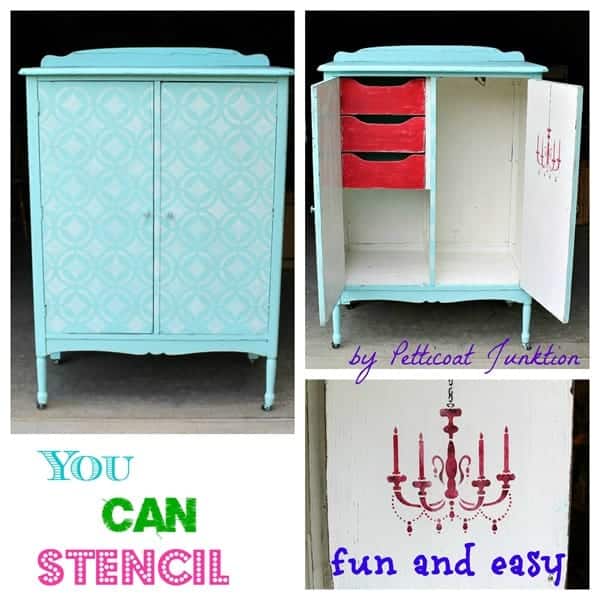 Stencil Tutorial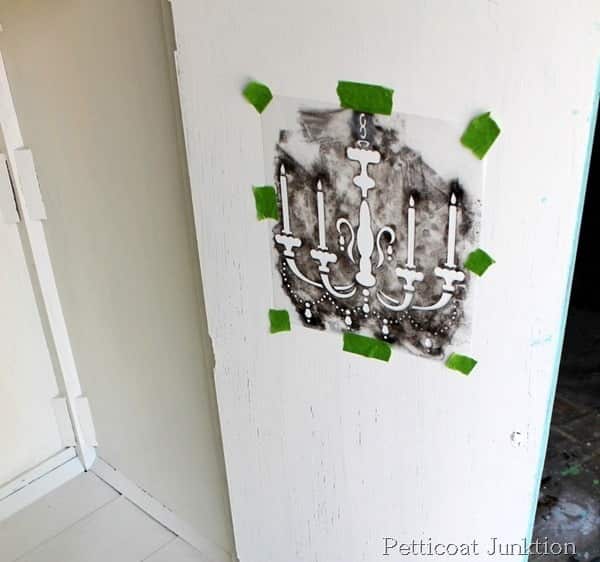 This chandelier stencil from Hobby Lobby has been used before. Can you tell? I'm bad about washing the stencils after I use them. Anyway, the first step in stenciling is to tape your stencil in place.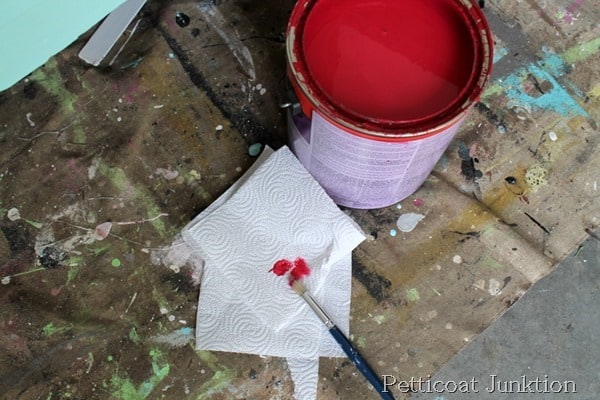 Find a stencil brush, yes this is a must have. I use a real brush not a sponge brush. Dip the brush in the paint and then dab it on a paper towel until the brush is almost dry, really, really, dry. You can always add more paint but it's hard to remove big globs of paint once they are there. Next swirl your paint on by moving the brush in circular motions….do not pounce…circular motions with the brush.
The secret to stenciling…..ready?…..is a very, very, dry brush. The other secret is…use any paint…it's doesn't have to be stencil crème. There….I said it. You can stencil with latex paint, acrylic paint, oil based paint, even stencil paint.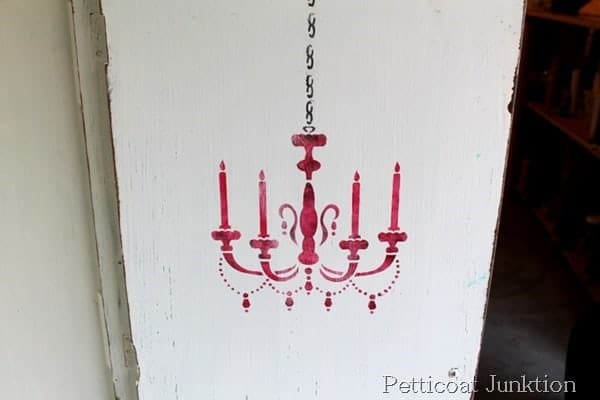 Sorry, no pictures during this process. I didn't plan to do a how-to but the JTS grabbed the camera and took some photos of me stenciling the front of the doors. After you use a dry stencil brush and your coat of paint is dry and you think you are finished there is one more step that adds dimension to your stencil. I used black paint and a really dry stencil brush and just hit points here and there on the stencil with the black paint. Can you see it on the photo? It doesn't have to be planned and exact…..just a few touches. This really makes a difference and gives the stencil depth. Next…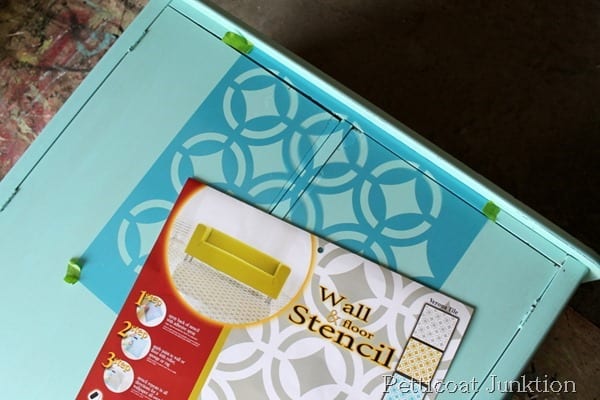 I purchased this stencil at Hobby Lobby. It is by Stencil Ease and the style is Verona Tile. It says for Wall and Floor but it worked great on my furniture piece. I laid the wardrobe on it's back and taped the stencil on. Then I decided that wasn't a good plan because the doors shift a little when standing up. You know none of the doors line up on furniture!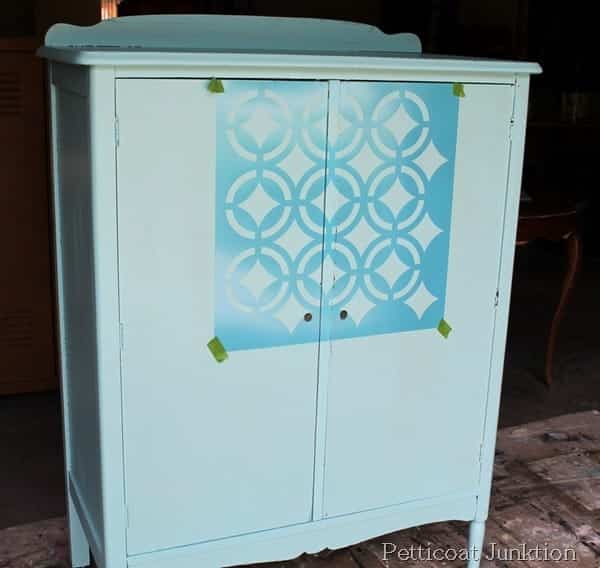 So I stood it up and used frog tape to hold the stencil in place. I started in the center of the wardrobe at the top of the doors. I wanted the stencil to flow across the center wood divider and cover the doors completely.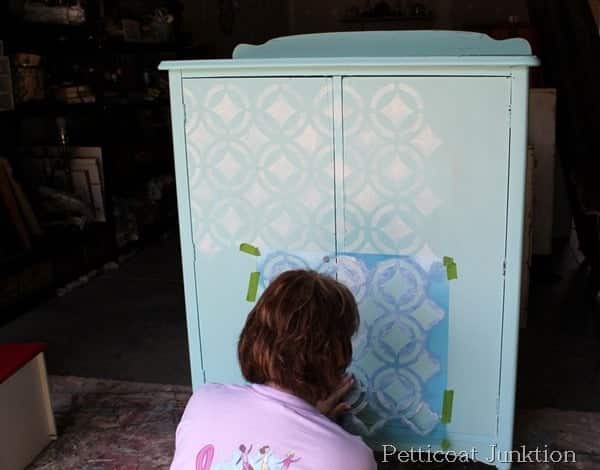 Update October 2017. I have a stencil tutorial for you! It's me at work, lol.
At this point the JTS wandered in and picked up my camera. I usually refrain from taking photos of myself and posting them here. Anyway, this is me, stenciling. I used white stencil crème and a very dry brush and stenciled, and stenciled, and stenciled. The stencil has very small register marks on each corner that shows you how to line up the stencil when moving to the adjacent area. You either use paint on the register marks or use a pencil. I found these marks to be smaller than the ones on stencils I've used before.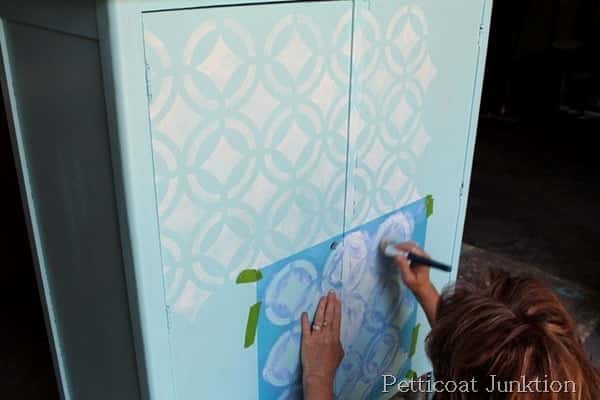 swirling the brush….no pouncing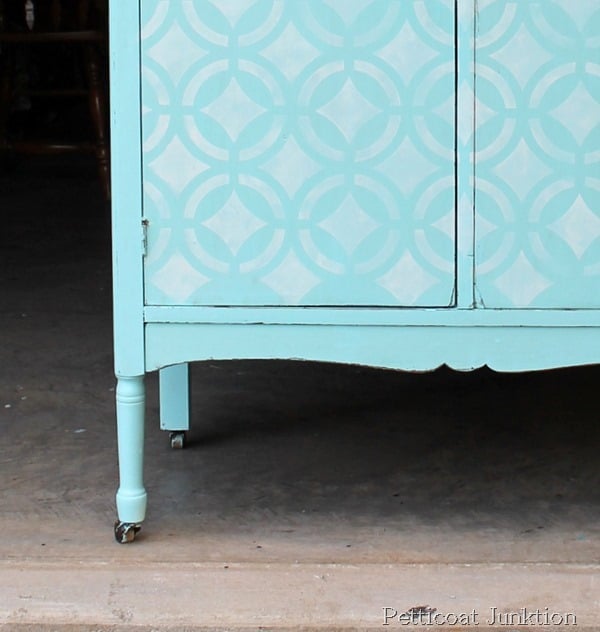 The hinges on the doors were an obstacle because the stencil didn't lay flat. You just have to work these areas as best you can! I think I did an awesome job!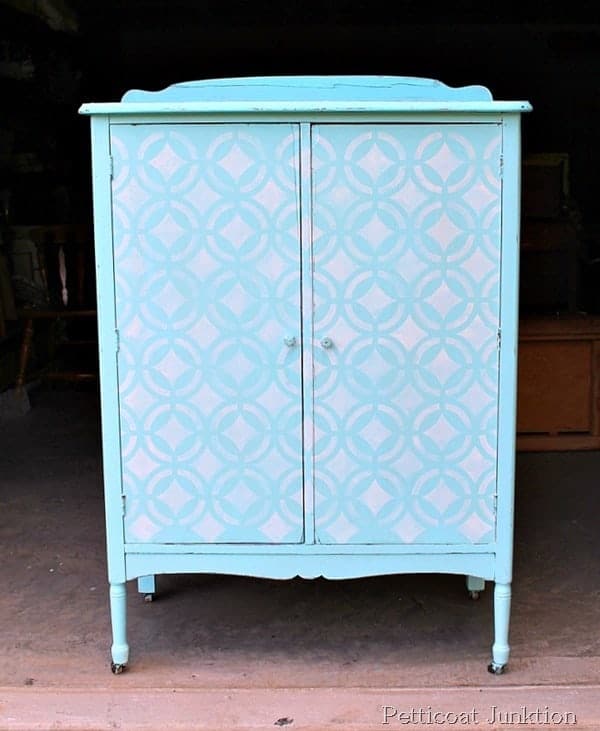 You can see the stencil is not evenly painted but it is straight. This is the look I was going for. I didn't want the stencil to be perfectly painted and I used a sanding block to rough it up a little.You guys knew that was coming, didn't you??