Cedar Chest Repairs And Choosing The Right Red
I may not paint a lot of things red but it's one of my favorite colors. I think I've mentioned before that I get the love of red from my Mom. She loves bright colors, just like me. We love fuchsia too. I had this cedar chest that needed a lot of love and we took care of it.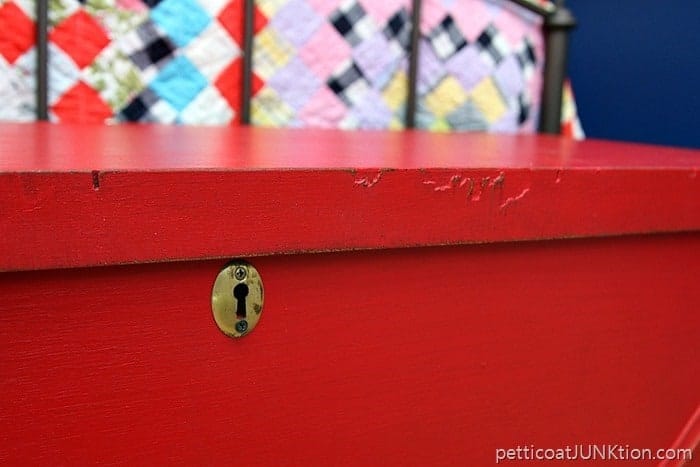 Red Cedar Chest
The paint color is "No More Drama" from Behr paint. The red isn't too blue or too orange. Just right. I really don't like an orangey red.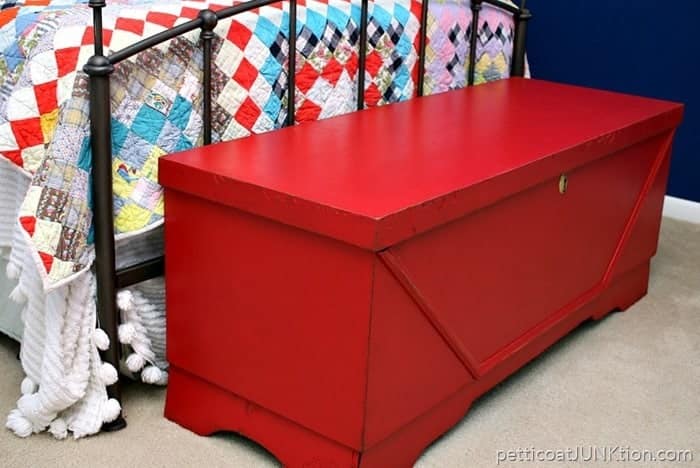 The chest is sitting at the foot of the bed in the guest room and holds a few of my vintage quilts.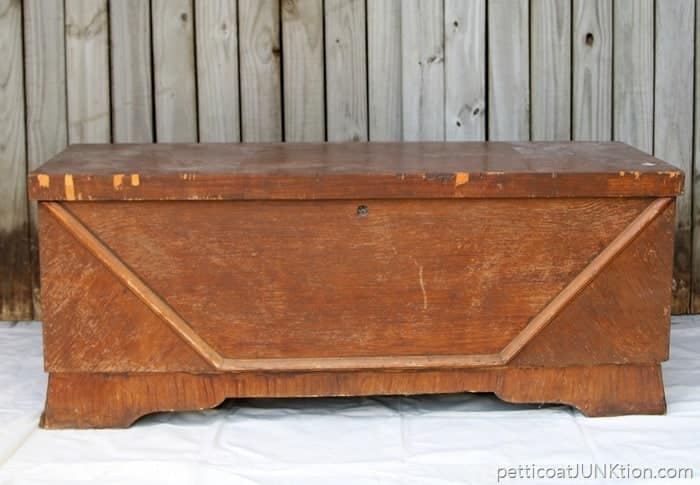 This is the cedar chest before it got beautified.
Cedar Chest Repairs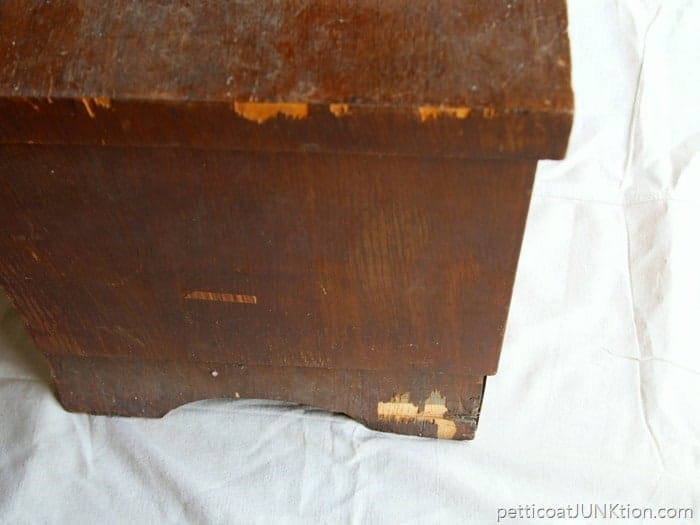 It had missing veneer and all kinds of problems.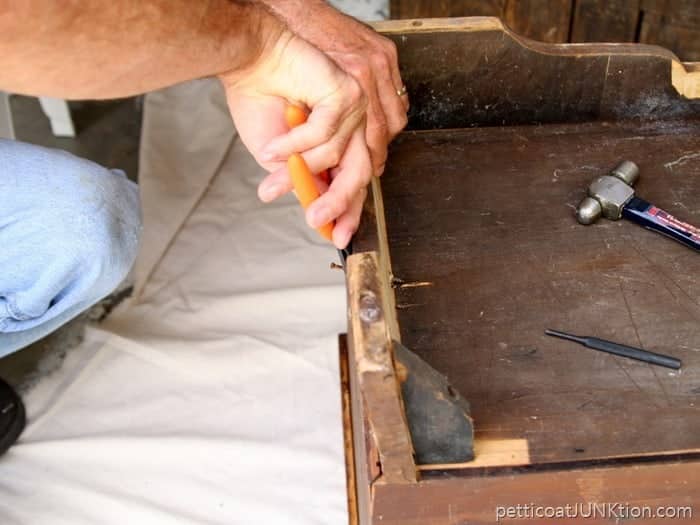 There was a lot of damage to the base and someone had used an excessive number of nails. The JTS removed the extras and did what he could with the base. I wasn't worried about the missing veneer. I like to distress those areas.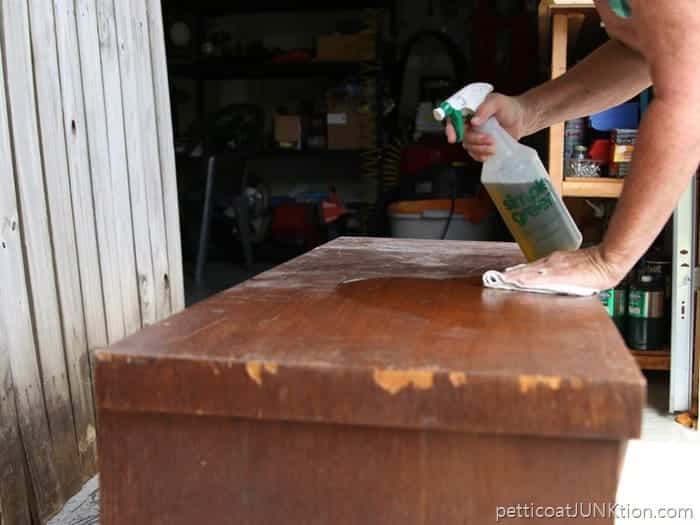 I use Simple Green to clean my furniture pieces.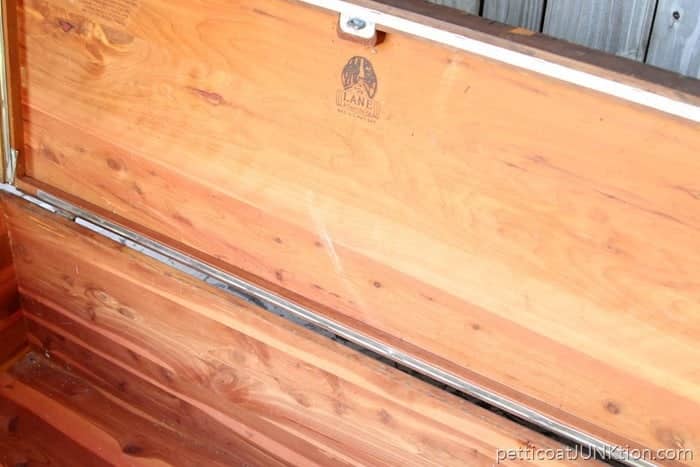 The beautiful cedar inside was in good shape.
This is a safety alert from Lane.....Since many of our cedar chest products have withstood the test of time and have been in homes for decades, there have been cases where children have climbed inside chests with old style latching mechanisms and locked themselves in, and there have been incidences of suffocation inside chests. As a result of this important and urgent safety concern, Lane has launched numerous successful programs since 1987, all concentrating on lock replacement. However, based on our best records, there are still an estimated 6 million chests owned by consumers that may require the new lock upgrade. Please click here for more information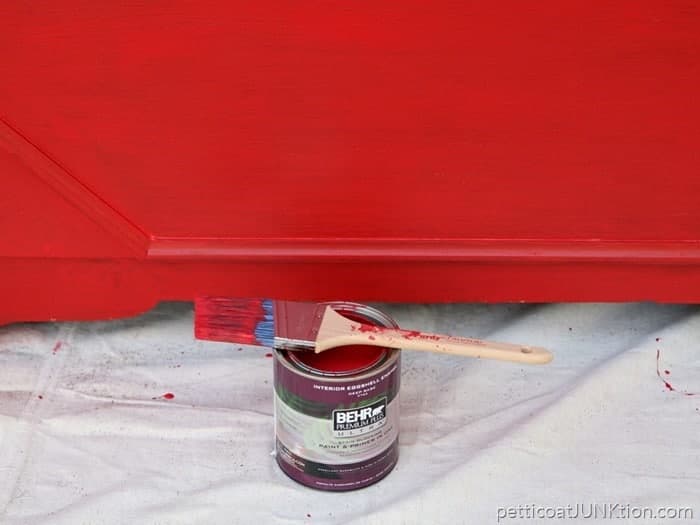 Painting The Chest
One coat of paint covered it pretty well but I always apply two coats.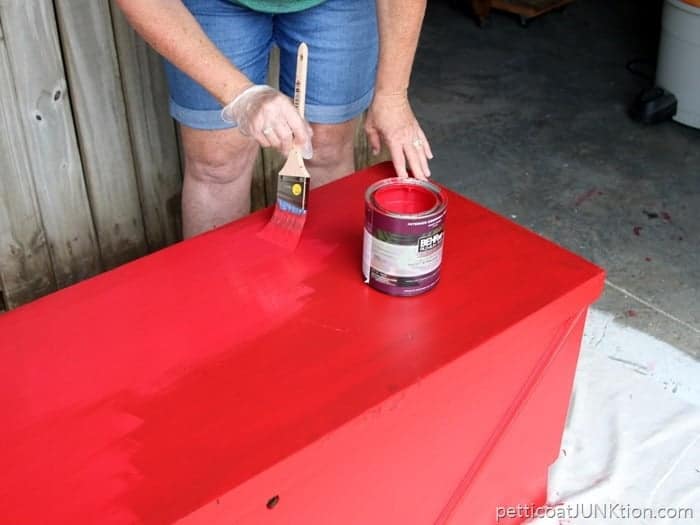 Coat number two.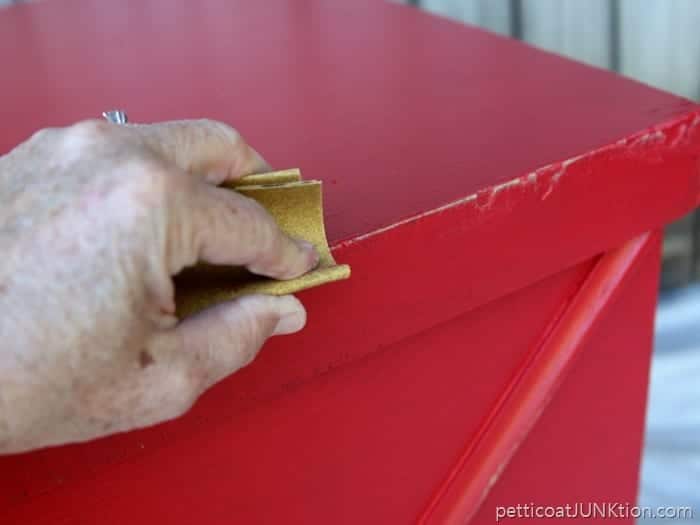 I distressed the paint by hand using 100 grit sandpaper.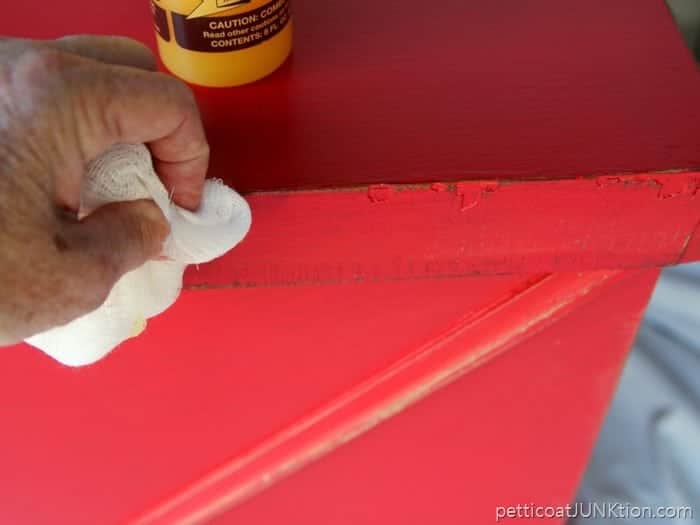 The distressed wood always has a raw look and I wiped over those areas with Howard's Feed n Wax. See how the wax darkens the wood?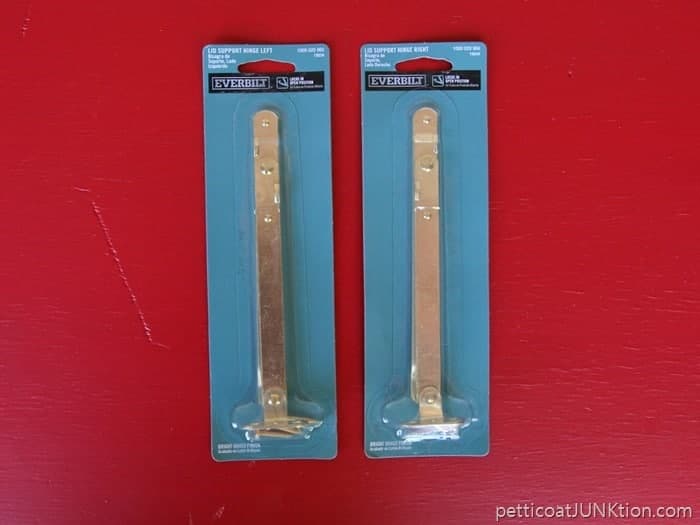 Adding Missing Hinges
Next we replaced the lid hinges that were missing. Did you know there is a left hinge and a right hinge? I didn't. Just makes sense I guess. Good thing I noticed that when shopping for the hinges at Home Depot.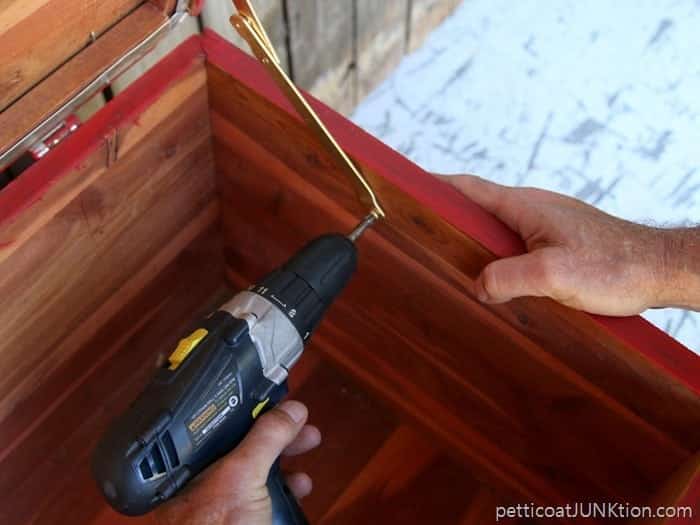 The JTS put the hinges on for me.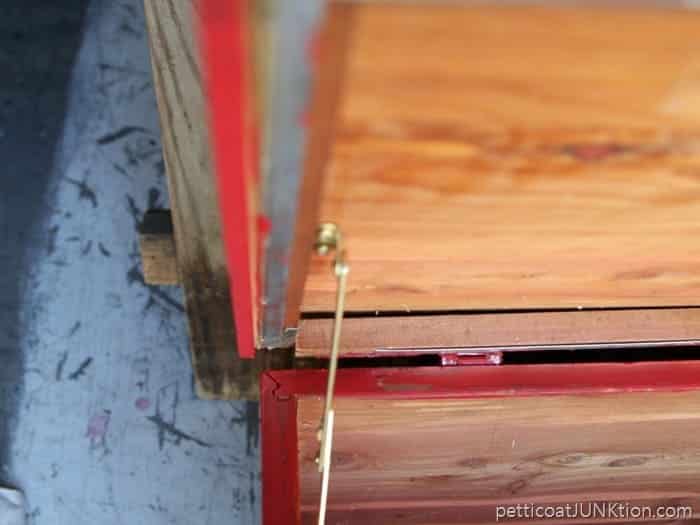 We were able to use the original screw holes but had to turn the hinges around to get them to fit. The holes were too close to the lid lip for the hinge to fit properly. The hinges worked just fine the way we positioned them.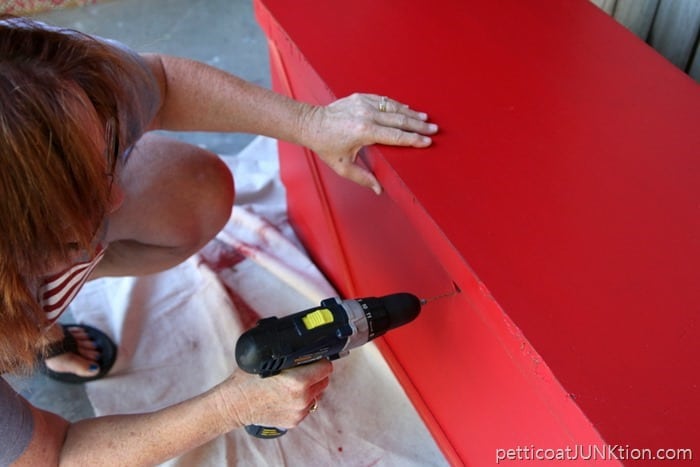 The keyhole was also missing. I found an escutcheon in my hardware stash to cover the hole. I just needed to drill a couple of screw holes.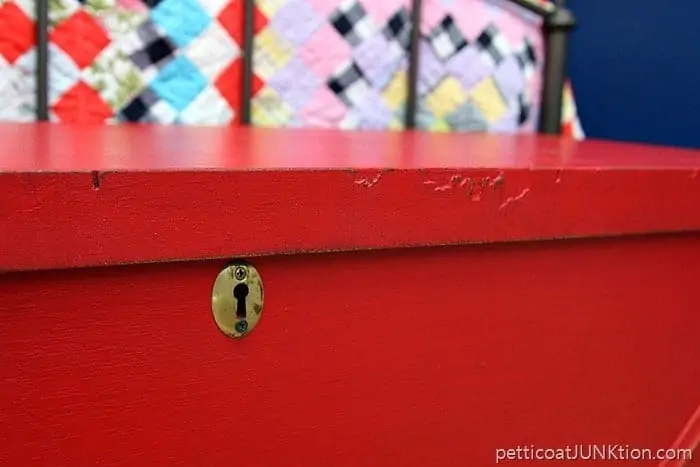 That looks much better than the big old hole. It's not a working keyhole but that's okay.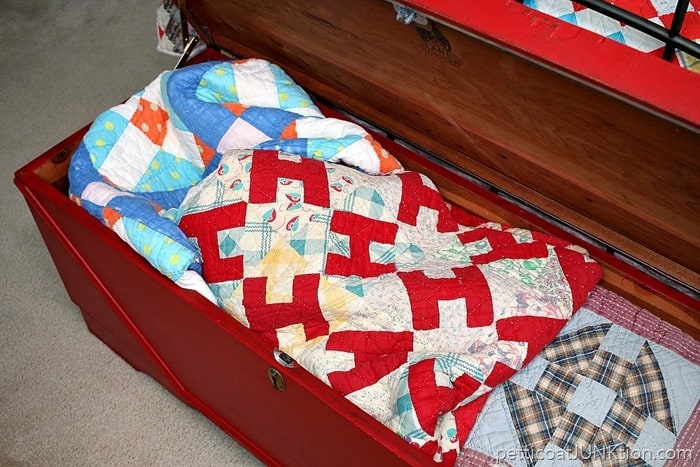 The chest is pretty big and holds a lot of quilts.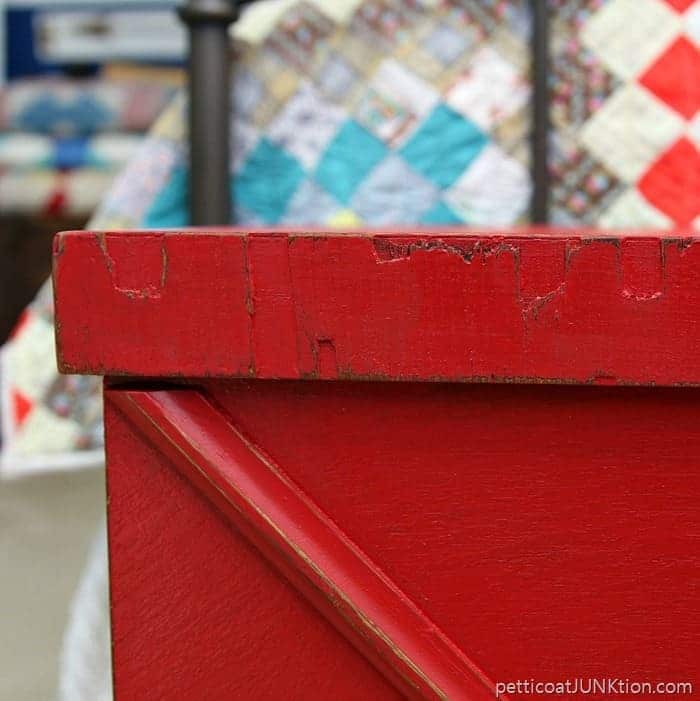 Those areas with the missing veneer look great distressed.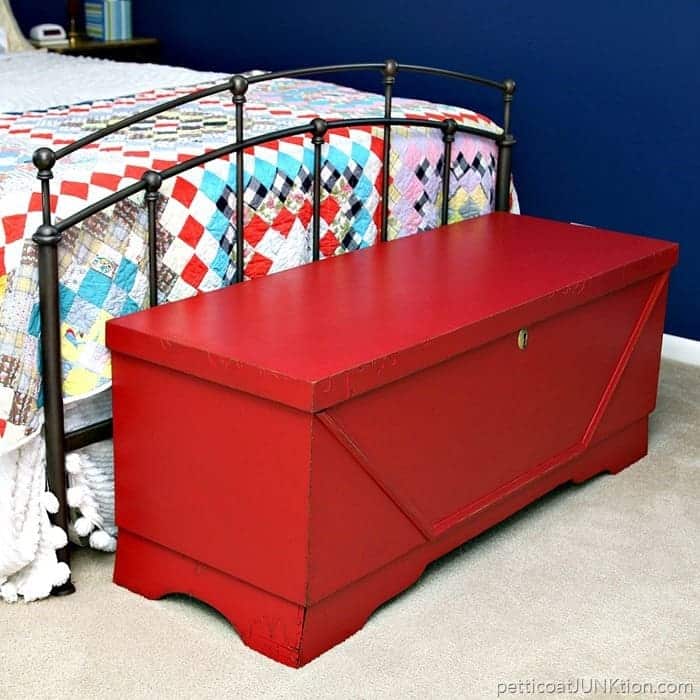 The perfect project for the Christmas holidays. Do you guys like the red? Tomorrow I'll be sharing a couple of RosaAnne angels I made this week. See you then!
Products used in this project:
Behr Ultra Plus Interior Paint & Primer - No More Drama, Home Depot
Howard's Feed n' Wax
Simple Green
Lid Hinges/Left & Right
(Amazon affiliate links for your convenience)
Author: Kathy Owen (Petticoat Junktion)
Kathy is the founder of PetticoatJunktion.com, a home décor blog focused on repurposing and upcycling furniture, old hardware, rusty stuff, and thrifty finds into unique home décor. Kathy's projects have been featured on the Home Depot Blog, Plaid Crafts, Behr Designer Series, and in numerous magazines. Read more about Kathy here.