I found 3 neat vintage items at the flea market over the weekend. The Nashville Flea Market is open but the outside vendors only. They had advertised to open indoor and outdoor in September just like old times but I think Metro Nashville decided they couldn't open the indoor space. Oh, well. Not as many vendors but we had fun and I bought a few things just for me.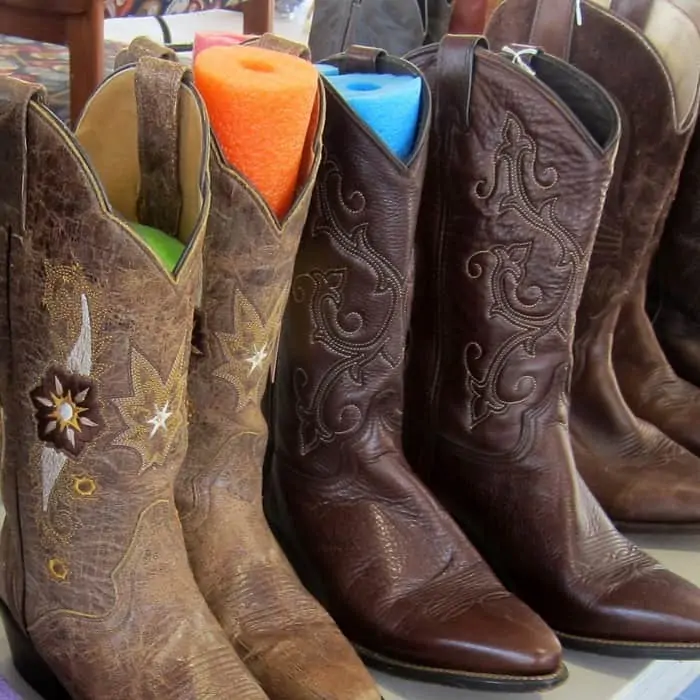 I'm going to share a lot of photos with you so you can see what the market has to offer. Of course Cowboy boots are always cool in Nashville.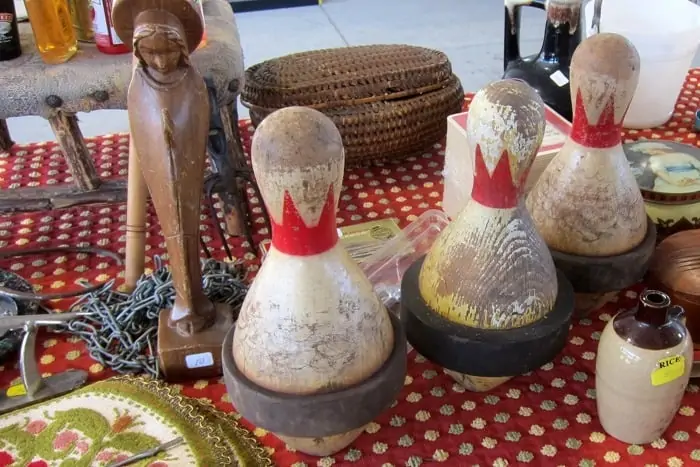 Are these bowling pins? What is that thing around them? Maybe they aren't bowling pins. I know some of you will have the answer. I have the smartest friends here!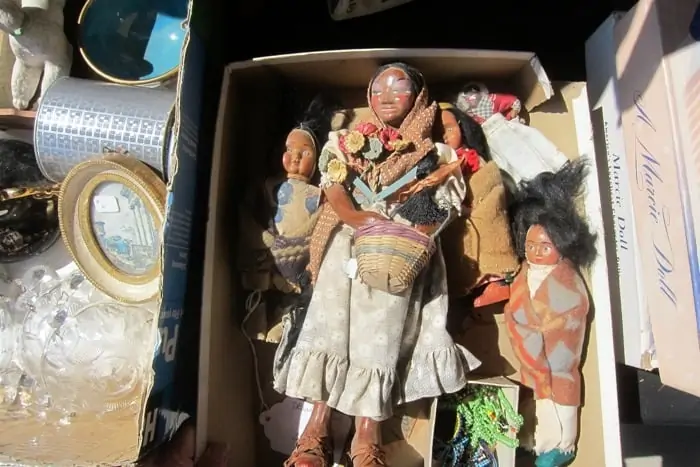 I don't know much about dolls or collectible dolls but the ones in the box above are different from any I've seen.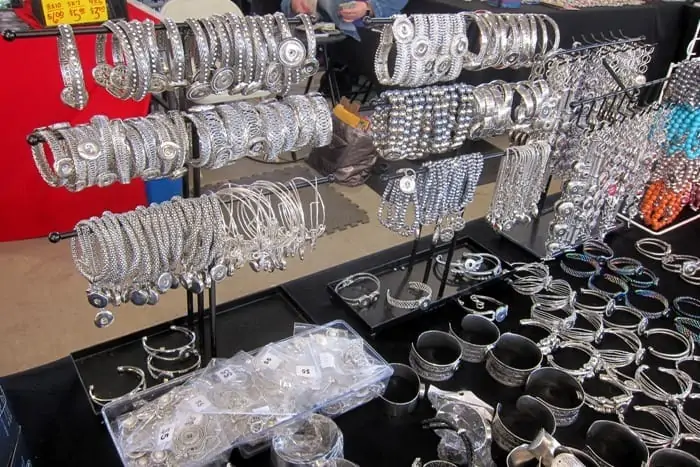 There is always new jewelry for sell. Silver is very popular.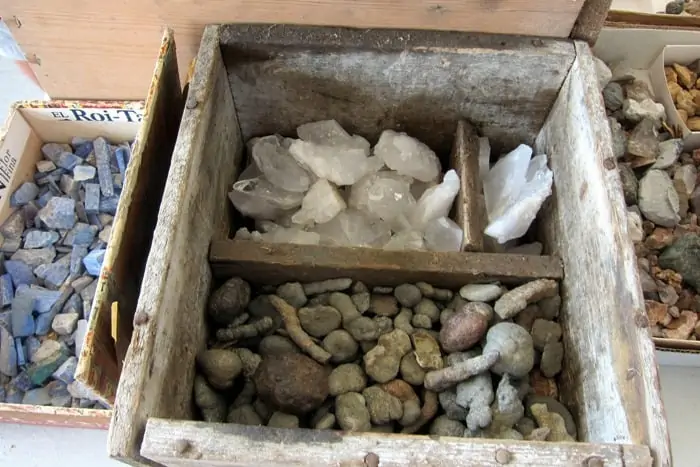 Pieces of crystal. The JTS and I just returned from Reno and Lake Tahoe and we visited Virginia City which was big time in the silver and crystal mines back in the day. I didn't buy a single souvenir. Those days are past for me. I really don't een like to shop at touristy places.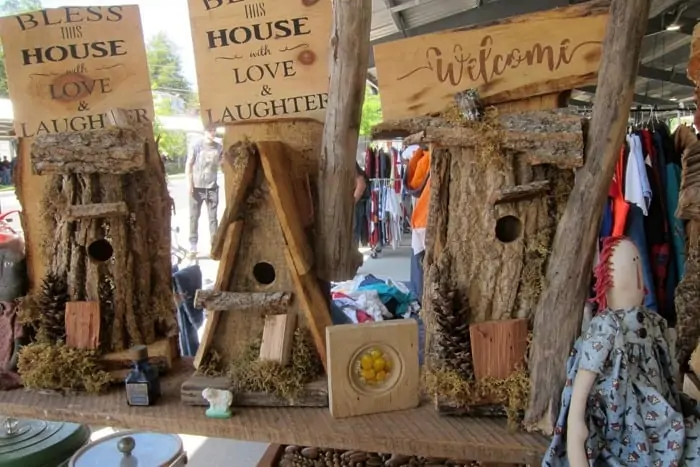 I have to say the birdhouses are unique.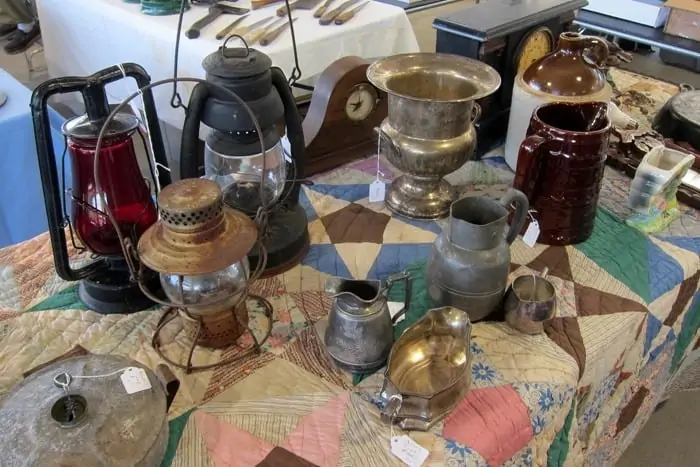 I do have a thing for silver plate dishes and pots and especially old silver trophies.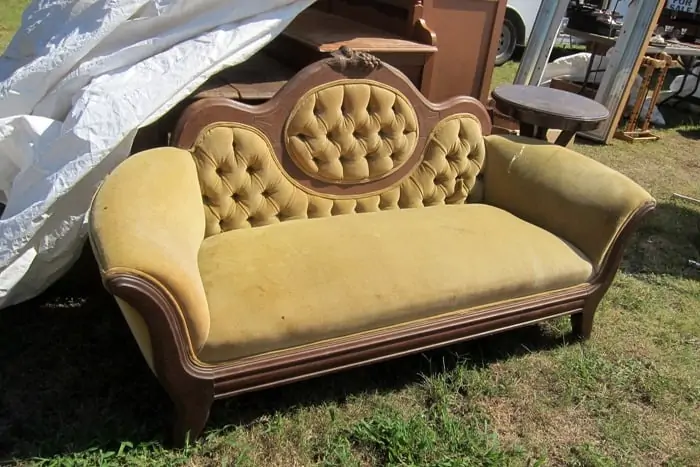 Not my style of furniture. Too fancy.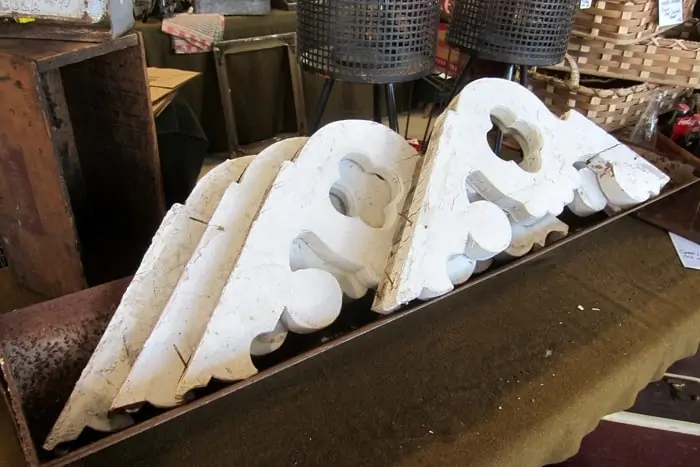 Nice architectural pieces. I miss the vendor who came from Atlanta and had a ton of old wood pieces, furniture knobs, door knobs, keys, etc. In fact I miss seeing all of my favorite vendors. They weren't here. The market has changed a lot since it moved to the new location and since the virus.
There is one vendor and I don't know here name but she has been at the market for years and has the coolest booth with vintage stuff and lots of plants. The photo above was taken in her booth.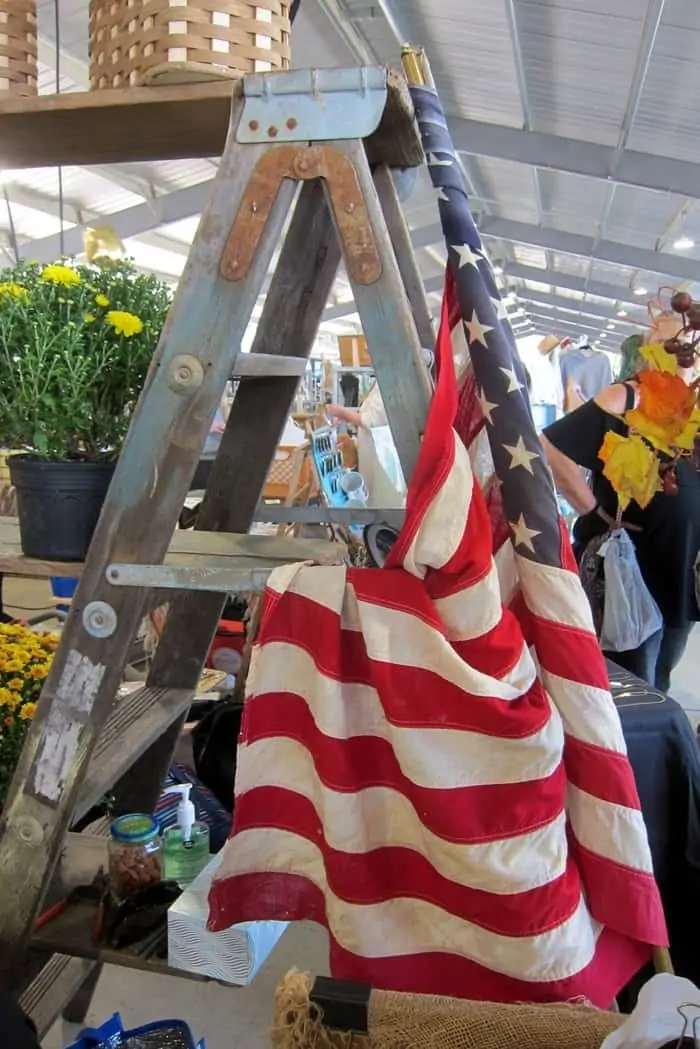 The flag and ladder were in her booth too. I've visited with this nice lady before and we had a nice talk Saturday.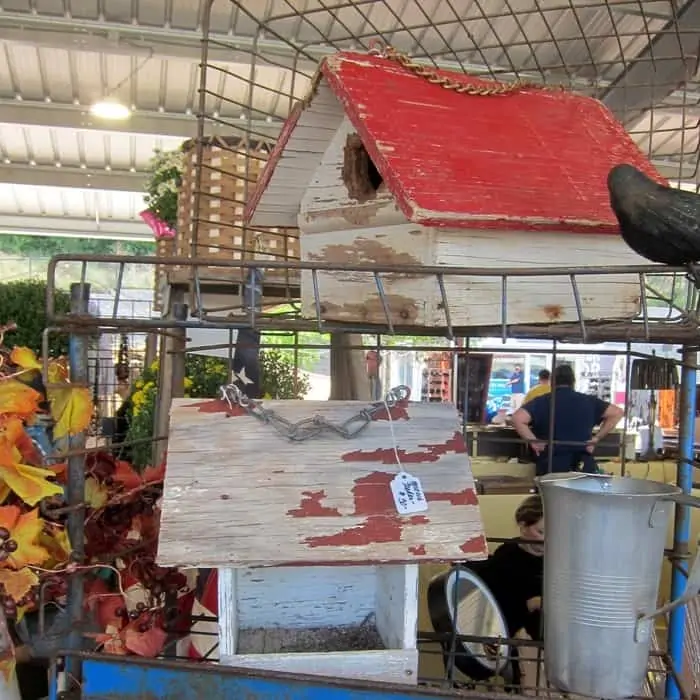 She also had the old wood birdhouses and feeder. I love these. Red gets me every time.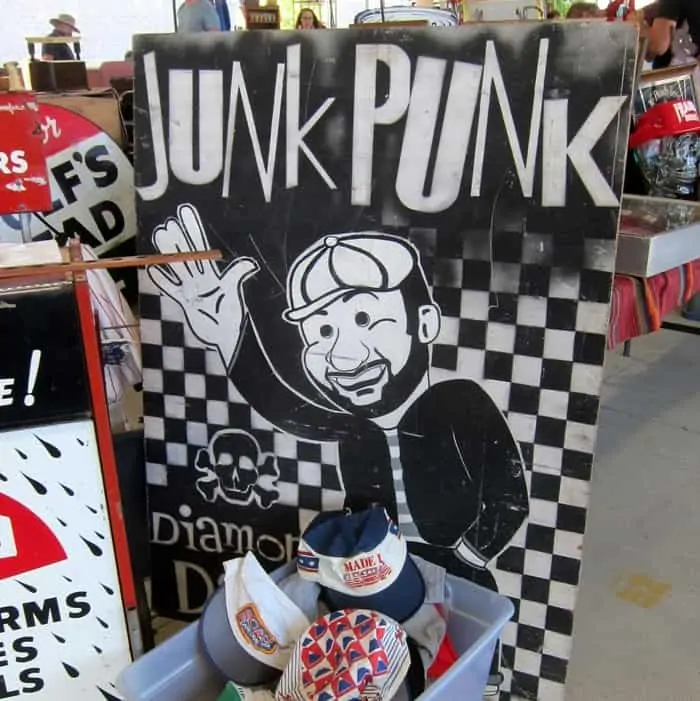 I don't know if junk punk is a vendor name or just a cool sign.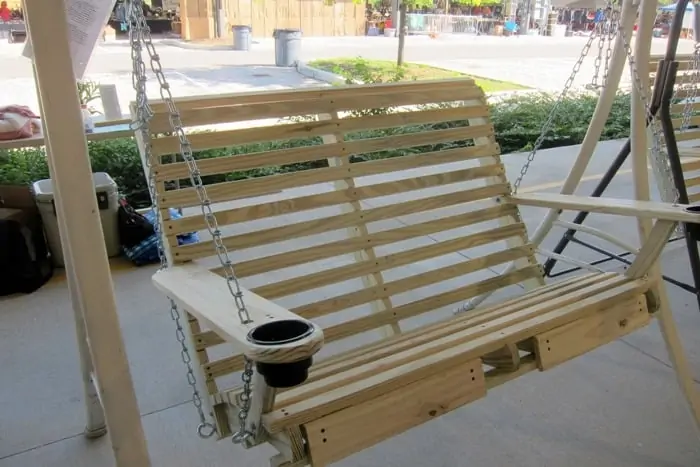 There are several vendors who have homemade wood furniture.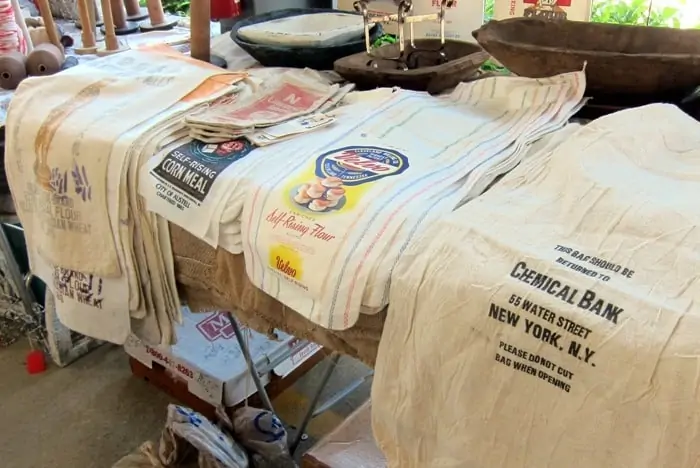 I like the feed sacks. I'm sure they are reproductions.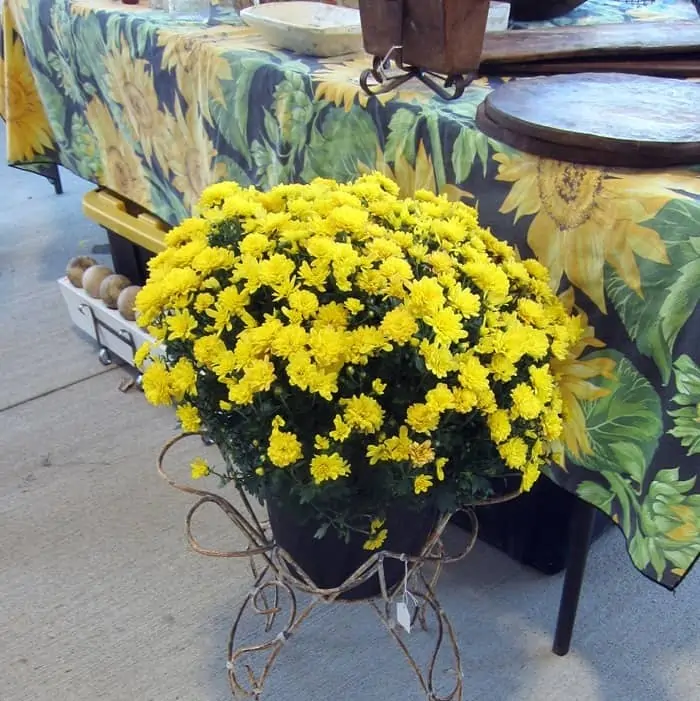 Yellow mums for Fall. I actually decorated my mantel and the front porch this week. I'll share photos of the projects tomorrow if I can get myself together.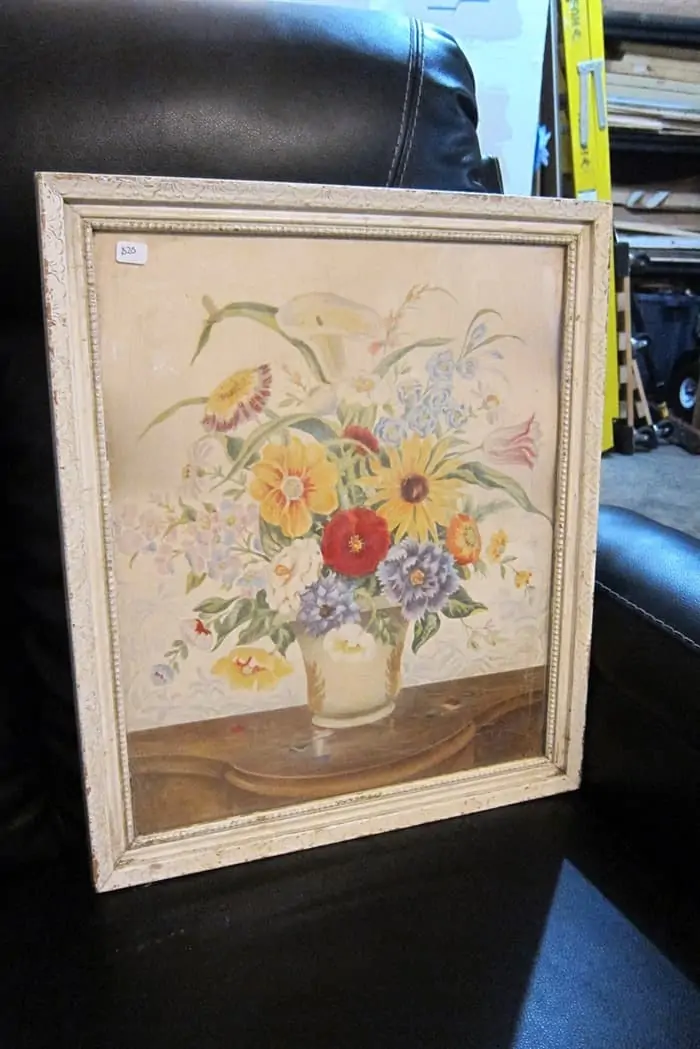 I bought this vintage picture for $20. I love everything about it, the colors, the design, the frame. In fact, the framed print is on my mantel with the Fall decor.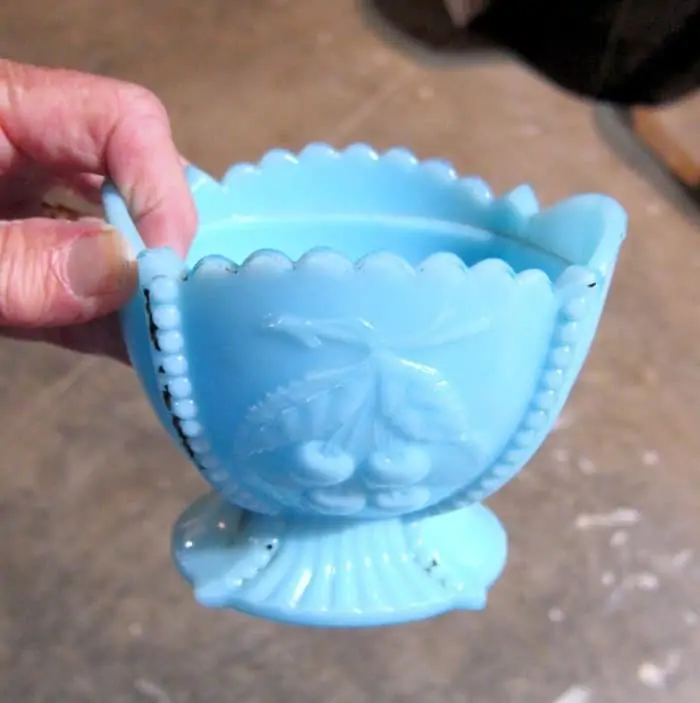 I bought the blue milk glass dish. Most of the decorative paint was missing but the blue is the pretty part anyway.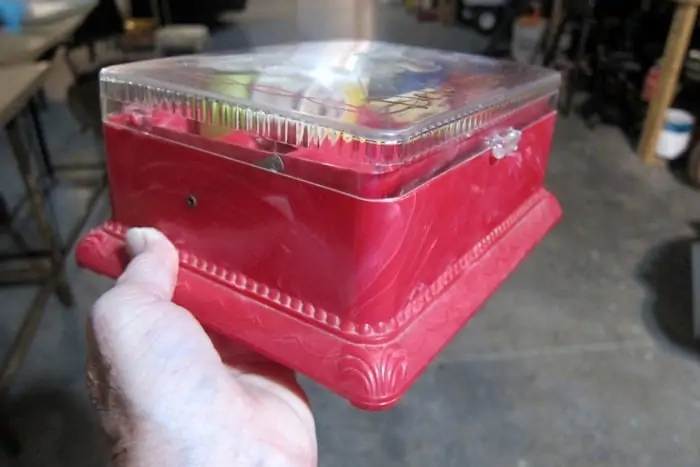 I bought the red sewing box. Not sure what the material is. Just seems like hard plastic. There wasn't any chips or cracks that I could see and for $10 it was a deal. I may put jewelry in the box.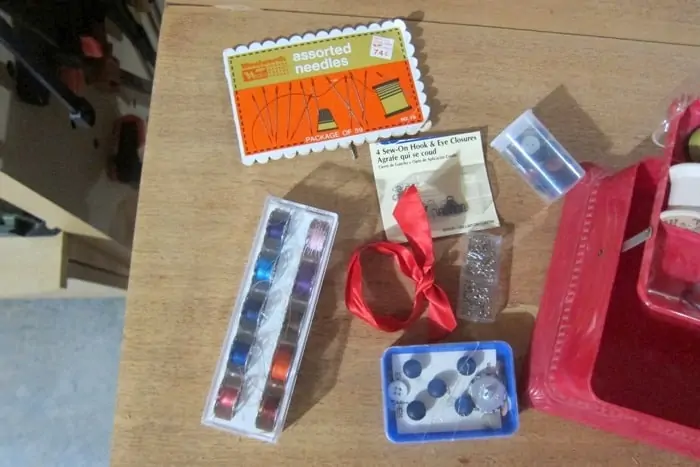 There was several spools of thread and these items. A package of needles from Woolworth. Who remembers that store besides me? There was also a few buttons and a box of 10 metal bobbins!
Find more info on the flea market here....Nashville Flea Market 2021 Dates And Times Released
And that's it for the flea market photo tour. What did you like the best? Leave a note for me if you have time. Thanks for being here, Kathy
Author: Kathy Owen (Petticoat Junktion)
Kathy is the founder of PetticoatJunktion.com, a home décor blog focused on repurposing and upcycling furniture, old hardware, rusty stuff, and thrifty finds into unique home décor. Kathy's projects have been featured on the Home Depot Blog, Plaid Crafts, Behr Designer Series, and in numerous magazines. Read more about Kathy here.