Hope your day is going great and this post brings a smile to your face. I went with yellow for the color scheme when decorating our front porch for the Spring Ideas Tour. I did as usual and gathered a few of my junk treasures and went to work. My yellow front porch décor is sunny and bright, making me feel like doing the happy dance.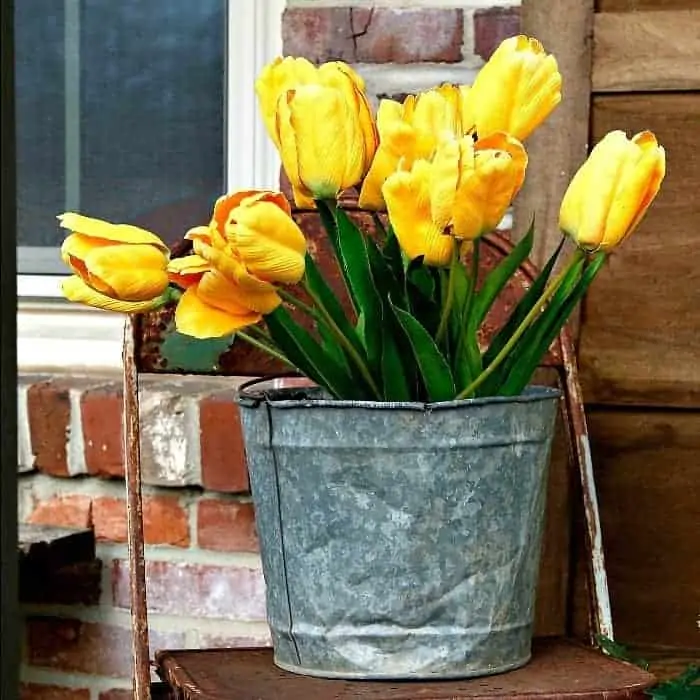 First, I have to let you in on a little secret. All of the greenery and the tulips are artificial. The weather is still a bit cold here for the potted plants I usually buy in the Spring so I'm faking it for now. The yellow tulips on the beat-up galvanized bucket have been around the house forever. I don't remember where I bought them or when. The color is so bold, and they are one of the things that have survived my many junk purges.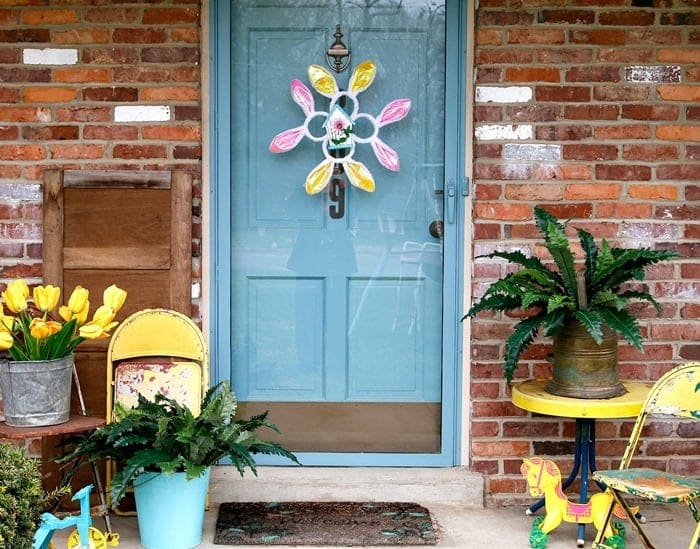 Here is a look at the whole shebang. I bet you can't wait to hear the bunny ears "wreath" story. I have the whole tutorial further down in the post.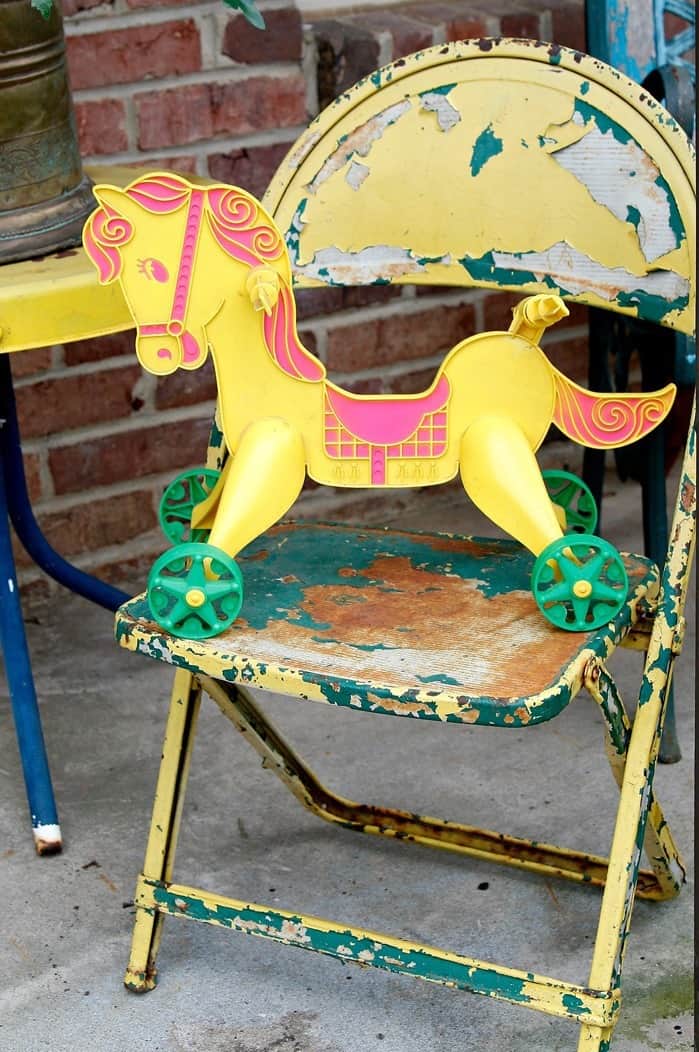 Most of my junk décor comes from flea markets, auctions, or thrift stores. The rusty yellow kids' chair came from the shop where I have one of my booths. There were a pair of chairs and one kids' table. The table was ugly brown, and I sold it. Can't get rid of the chairs because they are chippy paint perfection.
The toy horse is an auction purchase. I buy the craziest things. Anything with bold colors catches my eye. Even though I love Farmhouse style, meaning pretty white stuff, it's just not me.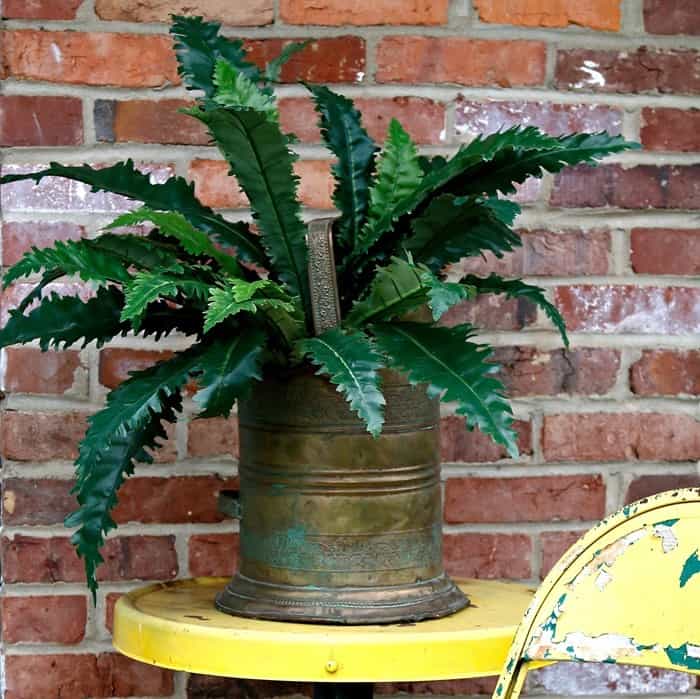 Yes, the ferns are all artificial. I went to Hobby Lobby hoping to buy a few ferns at 50% off but they were still pricy and a bit small. I found this fern with the regular-priced ferns, and it was marked down from $21.99 to $5.49. It looked so much better than the other ferns. I went on a hunt for more, hoping this wasn't the only one left. It wasn't, I found a few more on another aisle and bought 3 of them.
The copper coal scuttle is from an estate sale in Nashville. I don't remember how much I paid for it; I just remember it was over my budget but I had to have it anyway.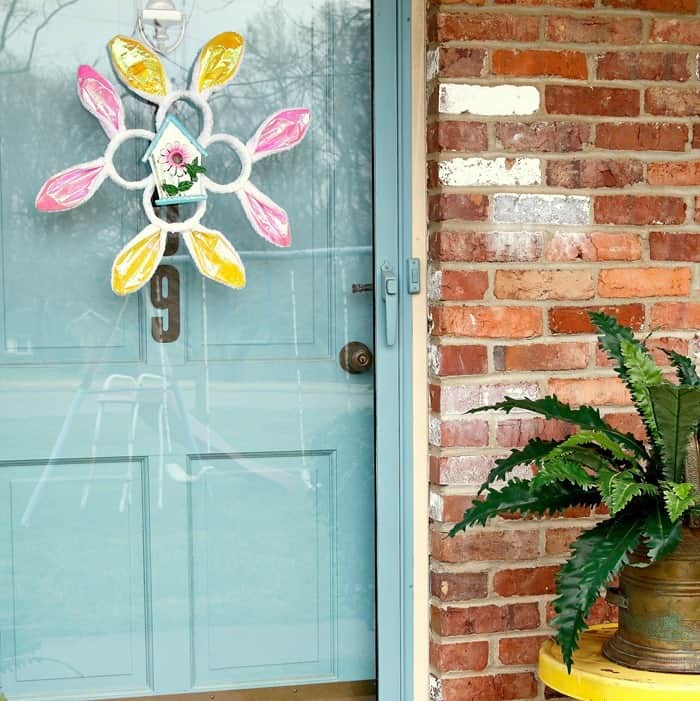 That wreath is kind of cute, isn't it. Not my usual style, but it is bright.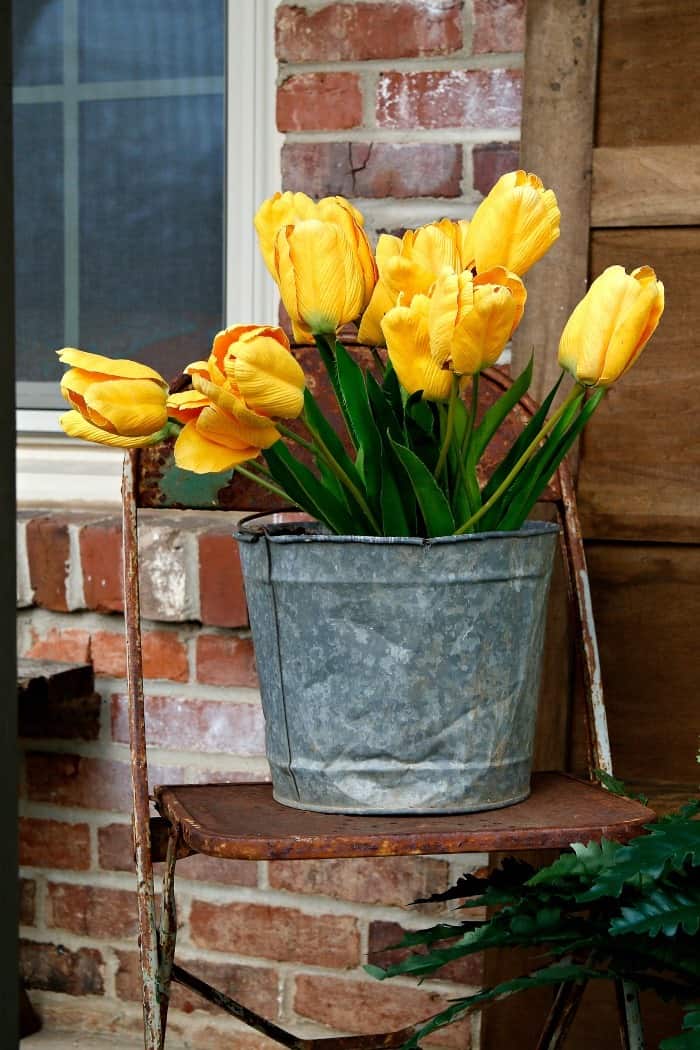 The rusty folding chair has a punched-out star design in the seat. That's my favorite part, and you can't even see it.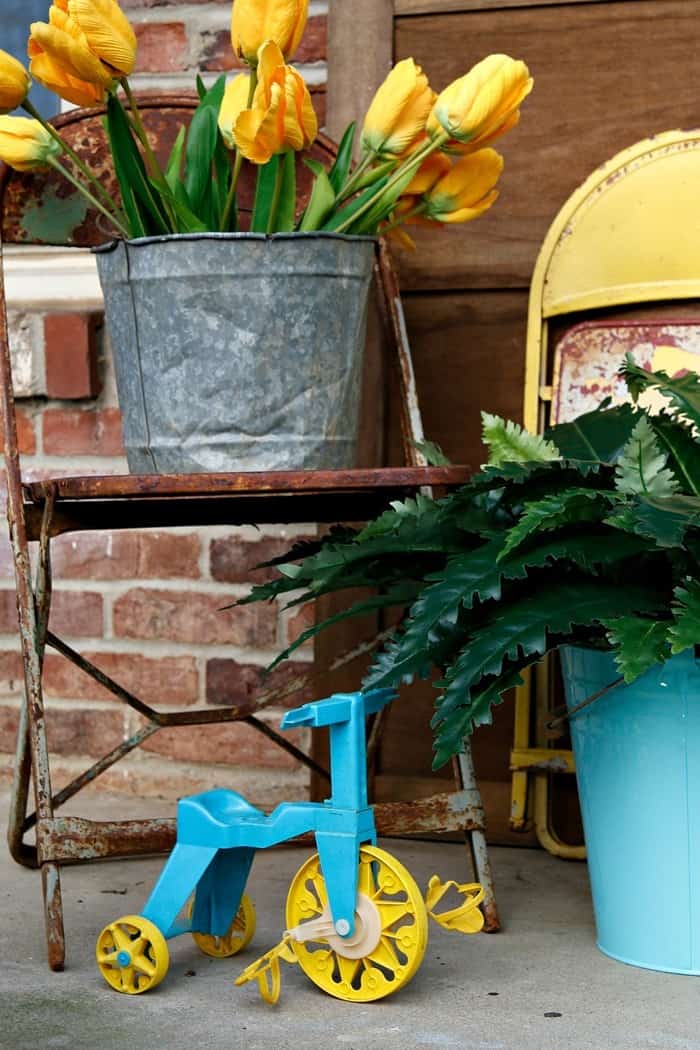 The turquoise bucket is from IKEA. The Memphis IKEA is at the halfway point in the drive to my parents' home in Arkansas. I sometimes stop and shop when heading home. It's a bad habit. The toy tricycle is another auction buy.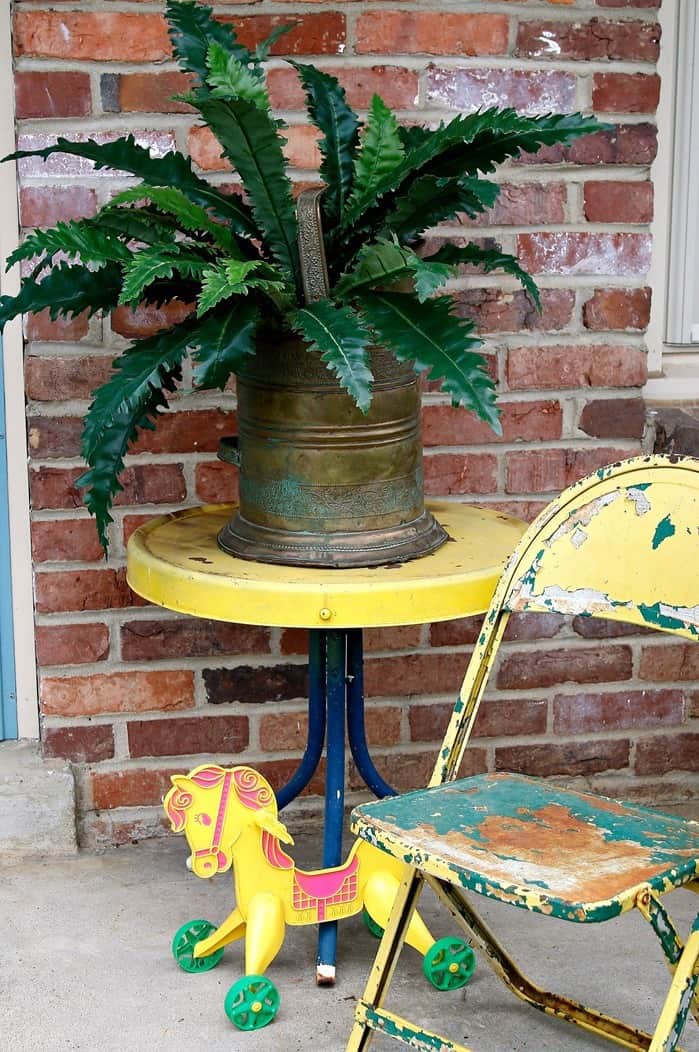 The yellow-topped table came from my favorite junk shop and usually sits by the workshop garage door where I work on projects. I forgot to lay a wood panel across the top one day, and it got spray painted with copper paint.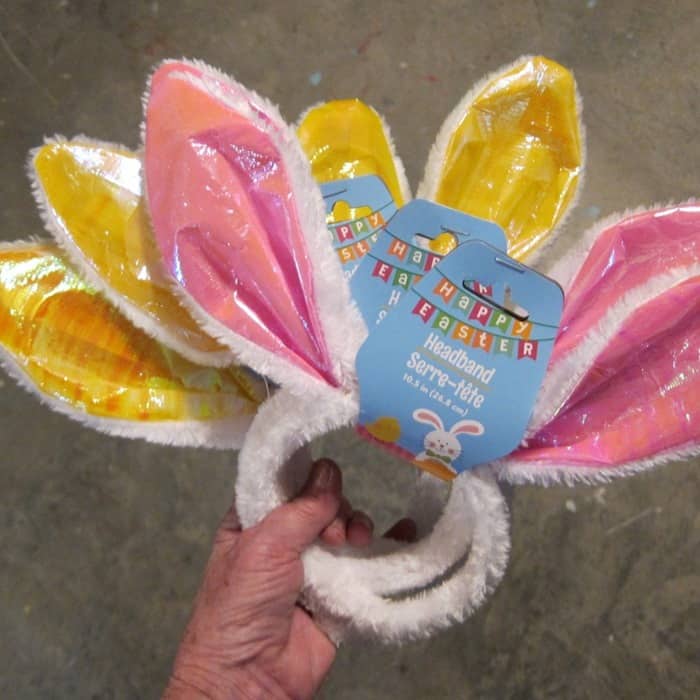 Okay, are you guys ready for the wreath story? I was shopping at Dollar Tree, which is one of my favorite stores, and I saw the bunny ears headbands. I immediately saw a wreath.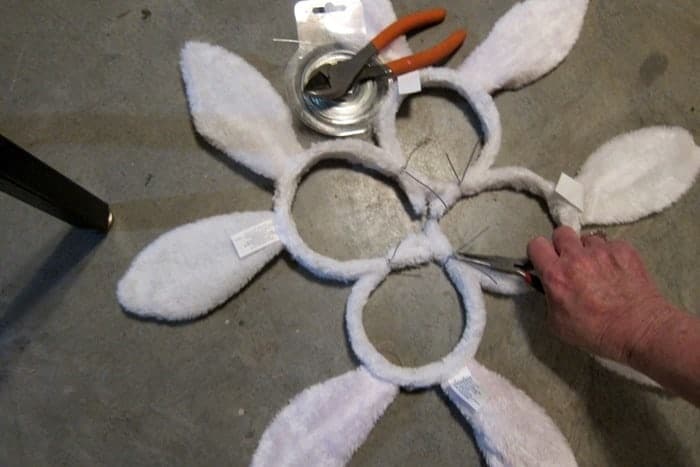 I wired the headbands together down towards the ear end and twisted the wires tight with wire pliers.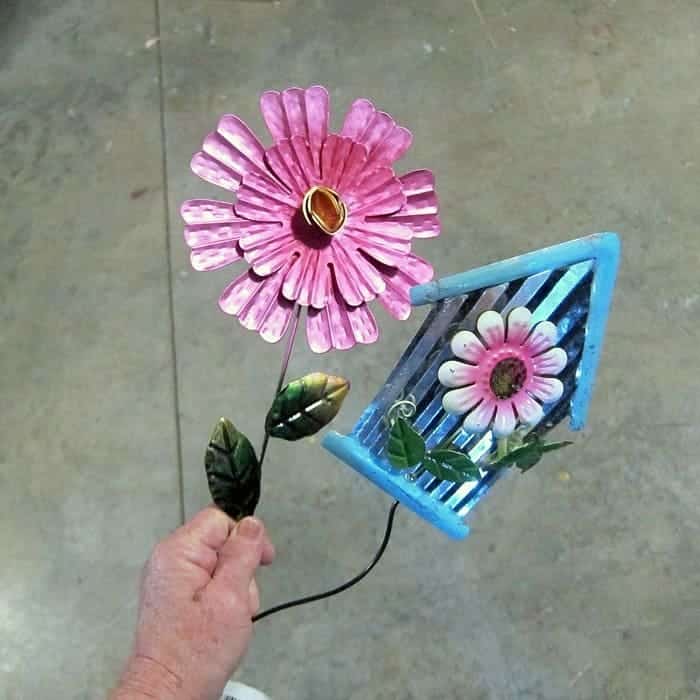 I also bought two decorative garden stakes at Dollar Tree. I decided to place the birdhouse in the center of the bunny ear wreath because everyone knows birdhouses and bunnies go together, right?
I slipped the wire from the birdhouse over two to the wired together bunny ears and was all set. I guess the wreath cost $5 plus tax.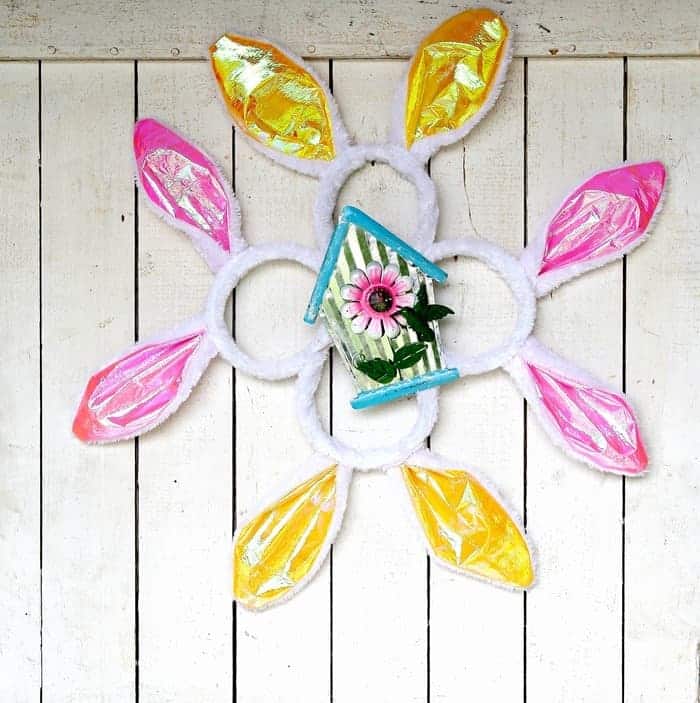 Bunny Ears Wreath
That's the wreath story and you saw all of the porch décor. What do you think? Nice combination of old and new.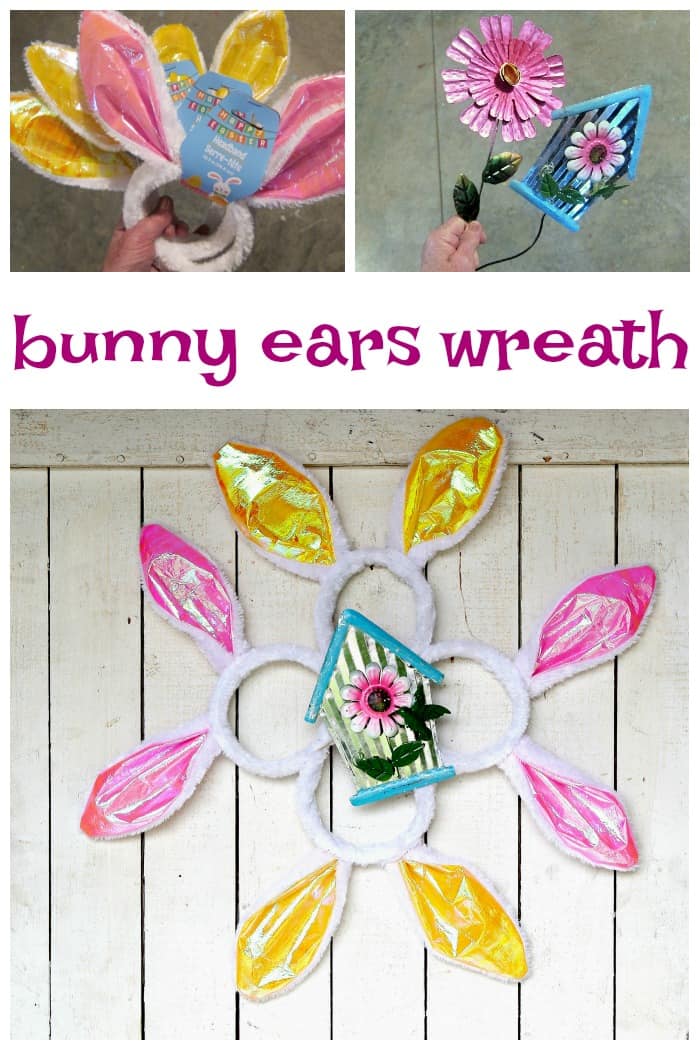 It's always fun. Thanks for being here, Kathy
Author: Kathy Owen (Petticoat Junktion)
Kathy is the founder of PetticoatJunktion.com, a home décor blog focused on repurposing and upcycling furniture, old hardware, rusty stuff, and thrifty finds into unique home décor. Kathy's projects have been featured on the Home Depot Blog, Plaid Crafts, Behr Designer Series, and in numerous magazines. Read more about Kathy here.