Paint Concrete Garden Statues
Did you know you can paint concrete garden statues? The paint on these statues fade over time and it's an easy job to repaint the concrete garden statues.
This is my first time at painting a lawn ornament. My neighbor has a vintage concrete goose statue that's been in her yard for as long as I can remember and it was in bad need of a makeover. She told me one day she was probably just going to have to get rid of it. Nope, not on my watch.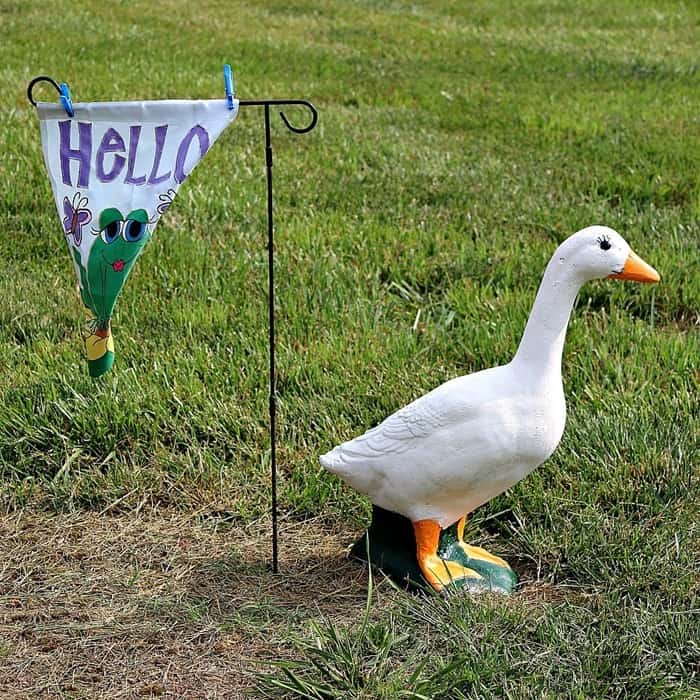 Concrete Goose Statue
I told her I would try to paint the goose but not to have any high expectations. After all, I'm not a decorative painter or artist. Although we've been neighbors for close to 30 years I've just gotten to know my neighbor over the past 3 or 4 years. Her husband was killed in the Vietnam War and she never remarried. She is super funny and smart and tells the most amazing stories. She keeps me laughing.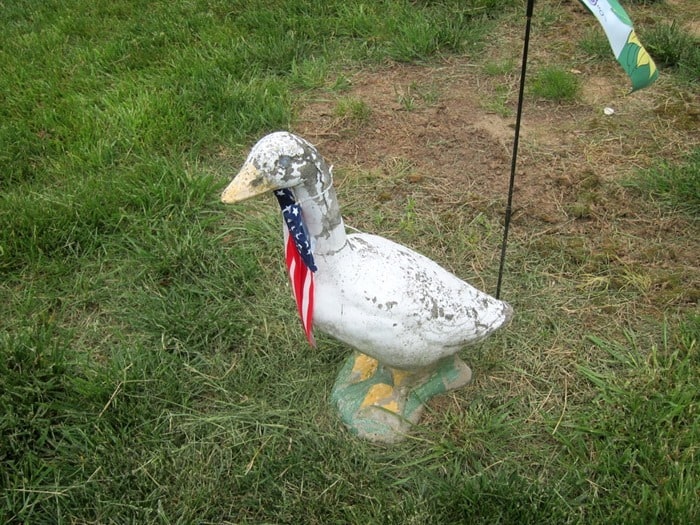 Anyway, this is how the poor goose looked before I started her makeover. And I say her because I noticed barely there, faded, painted on eyelashes.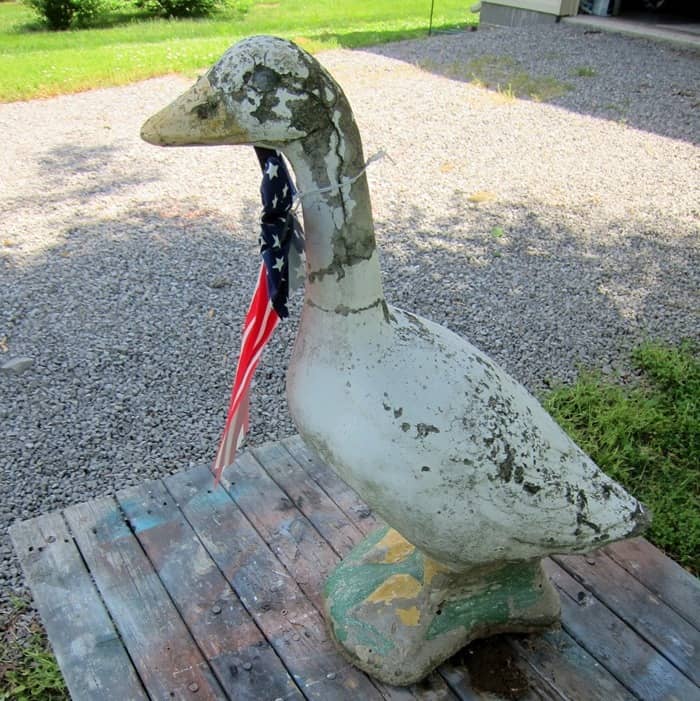 You can see here that the goose was not in very good shape. Lots of cracks and places where the cement has broken down.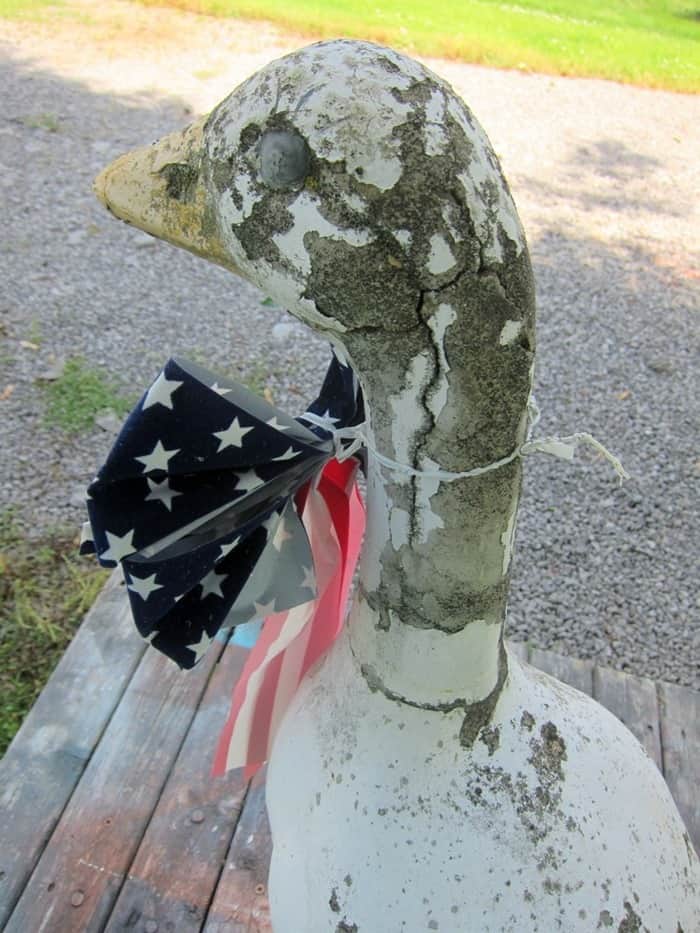 Can you see those eyelashes I mentioned earlier?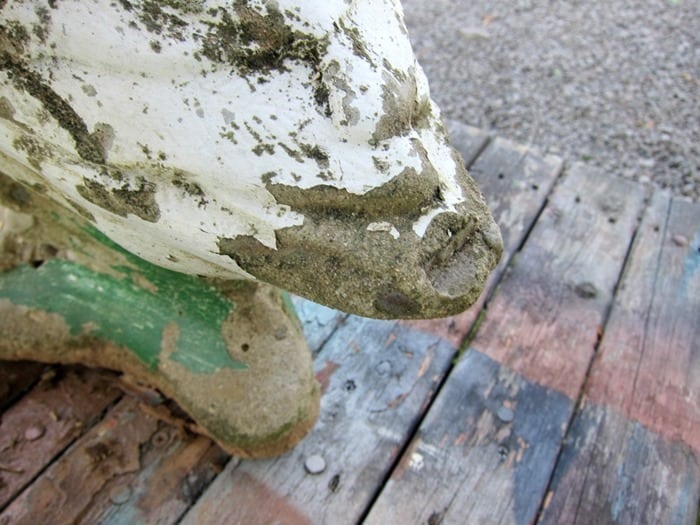 Bits and pieces are broken off of the tail and base.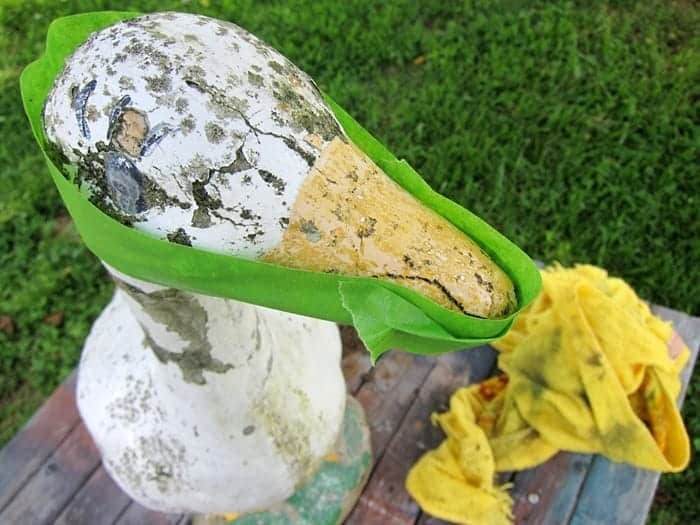 Paint Concrete Garden Statues
I first cleaned the goose with Simple Green. I scrubbed and scrubbed but couldn't get off some of the gunk/spots. I noticed when cleaning the bill that there were several loose pieces almost loose enough to fall off. I grabbed some Gorilla Glue for the cracks then bound the bill and head with painters tape until the glue dried.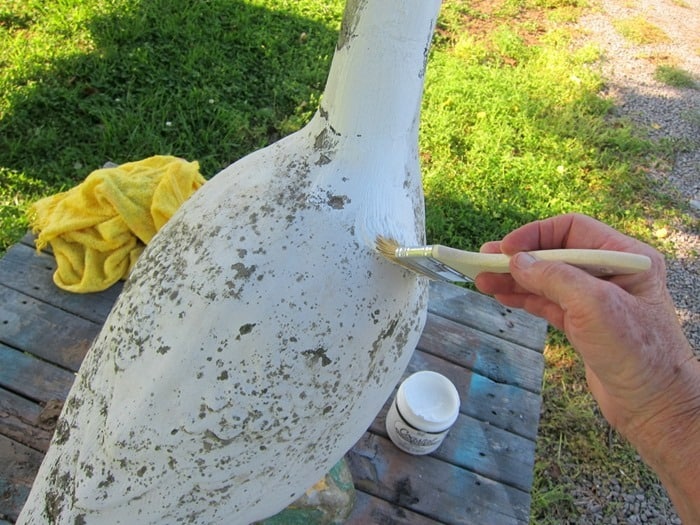 You guys have to remember I'm just wingin' it (no pun intended) because I've never painted a garden statue. Good thing there was enough original paint left that I could kind of figure out where the paint lines were. I used FolkArt Coastal Textured paint for the body of the goose. The paint is for indoor/outdoor projects.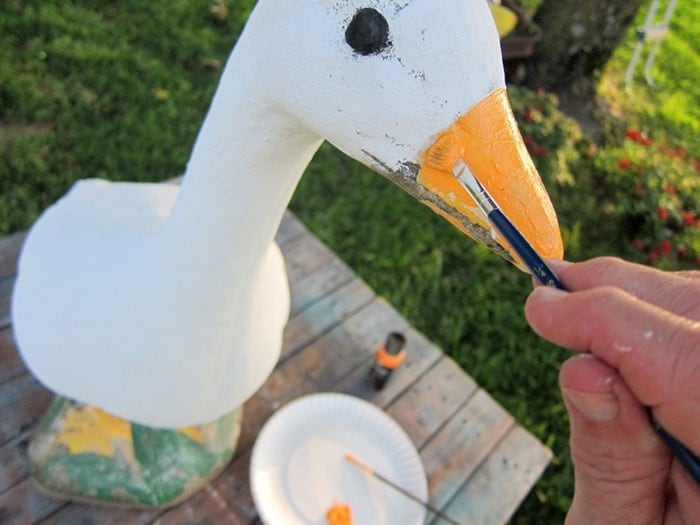 That was the only outdoor paint I had in the colors I needed so the rest of the paint is acrylic from the small bottles like you get at the craft store. I found the perfect color in my sash for the bill.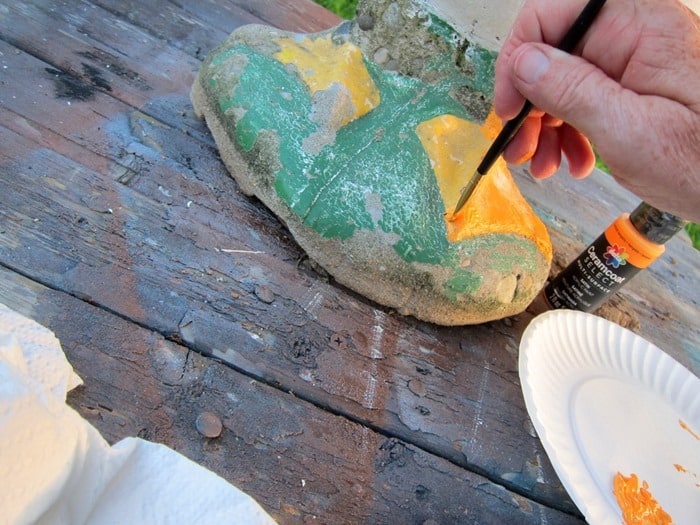 And the webbed feet are the same color. I used a variety of different size brushes and I didn't use tape for straight lines or anything. The goose was a little rough so I didn't think it would be a big deal if the paint wasn't perfect.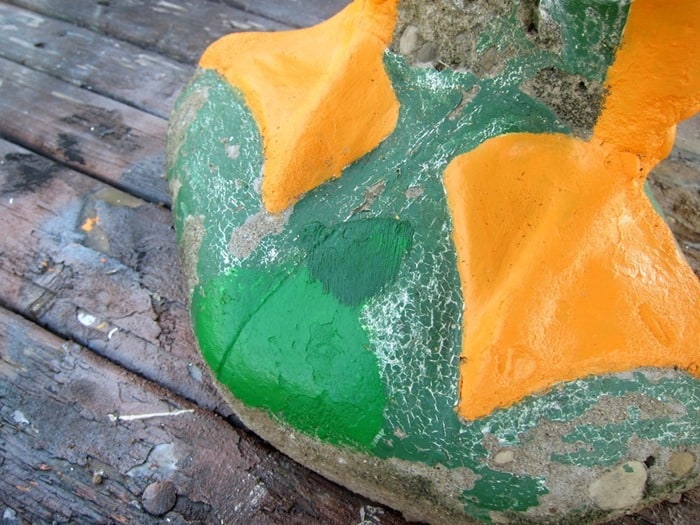 I didn't have the perfect green paint color so I added black to the green paint to make it darker. You can see the difference in the paint colors in the picture above.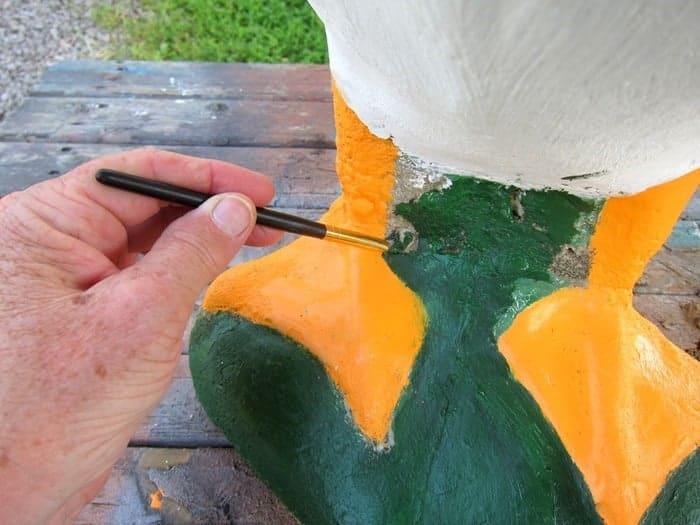 The special mix green was just right. I tried to get the paint into all the nooks and crannies where the cement had broken off or was cracked.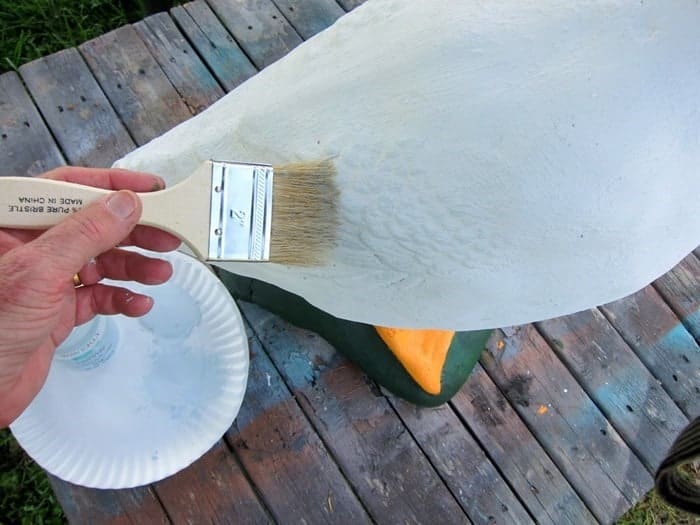 The body color of the goose was too uniform and the feathers blended in so I dry brushed a bit of pale, pale, silvery blue paint over the feather details. I think it does make the feathers stand out a bit looking at the goose from a distance or from the street.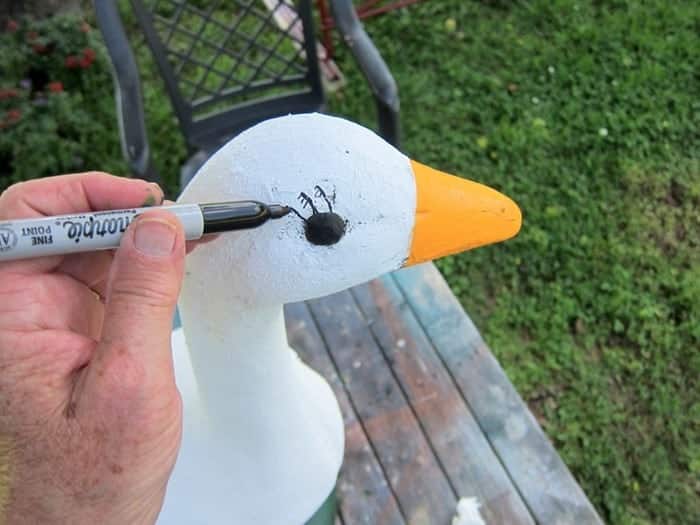 I painted the eyes black with Beyond Paint in Licorice and added the eyelashes with a black Sharpie. Whatever works right?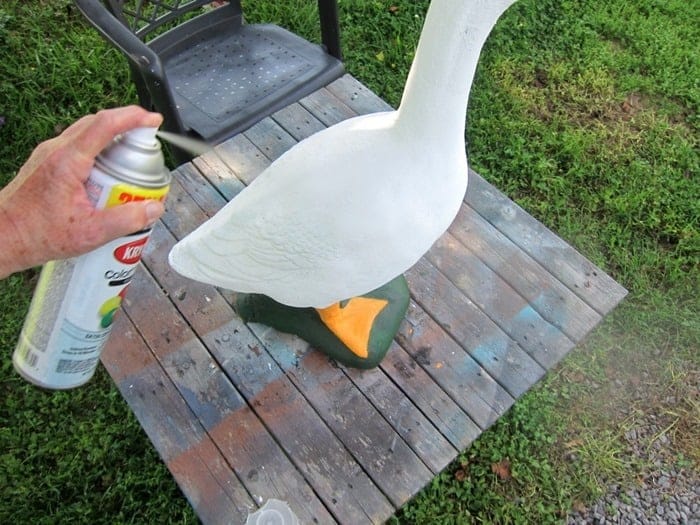 I'm not sure all that paint is going to stay on even though I sprayed several coats of Krylon Sealer on the finished Goose.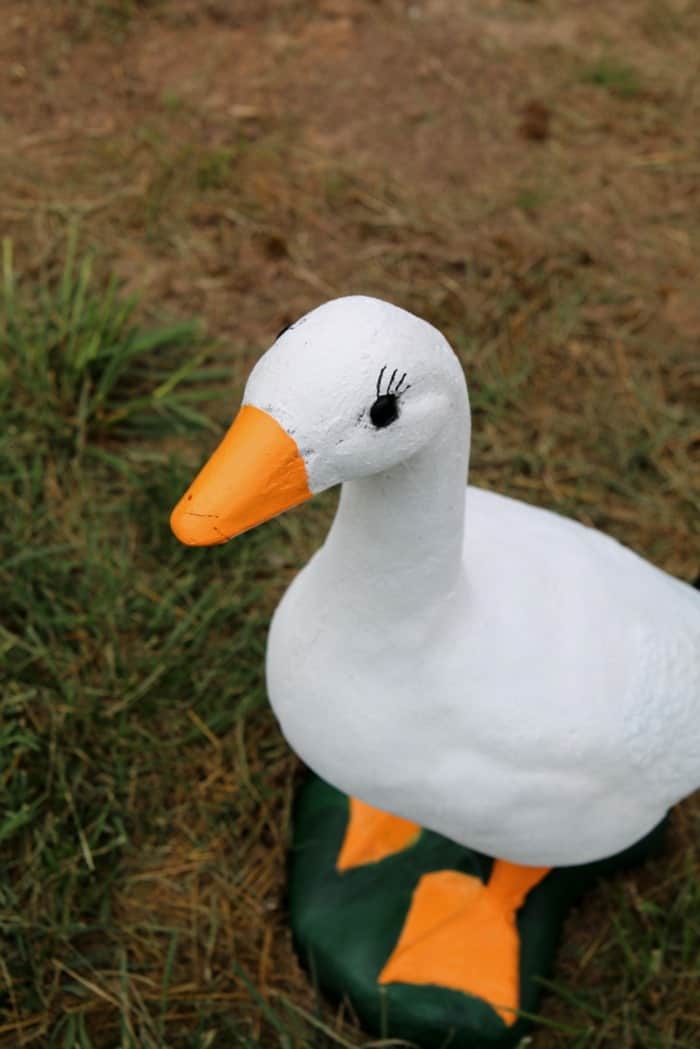 Isn't she cute. I'm  glad I could do this for my neighbor and she was so happy. She lives right next door to us and I see this goose everyday if I look out the garage door of the workshop or if I'm working on a project outside.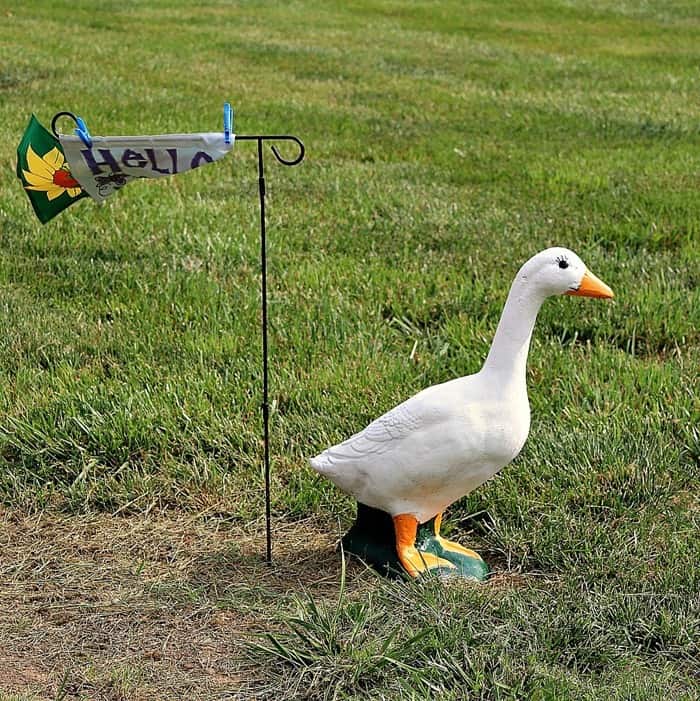 One of the stories my neighbor told me was about when the Aliens landed in Hopkinsville, Kentucky in 1955. Now, that is right up the highway from us and where my favorite junk shop is. She started telling me that story and she had me in stitches. I just had to Google it after that and sure enough, the story she told me is true. You can read the alien story here….  'Little Green Men'.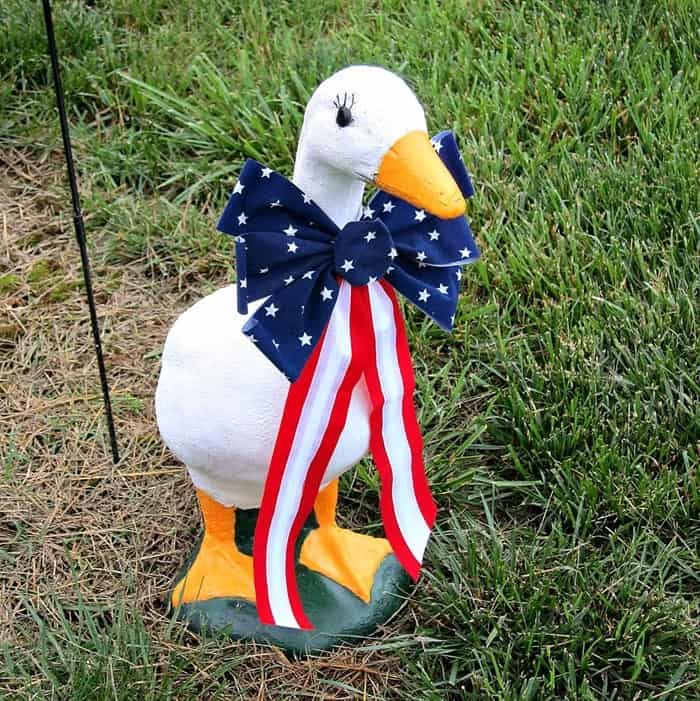 Concrete Goose Statue with Patriotic Bow Tie
I took this photo a couple of days after we returned the goose to it's home. You can see it has a patriotic bow now. I was checking to see if the paint was holding up after a couple of days of rain. So far so good.
Did you know you can paint concrete statues with watercolors?? See this post here…Surprising Concrete Cactus Makeover Using Watercolors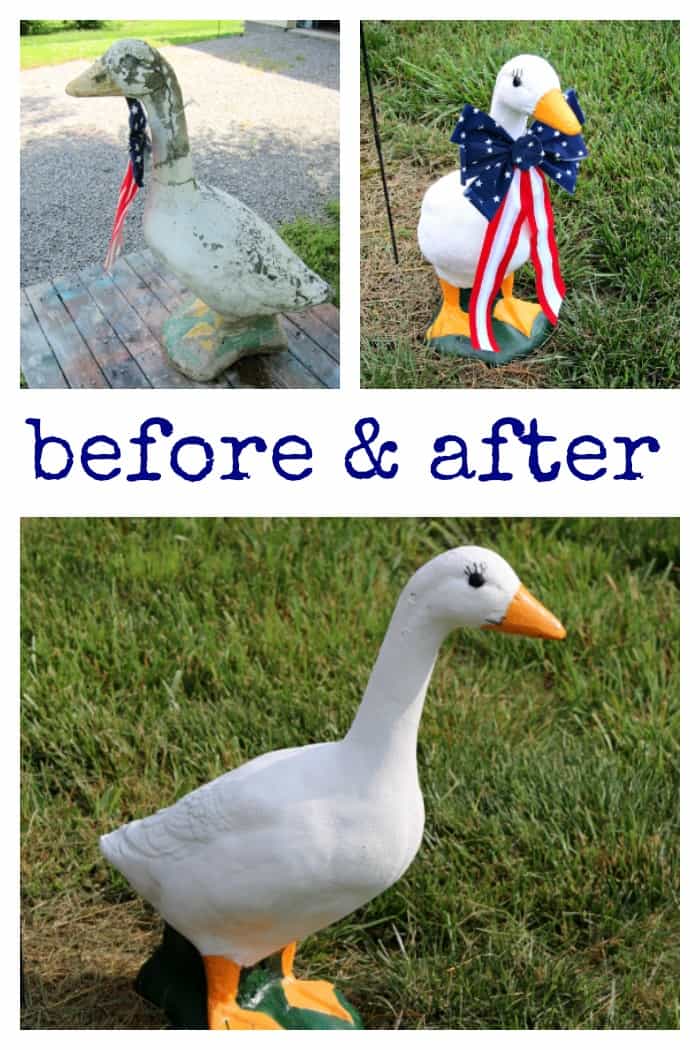 That's my goose story. Hope you guys have a great day and thanks for being here, Kathy