I'm going to show you how easy it is to paint with watercolor paints. I finished my first project with the watercolors and it is amazing if I do say so myself.
Can I get a standing ovation? My pretty watercolor ocean scene was the easiest project ever and completed in about 30 minutes. I even made a video.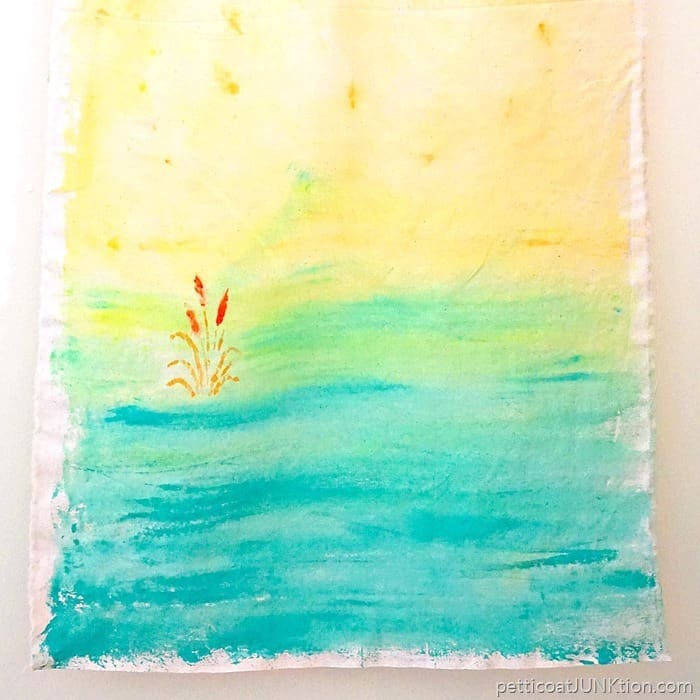 How To Paint With Watercolor Paints
Supplies: muslin or other fabric and Martha Stewart® Soft Gel Watercolor Acrylic Paints, Watercolor Brushes, and Adhesive Stencils.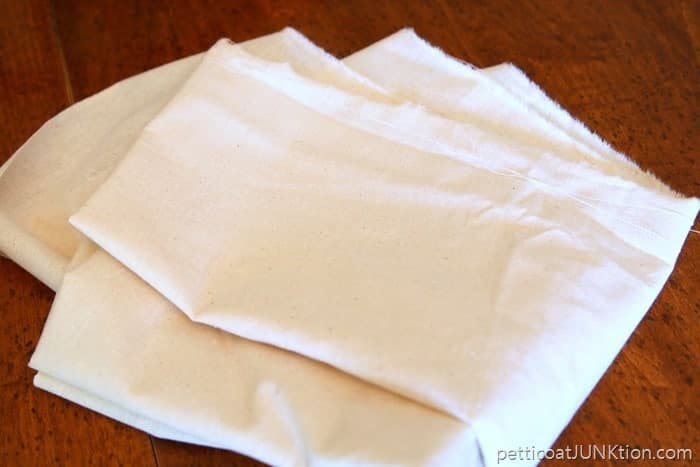 I used muslin for this project, mainly because it's what I had on hand. I think a piece of drop cloth would work great too.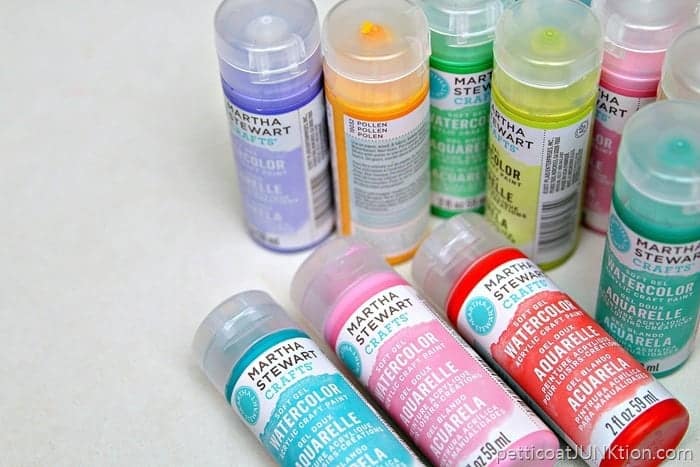 There is a large selection of Watercolors and I didn't know which ones I might use. The colors can be blended to make custom colors plus you can make varying shades or tones of the same color by diluting with water.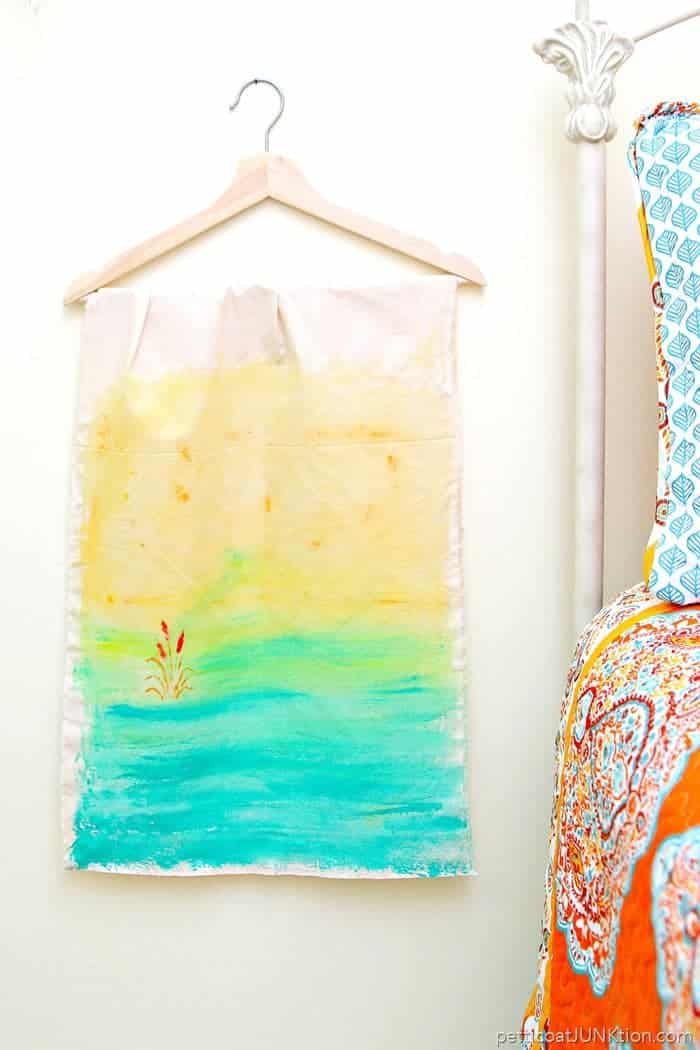 The finished project is hanging in the "Granddaughters Bedroom". Sofi loves colorful things. Just like her grandmother.
I hung the paint project from a plain wooden hanger and low on the bedroom wall where Sofi can admire it.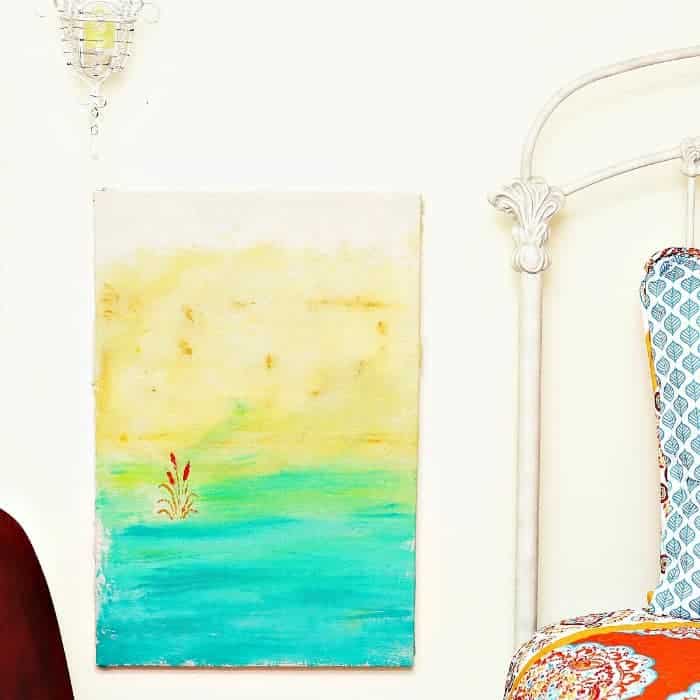 update to project - I stapled my masterpiece to a white canvas. So pretty!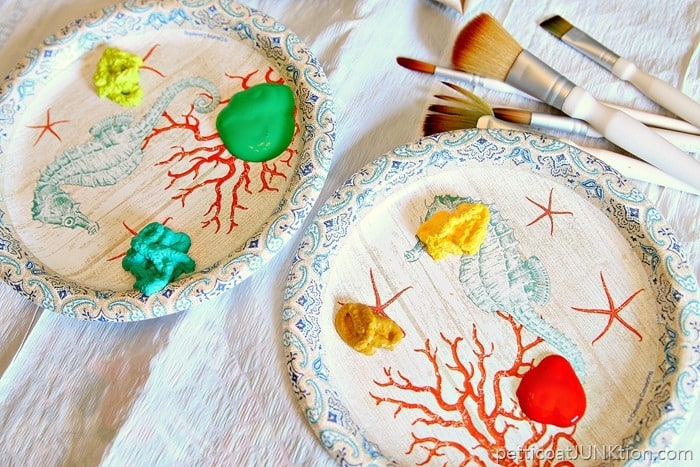 pretty watercolor paints
Let's get on with the project. It only takes a bit of paint. Pour a small amount of the watercolors onto paper plates and grab a few watercolor brushes.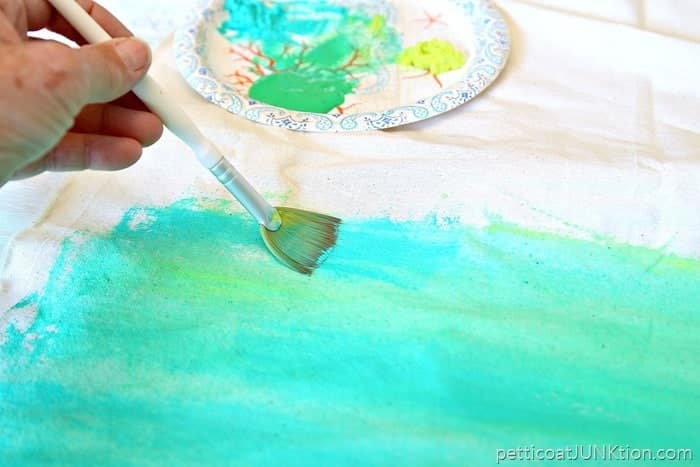 I started at the bottom of the muslin with blue for the ocean. As I said watercolor paints are new to me so I'm just wingin' this whole thing.
I brushed on the paint then dipped my brush in water to help spread the paint. The muslin was pretty damp when I finished up the project.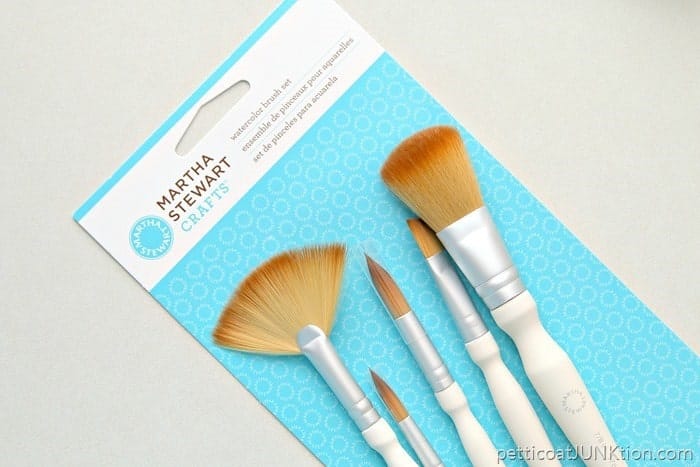 The watercolor brushes are wonderful. I really like that fan brush.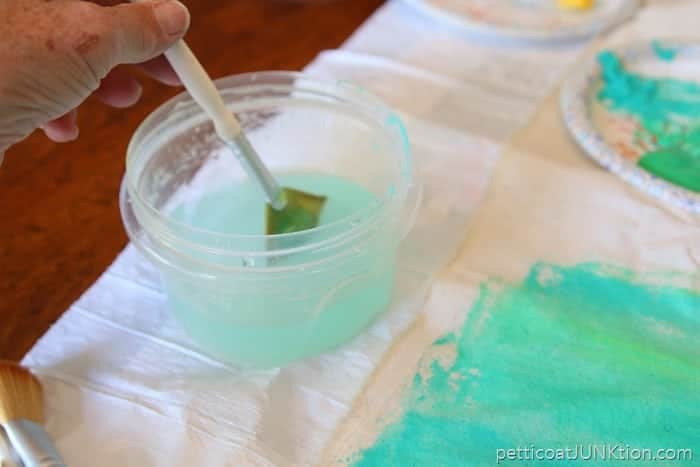 Keep the water bowl handy. It doesn't matter about mixing the paints in the water. Use the same water for all.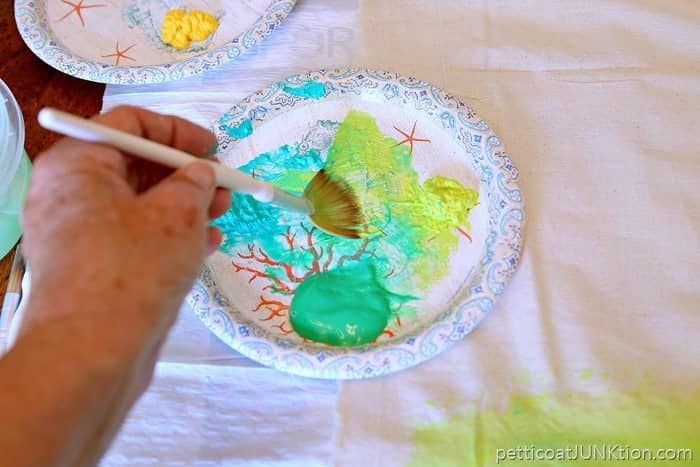 Along with blending the paints while brushing them on the muslin I mixed a few together before painting with them.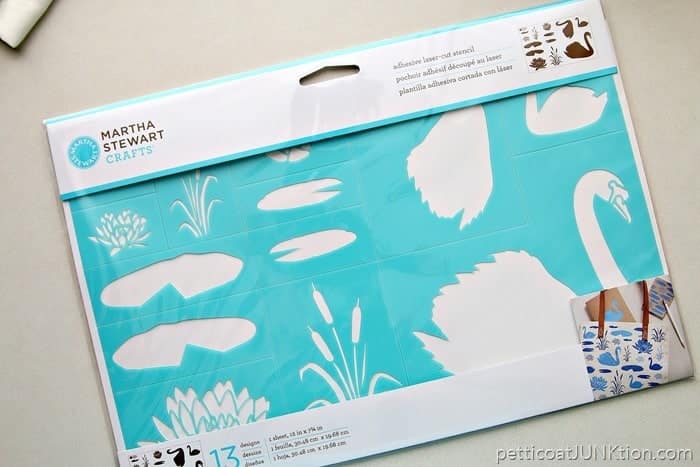 For the cute little cattail plant I used a Martha Stewart Adhesive Stencil. The watercolors tend to seep under regular stencils and the adhesive stencil works best.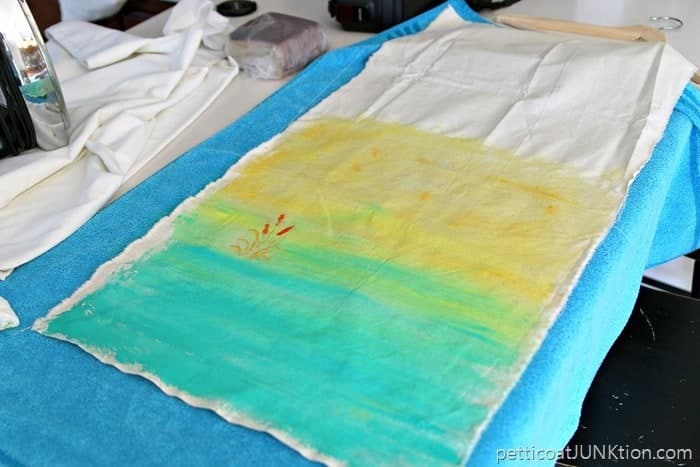 Once the project was finished I laid it out on a towel to dry. With my hurry up style I used a hair dryer to speed up the process. I can't help it. No patience.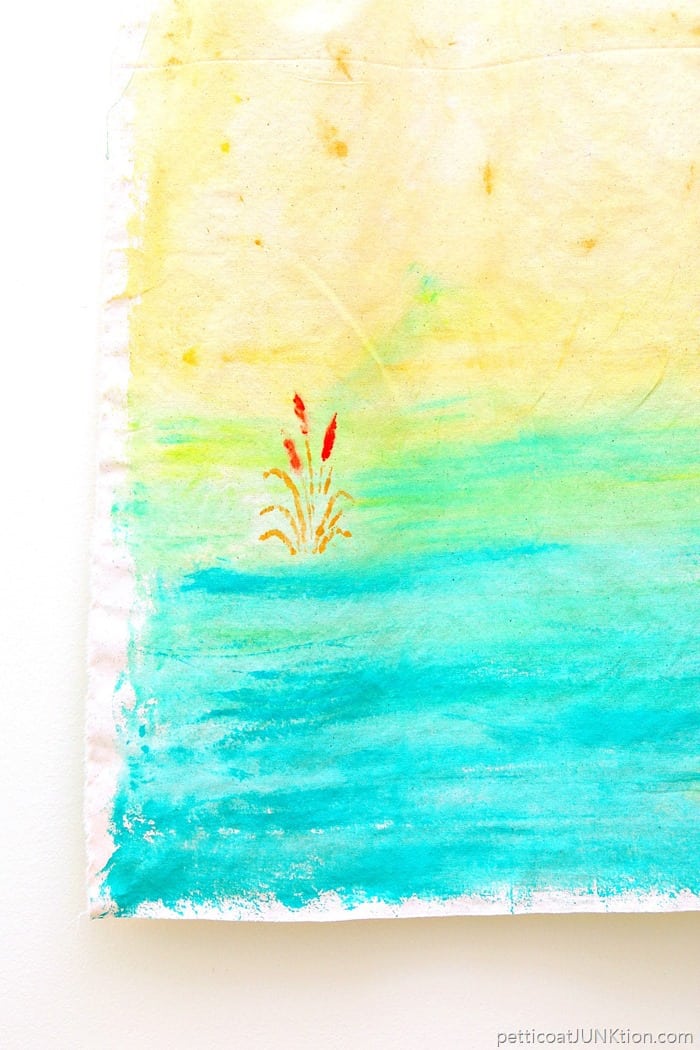 How perfect is that cattail. I t's perfectly imperfect. Patting myself on the back.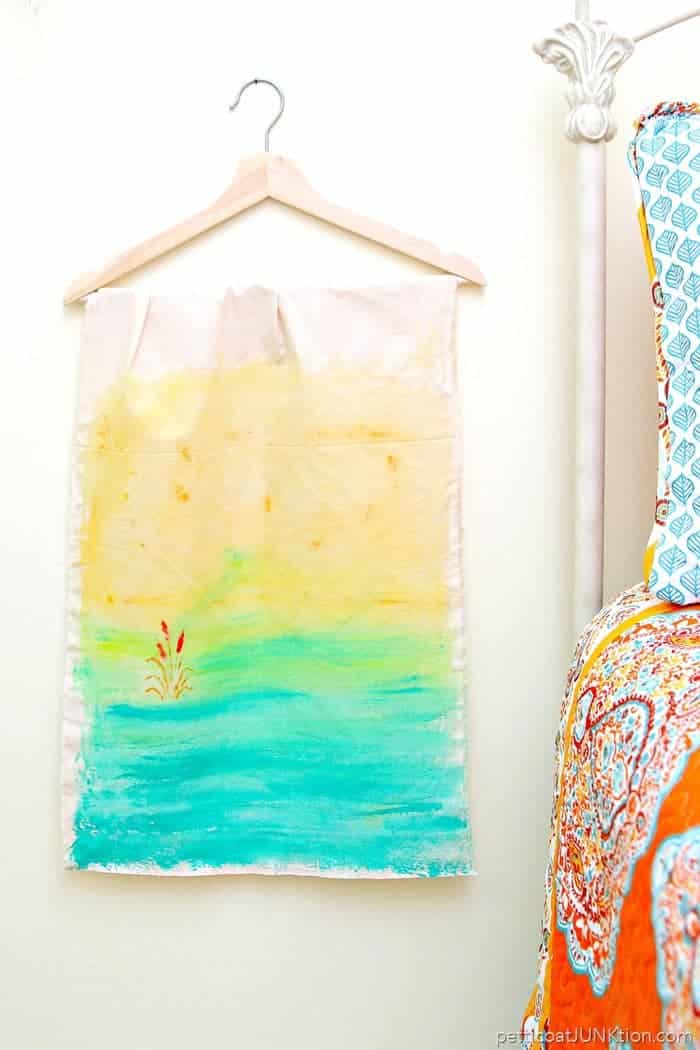 I hung my masterpiece from an unfinished wood hanger. I like the simple unstructured look. I may wrap the watercolor art around a blank framed canvas later for a more refined look.
Take a look at the video. It sure shows the process better than the photos do. Kathy in motion, lol.
How To Paint With Watercolor Paints Video
The Martha Stewart Watercolors are multi-surface (wood, papier mache, paper for notecards or watercolor art, canvas and fabric) and are gel formula. They also clean up with soap and water. Good for messy me.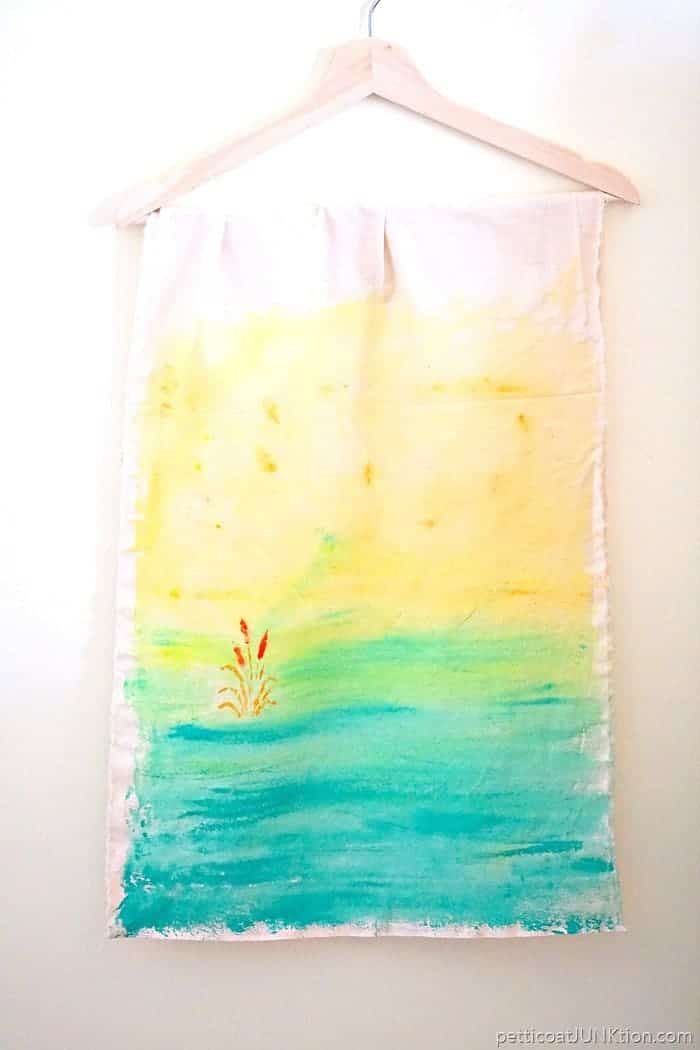 This project was super fun.
I'm excited about the new products from Martha Stewart like the Marbling Medium and the Home Décor Paint. I got to try out the marbling medium at Plaid Enterprises last month and fell in love.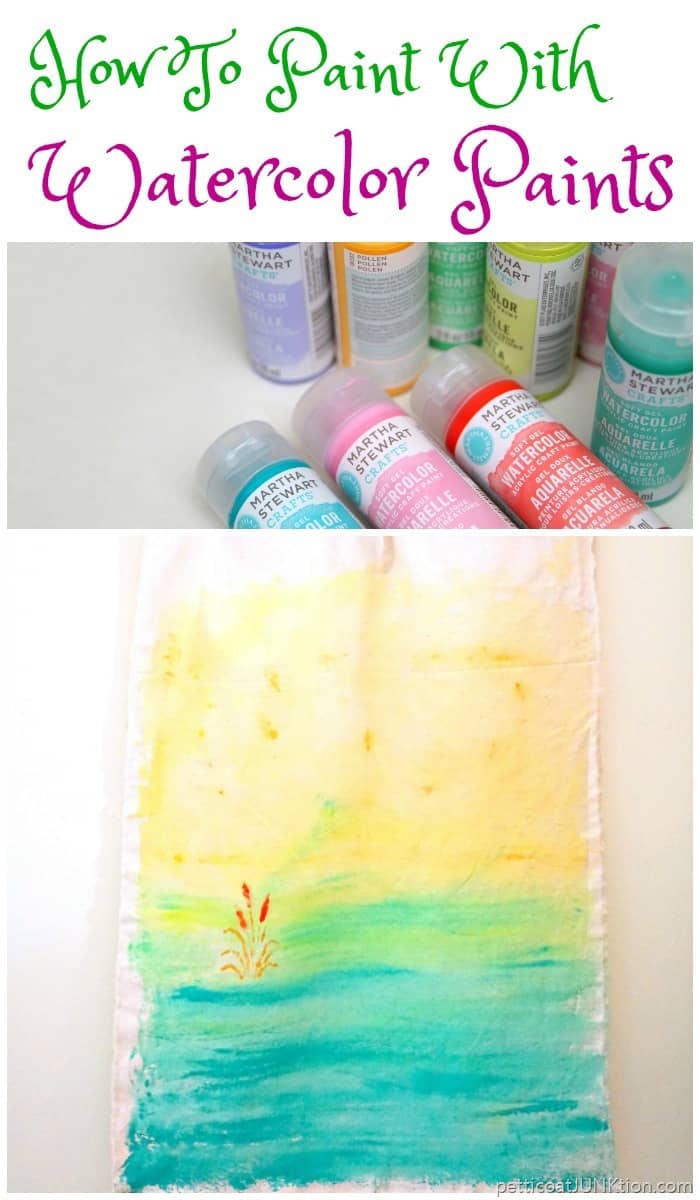 Disclosure: This post is sponsored by Plaid Crafts. All words, project ideas and photographs are 100% my own.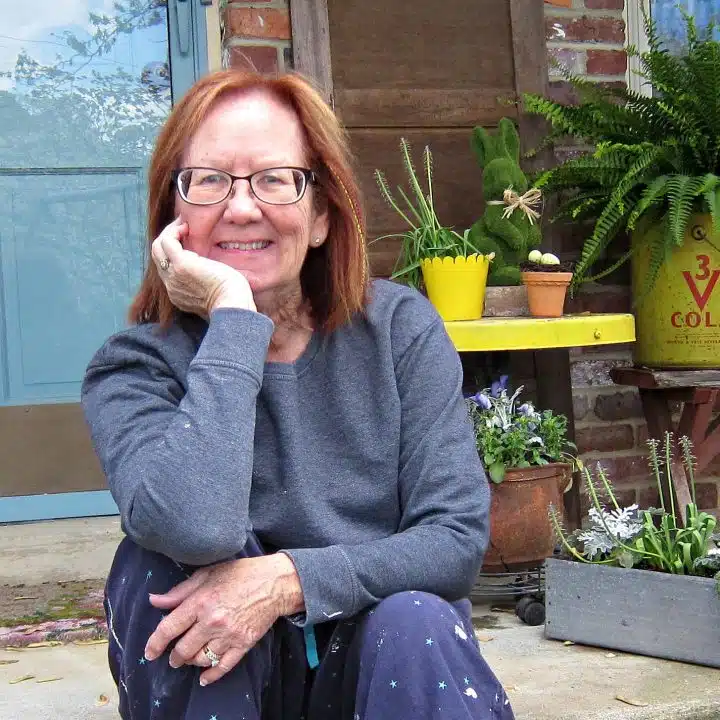 Author: Kathy Owen
Kathy Owen is the founder of the home decor blog Petticoat Junktion where she shares tutorials on painting furniture and upcycling thrifty finds into unique home décor. Her DIY projects have been featured on the Home Depot Blog, Plaid Crafts, Behr Designer Series, and in numerous magazines. Kathy's newest website is HappyHomeDIY.com