Paint Black And White Stripes For A Touch Of Sass
Hey Guys. Do you like black and white stripes? I do, especially when you pair them with red. I had this plain old wood box and I painted black and white stripes on it. Then I added wheels (casters). You wouldn't recognize it now.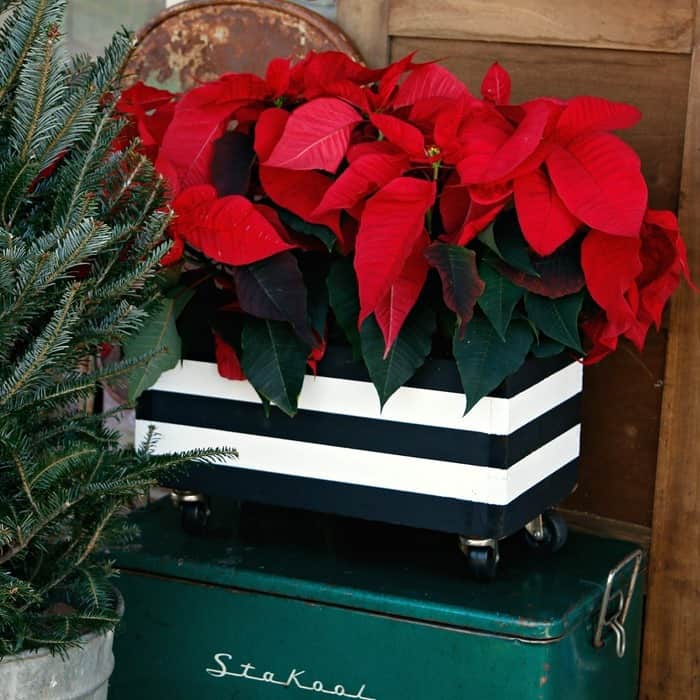 Black And White Stripes
I smile when I walk by the painted wood box. Can't help it. Those stripes are pretty darn classy. Adding the red poinsettias to the box was genius (insert Kathy smiley face).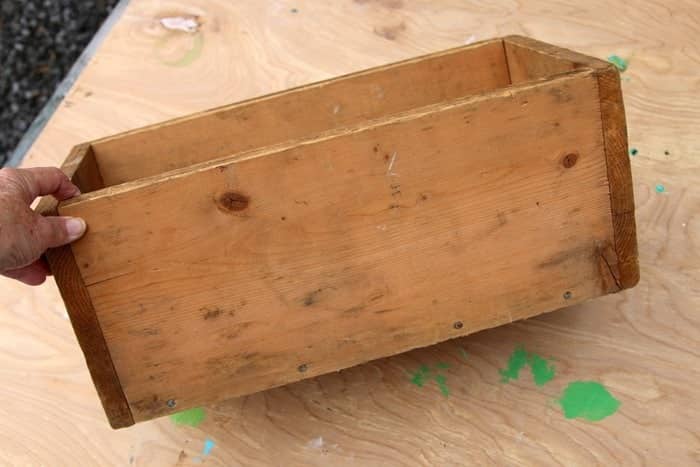 I bought the wood box at my favorite junk shop a few months ago. Been waiting on inspiration. I've always planned to put casters on it but didn't have a paint plan. Now I do.
This is a sponsored post written by me on behalf of Plaid. All opinions are entirely my own. This post contains affiliate links.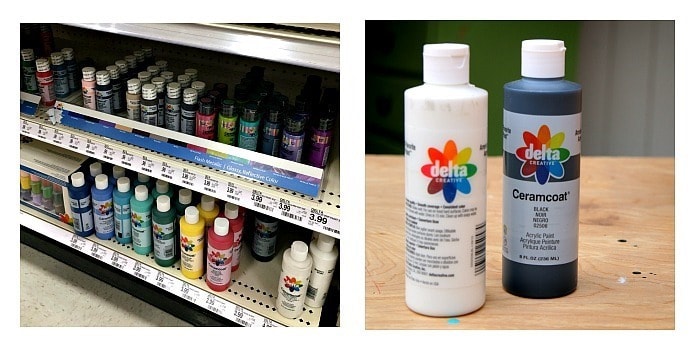 I bought two bottles of Delta Ceramcoat® Acrylic Paint at Target, Black and White. Can't get more basic than that. I like this paint because the coverage is great. Dries fast too and you guys know all about me and my patience. No one wants to watch paint dry. I also like the matte finish and that I can clean up any mess with soap and water. Yay! Let's get painting….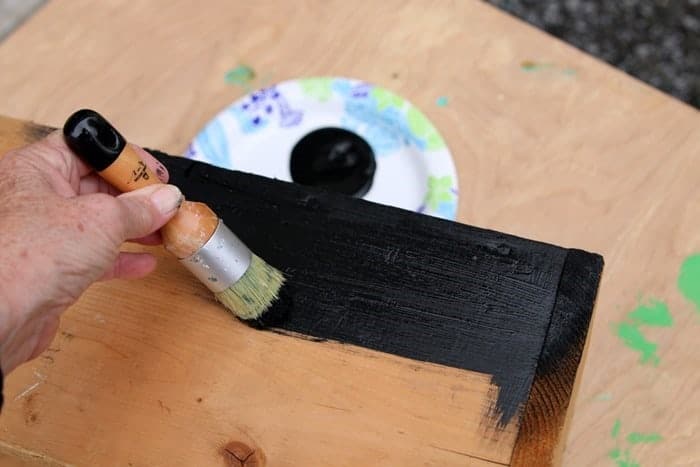 I find it's easier to load my brush  if I pour a bit of paint on a paper plate. Tip: A piece of cardboard box top works great too. I applied one coat of black paint to the wood. That's it. The paint is shiny when wet but dries to a flat/matte finish.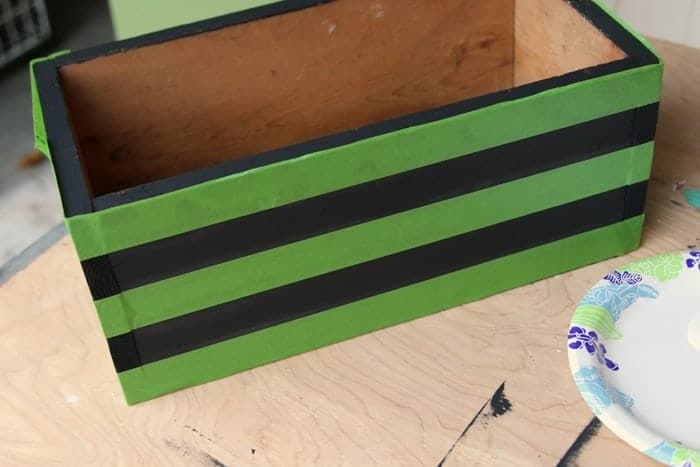 Painters Tape For Stripes
I waited a couple of hours for the black paint to dry then taped off stripes using painters tape. Next I applied one piece of tape at the bottom of the wood box so there would be one black stripe to start. Then I used the width of the tape to measure the distance between stripes and to line up the next row of painters tape….and so on. I like to do things the easy way, no exacting measurements with a tape measure. TIP: Seal the edges of the tape tightly by running your thumb or plastic card ( example-credit card or similar) over the edges of the tape several times.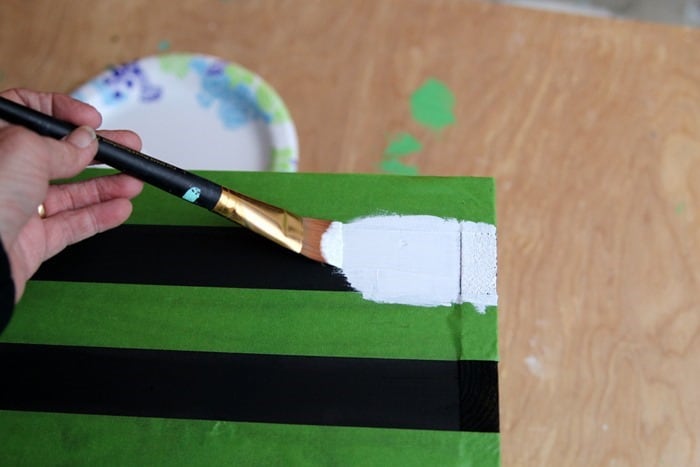 I used a smaller paint brush to paint the white stripes. I applied two coats of white paint to totally cover the black paint. Don't overload your brush with paint. It doesn't take much.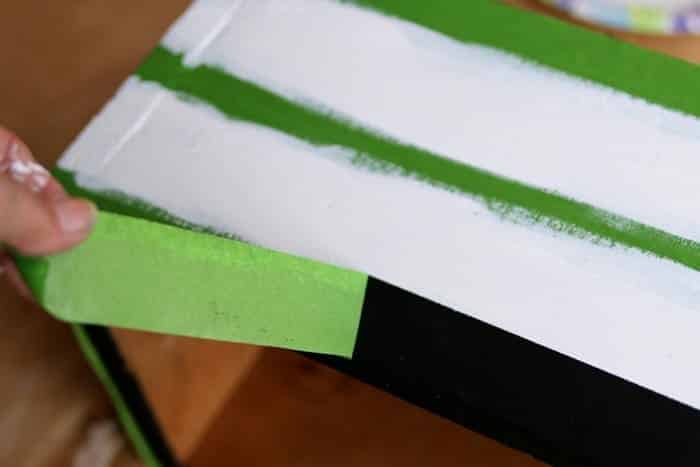 This is important…….only wait a few minutes after applying the second coat of white paint before removing the painter's tape. If you wait until the paint dries you will probably pull off some of the white paint. Voice of experience.
Do you see how precise those stripes are? No paint seepage under the tape. The acrylic paint is creamy and not too thin so it doesn't run everywhere.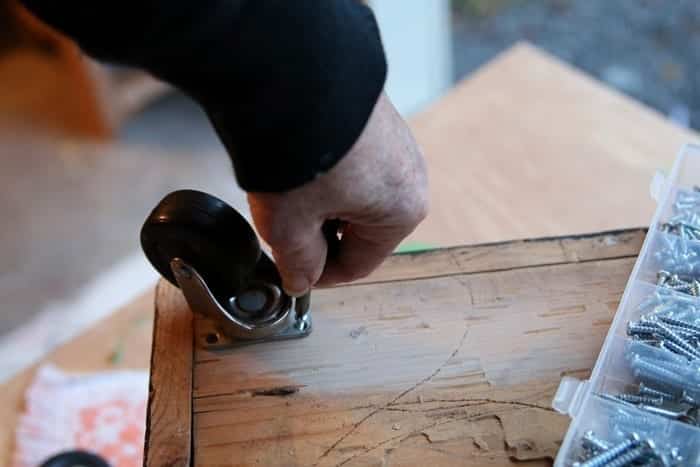 Adding Wheels To The Box
I waited overnight for the paint to cure then added 4 casters I found in my junk stash. Just happened to have 4 the perfect size. The bottom of the wood box had some damage but I didn't have any problems attaching the wheels.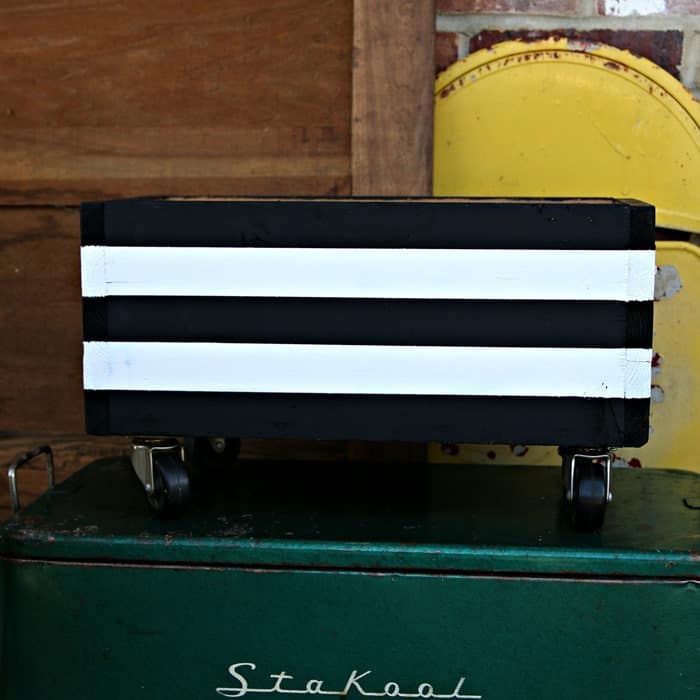 I have to say I'm doing the happy dance. The black and white stripes are classic! Now for the finishing touch.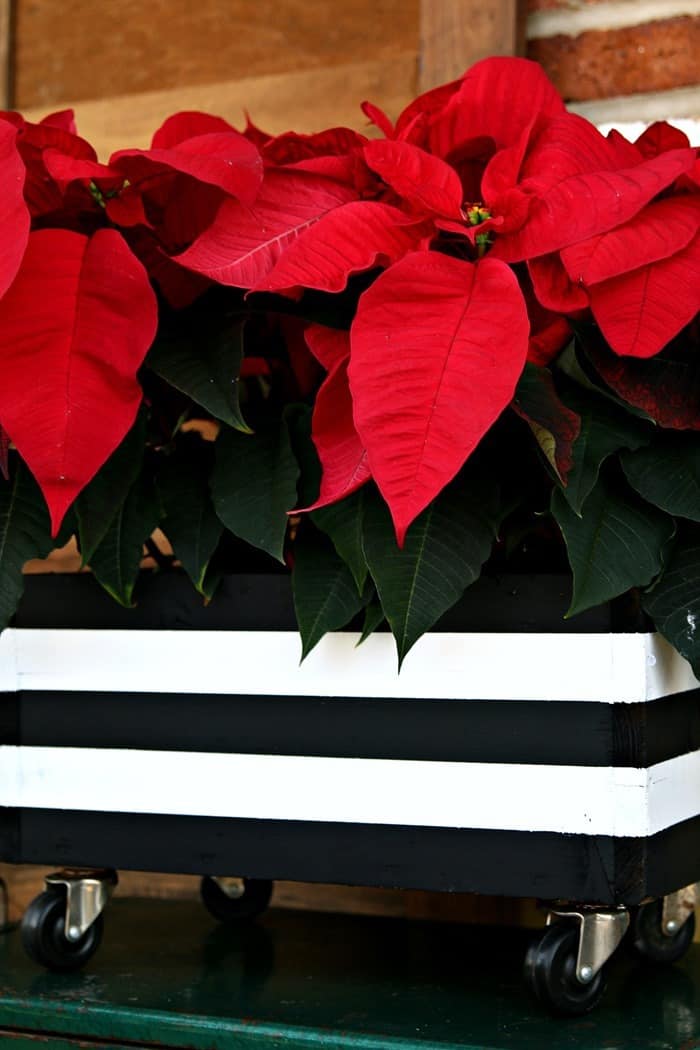 Red poinsettias for drama. It IS the Christmas season. Red is the perfect compliment to the black and white.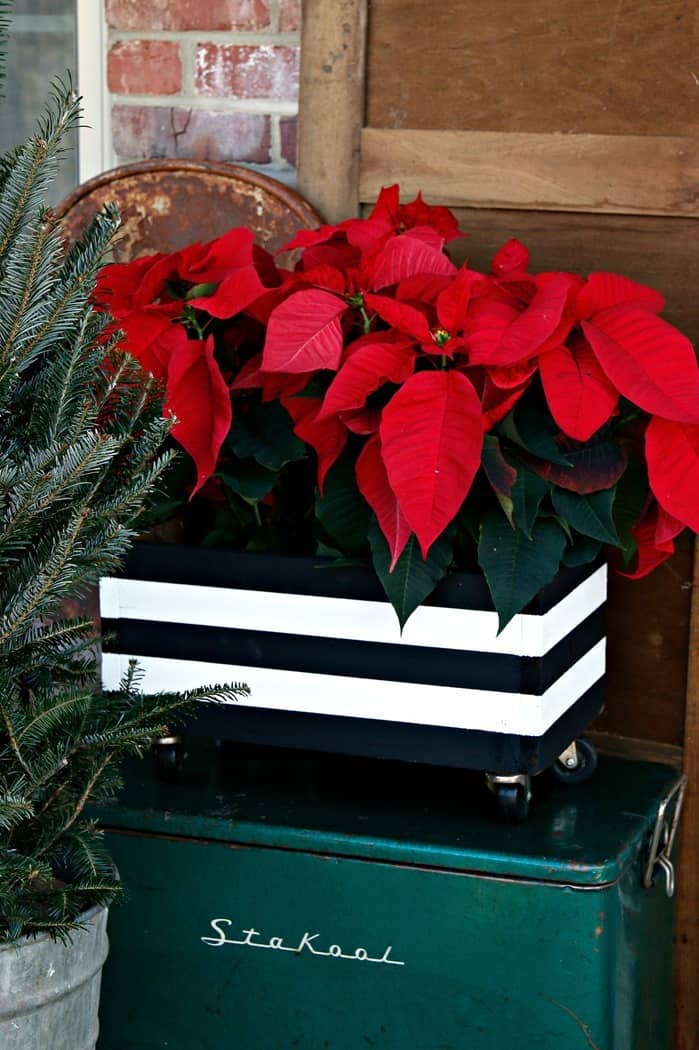 The box on casters is decorating the front porch along with my vintage décor and fresh greenery.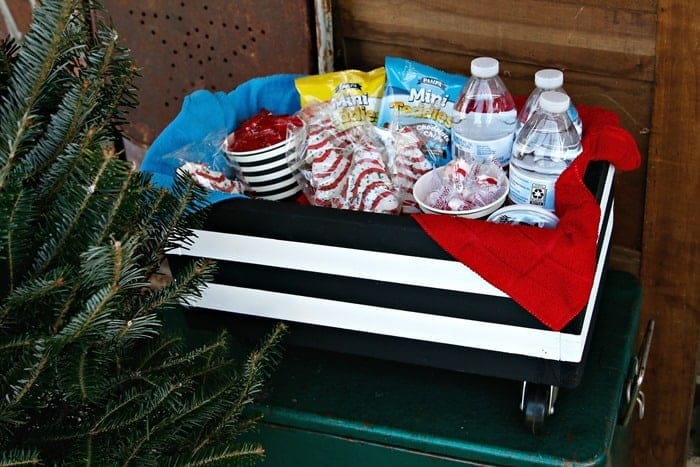 Wood Box With Black and White Stripes
The painted wood box is a great multi-purpose piece. I loaded it with goodies for the delivery guys….or friends who stop by to visit. After the holidays I can see the striped box holding cookbooks, Spring plants, snacks for the grandkids, etc. Got any ideas for me?

How To Paint Black And White Stripes On Wood
What do you guys think of the stripes? Ready to paint something? Find Delta Ceramcoat® Acrylic Paint in 22 colors and six new Flash Metallic colors at Target in the craft aisle or at Target.com.
Follow Plaid on Facebook , Instagram, YouTube, and Pinterest for the latest ideas and trends.
As always thanks for being here and have a great day, Kathy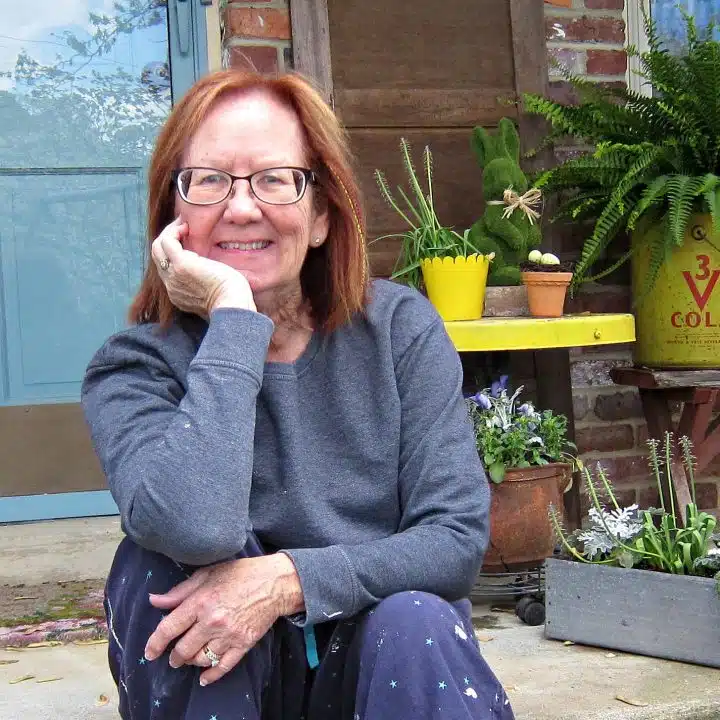 Author: Kathy Owen
Kathy Owen is the founder of the home decor blog Petticoat Junktion where she shares tutorials on painting furniture and upcycling thrifty finds into unique home décor. Her DIY projects have been featured on the Home Depot Blog, Plaid Crafts, Behr Designer Series, and in numerous magazines. Kathy's newest website is HappyHomeDIY.com