Organize With Painted Wood Crates
I have a thing for painted wood crates. They come in handy for all kinds of things. I use them to store junk, as flower displays, to hold guest towels, and more, and more.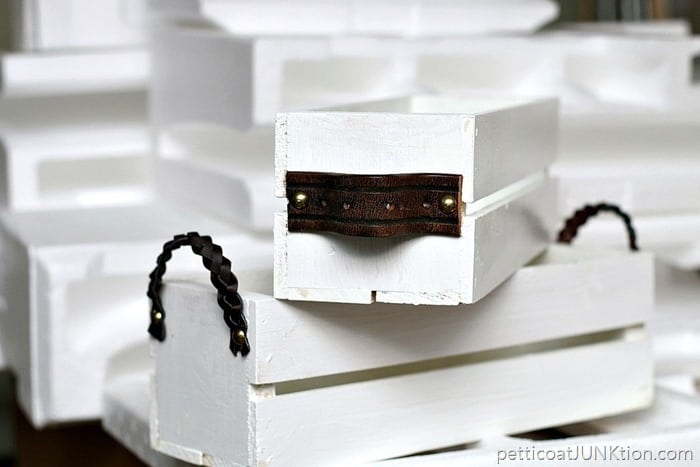 White Painted Wood Crates With Belt Handles
The two crates have been hanging out in our bathroom holding towels and personal stuff. I recently redecorated the bathroom and replaced the crates with sewing machine drawers.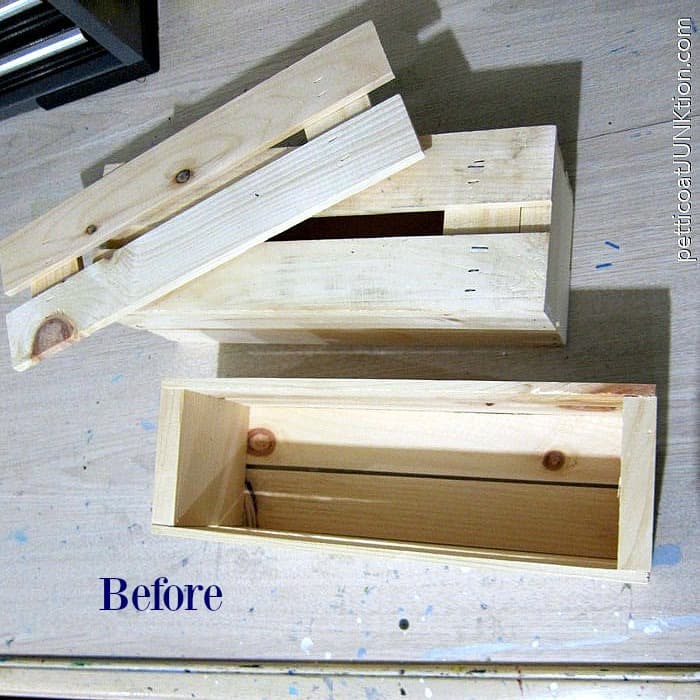 The crates are actually wine crates and they come with a lid. I haven't used the lids for anything yet but I bet they would make a cool sign of some kind.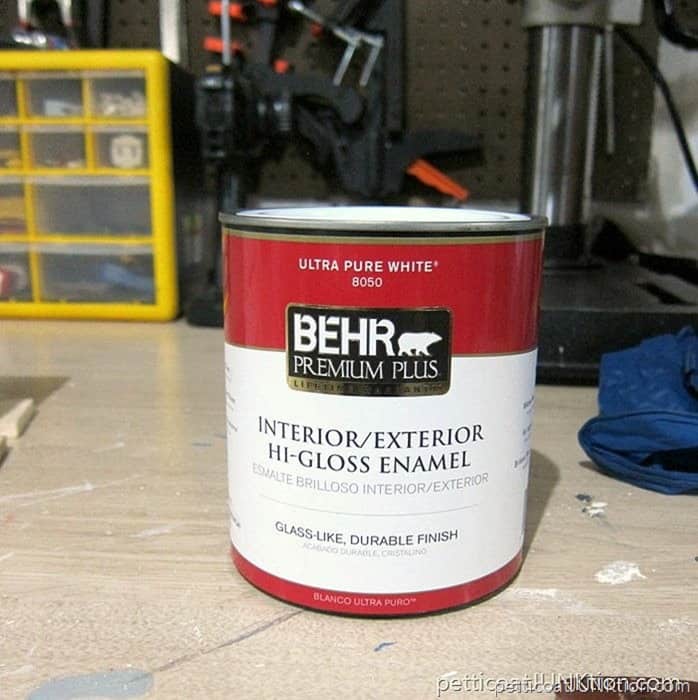 I painted the crates with Behr hi-gloss enamel. It's what I had on hand. Any white paint….or other color would do. Painting one crate takes about 10 minutes. Usually one coat of paint does the trick.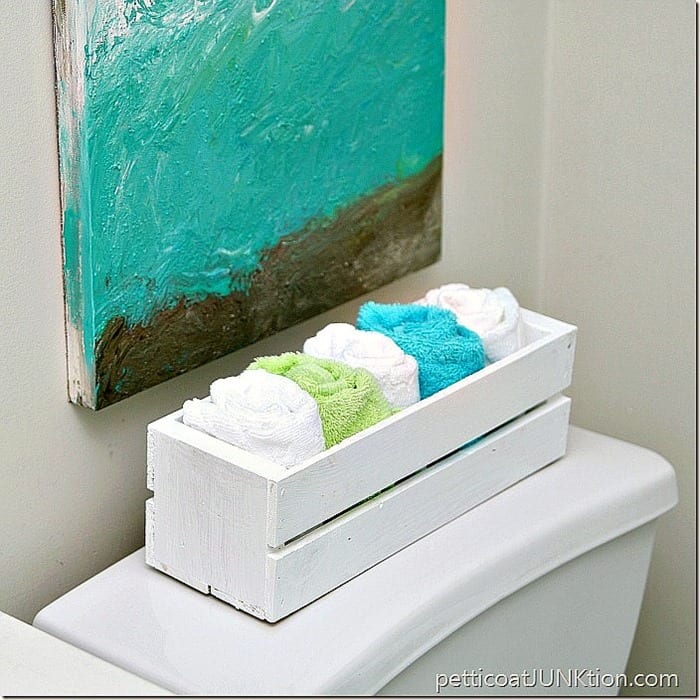 I put the crates in the bathroom last January and they looked and worked great.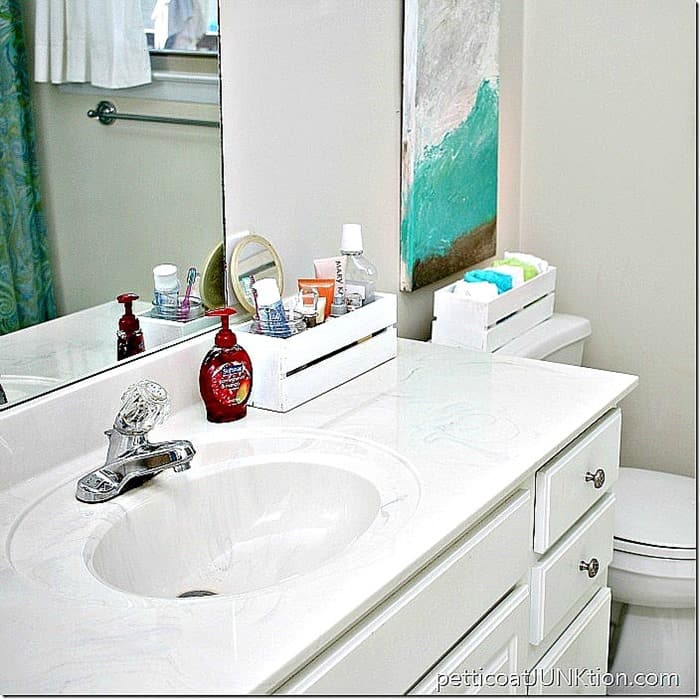 When I changed the bathroom décor a couple of weeks ago I took the crates to the workshop.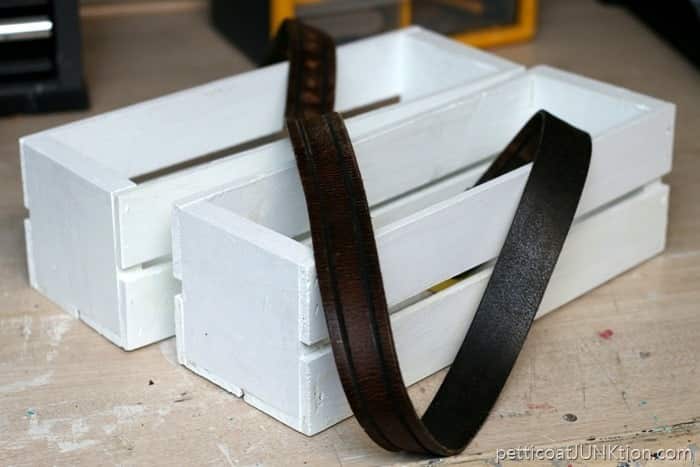 I added recycled belts as handles to a few large wood boxes last year and loved the look. So why not do the same with the crates.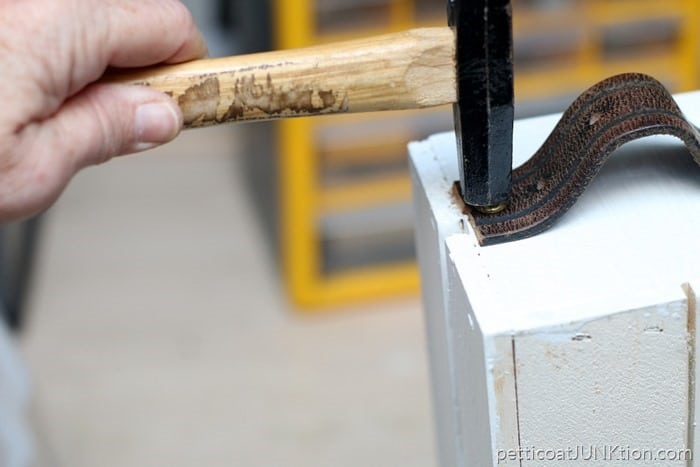 I used heavy duty scissors and cut the belt to size. The crates aren't heavy so I used upholstery tacks to attach the belt handle to the crate.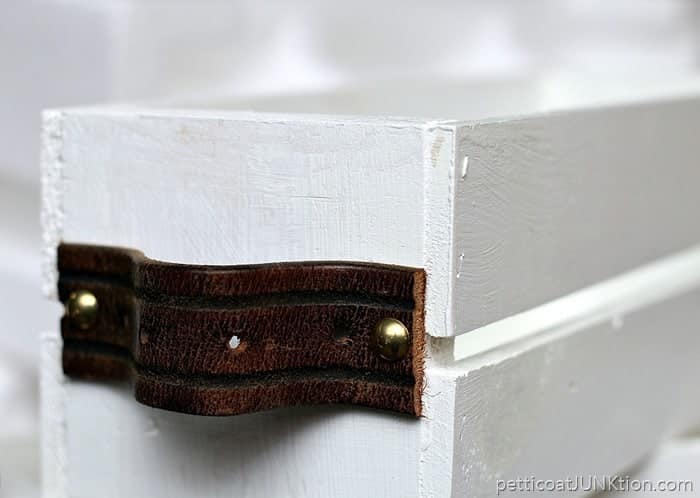 How sharp looking is that.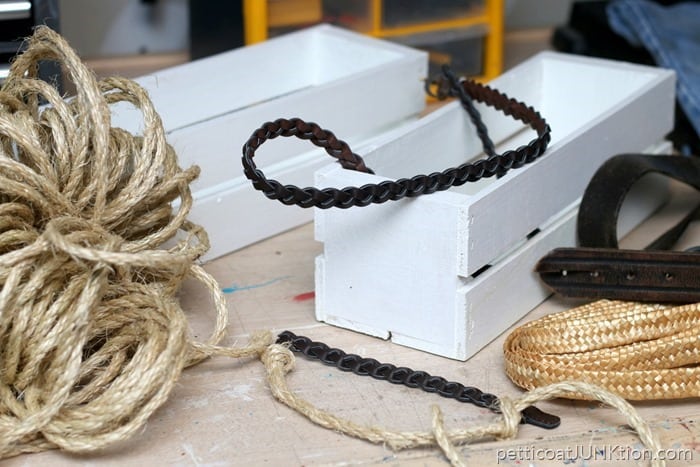 For the second crate I pulled out all sorts of stuff and decided to go with the skinny belt for handles.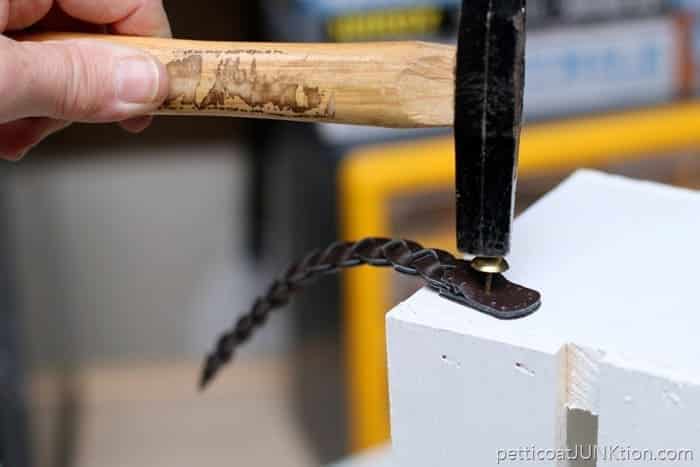 I used the same type tacks but made the handles stand up instead of stand out from the side of the box. I know. Hard to understand. The next pictures will show you what I can't explain very well.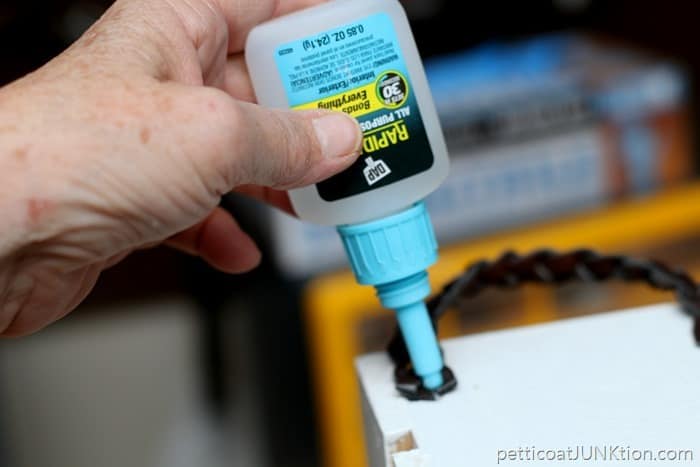 The woven belt needed a little DAP RapidFuse to adhere the loose strands to each other.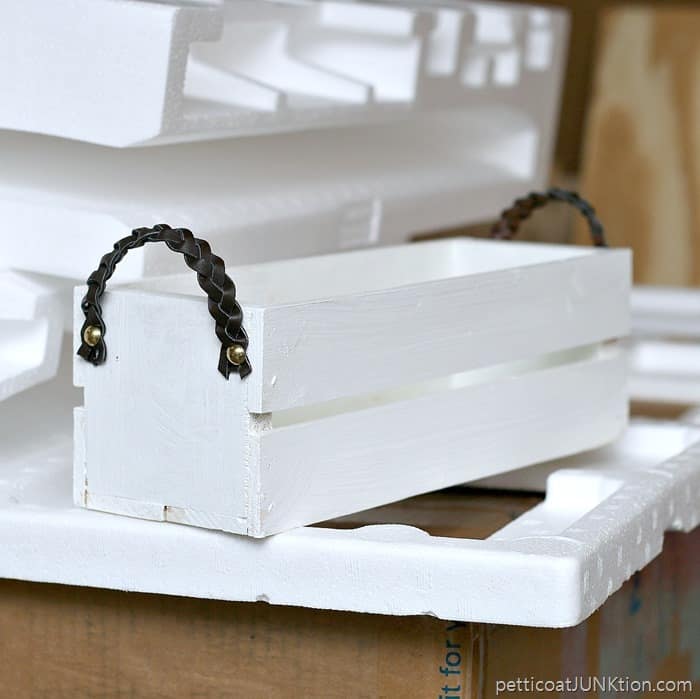 See what I mean about the handles standing up.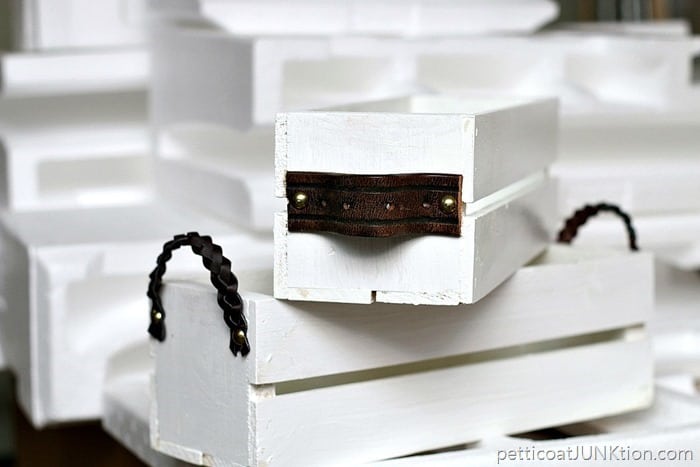 All done. Do you like the painted wood crates? What about the handles. They do look cool, right?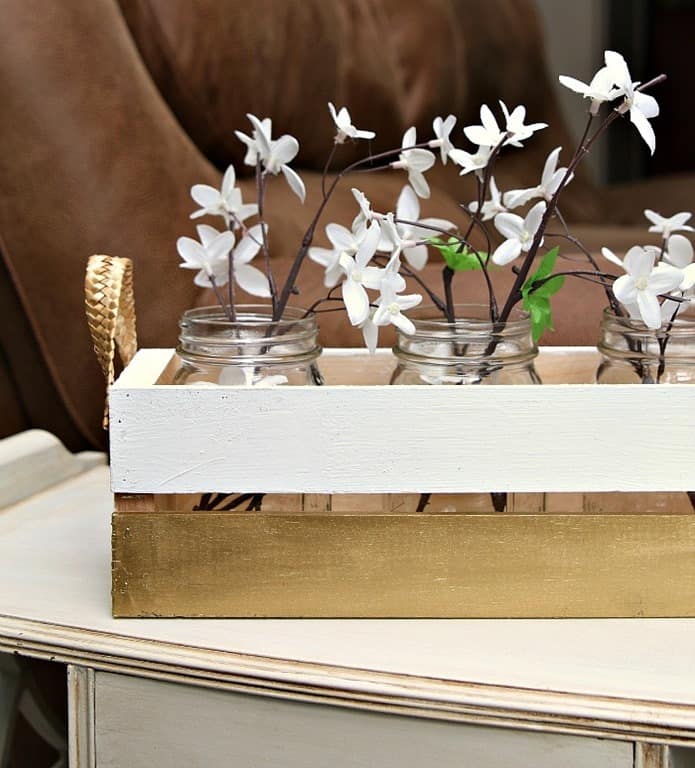 The metallic gold and white crate  (click here for makeover)is an earlier DIY. You can see I used different handles for this crate. The ideas and uses for the crates are endless. How would you use them and what color would you paint them. What would you use for handles.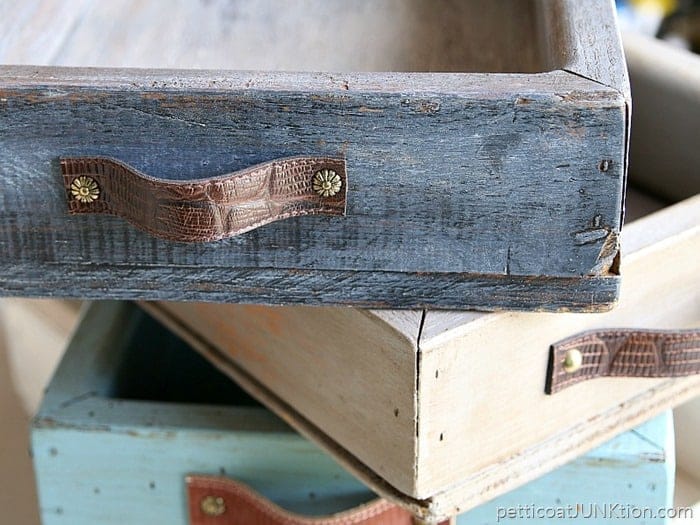 These are the large wood boxes where I first used recycled belts for handles. The special paint techniques on the boxes are easy to do. To get the details on the techniques just click the photo.
Sunday is the craft supply giveaway. I'm going to have one every month and a few of my friends will be joining me. Be sure and check the post on Sunday. Have a great weekend!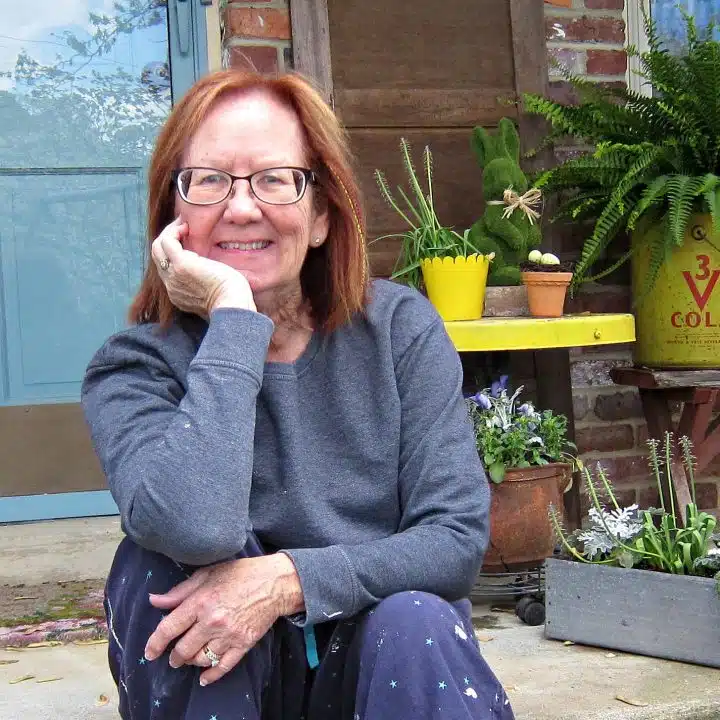 Author: Kathy Owen
Kathy Owen is the founder of the home decor blog Petticoat Junktion where she shares tutorials on painting furniture and upcycling thrifty finds into unique home décor. Her DIY projects have been featured on the Home Depot Blog, Plaid Crafts, Behr Designer Series, and in numerous magazines. Kathy's newest website is HappyHomeDIY.com