There is more than one way to make paint look old. I'm going to show you four ways to do just that today. These special paint techniques to age, antique, or make paint look old are super easy.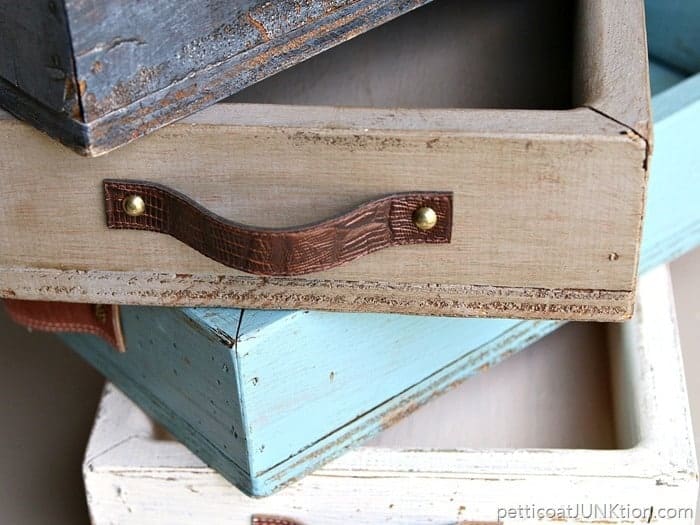 I painted these four wood trays using four different techniques to age the paint. Then I spruced them up with recycled belt handles. After looking at the paint techniques and all of the trays you'll have to let me know which is your favorite color and technique.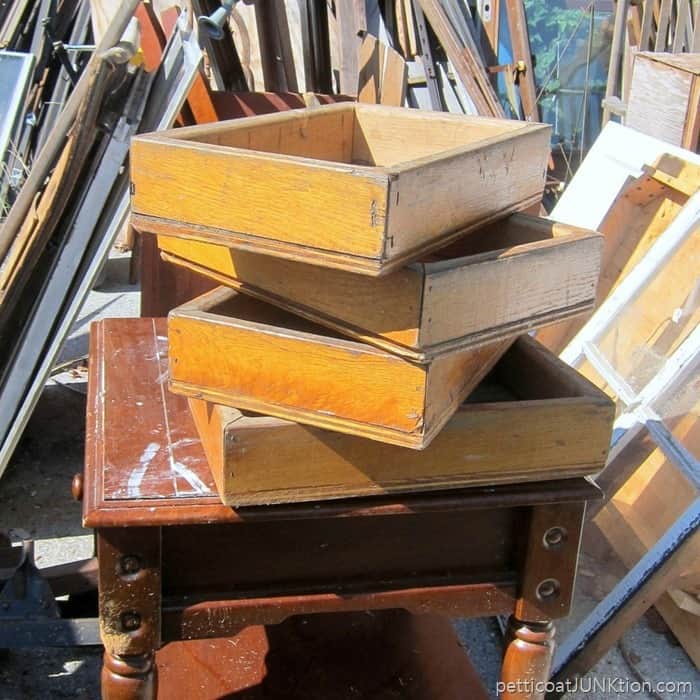 I found the four wood trays at my favorite junk shop. They were three dollars each. Can't beat that. Do the trays look heavy to you? They each weigh between 10 and 11 pounds. I know because I weighed them on my vintage kitchen scale!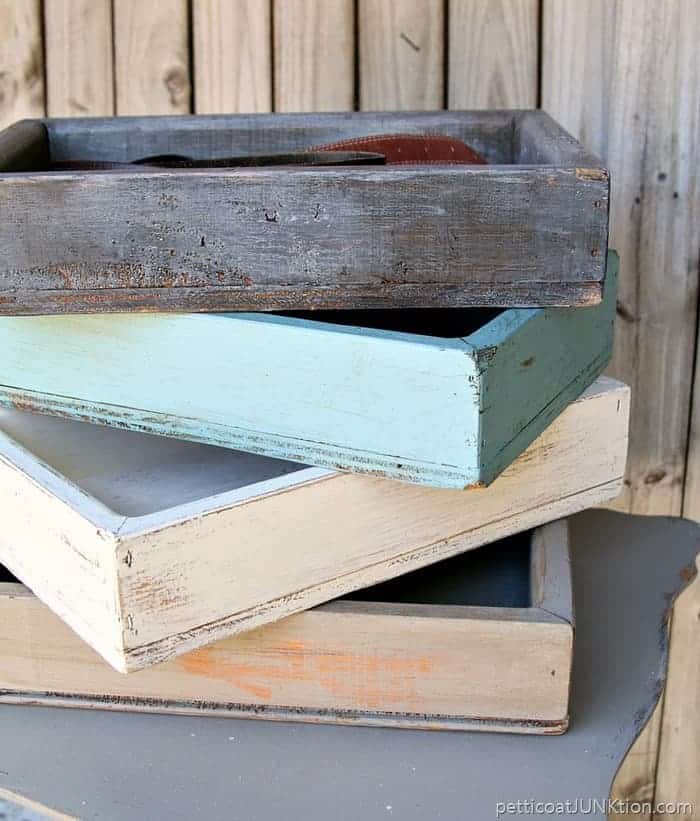 The day I painted the trays I felt like experimenting. I have days like that and sometimes things work out and sometimes they don't. This was a good day. I selected a popular paint color for each tray. Then I used various products on the trays to make each of them special.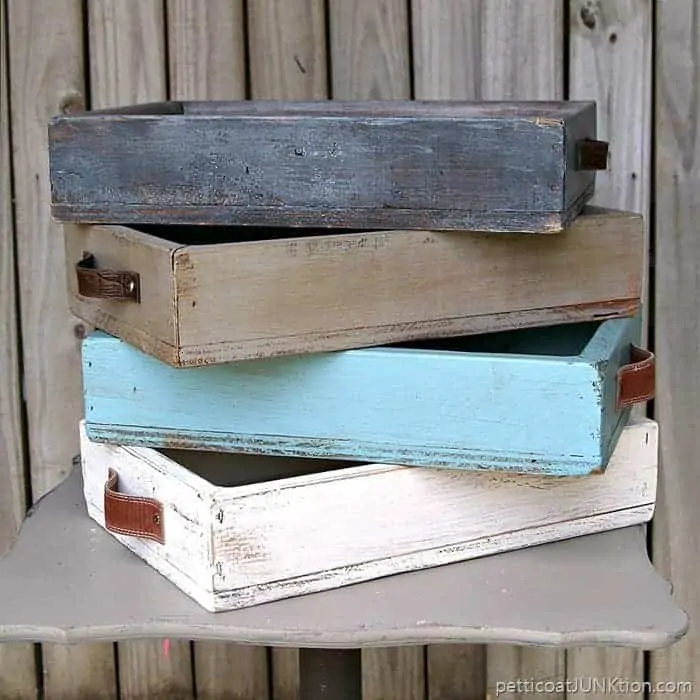 I like all of the trays but if I had to pick a favorite it would probably be the black one. I bought belts at the local thrift store for $1 to $2 each and I cut some of them up to make the unique handles. I saw this idea somewhere months or years ago and loved the look. While I was searching for drawer pulls for the trays I remembered the belt idea.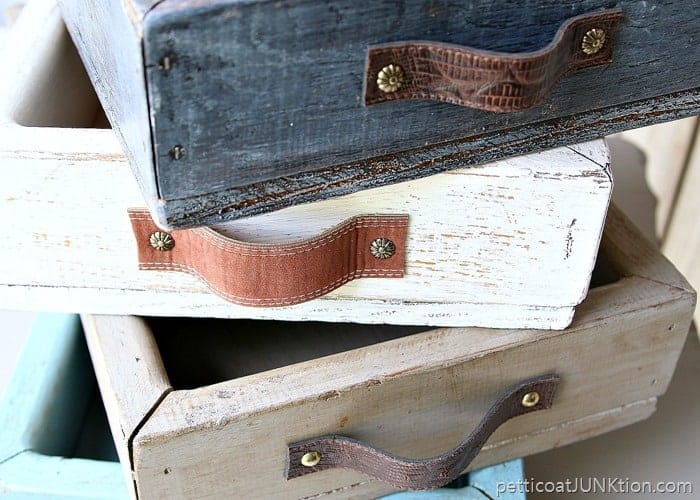 The belt handles could be nailed or screwed on but I used decorative tacks. This was easy and I had the tacks on hand. The handles are decorative and not functional. Now we're going to look at the paints I used and the products that make the paint look old.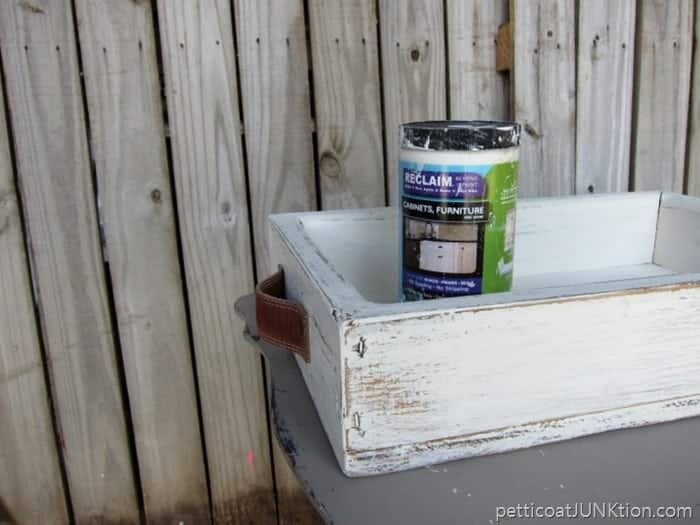 First technique. The white tray is painted with Beyond Paint in Off-White. This paint is great. It's an all in one primer, paint, and sealer. The paint is perfect for kitchen cabinets too.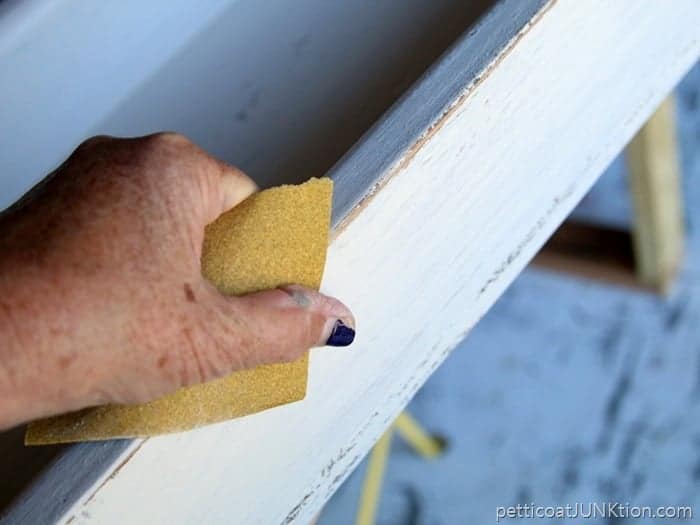 I applied two coats of paint then distressed the paint with 100 grit sandpaper and that was it. This is the simplest technique for making the paint look worn or old. Distress the paint as much or as little as you like. A clear wax can always be applied to add extra sheen or for protection.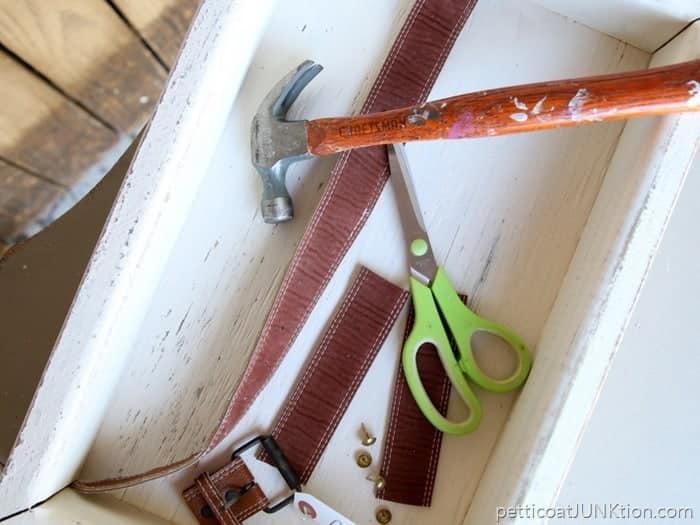 I cut up the thrift store belt to make handles. I actually used the reverse side of the belt because it had a softer finish. Not sure what the material is.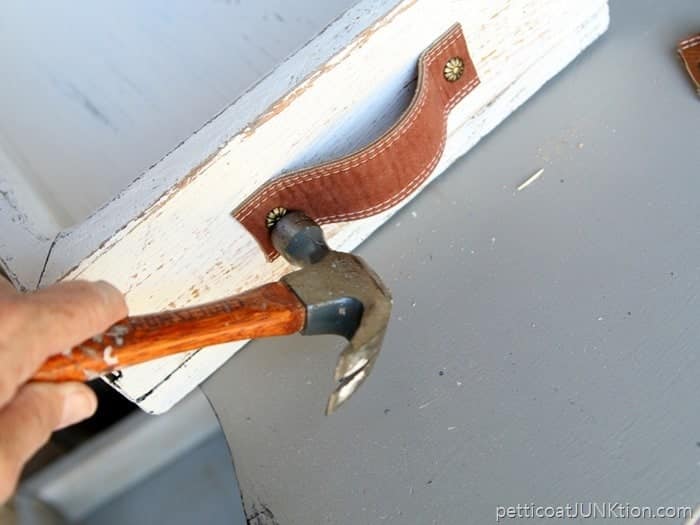 I nailed the belt pieces to the tray using upholstery tacks. As I mentioned before these are purely decorative and on the heavy wood boxes the belt handle would probably pull off if you tried lifting the tray by the handles.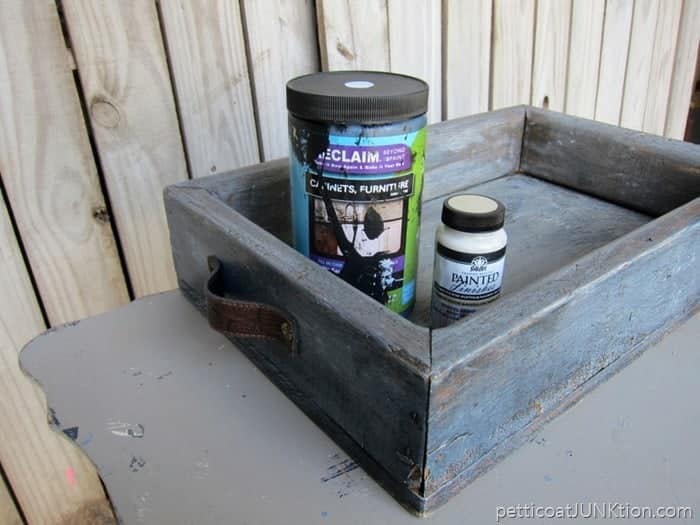 Second technique. The black tray is painted inside with brown latex paint and the outside is Beyond Paint in Licorice. The white finish is Barnwood Wax from FolkArt.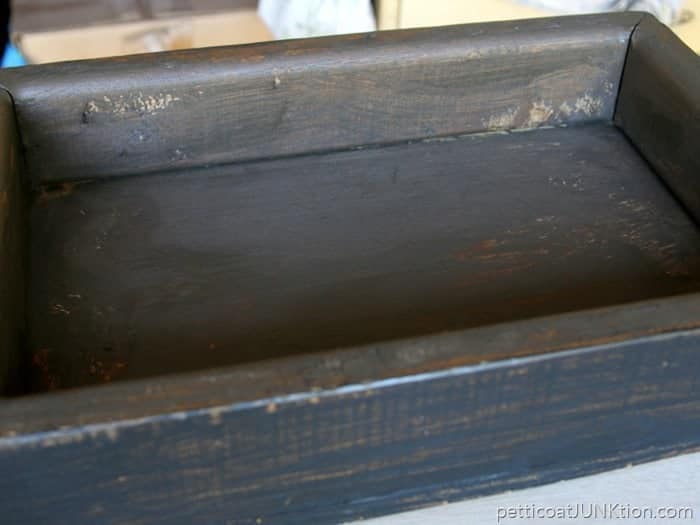 This tray is two colors because I started painting it brown then decided to go with black on the outside.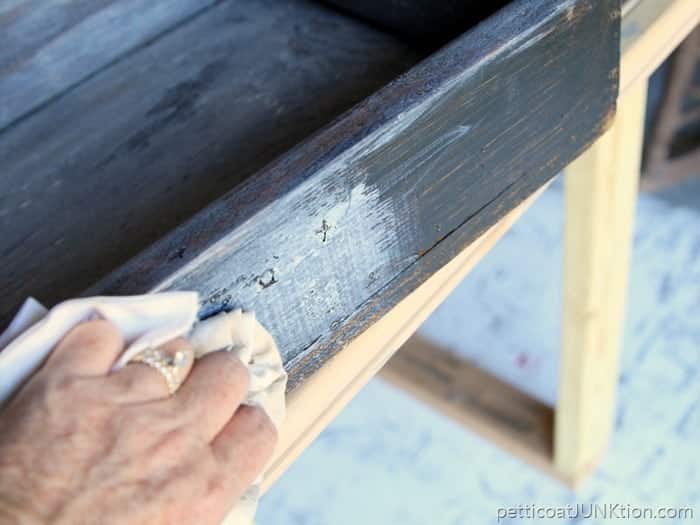 I applied the Barnwood Wax using a soft lint free cloth. I just rubbed the wax on and then rubbed off the excess until I got the look I wanted.
Same process as for the white wood tray above but a different belt. This one kind of has an alligator look.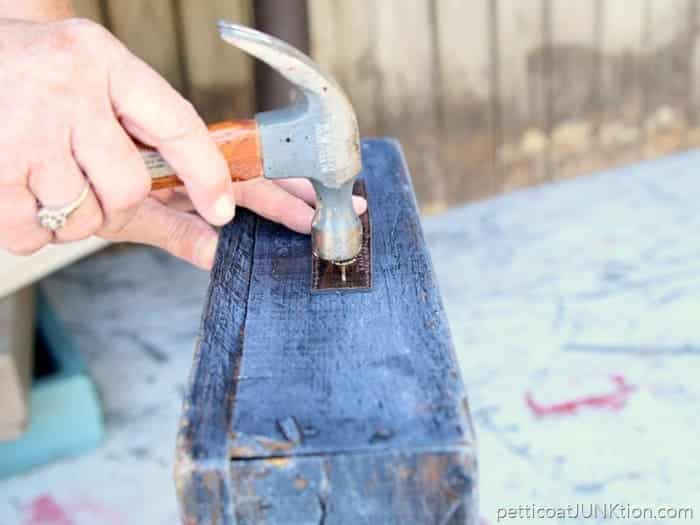 Tacked it on too. I've mentioned being lazy and you can see I go the easy route.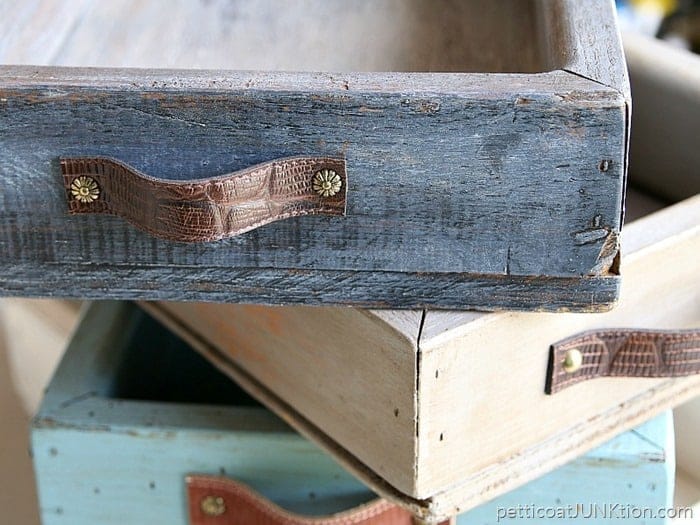 How pretty is that. All of the belts I bought were faux leather but they still look good. The day I went to the thrift store I couldn't find any belts made of real leather. They probably go pretty fast.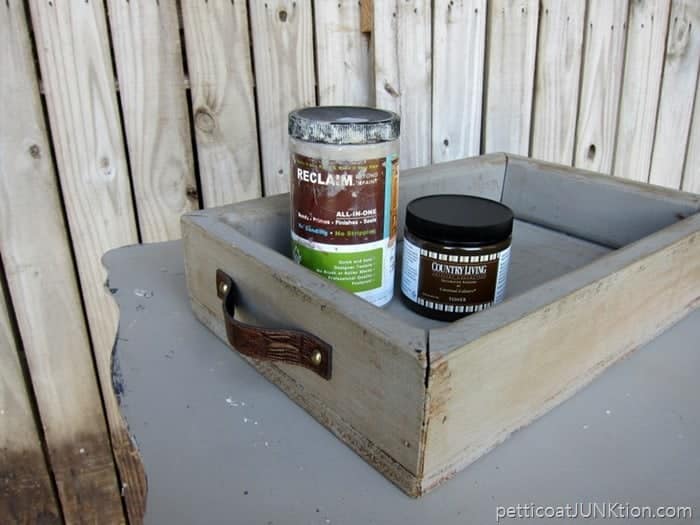 Third technique. The brownish tray is painted with Beyond Paint in Pebble. The Pebble is a neutral color but it has a little pizazz too. This is one of my favorite colors. Caromal Colours Toner gives the tray an antiqued or aged look. I use this product on painted furniture all the time.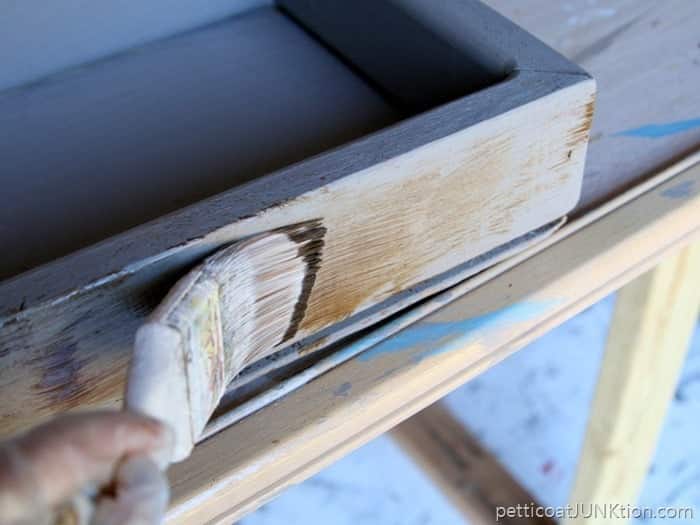 You just brush the toner over the paint. Then wipe it off with a dry or damp rag.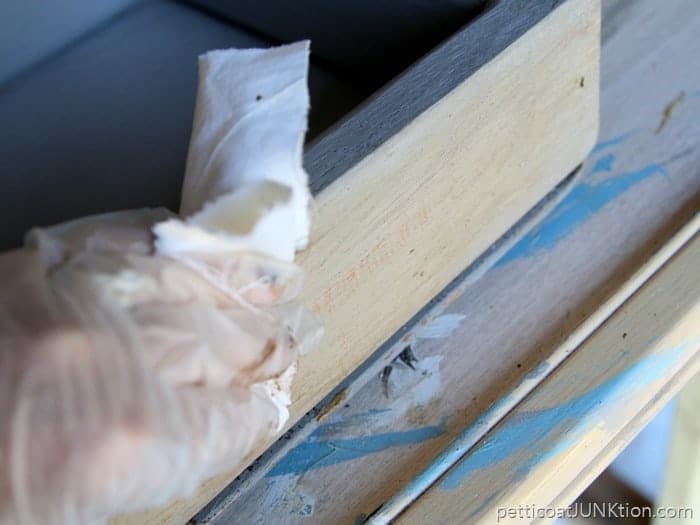 A damp rag will remove a lot of the toner, a dry rag does just the opposite. The toner seeps into the little dings and crevices in the tray. It's best to wait until the paint has cured for several days before using wax or toner on a paint project. The paint may come off in places if not dried well.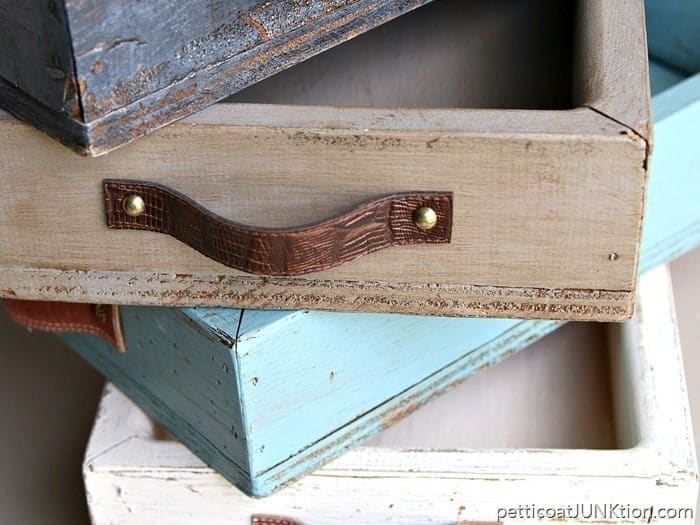 See what a difference an extra step makes when you paint something. You can use any of these techniques on painted furniture or home decor item.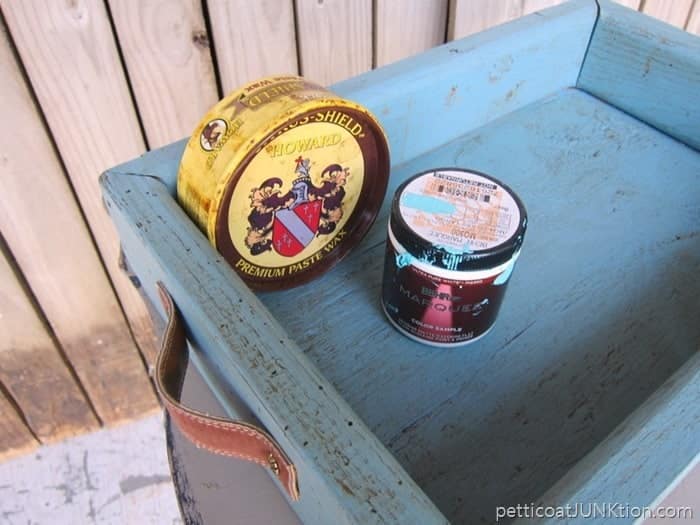 Fourth technique. The bluish turquoise paint is an oops sample. Have to love a price of 50 cents. Howard's wax in Golden Oak gives the paint an aged look.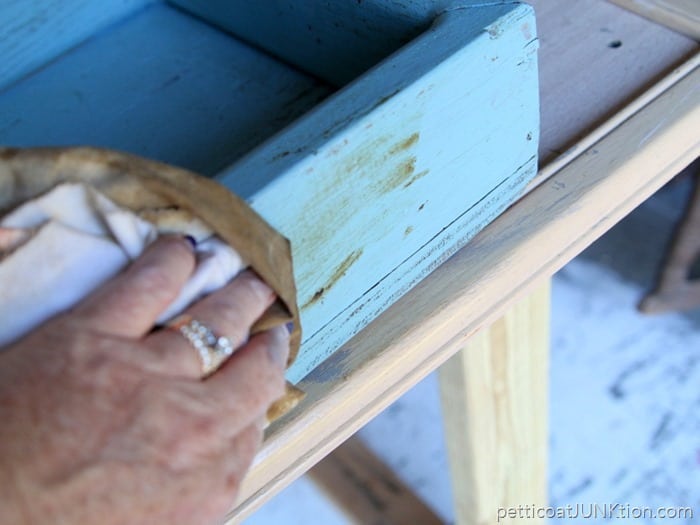 Always apply wax with a lint free cloth (old sheets work great). Howard's wax comes in neutral or clear too and there is a walnut color that gives a deep color to paint. Wait about 20 minutes then buff the wax with a dry lint free rag. Buffing the wax is what makes it shine.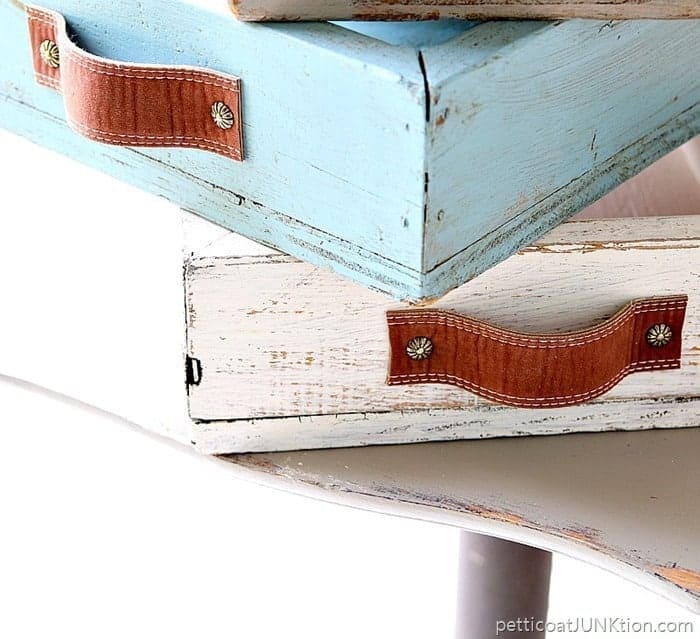 Like toner the wax also gathers in the dings and crevices of the tray adding to the aged look.
I made a short video on how to antique painted furniture using the toner and you can see it at the end of the post or you can go to that post here.
It's time to tell me which technique is your favorite or which one you would like to try.
I listed the products below and all can be found on Amazon except for the Caromal Colours Toner and I linked to their website.
Products used for this project:
Beyond Paint
Howard's Wax - Golden Oak
Caromal Colours Toner
Painted Finishes Barnwood Wax
Upholstery Tacks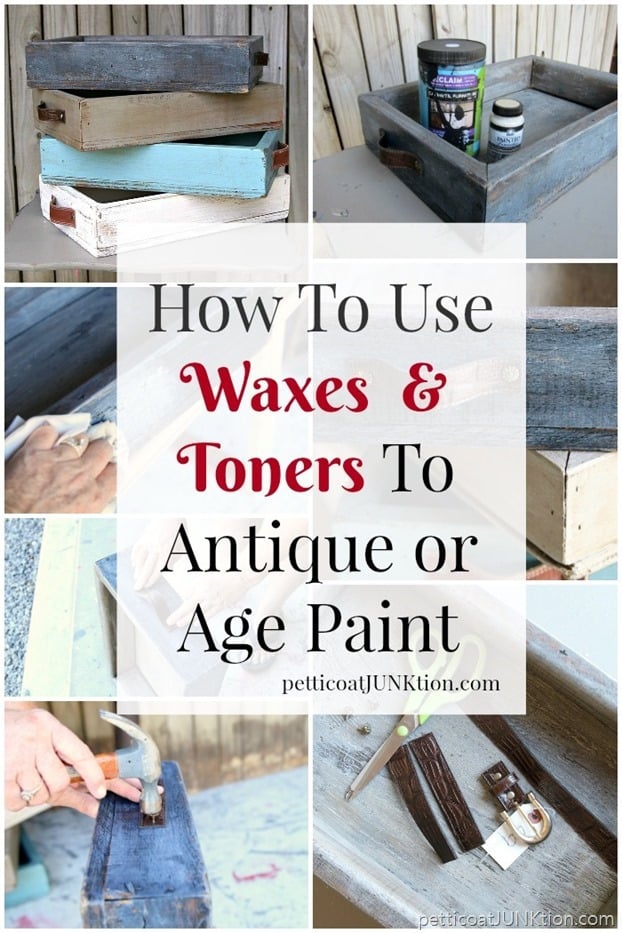 How To Use Waxes and Toners To Make Paint Look Old
Be sure and watch my video on How To Antique Furniture...
How To Antique Furniture Video Tutorial
As always, thanks for being here and have a great day, Kathy
Author: Kathy Owen (Petticoat Junktion)
Kathy is the founder of PetticoatJunktion.com, a home décor blog focused on repurposing and upcycling furniture, old hardware, rusty stuff, and thrifty finds into unique home décor. Kathy's projects have been featured on the Home Depot Blog, Plaid Crafts, Behr Designer Series, and in numerous magazines. Read more about Kathy here.