This cheese box flower display was created using a recycled wooden ruler and two vintage wood boxes.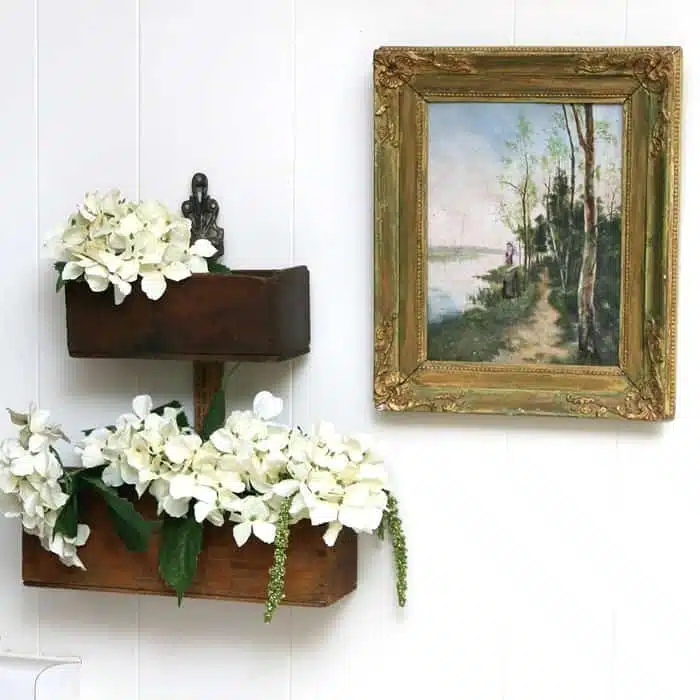 The rustic boxes look great together and the faux hydrangea blooms can be replaced with all kinds of things. Maybe use the display to hold washcloths in the bathroom or cookbooks in the kitchen.
Today is Thrift Store Decor Day and the thrifty finds this month are really cool. I can't wait to see what happened with the blue glass candle holders.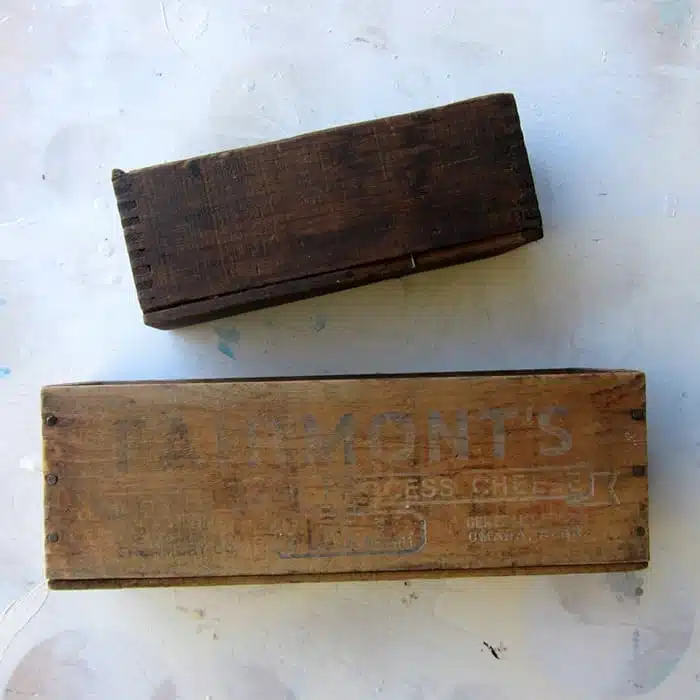 But first my project. The Fairmont's cheese box is pretty beat up and the writing is hard to see but it's still a winner.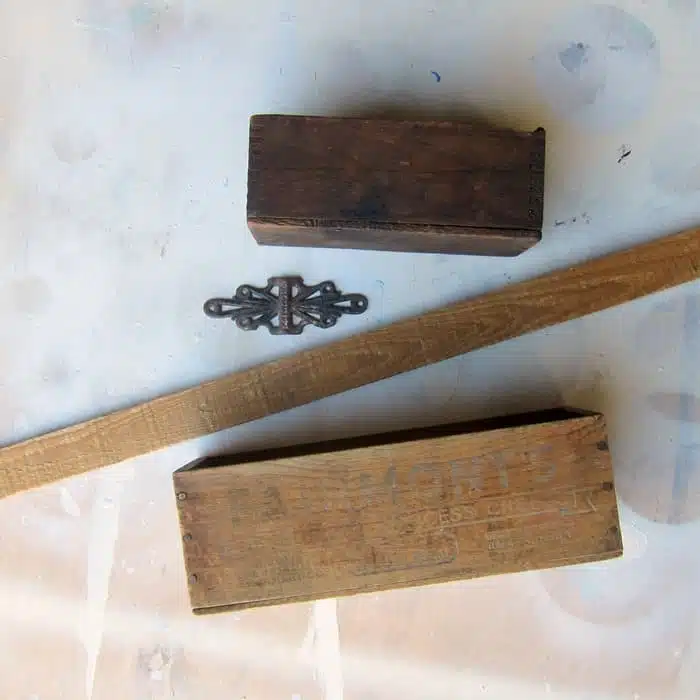 I believe the smaller box held some type of small tools. When I got the idea for the planter display I pulled the things I would need from my junk stash.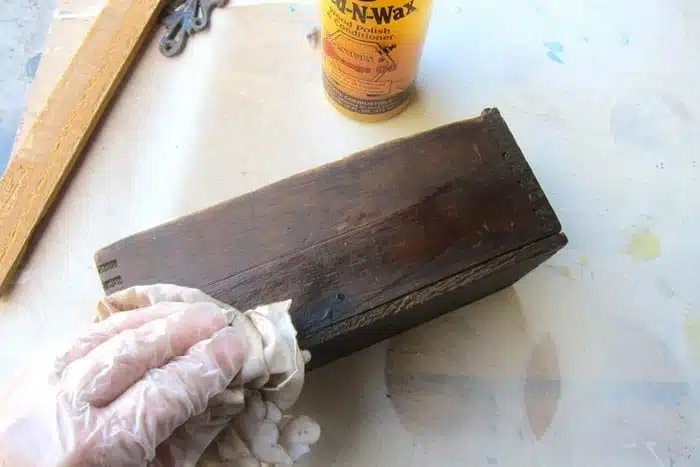 Next I cleaned and spruced up the wood boxes using Howard's Feed n Wax. It really refreshes the wood.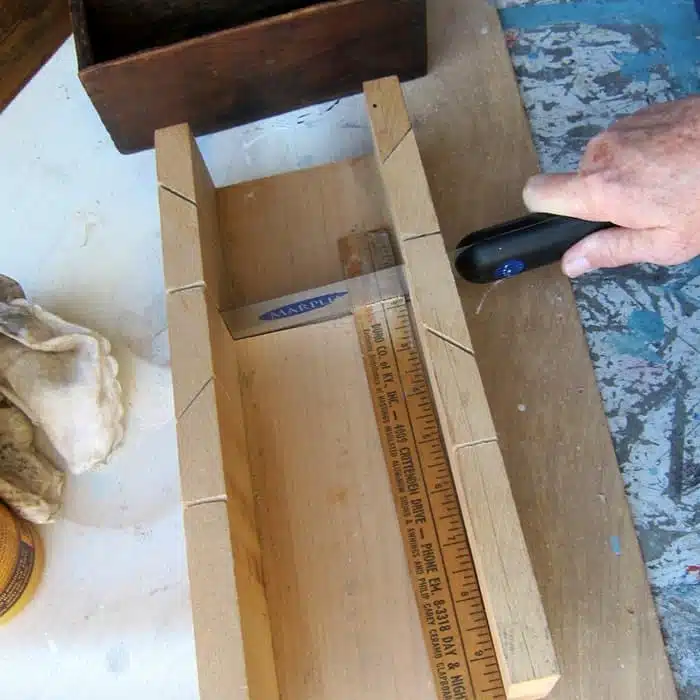 You might have noticed in one of the photos above I pulled out a plain wood strip to use as the connecting piece for the two boxes. While working on the project and walking around the shop I spotted my jar of used rulers. New idea.
I cut the wood ruler down a couple of inches using my miter box and saw. The box makes it easy to cut nice straight lines or angles of 45, 60, and 90 degrees if you have small pieces of wood to cut.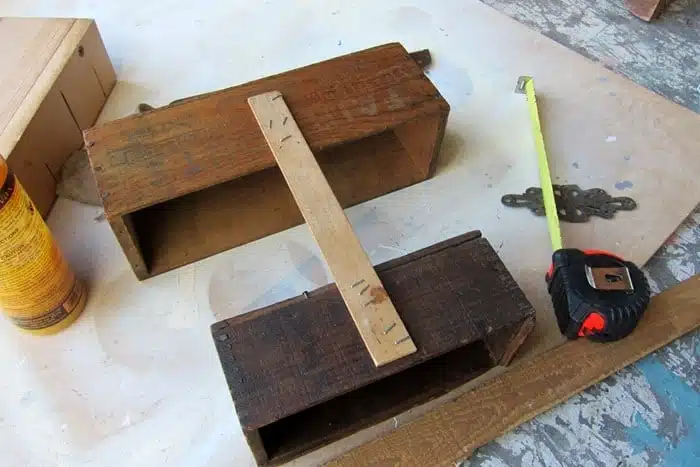 Instead of using nails or screws I stapled the ruler to the boxes. You guys know I often take projects apart after a few months and make something new with the pieces.
The staples will make it easy to take apart and the boxes along with the faux hydrangea blooms are not heavy. So,the staples do the trick.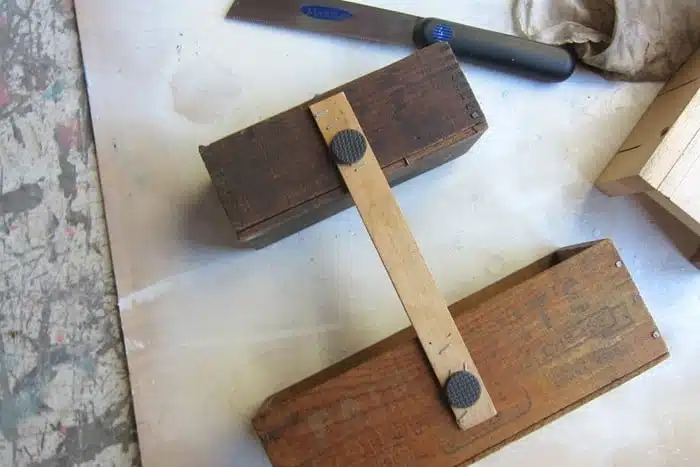 Wall protectors .......protect the wall.
I used screws to attach a reclaimed piece of hardware to the top box. It makes the perfect hanger.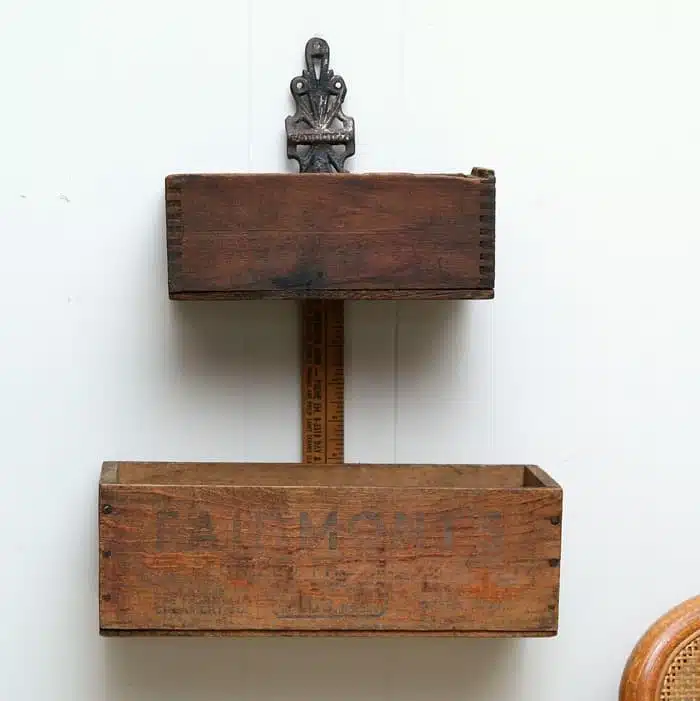 Ta-Dah. All done. You can tell I didn't measure and calculate and spend hours trying to get all the pieces exactly straight. The boxes were not perfectly square so no need in wasting time trying to align everything perfectly.
Once you add the flowers no one can tell the boxes are a bit whomper-jawed.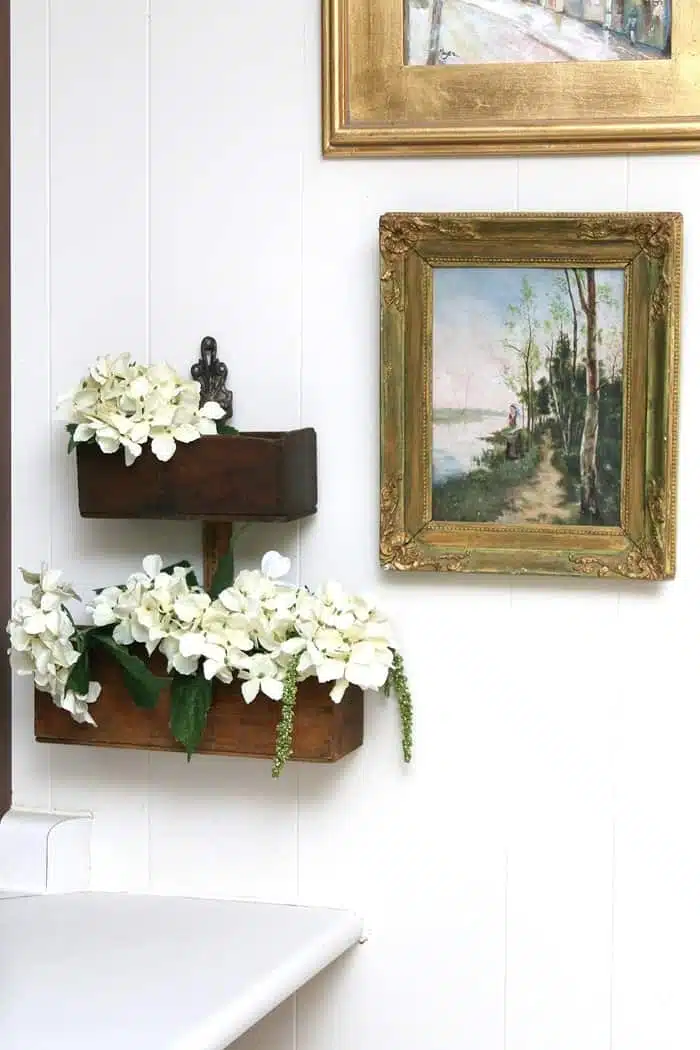 The boxes look nice and straight and aligned from this angle. What do you guys think?
The painting hanging beside the cheese box planter is one of my favorites. I bought it at an auction. I think I paid around $20 for it. A steal.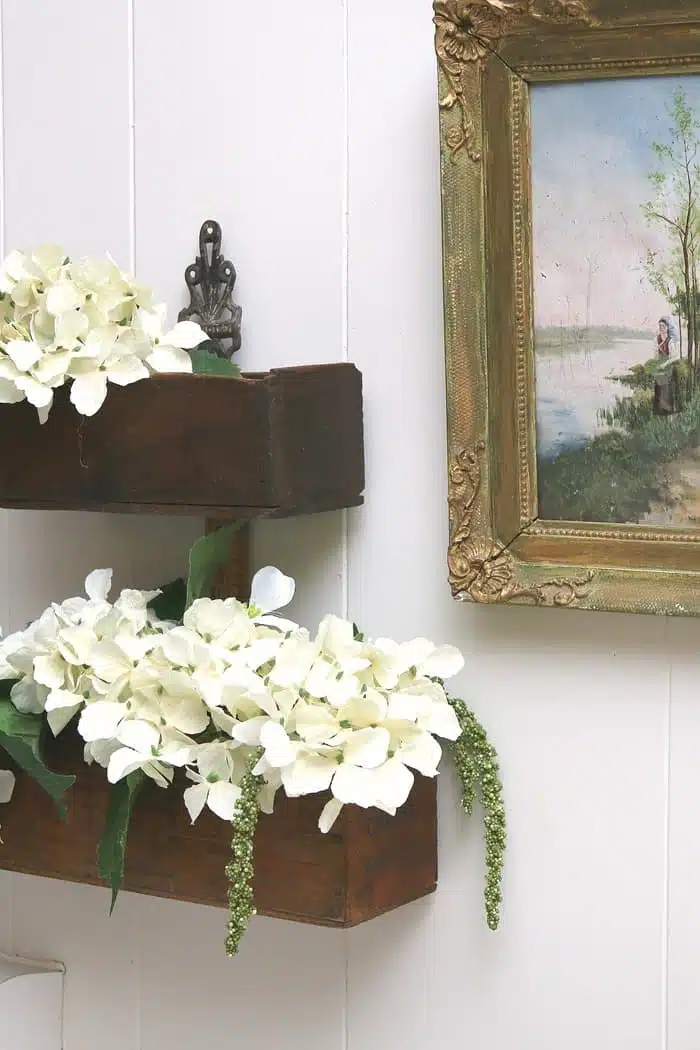 I needed new flowers in my stash and I headed to Joann's where they were having an awesome sale on Spring flowers.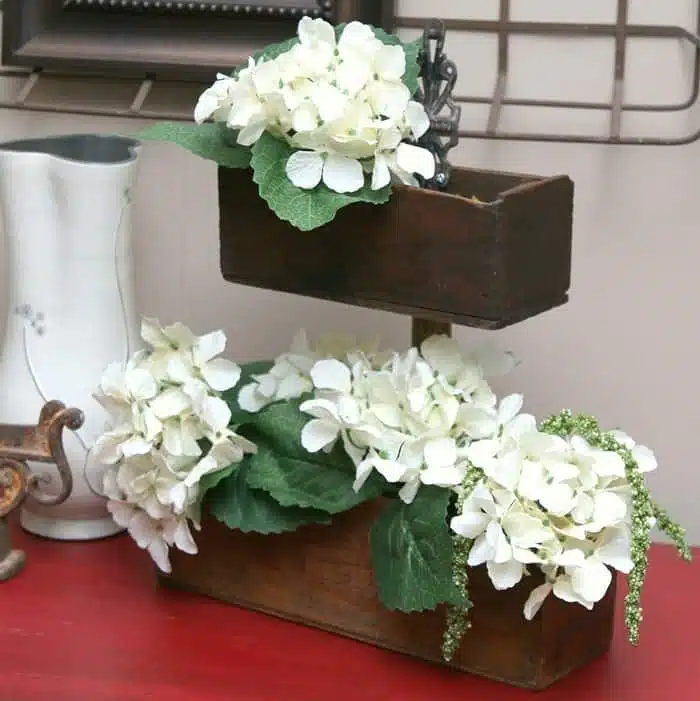 The display looks good sitting on a table top or on my Miss Mustard Seed's Milk Paint Tricycle Red Radio Cabinet .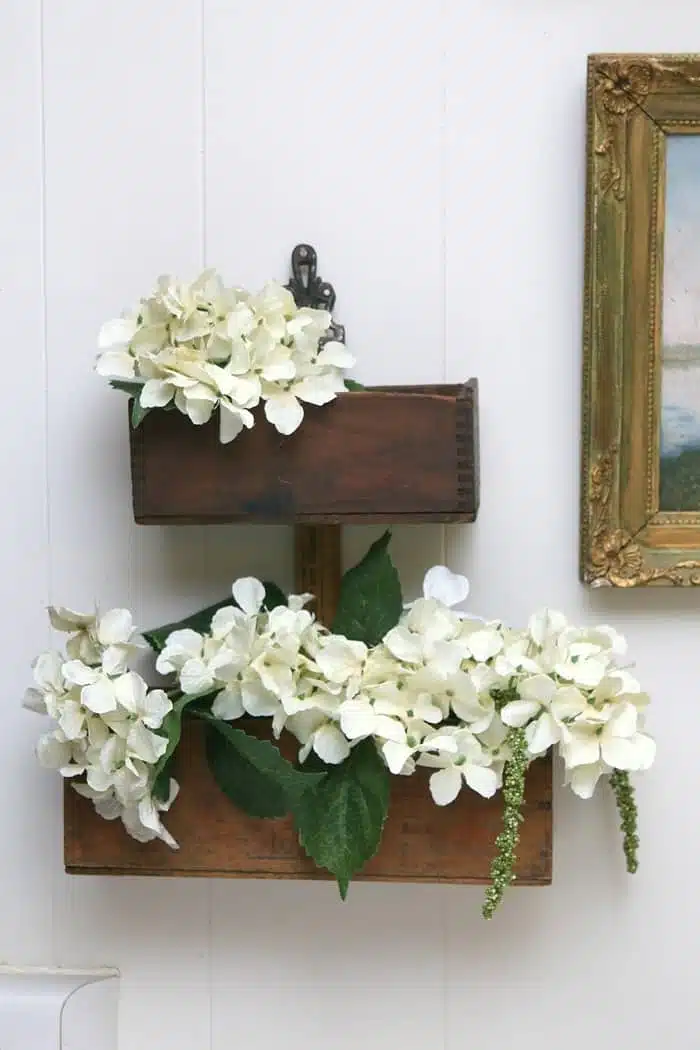 White hydrangeas are my favorite flowers. I liked this flower bush from Joann's because it wasn't white-white. The really white ones always look too fake.
Well, that's it for me. Time to see what my friends have for us. Just click the links below the "before makeover" photo collage....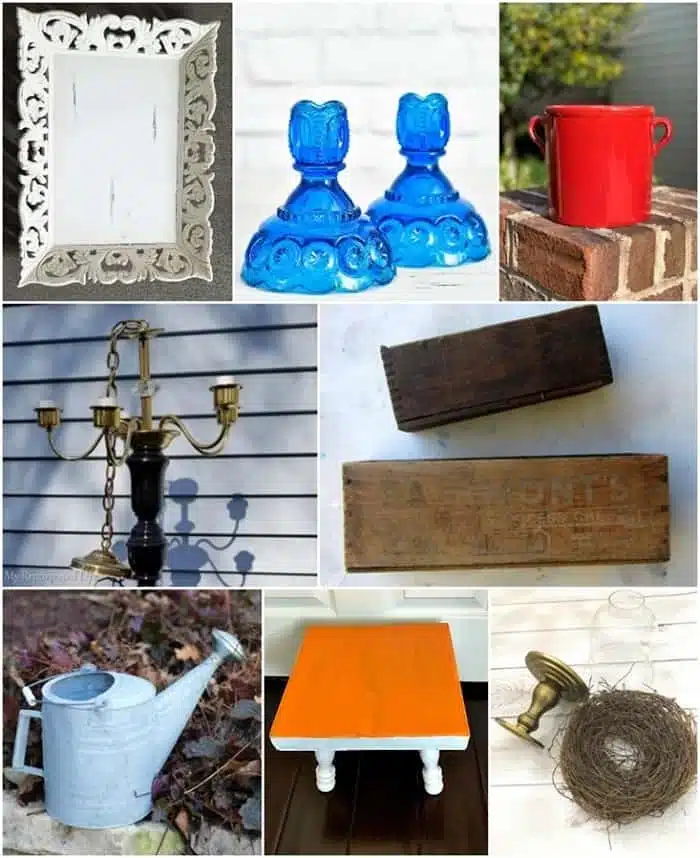 Thrift Store Decor March 2020 Project Tour...
Tropical Tray
Topiary Trees in Vintage Candlesticks for Spring Decor
Stoneware Crock Makeover
Repurposed Chandelier Succulent Planter
Cheese Box Flower Display
Watering Can Spring Wreath
Gold Dipped Step Stool Makeover
Spring Decor Cloche
If you have time leave a note before you head out on the tour. Thanks for being here and have a great day, Kathy
Author: Kathy Owen (Petticoat Junktion)
Kathy is the founder of PetticoatJunktion.com, a home décor blog focused on repurposing and upcycling furniture, old hardware, rusty stuff, and thrifty finds into unique home décor. Kathy's projects have been featured on the Home Depot Blog, Plaid Crafts, Behr Designer Series, and in numerous magazines. Read more about Kathy here.