This is a step by step Miss Mustard Seeds Milk Paint tutorial. The milk paint color is tricycle but I call it red because some people might not picture tricycle as a red color. It's taken me awhile to get around to this project. I wanted to wait until I had a full day to devote to the project. Milk paint is a different paint product from what I normally use and I was a little nervous about my first go at it. I shouldn't have been because not only was it easy, it was fun!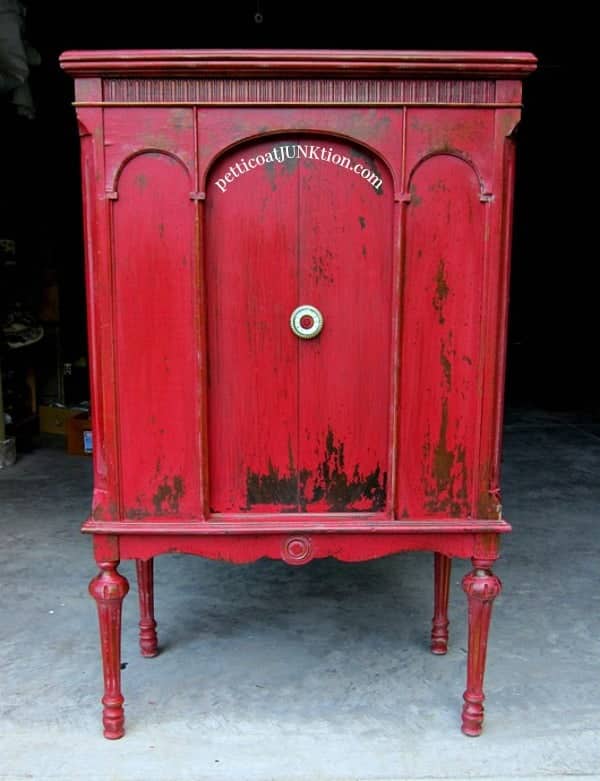 Step by Step Miss Mustard Seeds Milk Paint Tutorial
I finally gave up on the full day thing and just grabbed the paint and went to work. I don't seem to get nearly as many things accomplished in a day like I used too. Is it because I'm getting older or what? I still don't have that dusting done like I've talked about for several posts now. And this heat has been crazy.
The Owen Workshop is finished (yeah) but it's not air-conditioned (next summer?). This would be the hottest July on record! You think I would have sweated off some weight this summer. No. OK, enough chit chat. I'll get on with the important stuff.
She's a beauty if I do say so myself. It was love at first sight with Miss Mustard Seeds Milk Paint in Tricycle. That's Marian's name for the red. And luckily Tricycle was one of the colors in my sample kit. I must be living right.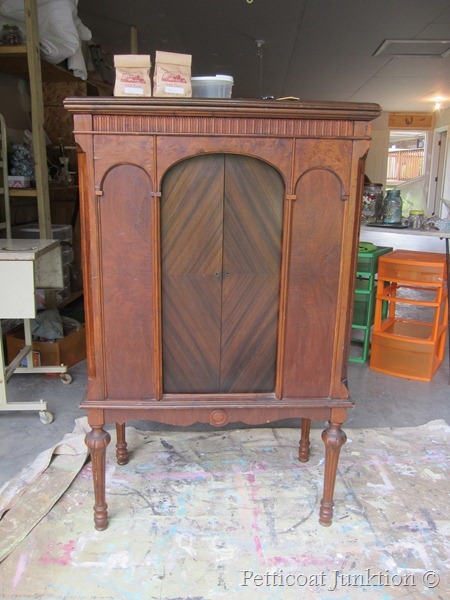 Information About Milk Paint
This radio cabinet usually sits in my living room. It's a great display piece for my vintage handmade quilts. Before I started on my project I watched Marian's (aka MMS) videos on you tube. They are short and to the point which goes to show that using the Milk Paint is easy. You just mix the milk paint with water and stir, and stir, and stir. It's takes a few minutes to get all the powder dissolved, but after that you just paint. I painted on two coats and I did them back to back. That's how fast the paint dried.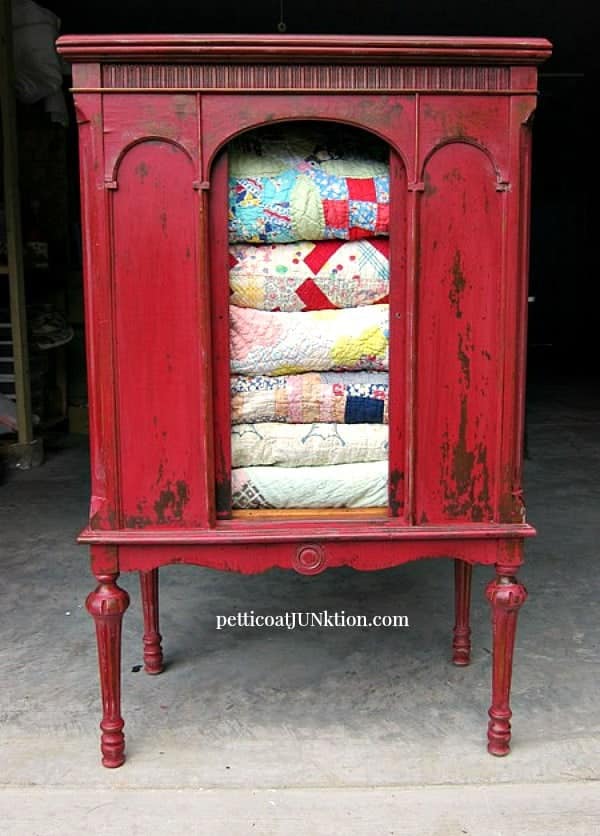 When The Milk Paint Dries
Next comes the cool part. After it dries the paint just starts falling off. Seriously, it does. Marian says you never know how much will chip off and I found that to be true on my first piece. The paint chipped off the front of the cabinet and the top of the legs but not very much on the rest of it.
This cabinet had been pieced together and has different wood and different finishes on it as you can tell from the before picture. I guess that's what made the difference in the chipping. I took a sander to the areas that didn't chip. I also used a sanding block on the front where the paint was loose but hadn't chipped off.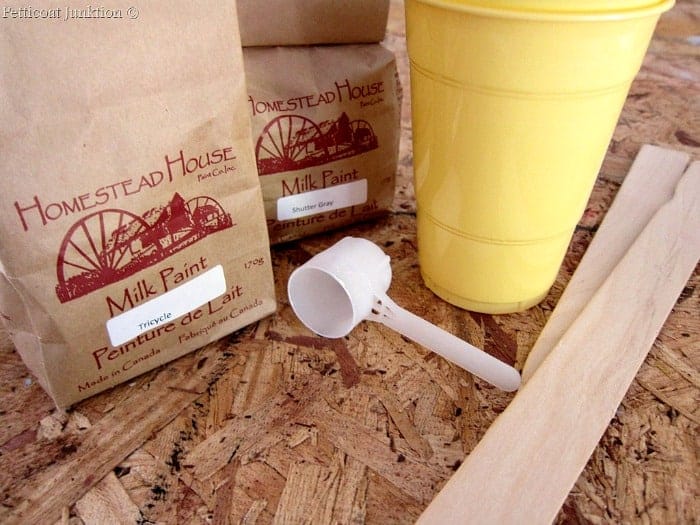 For a little added touch I used some Miss Mustard Seeds Milk Paint in Shutter Gray around the corners and the top edge. Just very lightly. I finished the piece with some dark wax to give the color a little more depth.
Mixing The Milk Paint
1 part powder to 1¼ to 1½ parts water. I mixed up about 1½ cups of paint.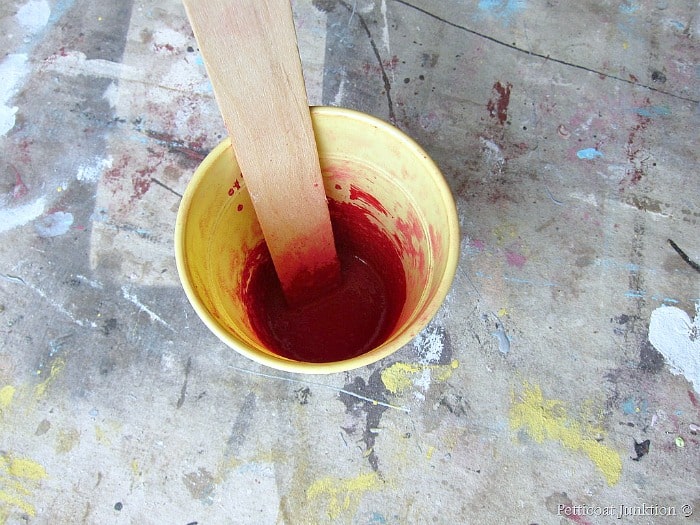 I would definitely recommend measuring the powder and water at least the first few times you mix the paint. After that you can probably eyeball it and get it right.
Of course I didn't measure mine because I'm crazy like that. So I had to keep adding and stirring until I got the mix right. See, I'm trying to save you time. I used only a small part of the bag of powder......that means lots left over for more projects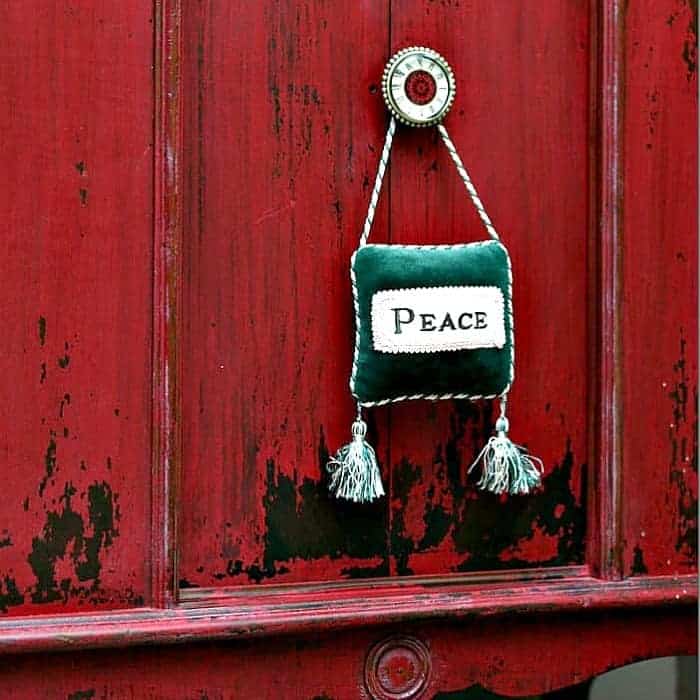 I like the hardware I chose from Hobby Lobby but it was very distracting in the  photos so I removed it halfway through the photo shoot. I loved the way the paint just chipped off. The look is totally different from distressing a piece of furniture with sandpaper. I think the chippy paint makes the cabinet look more aged, as if the paint had been on there for years, versus the sanded distressed look.
What do ya'll think about the chipping. I really think this is the look I've been going for with some of my paint projects but I just didn't get there because I was sanding the paint off.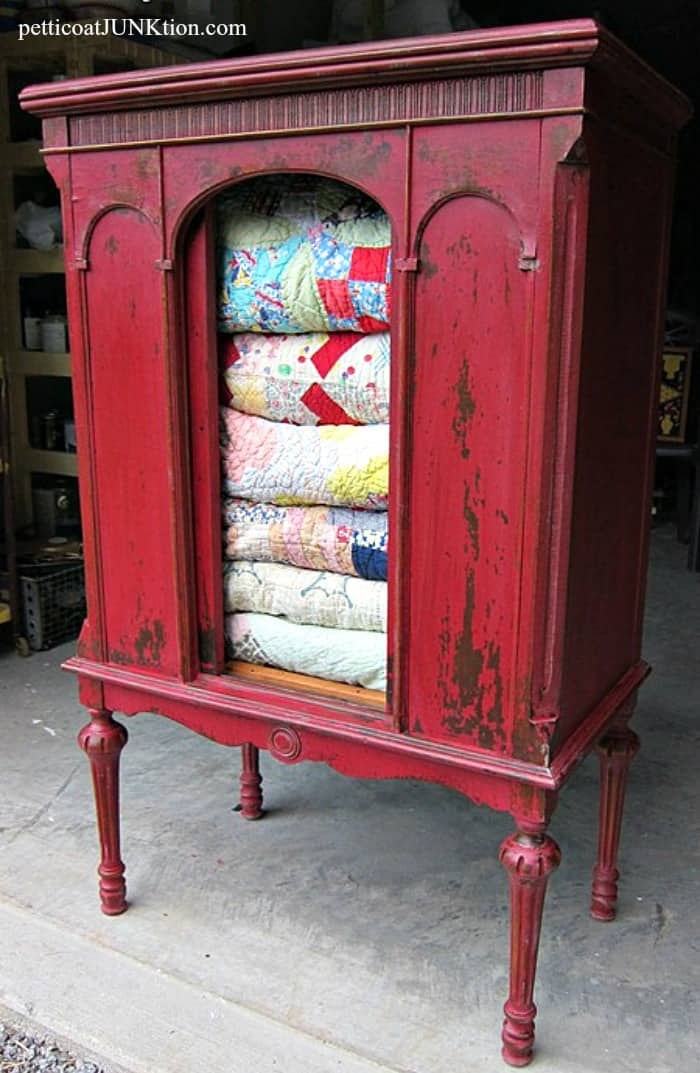 What do you think about the cabinet and the Miss Mustard Seeds Milk Paint finish? The piece is still pretty 8 years later. I took more photos for you below..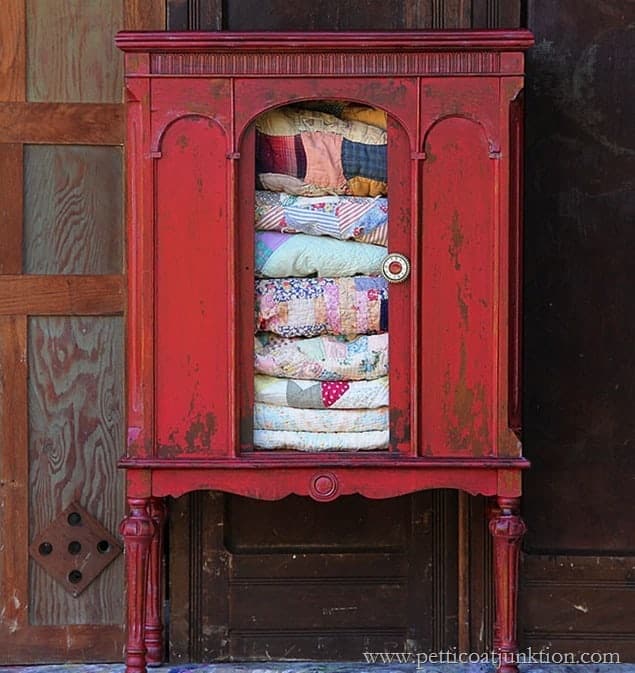 The paint is still pretty and there has been no more chipping. The Hemp Oil is great for that.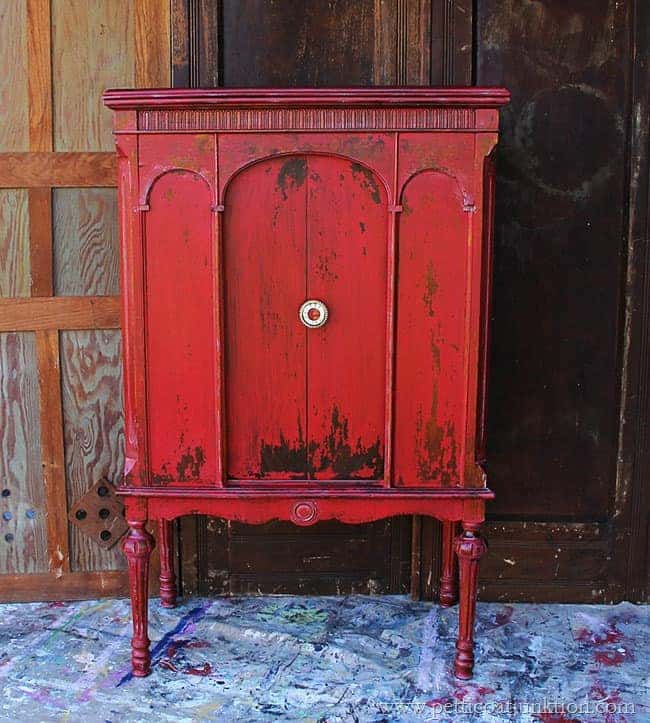 The Hemp Oil just  an extra layer of protection and is also water resistant.
Update to this post June 2018: I made a video using milk paint on a new project. I find that seeing the process in action is a big help. You can see it below.
Links to popular Miss Mustard Seeds Milk Paint projects…..
My Tricycle Red Cabinet (you are here) …most viewed and most pinned of my projects on Pinterest.
 Antique Bed painted Vintage Rose special mix MMS …..where you are now!
Mustard Seed Yellow Milk Paint Cabinet ….3 different shades of Mustard Seed made by mixing it with MMS Ironstone
Hutch painted in Shutter Gray and Tricycle….these two colors compliment each other perfectly
Painting Tips for Miss Mustard Seed's Milk Paint….things I learned using the paint
Thanks for stopping by and have a great week,
Author: Kathy Owen (Petticoat Junktion)
Kathy is the founder of PetticoatJunktion.com, a home décor blog focused on repurposing and upcycling furniture, old hardware, rusty stuff, and thrifty finds into unique home décor. Kathy's projects have been featured on the Home Depot Blog, Plaid Crafts, Behr Designer Series, and in numerous magazines. Read more about Kathy here.