Milk Paint Tutorial
I get lots of email and comments from readers about the Miss Mustard Seed Milk Paint. Questions ranging from "is it really made out of milk?" to "do you only use this paint if you want a chippy look?" So I thought I would share what I've learned about the paint since I've been using it for a few months now.
The finish is one–of- a- kind. The unique aspect is that you never know what result you will get! You need to take in to consideration the original finish on the furniture. I have found that highly varnished pieces will chip a lot or the paint may crackle instead of chip. A lacquered surface will chip very, very heavily or chip off completely so you might want to use the bonding agent. An older wood piece without any varnish or gloss may not chip at all. On an unfinished piece of furniture the wood will soak the paint up and it will not chip. If the furniture piece has a coat of paint, the Milk Paint may crackle instead of chip or it may not chip at all. My advice? Just have fun and go with it.
It's easy to mix, easy to use, and covers really well. I love how it feels going on. A few tips from me….
1. I prefer the mixture of 1 part milk paint powder to 1¼ parts warm water.
2. Mix it in a fruit jar or something similar with a lid in case you have leftovers. Stir with a paint stick. For an average size chest of drawers I would mix about ½ cup of milk paint powder with between ½ to ¾ cup of warm water. After you have done a couple of projects you will get a feel for the proper consistency. It's easy to mix more paint if you run out.
3. Stir for a couple of minutes, let it set for a few minutes then stir some more. If you have a few small lumps after mixing they should brush out or you can just wipe them off.
4. Brush on a coat of paint and you should be able to put on a second coat within a very short time. Brush on the second coat as soon as possible or it will start chipping as it dries and if the paint chips off and you put a second coat over the flaked off part it doesn't look good.
5. I've never put on more than two coats.
6. When its dry and starts chipping use a putty knife and gently rub it over the piece. If you want a lot of paint off the edges then scrap a little harder with the putty knife. I love this technique because it looks so much better than distressing with a sander.
7. After you have it chipped or distressed like you want, use a dark or clear wax to seal it. I've also used a clear polyacrylic for a little shine.
8. If you don't want the paint to chip add the bonding reagent. The paint colors are so intense they look great with just a medium to dark wax over them.
Click on the pictures below to view my tutorials with color, technique, mixing, and finishing details.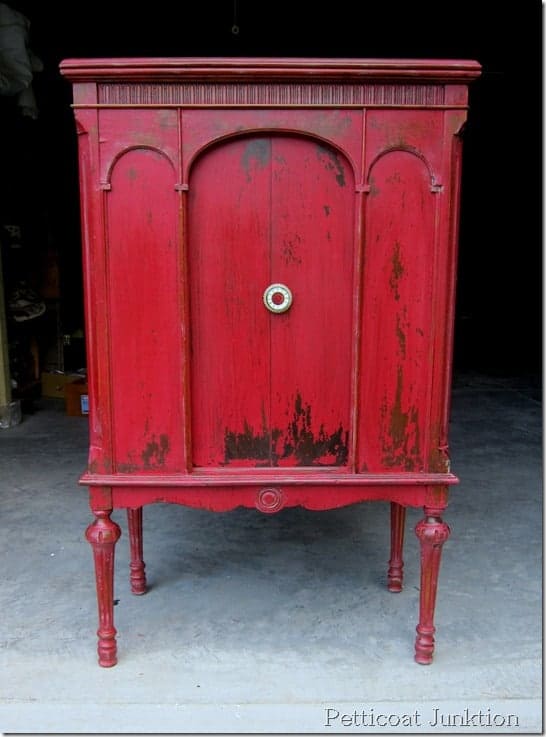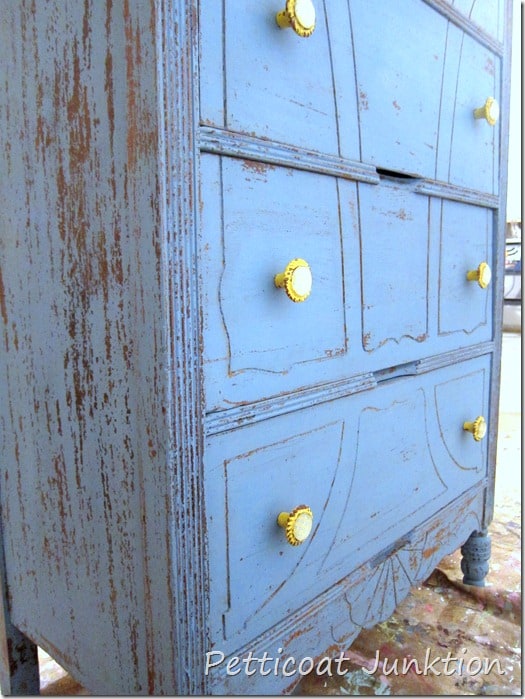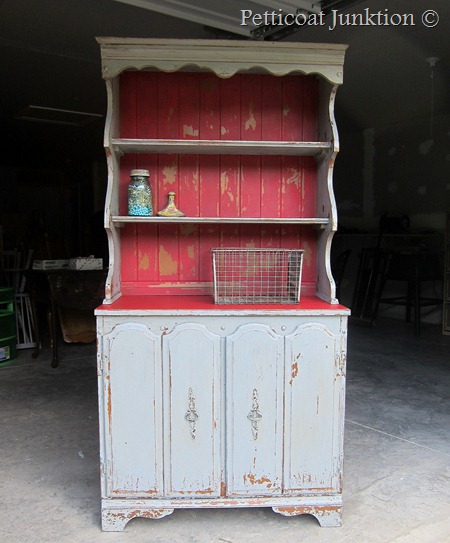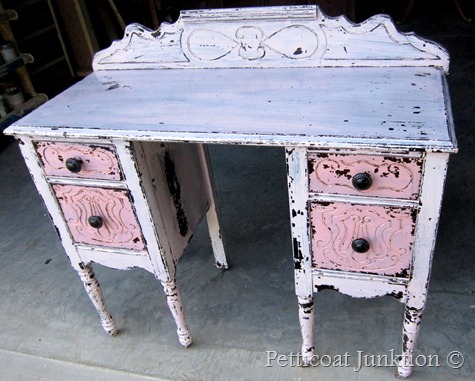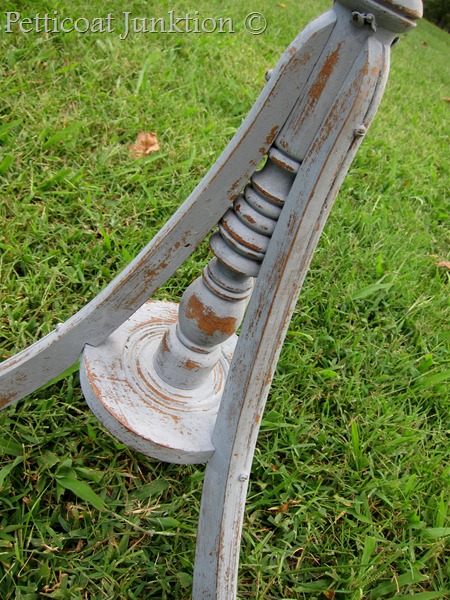 Milk Paint Projects in a variety of colors.
1. My Tricycle Red Cabinet…most viewed and most pinned of my projects on Pinterest.
2. Antique Bed painted Vintage Rose special mix MMS …..a softer look and another fan favorite
3. Boxwood Cedar Chest…..Boxwood over a lighter green original paint and distressed
4. Quirky Table…… with about 6 different milk paint colors layered on
5. Milk Paint and Decoupage Table…..chippy, with fabric decoupage
6. Mustard Seed Yellow Milk Paint Cabinet ….3 different shades of Mustard Seed made by mixing it with MMS Ironstone
7. French Enamel Chest of Drawers….a beautiful turquoise color
8. Hutch painted in Shutter Gray and Tricycle….these two colors compliment each other perfectly
9. Desk in Two-Tone Pink …..this is also a special mix of MMS
10. Painting Tips for Miss Mustard Seed's Milk Paint….things I learned using the paint
Click on any or all of the links above to view more photos and information on the makeovers.
Thanks for stopping by,
Kathy