I want to tell you how to paint an antique bed but first a funny story. I know the neighbors think I'm coo coo. The Junktion Technical Specialist helped me move this twin bed all over our yard so I could get some pictures in natural light. This photography stuff is really, really hard. I find it much easier to use natural light than try to get my DSLR setting just right for indoor lighting.
Custom Mix Formula - Paint Vintage Furniture
At least the weather was nice. We had one neighbor come and chit chat and others just stared as they drove by. It's going to be a long Spring and Summer with lots of paint projects and photography so they may as well get used to it.
Also, I'm taking pictures and the JTS is chasing a mole around the yard and a mole trap appears in the ground close to the bed….and he says…."is that going to be in the way"….seriously????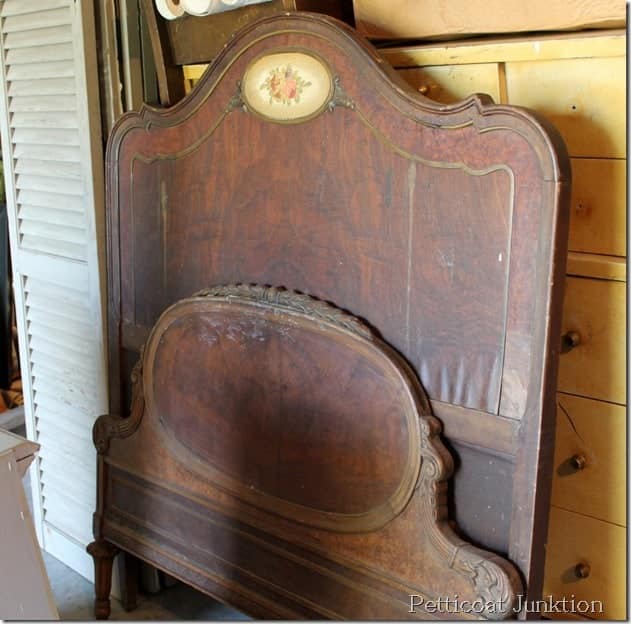 bed before paint makeover
I purchased this headboard and footboard at a local thrift shop for $3.00. The bed was minus rails but I was able to find some to fit at a local flea market/antique shop. The bed was manufactured by Berkley and Gay sometime in the 1920' or 1930's. It was in pretty bad shape with peeling veneer, missing details, and crackled varnish. I knew I couldn't restore the bed to it's original beauty but I could make her pretty with paint.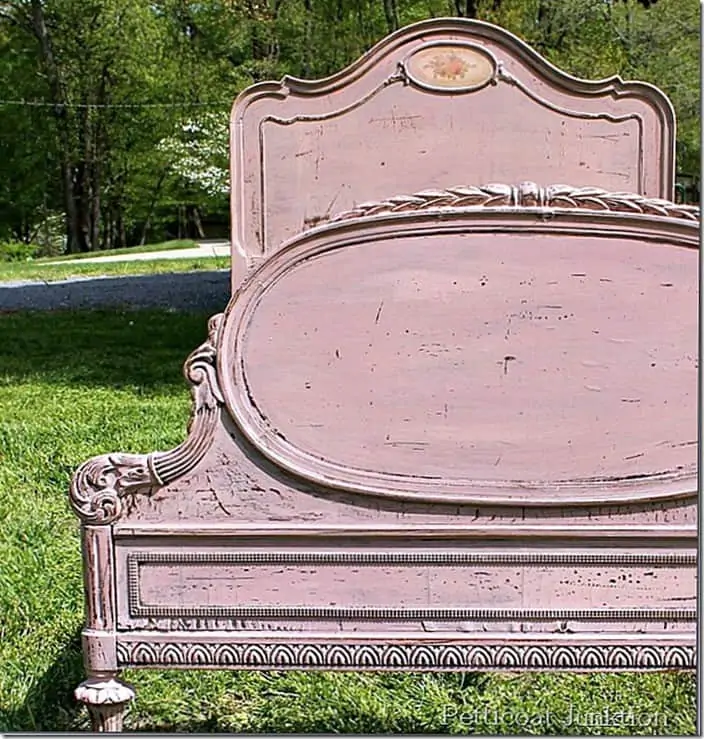 I mixed up a batch of Miss Mustard Seed's Milk Paint, but not just any color. I mixed Shutter Gray, Tricycle Red, Linen, and Mustard Seed Yellow to get this look. I know, I probably added 2 extra steps because I started the mix with Shutter Gray.
I had some dry powder in a jar and I assumed it was Shutter Gray but it was Grain Sack. Shutter Gray is much darker than Grain Sack. I think I could have mixed the Linen, Grain Sack and Tricycle Red and had a beautiful color too……but we'll never know now!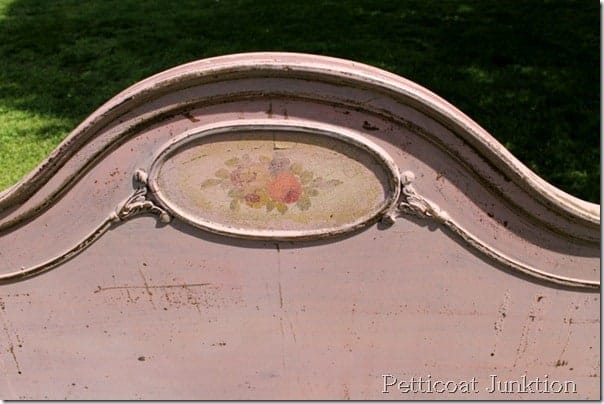 I didn't want to cover the roses but I did brush over them ever so lightly with the paint.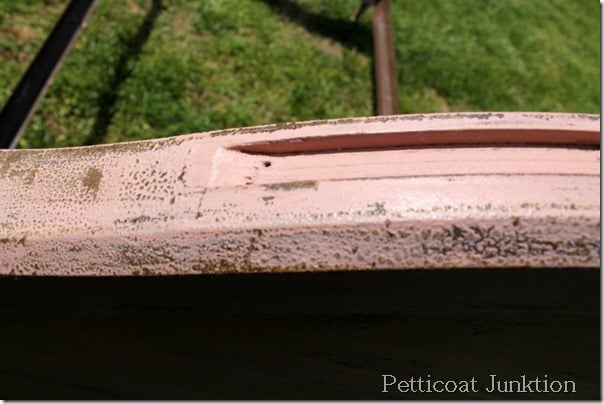 I always love it when the wood has this cool ageing affect. I don't know what it's called, but I like it!
The paint chipped a little, then I did some scraping with the putty knife. This is my favorite part of the MMS Milk Paint experience. The original wood finish is still intact when you use the paint scraper, but if you use a sander to distress you are usually looking at raw wood. I applied a coat of clear wax for protection and to add a little sheen.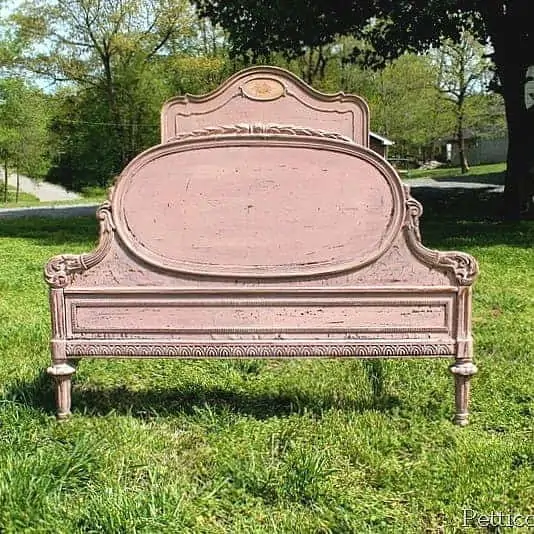 Isn't she stunning. I really love her. This vintage bed painted with milk paint is one of my favorite projects. The foot board is the best part!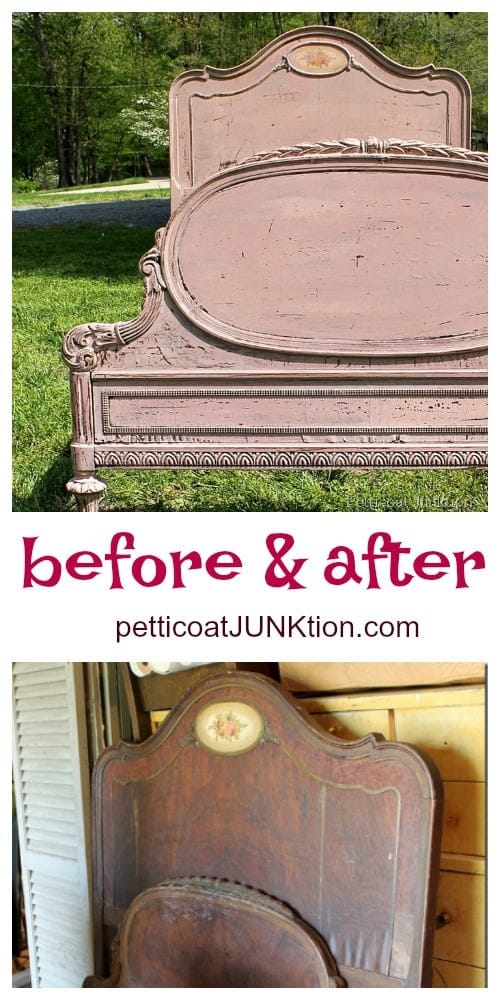 Sometimes you have to look past the flaws and picture what can be. Boy, that sounded really profound didn't it. I can be deep sometimes. What do you think about this project? Better with paint? You can paint vintage furniture too. Give it a try.
See more here.....The 8 Best Miss Mustard Seed's Milk Paint Projects.
I made a short video showing you how I painted a dresser with milk paint. See it below....
Milk Paint Tutorial Video
Thanks for stopping by. Kathy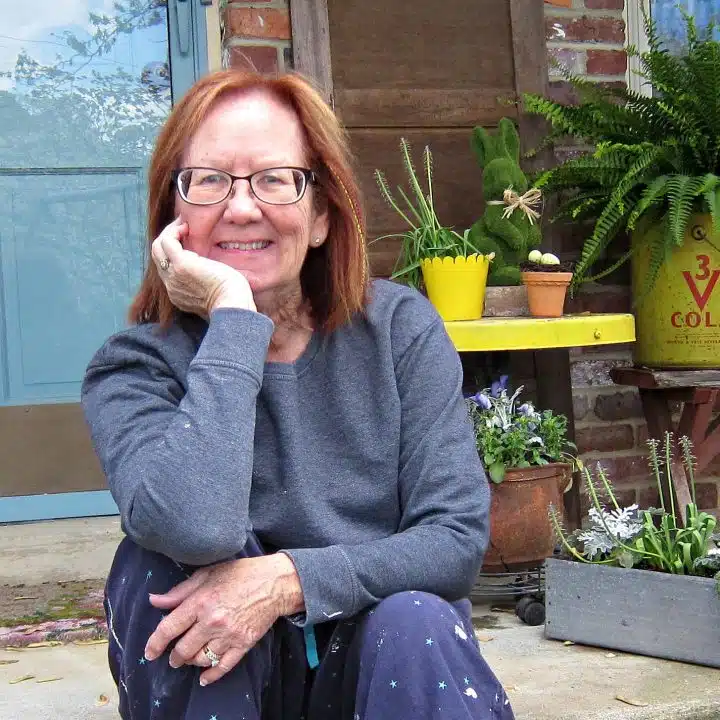 Author: Kathy Owen
Kathy Owen is the founder of the home decor blog Petticoat Junktion where she shares tutorials on painting furniture and upcycling thrifty finds into unique home décor. Her DIY projects have been featured on the Home Depot Blog, Plaid Crafts, Behr Designer Series, and in numerous magazines. Kathy's newest website is HappyHomeDIY.com