Painting grain sack stripes on furniture is super easy. Do you think that trend is over? I don't really care. I like them and I don't think grain sack stripes on furniture and home decor have lost their appeal yet. The JTS put a couple of tables together for me and I painted them. The color today is turquoise.....and white.....and wood finishes.....and grain sack stripes.
First I'm going to talk about how we put the tables together. I bought the bench seat bottom (wood frame) at the Nashville Flea Market. I don't remember the price but it had to be cheap for me to buy it. Maybe $5.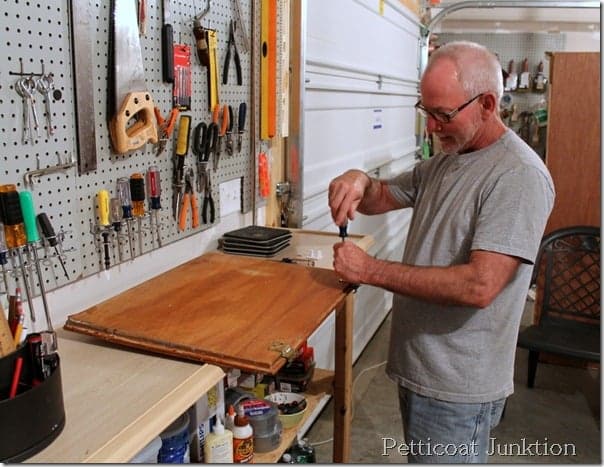 The cabinet door the JTS is removing the hardware from came from My Favorite Junk Shop. It's been in the shop for a while. I knew it would come in handy one day and it set on top of the bench like they were made for each other.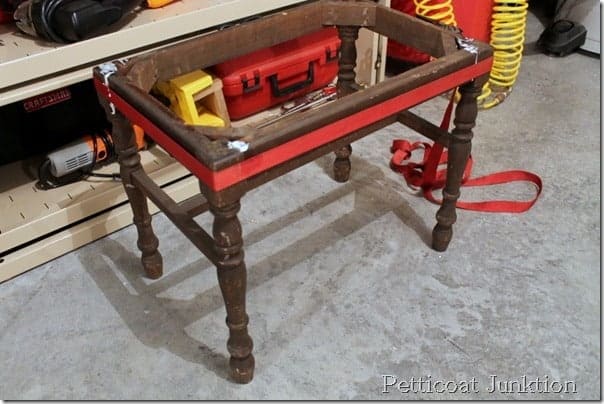 The bench base was a little wobbly so he squeezed glue into the joints and strapped it all up tight to dry.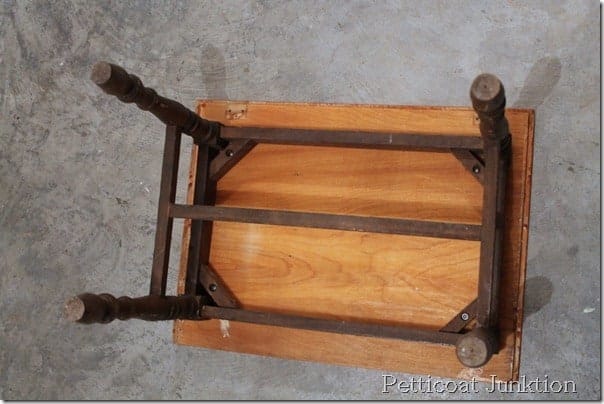 Then he attached the cabinet door to the bench base using screws.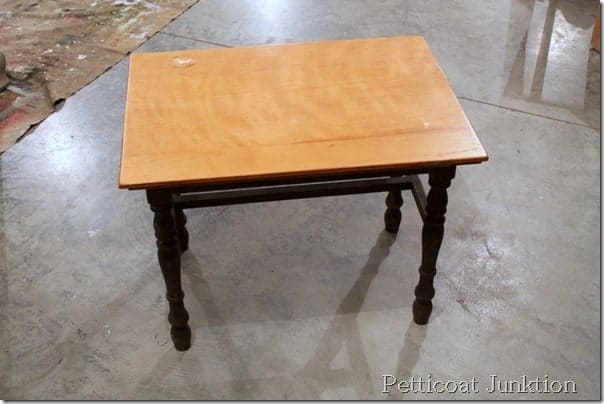 Ta-dah, new table waiting for paint… $5.00 for the base and $2.00 for the top for a total of $7. Nice for anyone on a budget like me.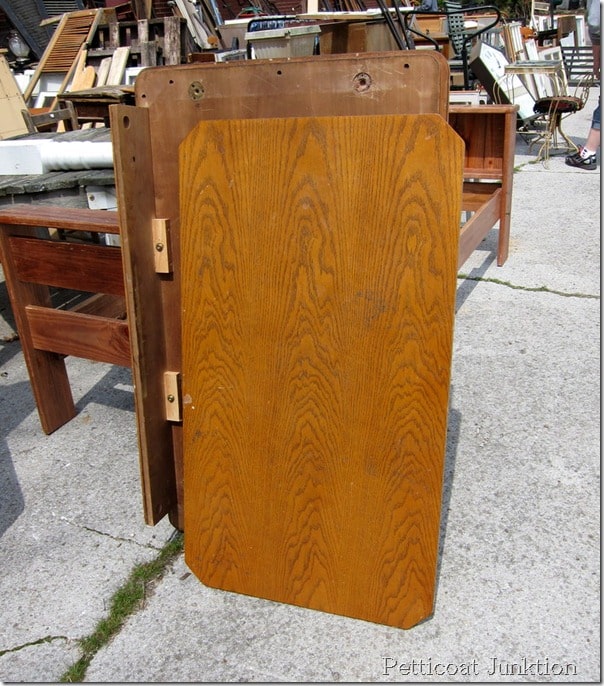 Now for table number 2. I found this table top at my favorite junk shop. As you can see I get a lot of my stuff from the junk shop. You can read about the junk shop here.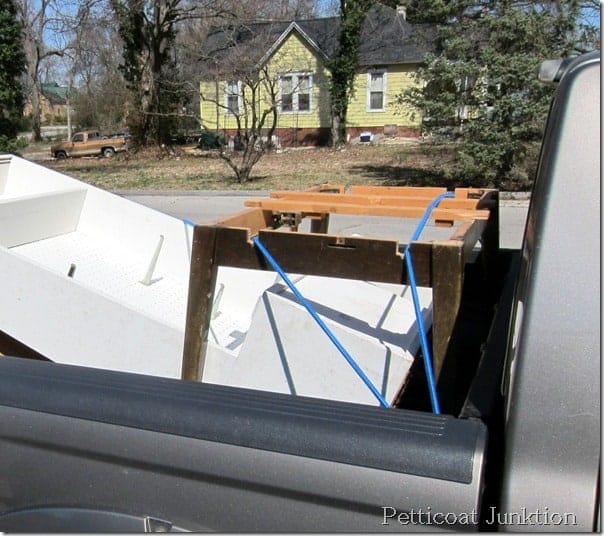 In the photo above you can see the table base from My Favorite Junk Shop shopping trip a couple of weeks ago. I buy odds and ends like the table base, cabinet door, and anything else when the price is right. Then I use the parts and pieces to make something new.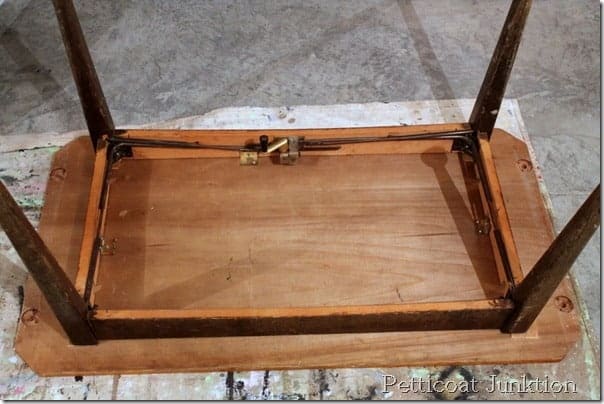 Hubby attached the two pieces with stuff found in our hardware stash.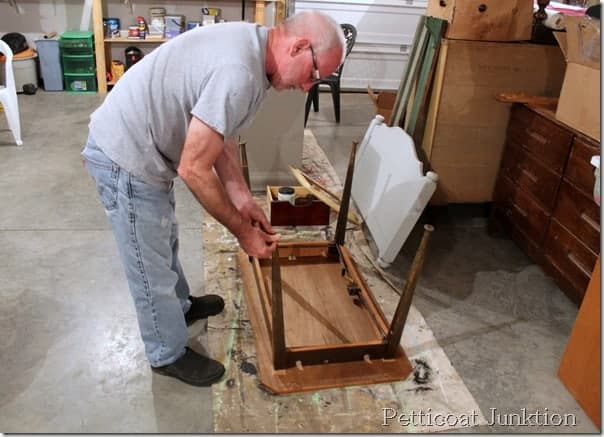 One of the metal feet was missing and we found a part that would work in my junk stash and we glued it on with E6000. A large stash of junk hardware really comes in handy.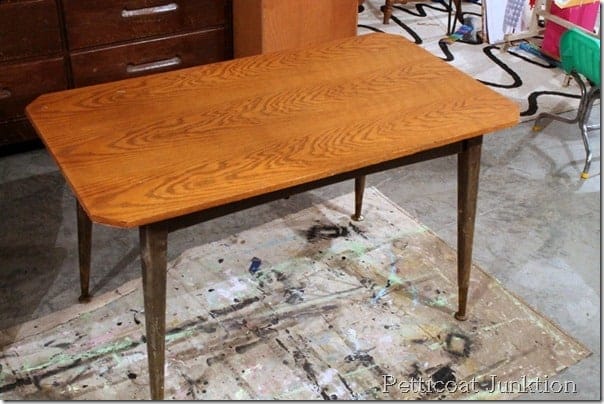 $5.00 for table base and $3.00 for the top. If you get enough parts you can make a whole. Another table waiting to be painted, yay. I used to pass up odds and ends and pieces and parts when I was junk shopping but not anymore.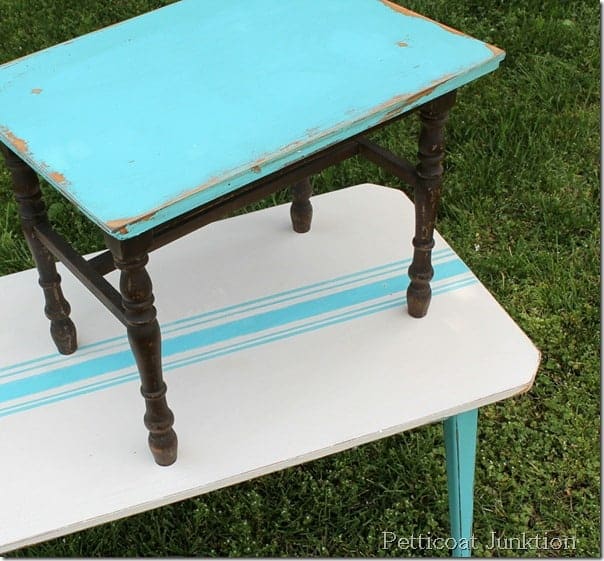 Painting Grain Sack Stripes On Furniture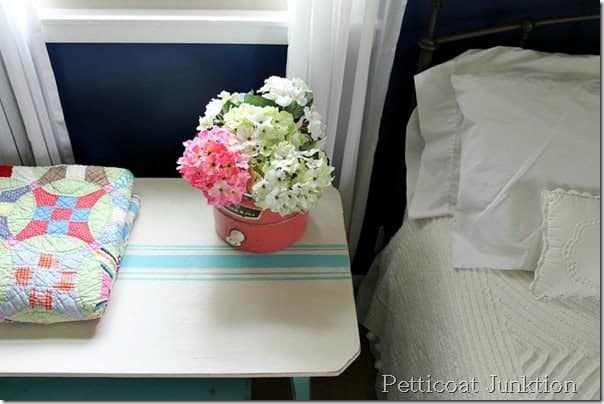 I love that blue grain sack stripe.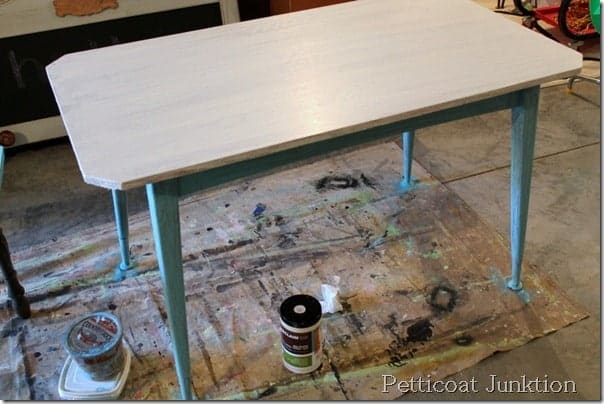 I decided to try the grain sack table top look for the larger table. My inspiration piece was painted by Sue of Sullivan and Murphy Her table has red stripes with a gray table base. I chose turquoise and off-white for my project.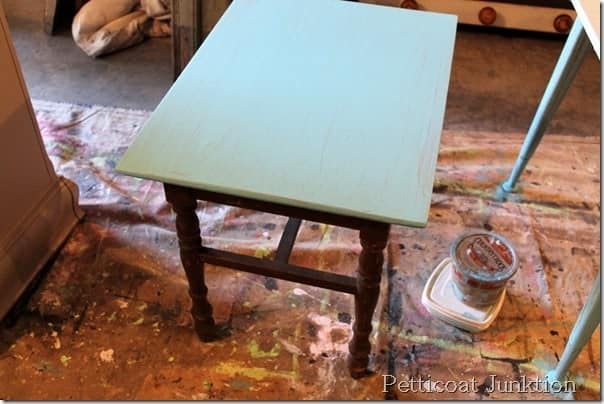 For the smaller table I painted the top turquoise and left the base as it was. I love the wood and curvature of the legs.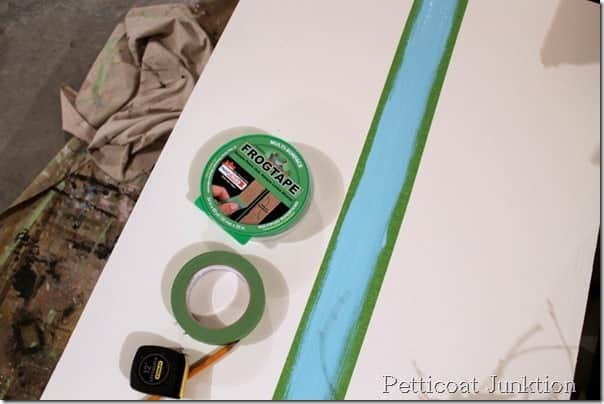 I measured to figure the center of the table then basically winged painting the stripes. It's really hard getting 5 stripes exactly even and spaced right. I used Frog brand tape and didn't have any bleed through. Love that!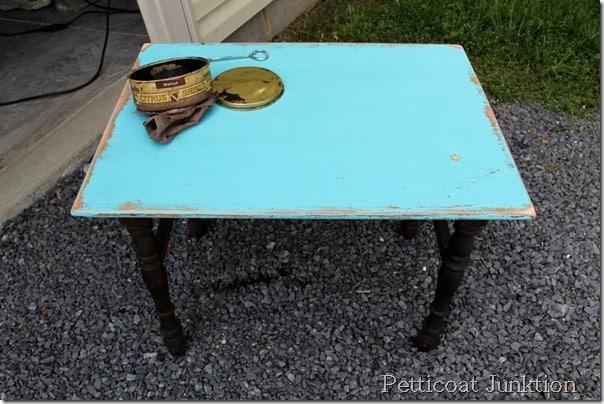 I did some distressing on the top of the smaller table and used a little dark wax for the finish. I also waxed the legs.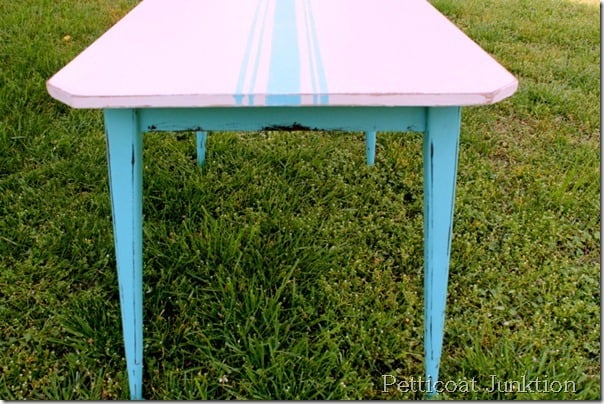 For my grain sack table top I distressed with an electric sander and put a very light coat of dark wax on the top and legs.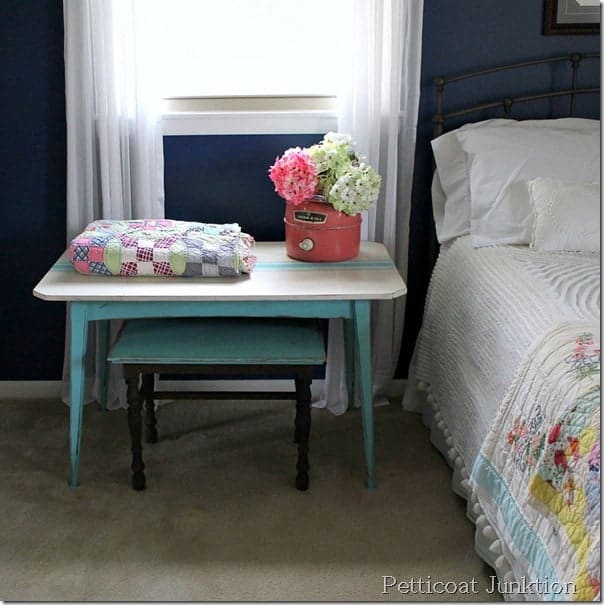 Do you like the stripes? The after is so much better than the before isn't it? I love the turquoise and white together…..crisp and clean. I love hearing from my readers, and I read all comments. Thanks for being here and have a great day, Kathy
Author: Kathy Owen (Petticoat Junktion)
Kathy is the founder of PetticoatJunktion.com, a home décor blog focused on repurposing and upcycling furniture, old hardware, rusty stuff, and thrifty finds into unique home décor. Kathy's projects have been featured on the Home Depot Blog, Plaid Crafts, Behr Designer Series, and in numerous magazines. Read more about Kathy here.