This is a Vaseline distressed furniture makeover and I made a video of the process. The project didn't go quit as planned but the cedar chest turned out much better than I expected. That doesn't make sense does it. When I use a special painting technique I never know how it's going to turn out.
I may have to change plans mid stream or redo the piece all together. What happened here is that I was a bit heavy handed with the Vaseline. Using petroleum jelly as a paint resist is a technique that takes a bit of practice.
Vaseline Distressed Furniture
Sometimes choosing the right furniture knobs for a makeover is the hardest part of the project. And when it's Vaseline distressed furniture the job is even harder. Hardware can get lost when the furniture is painted with multiple paint colors.
For this vintage cedar chest I planed to use the original hardware. I went as far as painting it and putting it back on. No go. The painted pulls didn't work at all. That happened to be a good thing. Just wait until you see the knobs I used.
The painted cedar chest looks great in the granddaughters bedroom.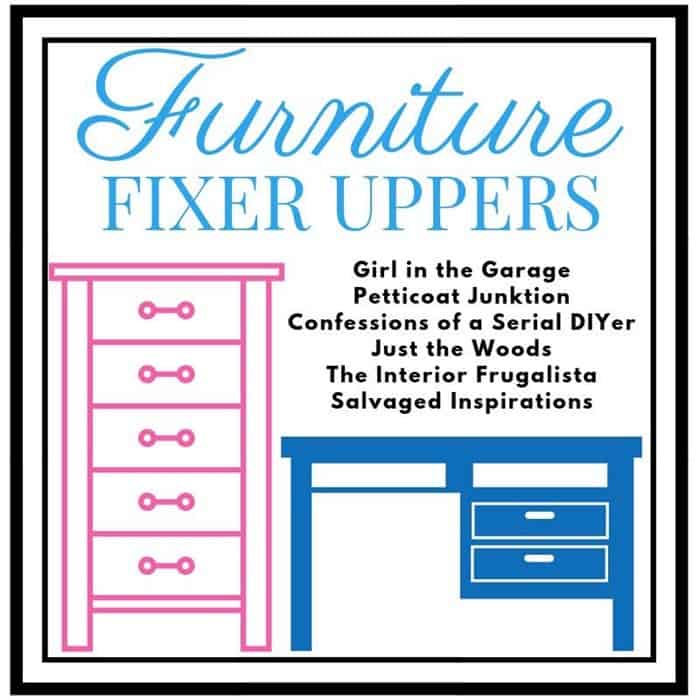 Today is Furniture Fixer Upper day and we have a new member in our group! She is an amazing painter and we are so happy she joined us. You are going to love her projects. Her name is Denise and she blogs at Salvaged Inspirations.
You guys may have already seen some of her amazing furniture transformations on Pinterest or Facebook. Our friend Larissa from Prodigal Pieces is taking a break from furniture painting and we will miss her here.
Now it's time to show you how I got this amazing textured layered paint finish and also where I got the yellow crystal knobs.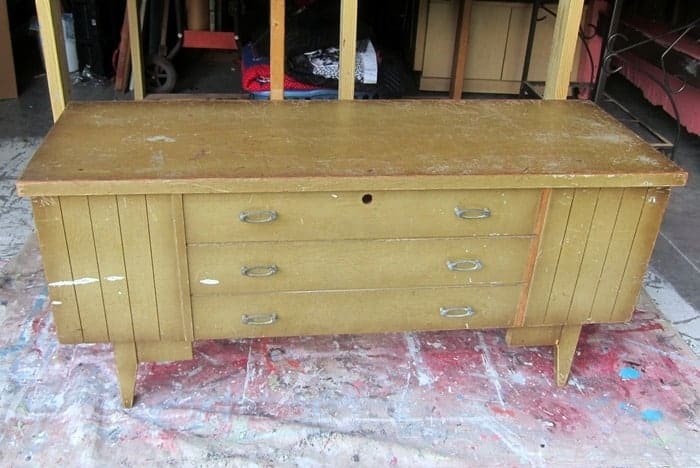 I bought the cedar chest at my favorite junk shop. I can't remember the price but I want to say it was $20.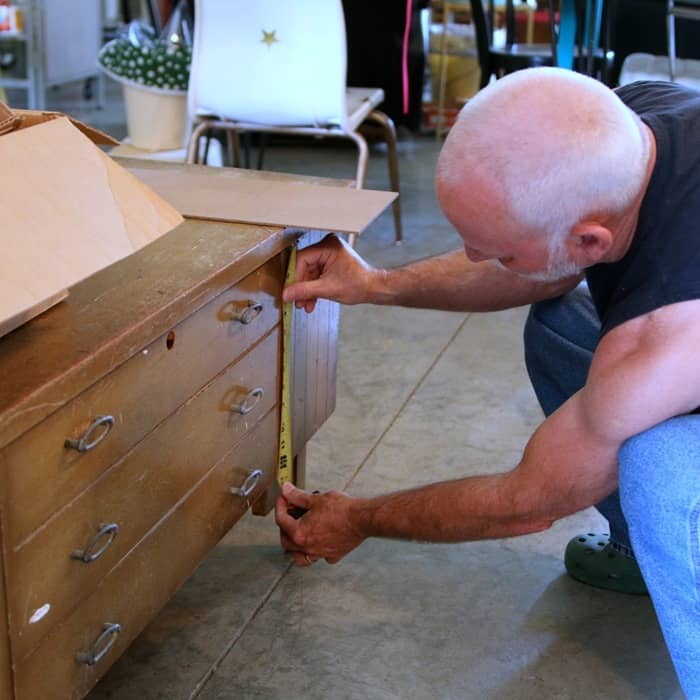 The piece was pretty banged up and a trim piece was missing on the right front side. The JTS is going to cut that board you see laying on the cedar chest and make a piece of trim.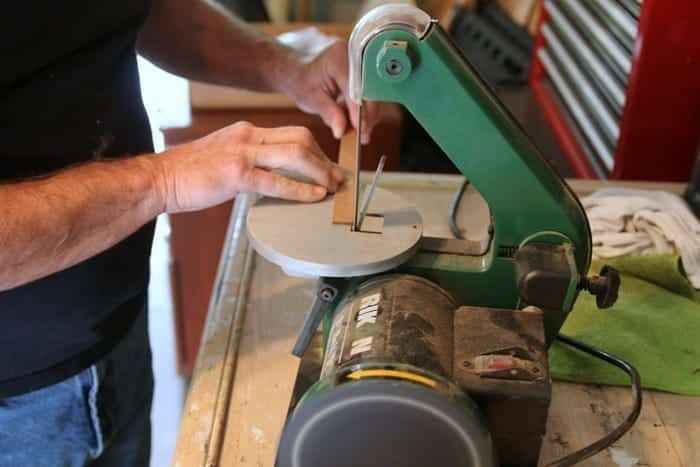 He cut the trim with a circular saw but it was a bit…….not straight….so he used this other machine to shape it up.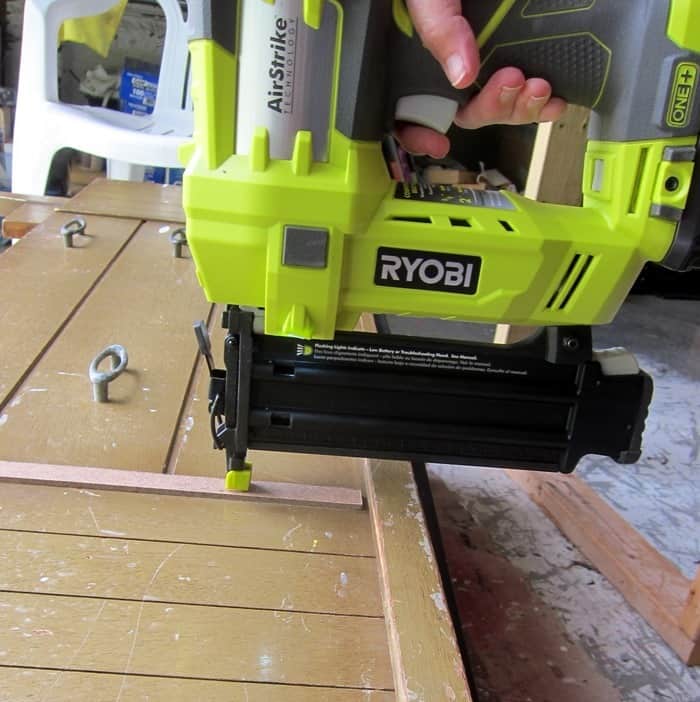 I used my Ryobi brad nailer to attach it to the replacement trim to the cedar chest. The brad nailer is my favorite tool.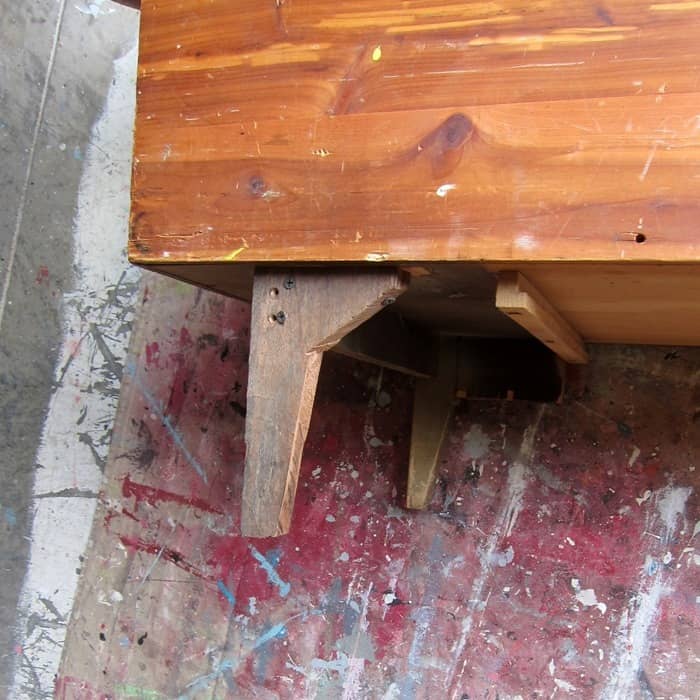 Mr. Butler at the junk shop had already replaced the missing back leg. Not perfect but it will do.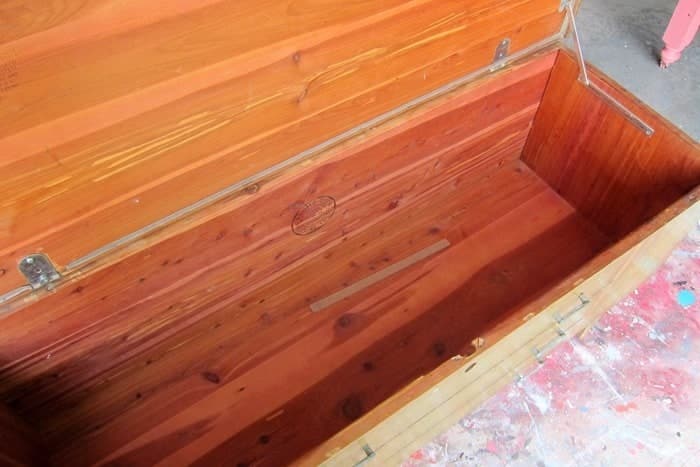 The inside of the cedar chest was in almost mint condition.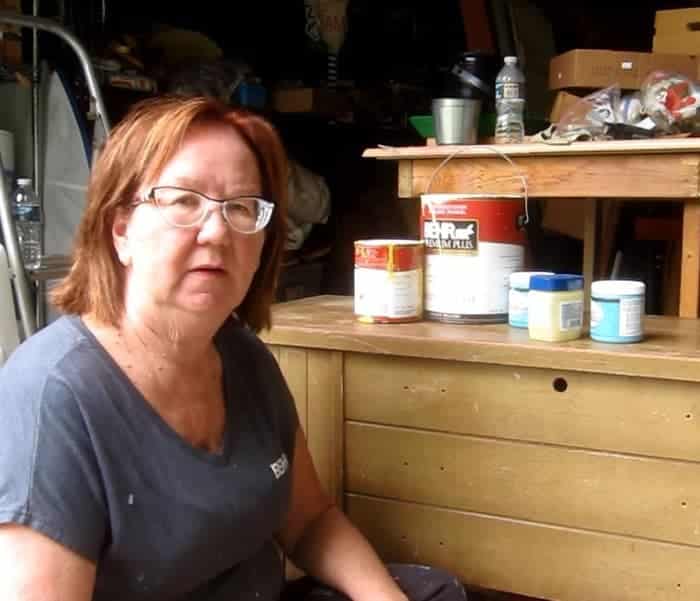 Time to paint. I selected 3 paint colors for the layered paint look. All of the colors were in my paint stash….Twenty Carat, Honeydew, and FolkArt Chalk Island Indigo.
I'll walk you thru the process but be sure and watch the video because seeing the process while it's happening is so much better than my explanations.
I applied my first paint color which is the yellow (Twenty Carat). After it dried I rubbed Vaseline in small areas in various places on the chest. Next I applied the second color of paint which was a pale green (Honeydew). Once that was dry I applied the coat of turquoise (Island Indigo).
I didn't apply a layer of Vaseline between the green coat of paint and the turquoise because I was too heavy handed when I applied the Vaseline on the first color of paint. That happens sometimes as I explain in the video. There is a fine line between just too little, too much, and just enough.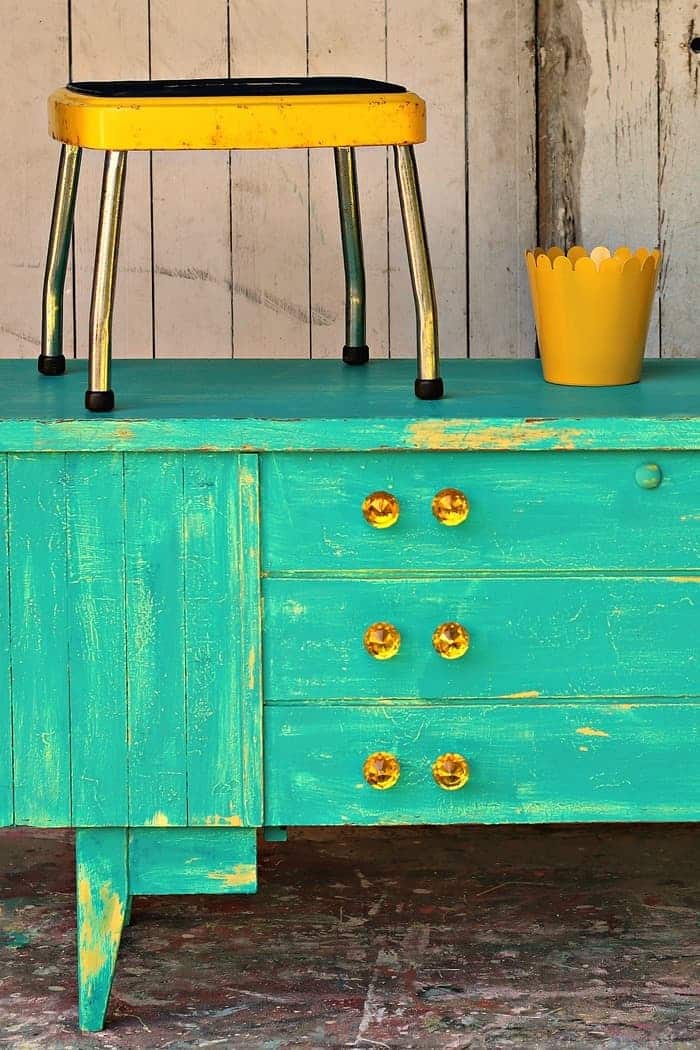 After the layer of turquoise paint dried I used 3M flexible sandpaper to distress the paint. The areas in the photo above where you see larger patches of yellow is where the Vaseline was applied.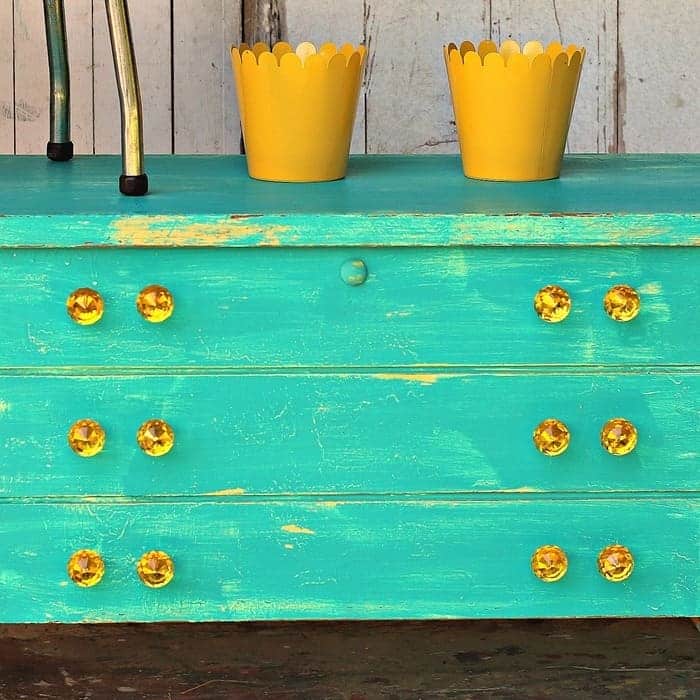 I used Howard's Neutral wax to seal the paint and give it a nice sheen.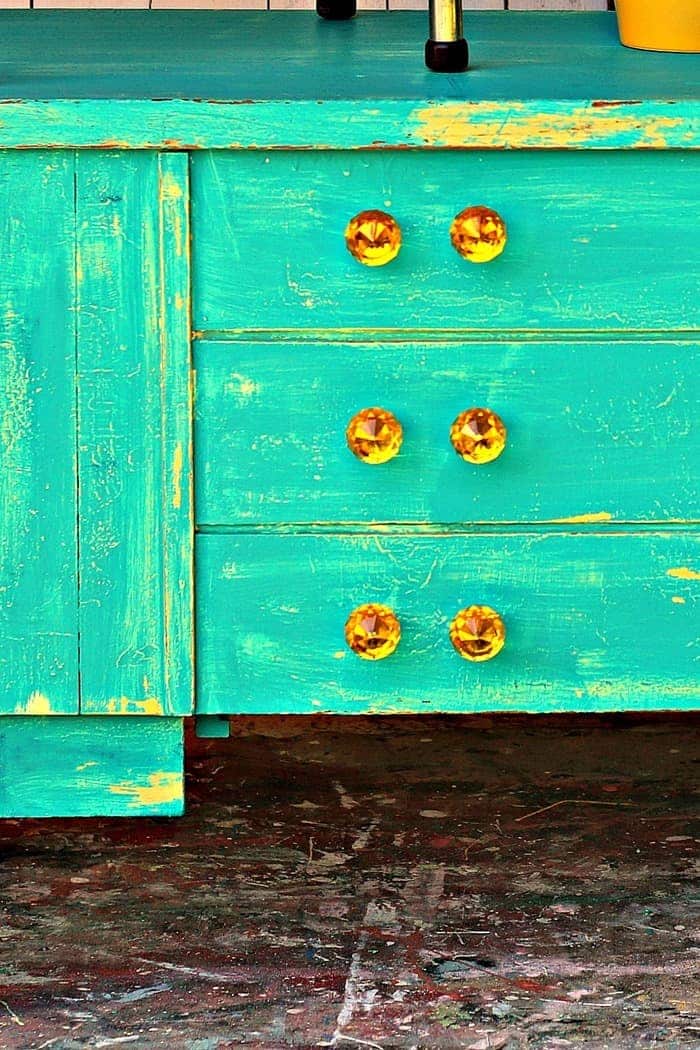 Remember I had the original hardware and I brush painted it with the Island Indigo color. I put them on the chest and they were sooooo dull. I was thinking about what other color I could paint them when I thought about the yellow knobs I ordered for an earlier project and never used. I had 12 knobs exactly and 12 holes.
I have never been a fan of using two knobs side by side in place of a drawer pull but……I thought why not. I have to admit they look perfect on this fun, unique looking cedar chest.
I mentioned in the video that I ordered the knobs from eBay but when checking to see what I paid for them I found I ordered them from Amazon. The 12 knobs were very inexpensive.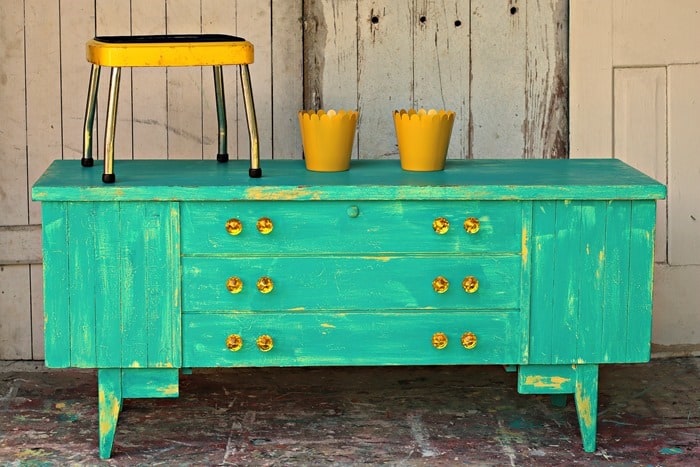 Let me tell you what I would do differently on this makeover if I had it to do over. I would apply less Vaseline for sure. I would also use a bolder color of green.
The green was very light and there was not much contrast between the yellow paint and the green paint. That is why it looks like there are only two colors of paint on the chest.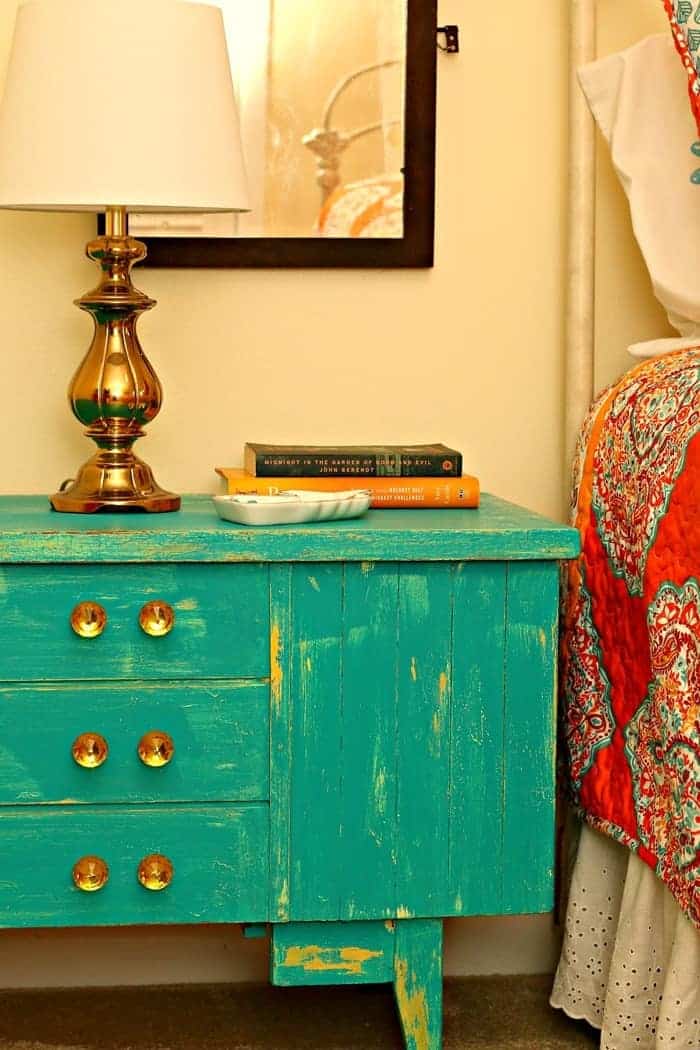 I placed the cedar chest beside the bed in the granddaughter's bedroom just to get a photo because the colors look so good together. The chest will be going to the shop. We'll see if anyone buys it or if I have to repaint it!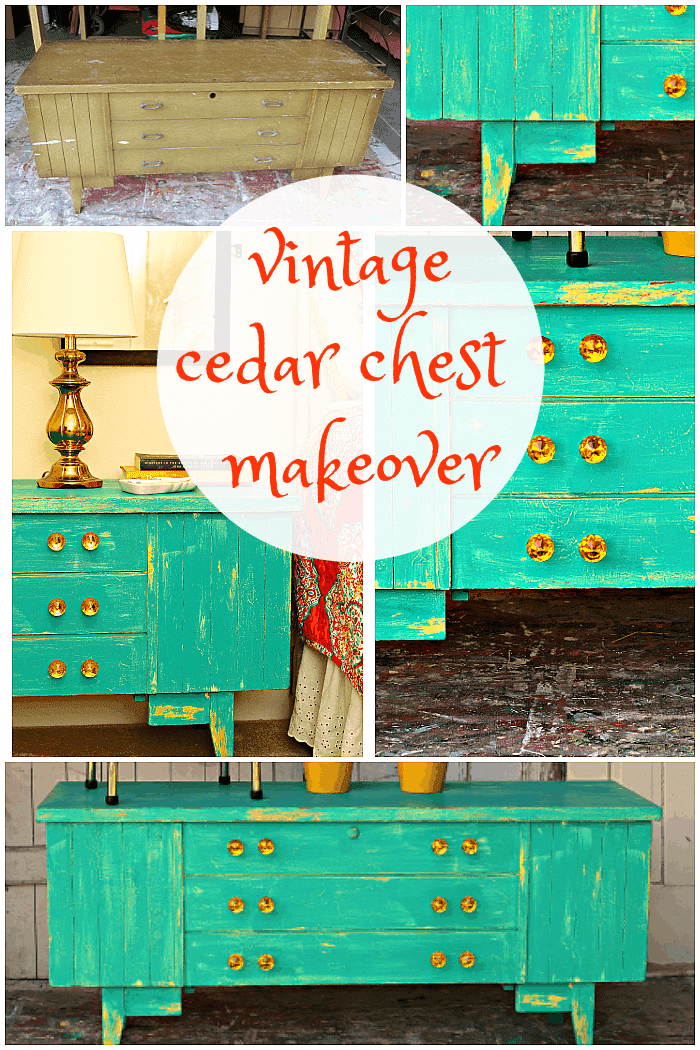 What do you guys think of the chest? I know it's not to everyone's liking or taste. Please watch the video below for a more detailed look at the Vaseline distressed furniture technique. I'm really fashion forward in my paint splattered clothes too……
(if you have an ad blocker on your internet browser you have to turn it off temporarily to view the video)
Vaseline Distressing Technique
Find the FolkArt Texture Chalk in Indigo Island, the 3M Sandpaper, the Howard's Wax, and the Yellow Crystal Knobs on Amazon by clicking the product name (Amazon affiliate links).
Now it's time to see what everyone else worked on this month. Just click the text links below the "before makeover" photo collage below.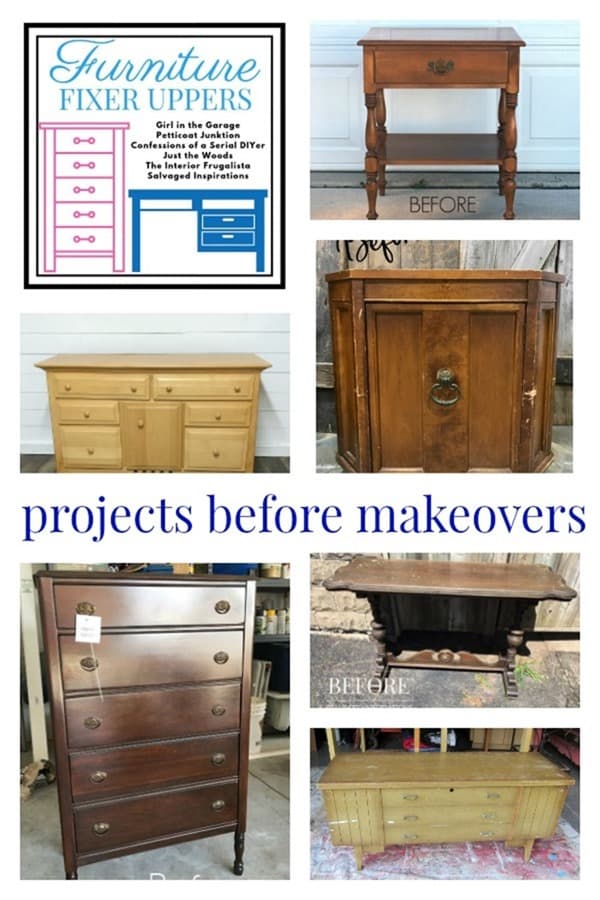 Ethan Allen Nightstand Makeover - Girl In The Garage
Farmhouse Dresser Updated With Transfer - Confessions Of A Serial Diyer
Paint Drip Furniture Painting Technique - Just The Woods
Antique White Sideboard Buffet - The Interior Frugalista
How To Glaze Furniture - Salvaged Inspirations
Vaseline Distressed Cedar Chest - Petticoat Junktion (you are here)
As always, thanks for being here and have a great day, Kathy
Author: Kathy Owen (Petticoat Junktion)
Kathy is the founder of PetticoatJunktion.com, a home décor blog focused on repurposing and upcycling furniture, old hardware, rusty stuff, and thrifty finds into unique home décor. Kathy's projects have been featured on the Home Depot Blog, Plaid Crafts, Behr Designer Series, and in numerous magazines. Read more about Kathy here.