Decorating Candle Holders With Pom Pom Fringe and Rick Rack
When I think of red white and blue home decor I think of stars and colorful stripes. I love stars and stripes but I may not want to decorate with them all year round. Well, my diy candle holders don't include stars or stripes, just paint and fun fabric trims.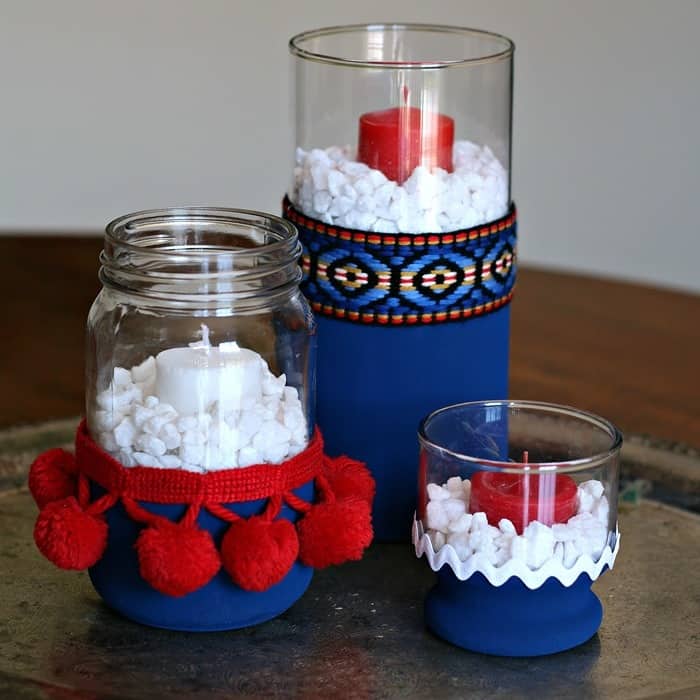 Fun Candle Holders
The candle holders are easy to make and took no time at all. In fact I started out to make one and ended up with three.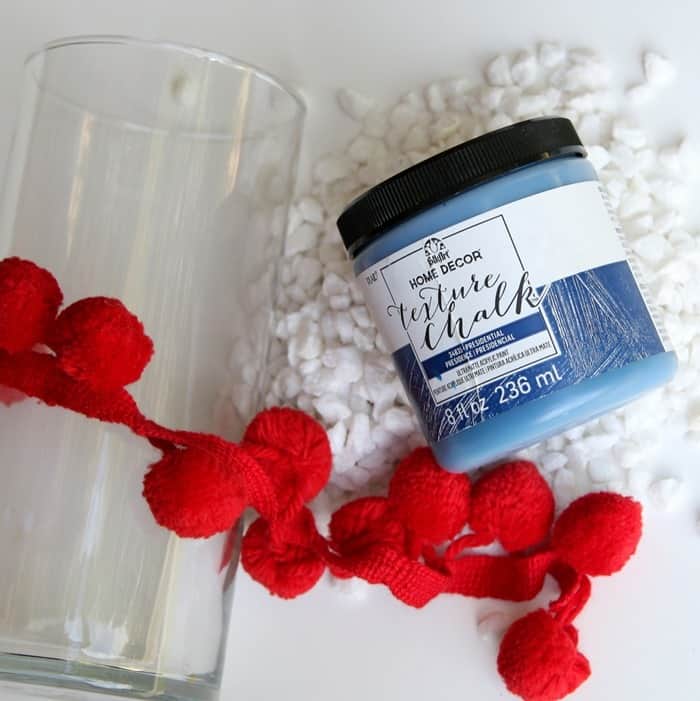 I started the project as I always start my projects….with an idea and the supplies I think I need for the project. In this case I started with a budget vase from the Dollar Tree that was in my stash. In fact everything was in my stash including the red pom pom fringe, white rock filler (also from Dollar Tree), and FolkArt Home Décor Texture Chalk color Presidential.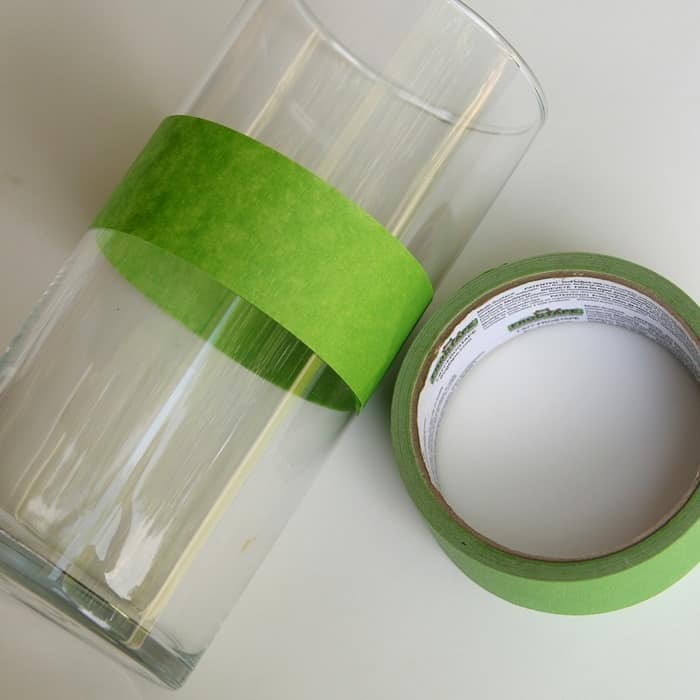 First thing I did was apply FrogTape to the vase. The plan was to paint the lower part of the vase. I didn't measure anything. None of my projects are rocket science.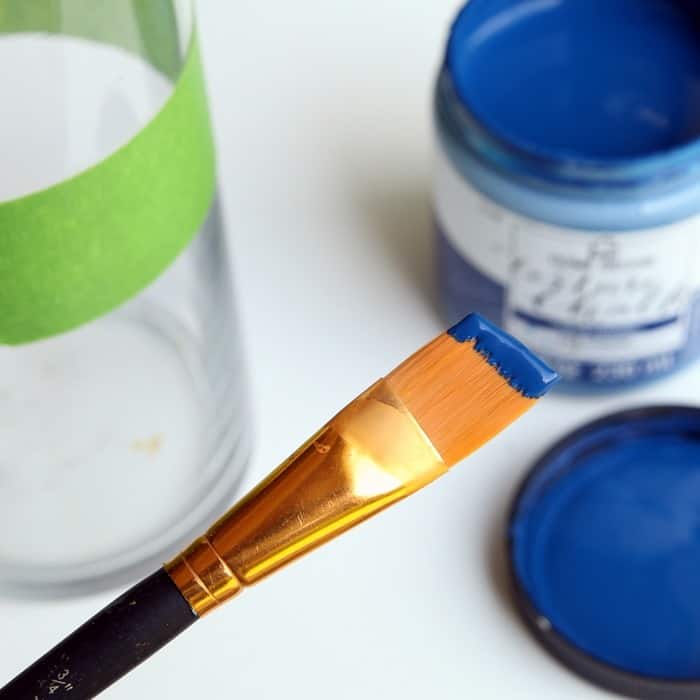 How about that blue color. It reminds me of my high school colors which were royal blue and white.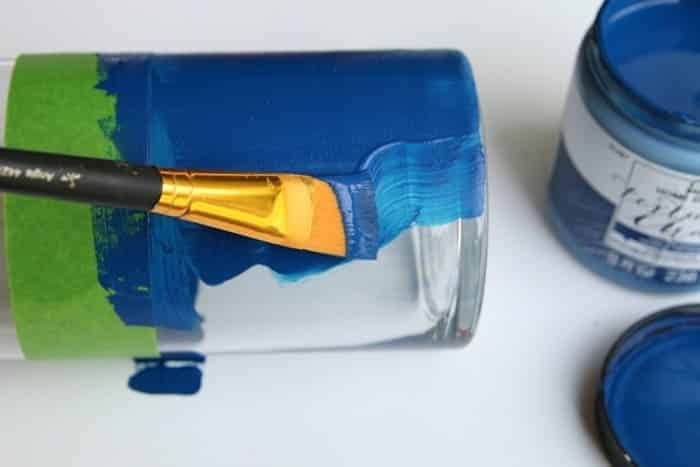 As the name implies the paint has a bit of a texture. You might be able to tell in this photo that the paint has tiny particles in it. Please excuse the squiggly paint line. I was trying to take a photo of the process with one hand and paint with the other. Not really doable. I brushed the paint on going up and down the vase vertically.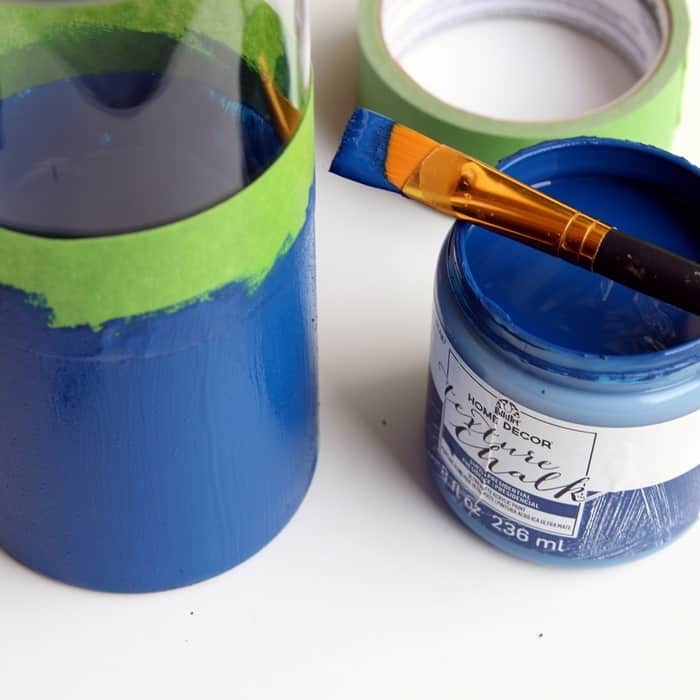 It took no time at all to tape the vase and paint it so I started looking for more vases or glass jars to paint.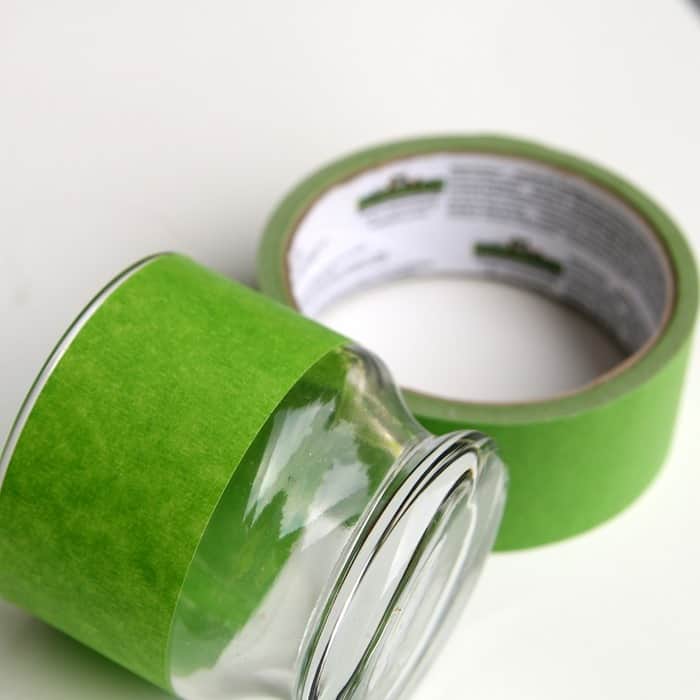 I found a small glass something on my junk shelves.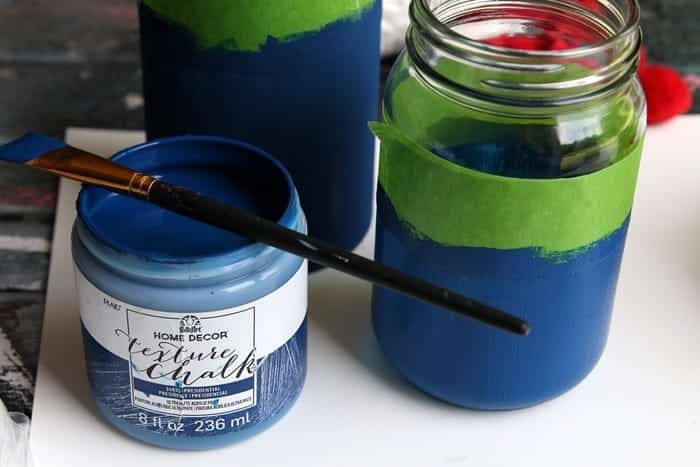 And I found a pint mason jar. I taped the glass jars off and painted them with the same FolkArt paint.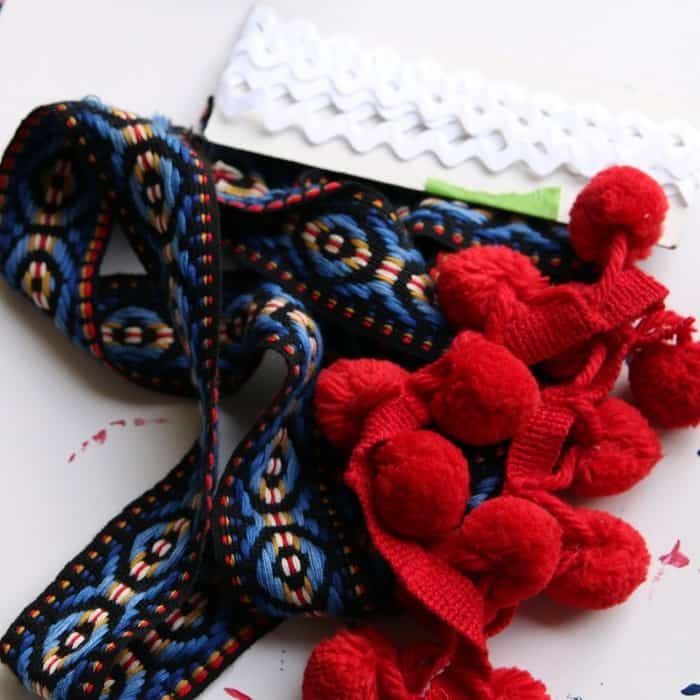 Next I needed to find more fabric trim because all three candle holders with red pom pom fringe might be overkill. I found the red, blue, yellow, white trim and a white card of rick rack in my notions box.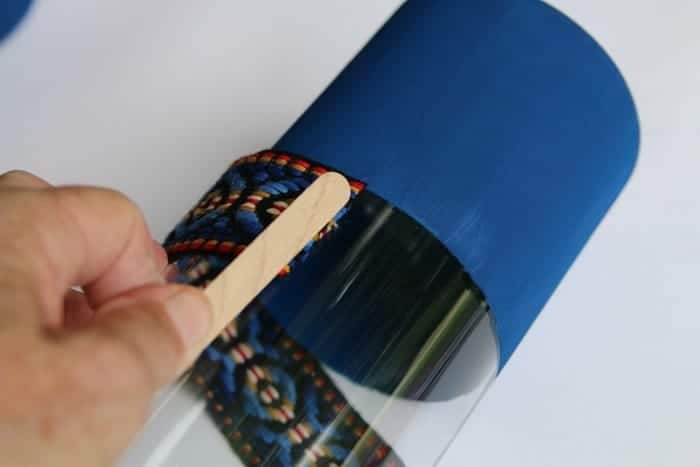 I hot glued the trims to the vases and jars. Didn't even try to get photos while hot gluing. TIP: use a popsicle stick or something similar to press the hot glued item to your project. It will save your fingers.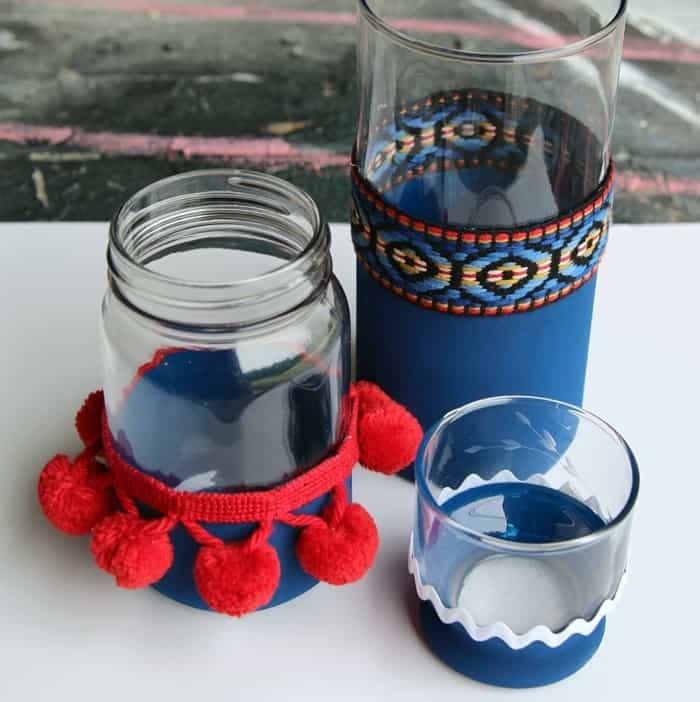 Red White And Blue Home Decor
All done and ready for the candles and filler. This is where the white comes in. I filled the candle holders with the decorative white rock filler then set the candles on top or down in a bit.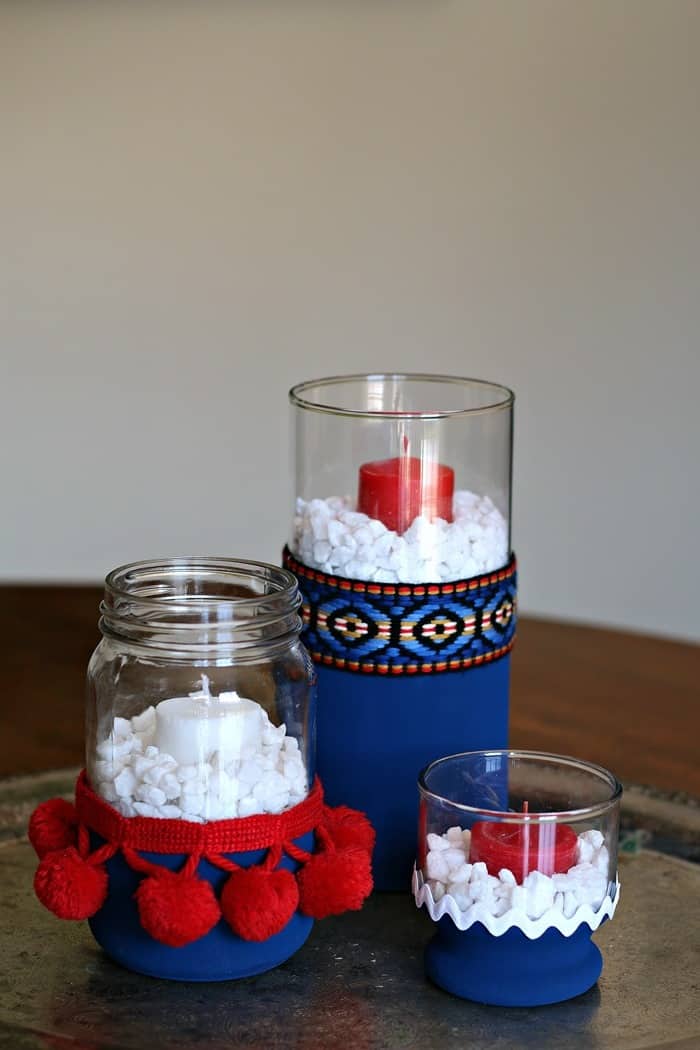 How pretty are those. Not your typical red white and blue decor. A bit whimsical and a bit classy thrown in together.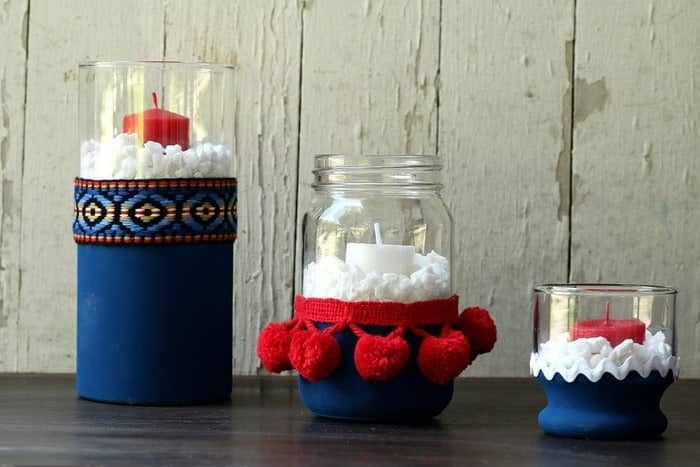 If you didn't want to go totally red white and blue then you could use river rock filler and you could always use different color candles.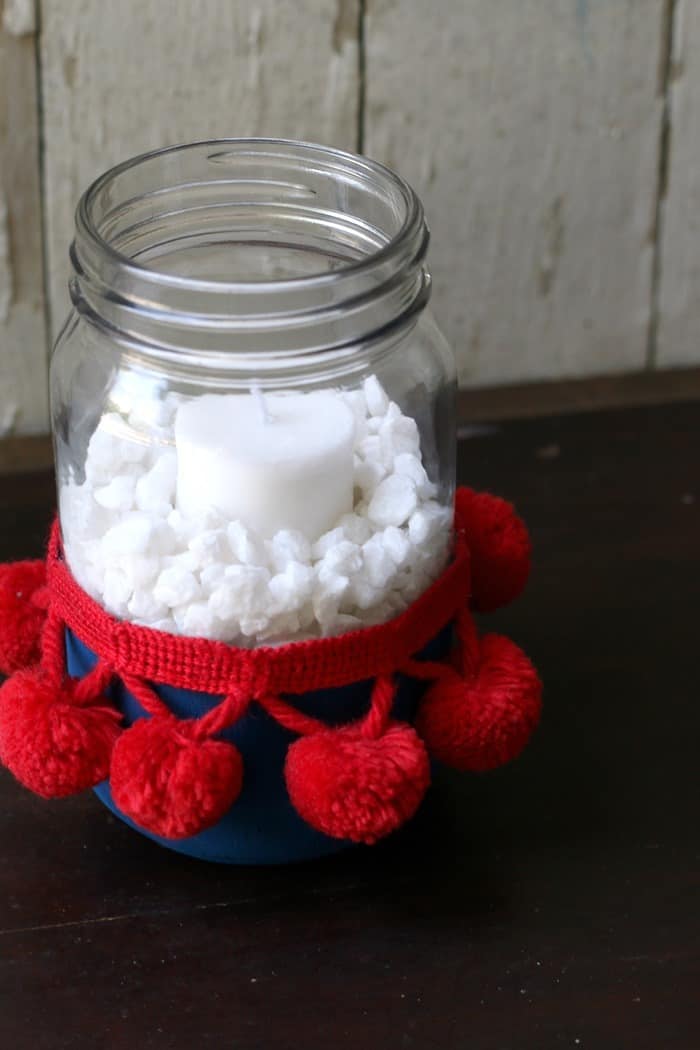 I really like the pom pom fringe but then I'm a sucker for red…and pom poms.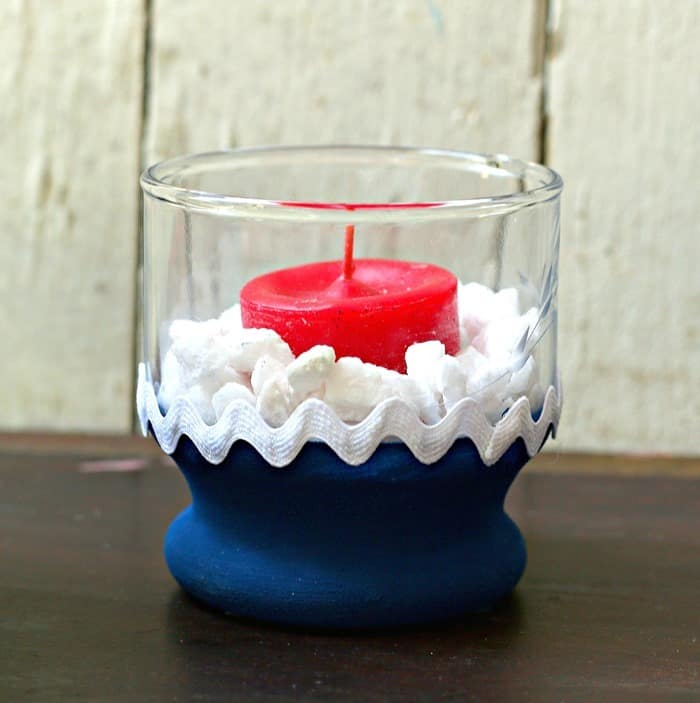 But……I like the white rick rack too. I remember the old days when we used rick rack to decorate  our homemade clothes.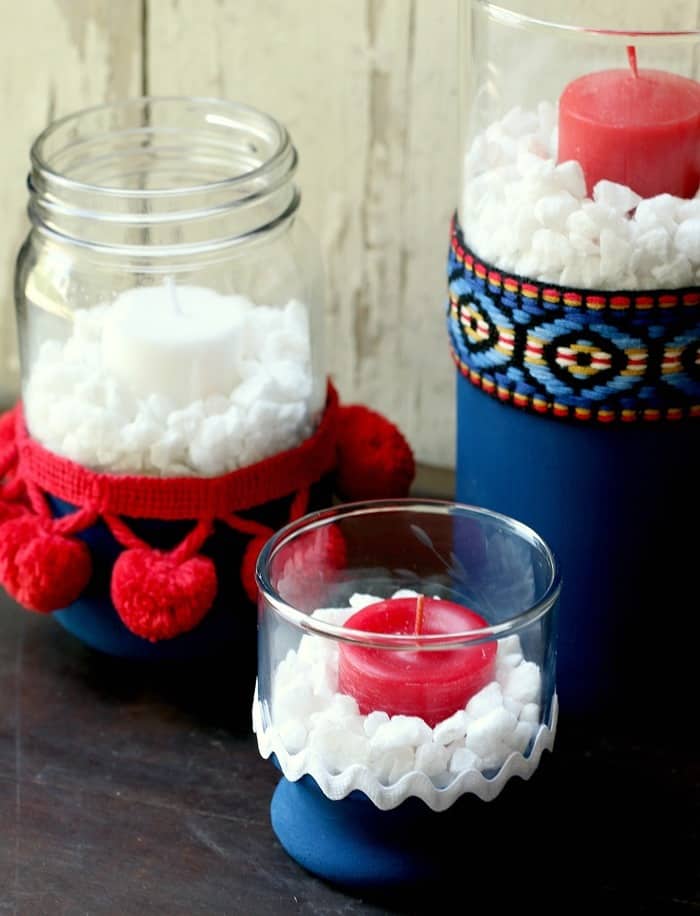 The multi-color trim is a bit classy. I think I bought this trim at the thrift store but really can't tell you for sure.
Find my favorite products used in this project on Amazon by clicking the product names….FolkArt Texture Chalk color Presidential, FrogTape Painters Tape  (Amazon affiliate links).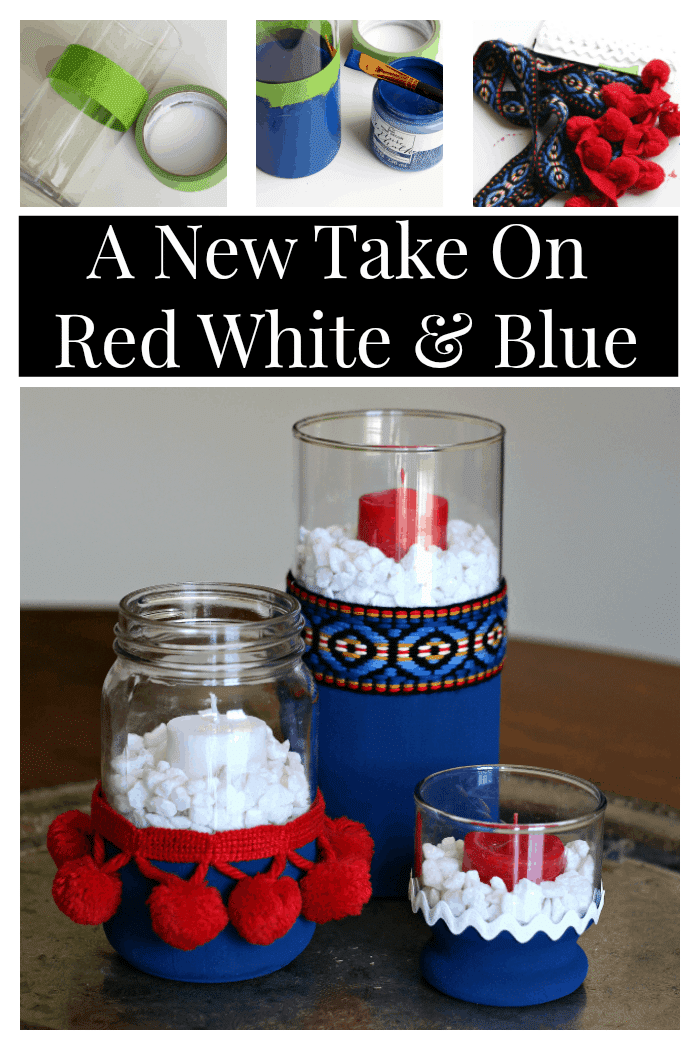 How do you feel about red white and blue home decor. Love it, hate it, okay at certain times of the year?
Do you have a favorite candle holder? I like the mason jar the best I think. If you don't like these colors or they don't fit your decor that's not a problem. This is just an idea to work from. The color choices and decorations available are endless. I love these beachy style candle holders I found on Fave Crafts.
Leave a note if you have time and as always, thanks for being here, Kathy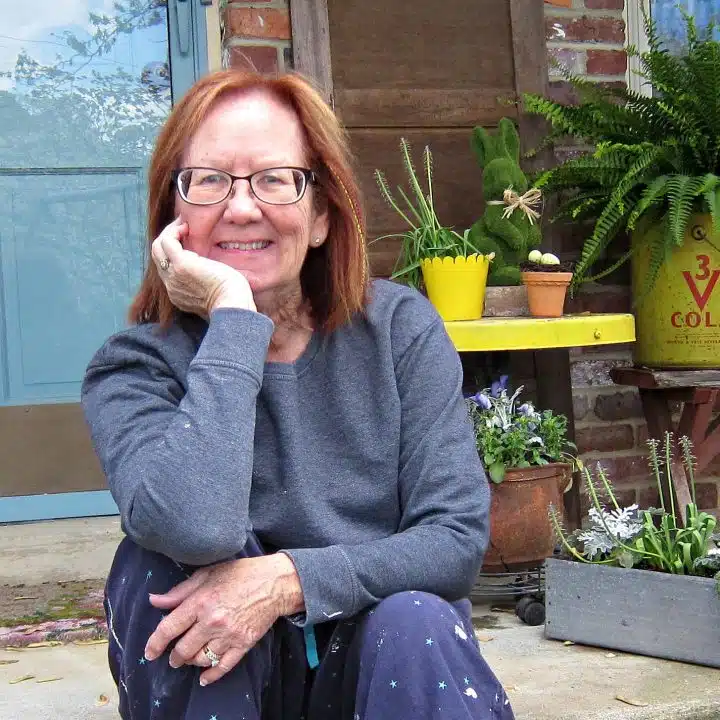 Author: Kathy Owen
Kathy Owen is the founder of the home decor blog Petticoat Junktion where she shares tutorials on painting furniture and upcycling thrifty finds into unique home décor. Her DIY projects have been featured on the Home Depot Blog, Plaid Crafts, Behr Designer Series, and in numerous magazines. Kathy's newest website is HappyHomeDIY.com