Iron Star Rustic American Flag
Learn to make this flag. It's easy! I have a bunch of photos and all the details here.
Thank you painters tape. I made the stripes on my rustic American Flag the same width of the painters tape. No measuring. woohoo!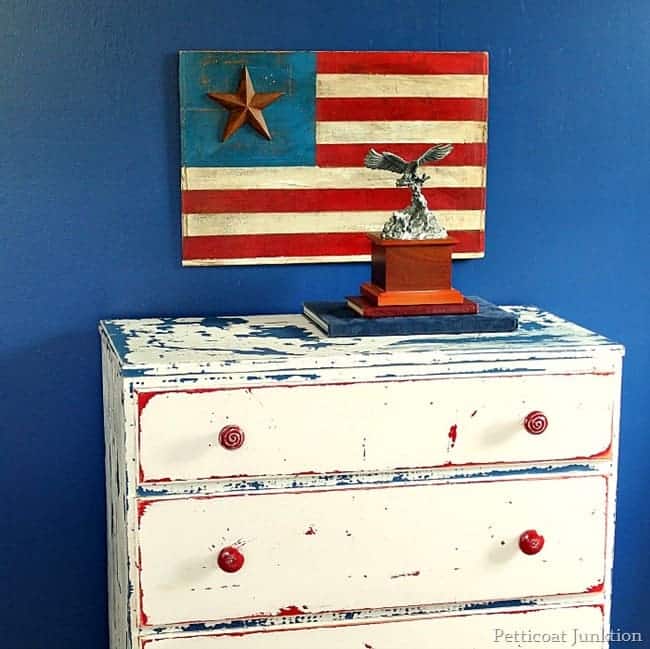 I painted the flag and hung it above my favorite red, white, and blue chest in what we call the grandsons room.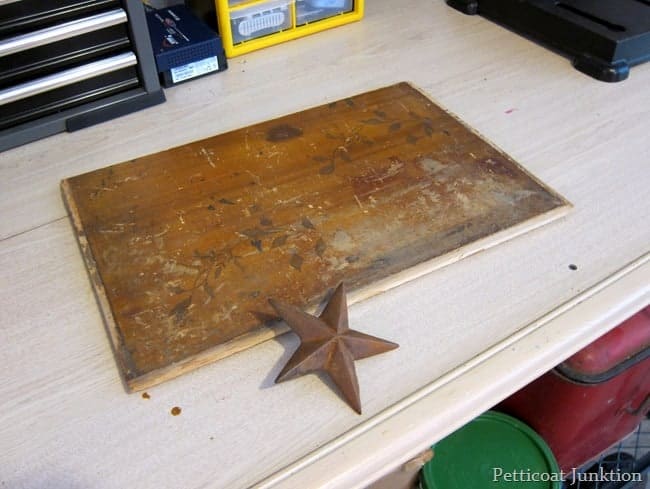 The flag is painted on a reclaimed drawer bottom. You can see I practiced a little stenciling on the wood at some point a long time ago. The rustic star has been around for awhile. I ordered a bunch of these on EBay a few years ago.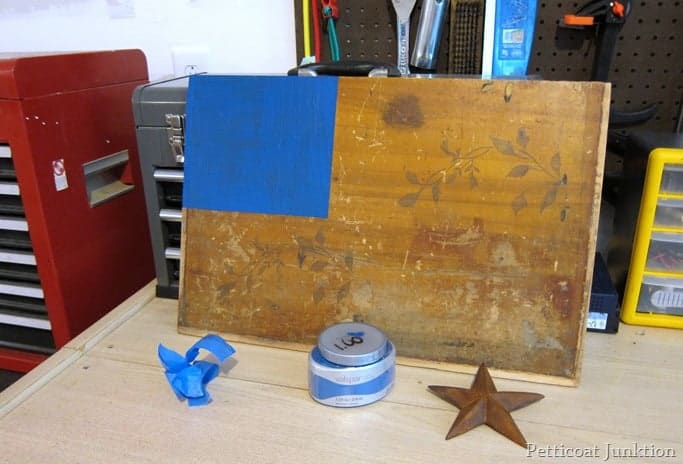 As I said, no measuring. I guesstimated the size of the blue block and taped it off. The blue paint is an awesome color. It was a $1 purchase at Lowes. It's Valspar but I don't know the color name. If you're interested I can run out to the workshop and look on the jar. Just let me know. I love oops paint!!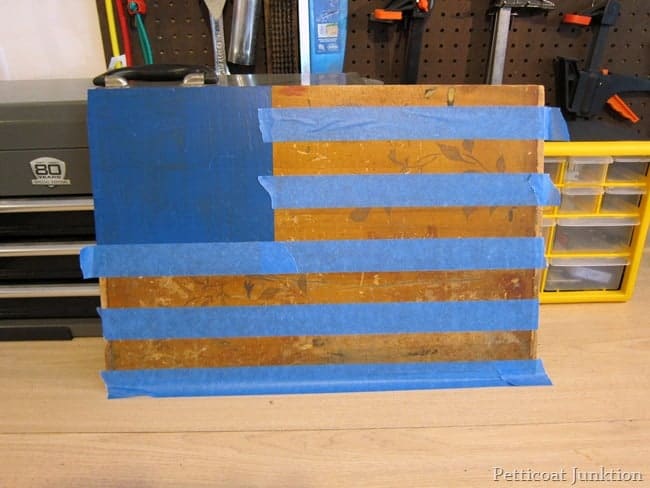 I was trying to decide what size to make the stripes and how to measure them whenever I had an ah-hah moment. The tape was 1½" wide so I just made the stripes that width!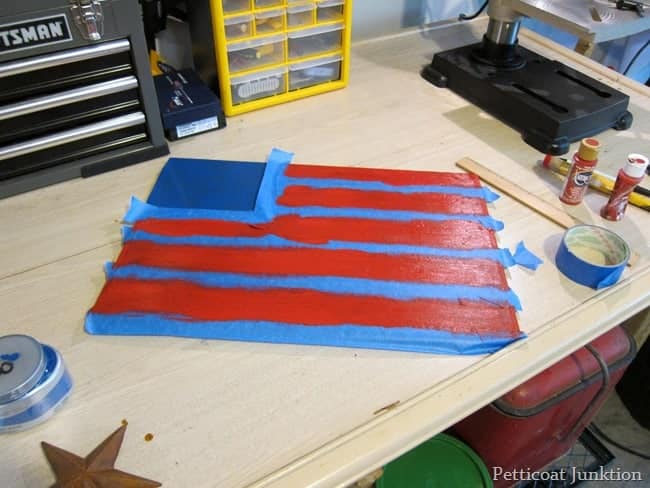 The red paint is an acrylic.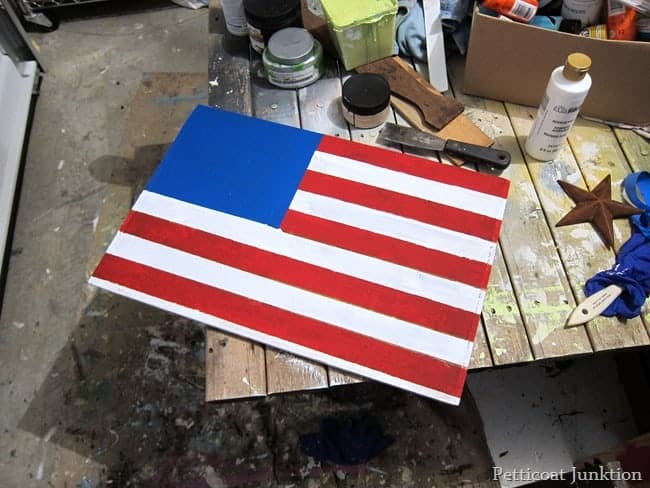 To paint the white stripes I just covered the red stripes with the blue painters tape…same width remember…and used white acrylic paint.
The hanger is a piece of wire just stapled on. The wood for the flag is really light so a lightweight hanger works perfectly.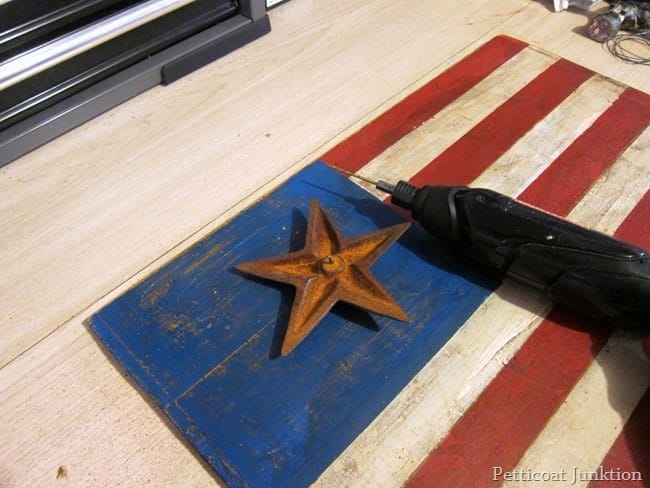 The iron star is one with a nail head. We had to cut the nail down because it was too long for the thickness of the board and I drilled a starter hole before nailing it in. Don't want the wood to split.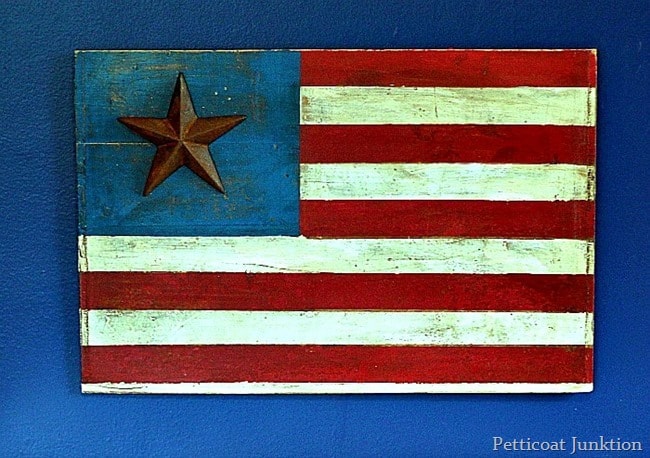 For the finishing touches I distressed the flag and used a dark wax.
Watch the video of me putting together a  Farmhouse Style Flag here…..
Farmhouse Style Flag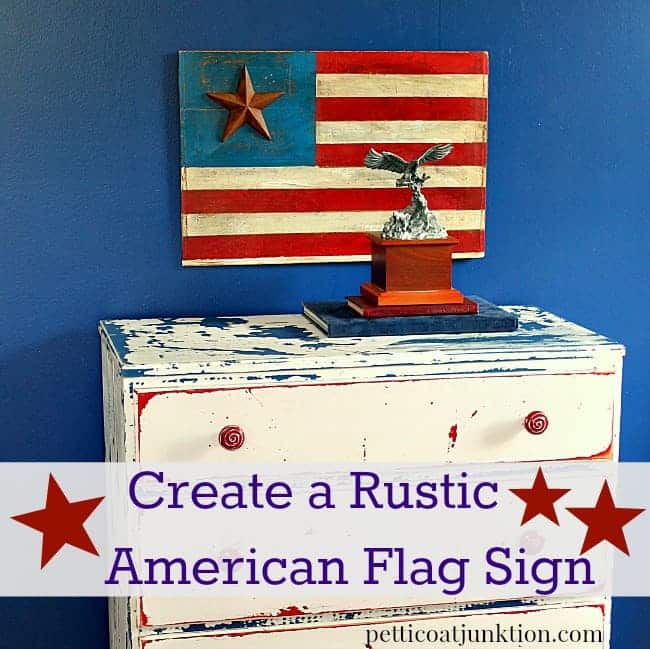 It looks great hanging over the chest but I think I'll move it to the mantel in July. Just for the month.
I made a farmhouse style neutral flag too. You might be interested in the details. Just click here….Farmhouse Style Flag.