Make A Flag For The Holidays
Make an iron star red white and blue American flag for the Fourth of July. I used a rusty iron star, red white and blue paints, and painter's tape to make this rustic flag on a recycled drawer bottom.
It was easy! The iron star flag will be the star (pun intended) of your holiday decor. I made the stripes on my rustic American Flag the same width of the painters tape. No measuring. woohoo!
I hope I inspire you guys with my sometimes thrown together DIY projects. You need to know that everything doesn't have to be measured and planned and thought out. Just start doing.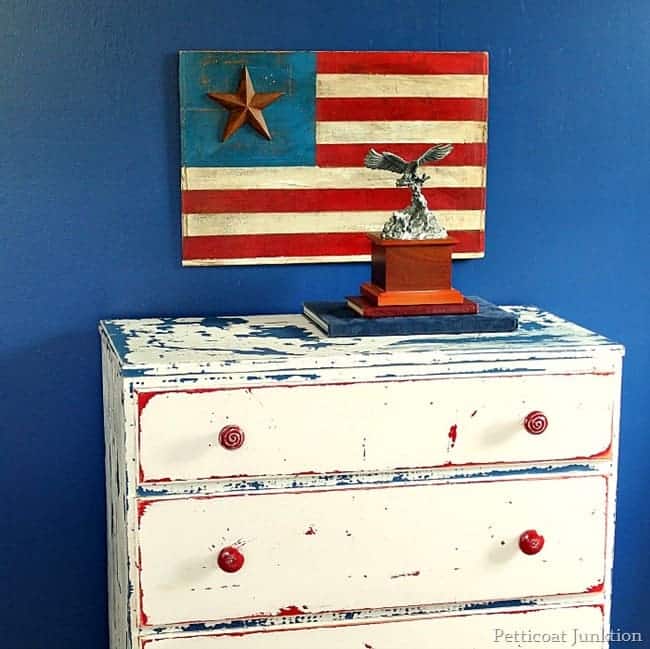 I painted the flag and hung it above my favorite red, white, and blue chest in what we call the grandsons room.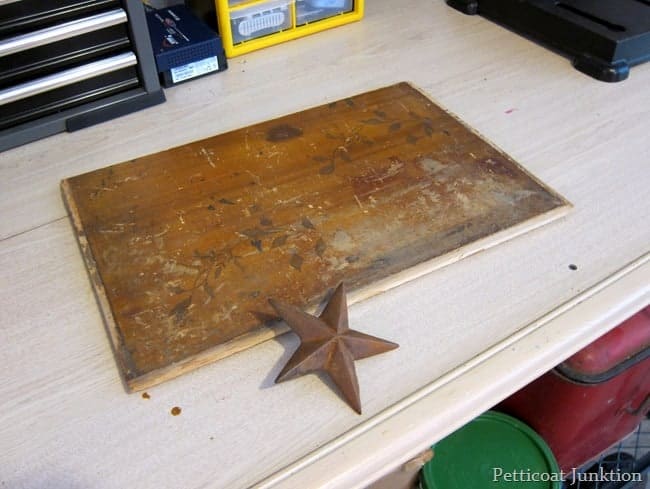 I knew the reclaimed drawer bottom would come in handy for something. You can see I practiced a little stenciling on the wood at some point a long time ago. The rustic star has been around for awhile. I ordered a bunch of these on EBay a few years ago.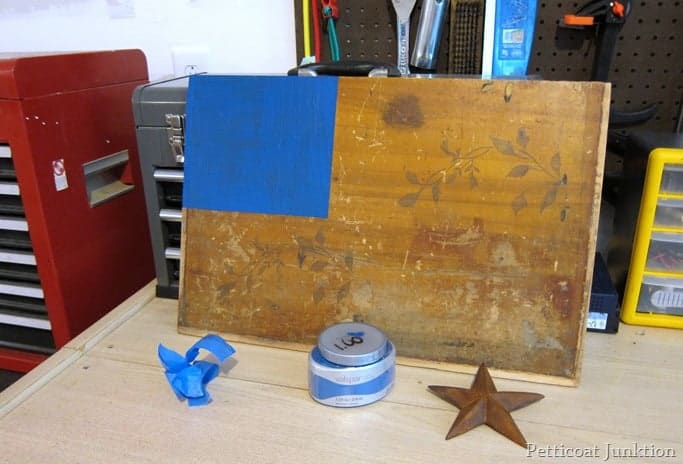 As I said, no measuring. I guesstimated the size of the blue block and taped it off. The blue paint is an awesome color. It was a $1 purchase at Lowes. It's Valspar but I don't know the color name. If you're interested I can run out to the workshop and look on the jar. Just let me know. I love oops paint!!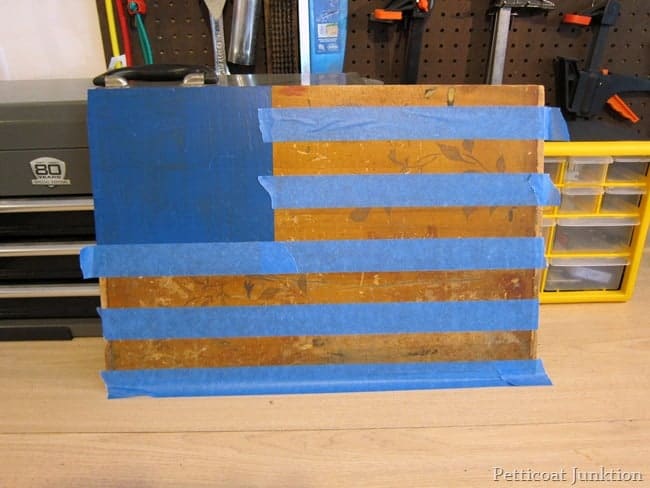 I was trying to decide what size to make the stripes and how to measure them whenever I had an ah-hah moment. The tape was 1½" wide so I just made the stripes that width!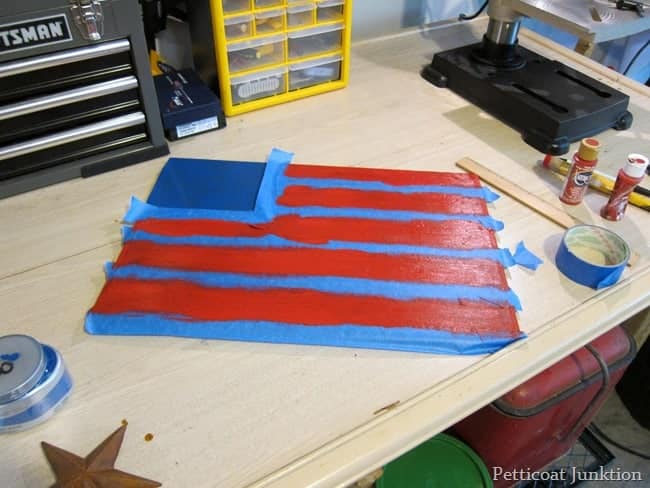 The red paint is an acrylic.It's  hard to find the perfect color of red. I don't like it to be too orange or too blue. I made my own red paint called Junktion Red and you can see it here....Junktion Red Special Paint Mix Formula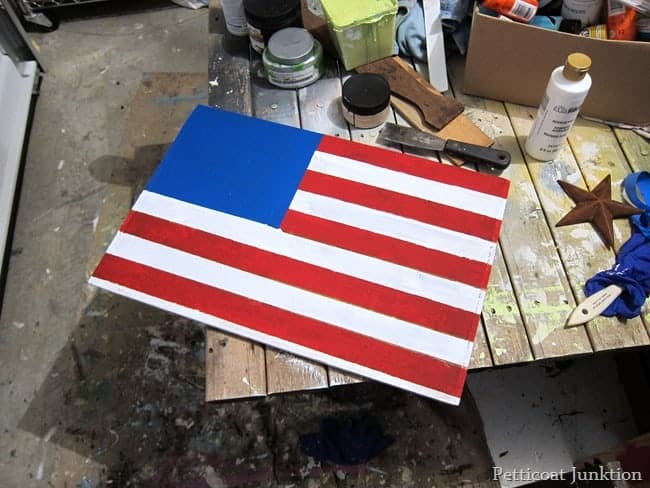 To paint the white stripes I just covered the red stripes with the blue painters tape…same width remember…and used white acrylic paint.
The hanger is a piece of wire just stapled on. The wood for the flag is really light so a lightweight hanger works perfectly.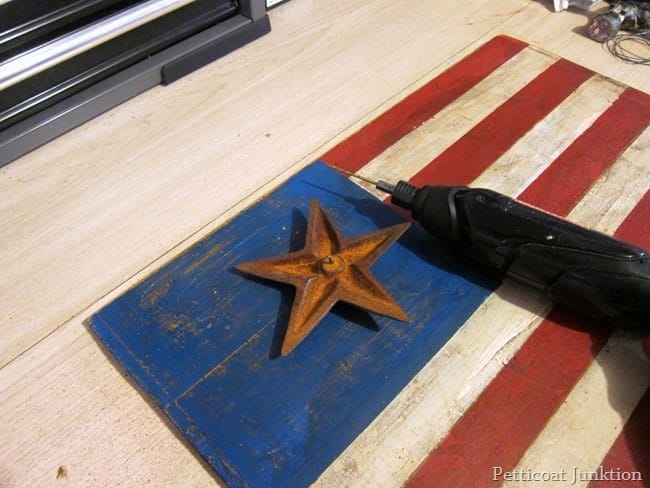 The iron star is one with a nail head. We had to cut the nail down because it was too long for the thickness of the board and I drilled a starter hole before nailing it in. Don't want the wood to split.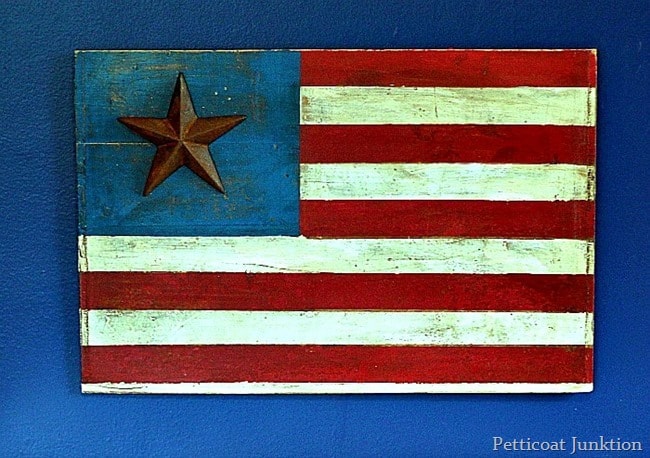 For the finishing touches I distressed the flag and used a dark wax.
This Farmhouse Style Flag I made is totally different from this red white and blue one. See the video tutorial below.....
Farmhouse Style Flag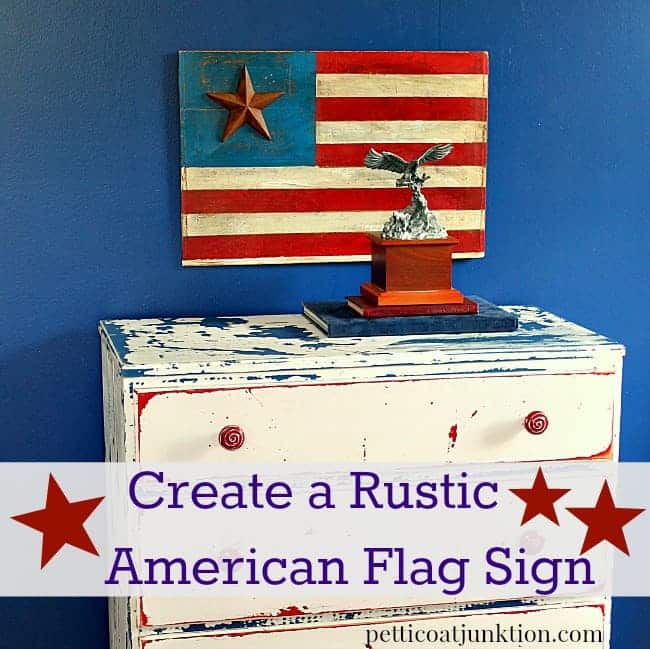 Iron Star Red White And Blue American Flag
Find my favorite 15 Rustic American Flag Projects With Star Appeal here.
Maybe check out the red white and blue candle holders I made using fabric trim here.....A New Take On Red White And Blue Home Decor | Candle Holders
As always, thanks for being here, Kathy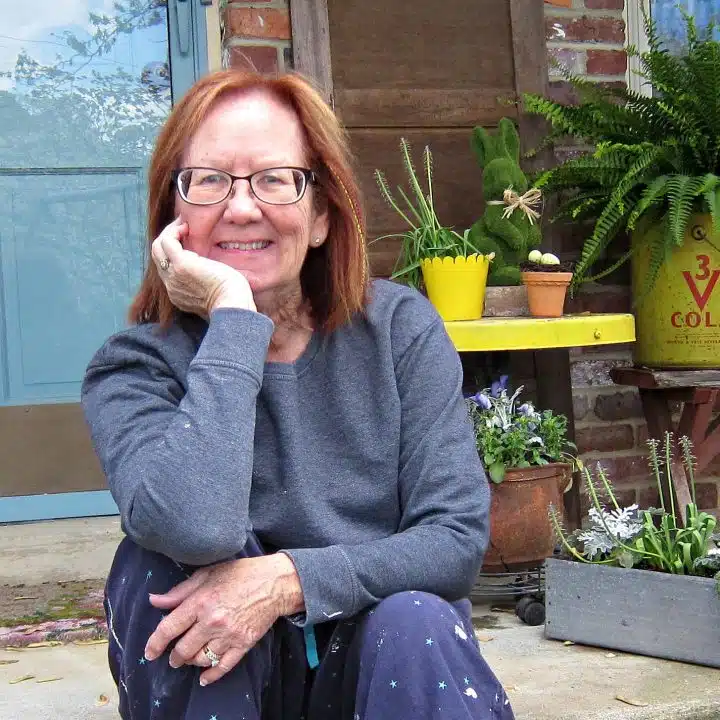 Author: Kathy Owen
Kathy Owen is the founder of the home decor blog Petticoat Junktion where she shares tutorials on painting furniture and upcycling thrifty finds into unique home décor. Her DIY projects have been featured on the Home Depot Blog, Plaid Crafts, Behr Designer Series, and in numerous magazines. Kathy's newest website is HappyHomeDIY.com