These outdoor plant container ideas are fun and creative! You will be surprised at the things you can reuse or reinvent as plant containers.
I love using unique containers to display my outdoor plants and flowers. No boring plastic containers for me. Finding unique containers or reinventing an unusual piece as a plant pot has never been a problem for me. I usually find interesting items to upcycle at my favorite junk shop. It doesn't matter if the items are in perfect shape.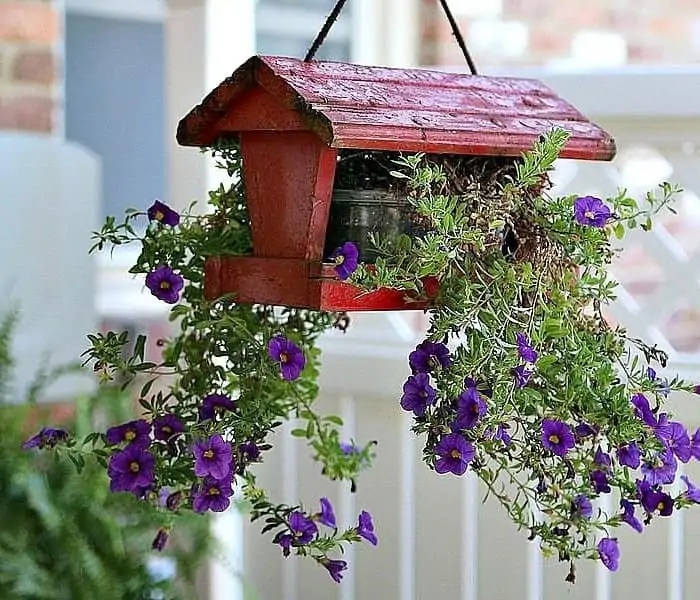 Galvanized buckets, coal buckets, and anything rusty or crusty are great. Some of my containers are rusted out and holey on the bottom. That's okay…… built-in drain holes for the plants. The bird feeder turned hanging planter in the picture above is one of my favorite upcycles.
13 Outdoor Plant Container Ideas
I gathered a few other favorites …..some mine….some from other DIY'ers…..for plant container inspiration. Some of these outdoor plant containers flat-out make me smile. These past few days have been unseasonably warm here in Tennessee and I've been thinking about Spring and flowers.
DIY Hanging Flower Pot This is the bird feeder upcycle featured in the first photo in the post. I found the bird feeder at the Nashville Flea Market and fell in love with it at first sight. I find it hard to resist anything red. I get that from my mother.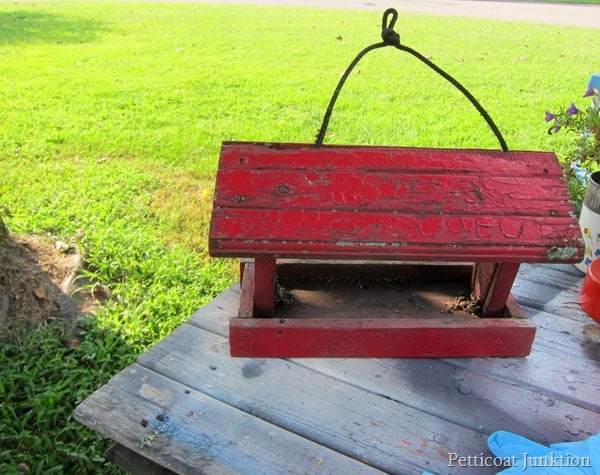 Recycled Food Containers As Succulent Pots. This project has me grinning from ear to ear. I spray painted food cans and plastic fruit containers with metallic spray paint and decorated them with old denim. It was fun and also experimental. I didn't know how well these items would take to the spray paint but they turned out great.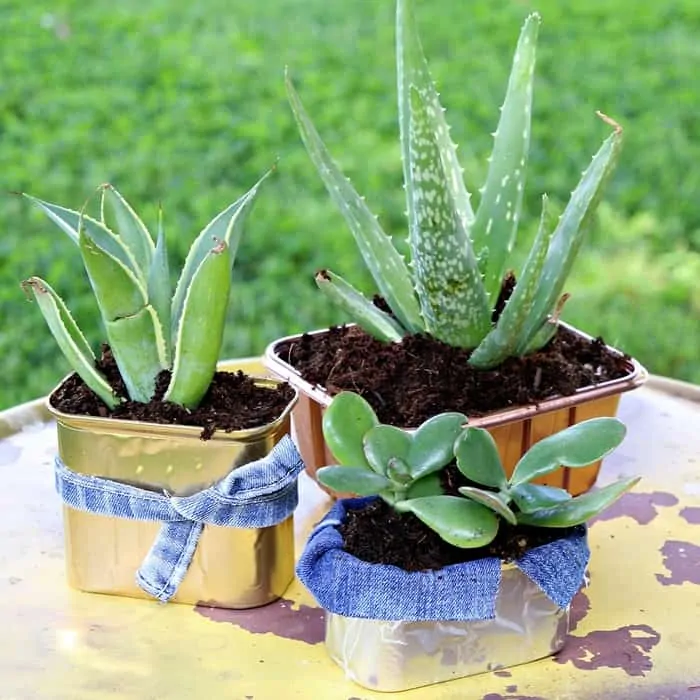 Pallet Vertical Garden. When you don't have the space for a garden in the ground, why not use an old pallet or two? Very creative thinking here. I love the chalkboard paint idea but I wish the "garden" would have been filled with plants instead of just one small container.
DIY Kettle With Belt Decoration. I found an old kettle at the junk shop and decorated it with a recycled belt.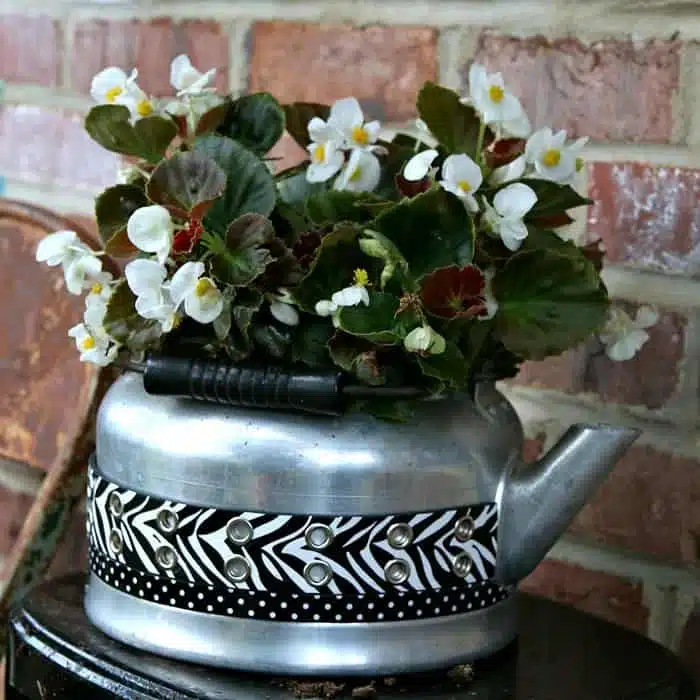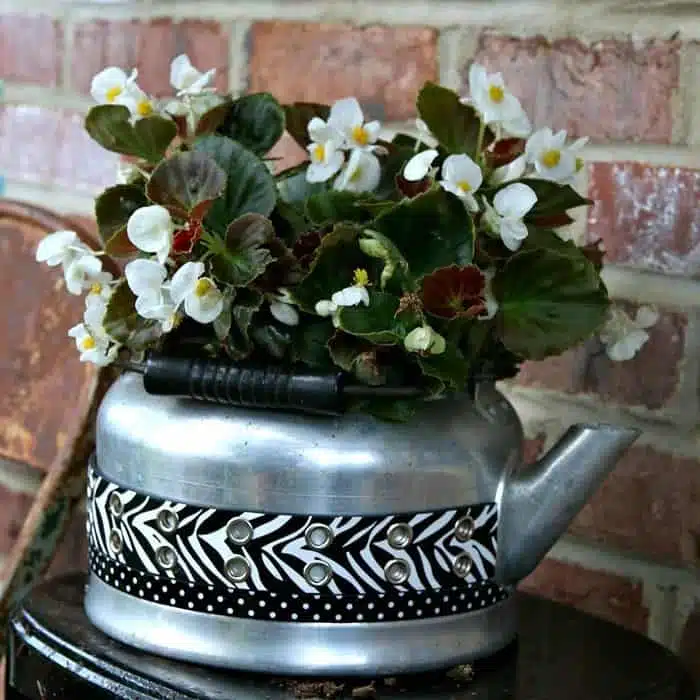 Rusty Wagon Planter. This is a great reuse idea for an old wagon. If nothing else, it's an awesome conversation starter for people visiting your home.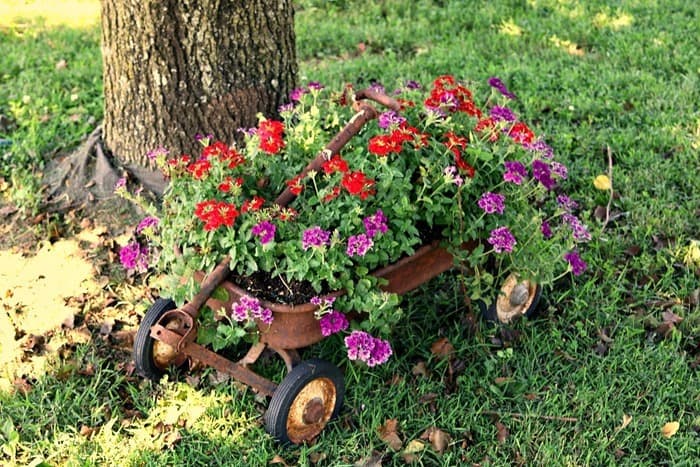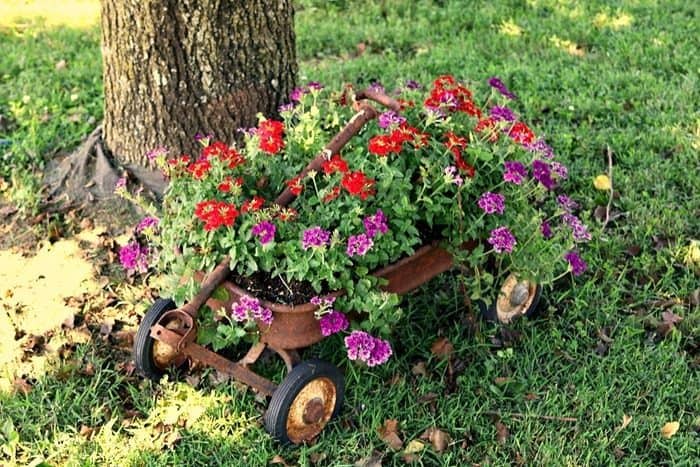 I bought the wagon at a local junk shop and have been using it in my porch and yard decor for years. Sometimes it is filled with poinsettias.
Vintage Metal Ice Chest Flower Container. This is another of my unique container ideas. The vintage metal ice chest had planter written all over it.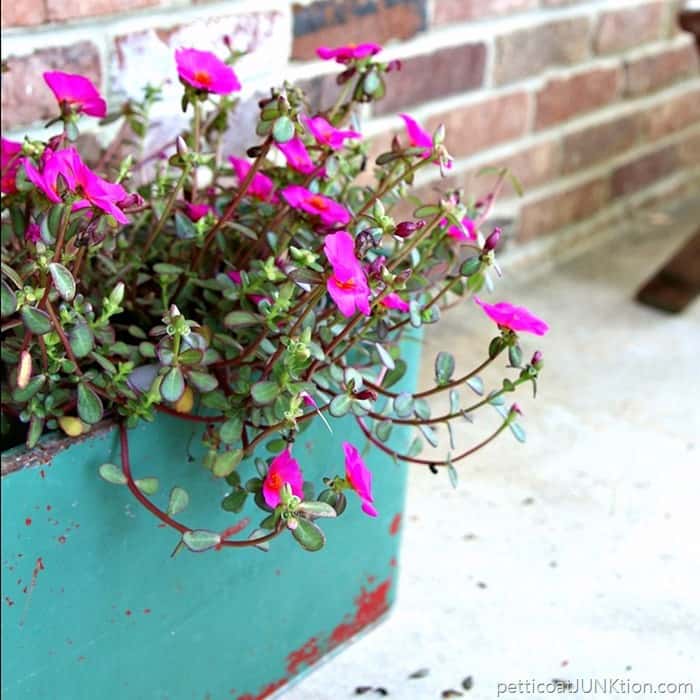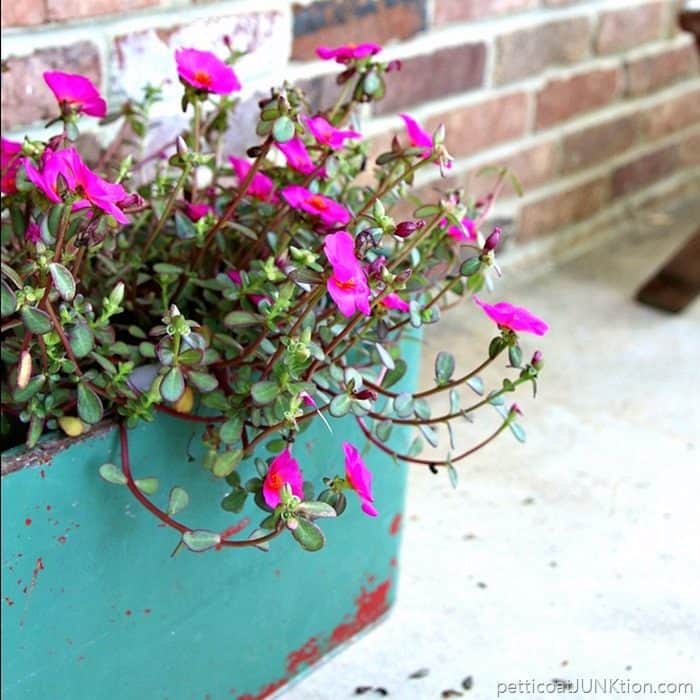 DIY West Elm Inspired Succulent Planter. Another terra cotta pot makeover. This time the paint was inspired by a designer look spotted at a high-end home store. The makeover is easy and the pot will look great in any outdoor space.
Newspaper Log Roller When I repainted the Little Tykes Playhouse for my granddaughter I used an old paper log roller as a planter.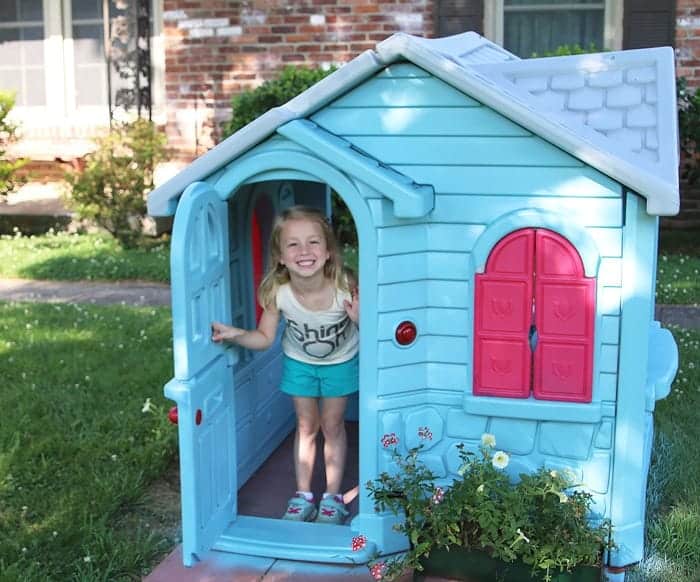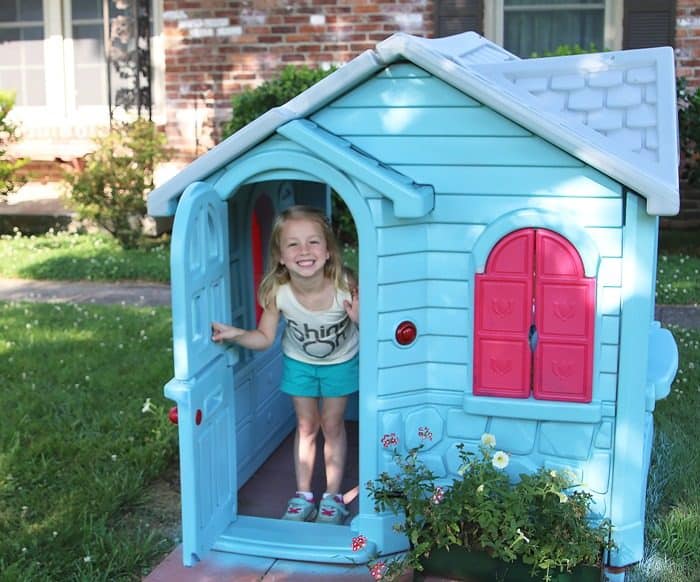 Address Flower Pot. Fun and unique way to showcase your house number and your outdoor plants at the same time.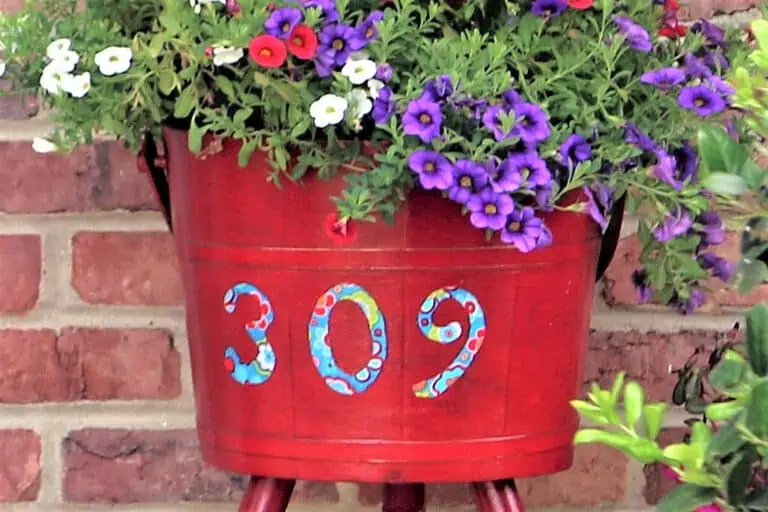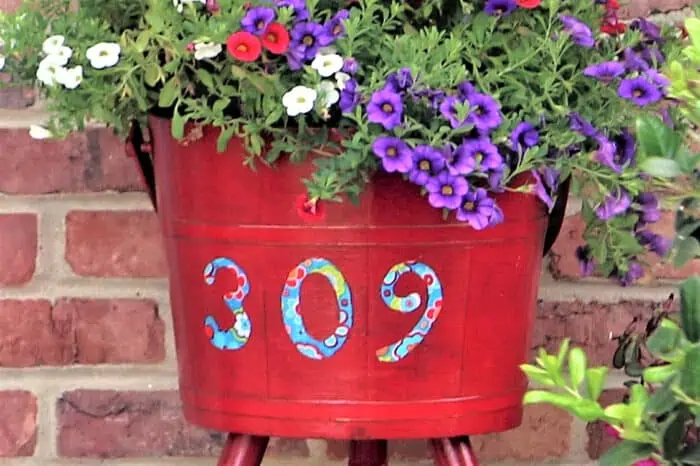 Privacy Planters with Lattice. This is another build project. The planters have a lattice addition that offers privacy where needed.
Toy Truck Plant Container. This toy truck planter is cute and whimsical.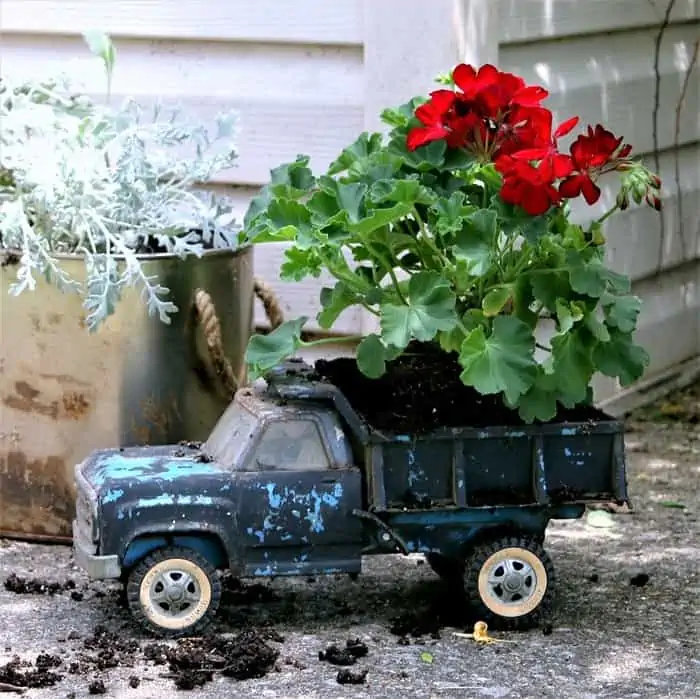 And from the same Spring porch decorating post is my Christmas Tree Stand planter idea.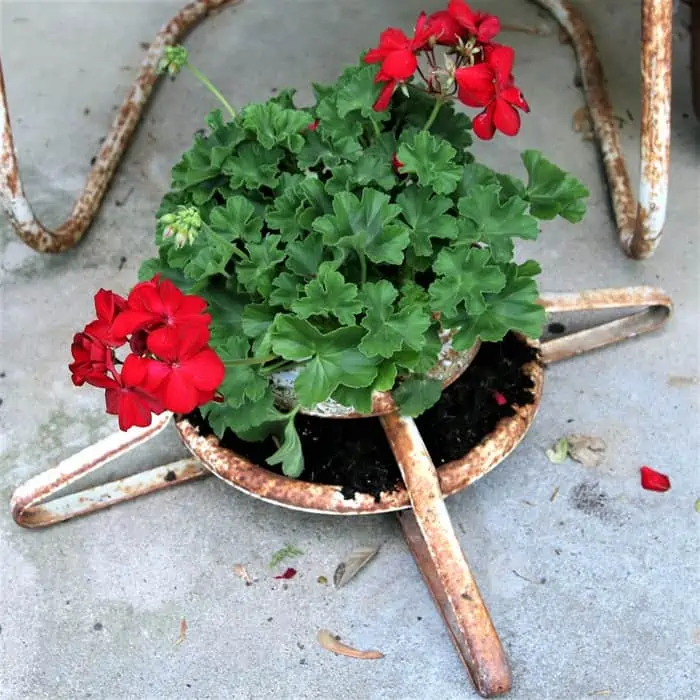 Well Loved Bucket Flower Pot. Just a simple galvanized bucket. I found it at the junk shop and it was beaten up and bent up. The JTS drilled holes in the bottom and I added a pretty flowering plant.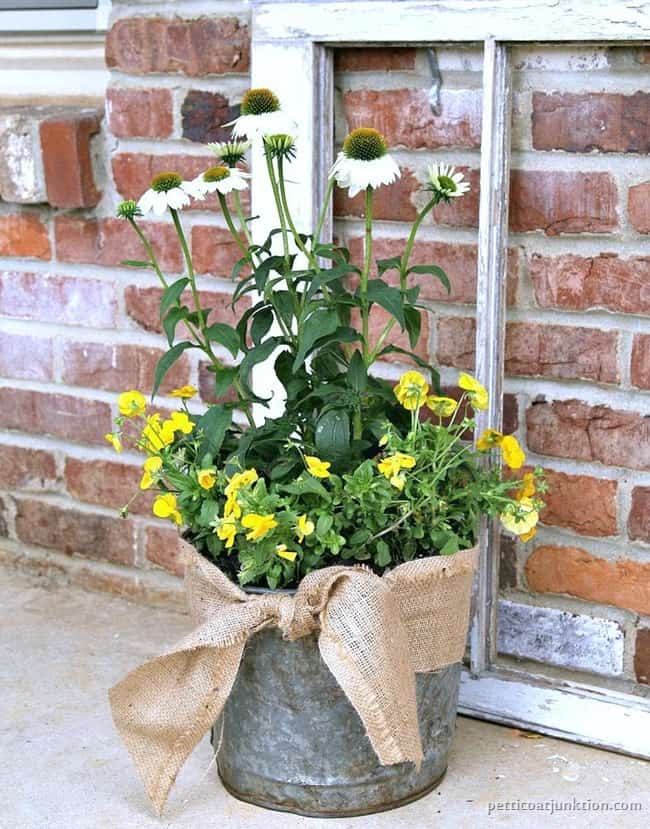 What was your favorite from the projects shared today? That's a hard one for me. If you like succulents and especially faux succulents or if you just want to know how to recycle old movie reels my project video below is a must see....
Upcycled, Recycled, Homemade, Plant Containers
When you're shopping at the junk shop or wherever for your own unique outdoor plant containers remember to think outside of the box…..or container. Would you have looked at the red bird feeder and pictured a hanging planter?
Have fun shopping. Spring is on it's way. Leave a note and thanks for being here, Kathy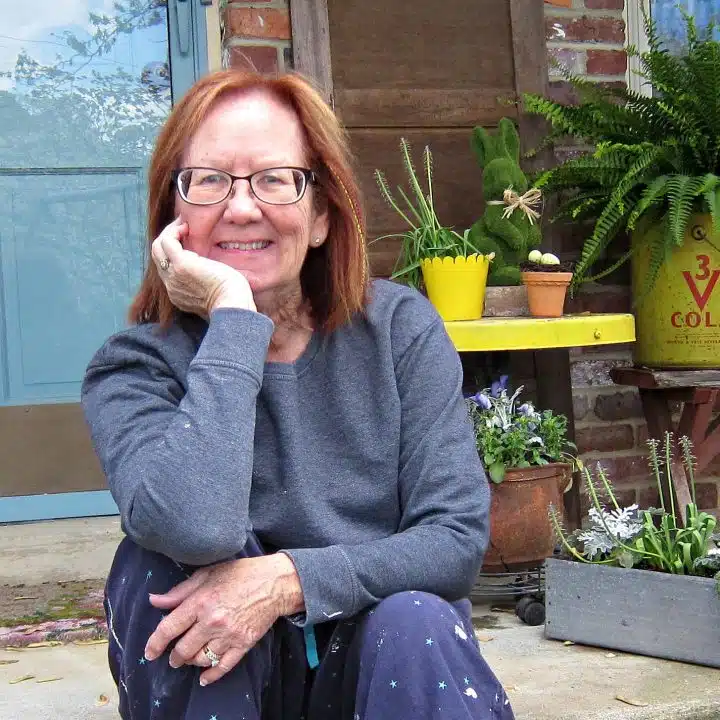 Author: Kathy Owen
Kathy Owen is the founder of the home decor blog Petticoat Junktion where she shares tutorials on painting furniture and upcycling thrifty finds into unique home décor. Her DIY projects have been featured on the Home Depot Blog, Plaid Crafts, Behr Designer Series, and in numerous magazines. Kathy's newest website is HappyHomeDIY.com