DIY recycle project using spam cans and Rustoleum Metallic Spray Paint to create beautiful succulent pots.
Your friends will be amazed when you tell them what your fabulous DIY Succulent pots are made of. I recycled food cans and fruit containers using metallic spray paint to make these planters. A great way to help save the environment.
DIY Recycle
Spam cans, food containers made out of plastic, fruit cartons, etc., can be spray painted and turned into cute little planters. I've done it. Call me crazy. I think you'll like this idea. Let me know after you take a look at the pretty metallic containers.
Supplies List:
Recycled Food Containers- metal, plastic, paper
Spray Paint- Metallic is perfect
Old Denim Jeans
Plants or Flowers- Succulents or violets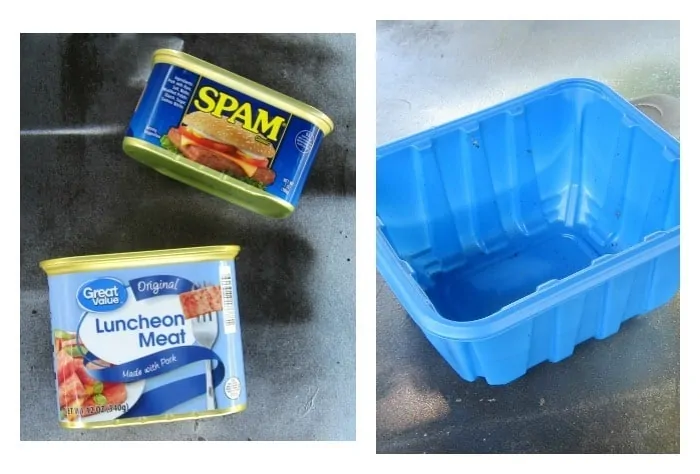 Spray Paint The Containers
Before spray painting the food containers clean them really well with soap and water. Any grease or oily substances on the containers will keep the spray paint from sticking.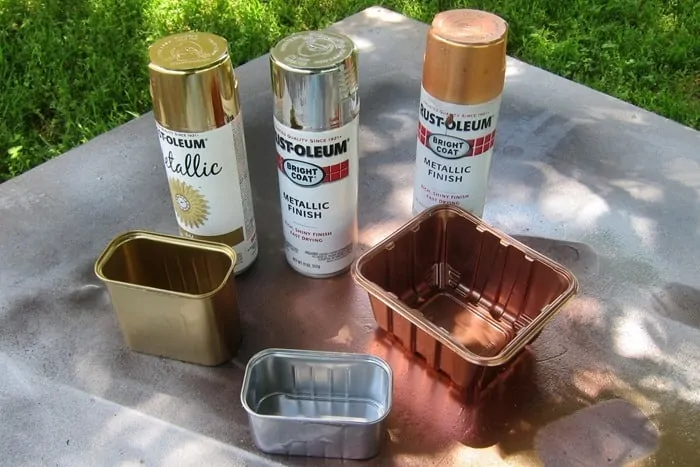 I could have used plain old white spray paint or turquoise or black, but why be ho-hum. Instead, I chose metallic colors in gold, silver, and bronze. I wasn't sure how well the containers would take the spray paint but I didn't need to worry. The metallic paints stuck like glue.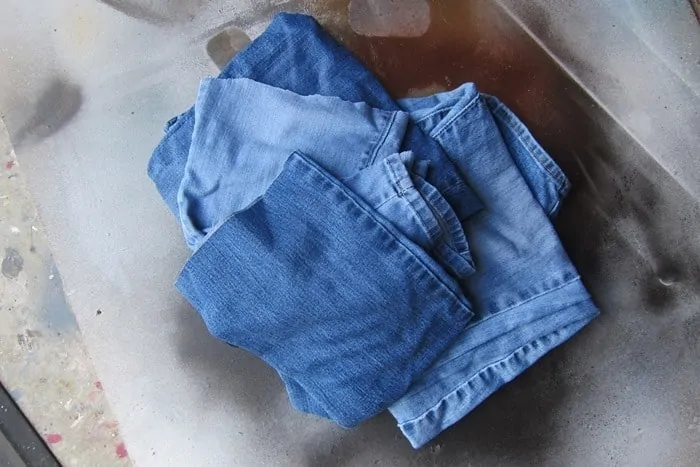 Decorate Spray Painted Food Cans
Once I had the containers painted, I got to thinking about how I could decorate them. I didn't need to go overboard because the shiny metallic colors said a lot all by themselves. I remembered the jeans I made into shorts earlier in the year and how I had saved the cut-off denim legs.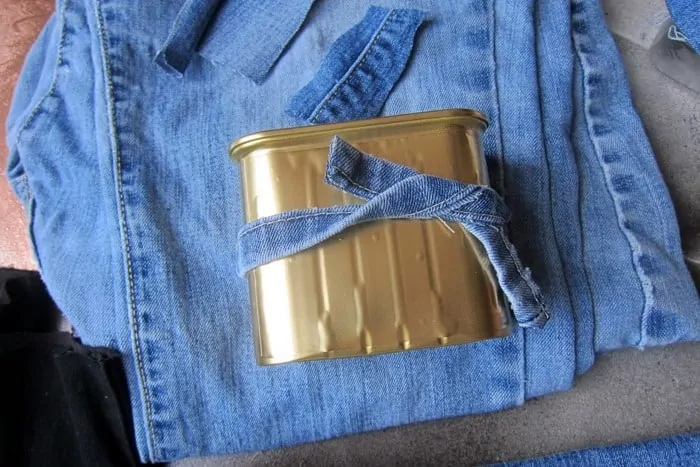 It was easy just to cut part of the hem from a jean leg and wrap it willy nilly around the tall can.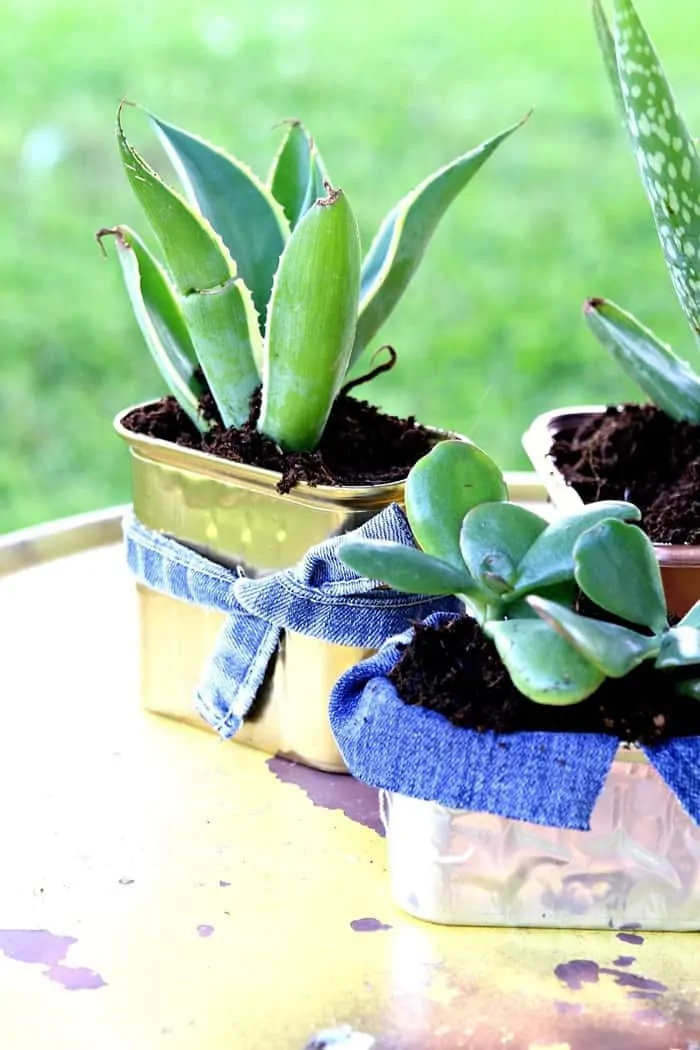 Then I cut a square of denim to stick down into the small can and flip over the rim to the outside. Again just winging it and not being precise with anything. I work best that way.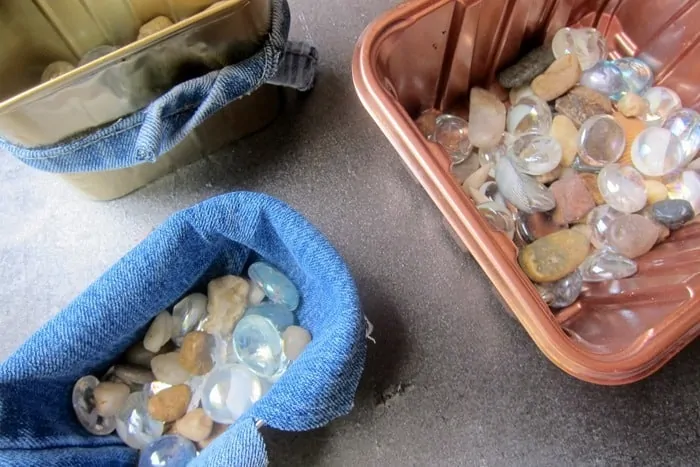 Tips For Putting The DIY Succulent Planters Together
Before putting the plants into the pots, I filled the bottom with rocks and glass beads. This will keep the plant roots from soaking in water if you have a tendency to overwater. I have the opposite problem but I was being optimistic about remembering to water the plants. I read up on how to care for succulents here.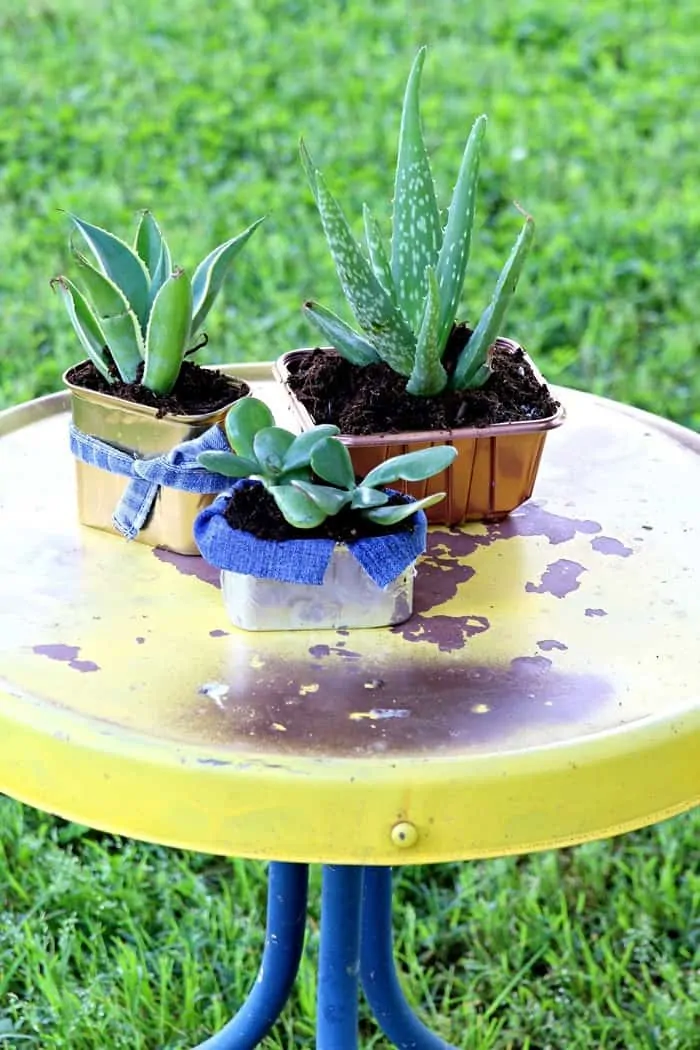 That's all there was to making the succulent pots. I saved some clear plastic fruit containers but haven't tried spray painting them yet.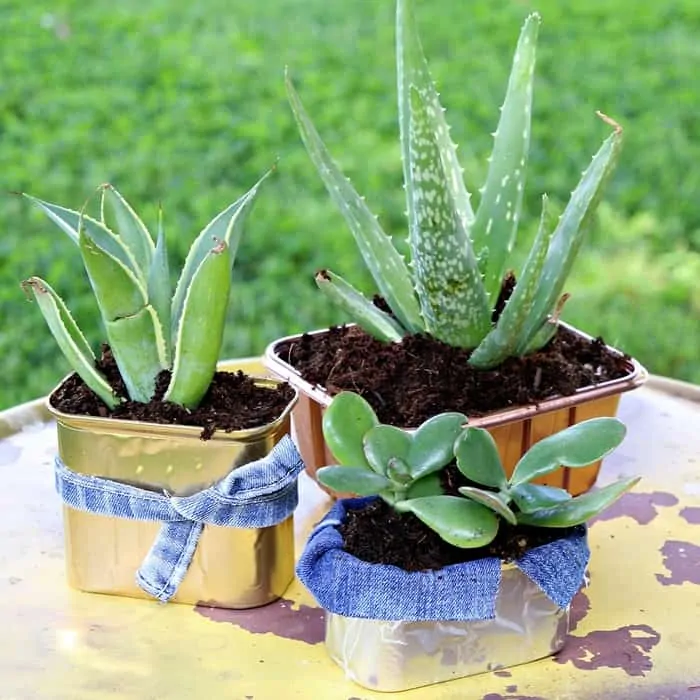 You know, the spray painted containers could be used for lots of things not just as planters. Maybe use them as remote control or phone holders……jewelry trays…..fruit bowls….etc.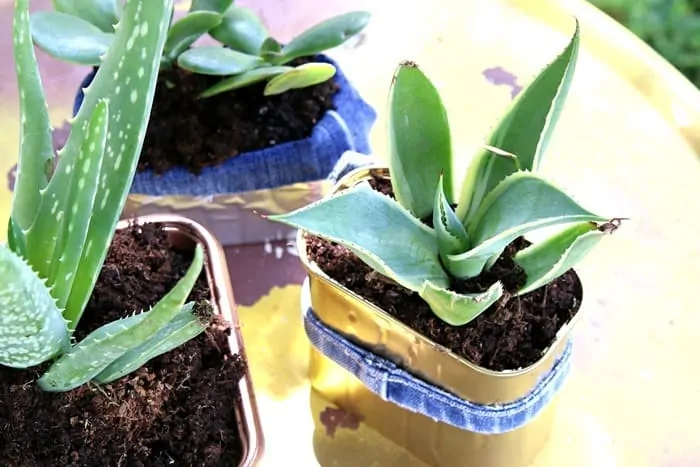 So guys, which is your favorite metallic color? How do you feel about the denim? How do you feel about succulents?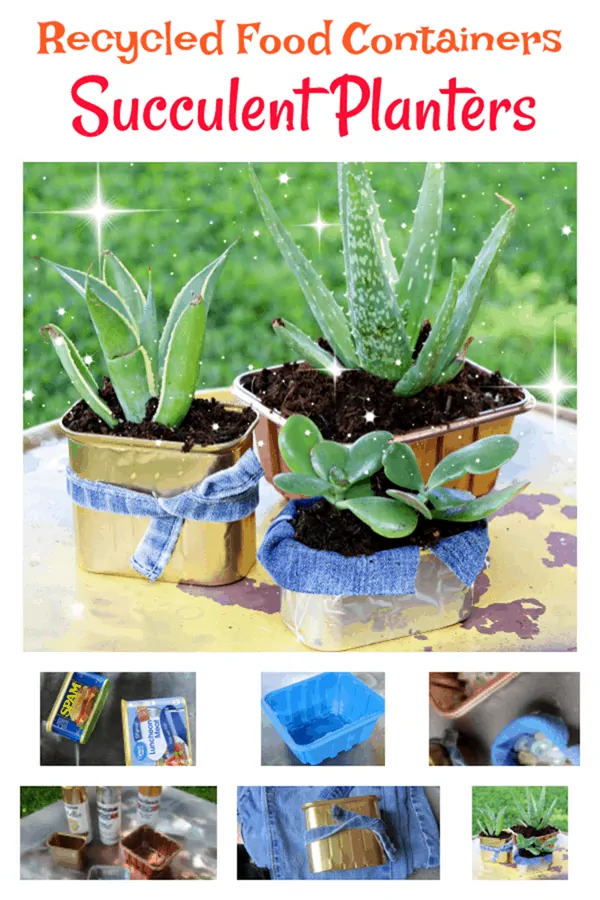 This is my first Aloe Vera plant and I read that you can just cut a piece off and rub the plant on a burn, cut, etc. Does anyone do this?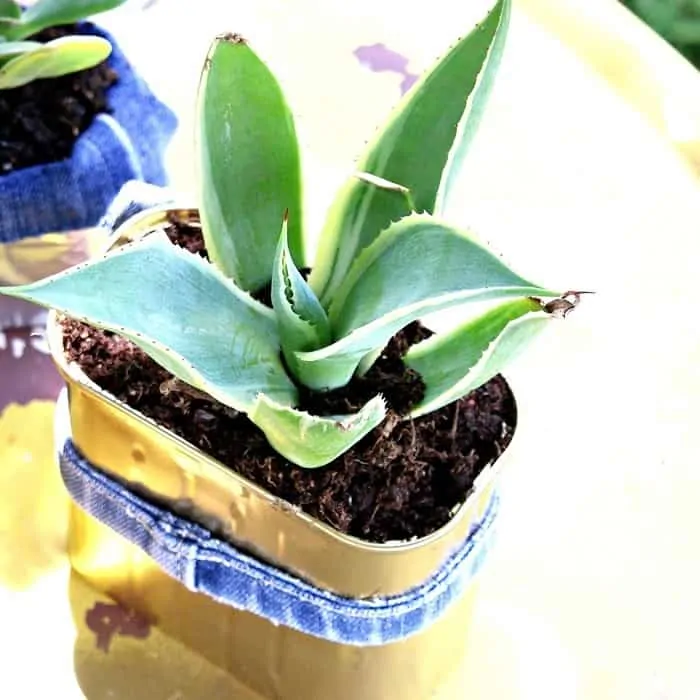 I have a great project for faux succulents using recycled film reels and I made a video. It's short and sweet and features three projects....
See how to recycle old furniture drawers here...How To Repurpose An Old Drawer
More Metallic Spray Paint projects here...Best Rustoleum Metallic Spray Paint Colors For Home Decor
That's it for me. You guys have a great day….and save some food containers to paint. Kathy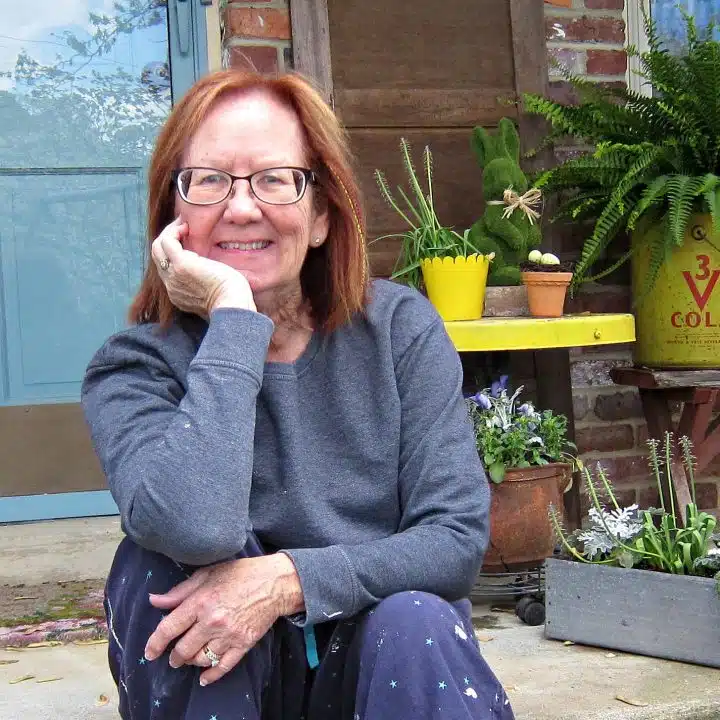 Author: Kathy Owen
Kathy Owen is the founder of the home decor blog Petticoat Junktion where she shares tutorials on painting furniture and upcycling thrifty finds into unique home décor. Her DIY projects have been featured on the Home Depot Blog, Plaid Crafts, Behr Designer Series, and in numerous magazines. Kathy's newest website is HappyHomeDIY.com