Thrift Store Decorating
DIY projects don't have to take a ton of time to be great! This 5 minute DIY is a versatile piece. It can be used to display all kinds of things or used simply as a candy jar. Nothing wrong with candy at all especially if it's chocolate.
I put various things in the glass container after fixing it up a bit and took photos of my favorite displays.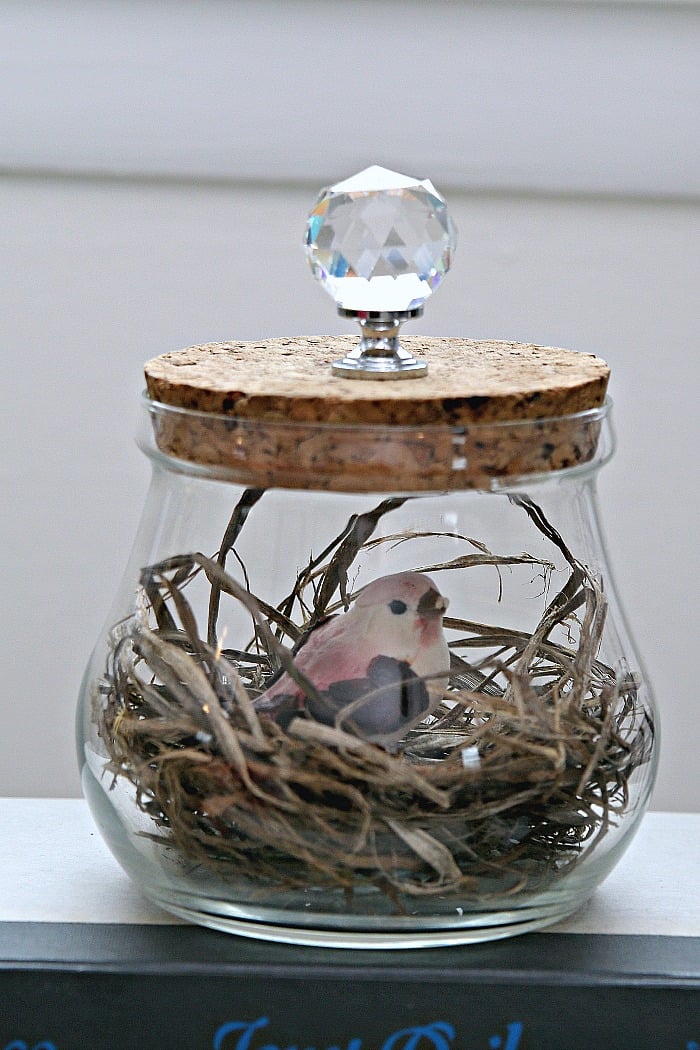 Today is Thrift Store Decor Tour day and my thrifty friends have some awesome projects…..as always.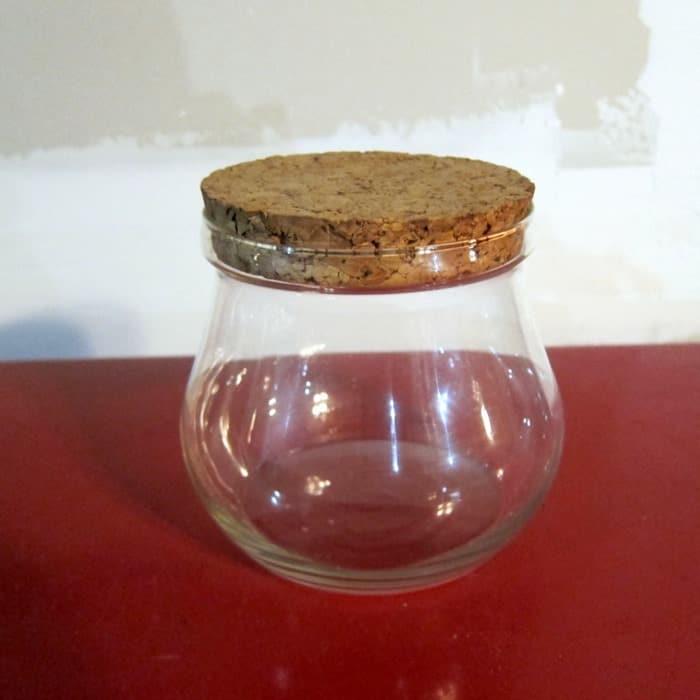 First let's go over my simple DIY. I bought the glass jar for $1 at the thrift store. I could see using it as a cloche or a decorative container to show off collectibles.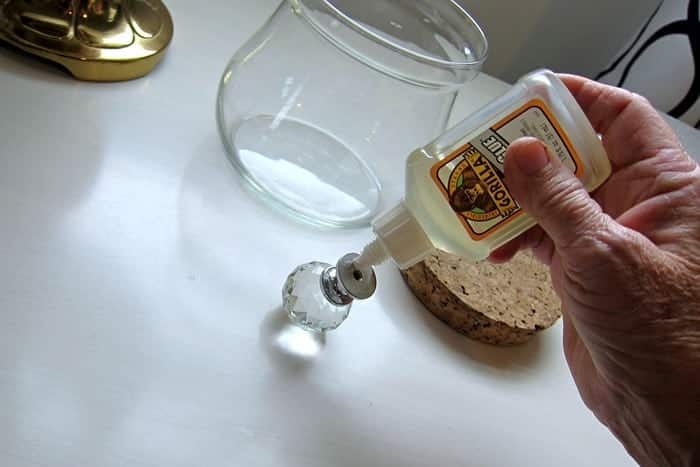 Petticoat Junktion is a participant in the Amazon Services LLC Associates Program. As an Amazon Associate I earn from qualifying purchases.
To class it up a little I added a glass drawer pull from my stash to the cork top using clear Gorilla Glue. I chose the clear knob to keep the look neutral. If I used a red knob ( or any other color) it might not go with what I wanted to put in the jar.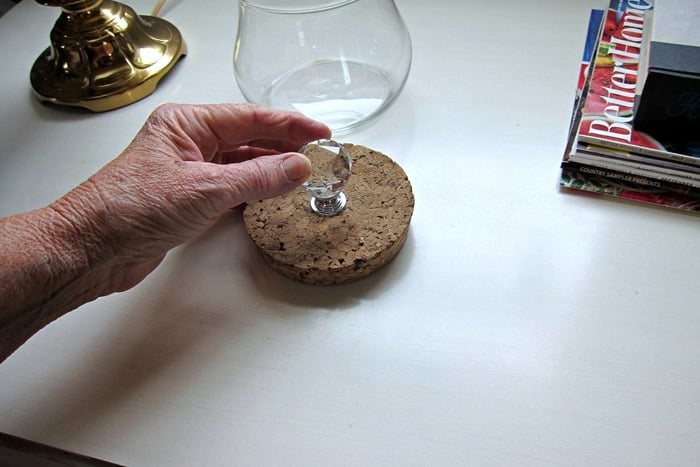 I gave the glue about an hour to dry.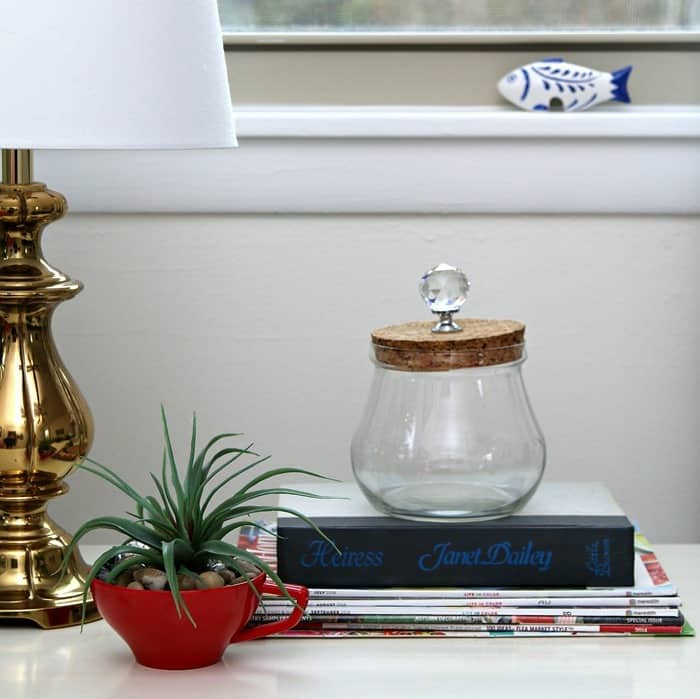 The project took 5 minutes if you count the time it took me to find the Gorilla Glue. Nice looking glass container for less than $2. The jar actually looks good without anything in it. I noticed in this photo I didn't get the lid on straight. It's a bit cockeyed.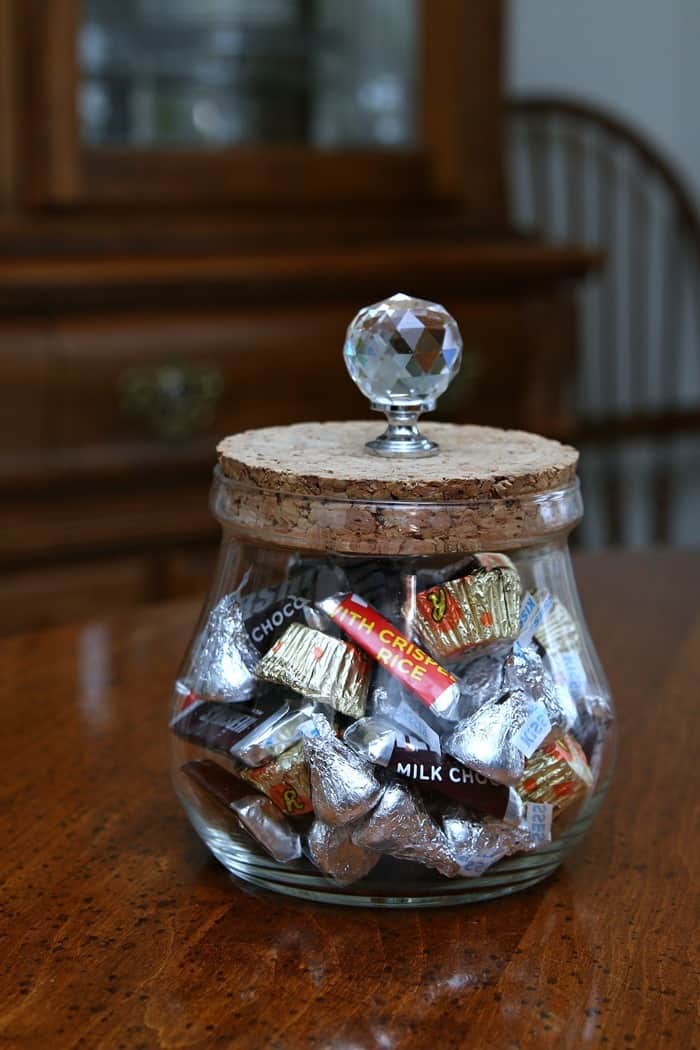 First I filled the jar with some of my favorite chocolate candy.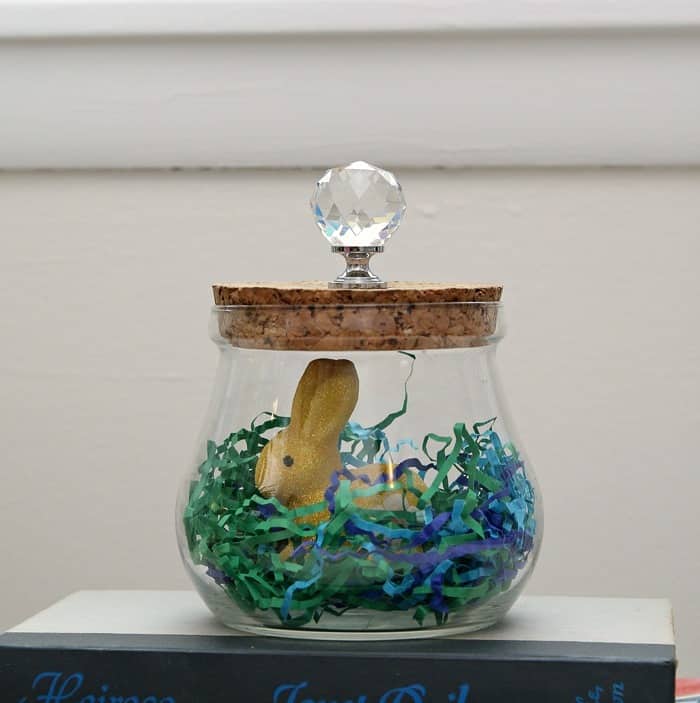 Next I tried a cute little Easter display. That's the great thing about containers like this…..change the display with the seasons….or candy craving.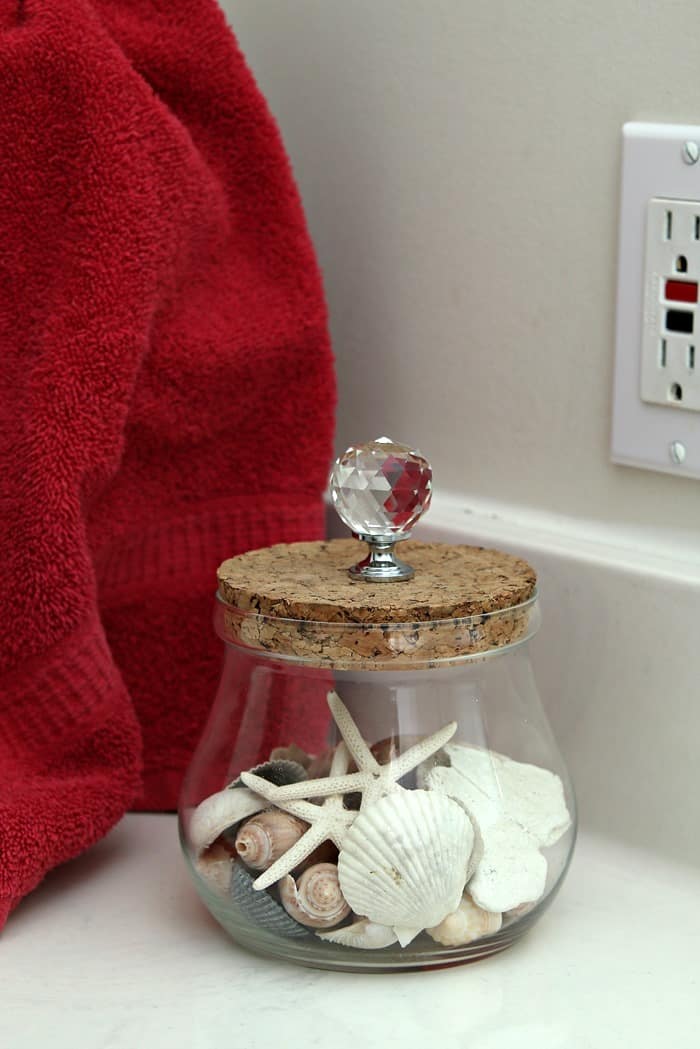 You guys have seen me display seashells in glass containers a bunch of times. This is a good one here where I scratched the ugly gold lettering off of the glass. Did you know you could do that?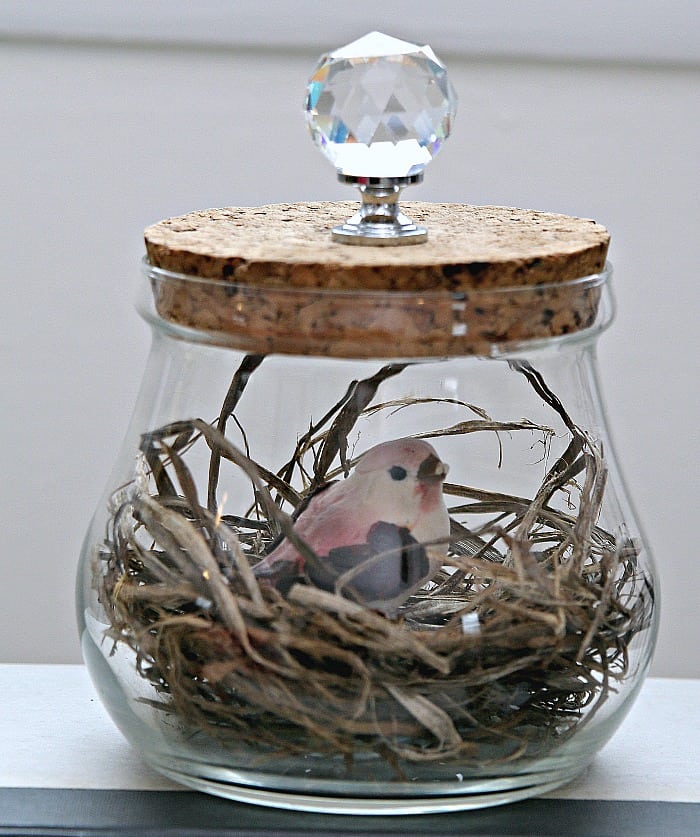 And here's the cute little birdie on his nest. This might be my favorite display of the bunch.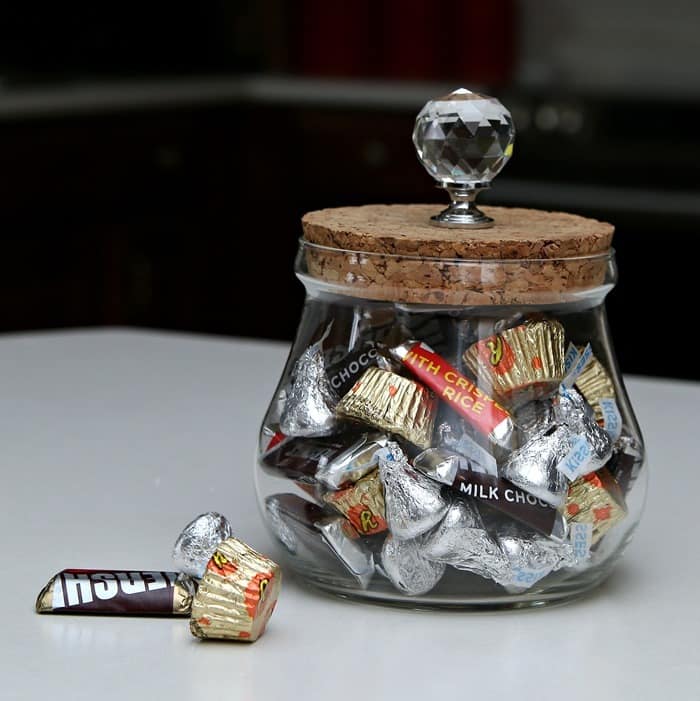 For now I'm using the container as a candy jar. Around the first of March I'll take a couple of minutes and put the Easter display together.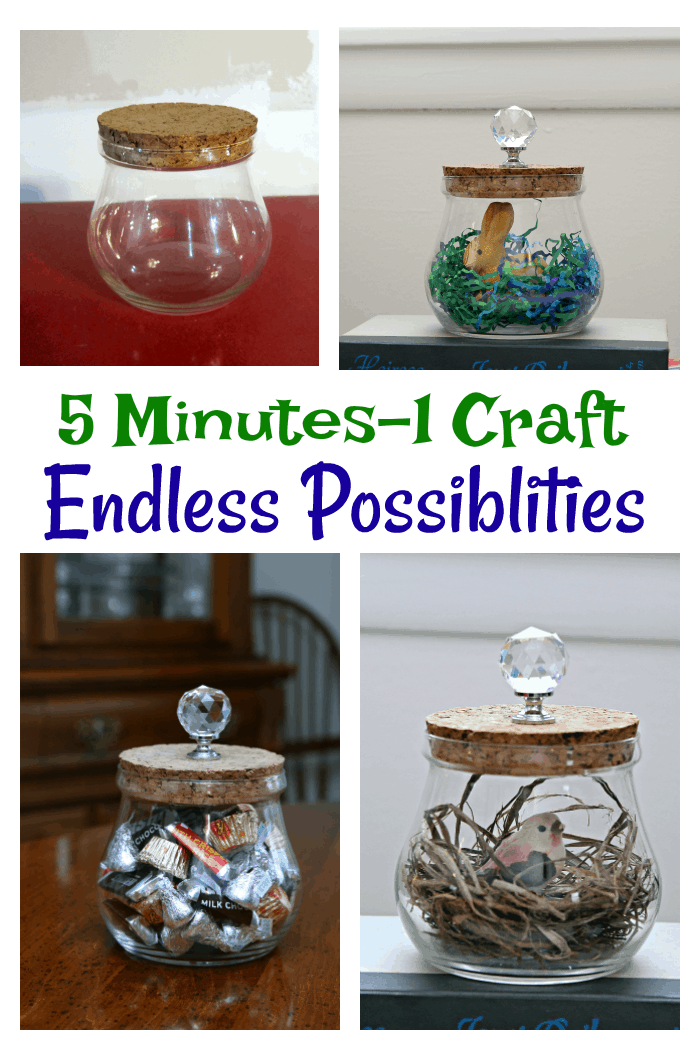 Which display did you like the best? I'll bet it's the candy.
Time to see what my thrifty friends have for us today. Just click the links below the "before makeovers" photo collage……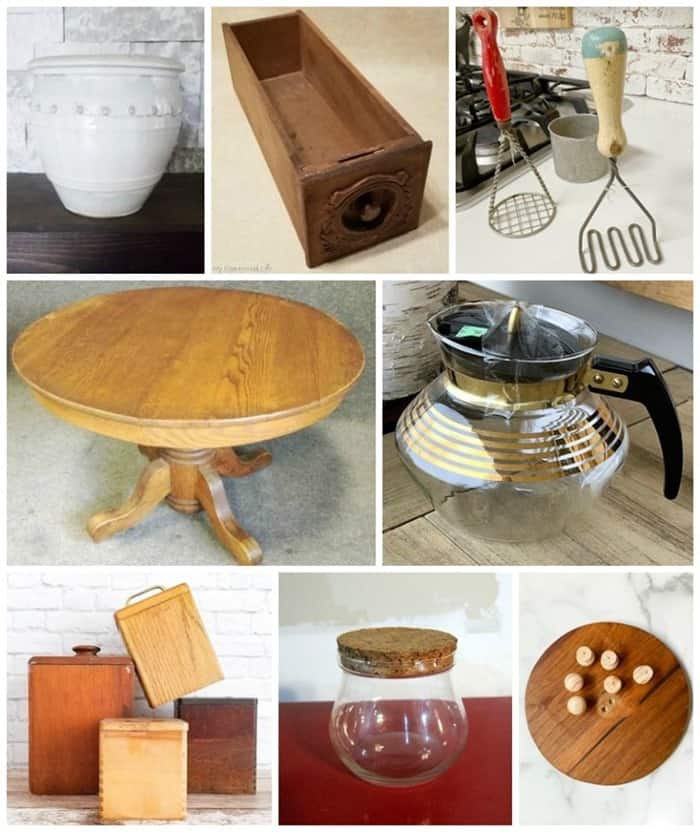 How to Make a Cement Pot
Decoupage Sewing Drawer
Antique Kitchen Tools for Spring
Create A Natural Raw Wood Look
DIY Coffee Pot Terrarium
Retro Canisters for Vintage Kitchen Decor
Decorative Candy Jar
DIY Footed Tray
Tomorrow I have a painted furniture project to share. It's a beaut. As always, thanks for being here and have a great day, Kathy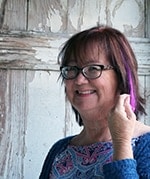 Kathy Owen is the creative guru, content creator, photographer, and worker bee behind the popular Home Décor DIY Blog Petticoat Junktion. She focuses on reinventing found treasures and decorating her home Get all the nitty gritty on Kathy here.