Don't throw away those old rusty containers and junk treasures. When it's time to pretty up your porch, deck, or other outside space you'll be glad you hung on to them.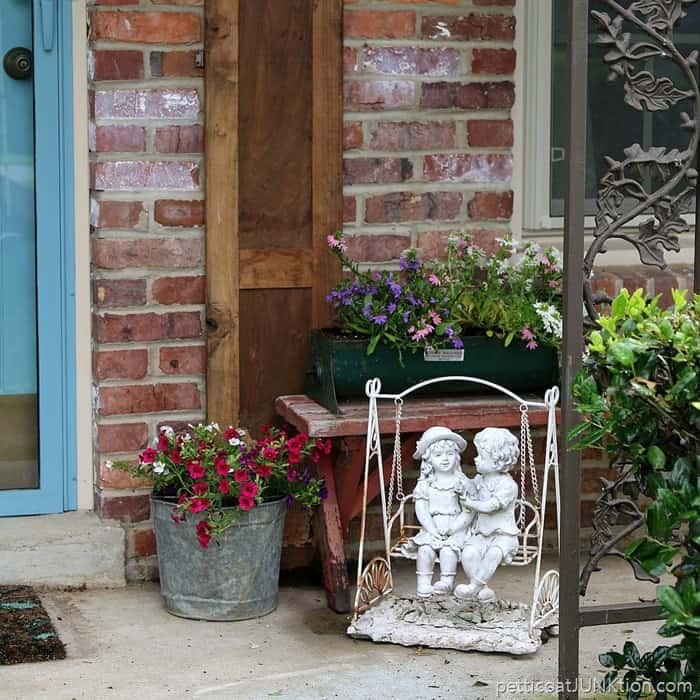 I'm happy to report there is no more Christmas décor on my front porch. Not having Christmas in July.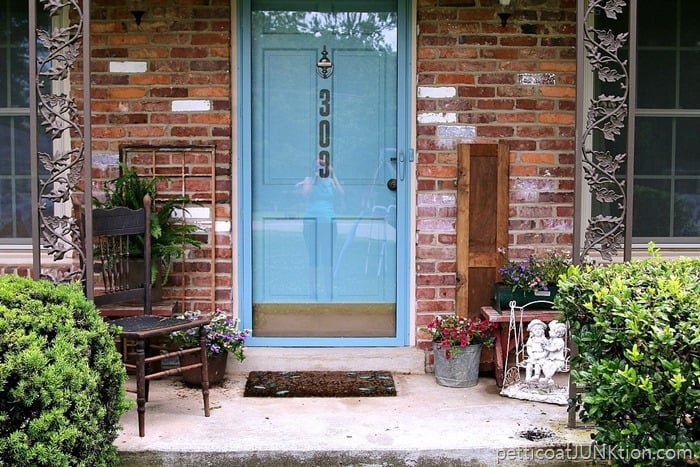 I put all of my rusty containers and a few junk treasures to good use. The décor is  nothing special but it sure did give the porch a facelift.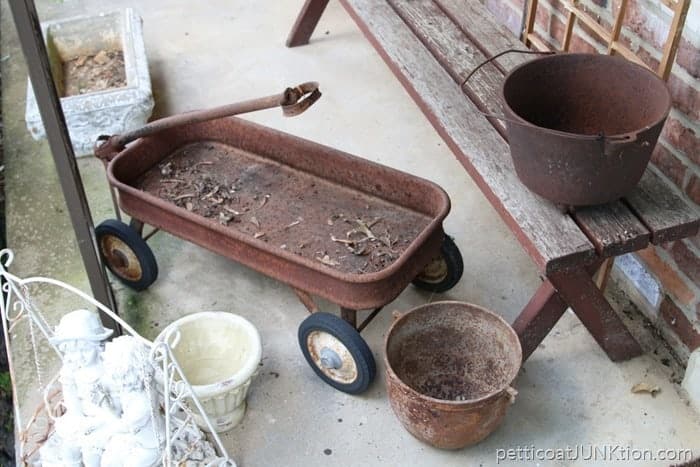 The day I decided to put the porch together the temp was about 92 and the humidity was about 150%. Maybe not that much humidity but it felt like it. Remember this is Tennessee in June. I removed the remaining faux Christmas greenery and took stock of the leftovers on the porch. Then I went to the workshop to see what else I might want to bring out.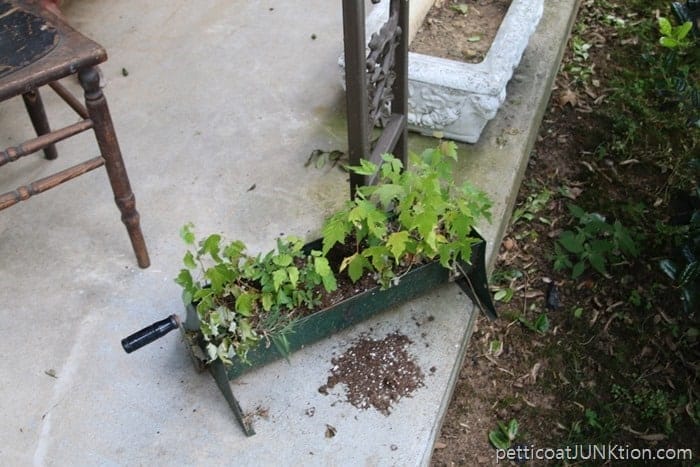 I think the re-purposed newspaper roller harboring tiny maple trees is hilarious . Those little "helicopter" maple seeds fly everywhere. Time for them to go.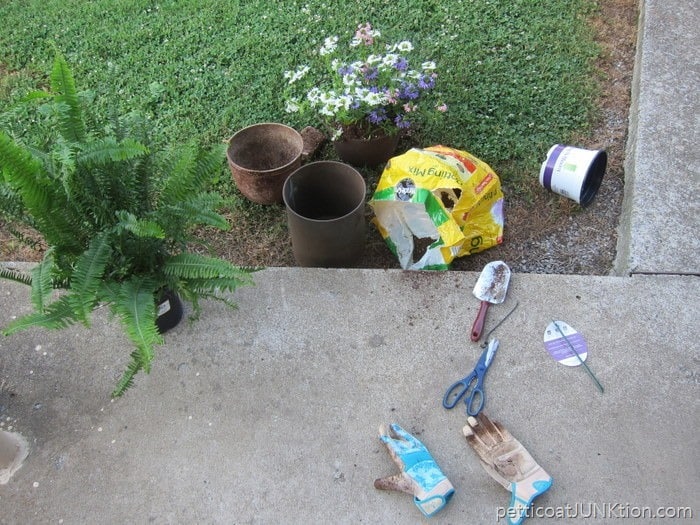 I went to Home Depot and bought a few pots of colorful flowers. Colorful flowers are a porch necessity. I repotted all of them. The rusty pots and unique junk containers add character to the porch. Why buy new run-of-the-mill pots. Most of these pieces cost only a few dollars each.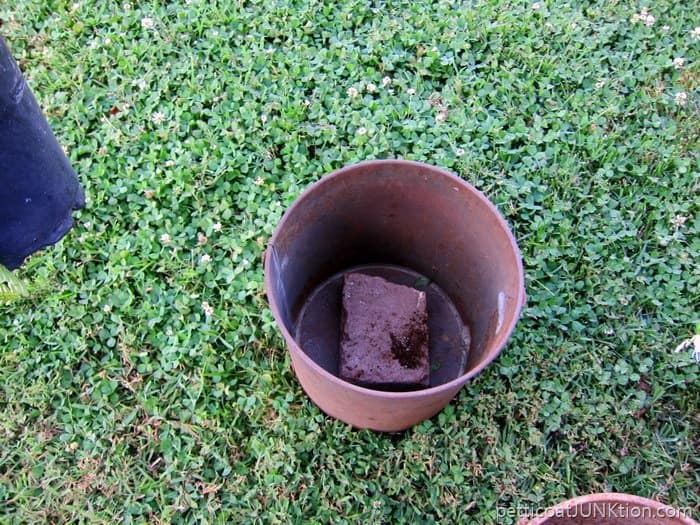 My fern was short and the bucket was tall so I added a brick to the bottom of the bucket and put the fern, original plastic container and all, into the bucket. Make it work!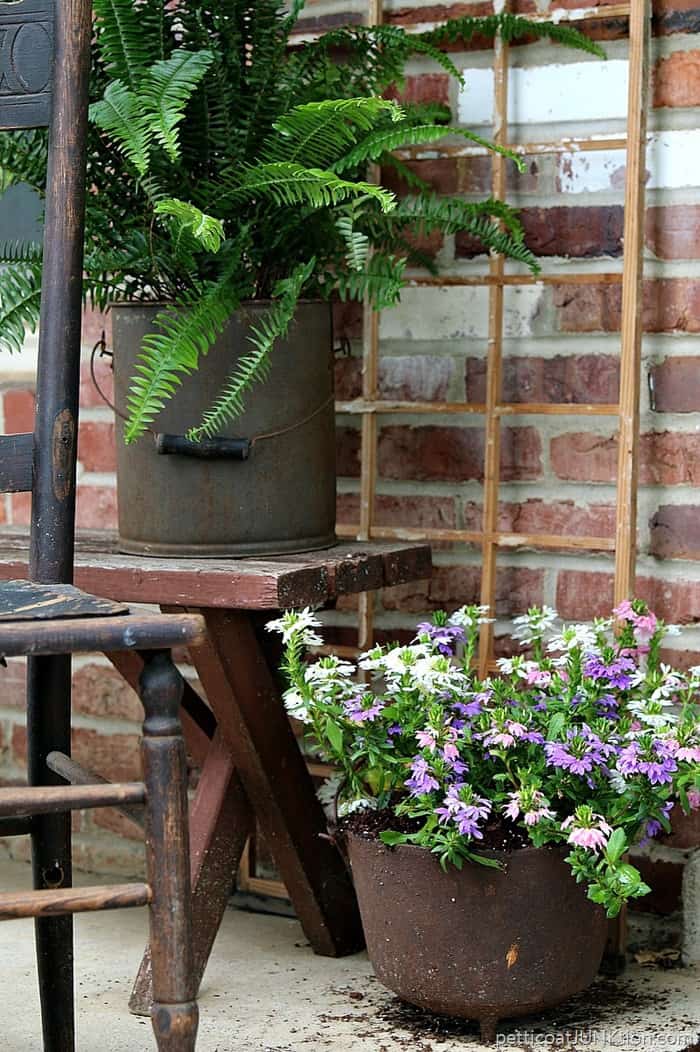 The fern is perfect for the tall bucket.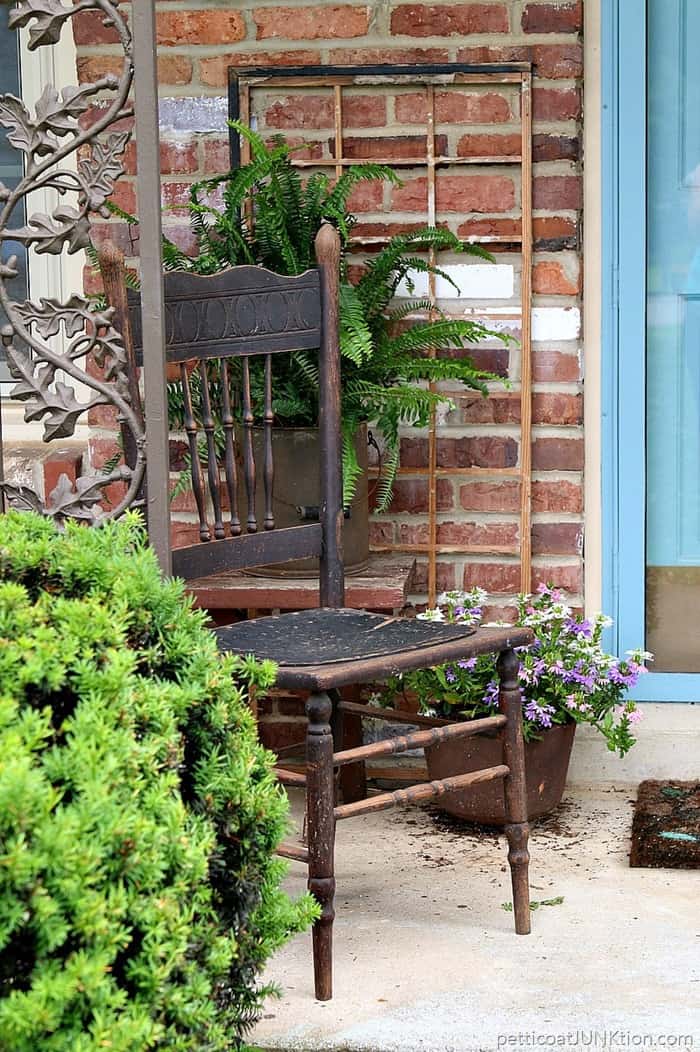 The vintage chair was found on one of my junkin' trips…..or flea market trips. The wood frame leaning against the brick was another junkin' find and I've had it a loooong time.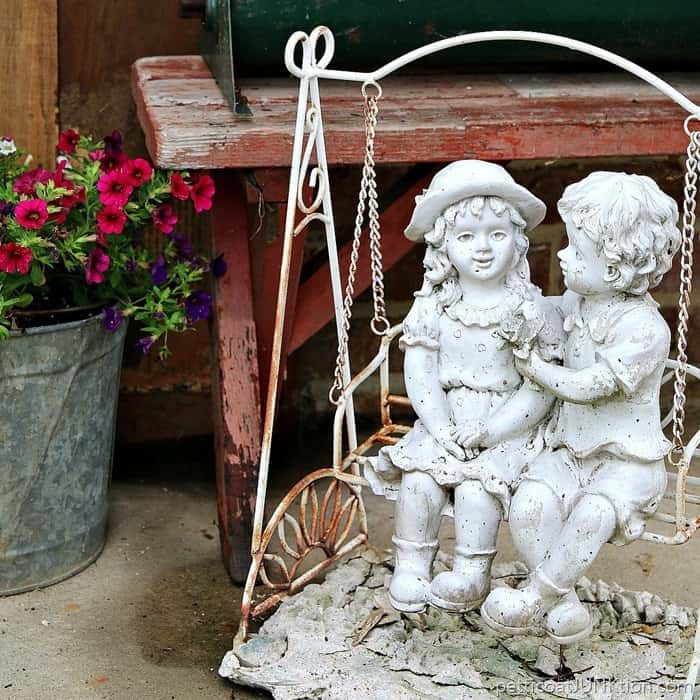 The girl and boy in the swing are a recent purchase from my fav junk shop, $6. Who could pass up those cuties.
I love Morning Glories. And those colors! The rustic red bench is almost falling apart so it's perfect too. There is a similar bench on the other side of the front door.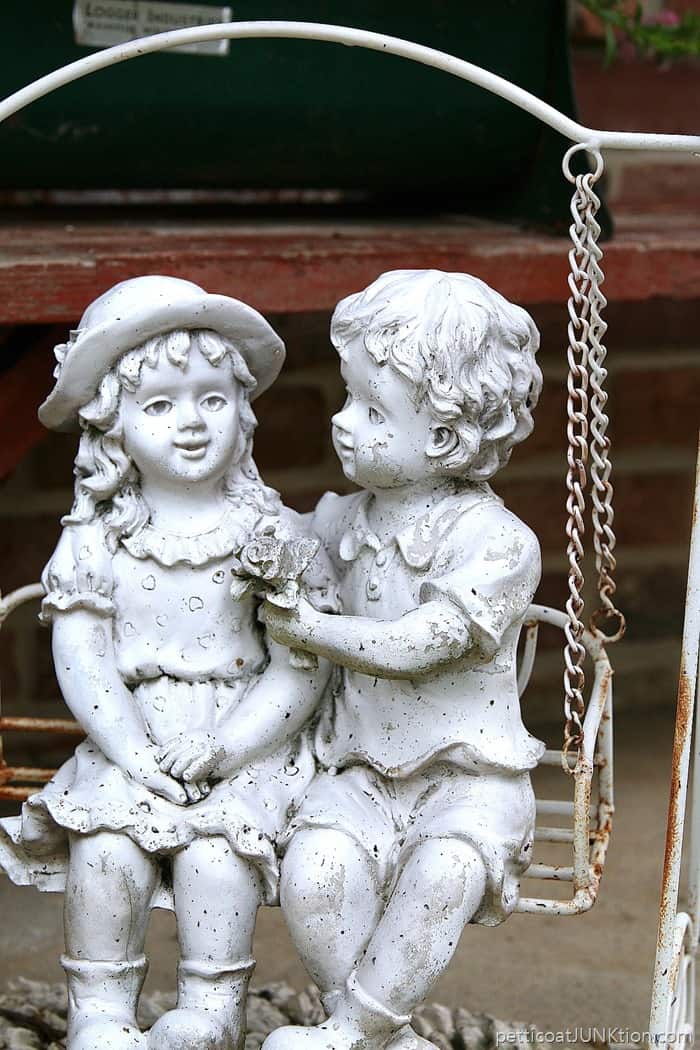 A close up of the sweet faces of the friends.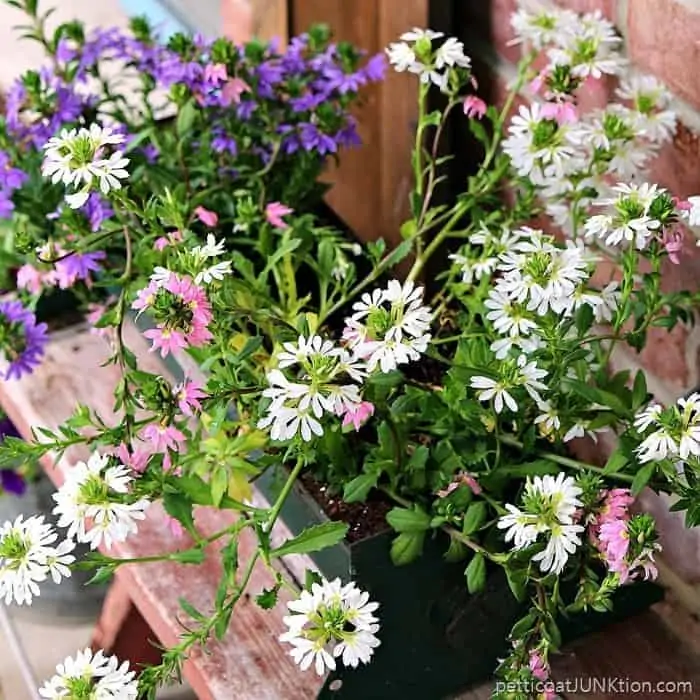 The green newspaper logroller now holds flowers. I didn't know what that thing was when I bought it. I just knew it would come in handy for something. Don't you just love a good repurpose.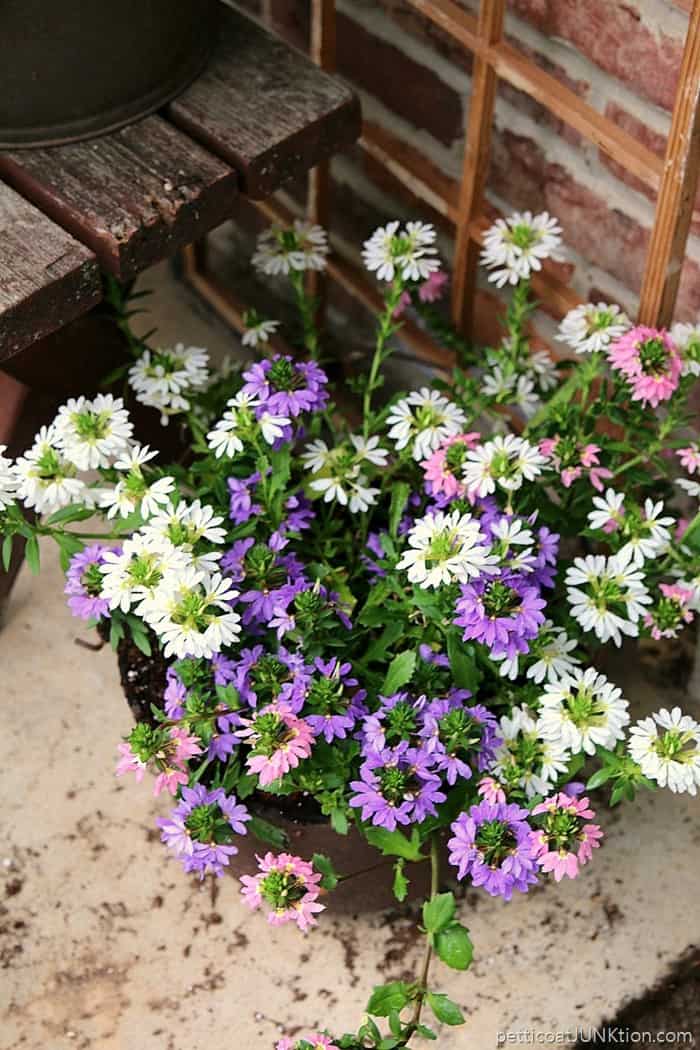 A rusty pot the JTS bought for me at an auction holds purple and white flowers. I have no idea what the name of the flowers are. I don't have a green thumb and don't know much about plants. I just know what I like.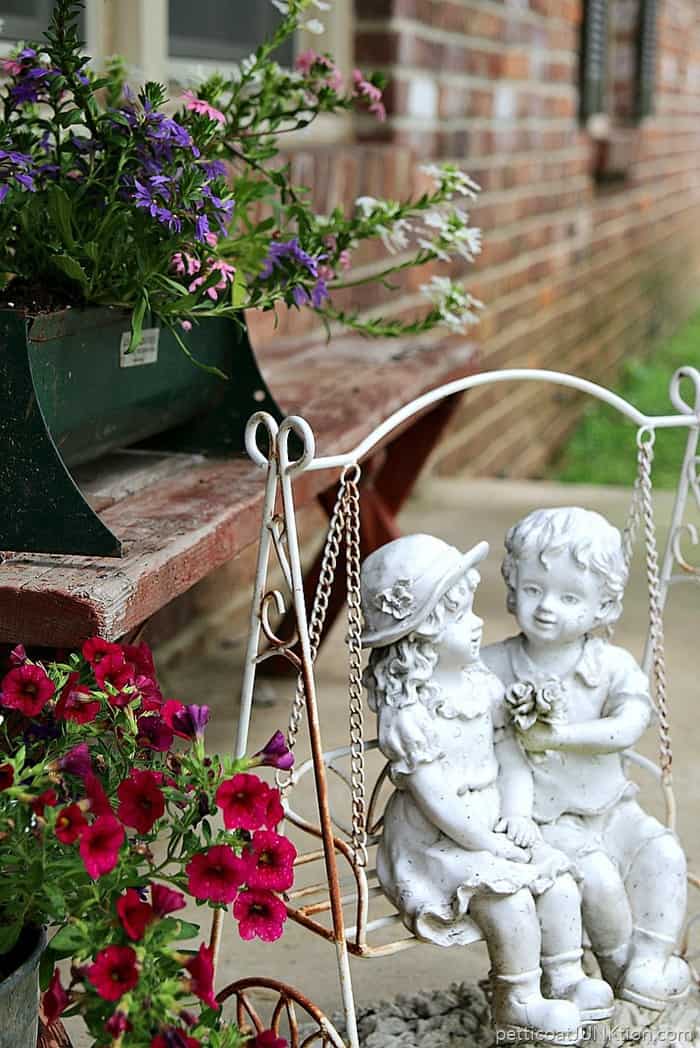 I wanted to share how I filled the rusty wagon with pretty flowers last year.
Here is the wagon sitting under the tree by our workshop. I love the red and purple color combination.
You guys can't leave until you see my repurposed bird feeder as a hanging plant container by clicking here....Red Repurposed Bird Feeder.
Also the rusty green drink cooler I used for bold color flowers here.  The cool rusty finds have me drooling and the flowers are so pretty in the unique containers. They certainly have character. 
One last look and I'll sign off. See you tomorrow. Have a great day.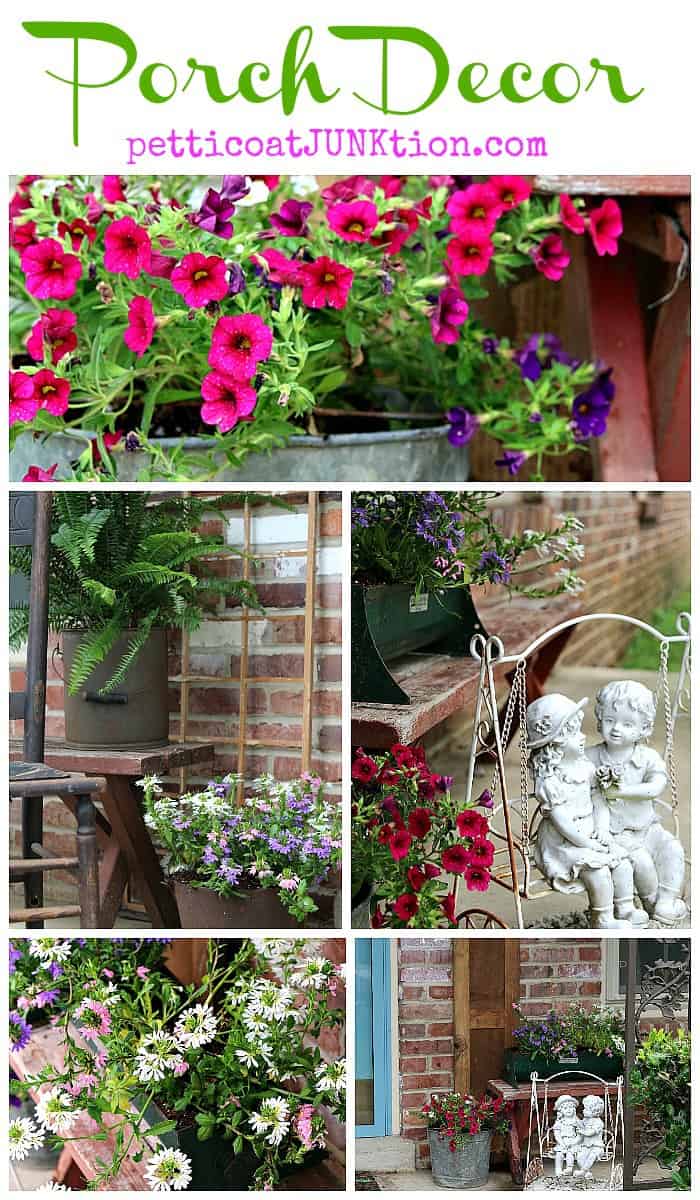 Author: Kathy Owen (Petticoat Junktion)
Kathy is the founder of PetticoatJunktion.com, a home décor blog focused on repurposing and upcycling furniture, old hardware, rusty stuff, and thrifty finds into unique home décor. Kathy's projects have been featured on the Home Depot Blog, Plaid Crafts, Behr Designer Series, and in numerous magazines. Read more about Kathy here.