Remember the special red paint mix that I named "Junktion Red"? I had the custom mix paint color made up at Home Depot and I'm calling it Junktion Red. If you have ever looked at those labels and wondered what all the codes were.....I've got you covered. Keep reading....
I wanted to share my custom red paint color mix again. I get a lot of questions about it. Enjoy!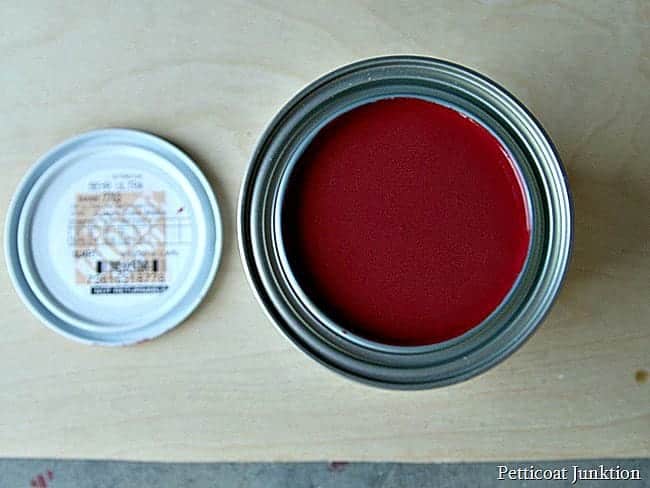 Junktion Red Custom Mix Paint Color
The first thing I do when I start a project is select the paint color. Sometimes I don't have the perfect color so I mix my own from paint I have on hand. The only problem is that I can't repeat the special mix. I don't measure anything….that would make way too much sense.
So the only thing to do if I really love the color is to take a sample of the paint to Home Depot or any paint store and have them match it.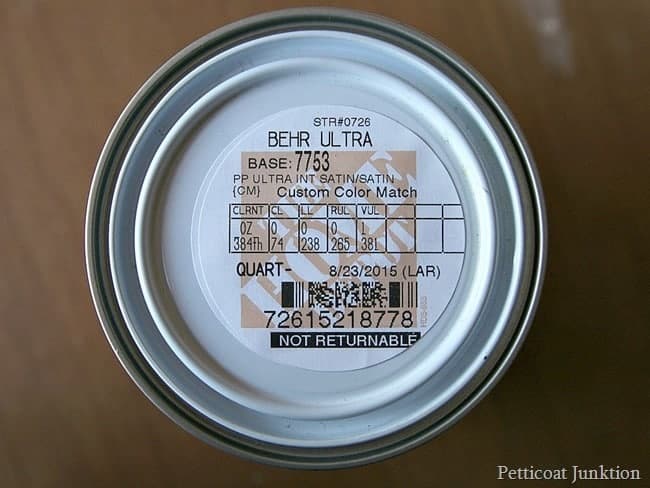 Seems I'm always in Home Depot so it was the obvious choice for the paint.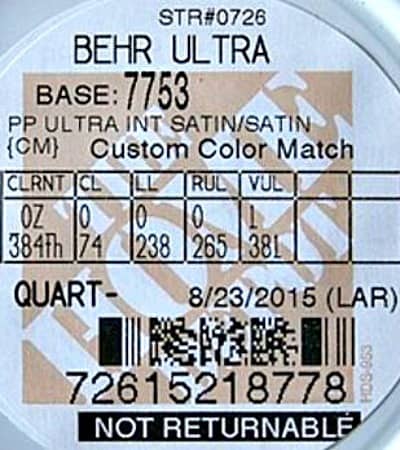 Custom Mix Paint Color
This is the formula for "Junktion Red". I found a question and answer on the Home Depot site that explains the color codes. I had no idea what they meant. Now I know.
From Home Depot- CL= yellow oxide, LL= raw umber, VL= magenta, JL= Carbazole purple, EL= phthalo blue, IL= brown iron oxide , RL= permanent red, DL= phthalo green, TL= medium yellow, FL= red iron oxide, BL= black, KXL= white, AXL= permanent yellow. The pigments with a U in them is high hide. All pigments have an L at the end which means Low voc.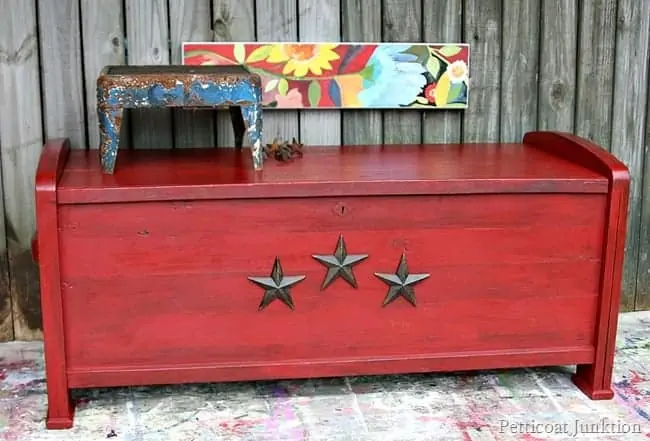 This is the first project I painted with my special mix. You can see the makeover by clicking the name above or the photo.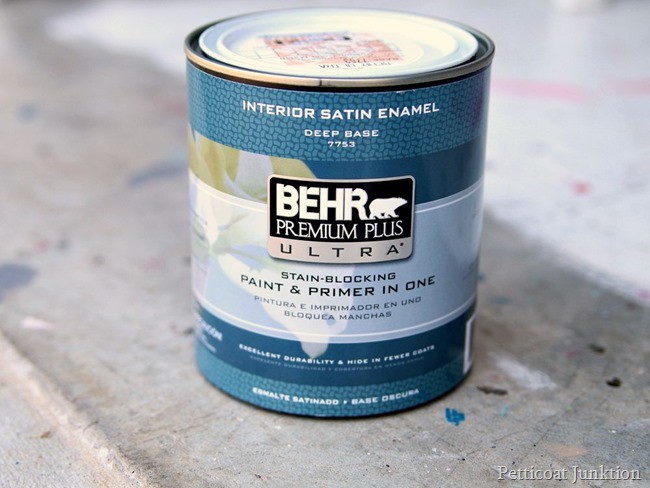 I had them mix the paint in Behr Premium Plus Ultra Satin finish. This is one of my favorite latex paints.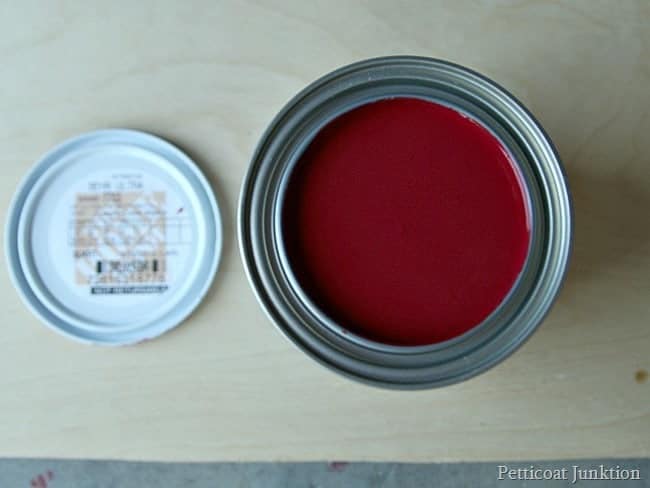 Isn't it pretty! The color isn't orangy. I hate orange reds.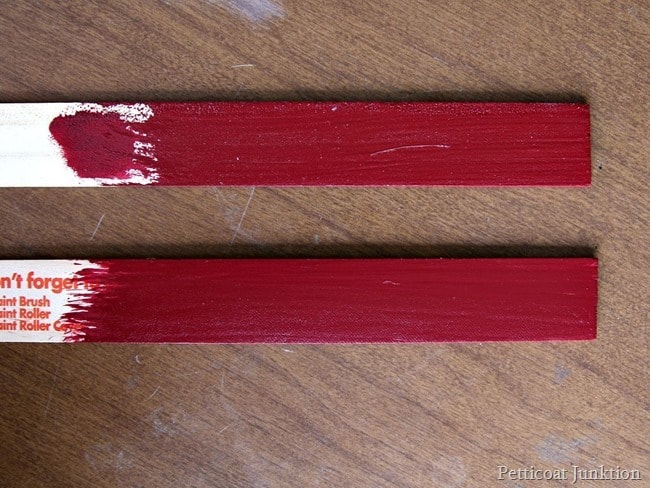 The paint stick on the top is the one I took to Home Depot to have matched. The paint stick on the bottom is the paint they mixed for me. Looks pretty darn close huh! The only thing I have to say is that you know how computer screens vary in color presentation. I can't promise your paint is going to look exactly like this.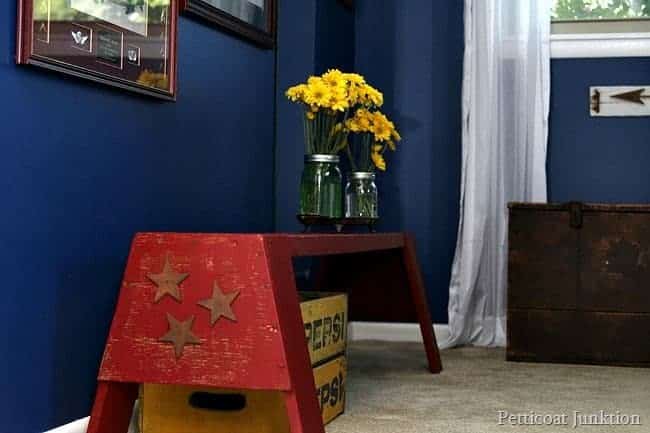 This is the second piece I painted with the Junktion Red. I also put a little dark wax on the pieces to add an antiqued look.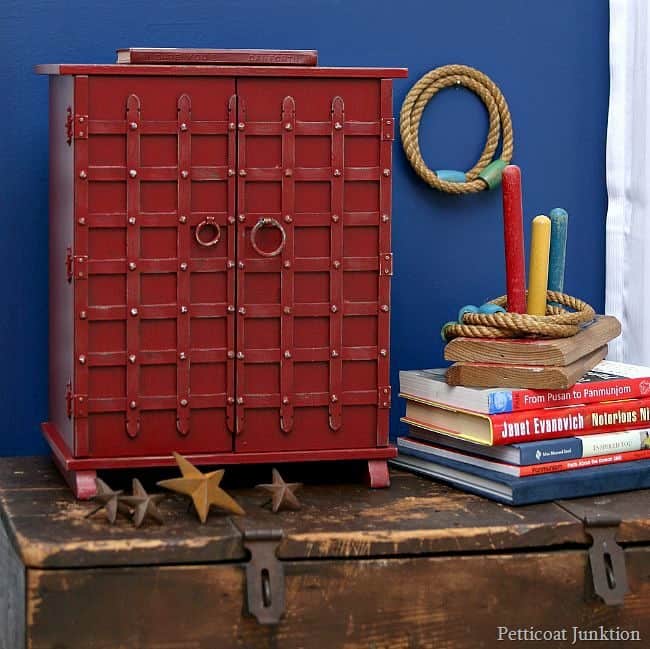 I painted this unique wood jewelry box in the junktion red. You can find it here....7 Paint Sprayer Projects Large And Small
I am in the middle of painting a home décor accessory with the mix from Home Depot. I hope to share it with you guys this week.
Thanks for being here, Kathy
Author: Kathy Owen (Petticoat Junktion)
Kathy is the founder of PetticoatJunktion.com, a home décor blog focused on repurposing and upcycling furniture, old hardware, rusty stuff, and thrifty finds into unique home décor. Kathy's projects have been featured on the Home Depot Blog, Plaid Crafts, Behr Designer Series, and in numerous magazines. Read more about Kathy here.