The secret to antiquing furniture is dark wax. I can't believe I gave away the secret in the first sentence! Why would you want to antique furniture? Because it adds depth and character to any paint finish. You can also buy dark waxes locally at home improvement stores.
This dark wax has been around for years. I first discovered it about 2006. I was painting furniture to sell at my booth at Alyssa's in Pace, Florida. A friend painted a red cedar chest and I absolutely fell in love with it.
The look was very popular and the chests usually sold right away. I antiqued the paint on this cedar chest using the same very, very, simple process. I asked her how she made the paint look old or aged or antiqued. She shared her secret to the awesome finish…….Howard's Wax. The antiquing process is one step using one product....Howard's Wax in Golden Oak or Walnut (update: name has been changed to Chalk0Tique), any of the dark colors.
I used the dark wax to make my red cedar chest look like it had been painted for years. Red is one of my favorite color pops to decorate with. Believe me when I say this cedar chest needed to be painted. I also copied the iron star look from my friend. I buy the stars on eBay.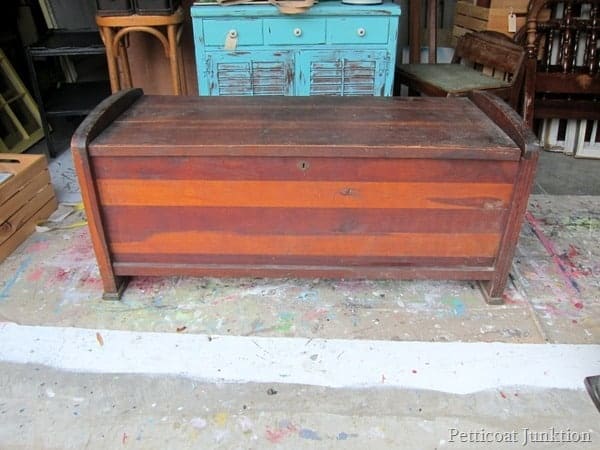 I bought the cedar chest at the Nashville Flea Market. It's in great shape and the wood is really pretty. I planned to clean it up and renew the wood finish with hemp oil. Every time I looked at the chest all I could see was a coffin….I know…I hated to say it….but that's what it looked like to me. I decided to paint it. Yes, the wood is real cedar but still. I know some of you will probably think I shouldn't have painted it and you can tell me…..nicely.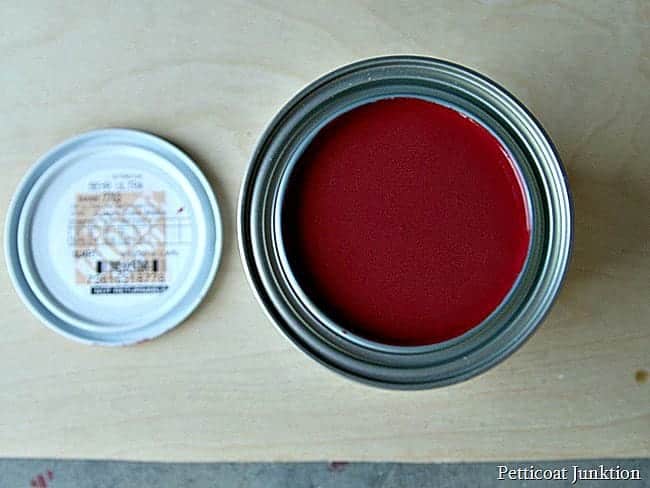 The color I decided on for the chest is my special custom color mix...latex paint....Petticoat Junktion Red. I mixed up the color myself and liked it so much I took the paint stick to Home Depot and had them mix a can of paint for me. ( you can't find it in stores) Update: You can now find the custom mix color code on my blog post here....Petticoat Junktion Red Custom Paint.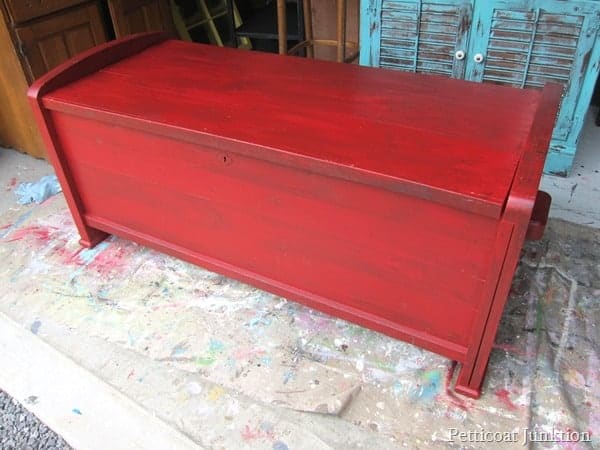 I applied one coat of  my custom color red paint and let some of the natural wood with flaws and all show through the paint. A lot of times I make decisions on the paint finish as I'm painting. My original plan was to brush two coats of paint on the chest but after seeing how it looked after the one coat I was happy. A second coat would have completely covered the wood.
I waited over night for the paint to dry then applied the dark wax using a clean lint free rag. The wax is shiny when wet but will retain a nice patina when buffed. I used Howard's wax in golden oak and I sometimes use the darker walnut color wax also.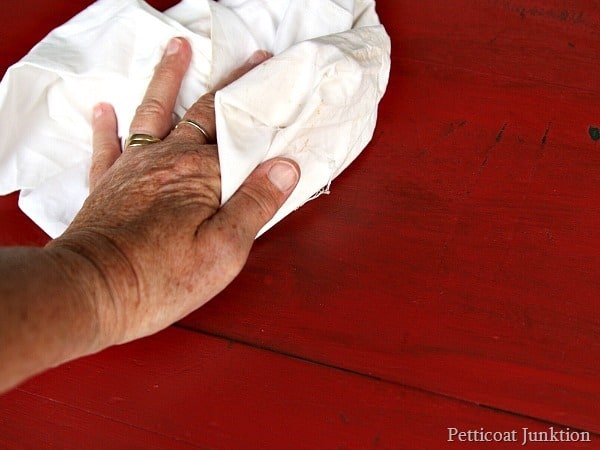 The wax takes about 20 minutes to dry, depending on the humidity level. Once dry I buffed it with a soft cloth then applied one more coat of wax. I buy old sheets at thrift stores (or use my old sheets) and tear them up for rags. Budget minded as always.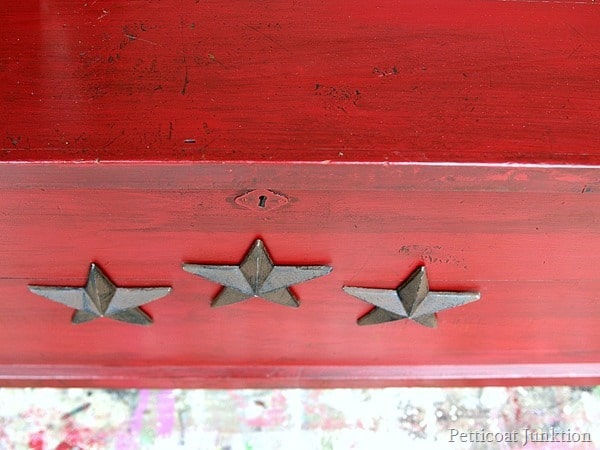 The wax gets into the little grooves and details and adds to the antique or aged look. The wax will be more obvious on lighter paint colors. I also use the wax on some of my distressed pieces. The wax darkens the wood on the distressed areas where the wood is raw from sanding.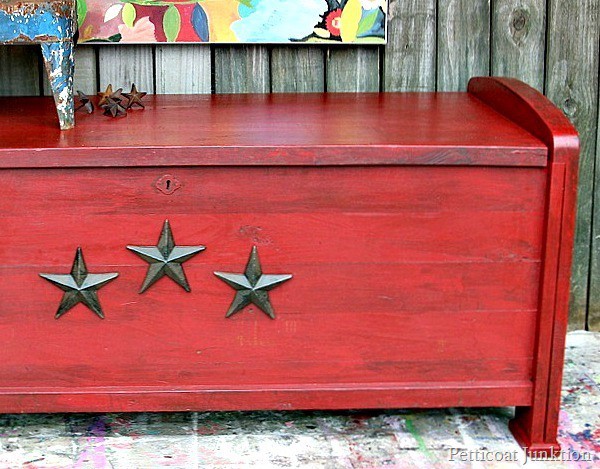 This process works best on latex paints with flat, matte, or satin finishes. The wax really grabs onto chalk paint and doesn't work well. The glossier finishes will not soak up the wax. Did you think the finish would be that easy?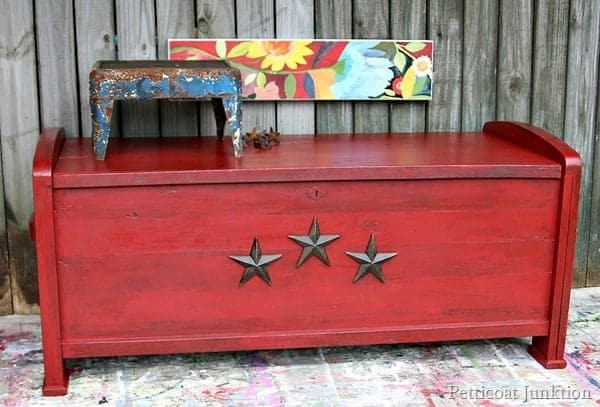 This look can be completed in just a few hours! I love it. Some people beat the furniture up with a hammer or chain to add to the look. I haven't tried that technique. I've worked on a few pieces of furniture I wanted to beat up!
I used the wax to antique a bed with a coral paint color and I have to say it's one of my best projects!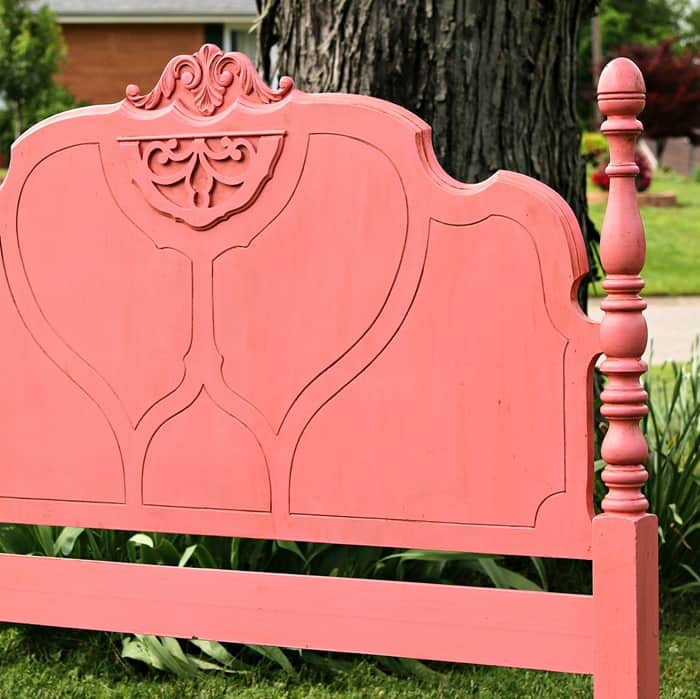 I made a video showing how I painted the coral bed and antiqued it using dark wax.......

How To Paint And Antique Furniture
Another antiqued furniture project ......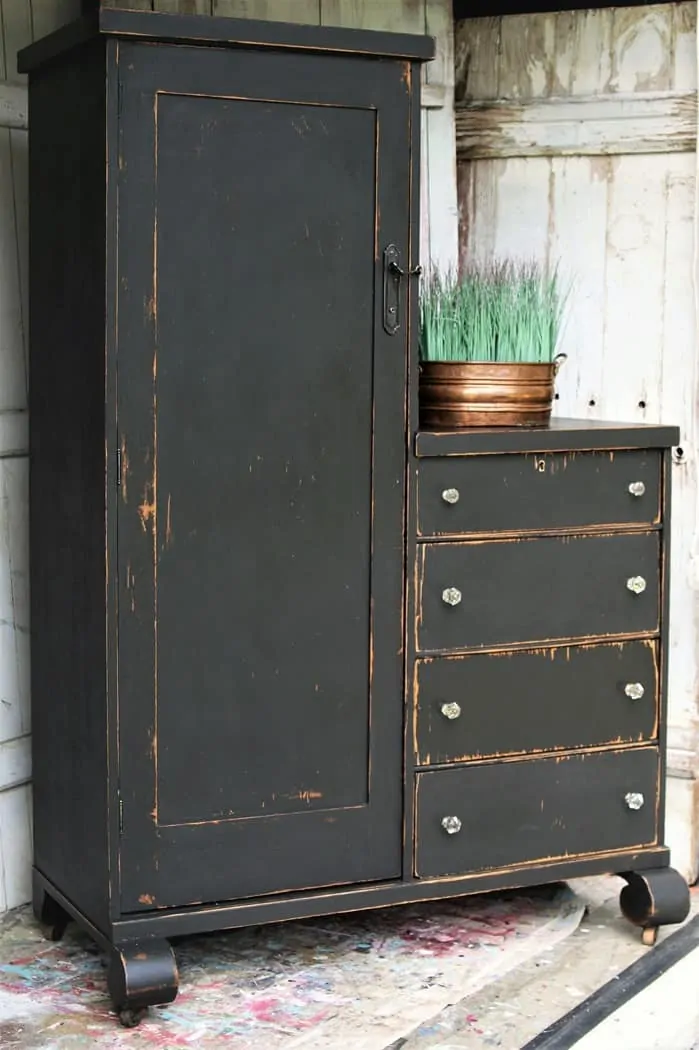 I painted this antique wardrobe black because the veneer was a mess. Then I antiqued the black paint. You can see it here....Painting Antique Wood Furniture.
Howard's wax is now called Chalk-Tique Dark Paste Wax . Most hardware stores, thrift shops, or antique shops carry it. You can always order it on Amazon here (sorry, just checked and it is currently unavailable, so many shortages these days).
Have you heard about this technique before? Maybe tried the wax? Thanks for being here and have a great day, Kathy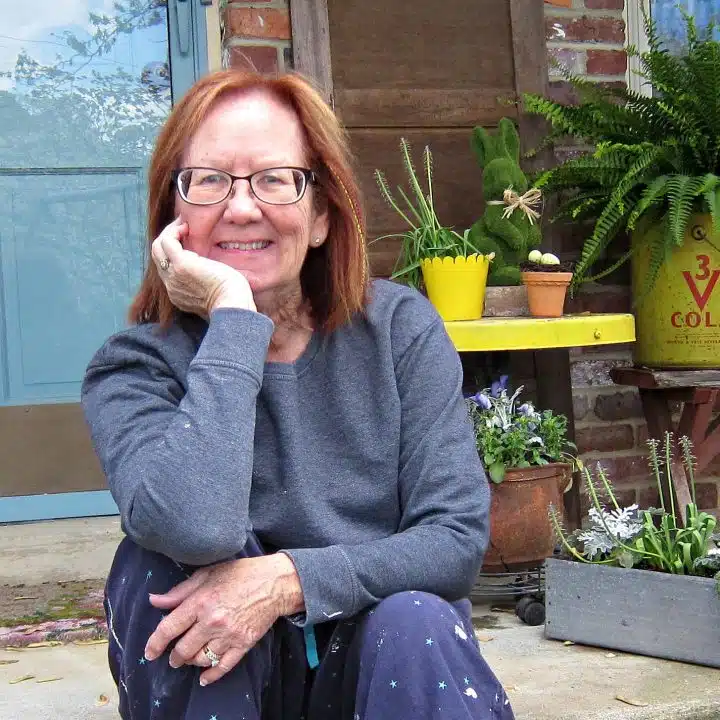 Author: Kathy Owen
Kathy Owen is the founder of the home decor blog Petticoat Junktion where she shares tutorials on painting furniture and upcycling thrifty finds into unique home décor. Her DIY projects have been featured on the Home Depot Blog, Plaid Crafts, Behr Designer Series, and in numerous magazines. Kathy's newest website is HappyHomeDIY.com