disclosure: affiliate links may be used in this post.
How To Antique Furniture
How to antique furniture in minutes! Do you want to know the easy trick. This is a complete tutorial with photos and product information. Wax is the secret. This isn't the wax you hear about with chalk paint and other specialty furniture paints.
This wax has been around for years. I first discovered it about 2006. I was painting furniture to sell at my booth at Alyssa's in Pace, Florida. A friend painted a red cedar chest I absolutely fell in love with. I asked how she got the perfect antique paint look. She shared her secret to the awesome finish…….Howard's Wax.
 How To Antique Furniture Paint Technique
The secret to the perfect finish was a one step technique using one product….Howard's Wax in Golden Oak or Walnut, any of the dark colors.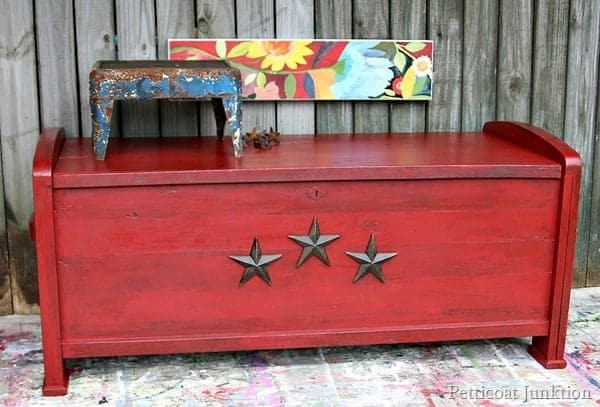 I used the wax to give my red cedar chest just the hint of age.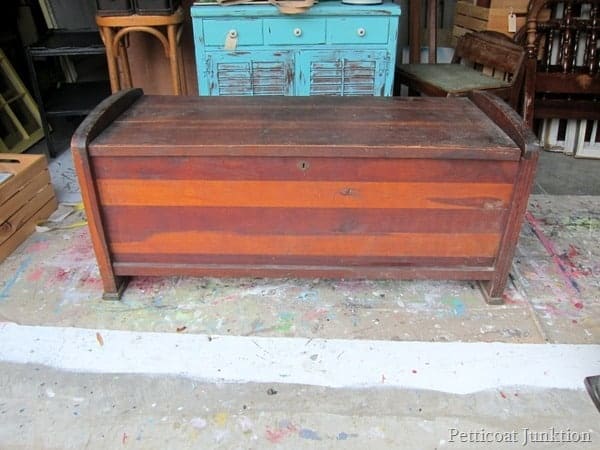 The cedar chest had nice lines, not too frufru. I'm going to get in trouble for painting it but that's what I do.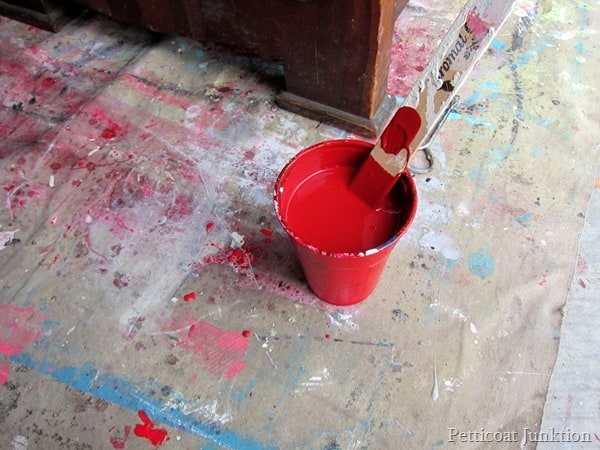 My special custom color mix…latex paint….Petticoat Junktion Red. ( you can't find it in stores) Update: You can now find the custom mix color code on my blog post here….Petticoat Junktion Red Custom Paint.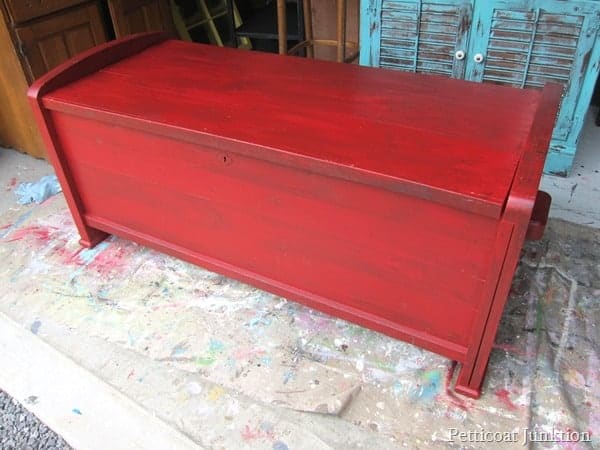 I applied one coat of  red paint and let some of the natural wood with flaws and all show through the paint.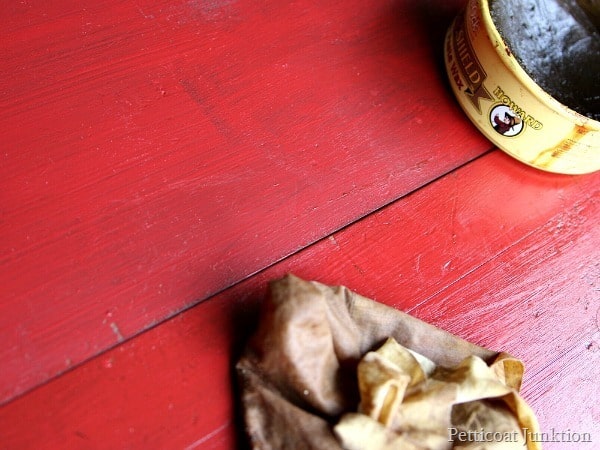 In this photo you can see where I applied the wax. It's shiny when wet but will retain a nice patina when buffed. I used Howard's wax in golden oak. To get a deeper color I sometimes use the darker walnut color wax.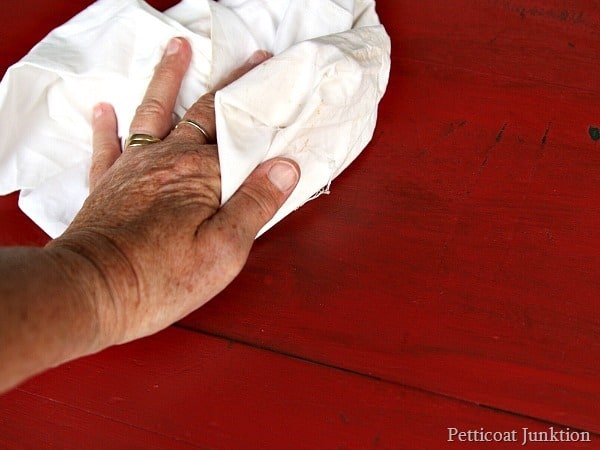 The wax takes about 10 minutes to dry, depending on the humidity level. I buffed it with a soft cloth then applied one more coat of wax. Always use a lint free cloth when waxing. I buy old sheets at thrift stores and tear them up for rags. Budget minded as always.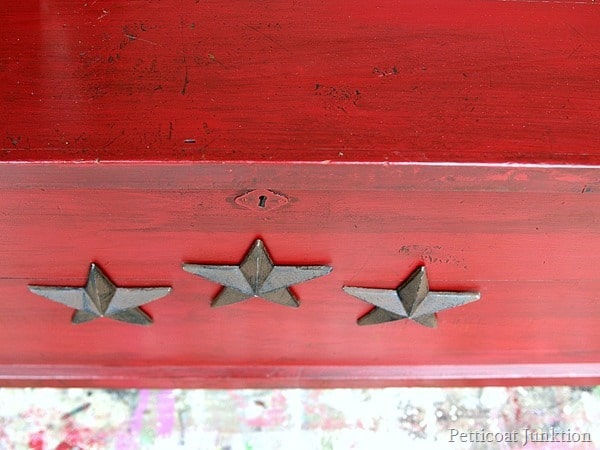 The wax gets into the little grooves and details and adds to the antique or aged look. The wax will be more obvious on lighter paint colors. I also use the wax on some of my distressed pieces. Just around the distressed areas where the wood is raw from the sanding. The wax darkens the wood.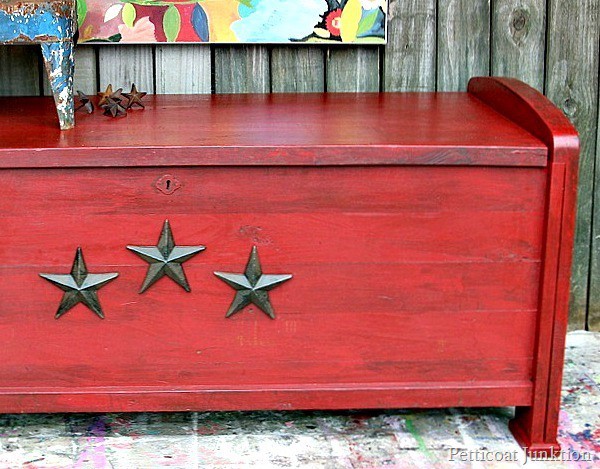 This process works best on latex paints with flat, matte, or satin finishes. The wax really grabs onto chalk paint and doesn't work well. The glossier finishes will not soak up the wax.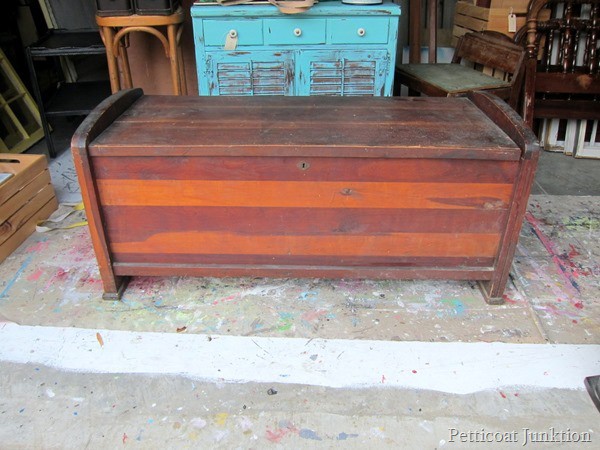 The finish on the cedar chest was perfect for the antiquing technique. Some people beat the furniture up with a hammer or chain to add to the look. I haven't tried that technique. I've worked on a few pieces of furniture I wanted to beat up!
Howard's wax is easy to find. Most hardware stores, thrift shops, or antique shops carry it. You can always order it online. (Amazon affiliate link, read disclosure here)
I made a video of another method I use to antique painted furniture.
How To Antique Painted Furniture Video
Did you think the finish would be that easy? This look can be completed in just a few hours! I love it.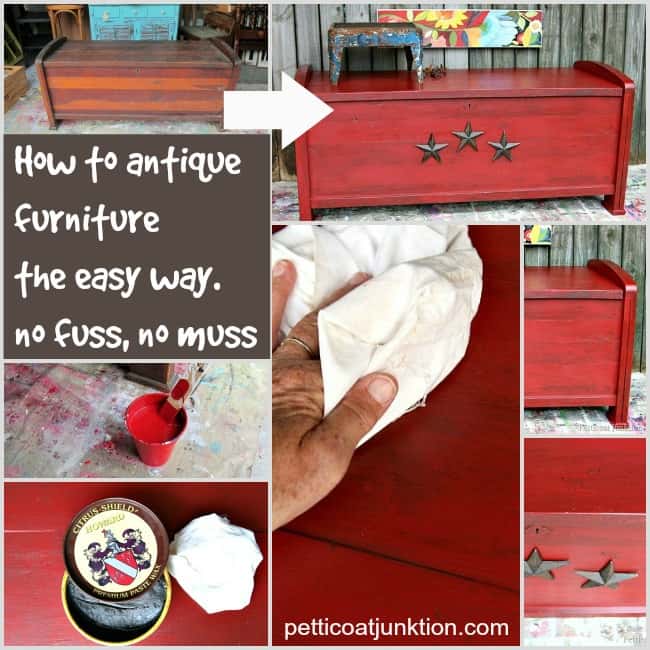 Antiqued Furniture
You can also antique furniture or paint with toner and you can see how easy that is here….How To Antique Furniture.
Have you heard about this technique before? Maybe tried the wax?
Thanks for being here and have a great day, Kathy