Yep, I said it. If you have antique wood furniture and you want to paint it…..go ahead. My project piece today is 100+ years old and I painted it.
You guys know I don't restore wood furniture if it needs a lot of work. This wardrobe was missing veneer in places and I don't do replacement veneer. I did question whether I wanted to paint this piece or just clean it up and oil the wood but in the end I decided on paint.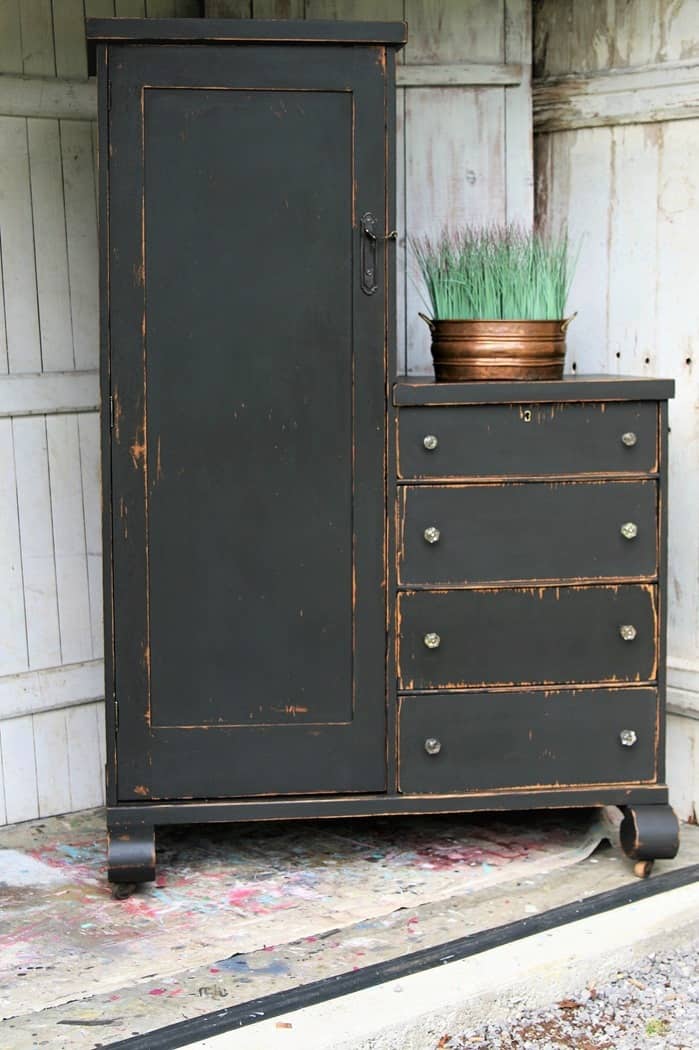 Today is Furniture Fixer Upper Day and we lost another of our furniture painter's this month. As time goes along some of us go in different directions with our DIY's and that's okay. I know I'm painting less furniture than I used to. At one time I was painting a couple of pieces a week or more. Now it's a couple of pieces a month.
Anyway, we have a good tour coming up so be sure and click on the tour links at the bottom of the post. Also I have a short video showing how I distressed and waxed this antique piece.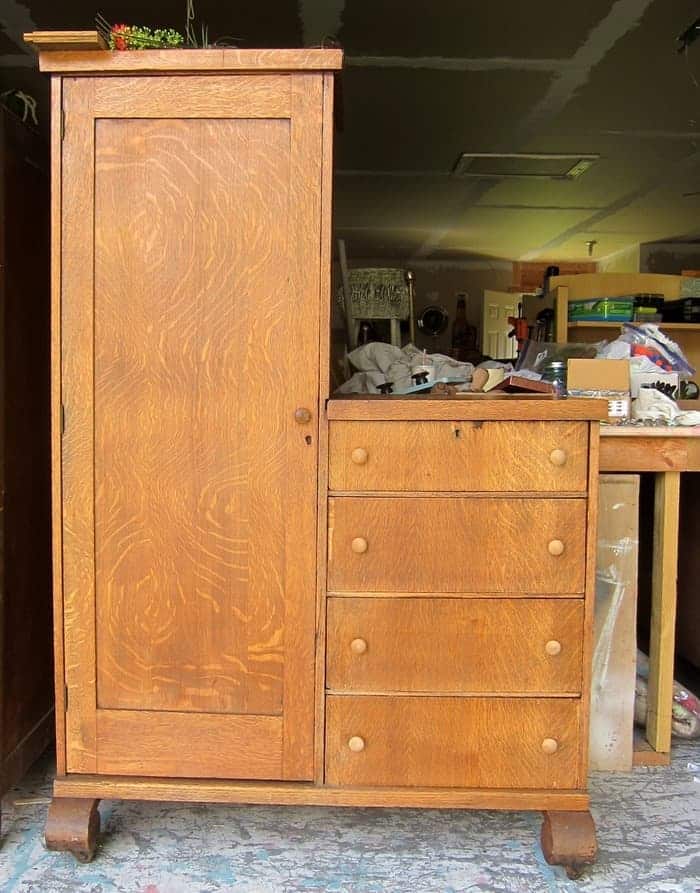 I bought the antique wardrobe on an online auction. I think I paid $55 plus a %10 buyers premium. Not a bad price. The auction description said this piece was made about 1910.
There was a tag on the back and I could read some of it. The wardrobe was made by Rome Cabinet Company, Rome Georgia. I tried to research the company and couldn't find a thing.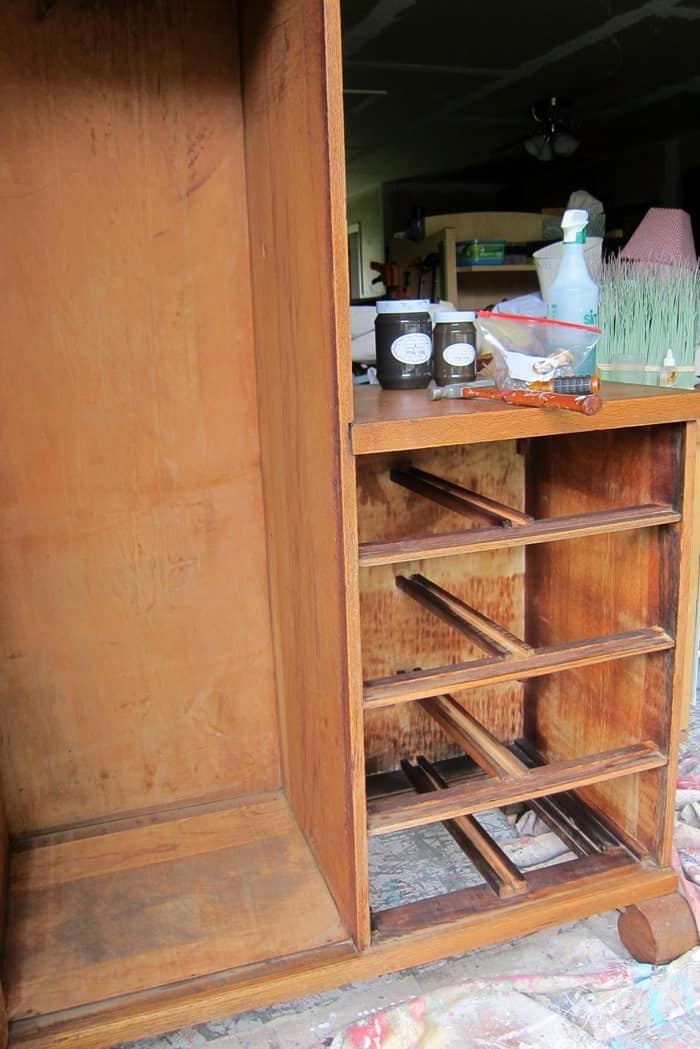 I took the drawers out and vacuumed everything inside and out. Then I cleaned the wood with Simple Green.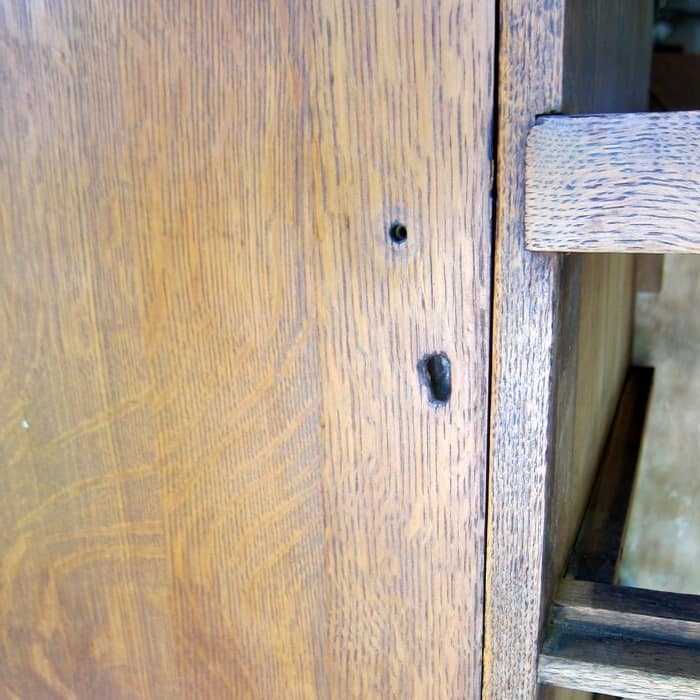 The original key and keyhole insides (?) were missing so the door wouldn't stay closed and I needed to come up with a plan for a door latch.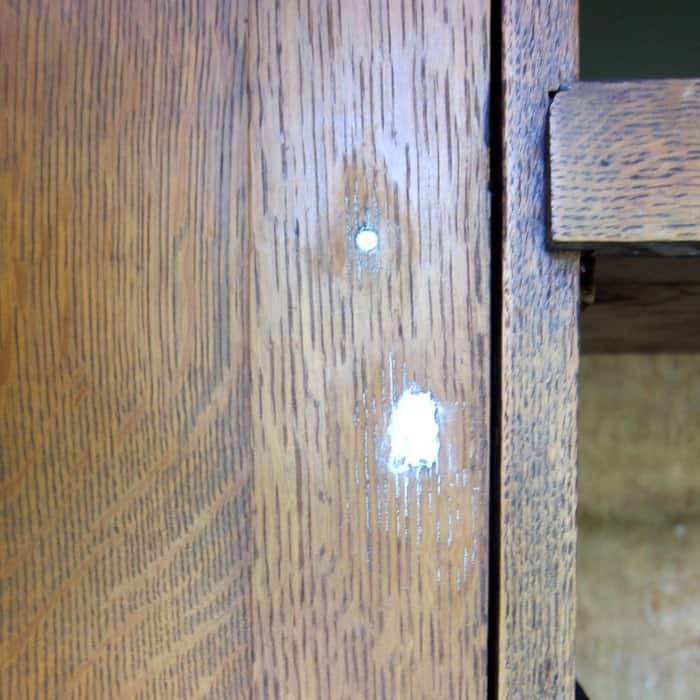 I filled the key hole and other hole with wood putty thinking I would need to drill new holes for the new latch.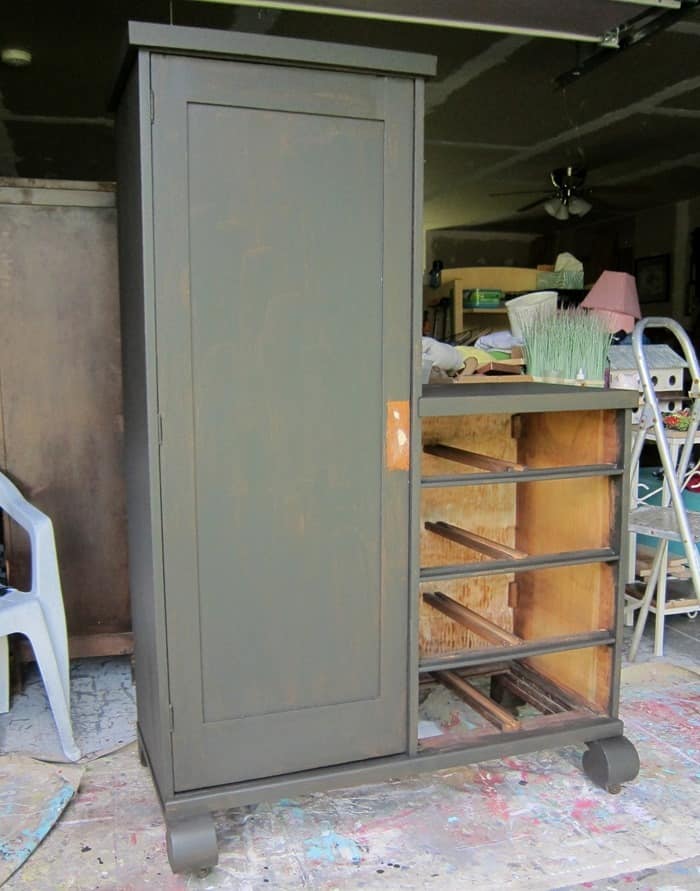 Then I started painting. I needed to wait for the putty to dry before I could paint over it. I should have puttied the holes earlier but I forgot.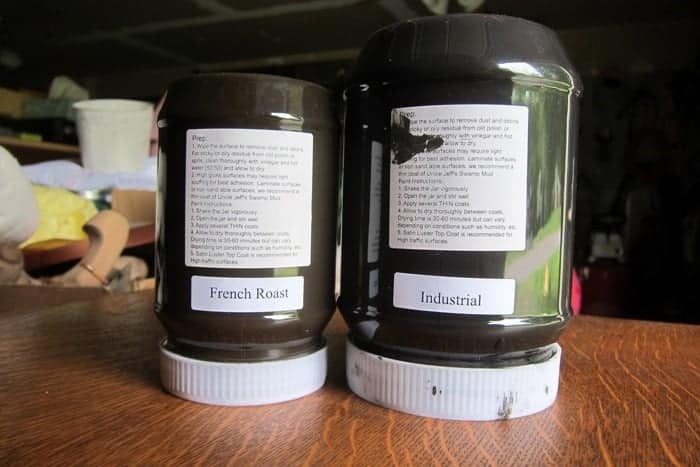 The paint is a custom mix by me. I used Miss Lillian's No-Wax Chock paint and combined two colors. The Industrial color I painted the sewing machine cabinet was definitely black and I wanted to give the black paint just a hint of brown to cut the blue/black color.
I can't tell you the ratio of French Roast to Industrial because as usual I didn't measure anything. I just mixed a little French Roast bit by bit into the jar of Industrial until I got the color I wanted. I wiped a sample of the paint onto a paint stick to see the color as I mixed.
I brushed on two coats of paint and waited for it to dry. Then I sanded the wood wardrobe all over working heavily on the edges and any areas with missing veneer.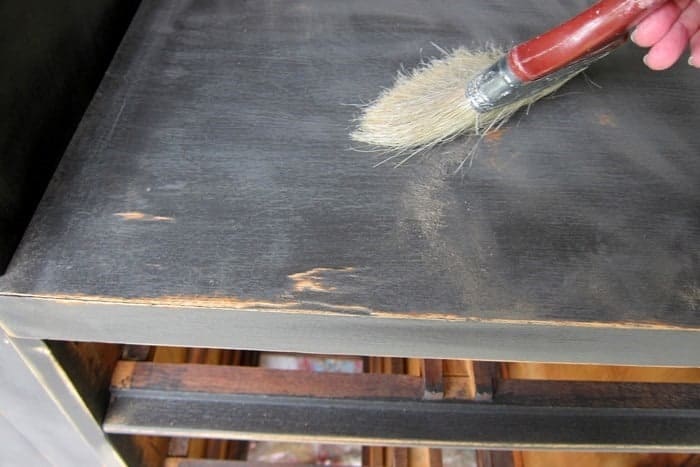 I always use a paint brush and brush away the bits of paint and wood from the sanding.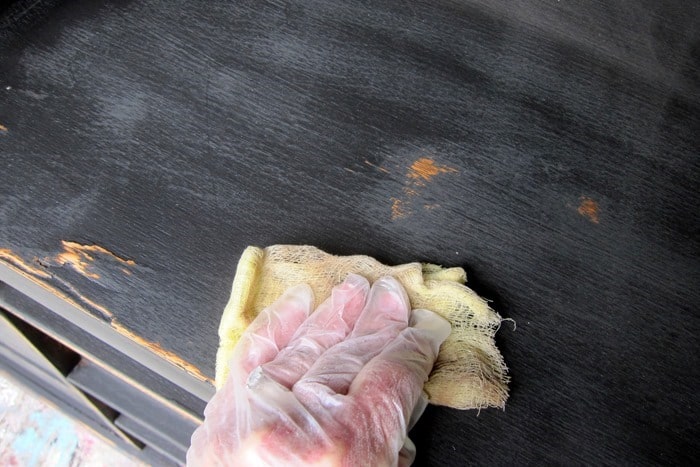 Then I use a tack cloth to wipe the remaining loose paint from the furniture.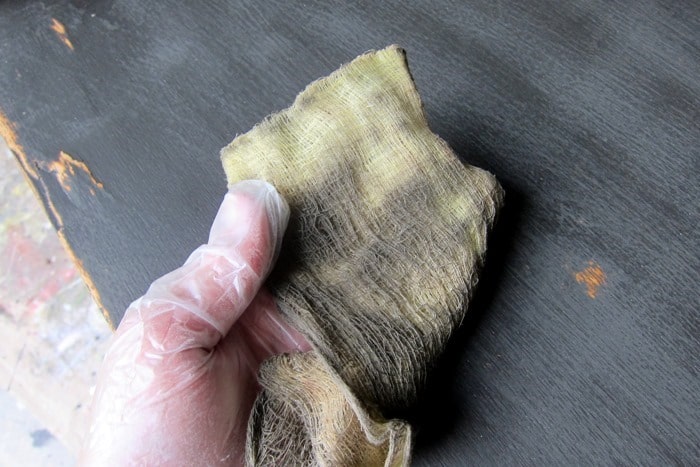 The tack cloth does a good job. You should have a supply of tack cloth in your DIY tool kit.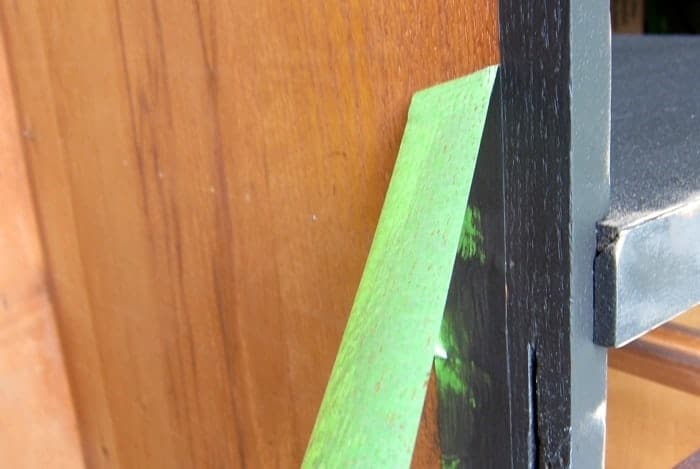 I didn't paint the inside of the wardrobe but I did paint around the inside edges that would show when the door was closed. I used FrogTape to get a nice neat paint line.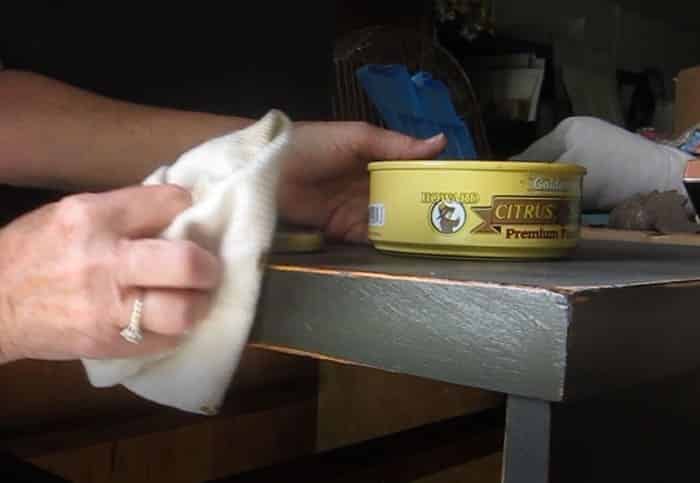 I applied a coat of Howard's Wax in Golden Oak to the wardrobe to add color to the raw wood and to cover the hazy look of the paint after it was distressed. Once the wax is dry it just needs to be buffed by hand with a lint free rag.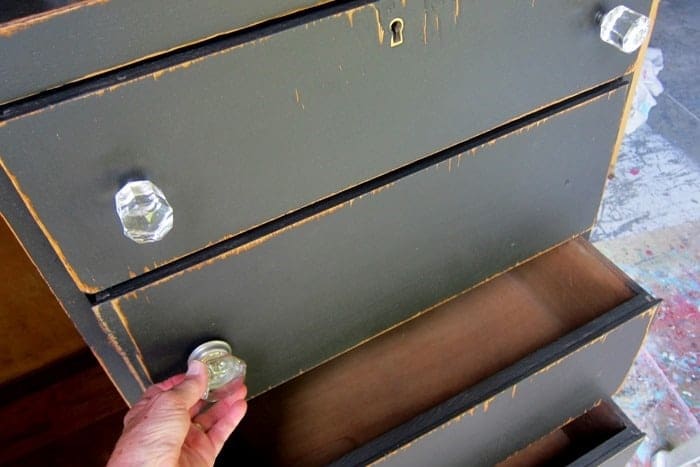 The painted wardrobe set in the workshop for 3 weeks until I could decide on knobs and a latch. I don't know why I was so indecisive on the knobs.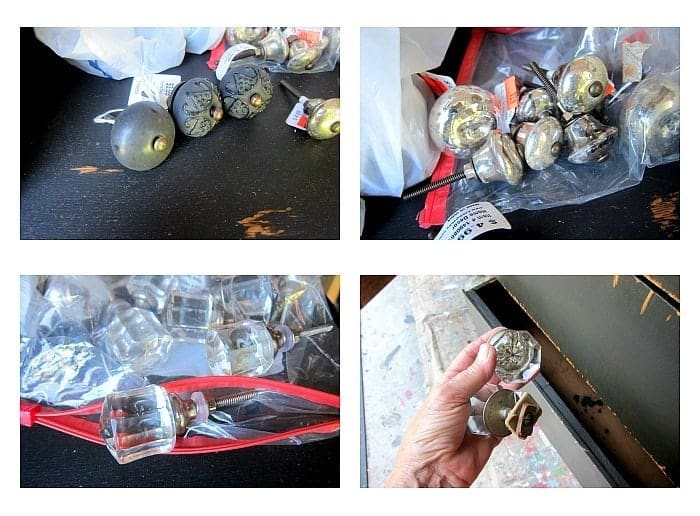 I bought the dark gray almost black knobs at Hobby Lobby thinking I would use those but there was not enough contrast with the dark paint. Sometimes it's nice to go with the same color as the furniture but not this time. Next I pulled knobs from my stash and tried those. The mercury glass knobs were a definite no.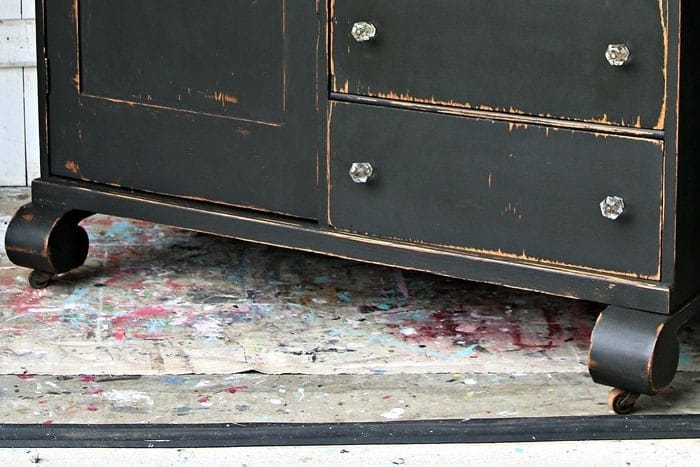 Next I tried two different kinds of large glass knobs and they didn't work either. I finally pulled out all the small antique clear knobs I could find in my stash and had just enough of those to do the trick. All of the knobs are not identical but close enough.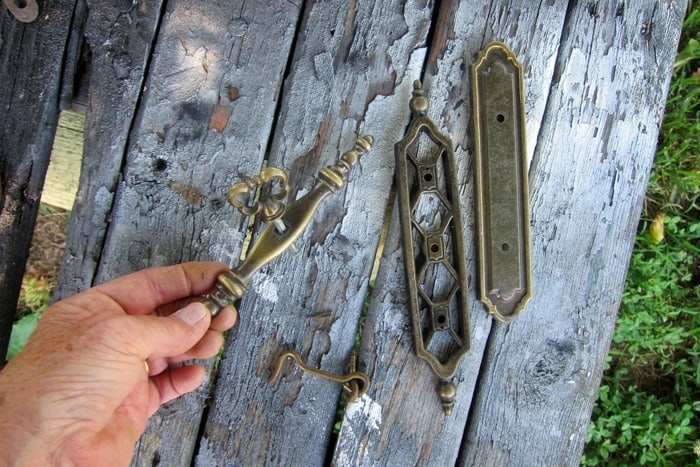 Time to work on the latch. I tried all kinds of things then decided on a key type drawer pull. The back plate for the key was too ornate and I found a plain, no frills plate to use instead.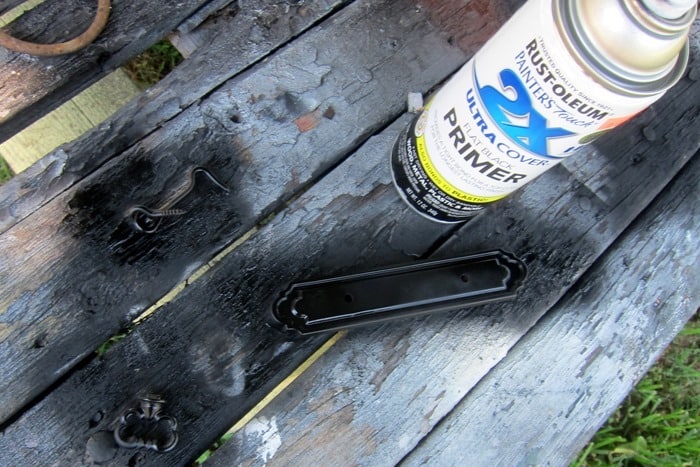 I spray painted the pieces with Rustoleum Black Primer then Oil Rubbed Bronze (Rustoleum).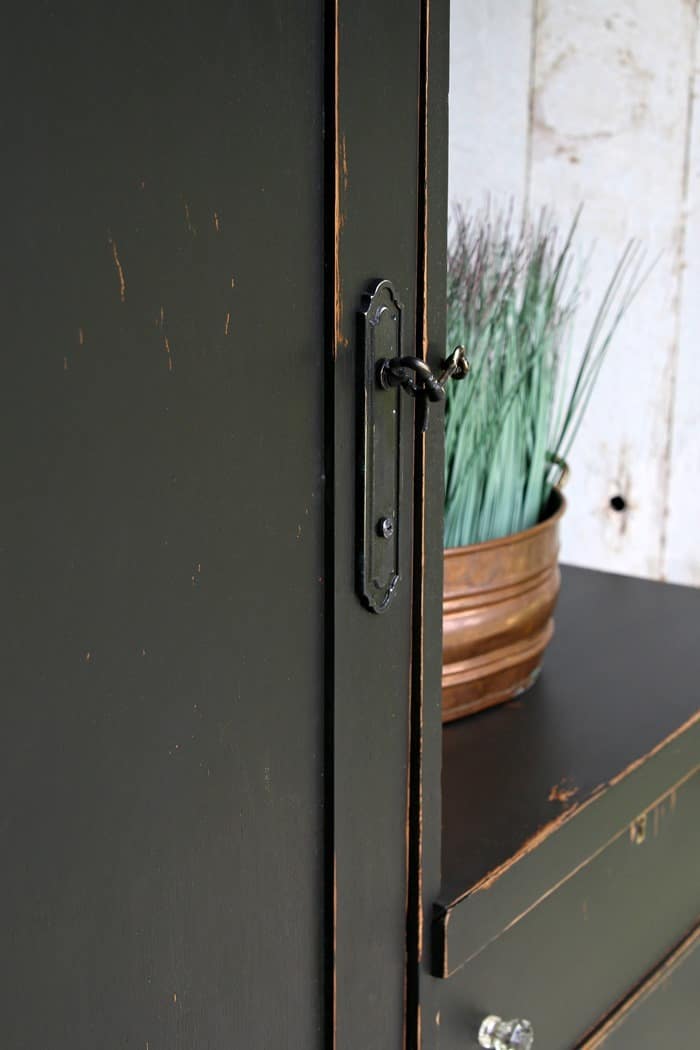 I drilled holes in the wardrobe door and attached the knob. Then on the wardrobe body I added a simple hook that hooks into the open part of the knob. Of course the latch needed a bit of distressing too.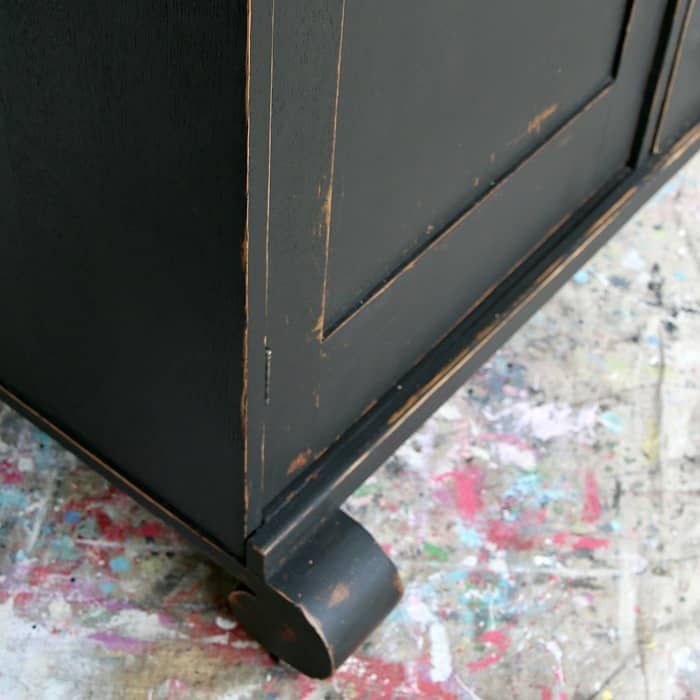 The feet are my favorite part! I've always been told that rounded feet like this mean it's an Empire style furniture piece.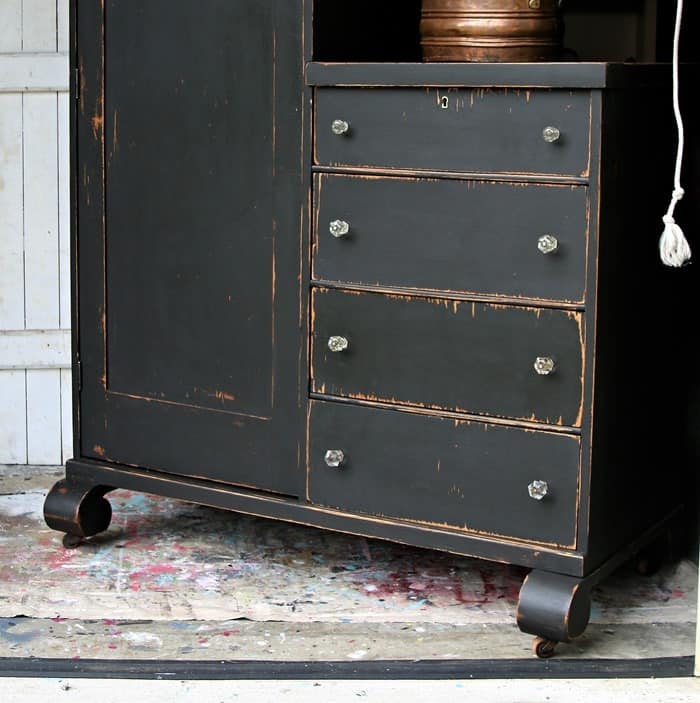 I'm happy with the new look and....... I painted an antique. You guys know it's not the first time. If you have an antique piece of furniture or just a pretty piece still in good condition and you want to paint it……just do it.
This piece is one of my best auction buys but if you want to see some really awesome box lots of stuff I got one time click here.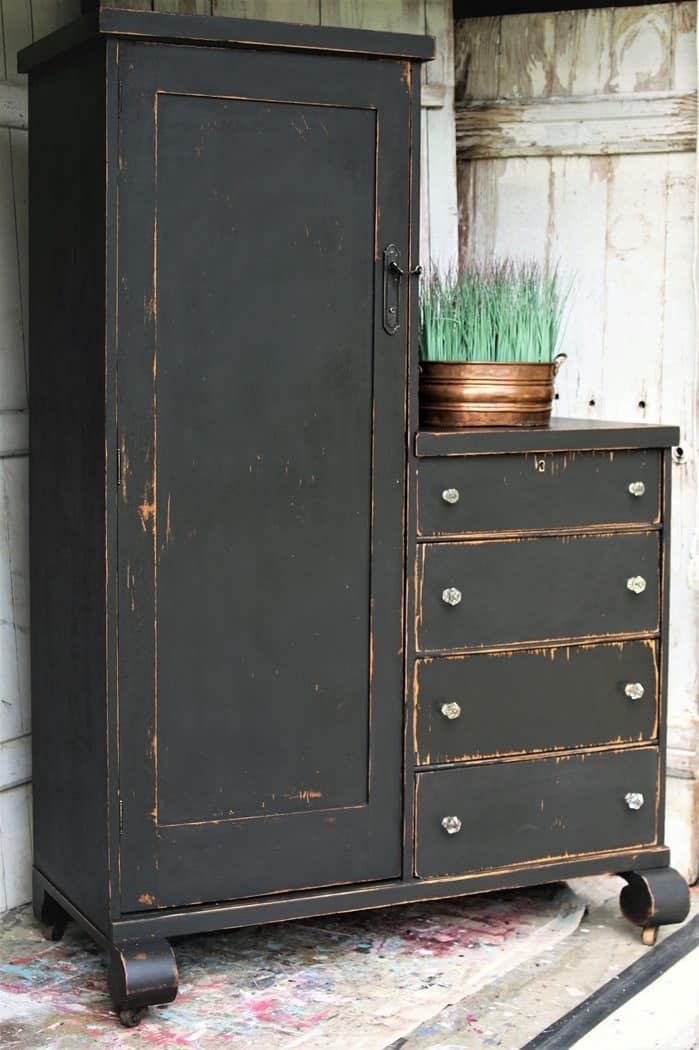 The wardrobe is on wheels and they work wonderfully. That's not always the case with these old pieces. Time to watch the video......
How To Distress And Wax Painted Furniture
What do you think of the new look? Would you paint an antique? If you don't like it painted just tell me. Even if you disagree with me you can always express your opinion here as long as you do it in a thoughtful manner. It would be a dull world if we all liked the same things. Leave a note if you have the time.
If you liked this piece you will love this one! Pottery Barn Knock Off | Themed Furniture Makeovers
Time to take the Furniture Fixer Upper Tour. Just click the text links below the "before" makeovers collage….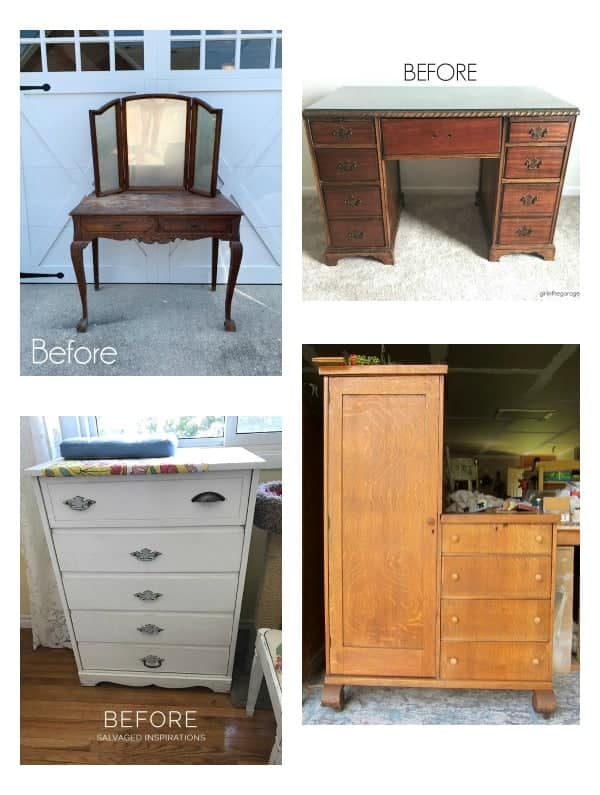 Antique Dressing Table Makeover from Confessions of a Serial DIY'er
Chalk Paint Desk from Girl In The Garage
Spring Meadow Painted Dresser from Salvaged Inspirations
Painting Antique Wood Furniture from Petticoat Junktion (You are here)
As always, thanks for being here, Kathy