There are several special techniques to make freshly painted furniture look old. For today's furniture makeover I actually used a combination of techniques.
This is the piece I started on Monday and finished up yesterday. It could actually be completed in one day if you don't have a ton of errands to run or anything like that.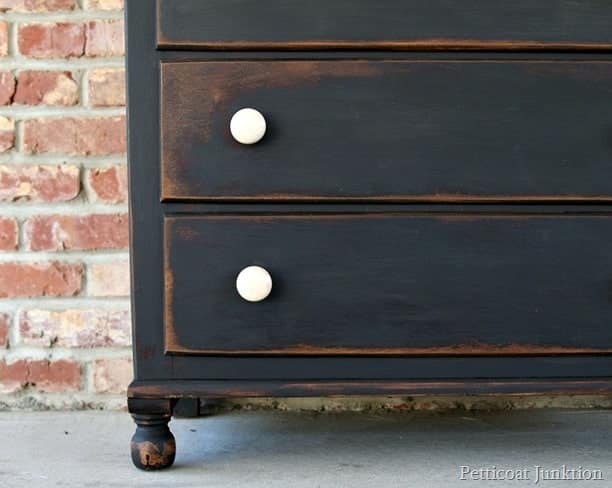 antiqued chest of drawers
Trust me when I say that the 5 steps to antique painted furniture are easy, really easy. The whole process can be completed in a day or two depending on the type of paint used. I'm going to list the 5 steps then go into detail with a photo tutorial.
How To Make New Furniture Look Old
Step 1. Select the proper paint.
When I say the proper paint I'm really referring to the paint finish. A flat or matte finish works best for the antiquing process. Satin or eggshell can also be used with slightly different results. The paint brand or type doesn't matter so much.
I've used Caromal Colours Textured Paint, Reclaim Beyond Paint, Behr latex flat paint, and Miss Mustard Seed's Milk Paint on the pieces I've antiqued. I wouldn't suggest using chalk paint because it really grabs onto the antiquing products and the look is too dark.
The Reclaim paint does have a slight sheen and it looks great antiqued but I do prefer the flatter look of the other paints. I'm definitely not saying these are the only paint choices to achieve the antiqued look. These are the ones I've used. I haven't tried the process on chalk paint so not sure if that works with this process.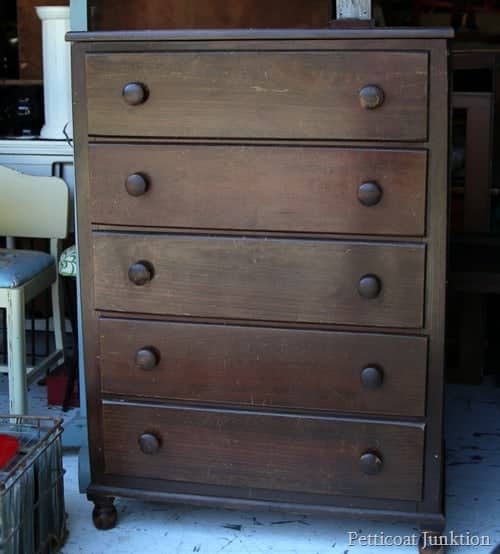 This is the piece before painting. I got this chest at ….you guessed it……My Favorite Junk Shop. I think I paid $40 for it and we only had to do a few minor repairs.

Step 2. Paint the furniture
I used the Caromal Colours Paint for this project. It is trademarked by Country Living and the color is peppercorn. I love this paint. It's really thick and you can spread it on thin or mush it on for a textured country look. The paint is made to stick to anything. It's great for painting cabinets.
I applied one coat of paint on the chest. When distressing a piece heavily I don't worry about covering every little bit of furniture with the paint. Why waste paint….I'm taking a lot of it off later!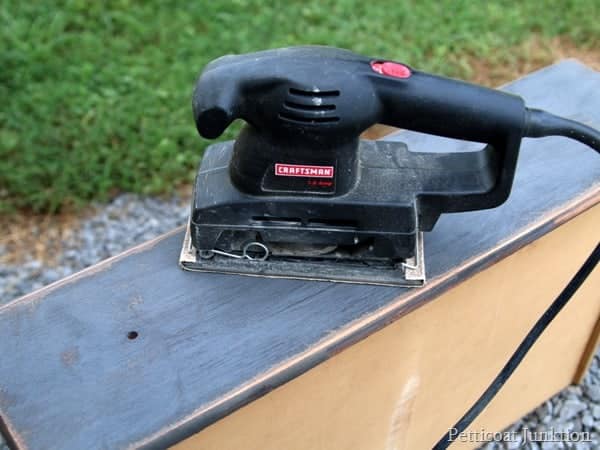 Step 3. Distress the paint.
I know this looks scary. I use 60 or 80 grit sandpaper and distress the whole piece with an electric sander. The gray/white crazed looking part will go away…trust me.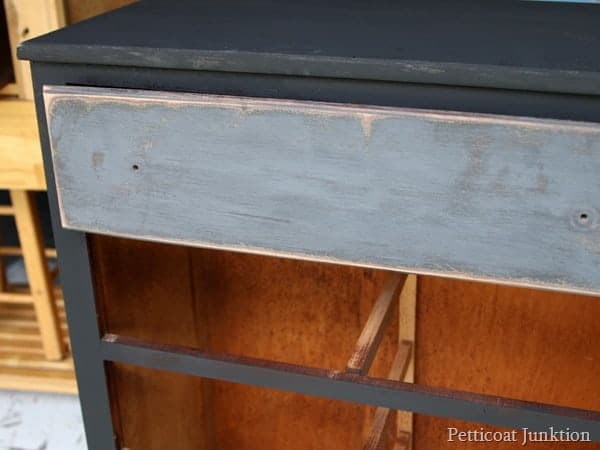 One drawer after distressing. Yep, it looks rough but it'll be okay.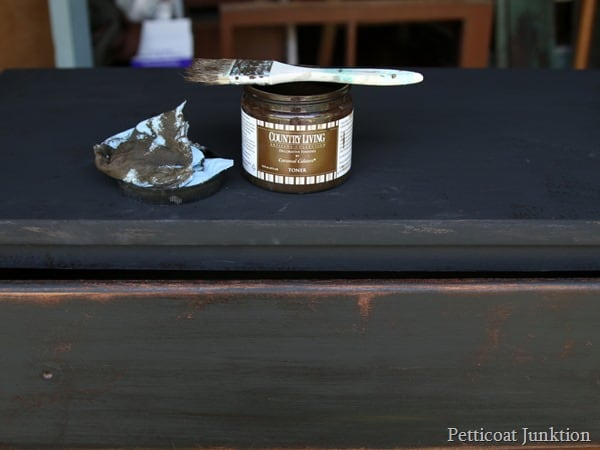 Step 4. Apply toner.
*Important. Wait until the paint has cured for at least 24 hours or maybe 3-4 days depending on the type of paint used. If the paint hasn't dried long enough when you apply the toner and wipe it down it may remove some of the paint. The Caromal Colours paint I used dries to a hard finish that really, really adheres to the furniture surface. I only waited a few hours before applying the toner to this piece.*
To apply the Caromal Colours Toner:
I use an inexpensive chip brush. In the photo above the toner has been applied to the drawer front only. I apply the toner all over then wipe it off with a dry cloth. The dry cloth leaves a lot of the toner behind. To remove most of the toner I use a damp rag.
On black or dark paint it really doesn't make a lot of difference. On white paint the toner shows up a lot so a damp rag works best. I have a complete tutorial on the toner here. Wait until the toner is completely dry before moving on to step 5.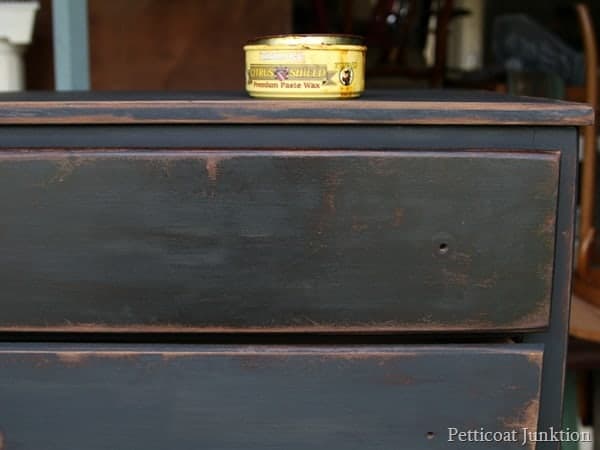 Step 5. Apply a dark wax.
Once the toner is dry I apply a coat of Howard's Wax in Golden Oak using a lint free cloth. Old sheets are perfect! The wax dries in about 15 minutes then I buff it with a dry lint free rag.
All Done!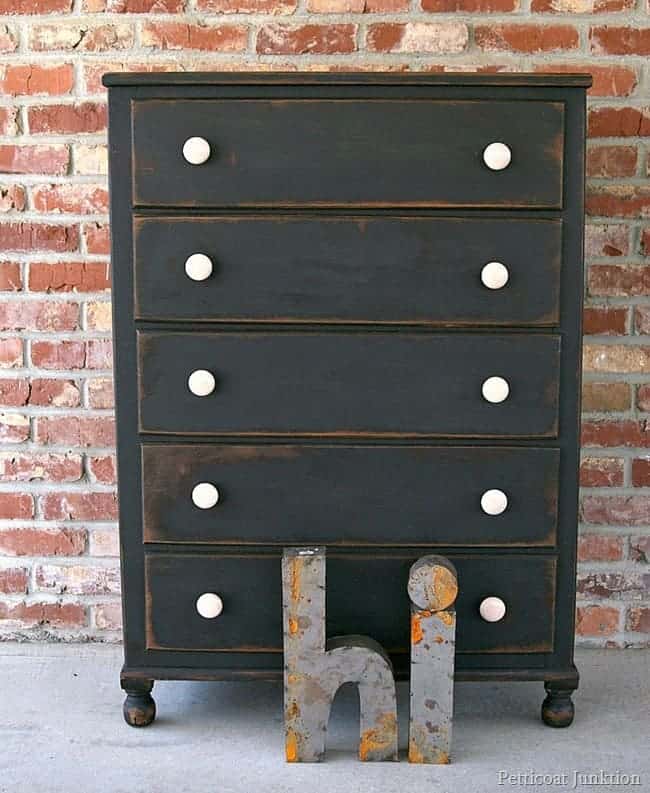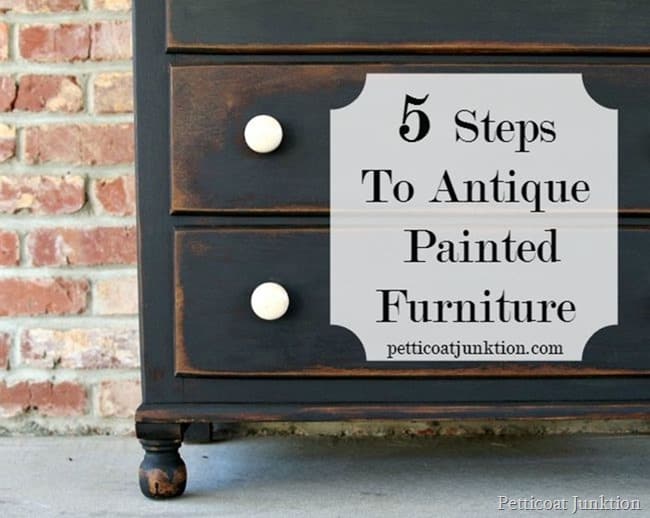 How To Make New Furniture Look Old
Video Tutorial: How to Antique Painted Furniture Using Caromal Colours Toner…
Thanks for being here and have a great weekend, Kathy
Find Howard's Wax here , Caromal Colours Toner here, and my favorite DIY Products here.