In this tutorial I show you how to decoupage furniture with paper. Have you tried to decoupage paper to anything? I once tried using paper napkins and that did not go well at all. There are all these decoupaged napkin projects on the Web but I'm missing something somewhere. I used wrapping paper for this project. The wrapping paper is much easier.
I painted a small bar stool turquoise and then wrapped the legs in paper using Mod Podge. Of course I have to be a bit different and the legs of the bar stool have varying lengths of paper covering them. Be sure and let me know what you think of the project.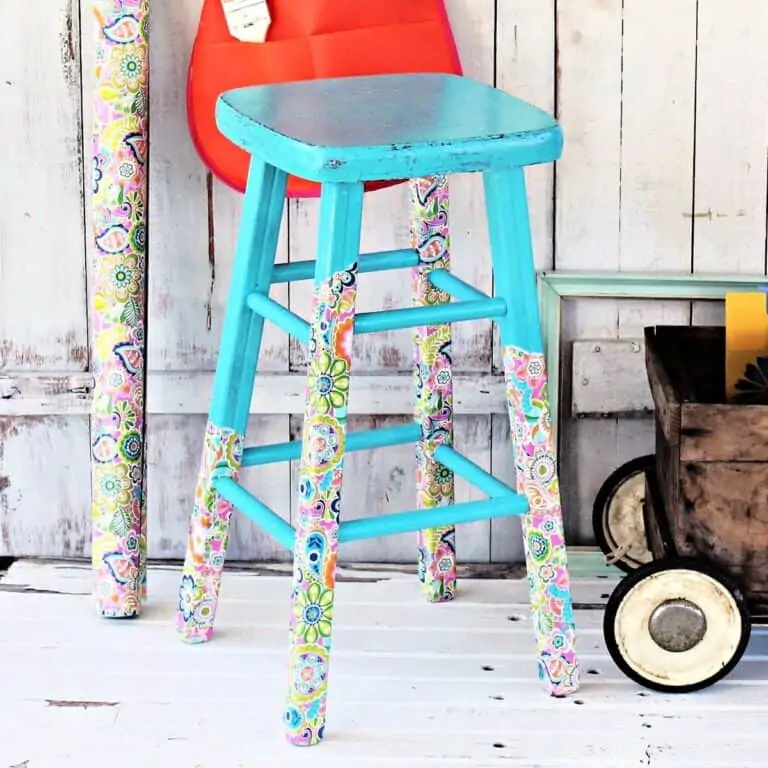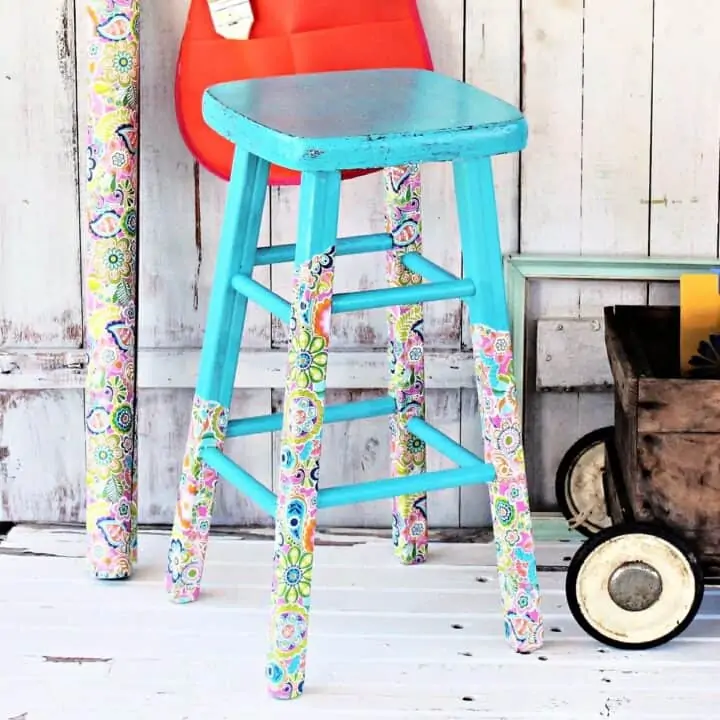 The different heights of the paper on the legs give the bar stool a unique look and that wrapping paper design is cool and colorful.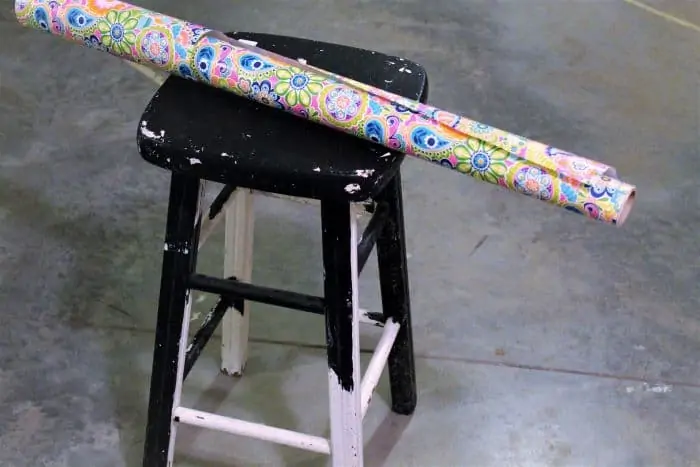 This stool has been sitting on my fireplace hearth holding magazines and a Ball jar full of seashells. It was part of my Summer décor. I found the stool at My Favorite Junk Shop and I really liked the paint job….really! I like the way the white and black paint are uneven on the legs. That's where I came up with the idea for the decoupage legs. The roll of pretty wrapping paper came from Hobby Lobby.
The Valspar paint sample in Rushing Stream was the pick for this project. Such a fun color and I love the inexpensive paint samples. Just the right size for several small projects. I probably used a third of the jar. I've found that turquoise fits into just about any color scheme. The bright multi-color wrapping paper not so much.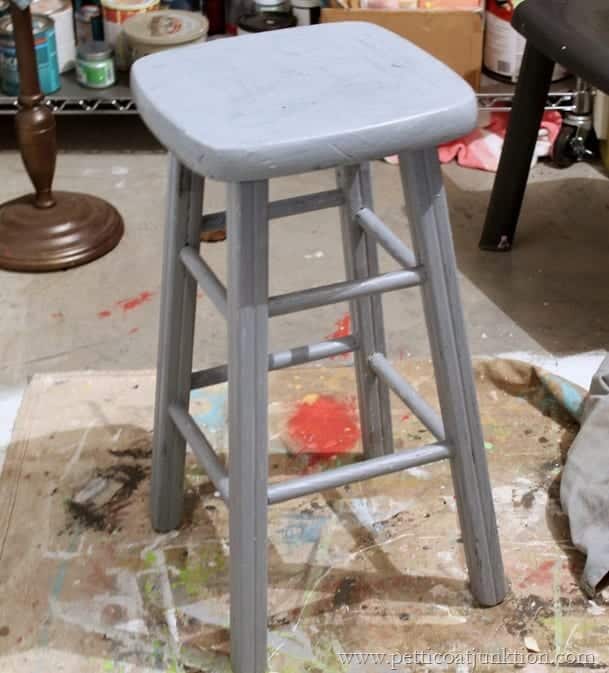 The original paint looked like it was oil base so I applied a coat of Glidden Gripper Primer to start the project. Glidden Gripper tinted gray is my go-to primer (update: it is now PPG Gripper).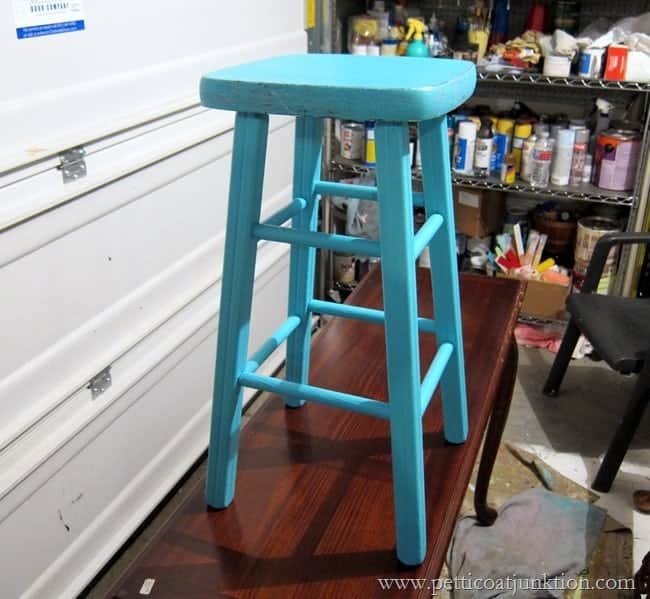 I waited overnight for the paint to dry. I didn't want the paint to peel off when applying the damp mod podged paper.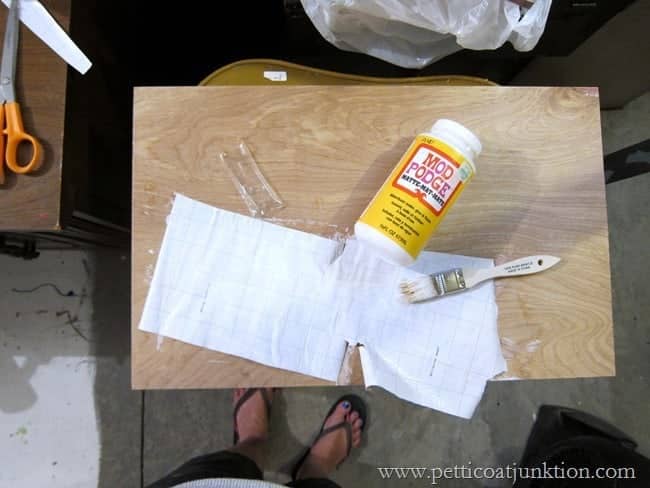 I cut strips of wrapping paper and applied Mod Podge to them with a brush. Yes, the project did get a little hairy trying to work around the legs and the rungs.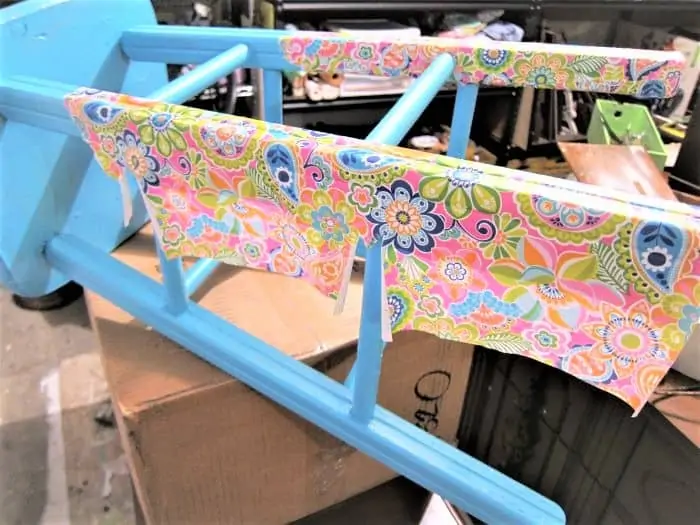 Actually I kind of went nuts trying to work around all the corners, bends, and curves. Holding the paper I cut angles around the rungs then wrapped the paper around the legs. They don't call it wrapping paper for nothing. I filled in spots with bits of paper where the paint was exposed…where I didn't want it to be….good thing the paper is a really busy print.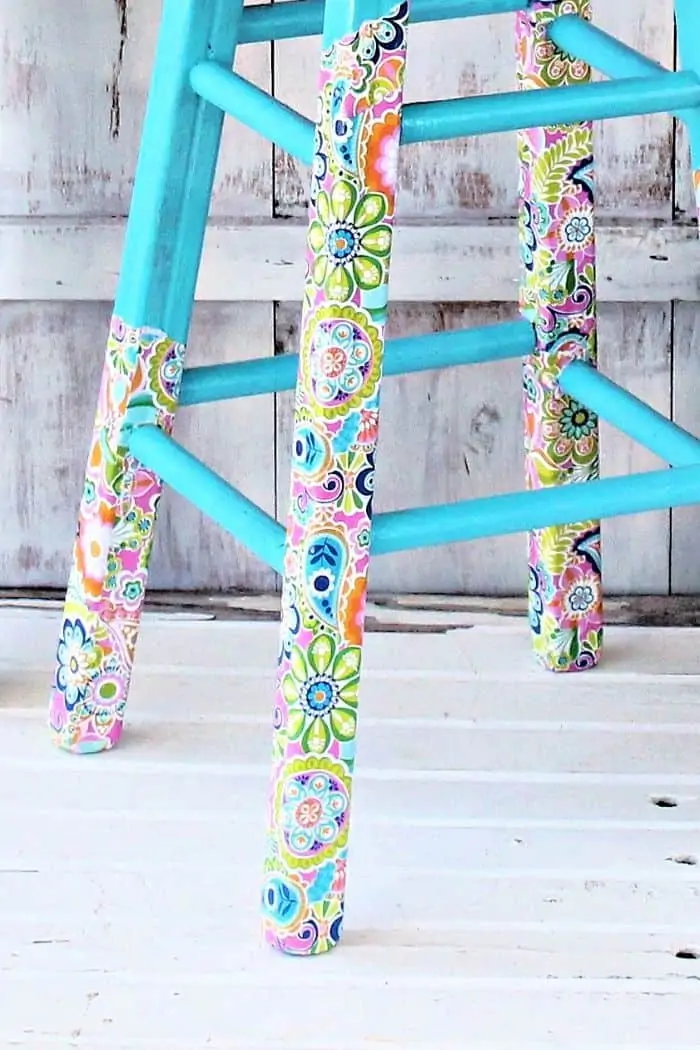 The top of the paper on each leg has a torn edge. I thought that looked cooler than a cut edge. I let the Mod Podge dry then used spray on clear Polyacrylic as a sealer. I could have used Mod Podge as a sealer but at this point I was tired of Mod Podge finger tips.
The torn paper edges that are angled and not straight across are just quirky enough to look good. You don't have to make everything look perfect or go by the book. Don't be afraid to try a simple project if you're a new DIYer. As far as I'm concerned there are no rules and you do the project in your way and your style and don't be afraid to change the plan mid-stream or do the project over. I've been there and will be again and again as long as I continue working on projects.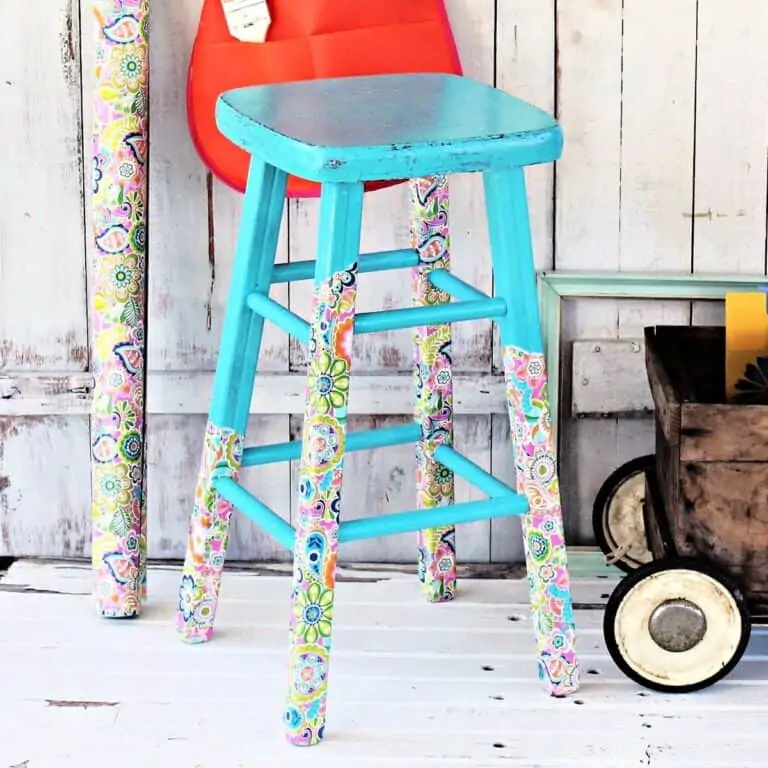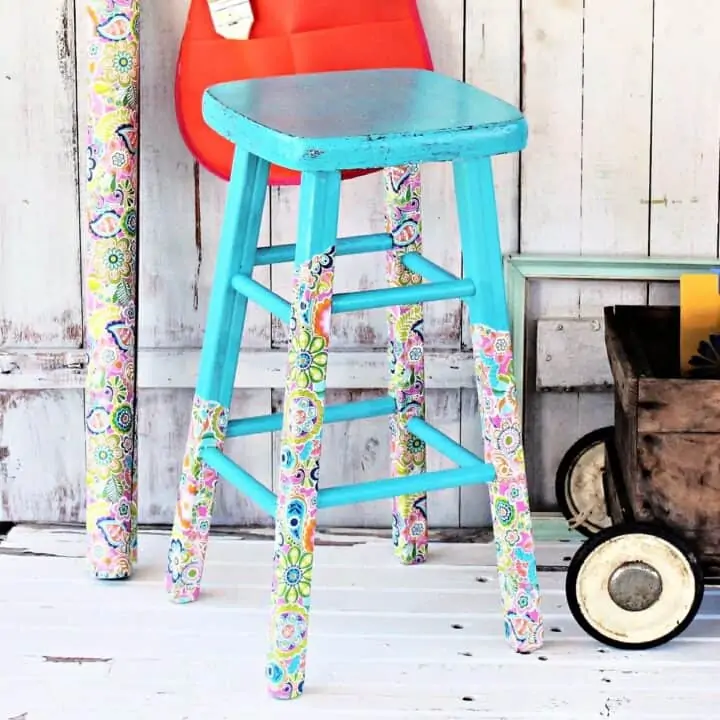 I distressed the seat of the stool so the black paint would show through. I think it works because of the dark blue in the paper.
Do you have some pretty wrapping paper or....... I just had a thought.....maybe an old newspaper. If the paper was aged just right and the furniture piece was really old I bet newspaper decoupage would be cool. Anyway, ready to try a decoupage project? I have several projects using fabric and one where I used an invitation card! See more Mod Podge projects  here.....Petticoat Junktion Decoupage Projects.
That's it. What do you think? Have a great day. Kathy
Author: Kathy Owen (Petticoat Junktion)
Kathy is the founder of PetticoatJunktion.com, a home décor blog focused on repurposing and upcycling furniture, old hardware, rusty stuff, and thrifty finds into unique home décor. Kathy's projects have been featured on the Home Depot Blog, Plaid Crafts, Behr Designer Series, and in numerous magazines. Read more about Kathy here.