My Idea To Use Vintage Wallpaper To Make A Nutcracker Soldier
If you want to know how to make a nutcracker soldier using wallpaper I'm your girl. This genius idea is all my own. I made the unusual nutcracker soldier using a stencil and vintage wallpaper.
The colors in the wallpaper design screamed Christmas and the Nutcracker Soldier is definitely a Christmas tradition.....so.....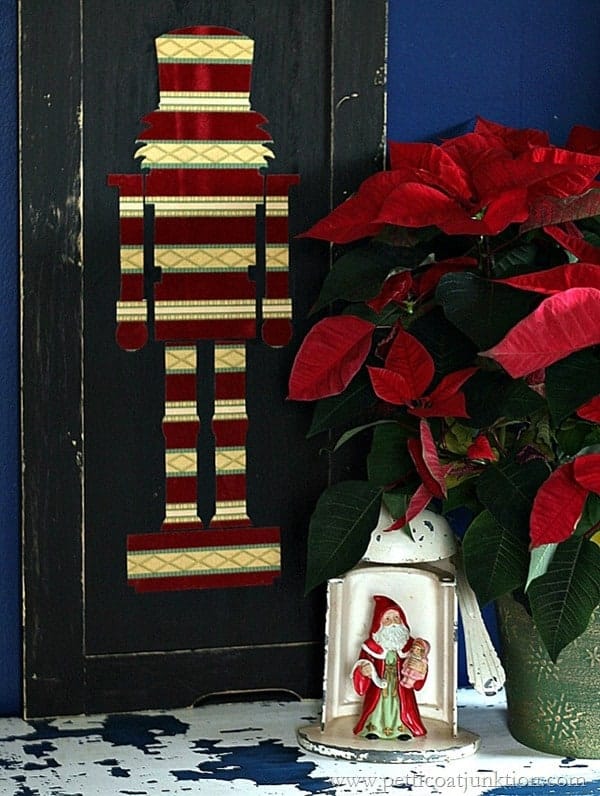 Nutcracker Soldier Decoration
I've had the red and green and gold wallpaper forever. I bought the wallpaper at a thrift store because I loved the velvety texture and the colors. I don't remember what I paid for it. You guys know me….it had to be a deal.
I've tried using it as a table runner, display backdrop, and several other things. But I couldn't really come up with a good project idea.....until now. When I worked on the nutcracker stencil project last week I had an ah-ha moment!
The nutcracker stencil was large and all of the cut out stencil areas were large. I could see using the stencil as a template and cutting the nutcracker out on paper of some kind. Why not wallpaper?
How To Make A Nutcracker Soldier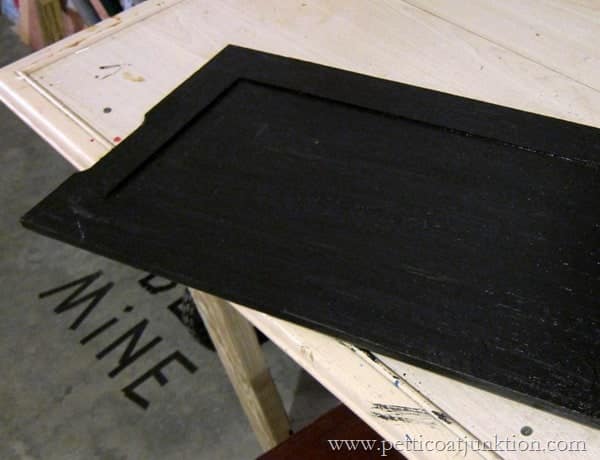 Find a Backdrop For The Wallpaper Nutcracker
I needed something to put the "paper doll nutcracker" on. I found this reclaimed cabinet door in my stash of wood parts and pieces. The front side of the door was covered with sample paint finishes from old projects. I decided to use the back side of the door and paint it black.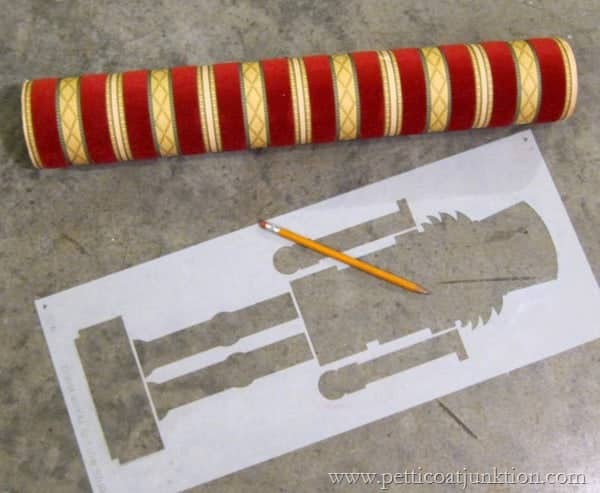 See, the stencil is pretty BIG. How about the wallpaper? Pretty isn't it.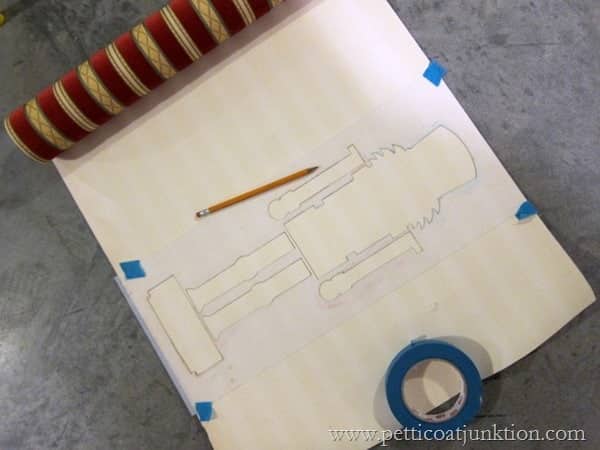 Cut The Soldier Out Using The Stencil
Since the wallpaper design was straight lines and stuff, I made sure I placed the nutcracker all nice and straight on the back side of the wallpaper. No one wants a womper jawed nutcracker.
I taped the stencil down on the edges so it wouldn't scoot around on me. I used a pencil to draw around the inside of the stencil then I cut out the pieces. It reminded me of cutting out paper dolls when I was little.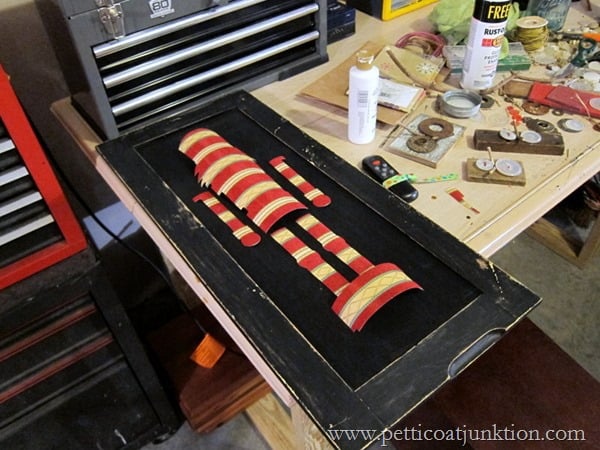 I couldn't stand all that nice smooth black paint. I grabbed the sandpaper and did a bit of distressing. There was yellow paint underneath the black paint and the distressing looked good.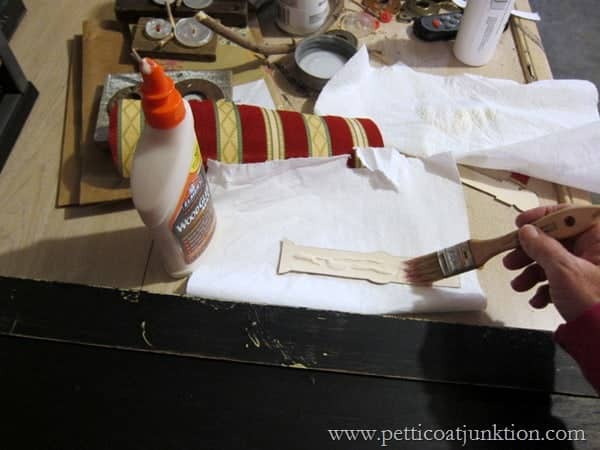 Apply Glue to The Cut Out Pieces
I placed the pieces of the nutcracker on the door getting them all nice and straight. Then I brushed Elmer's wood glue on the back of each piece working with one piece at a time. I tried not to overdo the glue.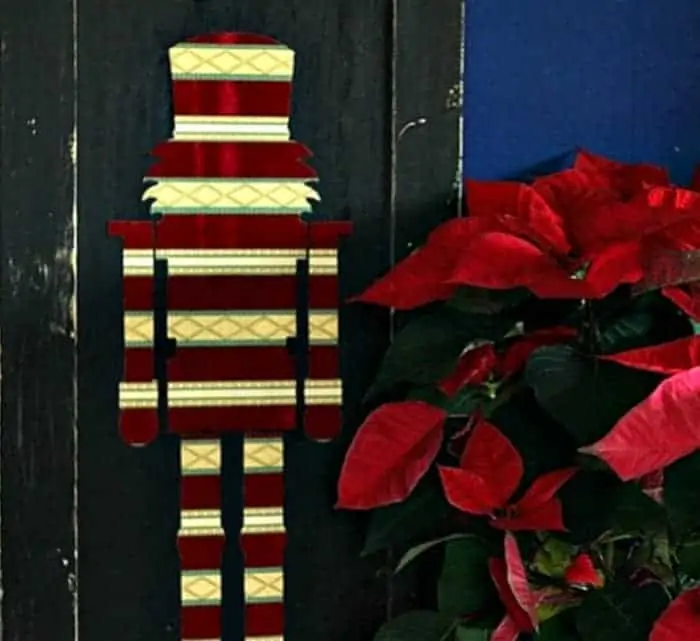 Place The Soldier Pieces On The Cabinet Door
I gently rubbed each piece of wallpaper/nutcracker onto the door .....squeezing out the air pockets as I went. I wiped off any glue that seeped out with a damp rag.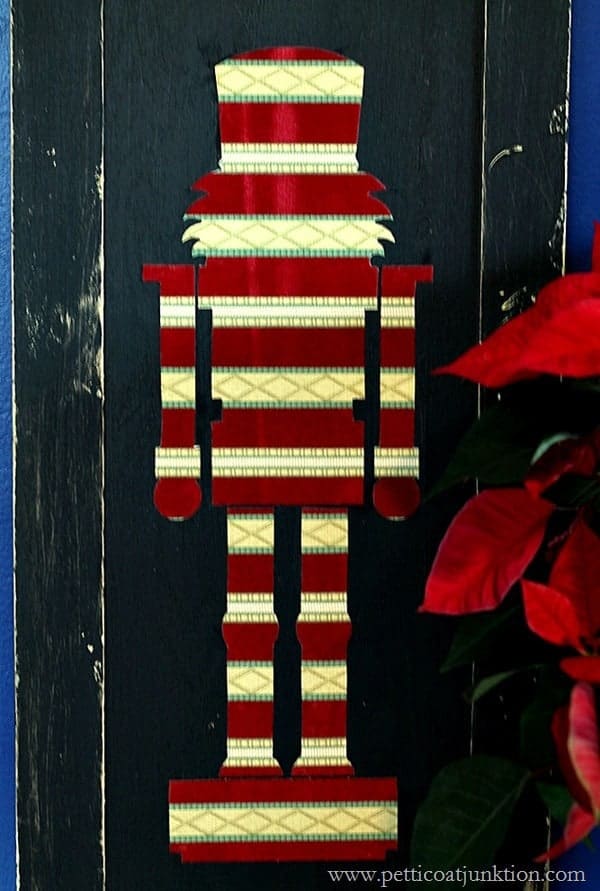 Wait For Glue To Dry And Hang
Surprise! I got him all nice and straight on the door and the wallpaper designs are all lined up. Doing the happy dance.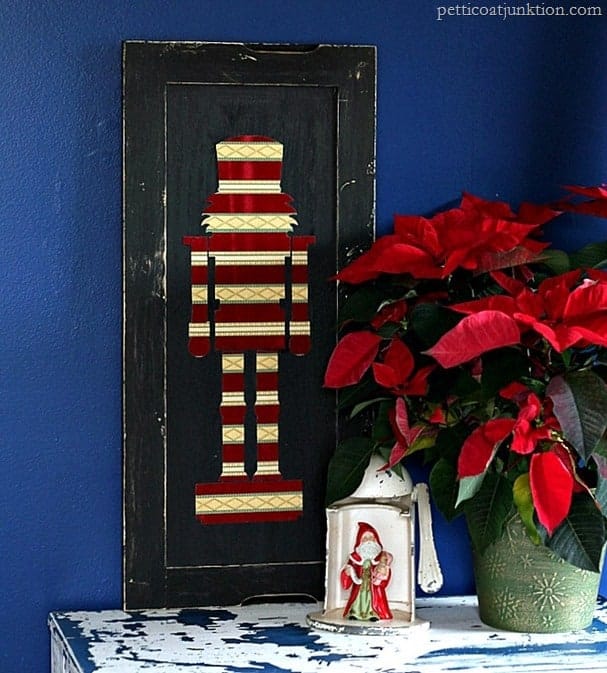 DIY Nutcracker Soldier
What do you think of this idea? I'm going to see what other stencils I can try this with. Not with Christmas wallpaper, something else....not sure what just yet.
I didn't really know anything about nutcrackers except that we decorate with them at Christmas. I did a bit of googling and this is what I found.....
According to German folklore, nutcrackers were given as keepsakes to bring good luck to your family and protect your home. The legend says that a nutcracker represents power and strength and serves like a trusty watch dog guarding your family from evil spirits and danger. A fierce protector, the nutcracker bares its teeth to the evil spirits and serves as the traditional messenger of good luck and goodwill...source, Magic of Nutcrackers 
You can find my regular stenciled nutcracker here....The Christmas Nutcracker | Colorful Stencil Project
Want more Petticoat Junktion Christmas Inspiration? Click any photo below!
The nutcracker project first appeared on Petticoat Junktion in 2014 and I get questions about the process every year so I reposted it for you guys. I hope you enjoyed it.
Thanks for being here and have a great day, Kathy
Author: Kathy Owen (Petticoat Junktion)
Kathy is the founder of PetticoatJunktion.com, a home décor blog focused on repurposing and upcycling furniture, old hardware, rusty stuff, and thrifty finds into unique home décor. Kathy's projects have been featured on the Home Depot Blog, Plaid Crafts, Behr Designer Series, and in numerous magazines. Read more about Kathy here.