Repurpose A Vintage Christmas Card
A vintage Christmas card repurposed as a gift tag is the finishing touch for my gift wrapped packages. I have a bunch of vintage Christmas cards just sitting in a drawer so why not put them to use.
The old cards have such character and a totally different vibe from the cards being sold now. Of course the one I chose for this project is all glittery.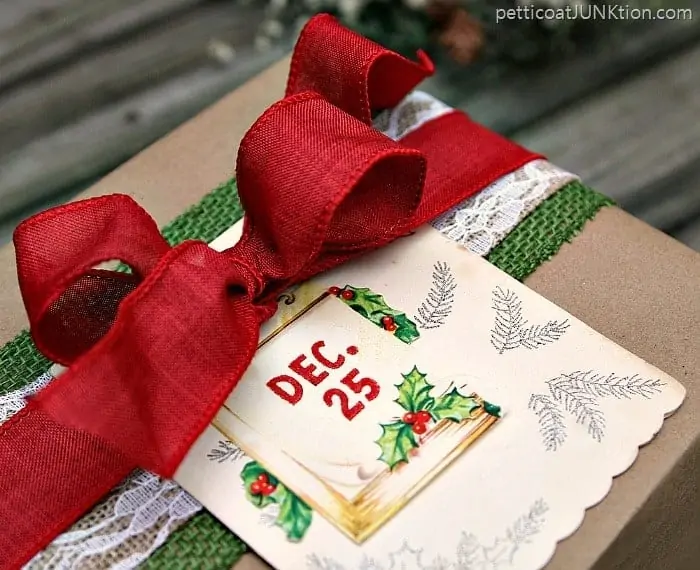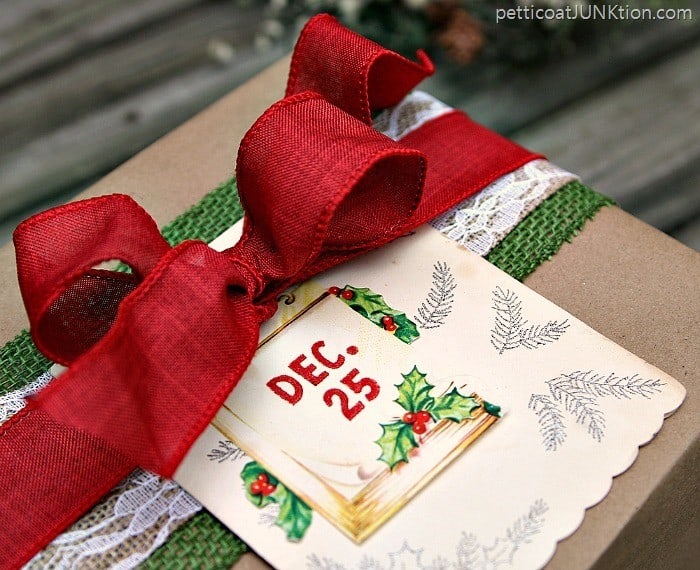 Pretty Gift Wrap
I haven't bought a single gift this year. Yeah, I know…..there's a Kraft paper wrapped package in the photo above. I'll let you in on a little secret…..the box is empty. You know how us DIY bloggers are.
Well, you see the photos on the blog and you read the stories but that isn't half what goes on. You would not believe the craziness. We're usually way ahead of the seasons with our diy ideas. That makes sense, right?
Those home decor magazines we all ooh and ah over with the perfect rooms……they take the Christmas edition photos in the Summer. How would you like to decorate your home for Christmas when it's 100 degrees outdoors.
Anyway, I wrapped up the empty box so I could show off my gift wrap style. Red and green is my go-to with a touch of something vintage thrown in.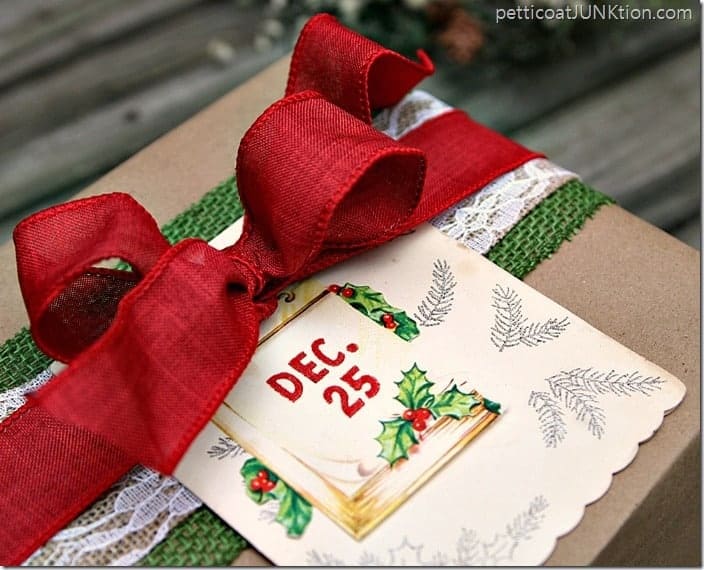 Vintage Inspired Christmas Gift Wrap Ideas
I love wrapping gifts. How about you? It seems every year my gift wrapping style goes in a new direction. This year I decided to wrap all my gifts in Kraft paper instead of brightly colored or patterned gift wrap. I know, surprise.
I love bright colors but I also like to use brown paper for wrap because there are so many ways to dress it up.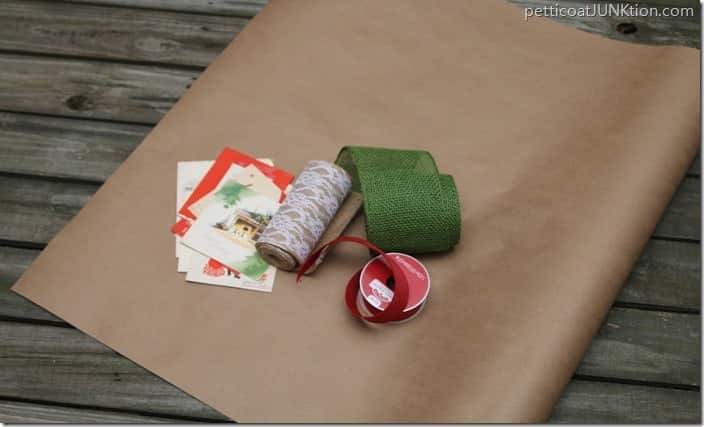 Supplies for the Gift Wrap Project
1. Kraft Paper
2. Green Burlap Ribbon
3. Lace & Burlap Ribbon
4. Red Ribbon
5. Vintage Christmas Card
Wrap the package
I bought a roll of Kraft paper at the local hobby store. You can also find Kraft paper at Walmart and various other places as well as on Amazon.
I wrapped my package and used regular Scotch tape.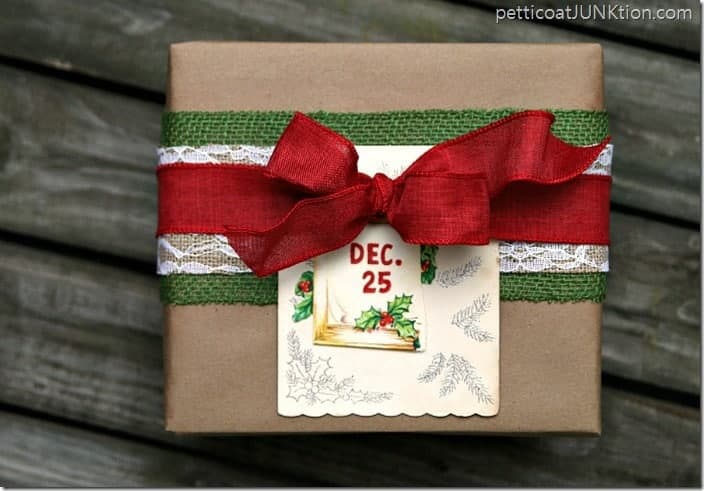 Layer Ribbon on the Package
Layering makes a package look expensive. I started out with the green ribbon and red ribbon but didn't like the large width difference between the two.
I found the lace and burlap ribbon in my stash, cut the width down, and added it as a layer between the green and red. The three layers of ribbon look awesome! Patting myself on the back. I guess you could call it four layers of ribbon because the lace ribbon has a layer of burlap on the underside.
You notice I just tied a simple bow using the red ribbon. Sometimes simpler is better. You should always use wired ribbon because it can be shaped.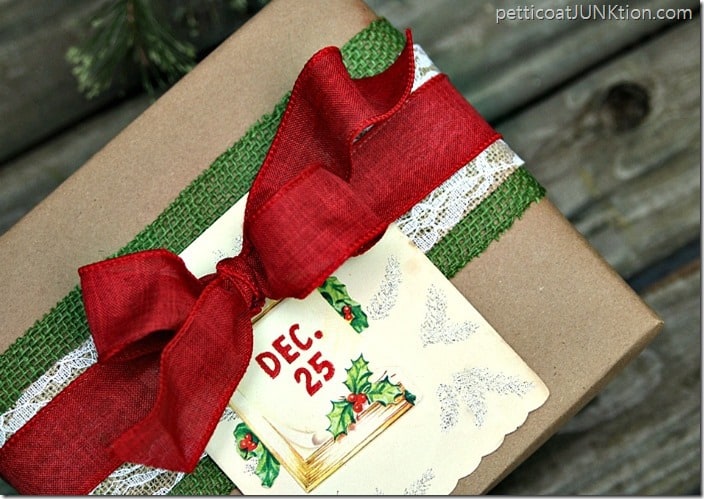 Add a Vintage Card as a Gift Tag
For the Handmade ornament blog hop in October I used a few vintage Christmas cards to make cute Christmas tree ornaments. I loved the look of the vintage cards and found some on Ebay to order since my supply was running low.
I choose one of the prettiest cards to dress up this package and use for a gift tag. The colors and design of the card work perfectly.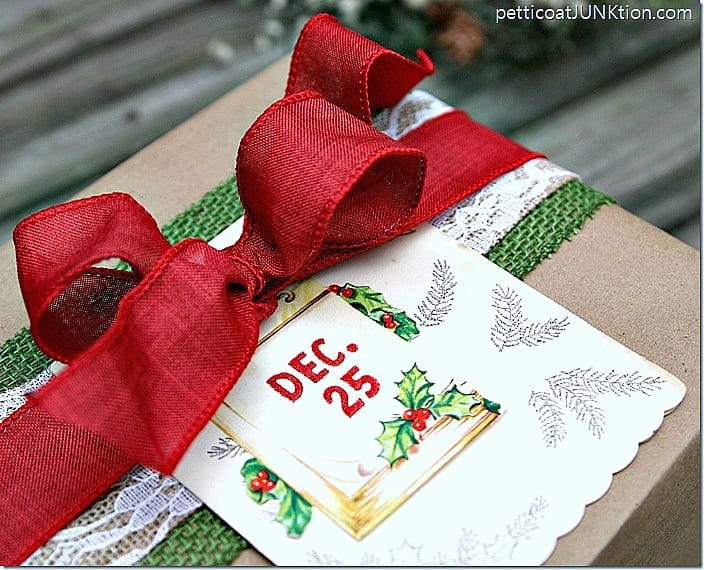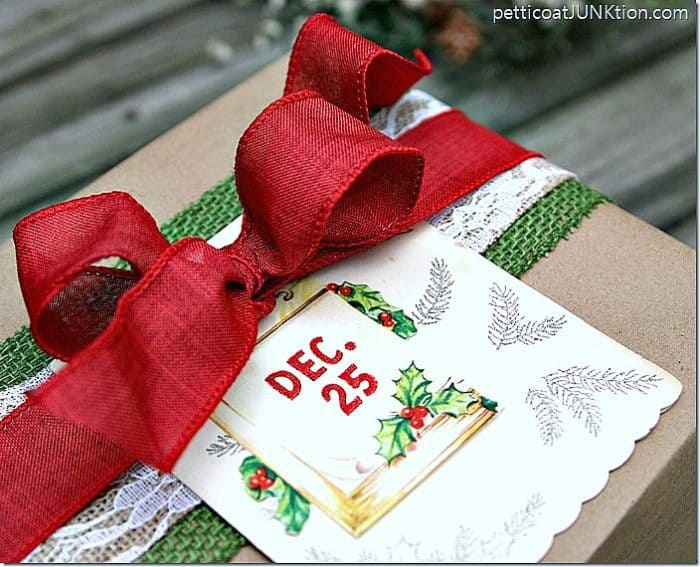 You can't tell in the photo but the paper for the card has a slight texture and the date is red glitter.
Click any photo below for more of my Holiday ideas and at the bottom of the post is a Gift Wrap Idea Blog Hop!

Gift Wrapped Packages Blog Hop



As always, thanks for being here, Kathy
Author: Kathy Owen (Petticoat Junktion)
Kathy is the founder of PetticoatJunktion.com, a home décor blog focused on repurposing and upcycling furniture, old hardware, rusty stuff, and thrifty finds into unique home décor. Kathy's projects have been featured on the Home Depot Blog, Plaid Crafts, Behr Designer Series, and in numerous magazines. Read more about Kathy here.